Who doesn't love fish and chips?! But dunking fish in a boiling pit of oil at home can make for a messy time. Instead, we can use an air fryer and get a wonderfully crisp piece of air-fried fish and it is just as delicious! Plus, tilapia in the air fryer is healthier so you can spend those extra calorie points on an extra pale ale, or two! Tilapia is a delicate piece of fish and lends itself well to the air fryer. Keep reading below to find the easy seven-step recipe for making air fryer tilapia so you can finally have an easy and mess-free way to make fish and chips at home!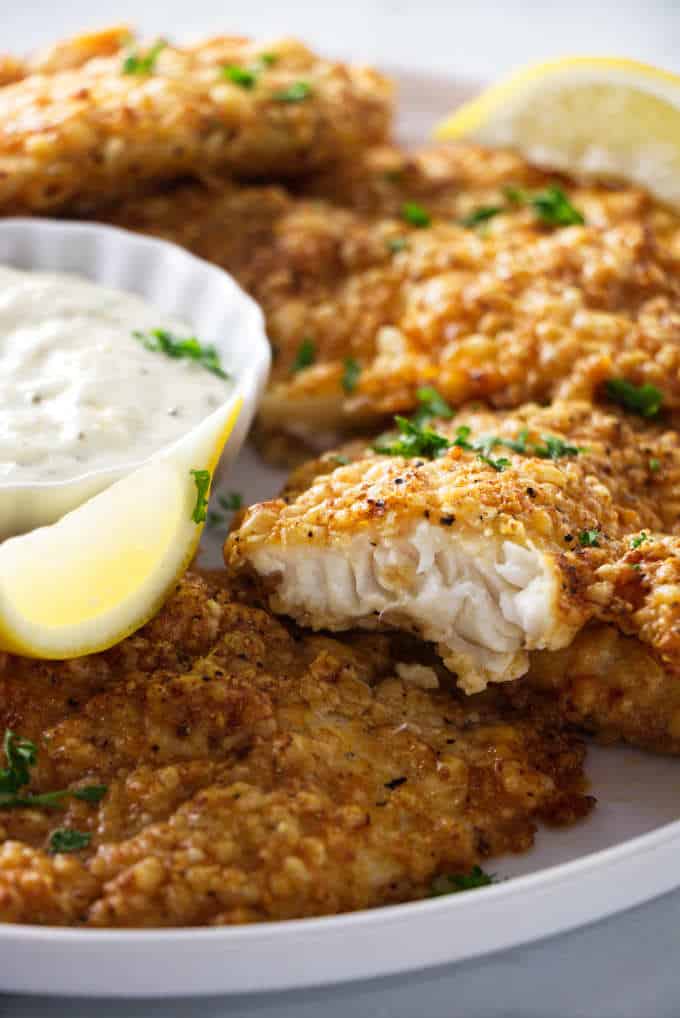 I have visited countless pubs and food trucks (yes, food trucks) in search of the perfect fish and chips. When we got married, my wife and I decided that we had to have a food truck at the wedding. I spent many weekends doing important research and eating my way through food truck festivals… someone has to do the difficult work. We finally settled on a food truck for the wedding, mostly because they had the most amazing and traditionally British fish and chips. No other place has topped these fish and chips, I am drooling now just thinking about them!
That food truck company is now out of business and I am chasing the dragon. I wanted a go-to recipe for fried fish so that I could easily relive the experience of our wedding. I didn't want to have to pull out the deep fryer, thus I came up with this recipe. This air fryer tilapia recipe is an ode to our wedding day. Although it isn't a traditional British fried fish, it is my favorite quick and easy way to make fish and chips and it is represents a traditional Josh and Sara! Check out the recipe below, but first an obligatory wedding photo plug…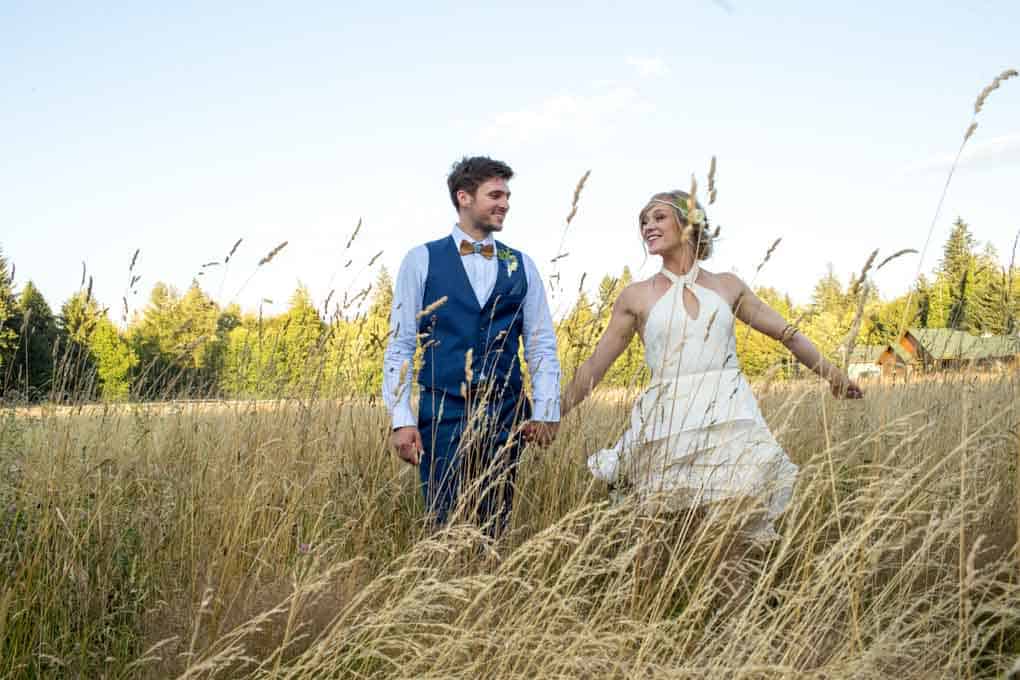 This post may contain affiliate links. Please read our
disclosure policy
.
What is tilapia?
Tilapia is actually a very broad term and refers to many species of chichlid fish. They are mainly freshwater fish. Tilapia has a mild flavor making it a great canvas for you to decorate with lots of flavor.
Tilapia is the fourth most common seafood consumed in the United States. You can always find a ton of it at Costco and it is always very cheap.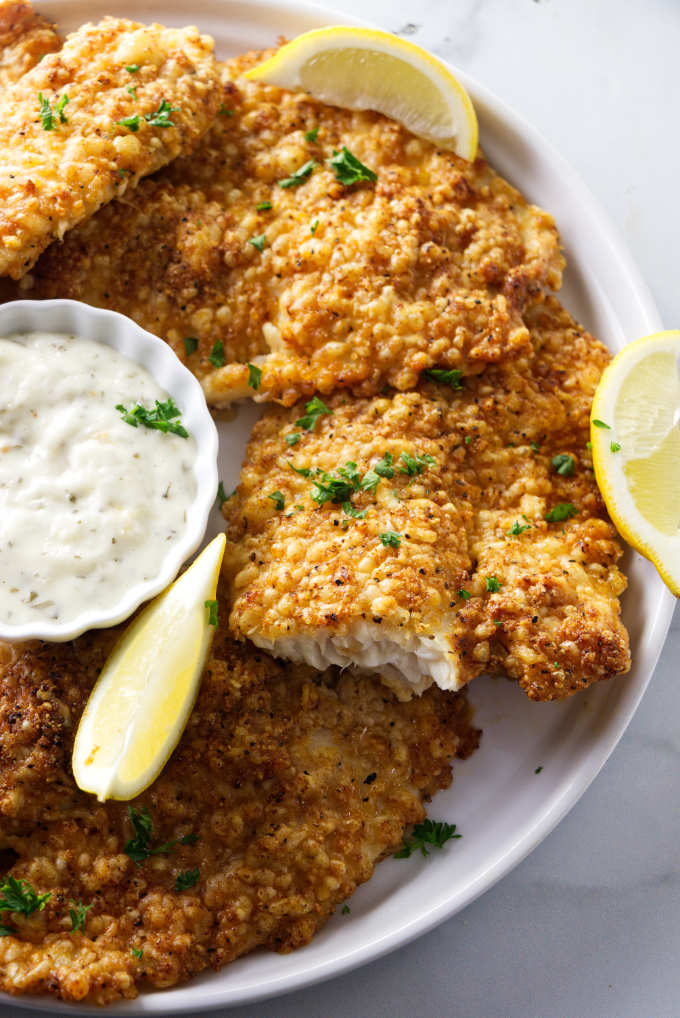 Tip: try this tilapia in some tacos in this recipe for air fryer tilapia fish tacos!
How to defrost fish:
If your tilapia is frozen you will want to make sure you allow it to fully defrost before cooking it. You can place your tilapia covered in the fridge overnight. Before coating the tilapia and cooking them in the air fryer you will want to pat dry each fillet completely. If you do not dry the fish fillet completely before coating then you will not get as crunchy of a crust on the fish.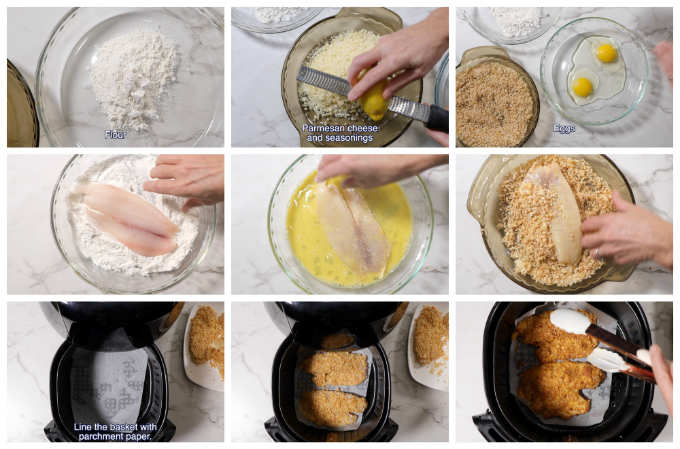 What about the chips!?
Of course, you could quickly air fry some frozen <insert brand name here> french fries, but what is the fun in that!? Instead, you can quickly put together some wedges to go with the fried fish. I just so happen to have a delicious recipe for some air fryer potato wedges with a crispy cheese crust. The great thing is that the coating for the tilapia uses the same coating as these potato wedges, except we added cheese, because, well why not!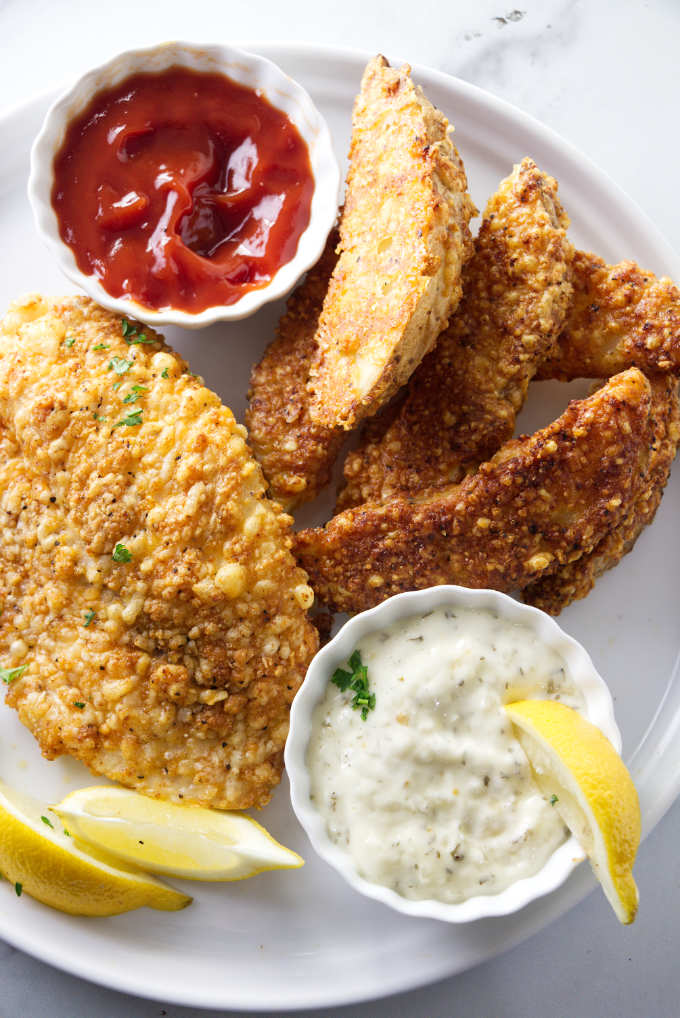 Air Fryer tips and tricks
Help, why is my air fryer smoking?
When cooking high fat foods in the air fryer, you may experience a cloud of white smoke develop in the device. Don't panic, this can be managed. And there are even some tips which can help prevent this from happening.
To prevent smoke in your air fryer you can add a couple of tablespoons of water to the bottom of the basket. If you are cooking especially greasy foods, like bacon, you can also put a piece of bread in the bottom of the basket, just take out the removable rack at the bottom of the basket and place a piece of bread down there and replace the rack. The bread will soak up the excess grease and prevent the air fryer from smoking.
Evenly cook your food by preheating the air fryer
The air fryer can cook quickly, but you also want even and thoroughly cooked food. I would suggest preheating your air fryer for the best results. Some air fryers do not have a preheat setting. If yours doesn't have a preheat setting then you can set your temperature and run the air fryer for 2-5 minutes to bring it up to temperature before adding your food to the basket. The smaller your air fryer, the less time you will need to preheat it.
Should you use oil in your air fryer?
I almost always use oil in my air fryer, but you don't have to! Oil coats your food and allows the seasoning to stick to it. It also prevents your food from sticking to your air fryer basket. However, if you want to cook low fat and leave the oil out of the recipe you can always use parchment paper to prevent sticking. And, if you are cooking high-fat foods, like bacon, you will not need to include oil in your air fryer.
Leave space in your air fryer basket. Space it out, man!
Air fryers work by circulating air around the basket and as it circulates, oils and fats are also circulated and deposited onto the food. If you overcrowd your basket then you will have disappointingly un-crispy food. Space everything out in your air fryer basket and you will have a much crispier result.
Flip and shake the air fryer basket
Similar to the tip for leaving plenty of space for your food to achieve a good crisp, you will also want to shake the basket periodically or flip the food halfway through cooking. This will allow the food to cook well on both sides and you will have a crispy result.
How to modify a recipe for an air fryer
Air fryers are often much more efficient at cooking foods. Since the air is circulating air, similar to a convection oven, I always recommend setting your air fryer to a lower temperature and monitoring the cooking progress throughout the cooking time. Even at lower temperatures, your items may finish cooking sooner than expected. As a rule of thumb, adjust the cooking temperature about 10% lower and the cooking time about 25% shorter.
CONNECT WITH A LICENSE TO GRILL!
Be sure to follow us on our social media accounts.
Facebook * Instagram * Pinterest * YouTube * Twitter
Did you make this recipe? Tell us about it in the comments below!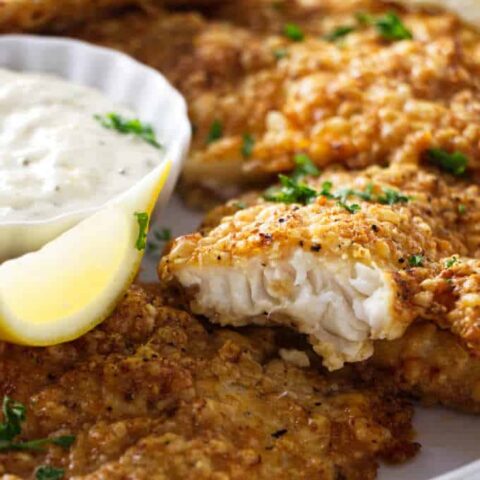 Air Fryer Tilapia
This tilapia fries super quick and comes out crispy in the air fryer. The parmesan crust with lemon zest is fresh and light and adds a delicious crunch! Pair these with some air fryer chips for fish and chips night!
Ingredients
4 fillets of Tilapia
1/2 cup flour
4 ounces parmesan cheese, grated
2 teaspoons lemon zest
1 teaspoon salt
1 teaspoon garlic powder
1/2 teaspoon black pepper
1/2 teaspoon paprika
2 eggs
Instructions
Coat the Tilapia fillets:
Set up 3 shallow dishes (I used pie dishes). Place the flour in one dish. Crack the egg into another and whisk the eggs really well. In the third dish, combine the cheese, paprika, lemon zest, salt and pepper and combine.
Pat the tilapia fillets dry then dip each fillet into the flour and coat both sides. Dip them into the egg wash and transfer them to the cheese mixture to coat both sides of each fillet.
Cook the Tilapia:
Place a small piece of parchment paper on the bottom of the air fryer basket then place 1 to 2 fillets in the basket. See notes.
Cook for 4 to 5 minutes at 400°F until the cheese melts and the crust is golden brown. (see notes)
Notes
Do not crowd the fish into the air fryer basket or they will end up steaming and get a soggy crust. If you have a small air fryer you may only be able to fit one at a time.
Make sure to use parchment paper in the air fryer basket. The cheese coating tends to stick to the bottom of the basket even if you use non-stick spray. Parchment paper will make this recipe painless. Cut the parchment paper to fit the bottom of the basket. If it is too large, it can be burned by the heating element in the air fryer.
Tilapia fillets cook quickly because they are thin and you will not need to flip them. If you use a different fish for this recipe make sure they 1/2 inch thick or thinner. If you use thicker fillets you will need to flip them and cook them for another 4 to 5 minutes.
If you use frozen fish fillets make sure they are completely thawed before you cook them.
Nutrition Information:
Yield:

4
Serving Size:

1
Amount Per Serving:
Calories:

381
Total Fat:

14g
Saturated Fat:

6g
Trans Fat:

0g
Unsaturated Fat:

6g
Cholesterol:

191mg
Sodium:

1149mg
Carbohydrates:

17g
Fiber:

1g
Sugar:

0g
Protein:

47g
Nutrition information is a guideline only, is calculated automatically by third party software, and absolute accuracy is not guaranteed.