This recipe for air fryer tilapia is a quick and easy meal that will get dinner on the table in 20 minutes. The air fryer cooks the fish perfectly, keeping it tender and flaky while giving it a nice crispy crust. Parmesan cheese and a simple seasoning blend give the fish a flavorful kick. You can even make this a low-carb dinner with a simple ingredient swap!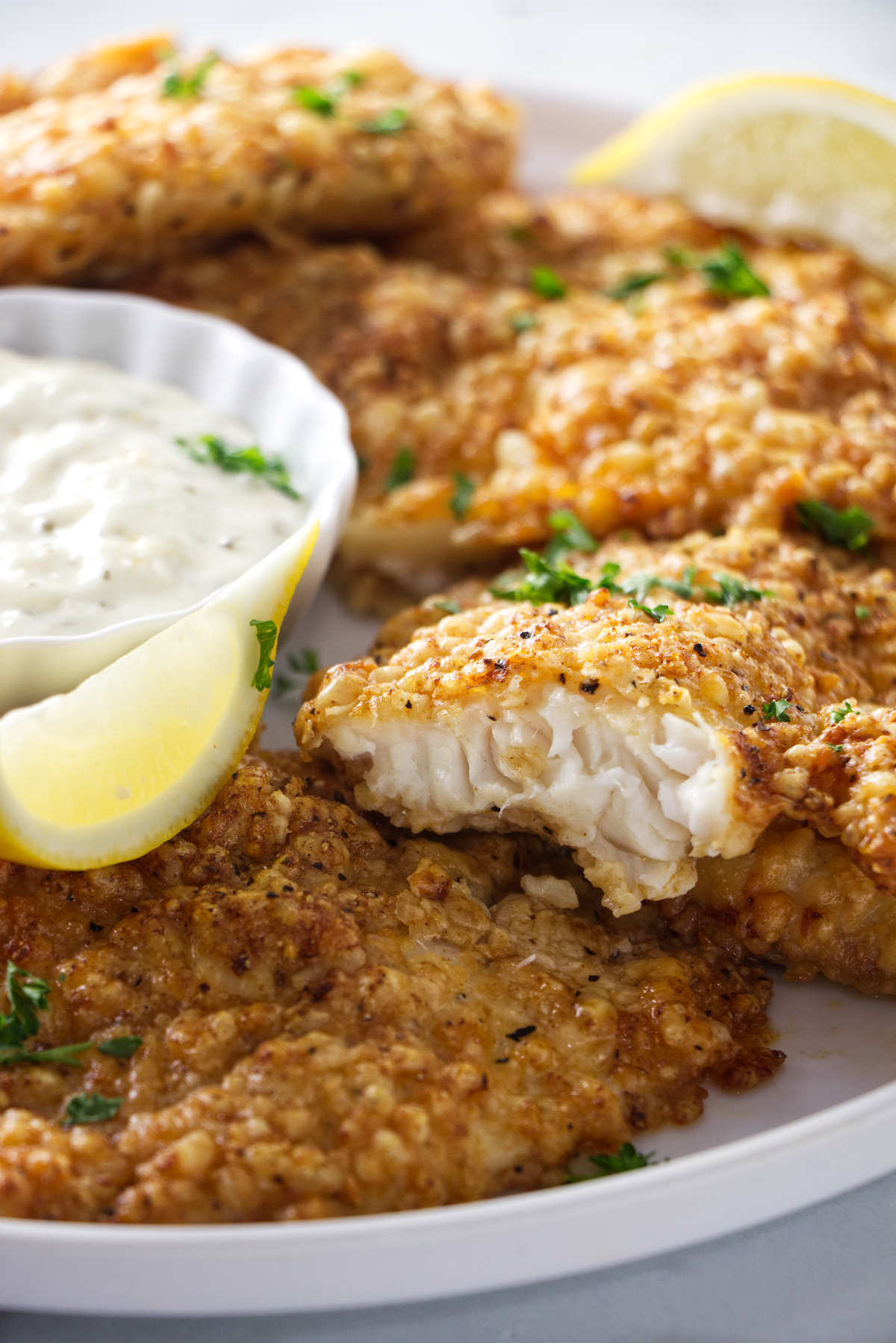 Serve this parmesan-crusted tilapia with air fryer green beans and AF baby potatoes for a complete meal. 
Who doesn't love fish and chips?! But dunking fish in a pot of hot oil is messy and isn't the healthiest option. Instead, you can use an air fryer to make a healthy meal that the whole family will love!
As much as I love fried fish, I try to have a balance of healthy recipes in my menu plan. The air fryer is the best way to cook tilapia without sacrificing the flavor of a traditional fry. And this air fryer tilapia recipe is my favorite quick and easy way to make fish and chips when paired with air fryer Jojo's or cheesy potato wedges.
For more healthy air fryer recipes, check out these:
If you are looking for more healthy fish recipes, check out our grilled tilapia or whole salmon on the grill.
[ez-toc]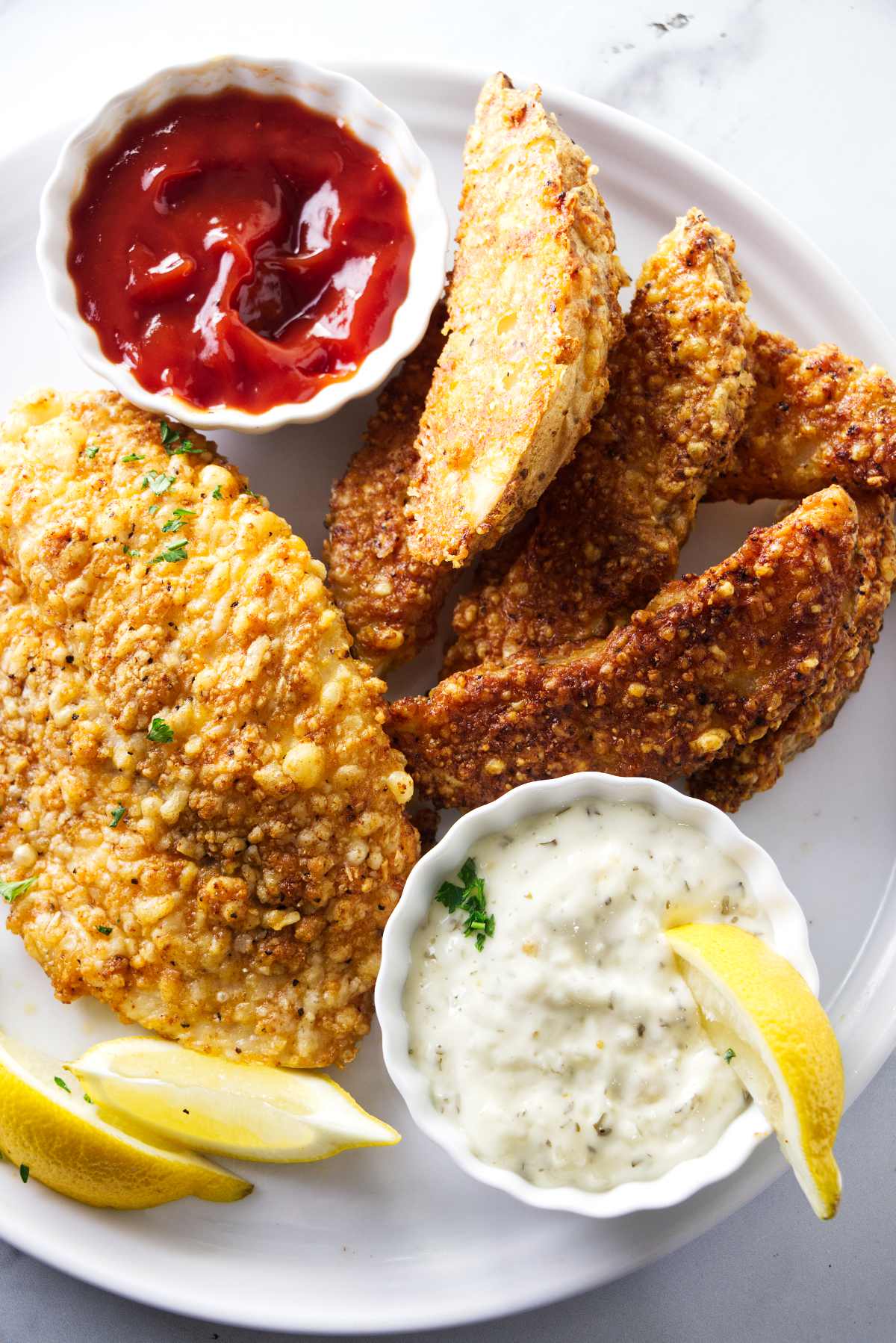 ❤️ Here is Why This Recipe Works
Tilapia is a flaky white fish that is easy to cook and only needs a few simple ingredients to prepare. This recipe only takes a few minutes, and it is perfect for busy weeknights.
Air fryer tilapia is a healthier and easier alternative to traditional fried fish and chips. With just a few simple steps, this recipe delivers that wonderful flavor you'd expect from fried fish without all the grease and mess.
A flavorful seasoning mixture, parmesan cheese, and zesty lemon make a delicious coating on the tilapia filets that will have everyone asking for seconds – it's guaranteed to be one of your favorite recipes!
The air fryer cooks tilapia perfectly, giving it a beautiful brown crust on the outside while keeping the delicate fish tender, flaky, and moist.
Since tilapia has a mild flavor, you can pair it with just about anything for a delicious dinner. Here are just a couple of ideas: make tilapia fish tacos with guacamole, replace the beef in our stuffed potatoes, or sandwich it between bread rolls to make a fish burger (our donkey sauce is great with a burger).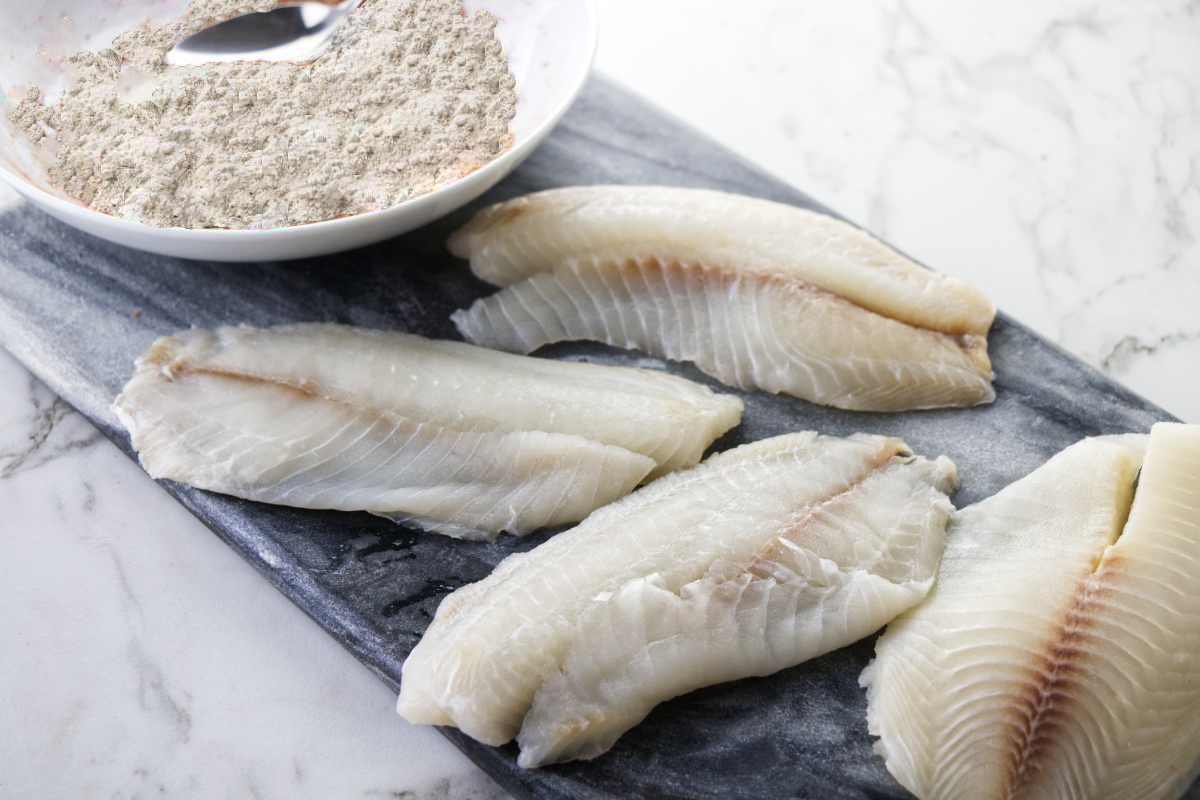 🗒 The Ingredients
Here is a list of the ingredients for this air fryer tilapia recipe. Scroll down to the printable recipe card for all the details.
Tilapia. You can use frozen or fresh fish fillets, but for this recipe, you will need to thaw the fish so the parmesan batter can stick to the fish.

Flour. A light dusting of flour helps the egg batter stick to the fish. If you want to make this a low-carb meal, you can use coconut flour.

Eggs. The eggs give a base for the parmesan crust to adhere to the fish.

Parmesan cheese. Parmesan adds a flavorful coating and makes this dish relatively low in carbs as compared to a bread coating.

Spices and seasonings: Garlic powder, black pepper, salt, paprika, lemon zest.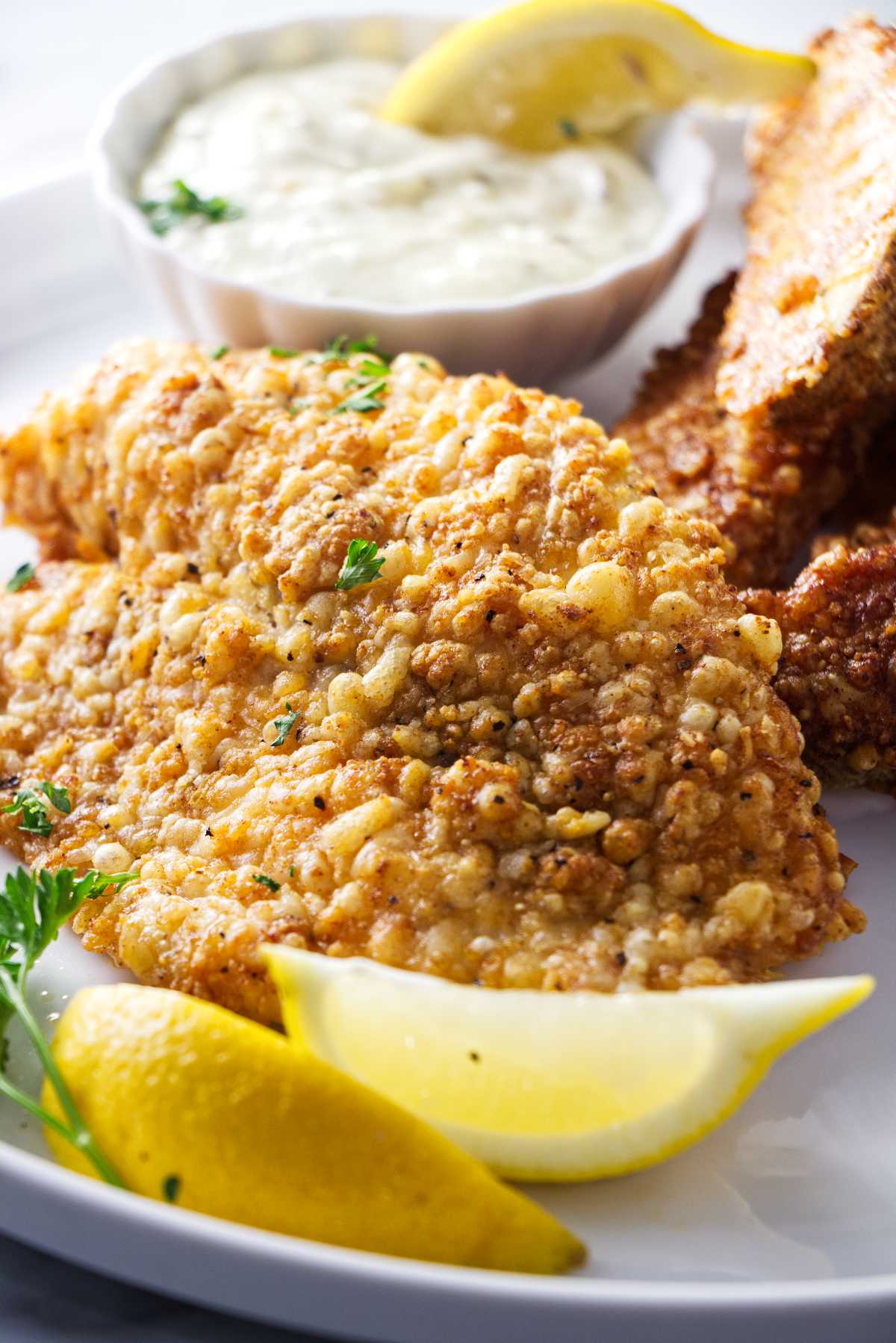 👨‍🍳 How to Make It
Here is a brief overview to see how to air fry tilapia. Scroll down to the printable recipe card for all the details.
To get started, set up 3 shallow dishes and place the flour in one dish, whisked eggs in the second, and the Parmesan cheese and seasonings in the third dish.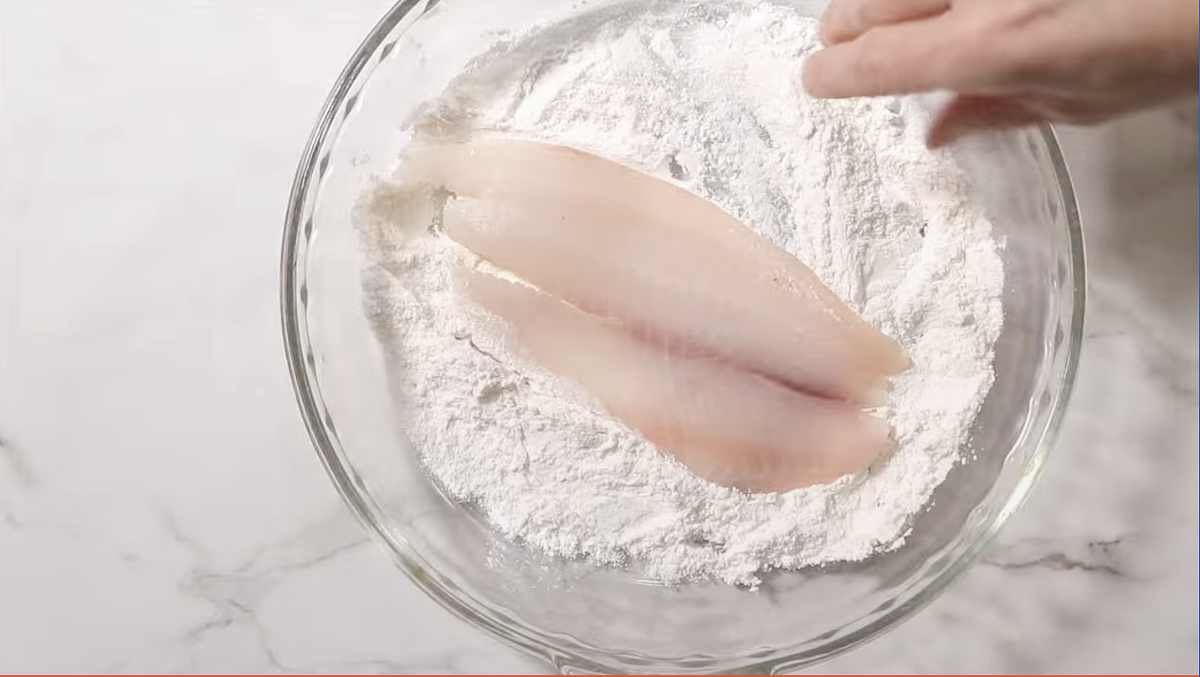 Dry the fish fillets with paper towels and dredge them in the flour.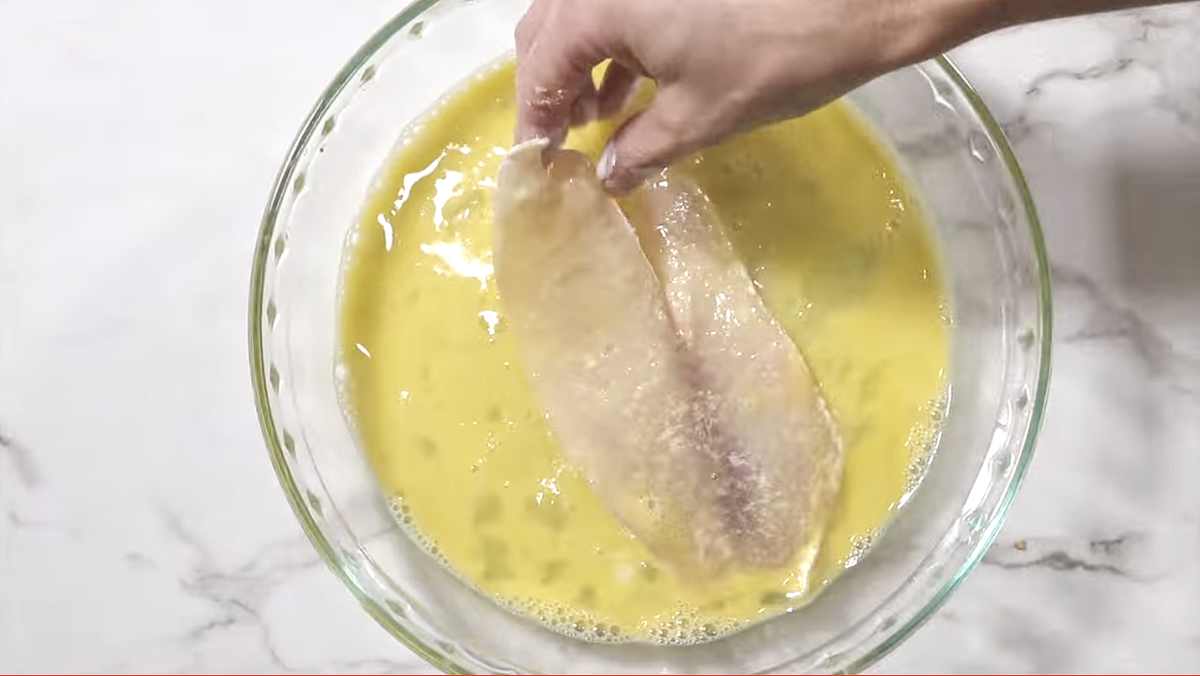 Transfer the tilapia to the egg wash and coat both sides.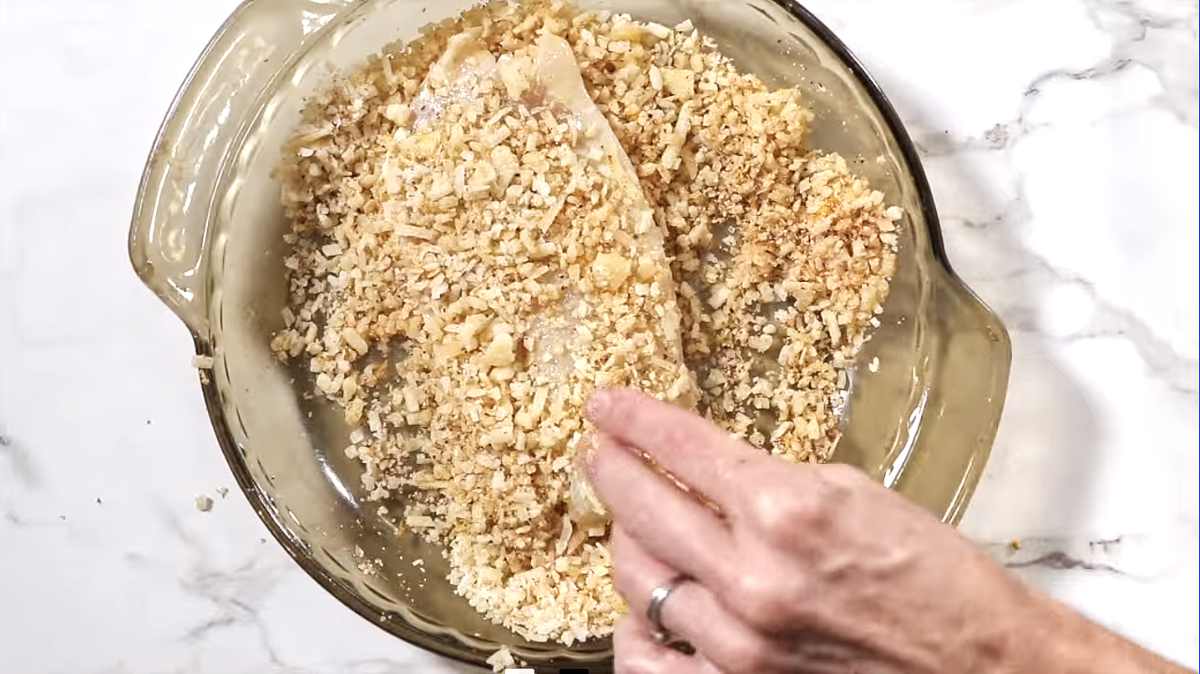 Dredge the fish in the parmesan cheese and press down firmly so the cheese sticks to the filets.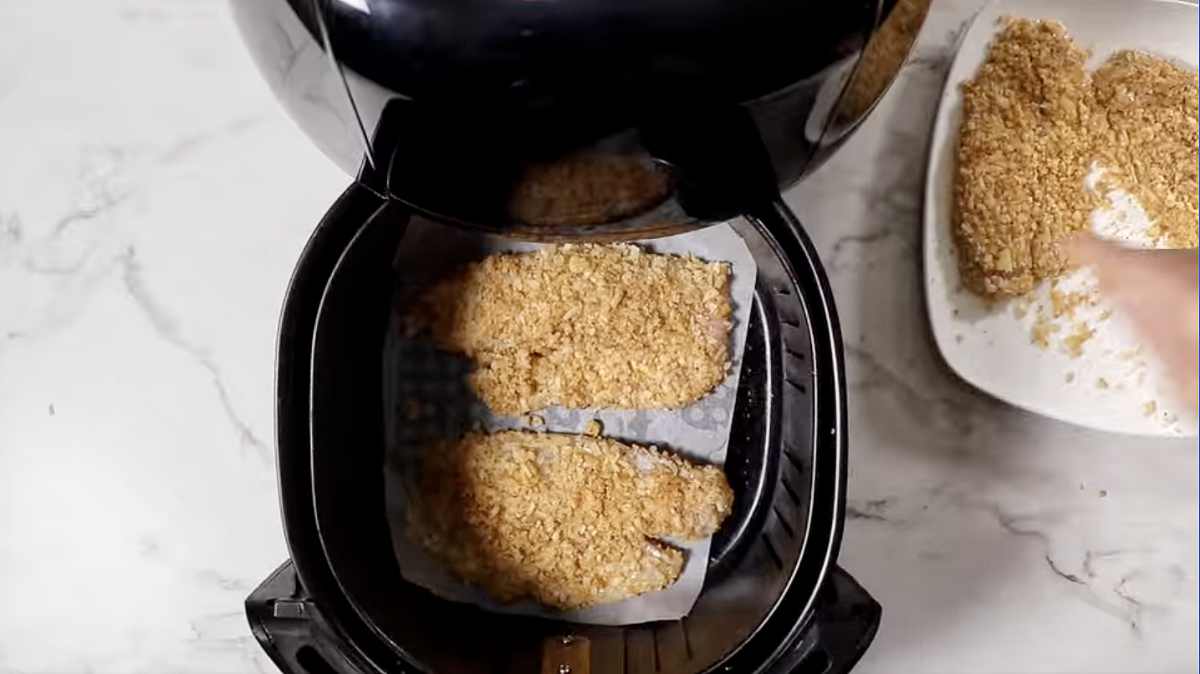 Place the fish in the air fryer and cook until golden brown. Serve with a squirt of lime juice or lemon wedges.
😉 Tips for Success
The cooking time will vary slightly depending on the thickness of your fish filets.

Tilapia is finished cooking when it is no longer opaque and flakes easily. Since this is a flaky fish, it is easy to see when it is done. If you have a meat thermometer, the internal temperature should register 145°F but don't fret if you don't have a thermometer.

Don't overcrowd the air fryer. Keep the parmesan crusted tilapia in a single layer so they cook evenly. If you have a small basket, cook the fish in batches.

For best results, line the air fryer with parchment paper. The cheesy coating tends to stick to the air fryer even if you use cooking spray. Amazon sells parchment paper that is made specifically for air fryers.

We tested this recipe with several different types and brands of air fryers, and the cooking time varies between them. Test for doneness and add more time if needed.
🤔 Substitutions and Variations
The great thing about this fish is how adaptable it is. You can use a variety of herbs and spices to adjust the flavor, so it's always different and never boring! Here are some ideas for more air fryer tilapia recipes.
For a keto-friendly diet: This air-fryer tilapia recipe is perfect for a keto diet if you swap out the flour for coconut flour. Everything else in this recipe is low in carbohydrates.

Honey mustard: Combine 3 tablespoons of honey with 2 tablespoons of Dijon mustard. Skip the flour and egg dredge and coat the fish in the honey mustard, then cover it with the Parmesan coating.

Make it spicy: Replace the spice mixture with our Cajun seasoning for a spicy flavor.

Lemon pepper tilapia: Drizzle some melted garlic butter on the fish fillets, then sprinkle them with lemon pepper seasoning.
⏱️ Storage and Reheating
Store leftover tilapia in an airtight container for three days in the fridge or six months in the freezer.
To reheat, you can zap the fish in the microwave until heated through or pop it back in the air fryer for about 2 to 3 minutes. You can even reheat the Parmesan breaded tilapia from frozen for 10 to 12 minutes.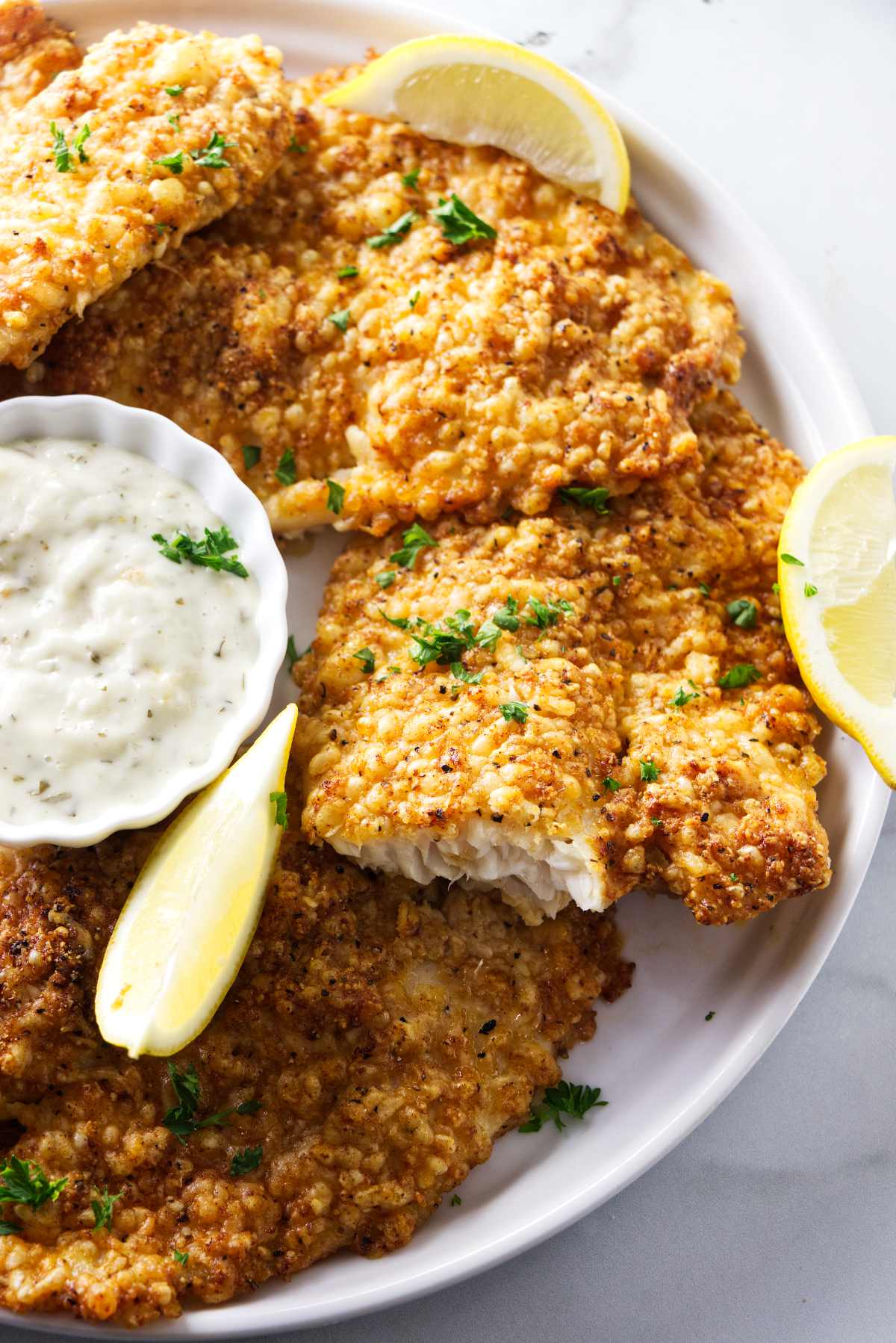 ❓ Frequently Asked Questions
What is the best temperature to cook tilapia?
Since tilapia is thin, you can cook it quickly at a higher temperature. Set the air fryer between 390°F and 400°F.
Is tilapia a healthy fish to eat?
Yes! Tilapia is a low-calorie, lean source of protein that is packed with nutrients. As long as it's cooked without adding too much fat or oil, tilapia can be a healthy option for any diet. 
Can I use this recipe for different fish?
Yes. For this recipe, it is best to use fillets that are 1/2 inch thick. If your fish fillets are thicker than that, you should flip them and cook for an additional 4-5 minutes or until a meat thermometer registers 145°F.
🛠 Tools and Equipment
If you click on some of the following affiliate links and buy something, we might get a small commission. You don't pay any extra, but it will help us keep the lights on and our bellies full!
🤤 Try These Awesome Recipes
Our air fryer cherry tomatoes make a great side dish with this tilapia dinner. The air fryer roasts the tomatoes and brings out their natural sweetness.
Try Butternut squash in the air fryer or AF baked potato with this healthy tilapia recipe. Both are delicious and make great accompaniments to the dish.
Save room for dessert. Try our air fried Oreos, air fryer brownies, or deep dish chocolate chip cookie bowls in the air fryer.
🎁 Wrap It Up
This air fryer tilapia is an easy and delicious way to enjoy a healthy fish dinner. This recipe will be a hit with the entire family with the flavorful parmesan coating and spice mixture. Plus, it is easy to make this a low-carb recipe by swapping the flour for coconut flour.
💬 Tell Me What You Think!
Did you try out this recipe? Please leave a comment below and let me know how you liked it. Also, snap a picture and post it to your favorite social platform. Be sure to tag me at @alicensetogrill and let me know how you liked it!
CONNECT WITH A LICENSE TO GRILL!
Be sure to follow us on our social media accounts.
Did you make this recipe? Tell us about it in the comments below!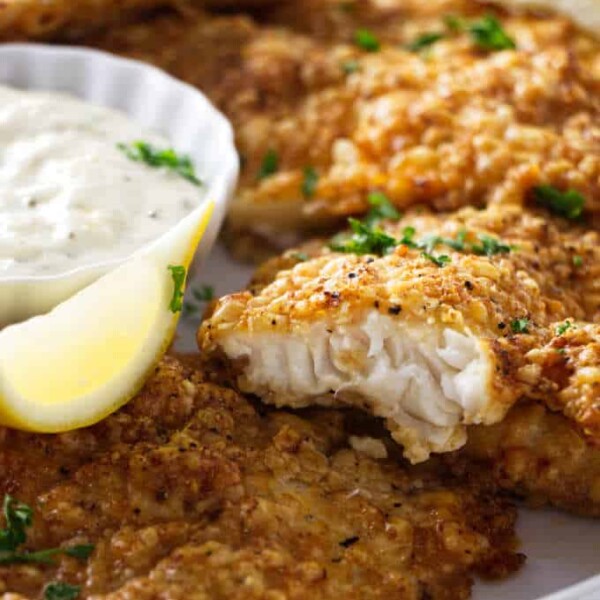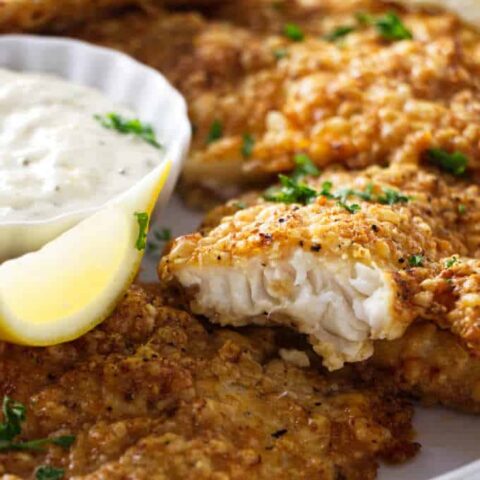 Air Fryer Tilapia
This tilapia fries super quick and comes out crispy in the air fryer. The parmesan crust with lemon zest is fresh and light and adds a delicious crunch! Pair these with some air fryer onion rings or fries for fish and chips night!
Ingredients
4 fillets of Tilapia
1/2 cup flour
4 ounces parmesan cheese, grated
2 teaspoons lemon zest
1 teaspoon salt
1 teaspoon garlic powder
1/2 teaspoon black pepper
1/2 teaspoon paprika
2 eggs
Instructions
Coat the Tilapia fillets:
Set up 3 shallow dishes (I used pie dishes). Place the flour in one dish. Crack the egg into another and whisk the eggs really well. In the third dish, combine the cheese, paprika, lemon zest, salt and pepper and combine.
Pat the tilapia fillets dry then dip each fillet into the flour and coat both sides. Dip them into the egg wash and transfer them to the cheese mixture to coat both sides of each fillet.
Cook the Tilapia:
Place a small piece of parchment paper on the bottom of the air fryer basket then place 1 to 2 fillets in the basket. See notes.
Cook for 4 to 5 minutes at 400°F until the cheese melts and the crust is golden brown. (see notes)
Notes
Do not crowd the fish into the air fryer basket or they will end up steaming and get a soggy crust.  If you have a small air fryer you may only be able to fit one at a time. 
Make sure to use parchment paper in the air fryer basket. The cheese coating tends to stick to the bottom of the basket even if you use non-stick spray. Parchment paper will make this recipe painless. Cut the parchment paper to fit the bottom of the basket. If it is too large, it can be burned by the heating element in the air fryer.
Tilapia fillets cook quickly because they are thin and you will not need to flip them. If you use a different fish for this recipe make sure they 1/2 inch thick or thinner. If you use thicker fillets you will need to flip them and cook them for another 4 to 5 minutes. 
If you use frozen fish fillets make sure they are completely thawed before you cook them. 
Test the doneness of the tilapia by sticking a fork in the center of the fish fillet and giving it a twist. It should flake easily when it is done. If you have an instant read thermometer, the fish should reach an internal temperature of 145°F.
Recommended Products
As an Amazon Associate and member of other affiliate programs, I earn from qualifying purchases.
Nutrition Information:
Yield:

4
Serving Size:

1
Amount Per Serving:
Calories:

381
Total Fat:

14g
Saturated Fat:

6g
Trans Fat:

0g
Unsaturated Fat:

6g
Cholesterol:

191mg
Sodium:

1149mg
Carbohydrates:

17g
Fiber:

1g
Sugar:

0g
Protein:

47g
Nutrition information is a guideline only, is calculated automatically by third party software, and absolute accuracy is not guaranteed.