I love how tender and flavorful pork tenderloin is, and this smoked stuffed pork tenderloin is my favorite go-to tenderloin recipe! This pork is coated in a delicious cajun spice rub and stuffed full of cheese, bacon, and spinach. As soon as you cut into the pork tenderloin, the creamy cheese filling oozes out. I am getting hungry just thinking about this recipe!
If you happen to have a couple of pork tenderloins, then check out this recipe for smoked bacon-wrapped pork tenderloin.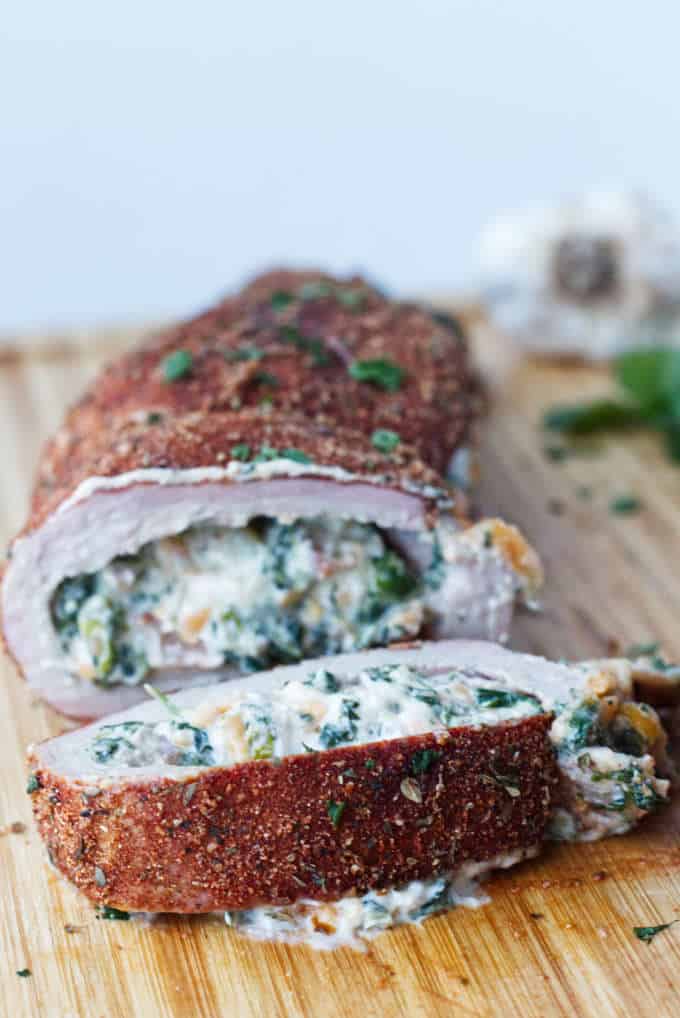 What is pork tenderloin?
Pork tenderloin comes from the area upper-midsection of the pig just below the backbone. The tenderloin comes from the back end of the loin and is a non-weight-bearing muscle. Since the pig doesn't use this muscle much throughout its life, it always stays incredibly tender when cooked to perfection!
Pork loin is a much larger cut of meat compared to the tenderloin. A typical tenderloin will weigh in at about 1-2 pounds. These are distinctly different cuts.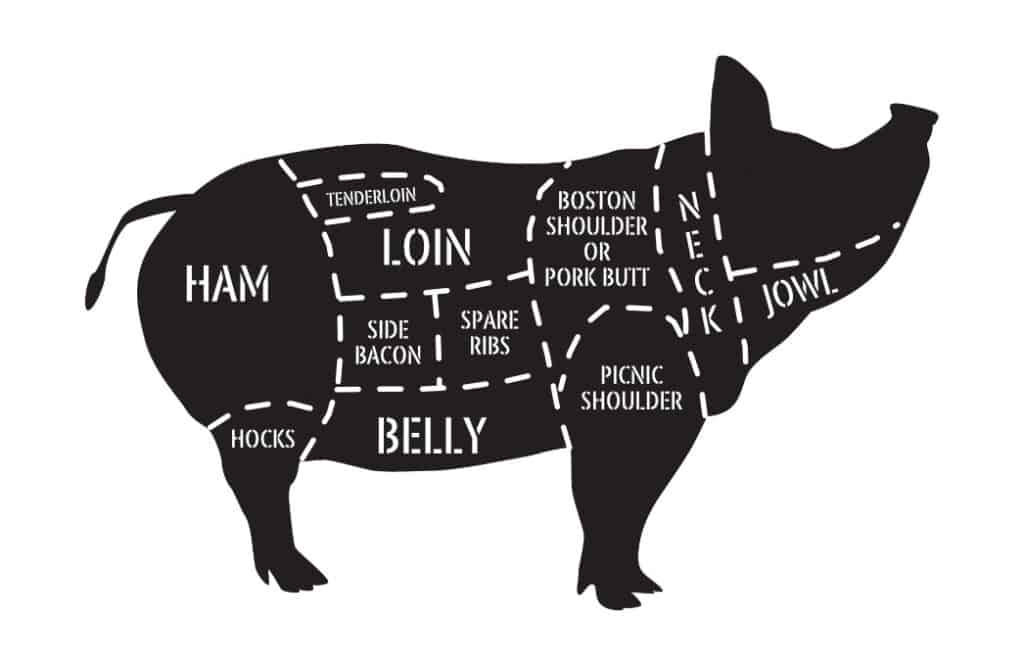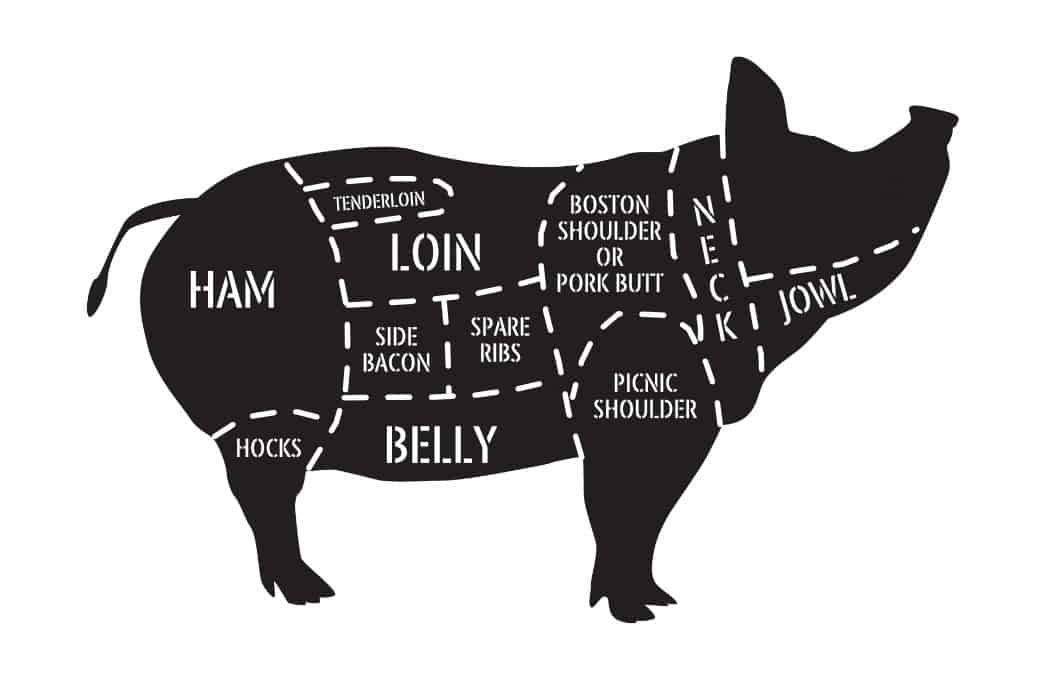 Pork Tenderloin vs. Pork Loin
Pork Tenderloin
Location on the pig: The tenderloin comes from the upper back of the pig just below the backbone.
How to buy it: Tenderloin is always boneless and comes packaged usually in a pack of 2. Each tenderloin weighs about 1-2 pounds.
Lean or fatty? Pork tenderloin is relatively lean but you will still need to trim it before cooking. There is some silverskin that needs to be removed. Silverskin is a tough membrane on the meat.
How to cook it: Since tenderloin is lean, it will become tough if overcooked. You can quickly cook it on the grill or roast it slowly in the oven. Regardless, make sure the internal temperature doesn't go above 145°F for the perfect tenderness.
Pork Loin
Location on the pig: The loin is a large slab of meat on the back of the pig, the upper-midsection.
How to buy it: You can usually find loin in several different ways both bone-in or boneless. You can purchase a full loin which can be 10-15 pounds, but you could also find pork chops which are steaks cut from the loin. The loin can also have the rib bones attached, known as a pork rack.
Lean or fatty? The loin is relatively lean. You will usually find that it has a fat cap that needs to be trimmed down before cooking.
How to cook it: The loin will take a bit longer to cook since it is so much larger than a tenderloin. It is best cooked low and slow so that it stays tender.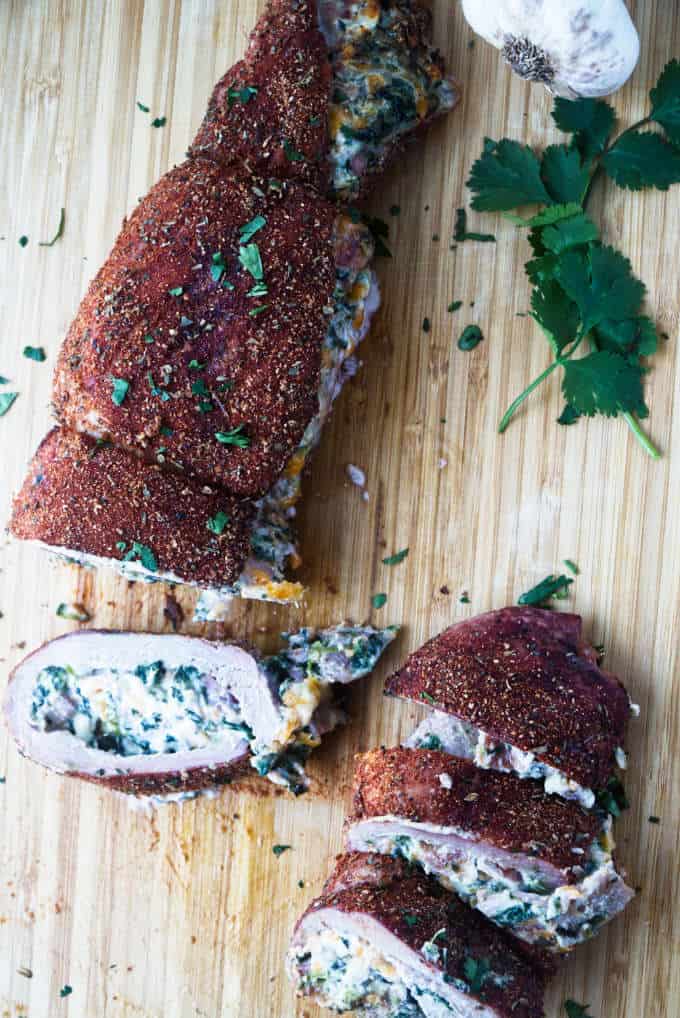 How to stuff tenderloin
When I stuff pork tenderloin, I want the entire tenderloin to be stuffed so every bite is filled with cheesy goodness! The trick in making sure that every bite has some of this goodness is to butterfly the pork tenderloin and flatten it out. Then you can be sure to coat it from edge-to-edge with stuffing!
Butterfly the tenderloin: Cut the meat down the center lengthwise so it can be laid out flat on your cutting board.
Pound the pork flat: Use a piece of plastic wrap to cover the meat and use a meat tenderizer to pound the meat flat to about 1/4″ thick.
Coat the meat evenly with your stuffing: For this recipe, I used a mixture of cream cheese, cheddar cheese, mozzarella cheese, and frozen spinach. Once it was mixed thoroughly, I spread it evenly from edge-to-edge of the tenderloin.
Roll the pork up: Carefully roll the tenderloin up to create a meat log and create a pinwheel of stuffing inside of the tenderloin.
Rub: Use your favorite dry rub to coat the pork tenderloin for an extra punch of flavor! I used this awesome cajun seasoning mix.
Tie it shut: Use three pieces of twine to tie shut the pork tenderloin so it can hold its shape while cooking.
How to smoke pork tenderloin
Pork tenderloin is a small cut of meat so you can finish it off fairly quickly in the smoker. In this recipe, I smoked it for about 1 hour at 250°F. If you are in a hurry, you can increase the temperature on your smoker. Just be sure that you finish cooking it before the internal temperature extends above 145°F. The reason I smoke meat is to get that awesome wood smoke flavor, so decreasing the cooking time will affect the flavor in the end.
Preheat your smoker to 250°F.
Trim off excess fat, membrane, and silver skin with a sharp knife.
Flavor your meat. In this case, I used a cajun seasoning mix.
Smoke the meat for about 1 hour or until the internal temperature reaches 140°F.
Sauce the pork while it is cooking. This is optional but if you decide to add sauce during the cook, add it between 130°F – 135°F so the sauce has time to carmelize while cooking during the final minutes.
Rest and Enjoy! Once the internal temperature reaches 140°F – 143°F, pull it off the grill. Let the meat rest for about 10 minutes before slicing.
Helpful tools and equipment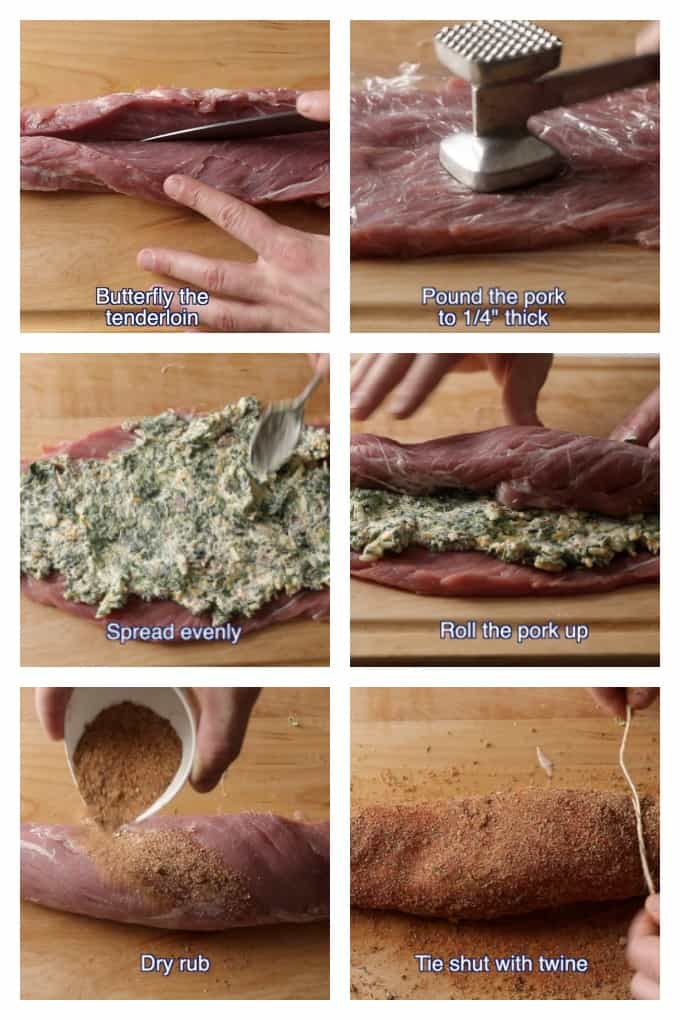 What else is cooking over here?!
Check out these awesome smoked brisket burnt ends! They were so tender and delicious. They are coated in a delicious Kansas City-Style BBQ Sauce. Each bite had a distinct sweet and savory tang to it, aided by the addition of brown sugar during the cook.
If you need another incredible recipe for stuffed pork tenderloin, then head over to Savor the Best and check out this apple stuffed pork loin. I love the sweetness from the apples!
Speaking of apples, check out these air fryer apple fritters!!! I mean, who can say "no" to dessert? These fritters are very quick to cook up and will satisfy your sweet tooth for a unique dessert in the air fryer.
CONNECT WITH A LICENSE TO GRILL!
Be sure to follow us on our social media accounts
Facebook * Instagram * Pinterest * YouTube * Twitter
Did you make this recipe? Tell us about it in the comments below!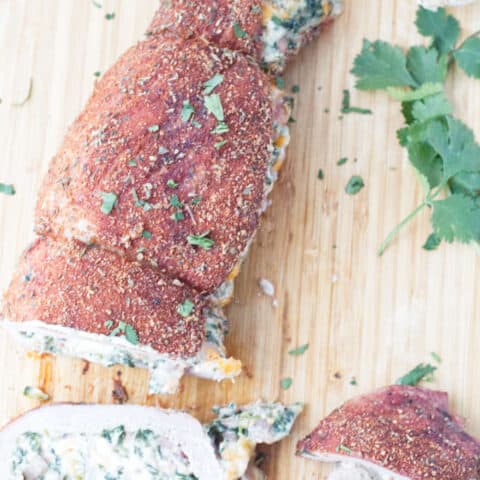 Traeger Smoked Stuffed Pork Tenderloin
Total Time:
1 hour
20 minutes
A pork tenderloin that is packed full of cheese, bacon, and spinach! As soon as you slice into this tenderloin, the creamy cheese mixture will spill out. It is coated in a cajun spice rub and cooked on the smoker for a delicious flavor. It doesn't get any better than this!
Ingredients
1 1-2 pound pork tenderloin
4 ounces cream cheese
6 to 8 slices of cooked bacon, chopped
1/3 cup shredded cheddar cheese
1/3 cup shredded mozzarella cheese
4 ounces frozen spinach, thawed and chopped
2 tablespoons cajun seasoning rub
Instructions
Preheat the Traeger or other smoker to 250°F.
Butterfly the tenderloin by slicing it in half, lengthwise. Do not cut all the way through. Open it like a book and use a meat tenderizer/mallet to pound it flat to 1/4 inch thick.
Mix the cream cheese, bacon, cheddar, mozzarella, and spinach in a bowl.
Spread the cheese mixture on the tenderloin and roll it up jelly-roll fashion. Secure it with cooking twine. Cover the tenderloin with the cajun seasoning rub.
Place the tenderloin on a baking pan or grill pan and put it in the pre-heated Traeger.
Cook for approximately 45 minutes to 1 hour or until the internal temperature reaches 140°F - 143°F.
Remove the tenderloin and cover it with a sheet of foil for 10 minutes to rest before you slice it.
Notes
This recipe for Cajun Spice Dry Rub makes one cup of seasoning which you can use for this recipe and others on the blog!
During the rest period, the tenderloin will continue to rise in temperature and should reach 145°F, which is the recommended internal temperature.
Nutrition Information
Yield

6
Serving Size

1
Amount Per Serving
Calories

410
Total Fat

21g
Saturated Fat

9g
Trans Fat

0g
Unsaturated Fat

10g
Cholesterol

154mg
Sodium

1578mg
Carbohydrates

4g
Fiber

1g
Sugar

1g
Protein

49g
Nutrition information is a guideline only, is calculated automatically by third party software, and absolute accuracy is not guaranteed.