Traeger Grilled Whole Tilapia
on Jan 11, 2022, Updated Sep 01, 2023
If you're looking for an easy, healthy, and delicious seafood dish to grill up on your Traeger, look no further than this recipe for grilled whole tilapia. The Traeger adds an infusion of smoked flavor to this whole grilled tilapia, making it a great way to grill up some seafood for an excellent meal. Also, the smoking process helps lock in moisture and adds an extra dimension of flavor. Cooking a whole fish is easier than you think, so fire up your Traeger!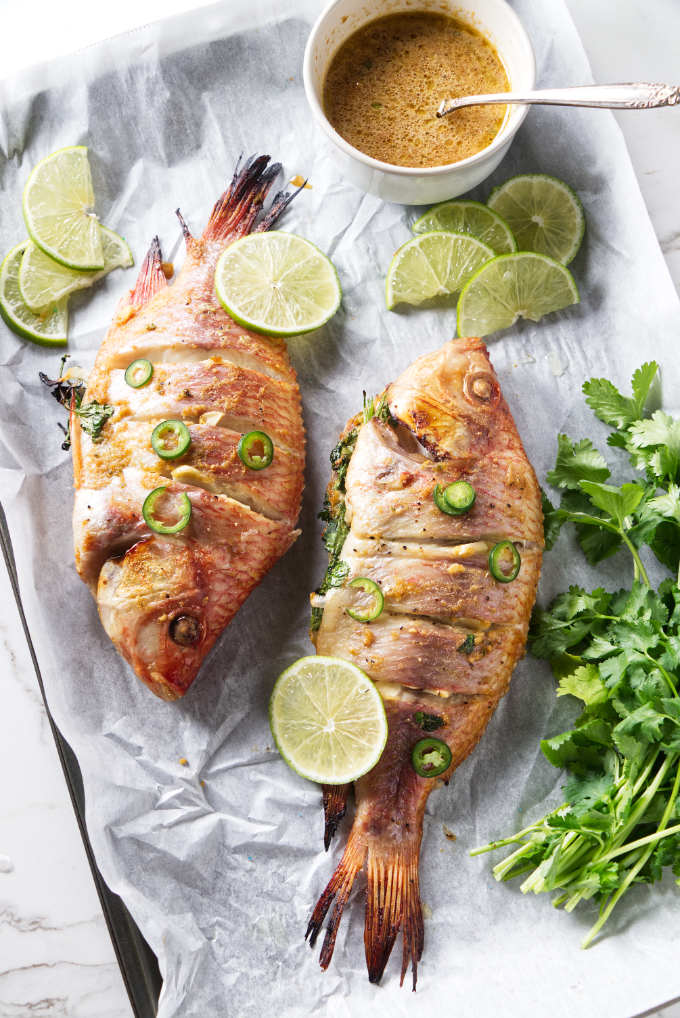 Tilapia is a mild fish that pairs well with various flavors. This recipe uses a bold chili lime sauce to add an extra kick of flavor. The sauce permeates the delicate fish as it cooks, while the Traeger adds a hint of smokiness that enhances the meal. Plus, the Traeger will help you get an even cook on the whole fish.
Here is Why This Recipe Works
The chili lime sauce adds a punch of sweet, spicy, and umami flavors.
Stuffing the fish with fresh aromatics helps infuse more flavors into the fish.
The pellet grill adds a mild smoky flavor that doesn't overpower the fish.
If you want to change the flavors up a bit, you can swap the chili lime sauce for our orange lemon butter sauce. And, if you want more tilapia recipes, check out our air fryer tilapia and our tilapia fish tacos.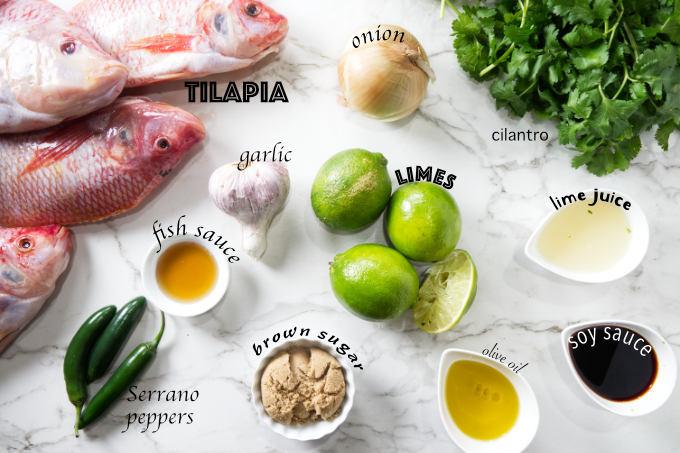 The Ingredients
Here is a list of the ingredients for our Traeger smoked whole tilapia recipe. Scroll down to the printable recipe card for the ingredient amounts.
Whole tilapia
Olive oil
Salt and pepper
Limes
Onion
Garlic cloves
Serrano pepper
Cilantro
Soy sauce
Lime juice
Brown sugar
Fish sauce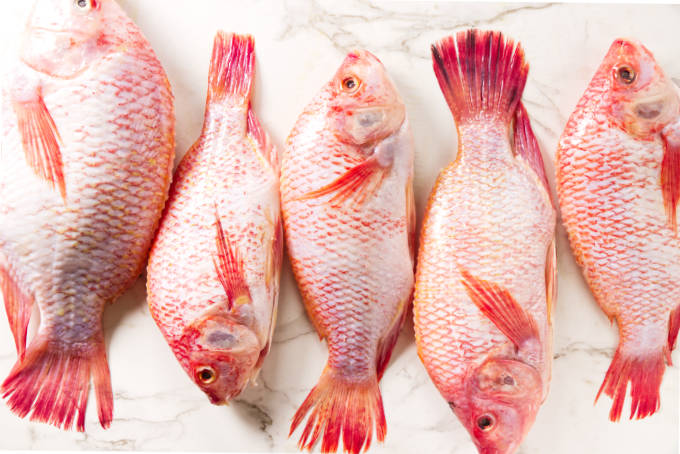 How to Buy Fresh Fish
When you buy whole fish, you can be more confident of its freshness (versus purchasing fillets). Here are some signs to look for to guarantee fresh fish.
Eyes: should be clear and bulge a little, not sunken.
Gills: should be bright red and wet looking, not brown or slimy.
Skin: When pressed with your finger, the skin should spring back quickly and not leave an indentation.
The smell: The fish should not smell fishy. It should have a clean, fresh scent, like the ocean.
The fins and tail: Ensure the fins and tail are not dry and brittle.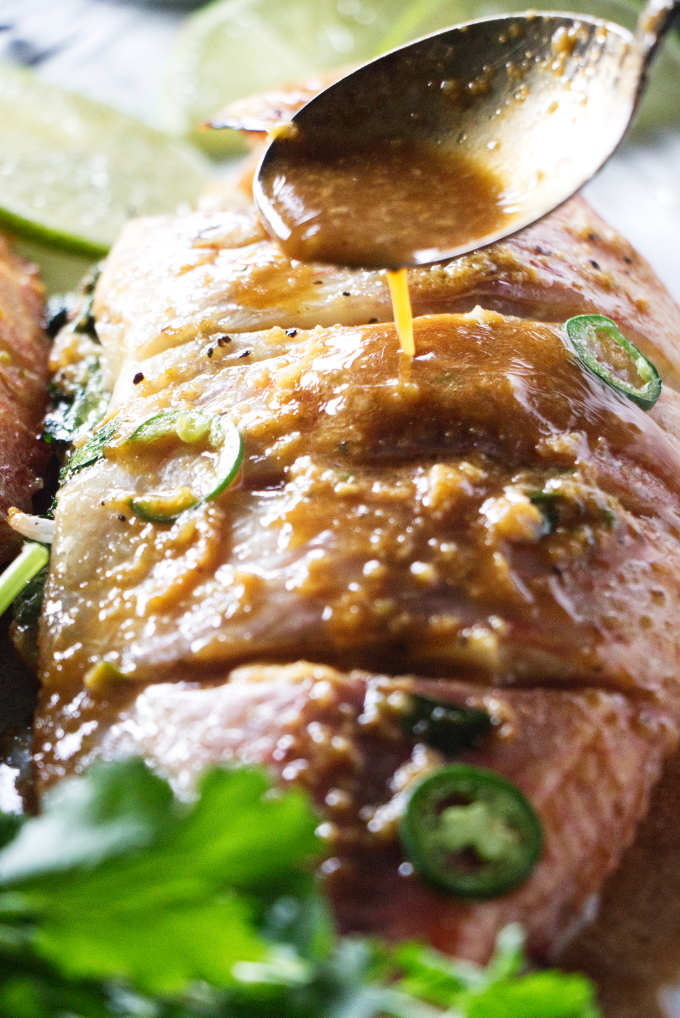 How to Cook Traeger Grilled Whole Tilapia
Here is a quick overview of the process so you can grill up the best tilapia! In addition, there is a printable recipe card below with more detailed steps.
Make some shallow cuts on the outside of each tilapia and coat them with olive oil.
Season the fish and stuff the cavity with the aromatics.
Make the sauce. Add all the ingredients for the sauce to a blender and puree.
Use half of the sauce to coat the fish then place them on the preheated Traeger.
Serve with extra sauce on the side.
While the fish cooks on the grill, you can whip up some air fryer asparagus or broccoli to serve with dinner, along with a side of rice or a side salad. If you want to round the meal out with dessert, try our deep dish chocolate chip cookie bowls or air fryer brownies.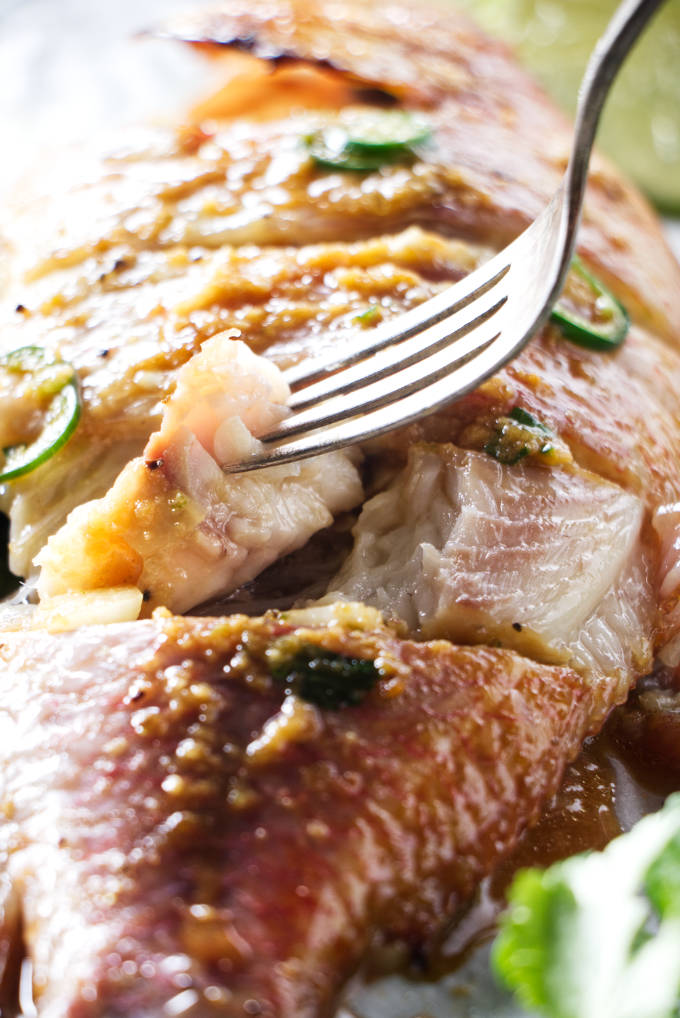 Tips for Success
If you click on some of the following affiliate links and buy something, we might get a small commission. You don't pay any extra, but it will help us keep the lights on and our bellies full!
Use a BBQ thermometer or an instant-read thermometer to determine the doneness of the tilapia.
To prevent the stuffing from falling out of the cavity, use a large grilling spatula to transfer the fish. Optionally, you can tie the fish with cooking twine.
The FDA recommends cooking tilapia to 145°F. I like to take tilapia off the grill at 140°F because residual heat will continue cooking the fish. When I make grilled salmon, I only cook it to about 125°F but tilapia can handle a bit more cooking without drying out.
If you are looking for something new to try this weekend, give our Traeger smoked whole tilapia recipe a go! It's easy enough that anyone could do it at home but so delicious that your guests will think you run an upscale restaurant.
CONNECT WITH A LICENSE TO GRILL!
Be sure to follow us on our social media accounts.
Did you make this recipe? Tell us about it in the comments below!
💬 Tell Me What You Think!
Did you try out this recipe? Please leave a comment below and let me know how you liked it. Also, snap a picture and post it to your favorite social platform. Be sure to tag me at @alicensetogrill and let me know how you liked it!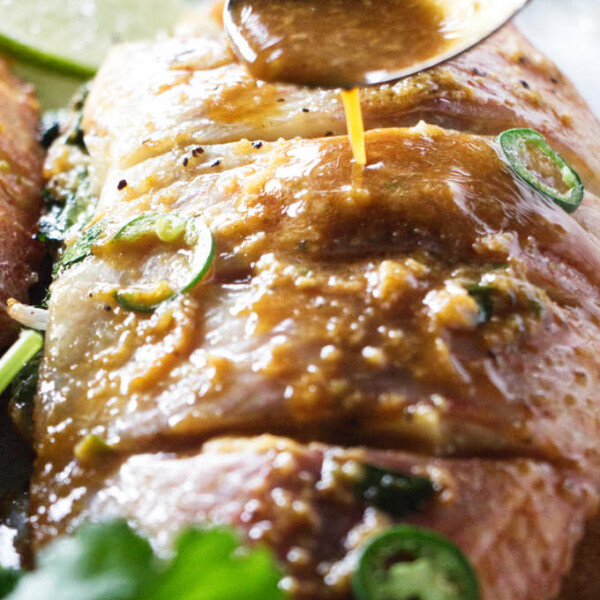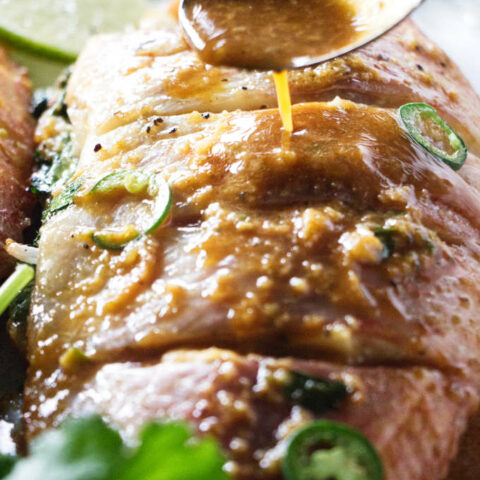 Traeger Grilled Whole Tilapia
This is how you smoke whole tilapia on a pellet grill for amazing results. We added aromatics to the cavity of the fish and further infused flavor with a chili lime sauce.
Ingredients
For the Tilapia
3 to 5 whole tilapia, cleaned and de-scaled
2 tablespoons olive oil
1/2 teaspoon salt
1/2 teaspoon pepper
1-2 limes, sliced
1/2 onion, sliced
8 to 10 garlic cloves, sliced
1-2 Serrano pepper, sliced
1/2 bunch cilantro
For the Sauce
1/2 onion, chopped
1/2 cup chopped cilantro
1/4 cup soy sauce
1/4 cup olive oil
1/4 cup lime juice (from 2 limes)
3 tablespoons brown sugar
2 tablespoons fish sauce
3-4 garlic cloves, minced
1 to 2 serrano peppers, sliced
Instructions
Preheat the pellet grill to 400°F and oil the grill grates.
Make 3 to 4 vertical cuts on both sides of the fish.
Coat the fish with olive oil. Make sure to get inside the cavity. Season inside and out with salt and pepper.
Stuff the cavity of each fish with slices of lime, onion, garlic, Serrano pepper, and cilantro.
Stuff slices of garlic cloves inside the slits that you made on the fish.
Optional step: wrap cooking twine around the fish to keep the cavity closed and prevent the stuffing from falling out. If you transfer the fish carefully, you don't need to use twine.
Combine the sauce ingredients in a blender and blend until smooth.
Use half of the sauce to coat the fish. Make sure to get inside the slits and the cavity of the fish. Reserve the rest of the sauce to serve with the fish.
Grill the tilapia for 20 to 35 minutes (depending on the size of the fish) or until the internal temperature reaches 145°F. If you don't have a thermometer, the fish should look opaque and flake easily when it is finished cooking.
Serve the fish with the remaining sauce.
Notes
Making cuts on the outside of the fish is optional but it provides more surface area to infuse flavor. We typically leave the skin intact on larger fish because the skin helps hold in the moisture. However, tilapia is small and cooks quite quickly. 
Since the cavity on tilapia is small, it helps to tie the fish closed with cooking twine so the stuffing doesn't fall out. If you tie the fish with twine, make sure you use cooking twine so it doesn't catch fire on the grill. You can skip this step if you transfer the fish carefully.
Recommended Products
As an Amazon Associate and member of other affiliate programs, I earn from qualifying purchases.
Nutrition Information:
Yield:

5
Serving Size:

1 whole fish
Amount Per Serving:
Calories:

430
Total Fat:

21g
Saturated Fat:

4g
Trans Fat:

0g
Unsaturated Fat:

16g
Cholesterol:

97mg
Sodium:

1580mg
Carbohydrates:

17g
Fiber:

2g
Sugar:

9g
Protein:

47g
Nutrition information is a guideline only, is calculated automatically by third party software, and absolute accuracy is not guaranteed.