I use my air fryer all the time, and this air fryer conversion calculator helps me take my traditional oven recipes and modernize them for use with an air fryer.
Please consider signing up for my email list at the bottom of the air fryer calculator when submitting the recipe.
Send the air fryer conversion to your email
The best thing about the air fryer is how quick and easy it is to use. They are such a convenient size, they are generally always non-stick, they cook faster, they heat up quicker, the list goes on!
But of course, not every recipe that you get online or from the back of your head has the cooking time and temperature converted for the air fryer. This is why I made this air fryer calculator, a way to convert your recipe from the conventional oven to the air fryer. Keep scrolling beyond the calculator to find some cooking time cheat sheets for various foods.
Tip: this converter allows you to enter the recipe name and send a copy of the conversion to your email so you have a reference for later while you are using your air fryer.
This post may contain affiliate links. Please read our
disclosure policy
.
Air Fryer Cheat Sheets
Below is a list of cheat sheets for cooking various foods in the air fryer. The cheat sheets give a visual representation of the minimum and maximum cooking times for each food so that you never end up with burnt asparagus or undercooked chicken. Since every air fryer cooks a bit differently, the cooking time range serves its purpose as an estimation or guide.
I suggest first cooking the food to the minimum cook time and checking it to ensure it is done. If it still needs more time, then continue cooking up to the maximum time while checking it intermittently.
I have a great guide which explains how to use an air fryer – tips and tricks. Use this guide to learn things like what type of oil to use or how to preheat your air fryer.
Veggies
Vegetables in the air fryer are so great, I love how they get crispy. Nobody likes mushy or soggy Brussels sprouts and the air fryer cooks them to perfection.
Check out these vegetable recipes in the air fryer:

Chicken
I am always down for some juicy and crispy chicken wings, fried to perfection! The air fryer always turns out amazing wings without the need for tons of oil. Whether it is game day or a lazy night with some good friends, a giant bowl of chicken wings is always a big hit.
Use this cheat sheet to try out some of your favorite chicken recipes in the air fryer. If you need to convert your recipe from an oven to an air fryer, then scroll up and use the calculator.
Check out these chicken recipes in the air fryer: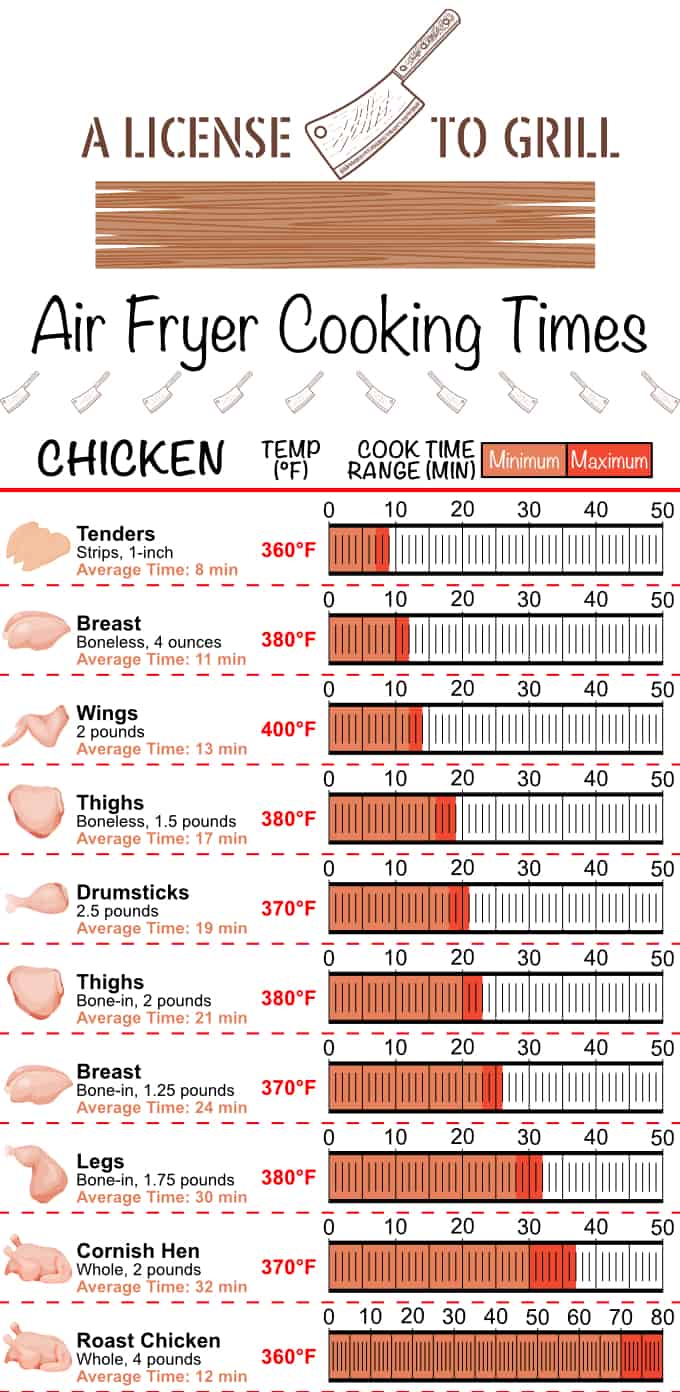 Beef
Now I will be completely honest, I prefer my steak on the grill or seared on a cast iron. If I have the time to fire up the charcoal grill, then I will always choose this method to get a great sear on my steak.
For me, it is more than just the flavor that the fire imparts on the steak, it is also the ritual of the process: grabbing a beer and drinking it while staring at the flame as the steak cooks.
Of course, sometimes I am in a rush, and admittedly I have cooked several steaks in the air fryer. They taste great and are incredibly easy, so give it a try! I guess I can still find joy in drinking my beer without the grill…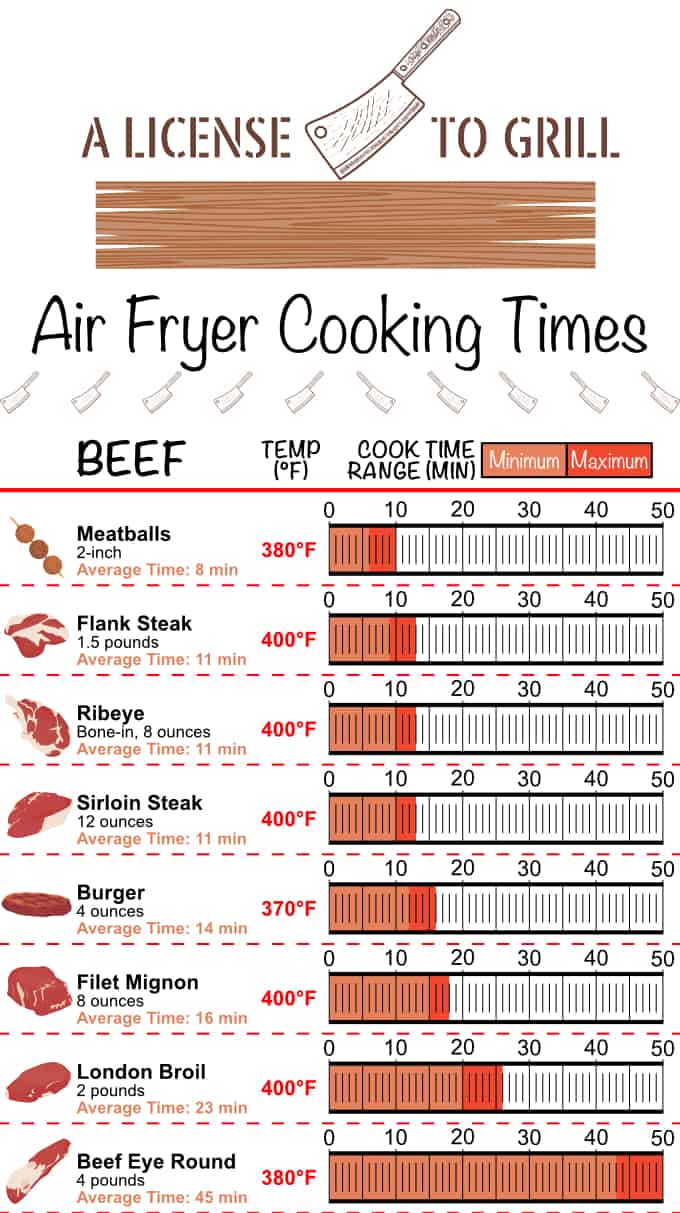 Pork & Lamb
Have you tried bacon in the air fryer yet?!
If not, you absolutely need to! Once you do, you will never go back to other archaic methods. In about 8 minutes, you have the most crispy and perfectly cooked bacon. Plus, all the grease collects in the basket and makes cleanup a breeze.
Check out these pork and lamb recipes in the air fryer:
*use this air fryer conversion calculator to convert these recipes from oven to air fryer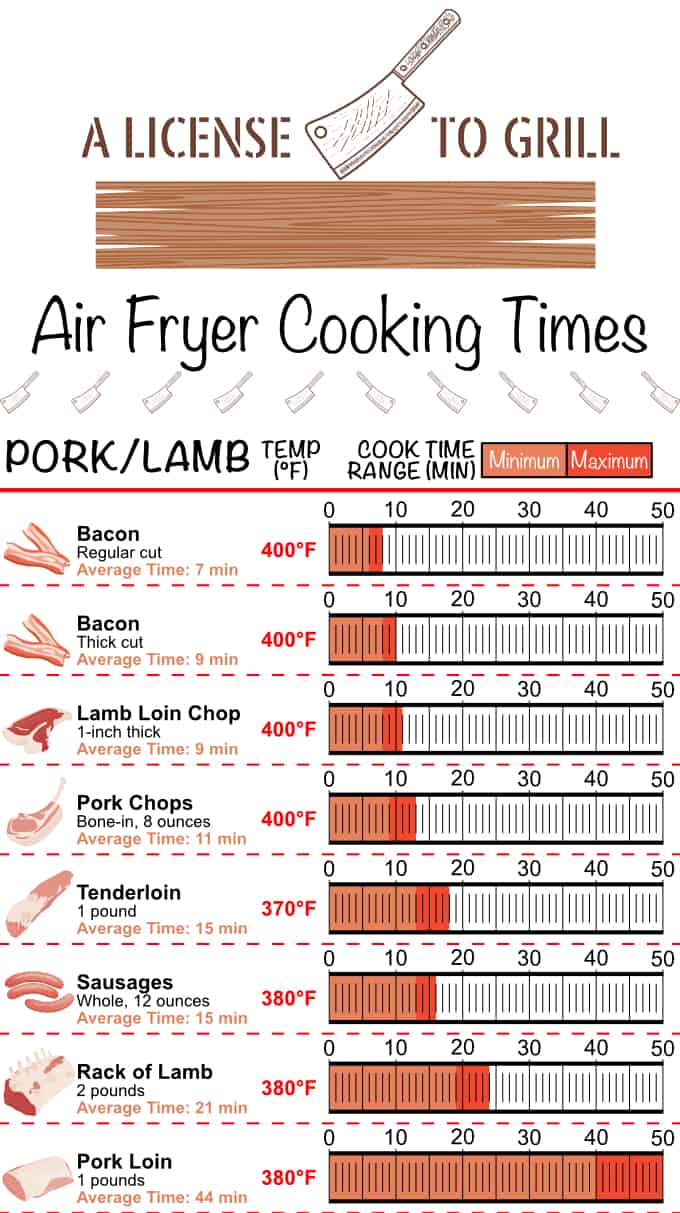 Seafood
My favorite fish and chips came from a small Seattle based food truck named Nosh. They were AMAZING, so much so that my wife and I had Nosh cater our wedding. Unfortunately, Nosh went out of business, so now I have been on a quest to find a comparable, yet easy to prepare, recipe. Check out the fish and chips recipe below, you won't be disappointed.
You really cannot go wrong with a crispy, fried piece of fish but it can be super easy to overcook. Use these cooking time guides as a reference so that you don't end up with a dry fillet of fish in the air fryer.
Check out these seafood recipes in the air fryer:
*use this air fryer conversion calculator to convert these recipes to convert oven to air fryer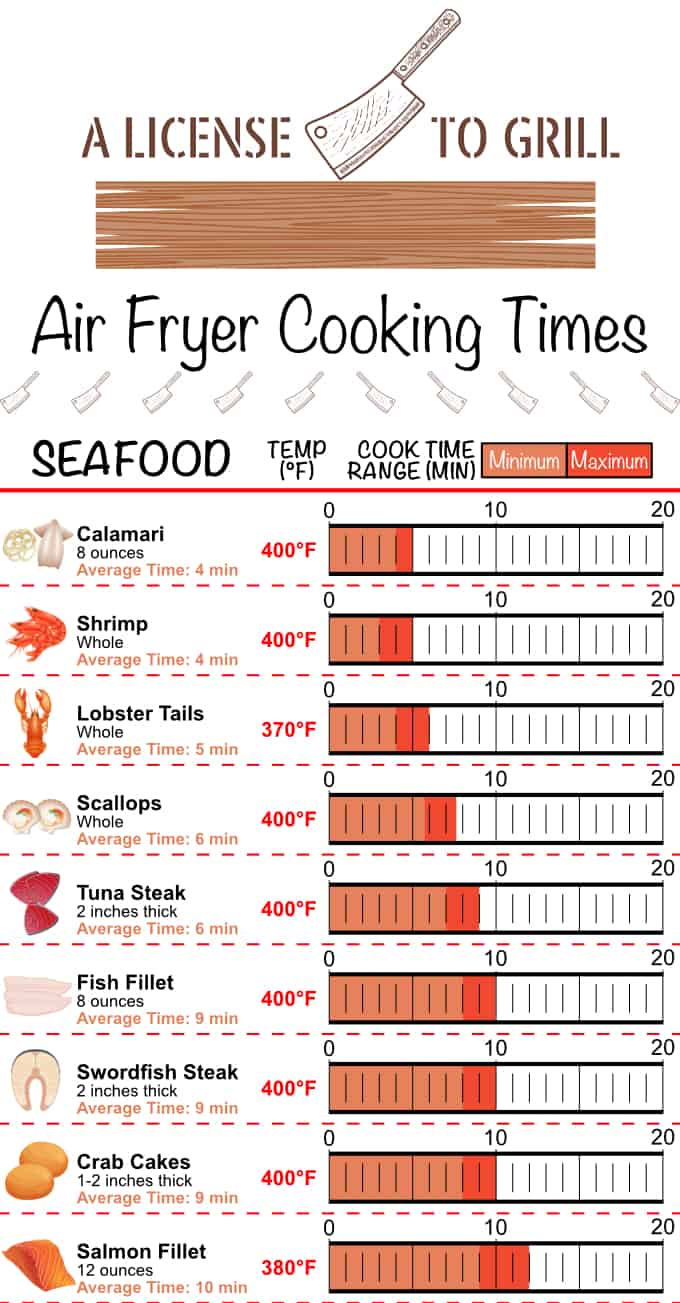 Frozen Foods
Ah yes, frozen foods. We have all bought frozen french fries only to cook them in the oven and get a disappointing result. They are just never as crisp and delicious as what you get at the restaurant.
The air fryer, aided with a healthy amount of cooking oil, can turn those delicious frozen fries into a delightful result. Use this cooking time cheat sheet to get the best results possible.
If you have some frozen foods which are not listed, then use the air fryer conversion calculator to convert the instructions on the bag or box of your frozen food.
Tip: Most frozen foods do best if you start out cooking it at a lower heat then giving it a short blast at a higher heat. Start between 370°F to 375°F for the minimum amount of time as listed. Then shake your air fryer basket and continue cooking for another couple of minutes at 400°F.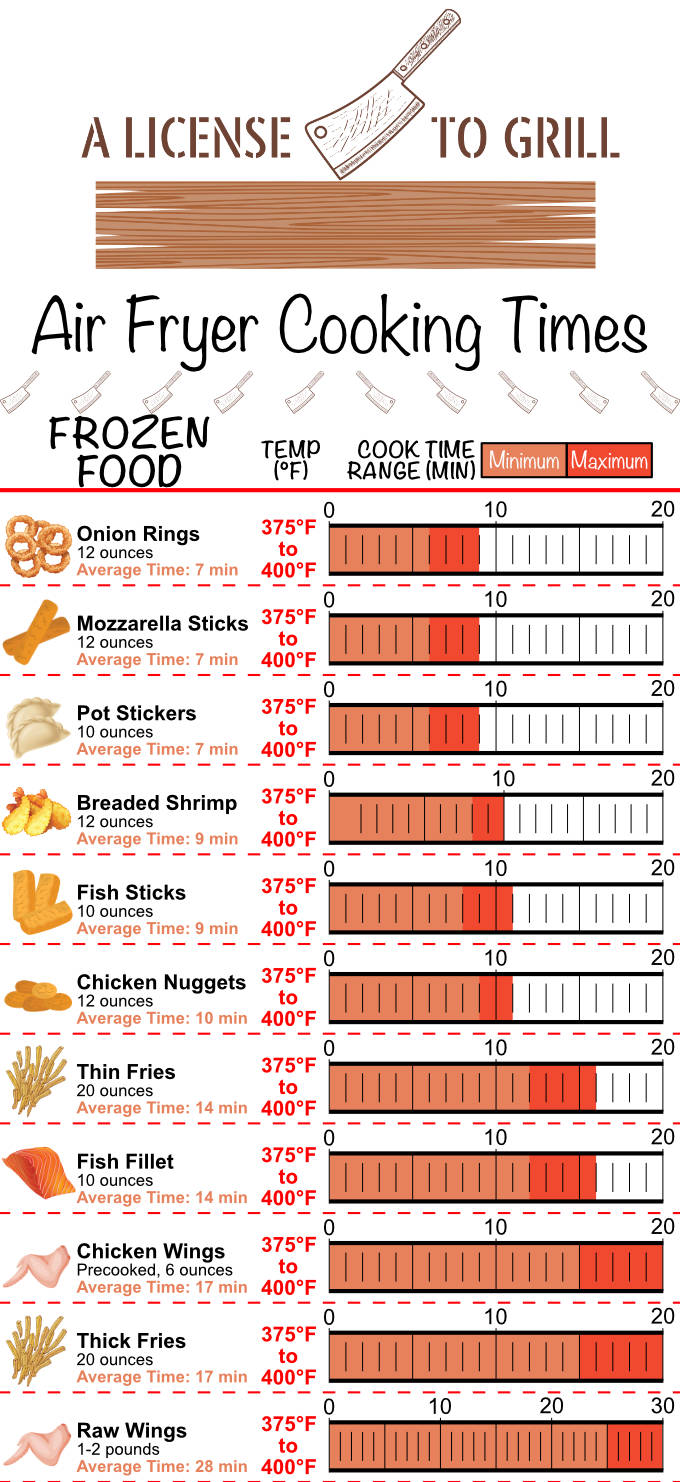 CONNECT WITH A LICENSE TO GRILL!
Be sure to follow us on our social media accounts
Facebook * Instagram * Pinterest * YouTube * Twitter
Did you enjoy this air fryer cooking guide and calculator? Tell us about it in the comments below!