Air Fryer Chocolate Chip Oatmeal Cookies
on Oct 29, 2019, Updated Jul 30, 2020
Chewy and gooey cookies in only 7 minutes?! These chocolate chip oatmeal cookies are cooked in an air fryer, which allows them to cook to a nice crispy outside with a chewy inside – the perfect cookie! Thanks to the air fryer, these chocolate chip oatmeal cookies are quick, delicious, and make for a breezy clean up so you can enjoy them anytime.
Is there anything better than a fresh-baked cookie? How about an easy and quick fresh-baked cookie?! All you need is a cold glass of milk. The chocolate oozes out when you bite into the cookie, giving it that ooey, gooey goodness. The inside remains chewy and soft while the outside gets a special air-fried crunch. It is the special feature of this recipe. Continue reading below so you can have the perfect home-baked (air fried!) cookie, too.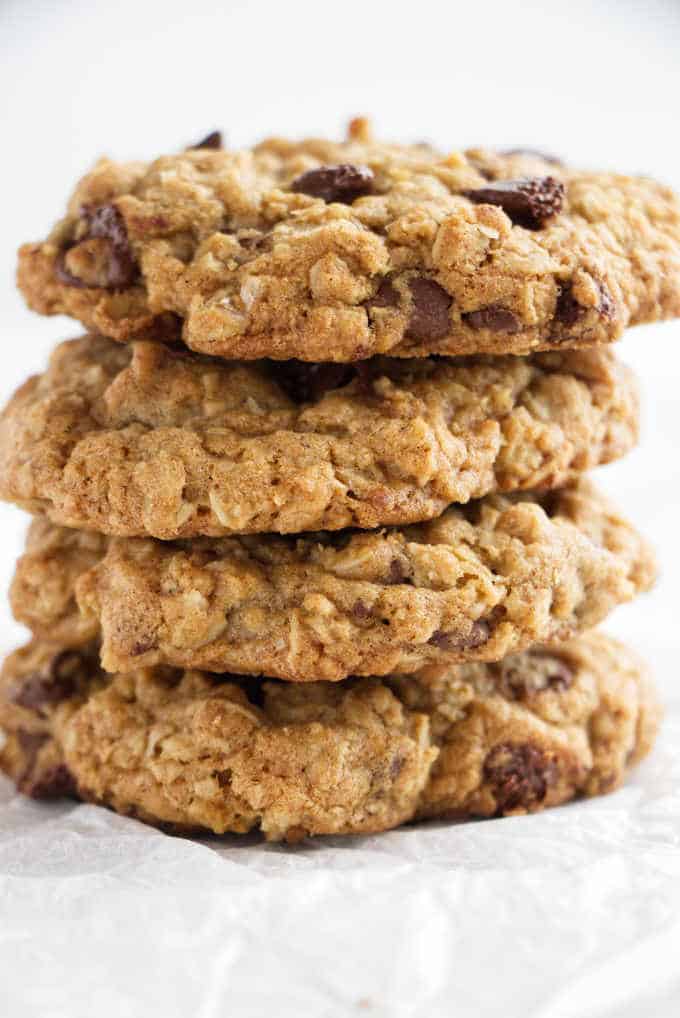 The air fryer cooks so quickly that the cookies hold their shape well and will cook into a ball. I recommend that when placing your cookies into the air fryer that you press them down to form your cookie shape. Otherwise, they don't have the time to melt into the desirable cookie shape.
Can you bake these cookies in a regular oven?
If you bake these cookies in a regular oven, bake them at 350°F for 10 to 12 minutes. You will not have to flatten them if you bake them in a regular oven. The cookies have time to spread on their own in a regular oven but they don't spread a lot because the oatmeal keeps them nice and thick.
How does an air fryer bake?
An air fryer circulates the hot air inside and allows for a quick and even baking. This will mean that the outside cooks fairly quickly and keeps the cookies from running and turning into Frisbees.
Since the air fryer works like a convection oven I always bake my cookies in the air fryer at lower temperatures when compared to baking in the oven. I found that in my air fryer these cookies baked best at 300°F for 7 minutes. Normally, I would bake them at 350°F in a traditional oven for 10-12 minutes.
You can bake cookies with your Ninja Foodie!
Every air fryer cooks slightly differently and you may find that your Ninja or other brand air fryer bakes the cookies a bit faster or hotter than what I recommend in this recipe. The Ninja has a more shallow basket and may cook a bit faster so you may need to adjust your Ninja after cooking the first batch.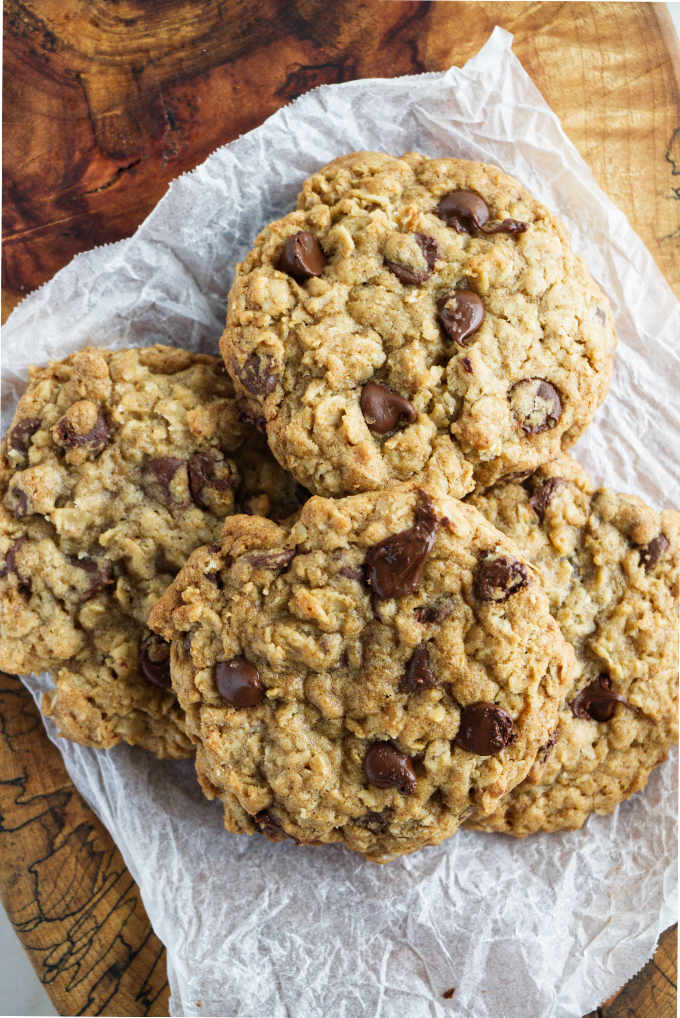 How to make chewy and soft cookies
And here is the special process to a chewy and soft cookie! I think the best part of a cookie is a crunchy structural outside but a soft gooey center. If you want soft chewy cookies then the secret is to use melted butter in the recipe. Then to take these to the next level I added an extra dose of brown sugar. The brown sugar really softens these up and keep the cookie moist. The air fryer helps to achieve the crunchier outside crust.
How to adjust a cookie recipe for different textures
For soft, chewy cookies use melted butter and brown sugar – think moist ingredients.
For crispy cookies substitute butter for vegetable shortening and use granulated sugar.
To get chunky, crunchy cookies substitute butter for vegetable shortening and brown sugar for granulated sugar. Next, pile on chunky ingredients like oatmeal, nuts, and chocolate chips.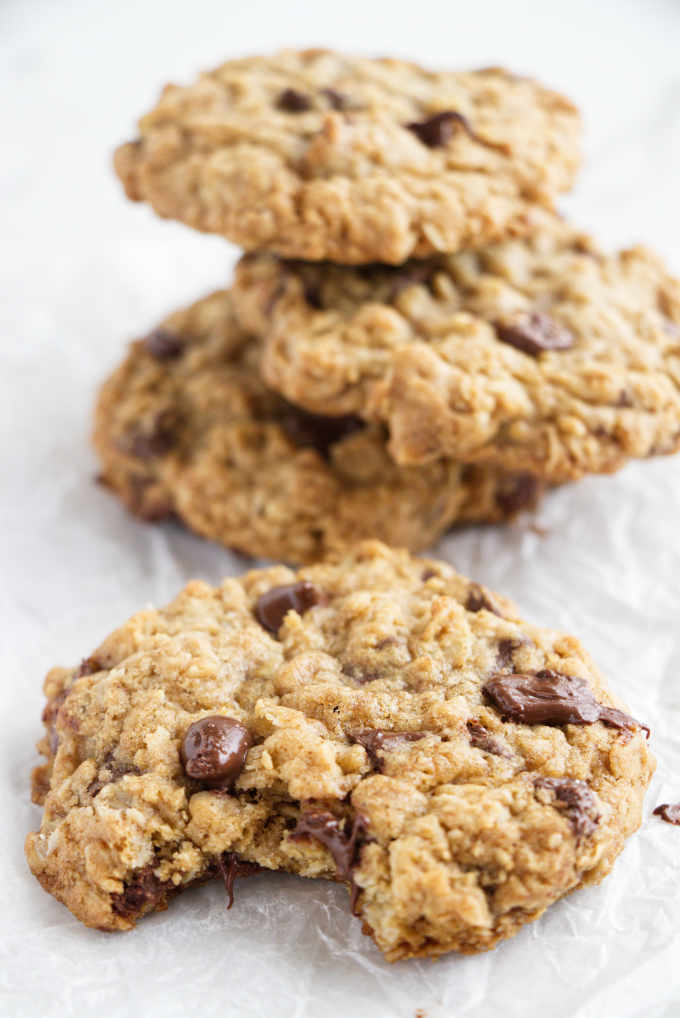 Air Fryer tips and tricks
Help, why is my air fryer smoking?
When cooking high fat foods in the air fryer, you may experience a cloud of white smoke develop in the device. Don't panic, this can be managed. And there are even some tips which can help prevent this from happening.
To prevent smoke in your air fryer you can add a couple of tablespoons of water to the bottom of the basket. If you are cooking especially greasy foods, like bacon, you can also put a piece of bread in the bottom of the basket, just take out the removable rack at the bottom of the basket and place a piece of bread down there and replace the rack. The bread will soak up the excess grease and prevent the air fryer from smoking.
Evenly cook your food by preheating the air fryer
The air fryer can cook quickly, but you also want even and thoroughly cooked food. I would suggest preheating your air fryer for the best results. Some air fryers do not have a preheat setting. If yours doesn't have a preheat setting then you can set your temperature and run the air fryer for 2-5 minutes to bring it up to temperature before adding your food to the basket. The smaller your air fryer, the less time you will need to preheat it.
Should you use oil in your air fryer?
I almost always use oil in my air fryer, but you don't have to! Oil coats your food and allows the seasoning to stick to it. It also prevents your food from sticking to your air fryer basket. However, if you want to cook low fat and leave the oil out of the recipe you can always use parchment paper to prevent sticking. And, if you are cooking high-fat foods, like bacon, you will not need to include oil in your air fryer.
Leave space in your air fryer basket. Space it out, man!
Air fryers work by circulating air around the basket and as it circulates, oils and fats are also circulated and deposited onto the food. If you overcrowd your basket then you will have disappointingly un-crispy food. Space everything out in your air fryer basket and you will have a much crispier result.
Flip and shake the air fryer basket
Similar to the tip for leaving plenty of space for your food to achieve a good crisp, you will also want to shake the basket periodically or flip the food halfway through cooking. This will allow the food to cook well on both sides and you will have a crispy result.
How to modify a recipe for an air fryer
Air fryers are often much more efficient at cooking foods. Since the air is circulating air, similar to a convection oven, I always recommend setting your air fryer to a lower temperature and monitoring the cooking progress throughout the cooking time. Even at lower temperatures, your items may finish cooking sooner than expected. As a rule of thumb, adjust the cooking temperature about 10% lower and the cooking time about 25% shorter.
Now its your turn, leave a comment below and let me know how you like your cookies!
What can you cook in an air fryer?
Air fryer chocolate chip oatmeal cookies
Air fryer fish and chips
Chipotle air fryer pork chops
CONNECT WITH A LICENSE TO GRILL!
Be sure to follow us on our social media accounts
Facebook * Instagram * Pinterest * YouTube * Twitter
Did you make this recipe? Tell us how good these cookies are in the comments below!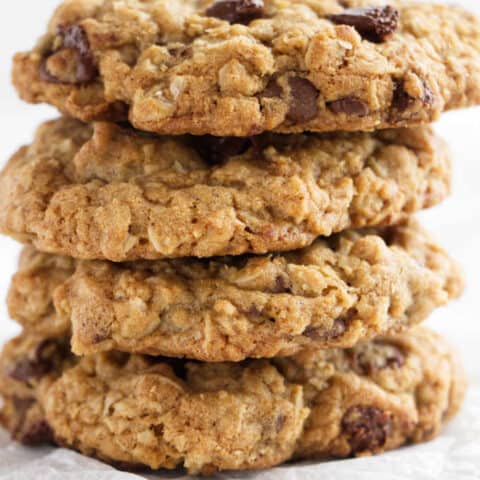 Air Fryer Chocolate Chip Oatmeal Cookies
Air Fryer chocolate chip oatmeal cookies get crisp on the edges and stay chewy in the center. Learn the tips for baking these cookies in the air fryer so they come out perfect every time.
Ingredients
1-1/4 cup brown sugar
1/2 cup granulated sugar
1 cup butter, melted
2 large eggs
2 teaspoons vanilla extract
1-3/4 cups all-purpose flour
1 teaspoon baking soda
1 teaspoon cinnamon
3/4 teaspoon salt
3 cups old fashioned rolled oats
2 cups semisweet chocolate chips
Instructions
Add both of the sugars and the melted butter to a mixing bowl. Beat until well blended.
Add the eggs and vanilla extract. Beat well.
Sift the flour, baking soda, cinnamon, and salt over the mixture and stir until well blended.
Stir in the rolled oats and chocolate chips.
Line the basket of your air fryer with parchment paper or a piece of tin foil.
Place walnut-sized balls of cookie dough into the air fryer basket. Space them about 1 to 2 inches apart then press them down to flatten them slightly.
Close the air fryer basket and set the temp for 300°F. Cook for 7 minutes.
Cool on a wire rack.
Notes
These cookies will not spread very much in the air fryer. If you don't push them down before baking them then they will stay in a round ball. The thick balls of dough will bake quickly on the outside and prevent the cookies from spreading. They will also stay raw in the center if you don't flatten them.
Make sure you line the air fryer basket with parchment paper or tin foil. I prefer parchment paper because it makes the bottom of the cookies smoother and they will come out easier.
You can freeze the cookie dough for up to 6 months. Make balls of cookie dough, flatten them out, then freeze them. When they are completely frozen place them in a freezer-proof container. Bake just a few at a time when you get a cookie craving.
You can bake these cookies in a regular oven preheated to 350°F for 10 to 12 minutes. You do not have to flatten them if you bake them in a regular oven.
It is not necessary to preheat the air fryer prior to baking the cookies. Since the air fryer is so small, it comes up to temperature very quickly. However, if you bake these in a regular oven, you need to preheat the oven.
A #40 cookie scoop will give you 'walnut-sized' cookies.
Nutrition Information:
Yield:

48
Serving Size:

1
Amount Per Serving:
Calories:

132
Total Fat:

7.1g
Saturated Fat:

4.2g
Trans Fat:

0g
Unsaturated Fat:

2g
Cholesterol:

18mg
Sodium:

94mg
Carbohydrates:

16.5g
Fiber:

2g
Sugar:

9.8g
Protein:

4g
Nutrition information is a guideline only, is calculated automatically by third party software, and absolute accuracy is not guaranteed.