Air Fryer Tilapia Fish Tacos
on Sep 01, 2020, Updated Sep 21, 2023
Every day can be taco Tuesday with these delicious air fryer tilapia fish tacos. Tilapia has a mild flavor and a flakey texture so it pairs nicely with the parmesan lemon zest crust, which is fried to perfection in the air fryer for an irresistible crunch! With some of the tangy jalapeño lime-cilantro slaw on top, these are my FAVORITE fish tacos and always a killer way to celebrate taco Tuesday.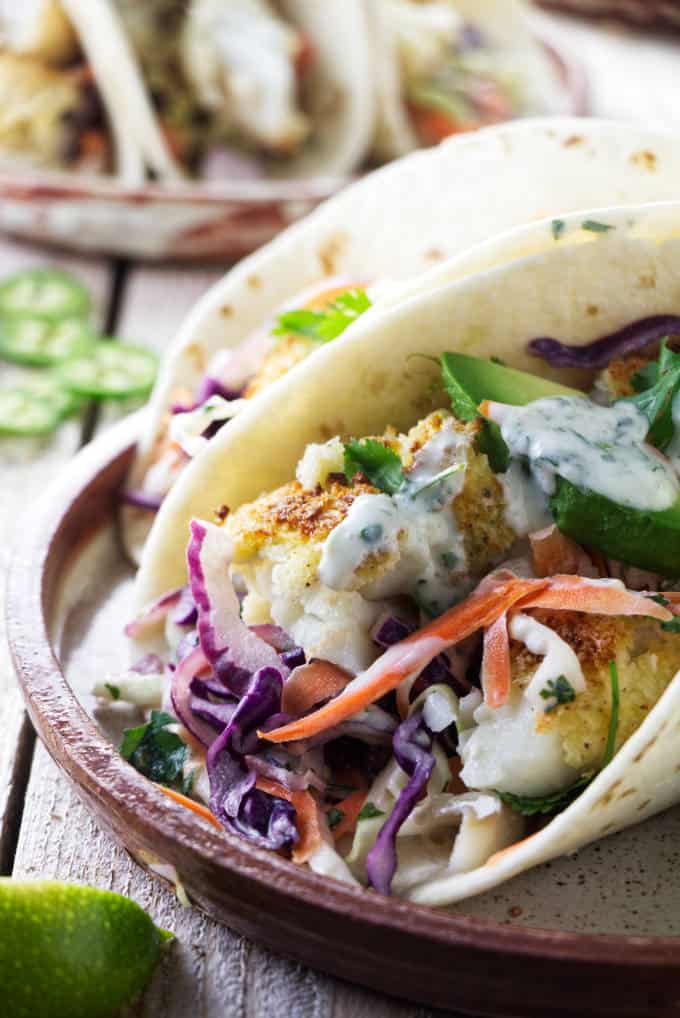 The air fryer works it's magic with the tilapia to make these amazing fish tacos extra crispy without a ton of frying oil. The secret to an ultra-crispy tilapia is the parmesan crust. Who doesn't love cheese!?
Tilapia has a very fresh and mild taste, but don't let that fool you – these fish tacos are loaded with flavor and incredibly delicious.
This recipe gets extra bonus points because tilapia is relatively cheap and often goes on sale, so be sure to stock up! This is why tilapia is one of my favorite types of fish to use in my tacos.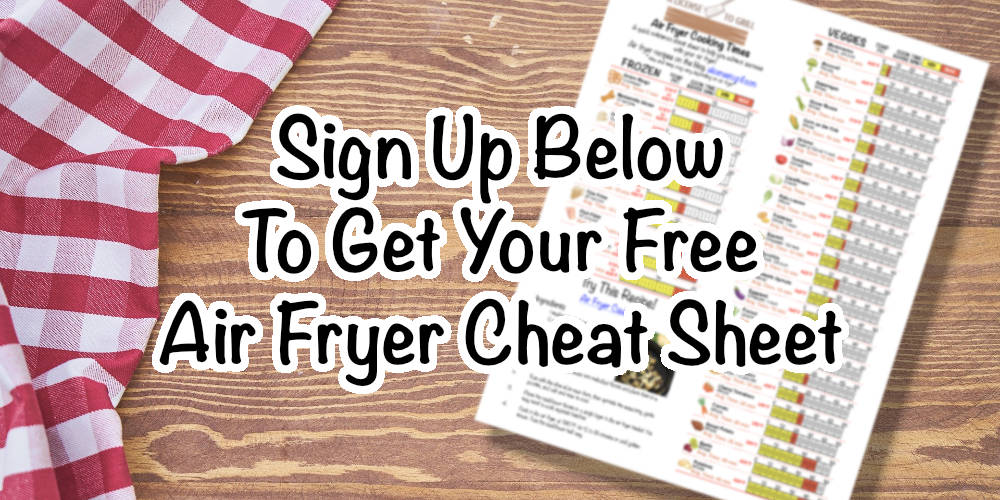 Why these air fryer fish tacos are so good!
That amazing air fryer crisp!
Light and flakey tilapia for a perfect texture
Tilapia cooks up super quickly in less than 5 minutes
A parmesan and lemon zest crust
The sweet and spicy jalapeño-lime-cilantro slaw with a drizzle of honey
And a sweet and spicy sauce to take your fish tacos to perfection
Customize the fish tacos with avocado, Tobasco, salsa, or your favorite addition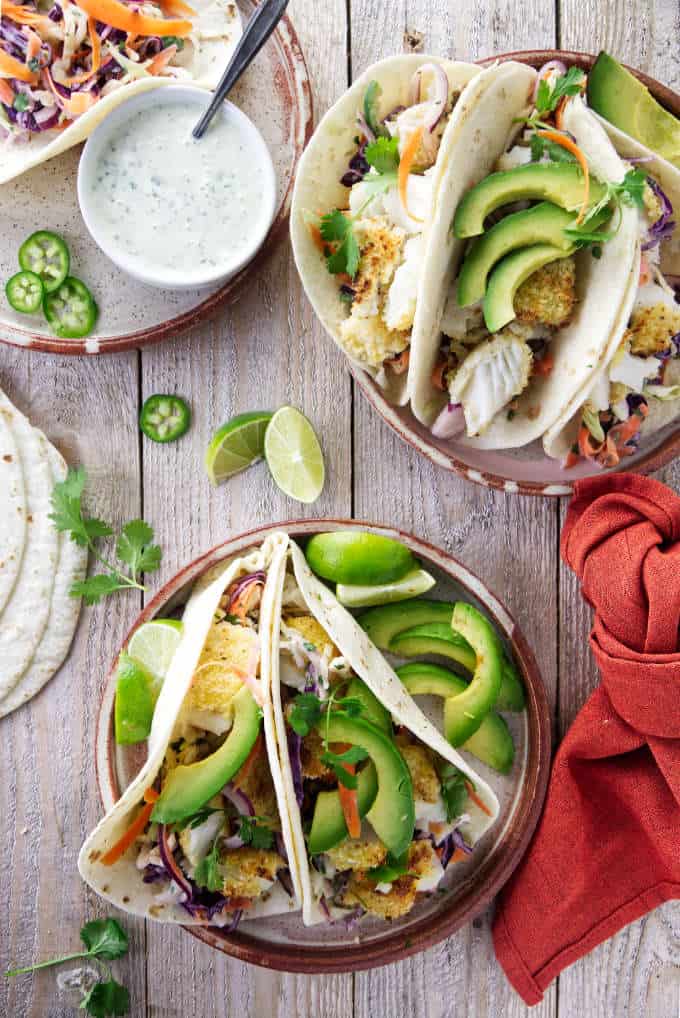 Helpful items for success
This post may contain affiliate links. Please read our disclosure policy.
Here is a list of equipment that will help make your air fryer tilapia fish tacos a success.
Ingredients for your Taco Tuesday
This recipe for air fryer fish tacos was adapted from my popular air fryer tilapia recipe. It is my favorite way to eat tilapia, and the slaw really takes these fish tacos to the next level!
Jalapeño Lime Cilantro Slaw
If you want a thicker slaw, you can substitute half of the sour cream with mayonnaise. I enjoy the sour cream because it makes for a lighter slaw and gives it a bit of a tang.
Sour cream
Red cabbage
Green cabbage
Jalpeños
Cilantro
Limes
Carrots
Red onion
Honey
Salt
Pepper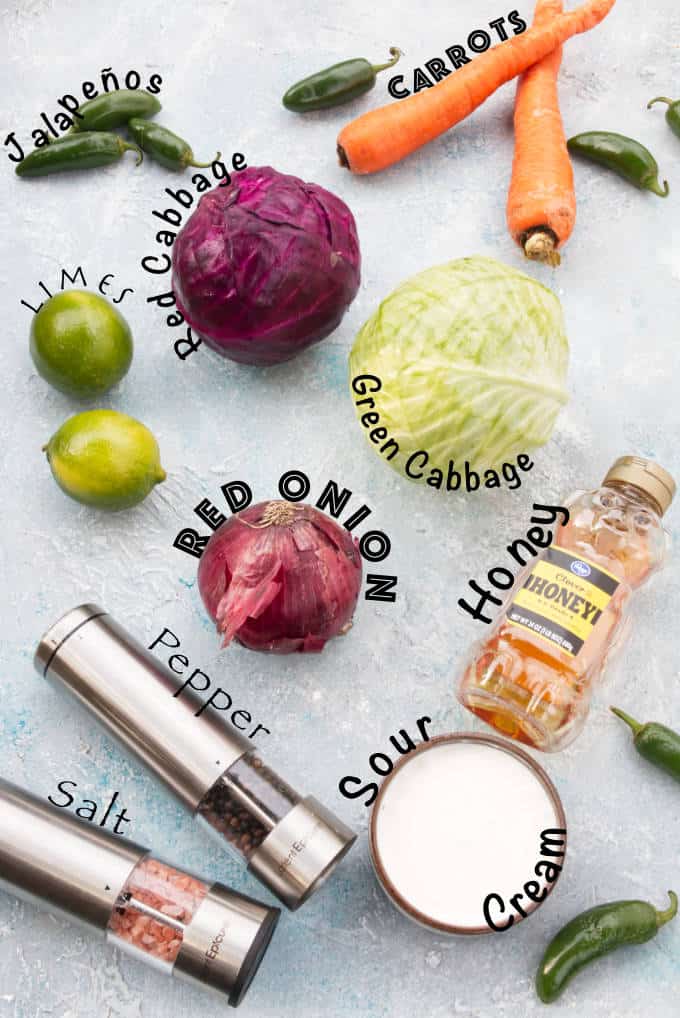 Air Fryer Tilapia for the Fish Tacos
Tilapia fillets
Tortillas
Parmesan cheese
Flour
Eggs
Lemon zest
Paprika
Garlic powder
Salt
Pepper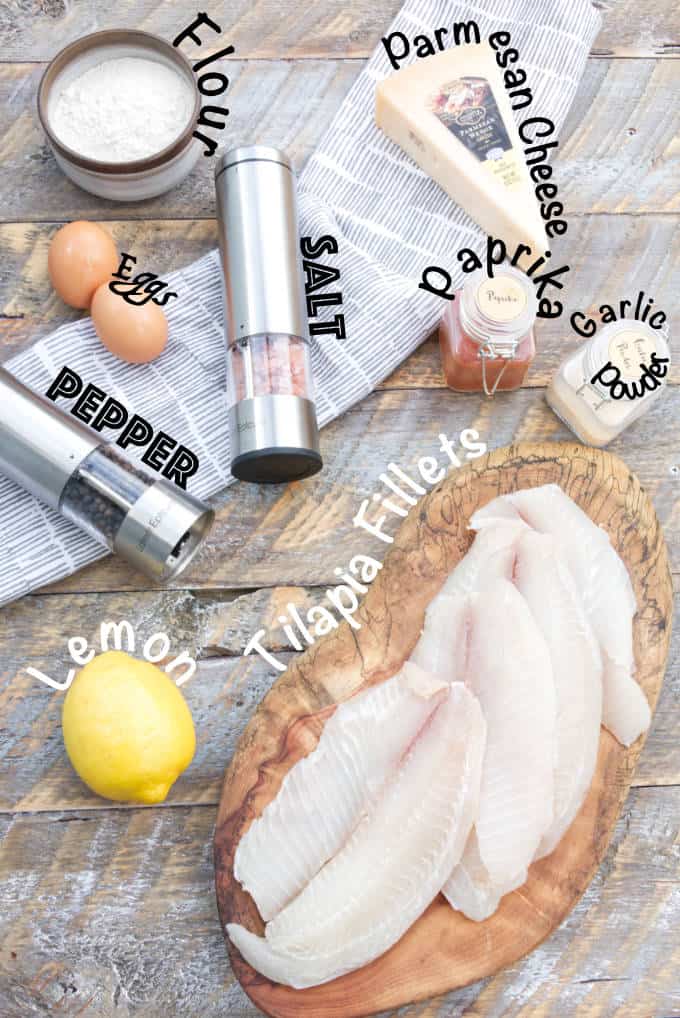 Come on, lets make these tilapia fish tacos!
Step 1: Make the jalapeño lime-cilantro slaw
This slaw deserves to win the best supporting actor at the air fryers guild awards! It is refreshingly tangy with a hint of sweetness, and the cilantro packs a fresh aromatic punch to cool your palate right as the jalapeños start to wreak havoc. Begin by slicing up your cabbage, red onion, carrots, and jalapeños into thin slices. Expert tip: use a potato skin peeler or cheese grater to get some thin shavings of carrot.
Place the veggies in a large bowl and set aside.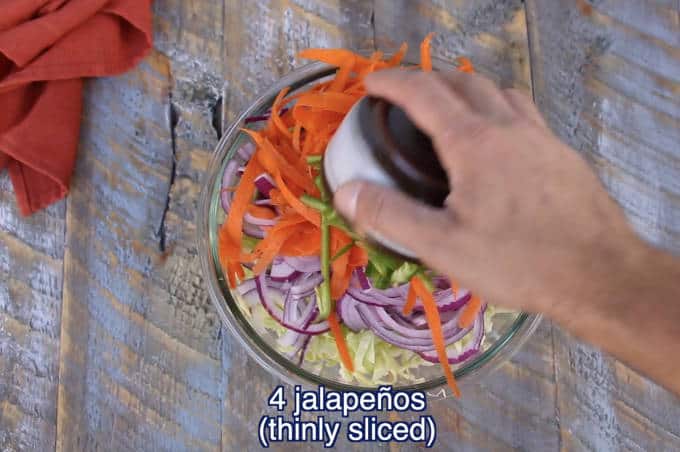 Combine the sour cream, cilantro, lime juice, honey, salt, and pepper into a food processor. Blend it until it is smooth. The cilantro will give the slaw dressing a green beautiful green tint.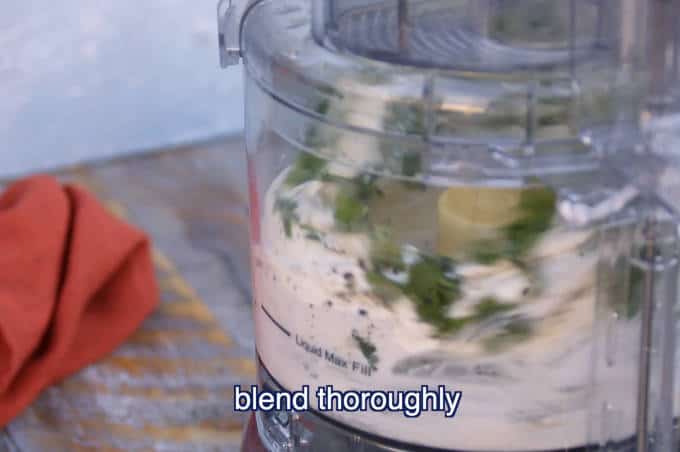 Pour most of the dressing onto the veggies in the large mixing bowl.
Reserve 1/4 cup of the dressing and save it for later. We will use this as a sauce to put on our fish tacos!
Allow the jalapeño lime-cilantro slaw to sit in the fridge for a full day to develop flavors. Of course, that is optional. Go ahead and dig in if you can't wait that long!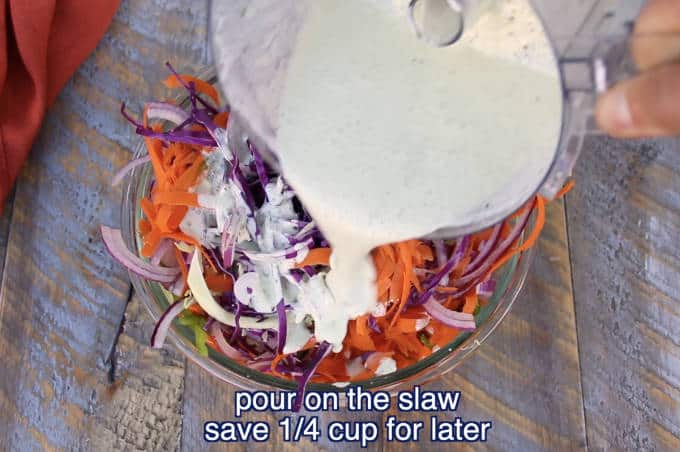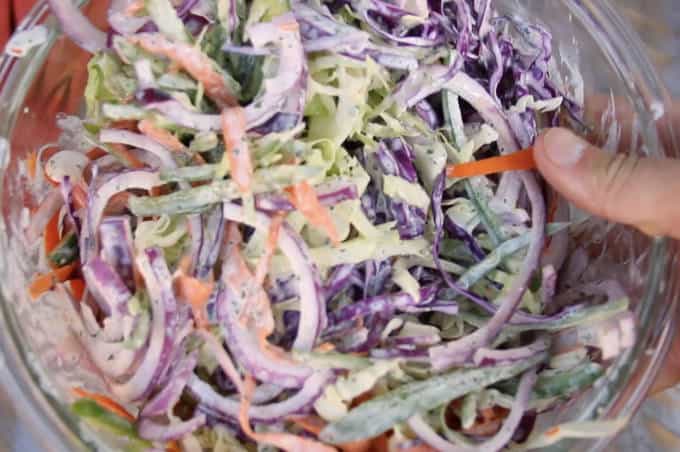 Step 2: Cook the tilapia
Grab 3 separate dishes. You will use these as the dredging vessels, so be sure they are big enough to fit a tilapia fillet.
Put your flour in the first dish and the beaten eggs in the second. In the third dish, combine the parmesan cheese, paprika, garlic powder, salt, pepper, and lemon zest.
Coat each fillet in the flour. Then dredge it in the eggs. Finally, coat the fillet in the parmesan cheese mixture. Be sure to coat it thoroughly – we are going for ultimate crisp and flavor!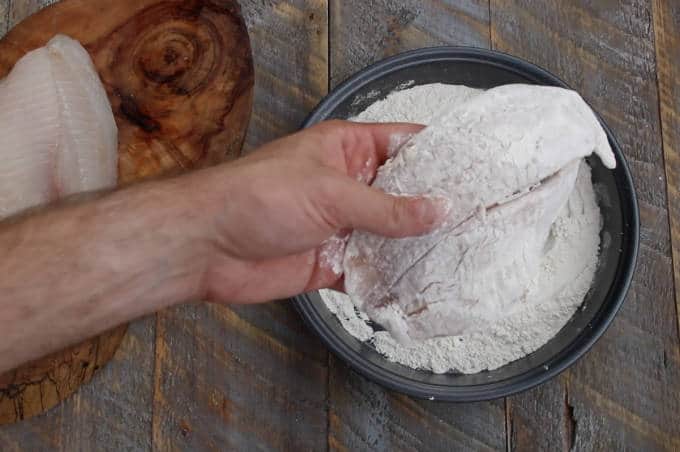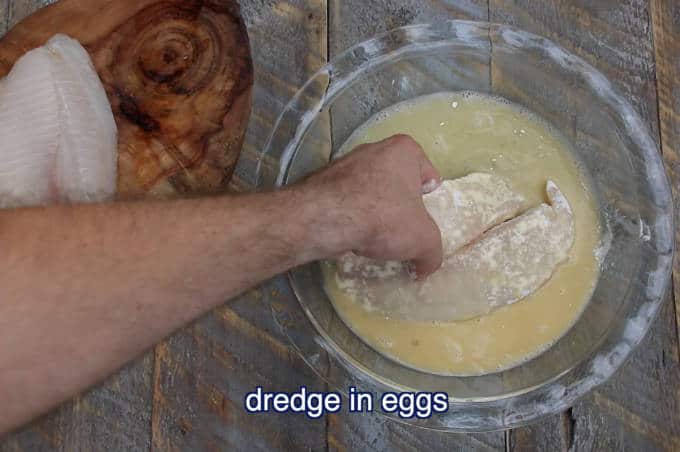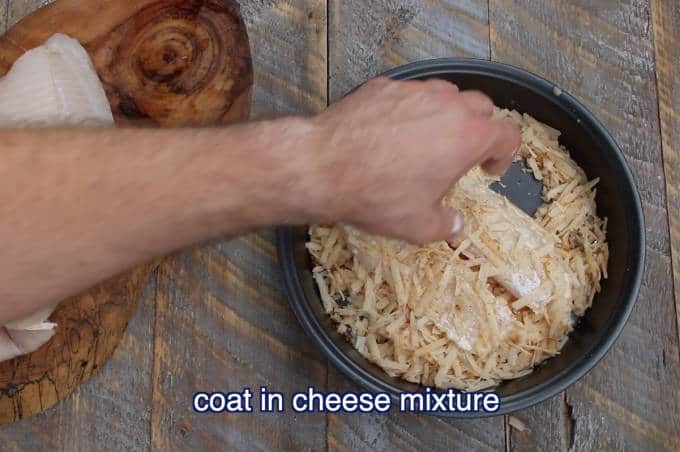 Arrange 1 or 2 coated tilapia fillets into the air fryer basket. Use some parchment paper to prevent the tilapia from sticking to the air fryer (this parchment paper is specifically cut for an air fryer). Be sure to not overcrowd the basket, otherwise, the air fryer won't be able to crisp up the tilapia very well and you will end up with soggy fish tacos.
Cook the tilapia at 400°F for 4-5 minutes. The outside should be golden brown.
Tip: An alternative to parchment paper are these sleek reusable cooking mats. They will keep the fish from sticking to the bottom of the air fryer basket.
Step 3: Build the tacos
Now we are ready to build these tacos!
Use a fork to break up the tilapia fillets into chunks, about 2″ squares.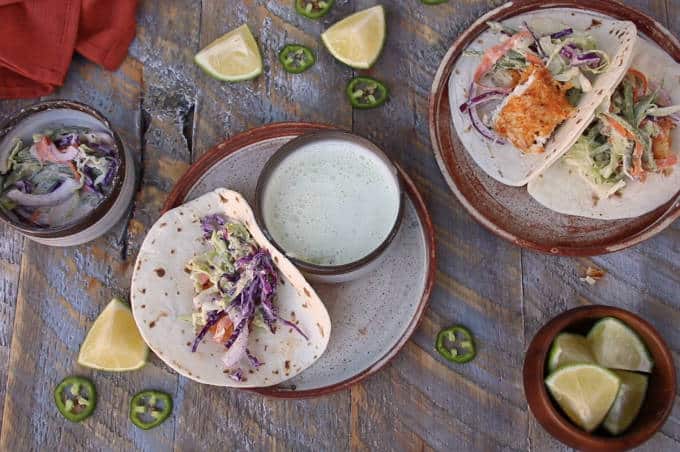 Choose your weapon: corn or flour tortillas. Build a sturdy foundation on your tortilla with the jalapeño lime-cilantro slaw. Then place 1 or 2 chunks of tilapia on top of the slaw. Now you can get crazy, or not. Pile it high with avocado and maybe dash on some hot sauce. Or keep it classic and stay with the slaw and fish. Either way, be sure you finish it off with a drizzle of the reserved slaw dressing, we don't want dry tacos!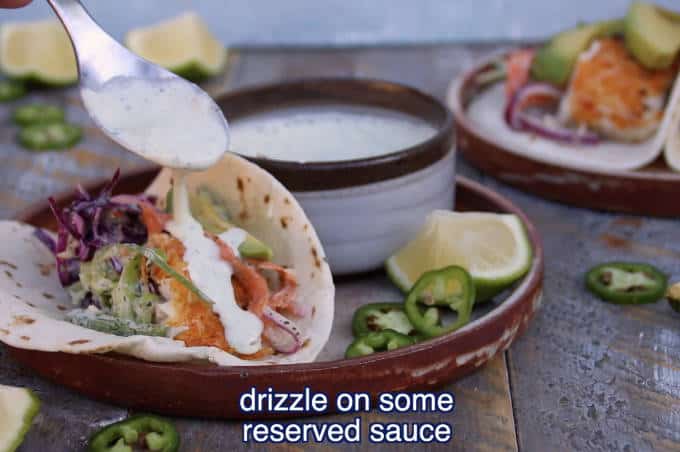 The best tortillas for fish tacos
What type of tortilla do you prefer? Whenever I am asked "Corn or flour tortilla?" I always gravitate more towards flour, but for a very good reason. I have a heavy hand and my eyes are bigger than my stomach, which means I always overstuff my tacos, so I usually go for the flour tortillas which are more sturdy.
The air fryer tilapia in the fish tacos is so good, you will probably also need a flour tortilla unless you have restraint. So go ahead, grab the flour tortilla and load it up!
Corn vs. Flour
Corn tortillas are the classic, you really can't go wrong. If you get street tacos down in SoCal or in Mexico, you will surely be double-fisting some tacos built on corn tortillas. It is tradition and a standard in Mexican cuisine. They are more fragile and brittle. If you bend corn tortillas too much, they will crack and your shoes will be wearing your taco.
The impractical nature of corn tortillas not being able to be packed full is my theory as to why, in America, we have more of a preference for flour tortillas. Flour tortillas are more ductile and soft. You can fill them up with WAY TOO MANY fillings and the tortilla will stretch to accommodate.
I imagine that I do not speak only for myself when I say that my tacos always end up looking more like burritos…
If you want to get super crazy and have the best tacos imaginable, you should definitely make your own tortillas! Check out this super simple recipe for kamut flour tortillas!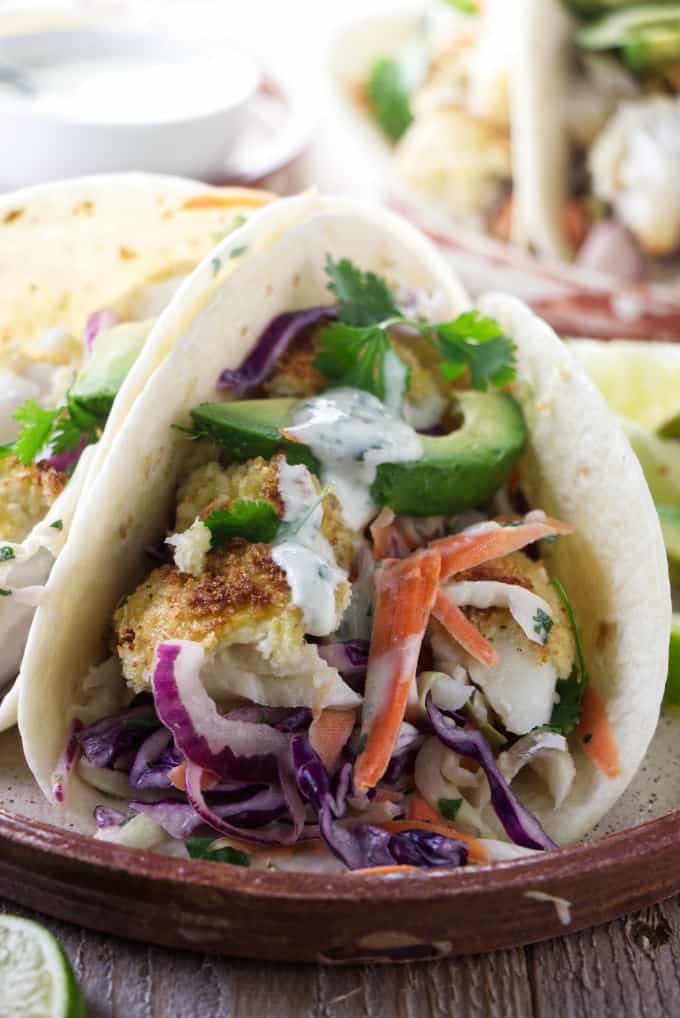 Expert Tips For The Best Fish Tacos
Tilapia has a mild flavor so it really relies on seasoning and accompanying flavors to make it stand out. I am a HUGE fan of adding lemon zest the crust of the tilapia and I really think you will love it too!
Save some of the sour cream sauce when making the slaw so you can add a bit of sauce on top of your tacos.
Pile on the slaw and customize the tilapia fish tacos with your favorites; sour cream, salsa, avocados, etc.
When cooking the tilapia in the air fryer, be sure to space the fillets out so they have plenty of room for the parmesan to crisp up.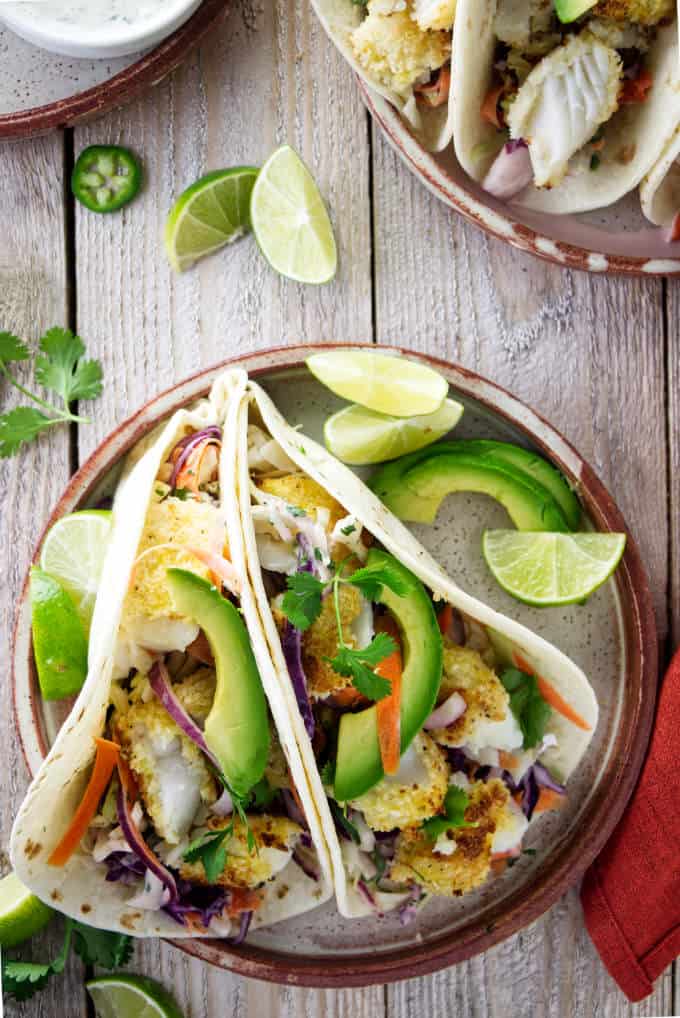 How to use your air fryer
If you have some recipes that you love but they are not written for the air fryer, then use this air fryer calculator. It will quickly and easily convert your conventional oven recipe so that you can use your air fryer instead. You can even save the results of the calculator and send it to your email for future reference.
If you are new to the air fryer world, check out this air fryer tips and tricks guide. I wrote this to help others hit the ground running with their new air fryer. There you can read about the best types of oil to use and how to prevent your air fryer from smoking.
What else is cooking?
One of my favorite things to grill on a warm summer evening is a flank steak. This easy grilled marinated flank steak is so delicious, you really have to try it! It only takes a few minutes to grill, and you can prepare the flank steak in the marinade the night before so you can have dinner ready with little effort after work.
Everyone loves mac and cheese, especially when it is loaded with bacon and smoked to perfection on the grill. Try out this smoked jalapeño mac and cheese recipe, it is loaded with over 3 pounds of cheese. If you don't have a smoker, no worries, you can use your oven to finish it off.
CONNECT WITH A LICENSE TO GRILL!
Be sure to follow us on our social media accounts.
Did you make this recipe? Tell us about it in the comments below!
Tell me what you think!
Did you try out this recipe? Please give it a 5-star review! Also, snap a picture of it and share it with me on Instagram using the hashtag #alicensetogrill.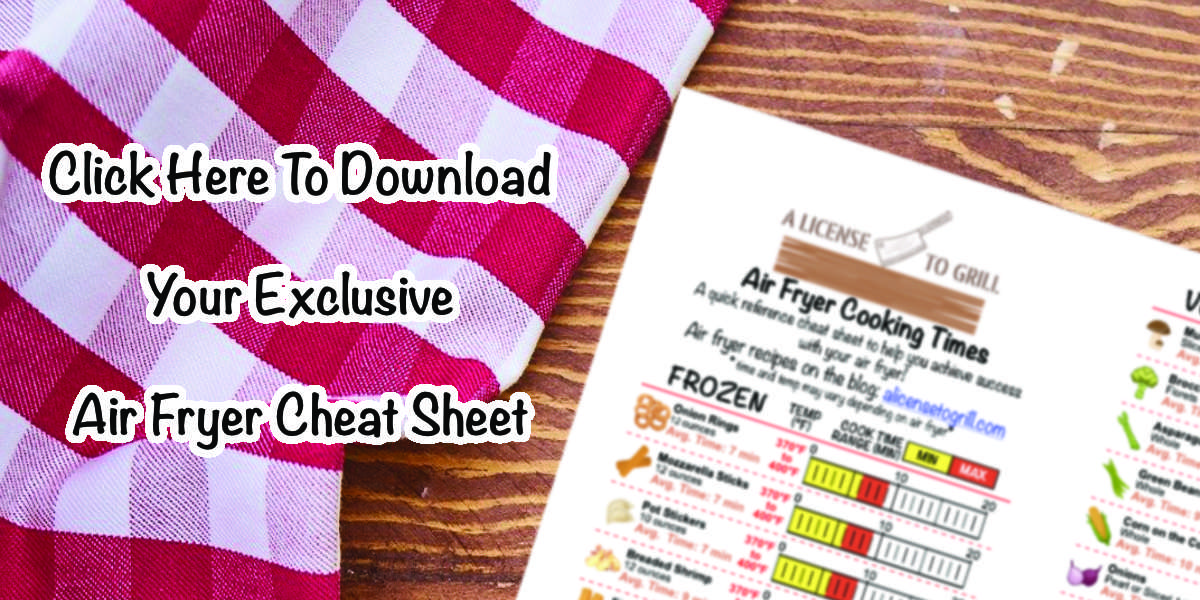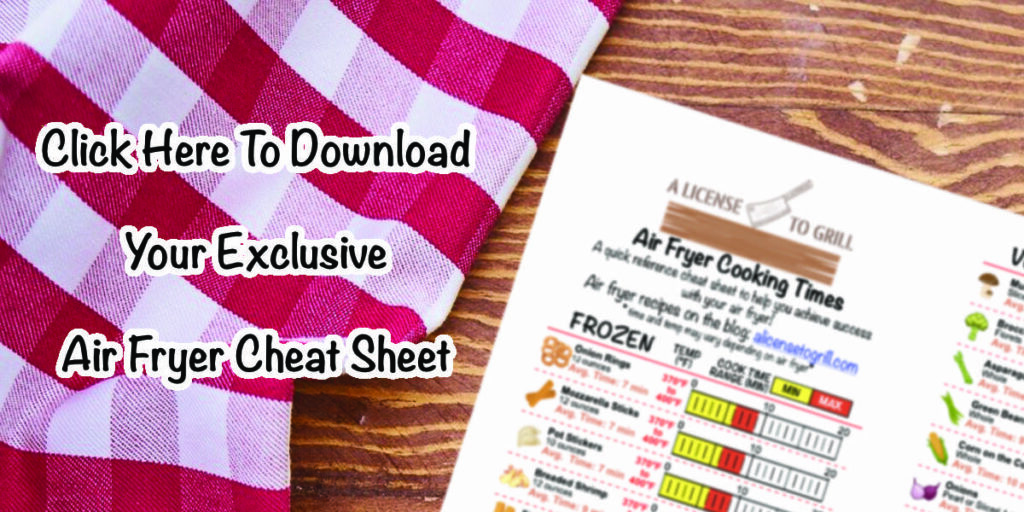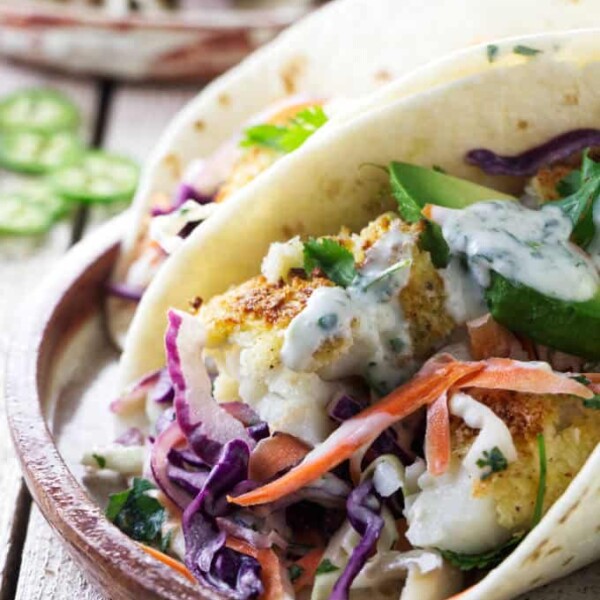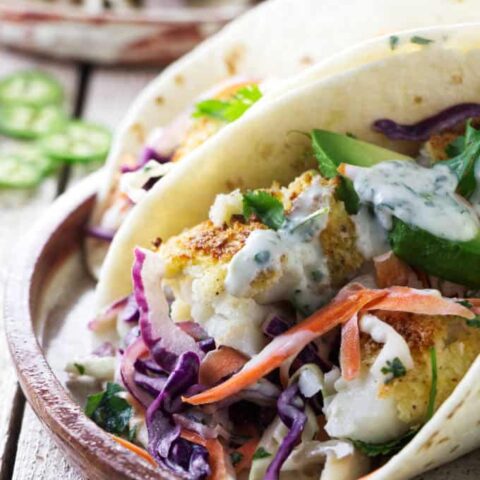 Air Fryer Tilapia Fish Tacos
Total Time:
1 hour
31 minutes
Every day can be taco Tuesday with these delicious air fryer tilapia fish tacos. This tilapia has a parmesan lemon zest crust that is fried to perfection in the air fryer for an irresistible crunch! With tangy jalapeño lime-cilantro slaw on top, these are my FAVORITE fish tacos and always a killer way to celebrate taco Tuesday.
Ingredients
Jalapeño Lime Slaw
2 cups shredded red cabbage
2 cups shredded green cabbage
2 cups carrot thinly sliced or shredded
2 cups red onions thinly sliced
4 large jalapeno peppers seeded and thinly sliced
3/4 cup chopped fresh cilantro
1 cup sour cream
juice of 2 limes
2 tablespoons honey
kosher salt to taste
black pepper to taste
Fish Tacos
4 Tilapia fillets
1/2 cup flour
4 ounces parmesan cheese, grated
2 teaspoons lemon zest
1 teaspoon salt
1 teaspoon garlic powder
1/2 teaspoon black pepper
1/2 teaspoon paprika
2 eggs
To assemble the tacos
12 small tortillas, corn or flour
lime wedges
sour cream
cilantro
Instructions
prepare the jalapeño lime slaw:
Combine the cabbage, carrots, onion, and jalapeño peppers in a large bowl and mix thoroughly.
Blend the sour cream, cilantro, lime juice, honey, salt, and pepper in a blender or food processor until they are well combined and the cilantro gives the dressing a beautiful green color.
Pour all except for 1/4 cup of the dressing over the slaw mixture and mix well to ensure that everything is coated. Save the other 1/4 cup for later.
Cover with plastic wrap and set aside in the fridge. You can make this a day in advance if you want.
coat the tilapia fillets:
Set up 3 shallow dishes (I used pie dishes). Place the flour in one dish. Crack the egg into another and whisk the eggs really well. In the third dish, combine the cheese, paprika, lemon zest, salt, and pepper and combine.
Pat the tilapia fillets dry then dip each fillet into the flour and coat both sides. Dip them into the egg wash and transfer them to the cheese mixture to coat both sides of each fillet.
cook the tilapia:
Place a small piece of parchment paper on the bottom of the air fryer basket then place 1 to 2 fillets in the basket. See notes.
Cook for 4 to 5 minutes at 400°F until the cheese melts and the crust is golden brown. (see notes)
Assemble the tacos
Flake the fish into large pieces.
Load the tortilla shells with some slaw then top with the fish and add a drizzle of the reserved slaw dressing.
Add a squeeze of lime juice and a dollop of sour cream. Garnish with cilantro or avocado if desired.
Notes
You can prepare the jalapeño lime slaw the day before and allow it to sit in the fridge overnight. The flavors will meld and the coloring from the cabbage and cilantro will make the slaw more vibrant as it has time to marinate together.
Do not crowd the fish into the air fryer basket or they will end up steaming and get a soggy crust.  If you have a small air fryer you may only be able to fit one at a time. 
Make sure to use parchment paper in the air fryer basket. The cheese coating tends to stick to the bottom of the basket even if you use non-stick spray. Parchment paper will make this recipe painless. 
Tilapia fillets cook quickly because they are thin and you will not need to flip them. If you use a different fish for this recipe make sure they are 1/2 inch thick or thinner. If you use thicker fillets you will need to flip them and cook them for another 4 to 5 minutes. 
If you use frozen fish fillets make sure they are completely thawed before you cook them.
Recommended Products
As an Amazon Associate and member of other affiliate programs, I earn from qualifying purchases.
Nutrition Information:
Yield:

12
Serving Size:

1
Amount Per Serving:
Calories:

342
Total Fat:

10g
Saturated Fat:

4g
Trans Fat:

0g
Unsaturated Fat:

4g
Cholesterol:

83mg
Sodium:

495mg
Carbohydrates:

42g
Fiber:

5g
Sugar:

11g
Protein:

24g
Nutrition information is a guideline only, is calculated automatically by third party software, and absolute accuracy is not guaranteed.