Air Fryer Tuna Steaks
on Dec 18, 2022, Updated Apr 09, 2023
If you're looking for a healthy weeknight meal that's incredibly hearty and ready in minutes, these air fryer ahi tuna steaks are ideal. These powerhouse ahi tuna steaks are rich and tender, and they're packed with fatty acids and several essential nutrients that'll fuel you for hours. To make things even more appealing, the prep time for these tuna steaks is virtually zero, and cleanup is a breeze. The perfect recipe for a busy week!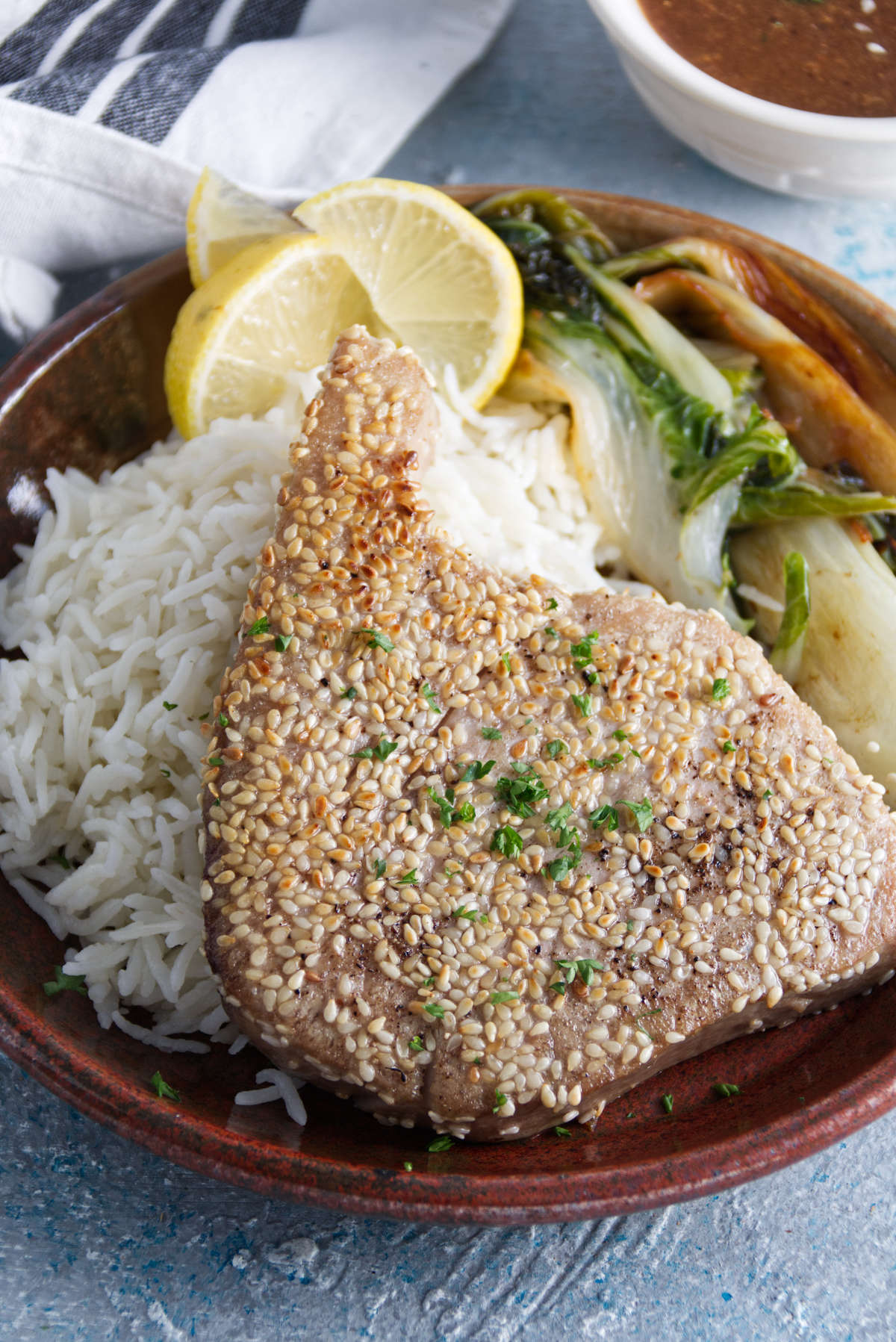 You can use frozen tuna steaks if you're in a time crunch. But fresh or thawed steaks make monitoring cook times way easier. Either way, the air fryer will produce beautifully cooked and tender ahi tuna steaks that will impress the whole family. Throw in a couple of air fryer baked potatoes or a simple grilled romaine salad, and you'll have the ultimate balanced meal. Talk about a fabulous dinner!
Whether you're looking to incorporate more omega-3s into your diet or switch up your weekly recipe rotation, these air fryer tuna steaks have got you covered. So don't blame me when you have to make regular trips to the local fish market (as this recipe is bound to be love at first bite!).
If you like this air fryer tuna steak, you will also love these other seafood recipes.
💪 Why This Recipe Works
It's packed with healthy fats and essential nutrients.

This recipe is easy for beginners and includes just a few simple steps!

The ahi tuna steaks are encrusted with sesame seeds or everything bagel seasoning for a slightly nutty and pleasant savory bite.

Do you like your tuna well done? Prefer it rare? No worries! We give you the cooking times you'll need to achieve your ideal level of doneness.

You need barely any equipment to make the magic happen!
🍽 Ingredients
You only need a handful of ingredients to bring these air fryer tuna steaks to life. For full details and quantities, scroll down to the printable recipe card.
🐟 For the steaks
Tuna steaks. Ahi tuna or bluefin tuna are always delicious. Just grab what works best for your budget and try to get cuts of the same size.

Vegetable oil. Vegetable oil has a high smoke point and a neutral flavor, making it perfect for this recipe. However, if you want to complement the dipping sauce and give your steaks an Asian twist, try sesame or peanut oil instead.

Salt. Essential to bring out the natural flavors of the tuna steaks.

Black Pepper. For a light hit of spice!

Sesame seeds or everything bagel seasoning. Gives the steaks a delicate crunch and a slightly nutty bite.
🥣 For the dipping sauce
Soy sauce. Helps your tuna steaks taste meatier and complements the garlic beautifully. Try to choose a low-sodium variety to avoid overwhelming your sauce.

Rice wine vinegar. Gives the dipping sauce sharpness and acidity.

Honey. Balances the sharp and salty ingredients while adding sweetness.

Dijon mustard. You can use regular yellow mustard, but Dijon is creamier and slightly spicier for a more potent flavor. Substitute the mustard with wasabi if you like, but be sure to taste and adjust for optimal spiciness.

Freshly grated ginger. For earthiness and warmth.

Garlic cloves. Make sure it's freshly minced for a hint of spiciness!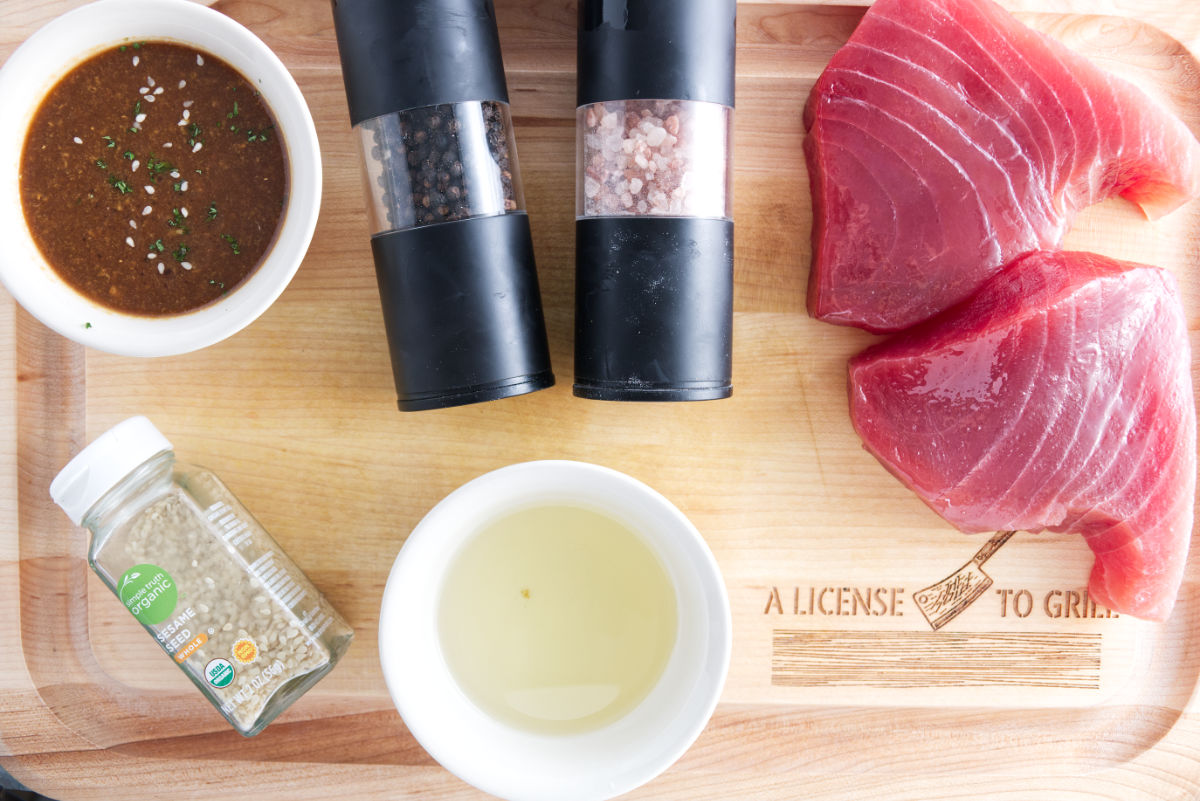 👨‍🍳 How To Make It
This brief guide should give you a decent idea of how to make delicious air fryer tuna steaks. But you should scroll down to the printable recipe card for step-by-step instructions for this recipe!
The steaks
Rub the tuna steaks with vegetable oil or your preferred high-temperature oil.

Season them with salt and pepper.

Dip both sides of the tuna steaks into the sesame seeds until they're well coated.

Preheat the air fryer and place a sheet pan or liner into it if you prefer an easier cleanup. Cooking the steaks directly on the metal air fryer basket helps achieve a better browning of the sesame crust.

Cook the tuna steaks and flip them halfway through. You should adjust the cooking time of your steaks to match the doneness you prefer.
The dipping sauce
Combine the dipping sauce ingredients in a small dish and whisk them well.

Serve with the air fryer tuna steaks.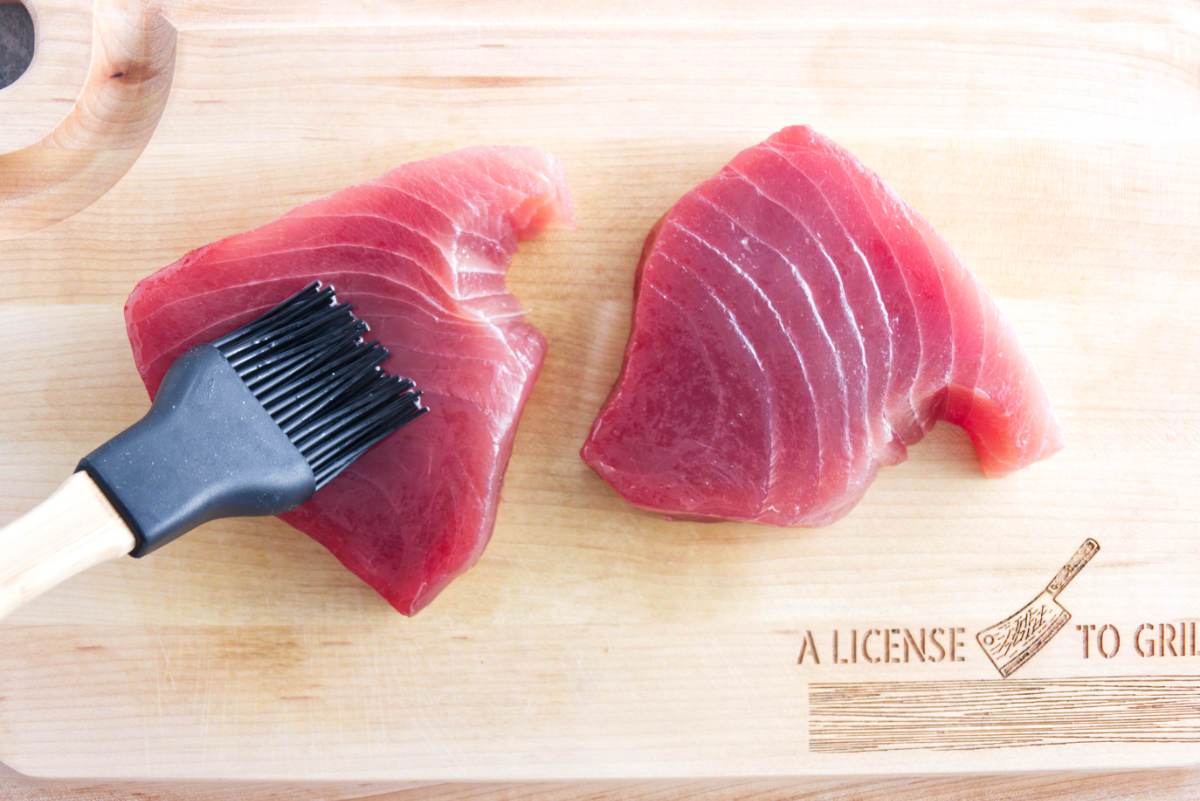 Brush the ahi tuna steaks with vegetable oil.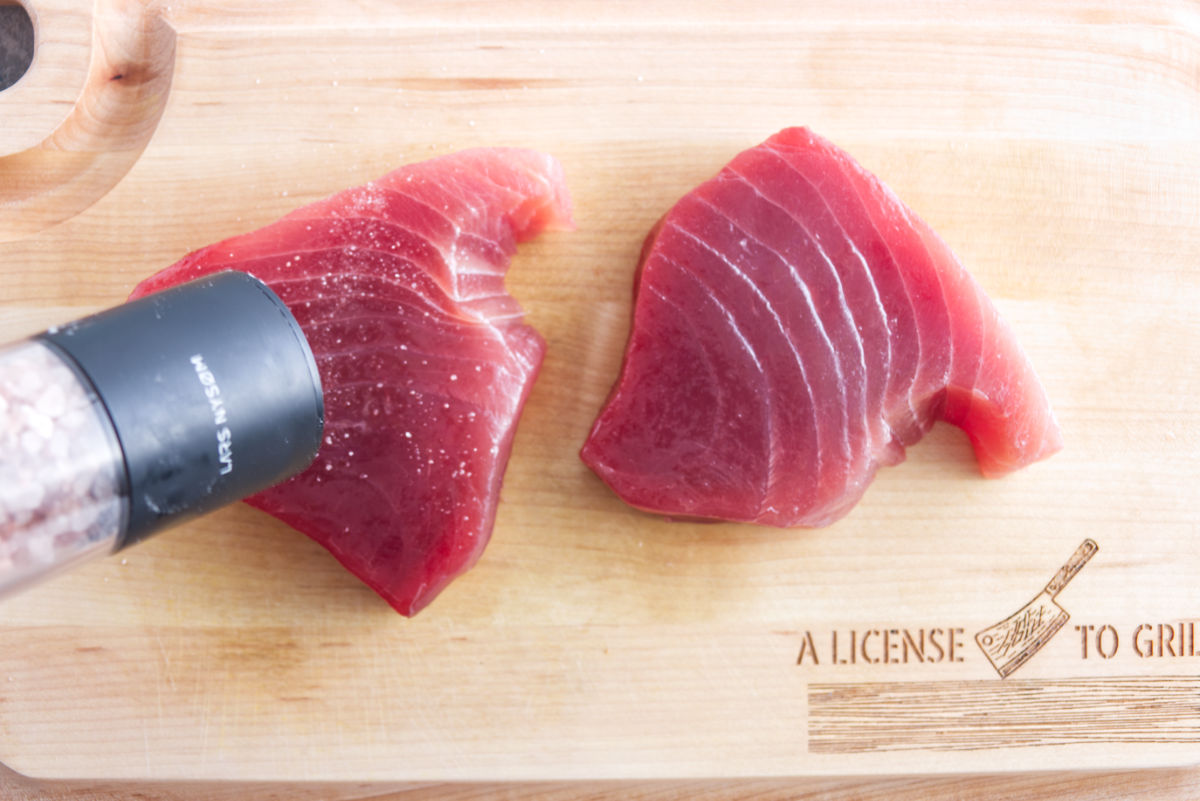 Season all sides of the steaks with salt and pepper.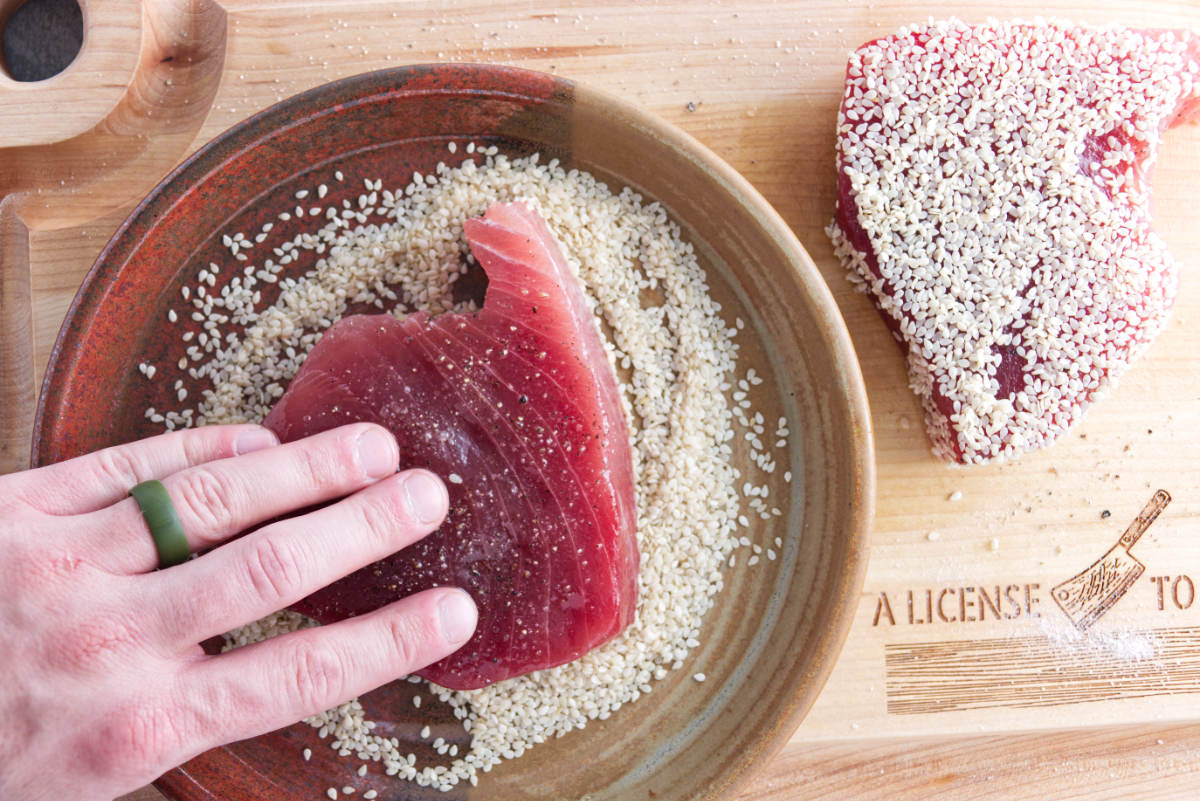 Coat the steaks with sesame seeds.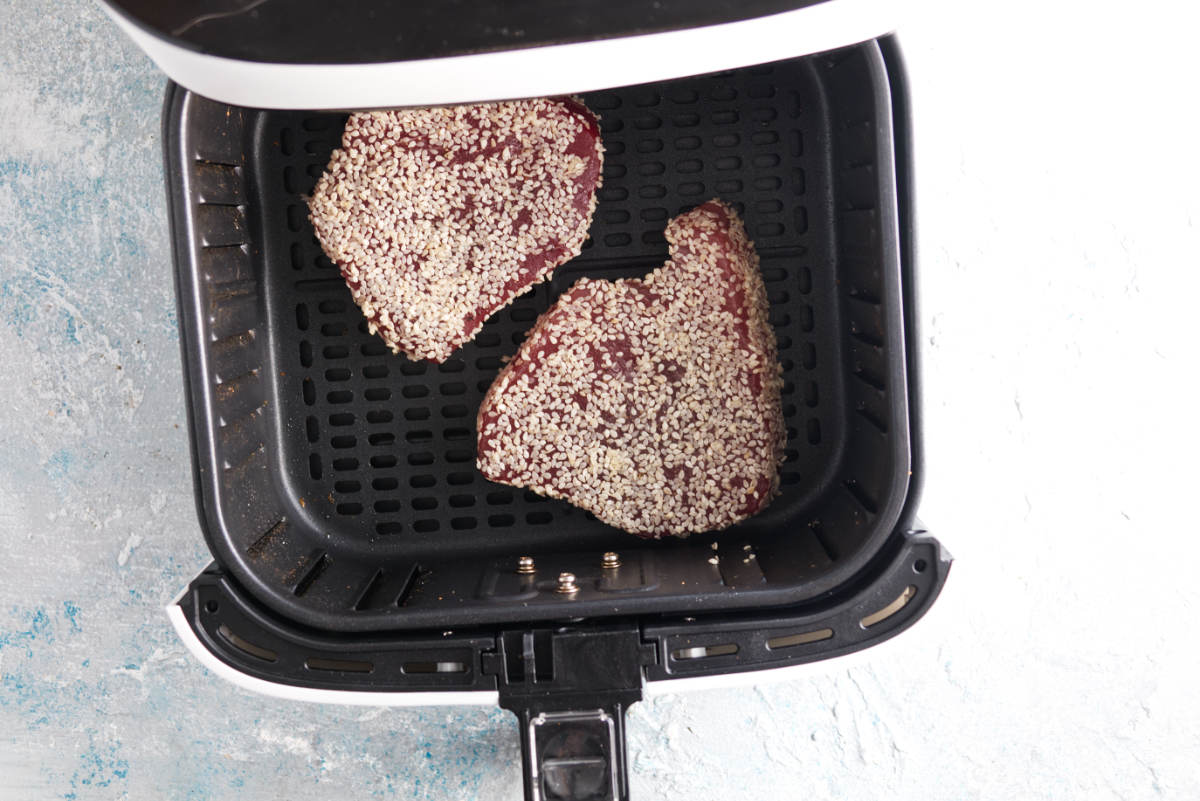 Preheat the air fryer and cook the ahi tuna steaks, flipping halfway through the cooking time.
😉 Tips For Success
Make sure you know how thick your tuna steaks are. This will help you get the correct level of doneness without stressing. When in doubt, head to a fishmonger who can easily cut steaks of similar sizes!

If your ahi tuna steaks are frozen, simply add 4 minutes of cooking time to your air fryer. If you can, thaw them before cooking to give you more control over the doneness of your steaks. Of course, it's always best to thaw them in the fridge as it reduces the number of harmful bacteria that can appear on the surface of the fish.

Don't go overboard on the seasoning. Tuna is naturally rich and creamy. So, keep things simple with pinches of salt, pepper, and everything bagel seasoning or sesame seeds.

Be careful not to overcook your steaks. Even if you want your tuna steaks well done, they can quickly overcook in the air fryer. Keep a close eye on my list of cooking times and account for any resting time, too (which can raise the internal temperature of your steaks!).

If you're a fan of marinated steaks, double the dipping sauce recipe and marinate them for 10 to 15 minutes before coating them with sesame seeds and cooking.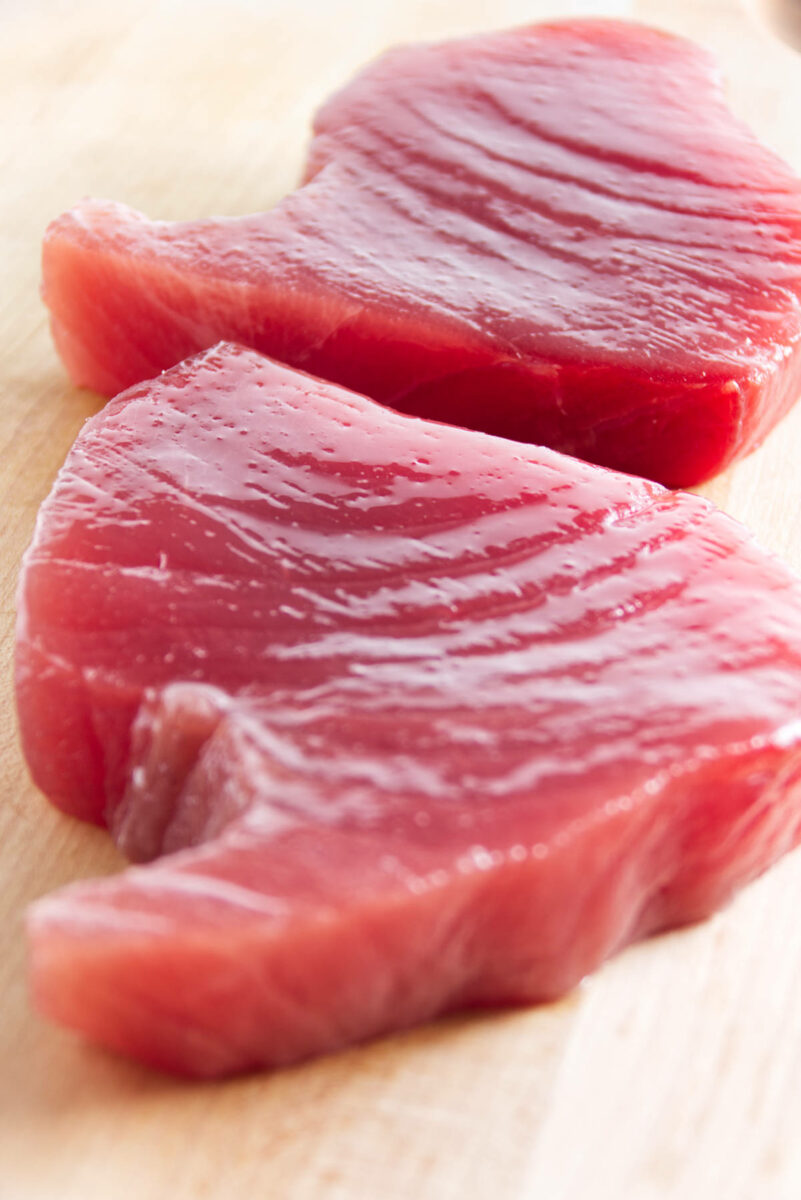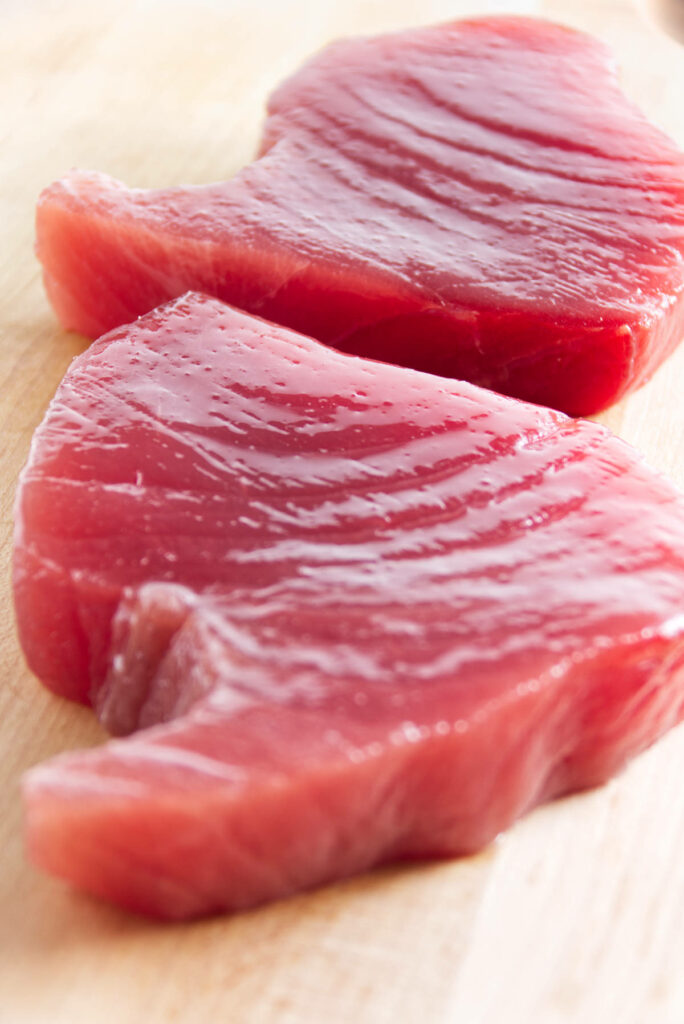 ❓ FAQ
How long does it take to cook a tuna steak in the air fryer?
It depends on how you want it cooked! If you want a rare steak, it'll only take 4 minutes at 400°F. For a well-done steak, expect to cook it for around 6 minutes.
How do you cook tuna steaks without drying them out?
To avoid your tuna drying out too quickly, be sure to keep a strict eye on it. As it cooks in minutes, stand by your air fryer and remember to flip your steaks halfway through the process.
Do you rinse off tuna steaks before cooking?
You don't want to rinse tuna steaks before cooking as it'll discolor the fish. However, if you're worried about extra moisture or scales, just pat them dry with a kitchen towel before prepping the tuna steaks.
Why is my tuna steak rubbery?
If your tuna steak is rubbery, you've probably overcooked it. The best steaks should still be beautifully pink in the middle. For the perfect cook, keep a meat thermometer on hand and time things carefully. Always probe the tuna steaks with a thermometer when you flip them halfway through the cooking time so you can adjust the cooking time as necessary.
Is it okay for tuna steak to be pink?
Absolutely! Pinkness in the center is the sign of a perfectly cooked tuna steak in the air fryer.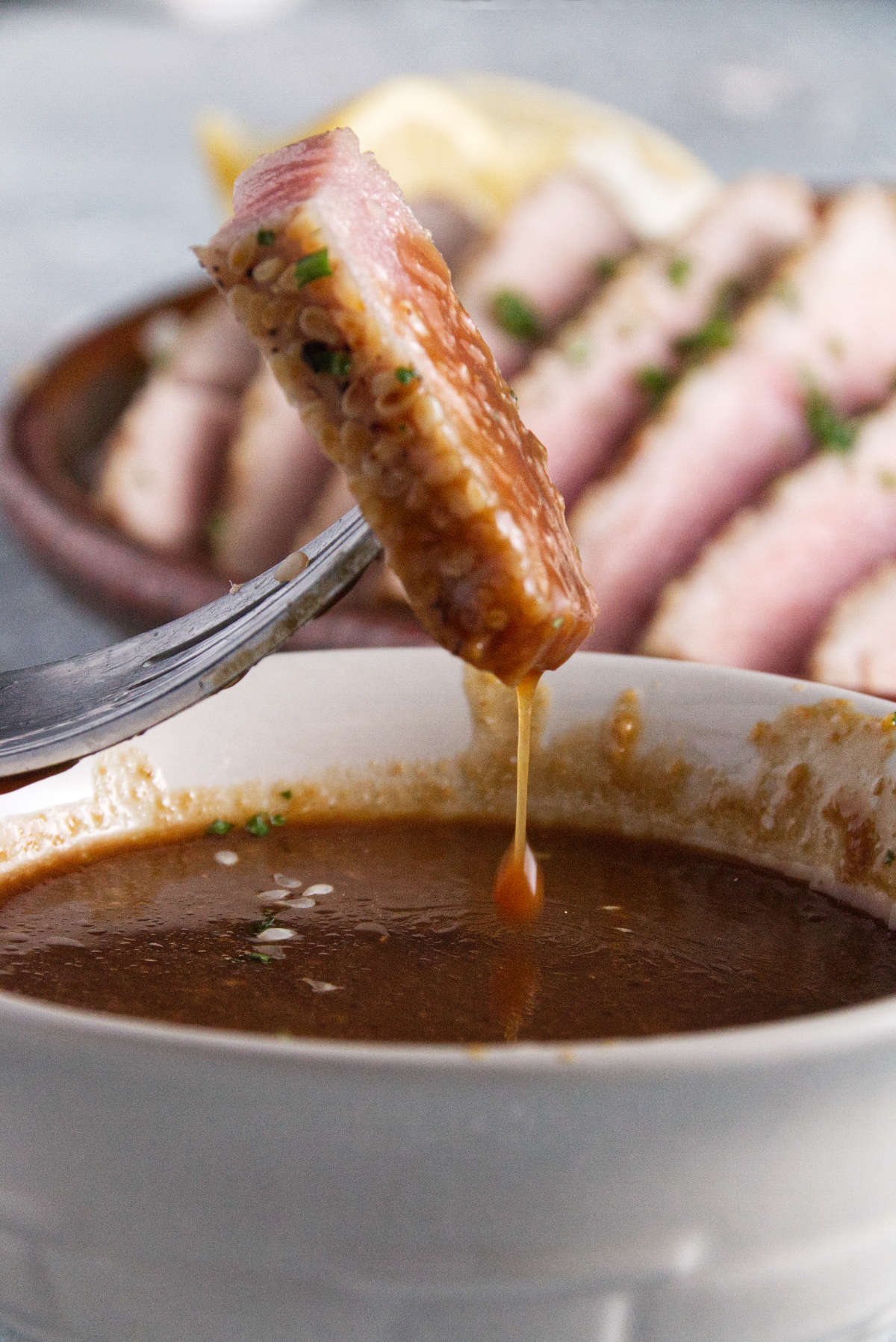 🎁 Wrap Up
Whether you're on the hunt for something unique for a dinner party or a reliable mid-week treat with the family, you'll adore these air fryer tuna steaks. Just remember to keep an eye on those cooking times to avoid falling foul to the ultimate rookie mistake! Nobody wants overcooked tuna!
 🛠 Tools and Equipment
If you click on some of the following affiliate links and buy something, we might get a small commission. You don't pay any extra, but it will help us keep the lights on and our bellies full!
This Ninja dual air fryer is perfect for a busy family. Cook two separate dishes simultaneously in this spacious device.

Use this ThermoWorks Thermapen so that you can quickly check the internal temp of your tuna steak and hit perfect results every time.
🤤 More Recipes To Love
💬 Tell Me What You Think!
Did you try out this recipe? Please leave a comment below and let me know how you liked it. Also, snap a picture and post it to your favorite social platform. Be sure to tag me at @alicensetogrill and let me know how you liked it!
CONNECT WITH A LICENSE TO GRILL!
Be sure to follow us on our social media accounts.
Did you make this recipe? Tell us about it in the comments below!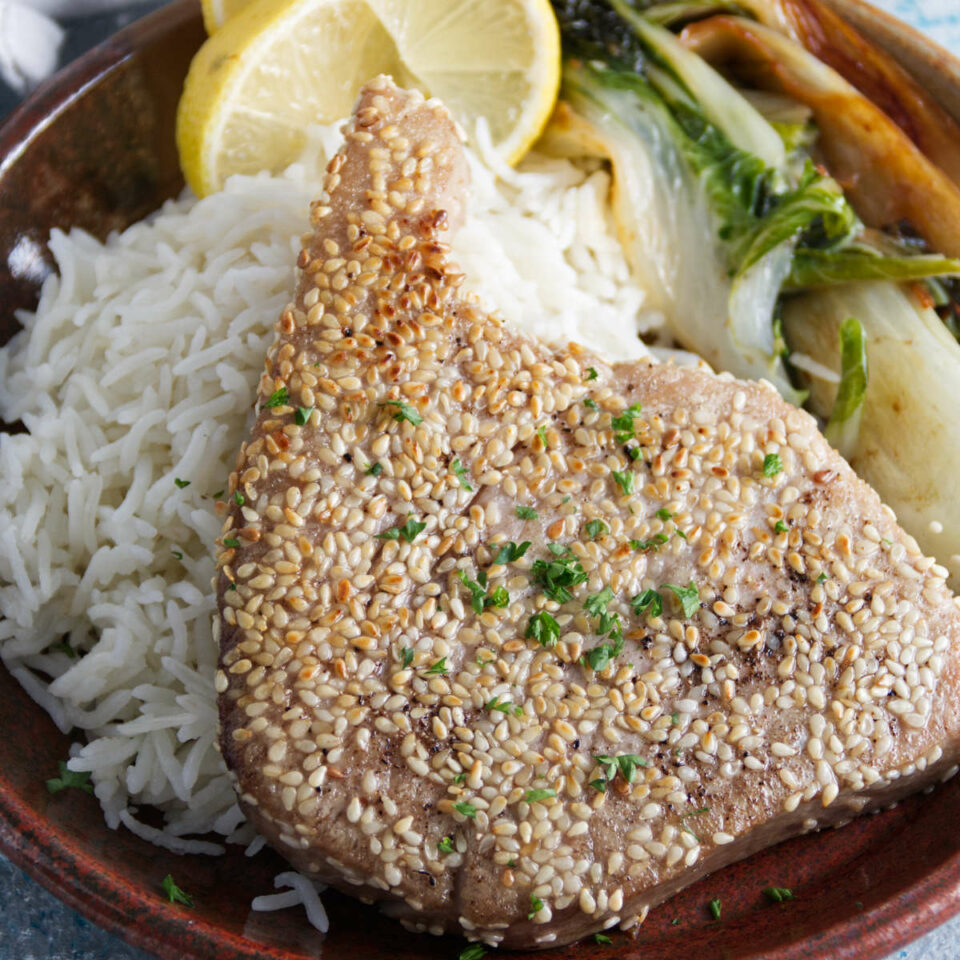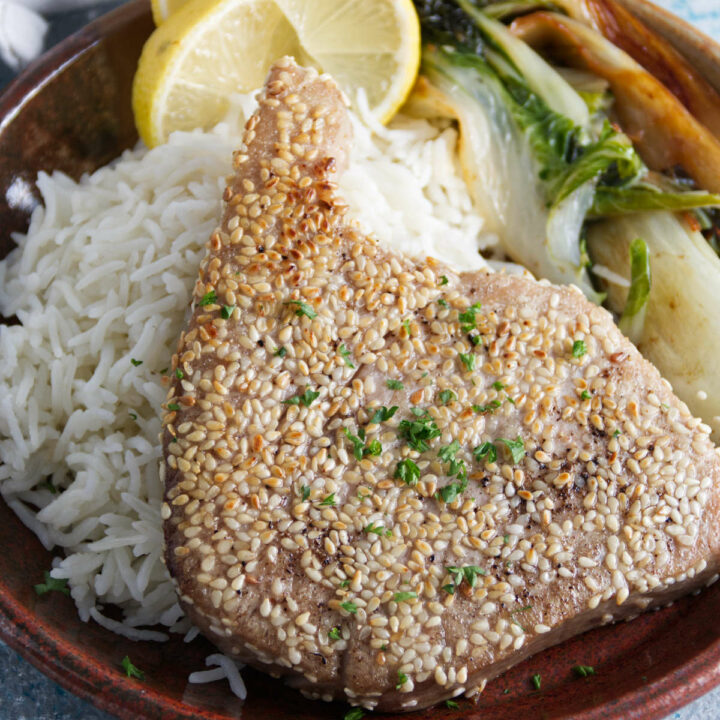 Air Fryer Tuna Steaks
If you're looking for a delicious, healthy meal that takes almost no time to prepare or cook, air fryer ahi tuna steaks are a great option. They have a mild flavor that goes well with almost any side dish, and their soft, buttery texture is hard to beat. A simple seasoning and a hot air fryer are all you need to make a perfect tuna steak.
If you want to marinate the tuna steaks, double the dipping sauce recipe and use half of it for a quick 10 to 15-minute marinade.
Ingredients
2 tuna steaks (about ¾ inch thick)
1 tablespoon vegetable oil
½ teaspoon salt
½ teaspoon black pepper
2 tablespoons sesame seeds or everything bagel seasoning
Dipping Sauce
3 tablespoons soy sauce
3 tablespoon rice wine vinegar
2 tablespoons honey
2 teaspoons Dijon mustard
1 teaspoon1 freshly grated ginger
1 garlic clove, minced
Instructions
Rub the tuna steaks all over with vegetable oil.
Sprinkle salt and pepper on both sides of the steaks.
Spread the sesame seeds out on a dish. Dredge both sides of the tuna in the sesame seeds, pushing them down firmly, so it sticks to the fish.
Preheat the air fryer to 400°F for 3 minutes. If you have an air fryer with racks or shelves, place a sheet pan in the air fryer while it preheats.
Place the tuna steaks in a single layer directly on the bottom of the air fryer basket or the hot sheet pan.
Cook the tuna steaks for 4 minutes, flipping halfway through the cooking time for medium rare (see below for different doneness times and flip the fish halfway through the cooking time).
Rare = cook 2-½ to 3 minutes total cook time
Medium rare = 4 minutes total cook time
Medium = 5 to 6 minutes total cook time
Well done = 6 to 7 minutes total cook time
Dipping Sauce:
Combine the soy sauce, rice wine vinegar, honey, Dijon, ginger, and garlic in a small dish and whisk well.
Serve the tuna steaks with the dipping sauce.
Notes
If your tuna steaks are ¾ inch thick, 4 minutes will give you a rare to medium rare steak (ours was 120°F when we took them out of the air fryer, and the internal temperature rose to 127°F from carry-over cooking. 
If you want your tuna steak cooked rare, reduce the cooking time to 2 to 3 minutes. For medium doneness, cook for 5 to 5-½ minutes, and for a well-done steak, cook for 6 to 6-½ minutes. See the doneness chart below. 
If your tuna steaks are frozen, add 4 minutes of cooking time or let the fish thaw thoroughly before you cook them. We recommend thawing the fish before cooking since you can season the tuna and control the doneness much easier.
Doneness Temperatures for Tuna Steak
90°F - 120°F = very rare
120°F - 125°F  = Rare
125°F - 135°F = medium rare
140°F - 145°F = medium
145°F - 150°F = well done
**Note: USDA recommended temperature is 145°F
Recommended Products
As an Amazon Associate and member of other affiliate programs, I earn from qualifying purchases.
Nutrition Information:
Yield:

2
Serving Size:

1
Amount Per Serving:
Calories:

352
Total Fat:

8g
Saturated Fat:

1g
Trans Fat:

0g
Unsaturated Fat:

7g
Cholesterol:

67mg
Sodium:

2276mg
Carbohydrates:

24g
Fiber:

1g
Sugar:

18g
Protein:

44g
Nutrition information is a guideline only, is calculated automatically by third party software, and absolute accuracy is not guaranteed.