Easy Grilled Marinated Flank Steak
on Feb 29, 2020, Updated Sep 21, 2023
When I am in the mood for some flavorful steak (which is always!) and I want it now, then I usually go for this easy grilled marinated flank steak. I let this flank steak sit in the marinade for almost 24 hours so it soaks up lots of flavors. The marinade gets its sweetness from the brown sugar, a touch of saltiness from the soy sauce, and a bite of spiciness thanks to the chili powder and red pepper flakes. Fire up the grill and give this flank steak a try the next time you feel like throwing together some fajitas or steak nachos!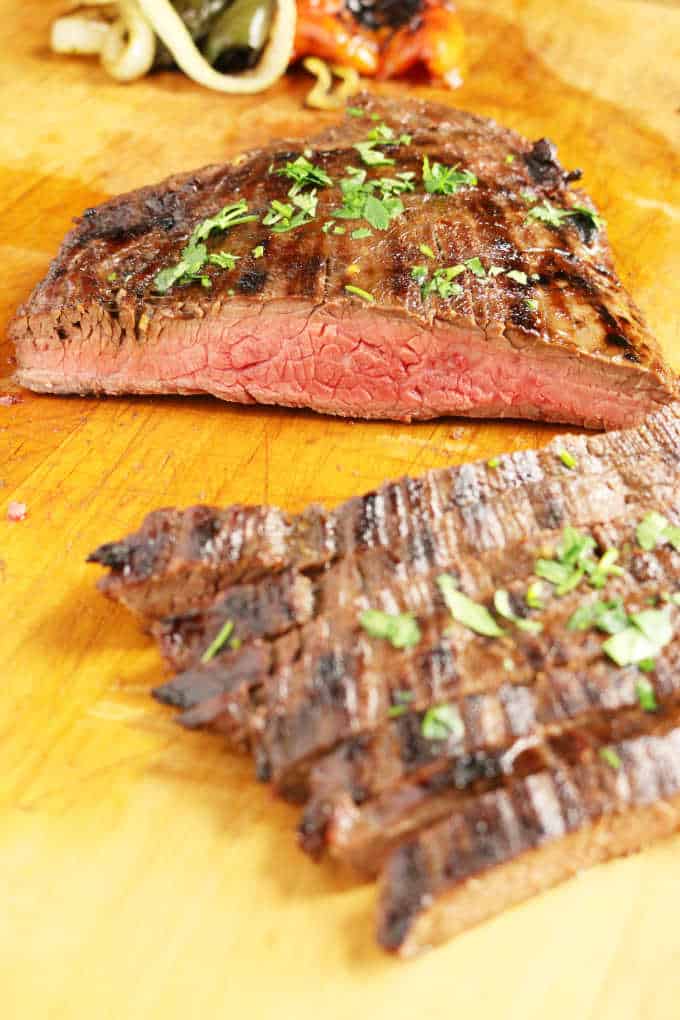 Flank steak
Flank steak is a wide, flat cut of meat and the muscle fibers all run in one direction. It is also very lean so it can be a fairly tough cut of meat. Because it is so lean and tough it benefits from soaking in a good marinade and cooking over an intense flame very quickly. Also, be sure to cut it very thin and against the grain so that it isn't too tough
How to grill flank steak
Marinate: let your flank steak marinate for several hours. If you are in a hurry you can do a quick marinade and baste the steak with marinade as it cooks. I prefer a 24-hour soak in the marinade before cooking.
Gill: I like to get my grill as hot as I can. The benefit of using a charcoal or gas grill here is that you can really get a good sear. If you have a pellet grill you will want to adjust it for direct heat if you can. The goal here is to get a nice crisp sear on the outside of the steak. Grill each side for about 5 minutes or until the internal temperature reaches 135°F for medium-rare or 140°F for medium.
Rest & Eat: let the steak rest, covered with foil, for about 10 minutes before slicing. Be sure to slice against the grain.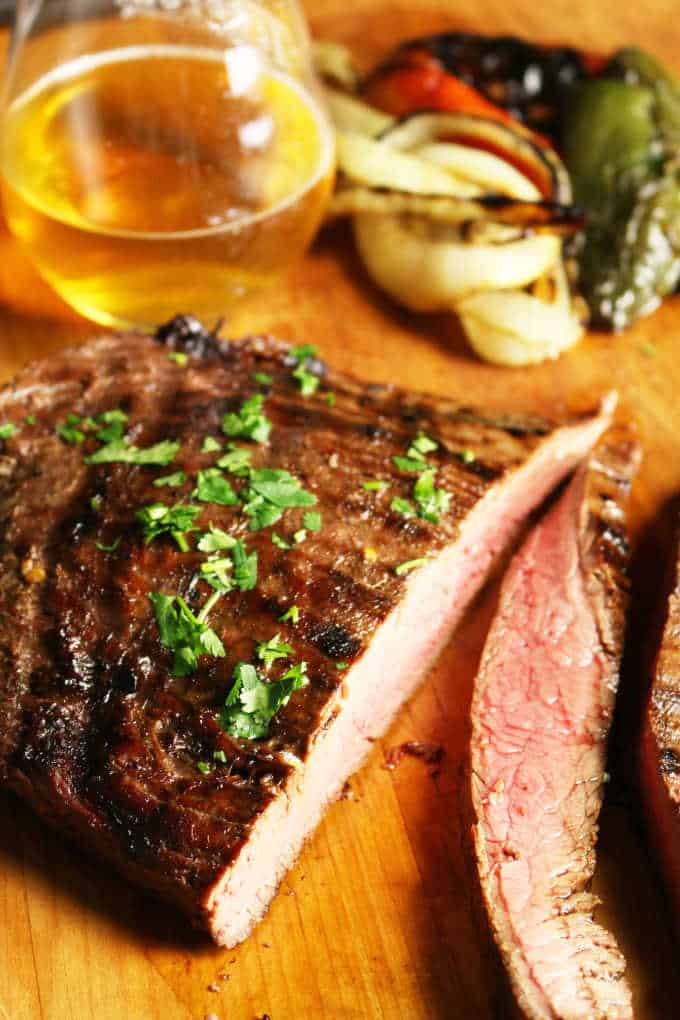 Do you have to marinate flank steak?
Flank steak is a very lean cut of meat so, yes, it benefits very much from a flavorful marinade. When you think of naturally flavorful cuts of meat, a rib-eye or t-bone steak may come to mind. Fat delivers all the good, juicy flavor to the meat. Since the flank steak is naturally very lean, we need to get some flavor in there somehow!
How to make a steak marinade
There are 5 main components to making the perfect marinade. I typically use olive oil for the fat and brown sugar for the sweetness. But get creative and adjust your marinade to suit your palette. Try apple cider vinegar or orange juice for the acid. Use fresh herbs instead of dried spices, I think rosemary and thyme go well with steak.
Fat
Salt
Sugar
Acid
Seasoning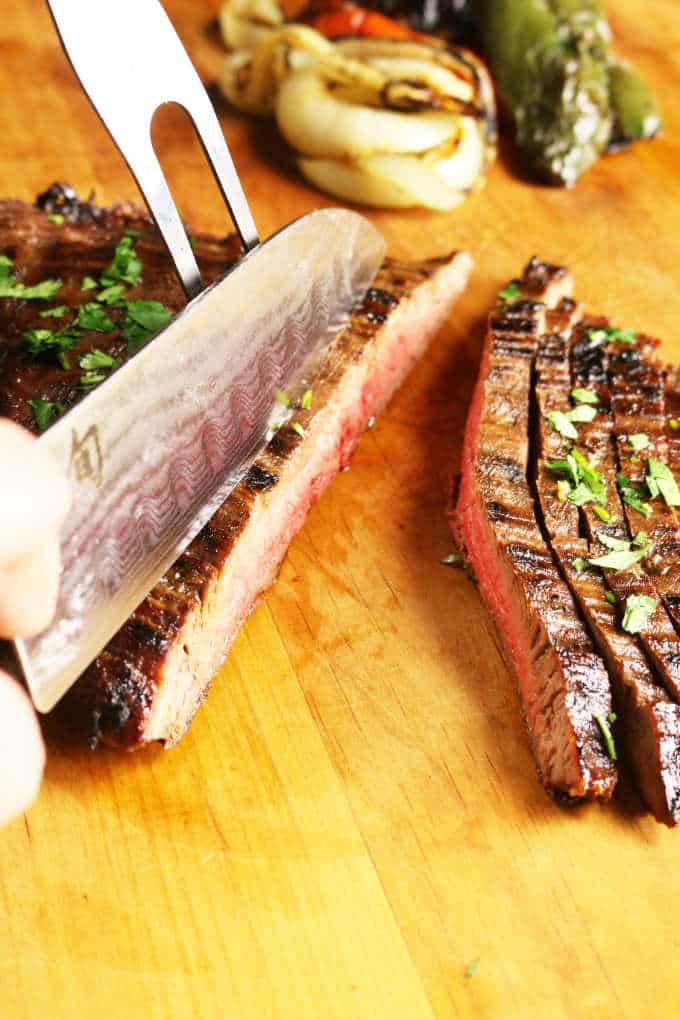 Other recipes you gotta try!
Who doesn't love a good macaroni and cheese?! With over 3 pounds of cheese and a TON of bacon, this smoked jalapeño popper mac and cheese is so delicious.
You should probably eat some vegetables… but why should you suffer?! This air fryer brussels sprouts with bacon will make you a fan of Brussels sprouts, even if you hate them! There is nothing worse than soggy Brussels sprouts but these are crispy and delicious!
CONNECT WITH A LICENSE TO GRILL!
Be sure to follow us on our social media accounts.
Did you make this recipe? Tell us about it in the comments below!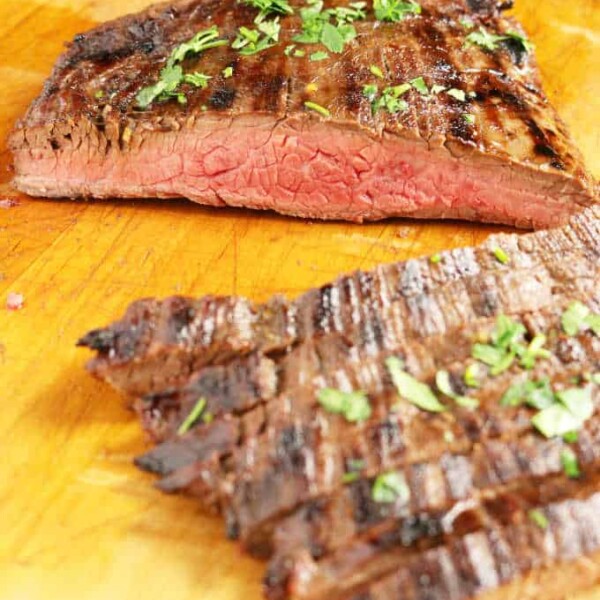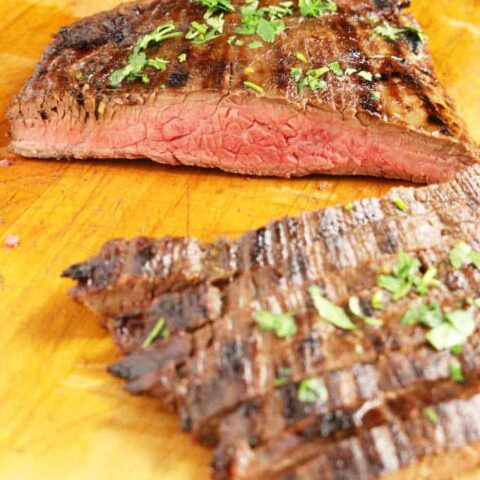 Easy Grilled Marinated Flank Steak
Additional Time:
1 minute
An overnight marinade gives this steak an amazing flavor! Cook it over a direct flame at high heat for just a few minutes for the most flavorful char-grilled flank steak. Grill up some veggies to go along with it in some fajita, use it as the protein for your nachos, heck, eat it as it is!
Ingredients
Marinade
1/2 cup olive oil
1/3 cup soy sauce
1/3 cup lemon juice
1/4 cup brown sugar
2 tbsp Worcestershire sauce
5 cloves minced garlic
1 teaspoon crushed red pepper flakes
1 teaspoon chili powder
Instructions
Preheat your charcoal grill or pellet grill as hot as it gets. We will be grilling this flank steak hot and fast. If possible, you will want direct heat.
Prepare a bag inside of a bowl and mix the ingredients for the marinade.
Place the flank steak in the bag and zip it closed. Marinade the steak for at least an hour or overnight if you can wait.
Once the grill reaches 450°F or hotter, place the steak on the grill for about 5 minutes on each side or until the internal temperature reaches 135°F for medium-rare or 140°F for medium.
Remove the steak from the grill and cover with foil to allow it to rest for 10 minutes.
Slice the steak into long strips. Be sure to cut against the grain.
Serve with veggies for some delicious fajitas!