Guacamole has increased in popularity over the years, and it is easy to see why. Over 80 million avocados were consumed on Super Bowl Sunday alone! This creamy guacamole salsa recipe tastes amazing on chips, tacos, quesadillas, sandwiches, and even toast. This simple and flavorful twist on traditional guacamole with tomatoes featuring pepperoncini is one of my favorite recipes to make.
This guacamole salsa is so versatile and the perfect appetizer recipe to serve at your next gathering. It will for sure be a crowd-pleaser. Pepperoncini is a mild pepper that provides a bit of spice and sweetness in this dish.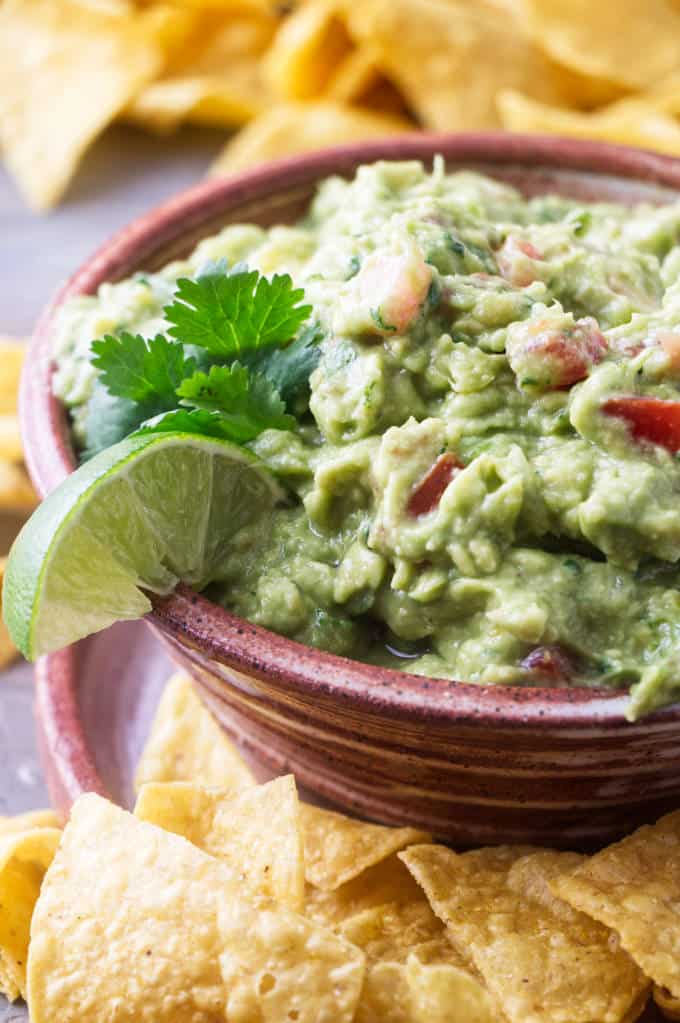 Tip: use a mortar and pestle or an authentic Molcajete to grind the onion and cilantro into a paste before adding the avocado. This really helps to develop the flavors and makes the guacamole so much better!
Why you will love this recipe
This spicy guacamole with tomatoes is so delicious! Here are a few reasons why you will love this recipe:
Creamy, soft texture that is perfect for dipping.
Full of healthy, fresh, and tasty ingredients.
It can be used in a variety of ways and is customizable.
This post may contain affiliate links. Please read our
disclosure policy
.
Ingredients
This simple recipe only requires a few ingredients, such as:
Yellow onion – these onions are a bit milder in flavor and work wonderfully to counteract the spice of cumin and pepperoncini peppers in this recipe.
Fresh cilantro – this popular herb brings freshness to this guacamole.
Salt – add this seasoning staple to taste to bring your guacamole together. I prefer to use Himalayan, kosher, or sea salt in this recipe.
Cumin – this seasoning brings some extra spice to this guacamole.
Avocados – this superfood has a smooth, butter-like texture and tastes incredible.
Lime Juice – this versatile juice brings everything together in your guacamole and provides a citrusy, slightly sour flavor.
Pepperoncini Peppers – These peppers are very popular in Italian and Greek cuisines and pack a bit of spice into this guacamole recipe.
Tomatoes – added to bring some texture and sweetness to the guacamole, along with a pop of color.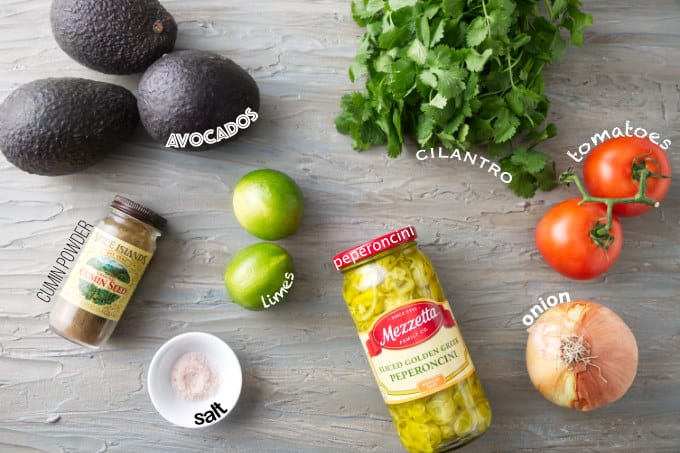 How to make guacamole
You can whip this guacamole with tomatoes up in just a few easy steps. Here is how to make this perfect guacamole salsa recipe at home:
Step 1: make the paste
Combine the onion, half of the cilantro, salt, and cumin in the bowl. Use a mortar and pestle or food processor to mash or blend until there is a paste-like texture.
Step 2: add the avocados
Place the onion paste into a large bowl and add the avocados. Mash to your desired consistency.
Step 3: stir in the flavor
Add in the rest of the cilantro, the lime juice, pepperoncini, and tomatoes. Taste and season with salt and cumin as desired.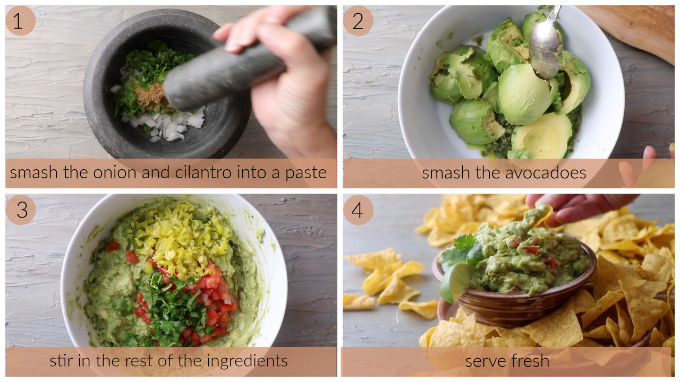 Tips for success
Instead of lime juice, substitute or combine some of the remaining liquid from the pepperoncini jar. The extra dash of juice adds extra flavor and spice to your guacamole salsa and tastes delicious. Feel free to add more lime juice as needed to balance out the flavors in this guacamole salsa.
Use Roma tomatoes, they have less water so you don't end up with soupy guacamole.
Try to avoid using metal tools when preparing or mashing your avocado as much as possible since these contribute to a faster browning process.
If you cannot get your hands on some pepperoncini, another possible substitute would be jalapeno peppers. These are a bit spicier but provide a similar taste and texture in this dish.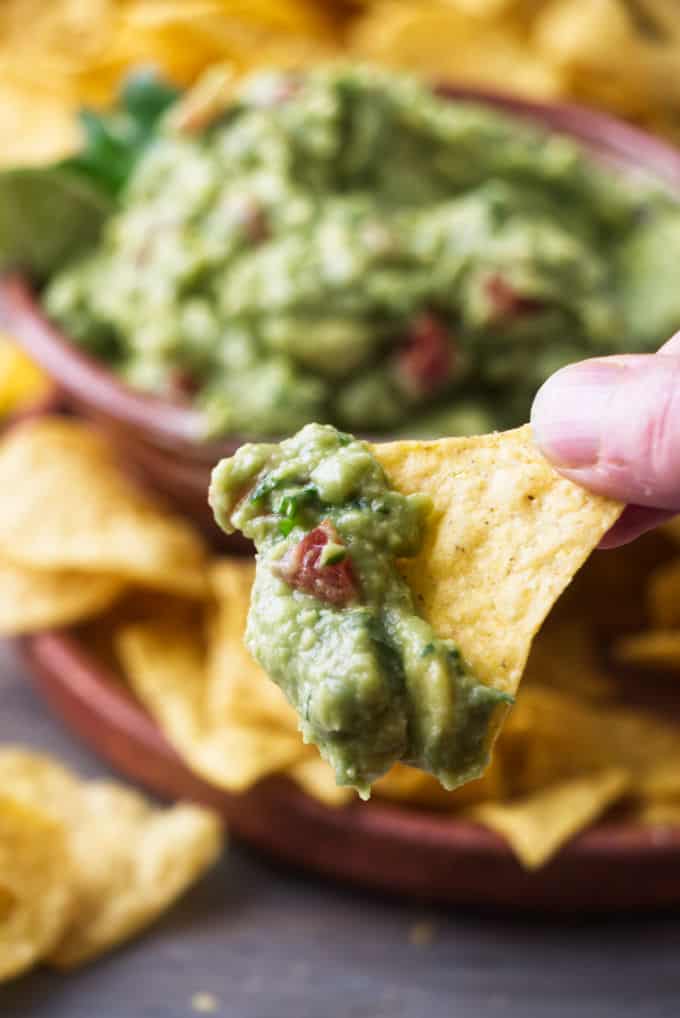 FAQ
How do I prevent my guacamole from browning?
Guacamole can last in the refrigerator for up to two days in an airtight container. Although, this dish is better when served fresh since avocado tends to brown quite quickly. If your guacamole is just slightly brown, remove those parts and add a bit extra lime juice for added freshness.
You can prevent browning in the fridge by covering the guacamole with a thin layer of water. Drizzle water over your guacamole in an airtight container, just enough to coat the entire surface. Seal it and place it in the fridge. When you are ready to enjoy some more guacamole, simply pour off the water and stir it up.
How do I know if my avocado is ripe?
Whether or not your avocado is ripe or not will truly make or break your guacamole salsa. Stay away from perfectly green, firm avocados for this dish. Avocados are deep green or purple in color when ripe and will feel slightly squishy when pressure is applied. On the other hand, if your avocado is too mushy or dark in color, it can be overripe.
I use the fruit often and tend to buy unripe avocados in advance and let them ripen on my counter until I am ready for some delicious guacamole. If you leave your avocado out alongside other fresh fruit, it tends to ripen a bit more quickly.
What type of tomatoes for guacamole?
Roma tomatoes are perfect for guacamole. They tend to have a lot less water content. This will help to give you that creamy, delicious guacamole. Nobody likes a watery or runny guac.
Other great recipes
These air fryer tilapia fish tacos are the perfect vessel for a delicious guacamole. The tilapia is crisped to perfection in the air fryer, perfect for when you have a craving for fish tacos!
Guacamole always goes well with seafood. Try out these grilled tequila lime shrimp. Dip them into the guacamole as an appetizer, or build a wonderful shrimp taco. The choice is yours!
Need an easy snack? This air fryer frozen pizza rolls recipe is great for an after school snack or a midnight craving.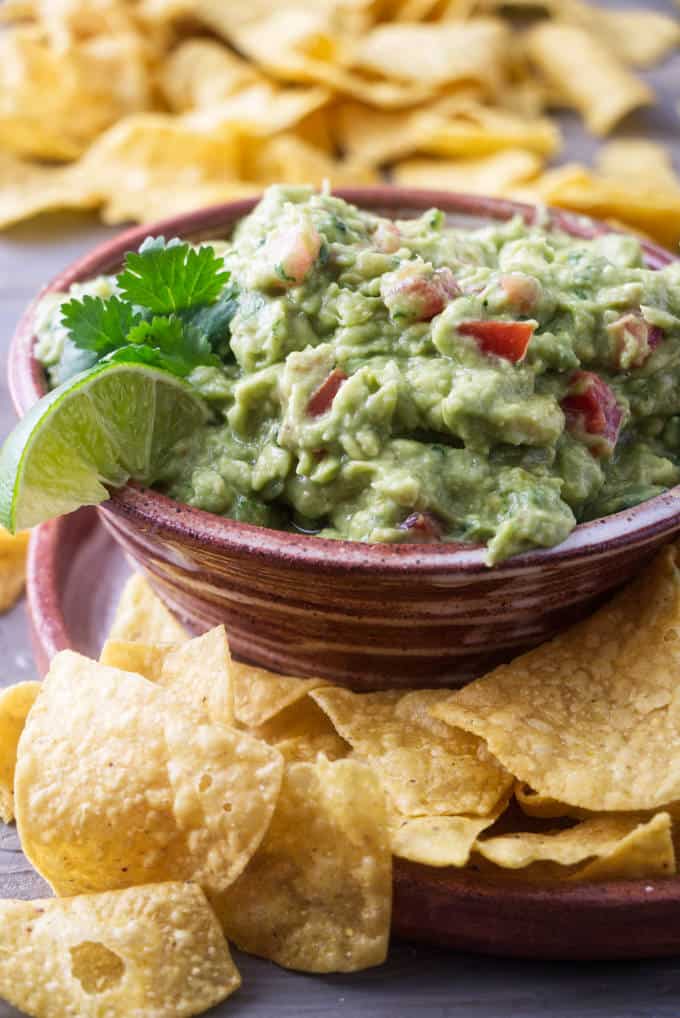 CONNECT WITH A LICENSE TO GRILL!
Be sure to follow us on our social media accounts
Facebook * Instagram * Pinterest * YouTube * Twitter
Did you make this recipe? Tell us about it in the comments below!
Tell me what you think!
Did you try out this recipe? Please leave a comment below and let me know how you liked it. Also, snap a picture and post it to your favorite social platform. Be sure to tag me at @alicensetogrill and let me know how you liked it!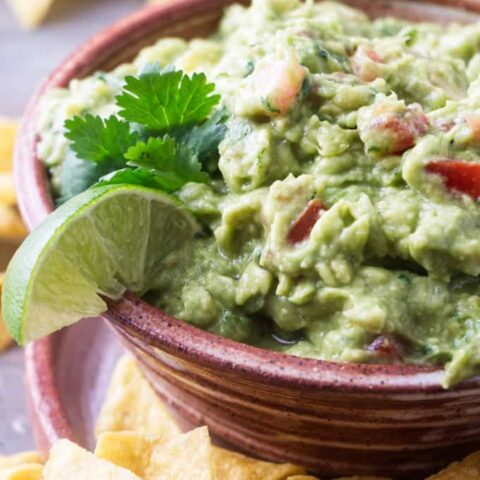 Guacamole with Tomatoes and Pepperoncini
This easy guacamole salsa is studded with bright red tomatoes and tangy, zesty pepperoncini peppers. The secret to killer guacamole is creating a paste out of the onions and cilantro. This is the perfect recipe for those game days with your friends or on Taco Tuesday. Put it on anything from fajitas to toast. It is sure to be a hit!
Ingredients
half yellow onion, chopped
1/3 cup chopped fresh cilantro leaves (divided)
1/2 teaspoon salt
1/2 teaspoon cumin powder
3 medium avocados
3 to 4 tablespoons lime juice (or use the juice from the pepperoncini jar)
1/3 cup chopped pepperoncini's
2 tomatoes, diced
Instructions
Put the onion, half of the cilantro, salt, and cumin in a mortar and pestle bowl or a food processor. Smash or blend until it turns into a paste.
Scoop the onion paste into a large bowl and add the avocados. Mash to your desired consistency.
Stir in the rest of the cilantro, the lime juice, pepperoncini, and tomatoes. Taste and season with more salt if desired.
Notes
Smashing the onions and cilantro into a paste will give the guacamole more depth of flavor than if you just stir in chopped onions. If you don't have a mortar and pestle you can use a food processor or mash it with a rolling pin.
Guacamole is best when it is made fresh but if you have any leftover sprinkle some lime or lemon juice over the top then press plastic wrap directly onto the guacamole. The plastic wrap needs to touch the surface of the guacamole so air does not come into contact with it. Store in the fridge for up to 2 days.
Recommended Products
As an Amazon Associate and member of other affiliate programs, I earn from qualifying purchases.
Nutrition Information
Yield

6
Serving Size

1
Amount Per Serving
Calories

177
Total Fat

15g
Saturated Fat

2g
Trans Fat

0g
Unsaturated Fat

12g
Cholesterol

0mg
Sodium

274mg
Carbohydrates

12g
Fiber

8g
Sugar

3g
Protein

3g
Nutrition information is a guideline only, is calculated automatically by third party software, and absolute accuracy is not guaranteed.