I have been craving cinnamon rolls for the last several weeks, so I caved and made these delicious cinnamon rolls in the air fryer. The wonderful scent of freshly baked cinnamon rolls is so nostalgic! It reminds me of the days when my mom would make her signature cinnamon rolls and fill the house with the intoxicating smells of butter, cinnamon, and freshly baked bread. Whether you prefer cinnamon rolls for brunch or dessert, you will love how quick and delicious this air fryer recipe is!
The best part about this recipe is that you do not need to wait for the yeast to work its magic. These are yeastless cinnamon rolls, so in less than half an hour, you can have these ready to devour!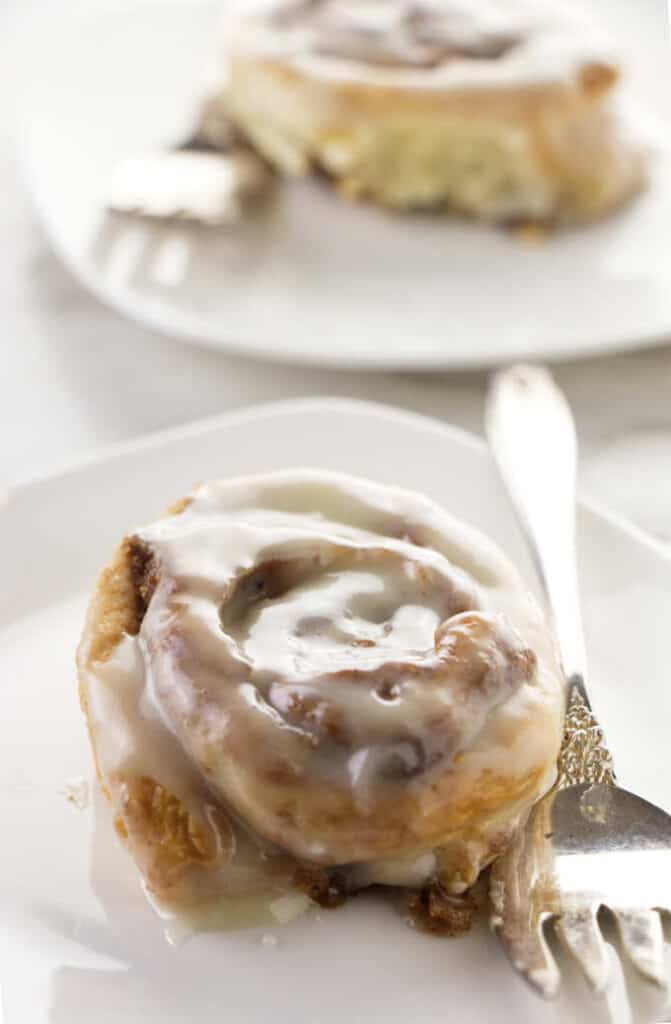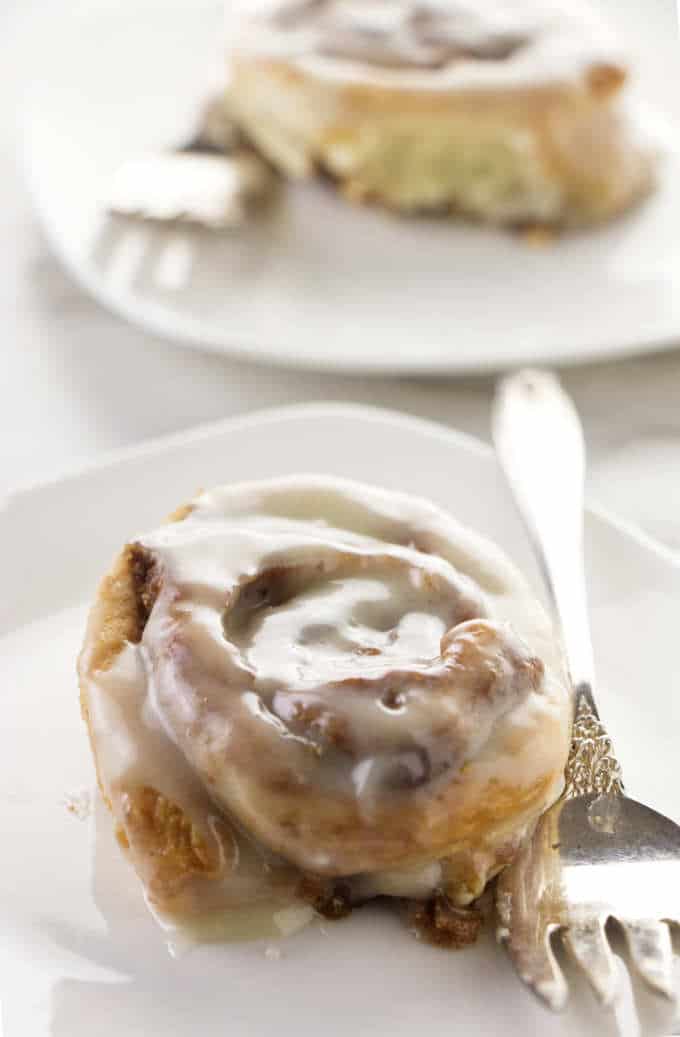 Why this recipe is so great
Making these in the air fryer is so simple and makes for the perfect amount of cinnamon rolls for a small gathering. I always loved those GIANT cinnamon rolls from the bakery, but let's be honest, I don't need my full daily calorie intake to come from a cinnamon roll.
They are FAST! Nobody likes to wait to satisfy their craving for a dessert, and the air fryer delivers on this quickly!
There is no need to wait for the dough to rise. This recipe keeps it simple and doesn't require any yeast.
Mastering the air fryer!
I have become obsessed with my air fryer. I always try adapting my conventional oven recipes to see how they cook up in the air fryer, but this can often lead to imperfect results. So I have developed a few tools to help myself and my readers in their journey to perfecting the air fryer!
Use this air fryer calculator to convert your recipes from the conventional oven or deep fryer. It quickly converts any given temperature and cooking time so that you do not overcook your food in the air fryer.
Read up on some tips and trick so that you can more effectively use your air fryer. Understand what type of non-stick spray to use or how to preheat the appliance.
This post may contain affiliate links. Please read our
disclosure policy
.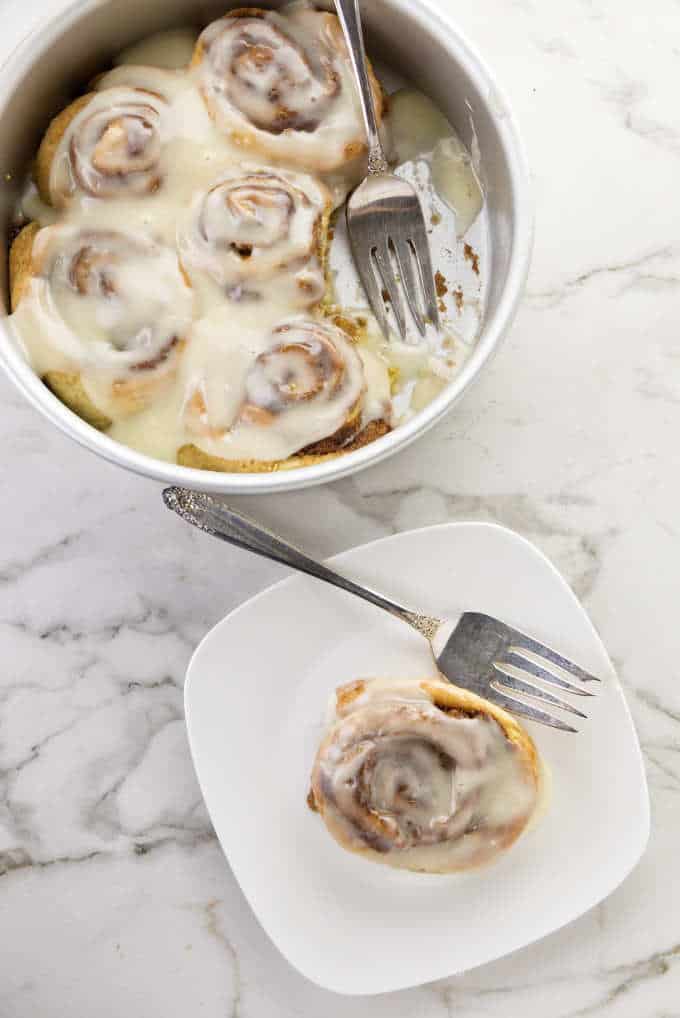 How to make these incredible cinnamon rolls
The dough recipe has been modified from a typical quick bread recipe but with some sweetness added. It doesn't require any fancy tricks and it is so simple, you really can't mess it up.
Right now, it is a bit difficult to find yeast in the store. I have some yeast in my fridge that has been there for a considerably long time and I am not so sure that it is still good. So, thankfully, we do not need yeast in this recipe, and there is no need to wait for the dough to rise before you can start baking these.
I used a cake pan in this recipe to hold my cinnamon rolls. If you cannot fit a cake pan in your air fryer, you can use some aluminum foil to build a makeshift cake pan. Simply take a square sheet of foil and crumple the edges up to build a square or circular pan with 1-2″ edges. Having edges on your makeshift cake pan will contain the rolls as they cook.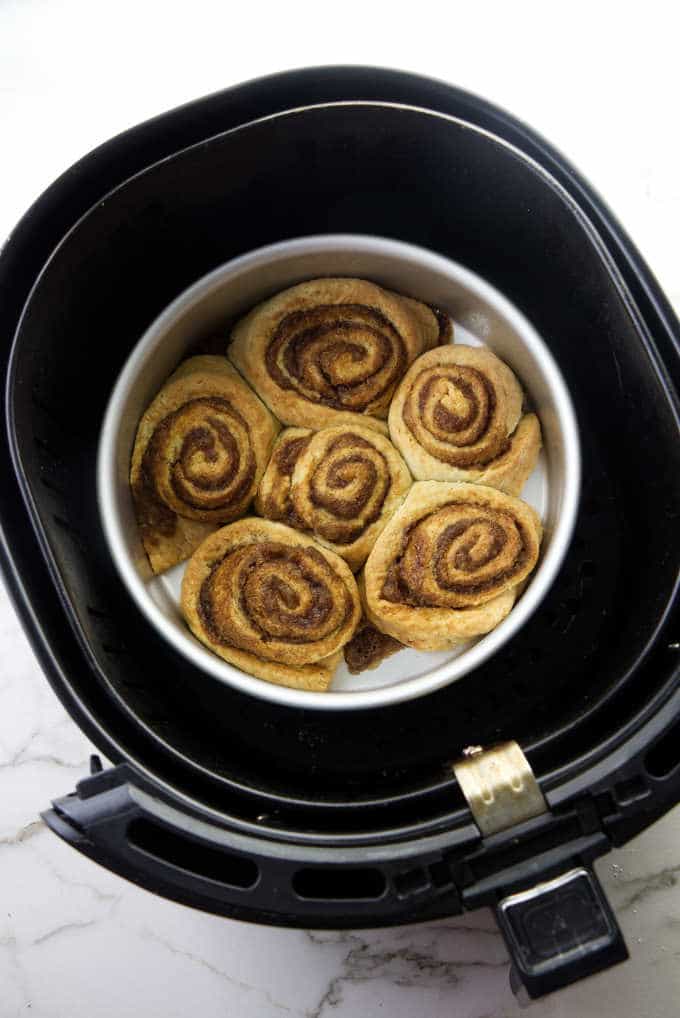 Preheat the air fryer to ensure even baking and use a greased 7-inch round cake pan.
Combine the flour, sugar, baking powder, baking soda, and salt to a mixing bowl.
Add the butter and gently combine.
Stir in the milk.
Roll the dough into a rectangle.
Mix the ingredients for the cinnamon filling.
Spread the filling over the dough, edge-to-edge.
Roll the rectangular dough into a log.
Cut the log into 6 sections and place them into a 7-inch cake pan.
Bake in the air fryer for 10-14 minutes.
Combine the cream cheese, butter, powdered sugar, and vanilla in a bowl.
Remove the rolls from the air fryer and drizzle the glaze over the top.
Tip for success:
Simple ingredients
I bet that you have all of the ingredients you need to make this recipe already on hand, so no need to run to the grocery store. What are you waiting for, start making these now!
For the dough:
Flour- just regular all-purpose flour.
Sugar
Butter
Milk
Salt
Baking soda
Baking powder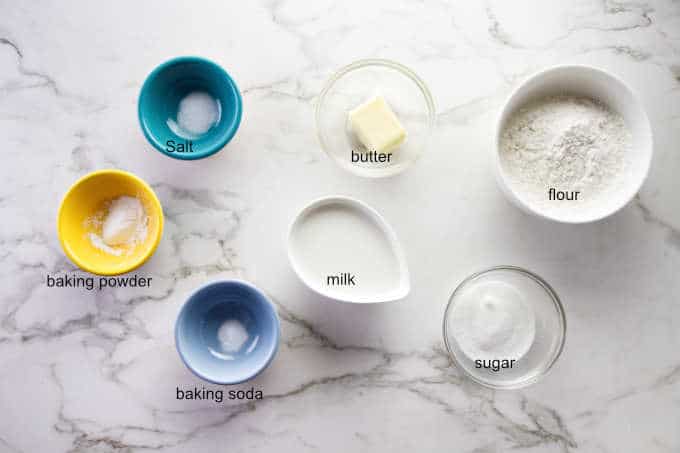 For the filling:
Butter
Cinnamon
Brown sugar
For the frosting:
Butter
Cream cheese
Vanilla
Milk
Powdered sugar
Make it your own!
I think that cinnamon rolls should always have a cream cheese frosting. For extra points, get creative and personalize the flavor. Add some Kahlúa or Amaretto for a fun spin! You could replace the vanilla extract with maple extract or even add some maple syrup.
You could even get extra weird and add bacon to the cinnamon rolls. Cook up some bacon in the air fryer and chop it into crumbles. Add about 1/3 cup crumbled bacon to the filling before adding it to the rolled out dough. Then add another 1/2 cup of crumbled bacon to the frosting and coat the cinnamon rolls! YUM!!
What else is cooking on the blog?
In case you still have a sweet tooth after making these cinnamon rolls, then you need to bake up some of these fudgy, gooey air fryer brownies! This air fryer dessert is delicious and pairs perfectly with a scoop of ice cream and some espresso, my favorite nightcap!
Have you ever tried marinating shrimp in tequila? Well if you haven't you should! A nice tequila has such a great flavor and can add a tremendous amount of awesomeness to your shrimp. Try out this recipe for grilled tequila lime shrimp next time you plan to do some grilling!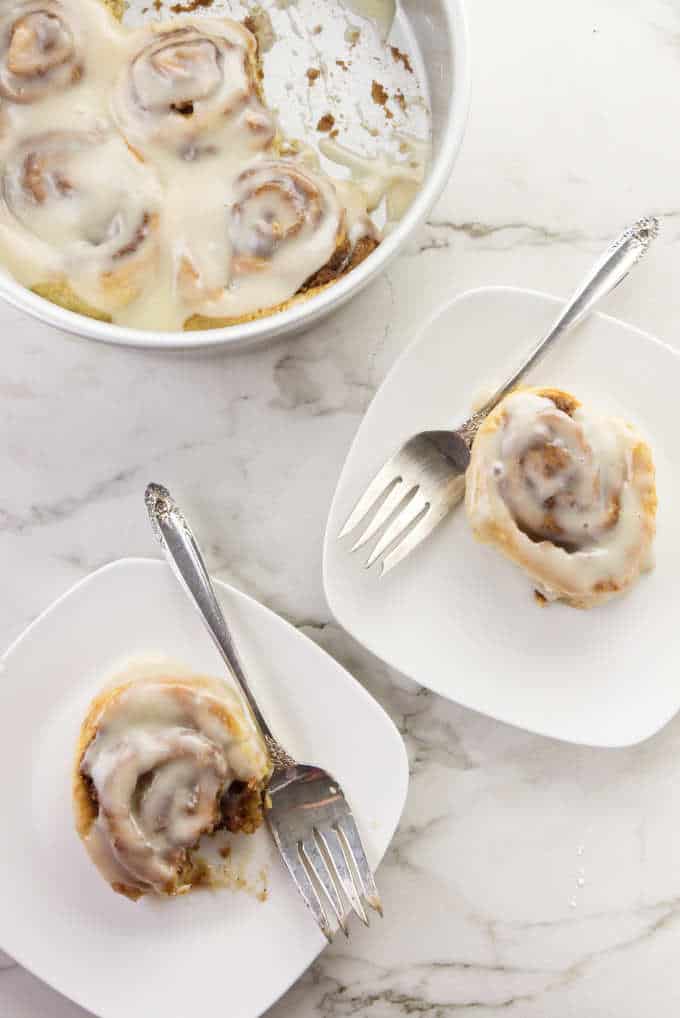 Tell me what you think!
Did you try out this recipe? Please give it a 5-star review! Also, snap a picture of it and share it with me on Instagram using the hashtag #alicensetogrill.
CONNECT WITH A LICENSE TO GRILL!
Be sure to follow us on our social media accounts
Facebook * Instagram * Pinterest * YouTube * Twitter
Did you make this recipe? Tell us about it in the comments below!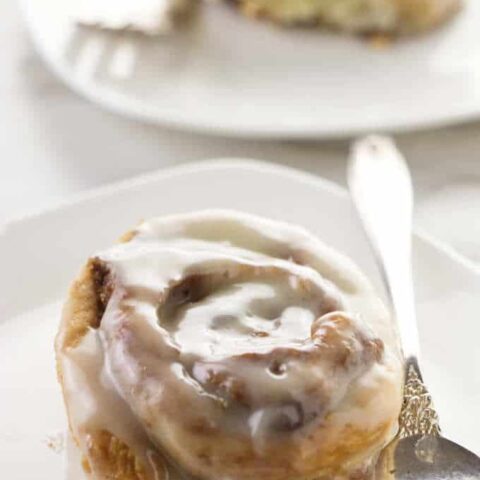 Air Fryer Cinnamon Rolls (No Yeast)
This small batch of cinnamon rolls does not require yeast and bakes in less than 15 minutes. Make cinnamon rolls any day without fuss.
Ingredients
For the rolls
1 cup all-purpose flour
4 teaspoons granulated sugar
1 teaspoon baking powder
1/8 teaspoon baking soda
1/4 teaspoon salt
4 tablespoons cold butter, cut into cubes
1/3 cup whole milk
For the cinnamon filling
2 tablespoons melted butter
1/2 cup brown sugar
1 teaspoon ground cinnamon
Cream Cheese Icing
4 tablespoons cream cheese, softened (2 ounces)
1 tablespoon butter, softened
1/2 cup powdered sugar
1/4 teaspoon vanilla extract
1 teaspoon milk (optional)
Instructions
Preheat the air fryer to 320°F. Grease a 7-inch round cake pan.
Add the flour, sugar, baking powder, baking soda, and salt to a mixing bowl. Stir together.
Add the butter and use a couple of forks or your fingers to smash the butter into the flour mixture until it looks like damp sand.
Stir in the milk. The dough should come together in a soft clump.
Place the dough on a floured counter and roll out into a 9 x 12 rectangle.
Mix the ingredients for the cinnamon filling together in a bowl.
Spread the filling over the dough.
Start at one of the short sides of the dough and roll it up into a log.
Cut the log into 6 sections (about 1-1/2 inches wide) and place them into the cake pan.
Place the pan into the air fryer basket and bake for 10 to 14 minutes.
While the cinnamon rolls bake, make the icing.
Place the cream cheese and the butter in a bowl and stir well.
Add the powdered sugar and vanilla and stir until creamy. Stir in the milk if you want a thinner icing.
Remove the rolls from the air fryer and drizzle the glaze over the top.
Notes
Different models of air fryers will bake at different rates. Check the rolls after 10 minutes and bake them longer if needed.
You can also fit the cinnamon rolls in a 6-inch square cake pan.
Nutrition Information
Yield

6
Serving Size

1
Amount Per Serving
Calories

341
Total Fat

17g
Saturated Fat

11g
Trans Fat

1g
Unsaturated Fat

5g
Cholesterol

46mg
Sodium

340mg
Carbohydrates

45g
Fiber

1g
Sugar

28g
Protein

3g
Nutrition information is a guideline only, is calculated automatically by third party software, and absolute accuracy is not guaranteed.