Nothing makes a statement and says that you mean business quite like this reverse seared Traeger tomahawk ribeye steak. This is the ultimate jaw-dropper steak, slow-smoked for extra flavor and then seared to absolute perfection.
Let the Traeger do all the work as your tomahawk ribeye steak soaks up the smoky flavor, and then finish it off with a gorgeous sear. You can crank your Traeger pellet grill up all the way to get that sear, or you can fire up a charcoal or gas grill to get that perfect crust.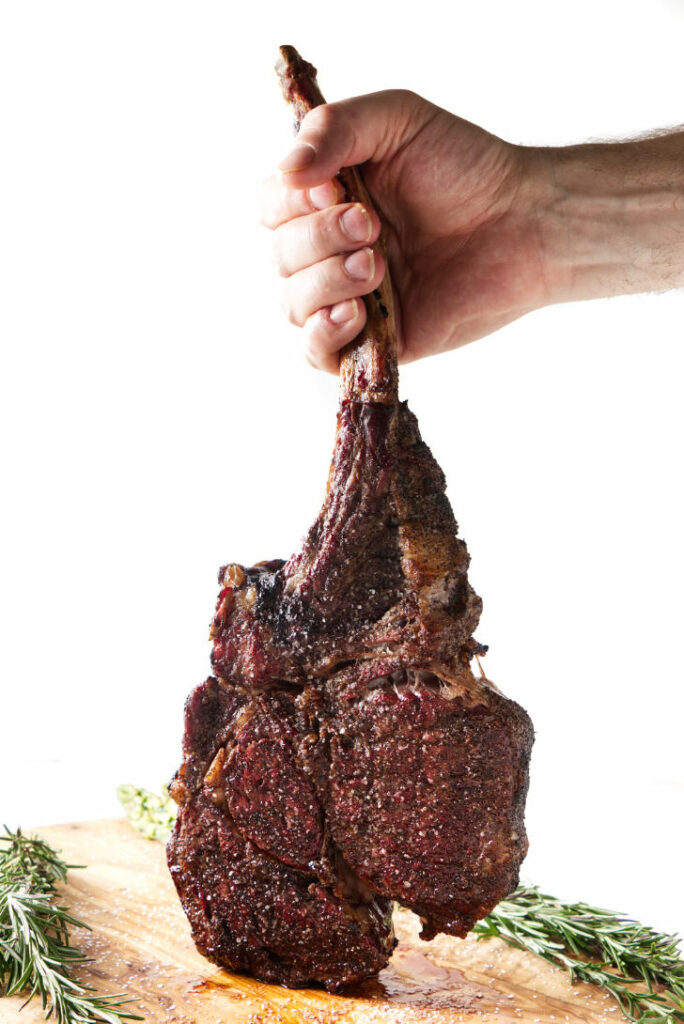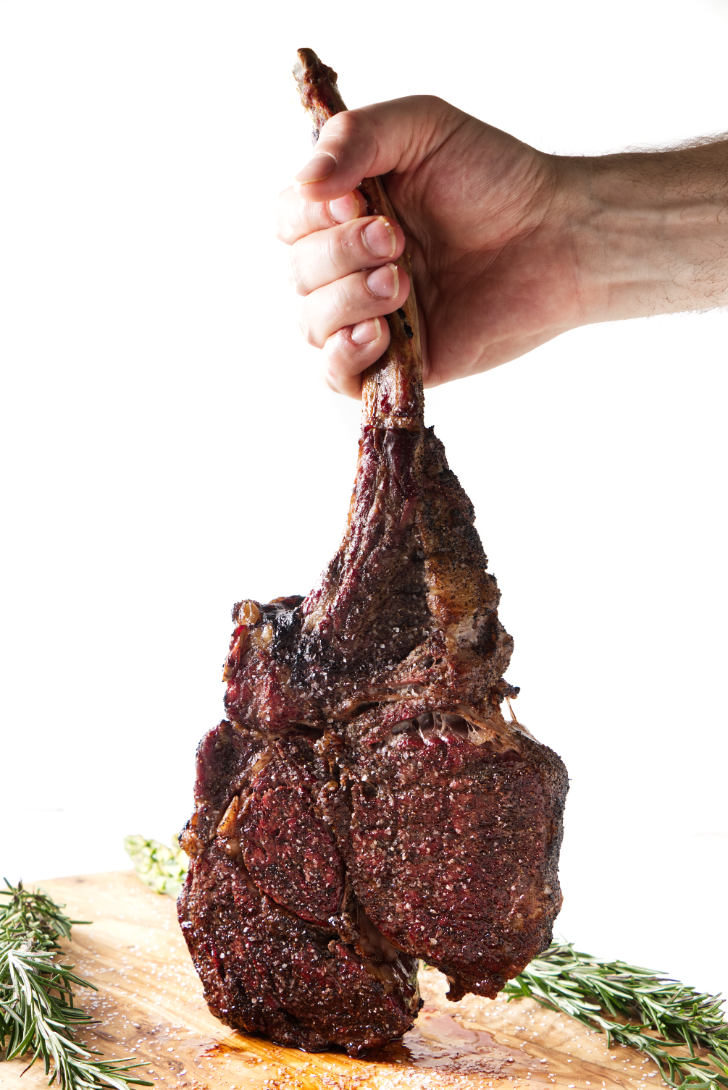 For a unique spin, try topping off your tomahawk ribeye steak with a slice of this blue cheese compound butter. The tang from the blue cheese goes perfectly with the incredible beefy flavors of the tomahawk steak.
Serve up this tomahawk steak alongside some green beans with bacon and some baby potatoes with parsley. Is there anything better than steak and potatoes?!
Check out the steak-doneness chart below so that you can hit that perfect internal temperature on your tomahawk. Also, scroll down to the printable recipe card below for step-by-step instructions.
What is a Tomahawk Steak?
A tomahawk steak is a bone-in ribeye steak, specifically with at least 5-inches of bone protruding from the meat. This does mean that you will end up paying extra for that visual effect and impact, but it is perfectly stunning for those special occasions that demand a statement to be made!
The ribeye steak is super delicious, mostly thanks to its high amount of fat content throughout the meat. Think of a tomahawk steak as your own personal slice of prime rib with a handle to hold on to it!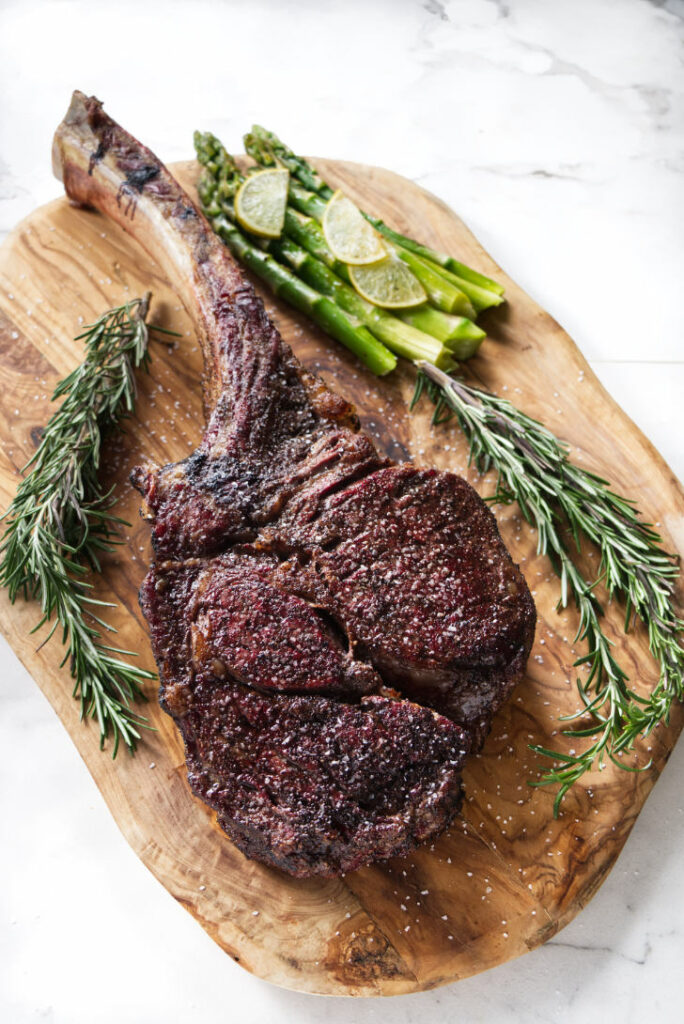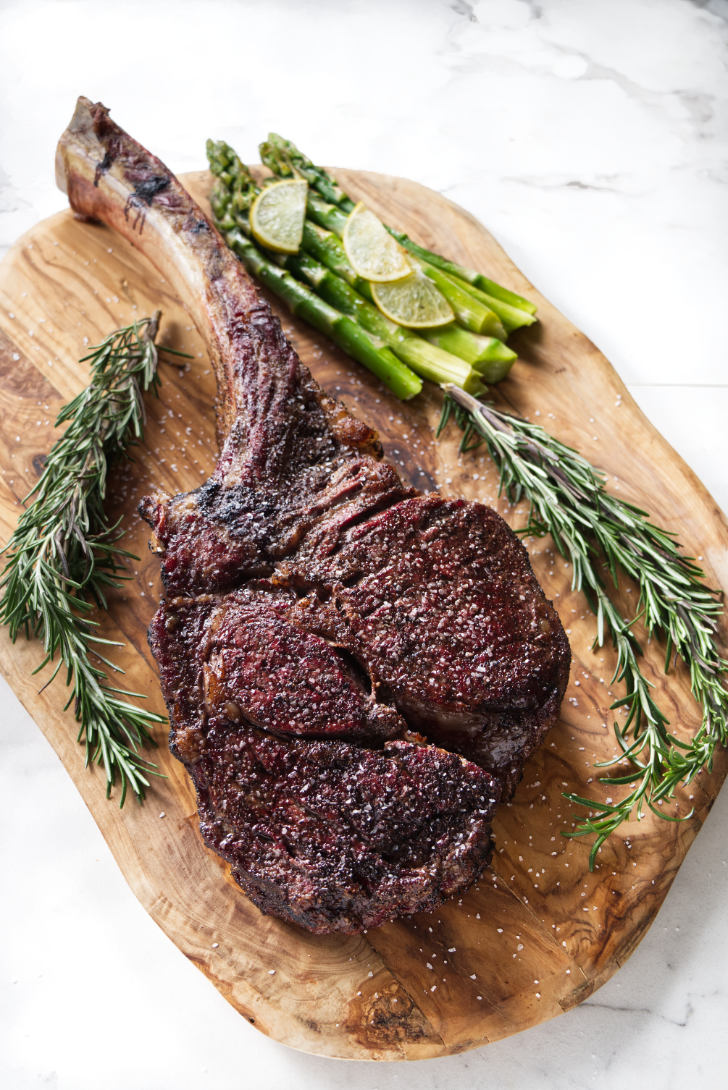 Why this Recipe Works
Easy. Let the Traeger do the work! Set your smoker up and let the tomahawk steak bask in greatness. You only need minimal effort to sear the steak at the end of the cook.

Make a statement. The tomahawk steak is ready for it's closeup. Pull out your phone and open the gram. This holygrail of steak deserves a photoshoot.

Intense flavor! The tomahawk ribeye steak is packed full of beefy flavor.

Insane crust. If you master the sear on your tomahawk, you will have a great crust on your steak with a juicy, medium-rare, melt-in-your-mouth interior.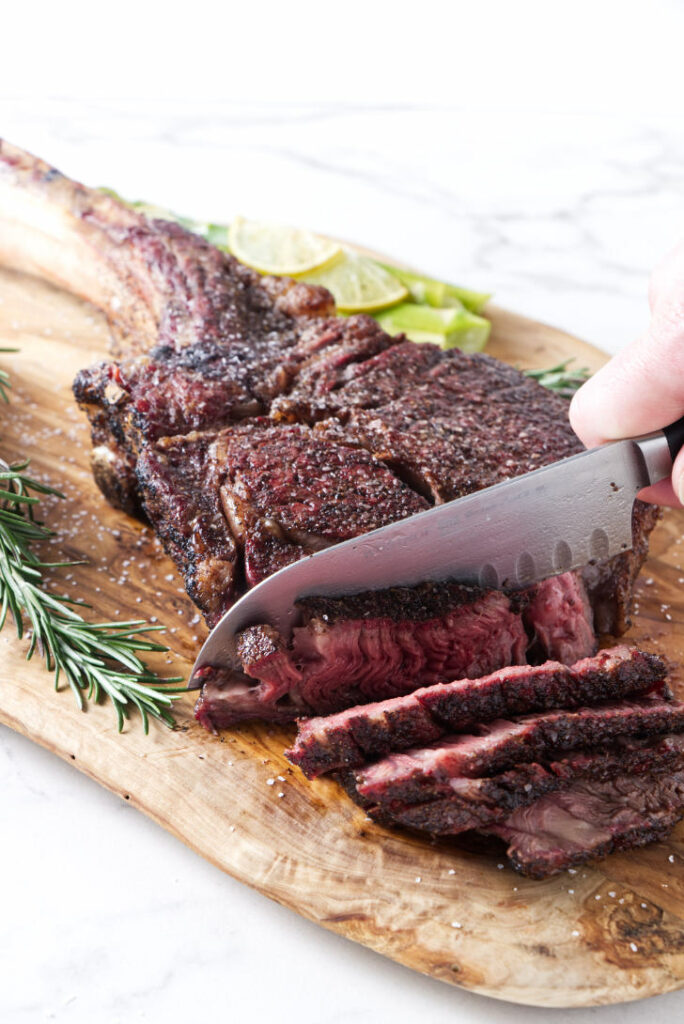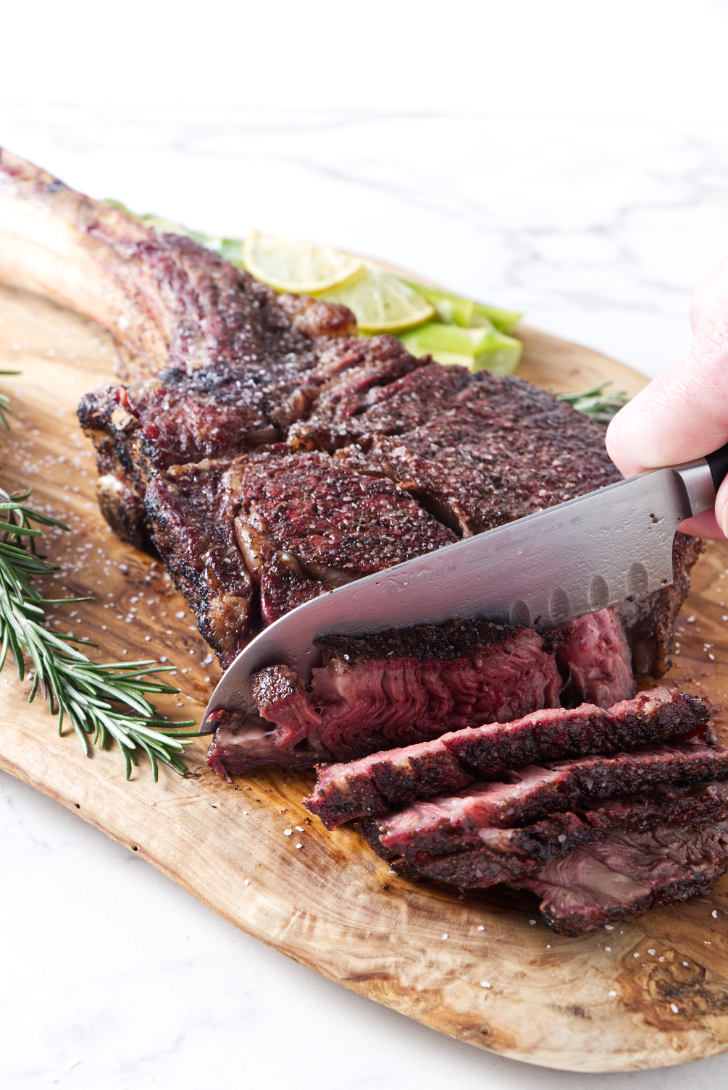 The Ingredients
Here is a list of the ingredients you will need for this recipe. Scroll down to the printable recipe card for specific ingredient amounts.
A tomahawk steak. This is the star of the show! You will likely find tomahawk steaks weighing in around 2.5 pounds each. I always go for USDA Prime to ensure that it is tasty and juicy.

Salt. Be sure to use a coarse Kosher salt. You can really coat the entire surface of the steak in salt without worrying about over salting. This will also help to form the crust when you sear the tomahawks.

Pepper. Use fresh groudn black pepper for best results. Fresh ground pepper is much more aromatic and has a better flavor profile overall.

Olive oil. Brushing the tomahawk with olive oil prior to the seasoning can help the salt and pepper to stick better to the meat. The olive oil will also act essentially like a marinade, helping the salt and pepper to dissolve into the surface of the meat.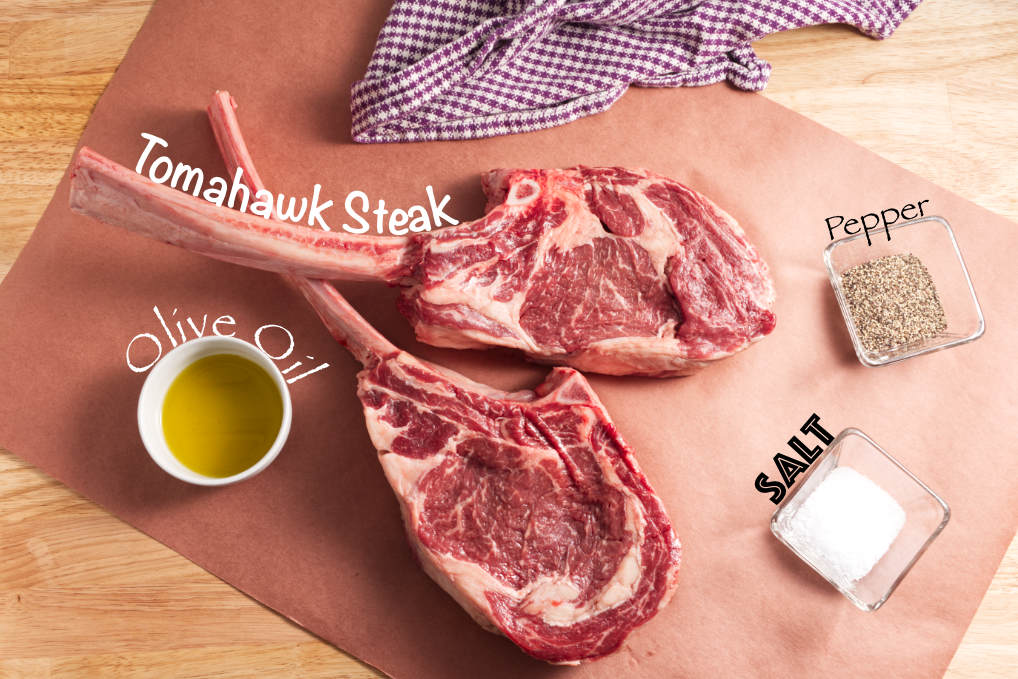 How to Cook a Tomahawk Steak
Since tomahawk steaks have a higher fat content, they are very versatile. You can cook them hot and fast or low and slow. Either way, it will be tender and juicy!
In this recipe for a reverse seared tomahawk ribeye steak, we are aiming for a low and slow cook with a good amount of smokiness from the Traeger. We want to finish it off over high heat to get a nice crust from the sear.
Below is a quick run-through of how to cook your tomahawk steak to perfection. For more detailed instructions, scroll down to the printable recipe card.
Fire up the Traeger to 225°F.

Season the tomahawk steak on all sides. You can brush olive oil on the steak prior to seasoning. This will help the salt and pepper to stick to the steak and also act as a marinade.

Smoke the tomahawk steak on the Traeger. You will want to pull the steak off when it is about 20°F below your desired doneness. Use the chart below to figure out when to pull off the tomahawk steak. For a medium-rare steak, we will want to pull it off the Trager once it reaches 110°F-115°F. Use a leave in thermometer or an instant read thermometer for perfect results every time.

Fire up the charcoal grill while the steak is smoking on the Trager. We want a nice hot flame so we can get an awesome sear on the tomahawk steak.

Sear the steak. Place the tomahawk steak on the hot grill and cook for one minute. Turn the steak clockwise 90° and sear for another minute. Then flip the tomahawk over and repeat the same process on the other side.

Rest and slice. Remove the steak from the grill and cover it with foil or butcher paper. Allow it to rest for 10 minutes and then slice and serve.
Steak Doneness Chart
| Steak Doneness Level | Internal Temperature |
| --- | --- |
| Rare | 120°F-130°F |
| Medium-rare | 130°F-135°F |
| Medium | 135°F-145°F |
| Medium-well | 145°F-155°F |
| Well-done | 155°F-160°F |
| VERY well-done | 160°F + |
Doneness Level for Steak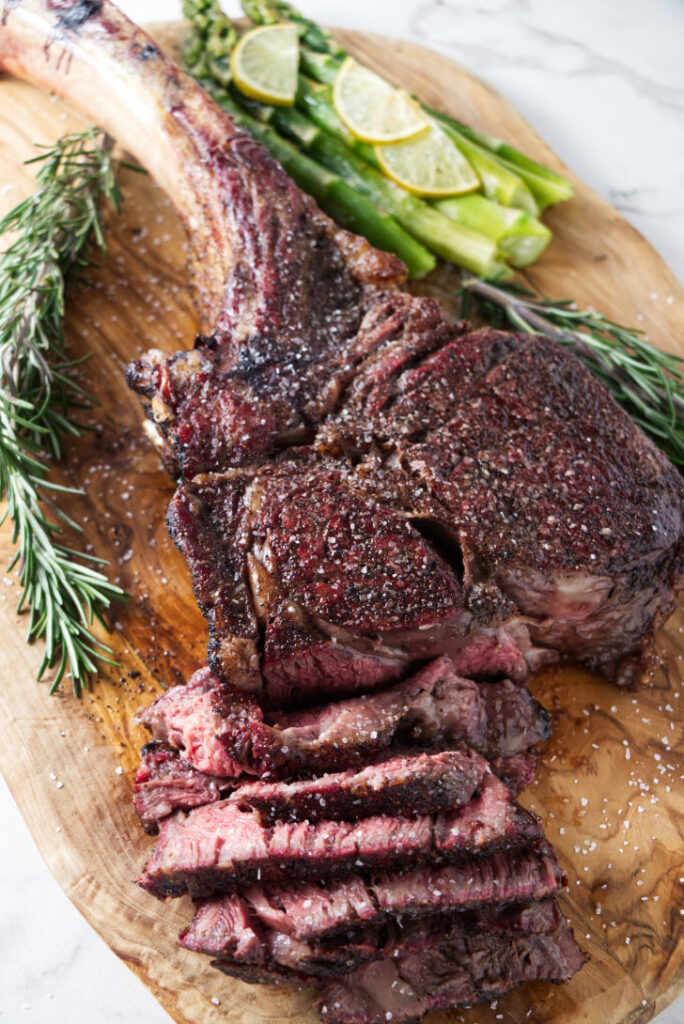 Frequently Asked Questions
Can you sear a tomahawk on a Traeger?
Traeger pellet grills are great for smoking, but when it comes to searing, they are not the best option. However, with some help, you can get an excellent sear using a Traeger! These Traeger GrillGrates conduct heat very well and allow you to get those beautiful sear marks on your steak using your Traeger.
Why should I do a reverse sear?
Reverse sears are perfect for thicker cuts of meat. For these monstrous tomahawk steaks, they will not be overcooked easily when doing a sear. You can achieve a wonderful crust on the outside of the steaks without overcooking the center of the tomahawk. This crust helps to develop the flavor and add a wonderful texture while keeping the center tender and juicy.
For thinner cuts of meat, a reverse sear could cause issues with overcooking. Experiment with your reverse sear technique, but be careful with thin cuts!
What if I don't have a Traeger or a grill?
You can certainly make some delicious reverse-seared tomahawk steaks in your kitchen without a Traeger or a grill of any kind. Follow the instructions in the recipe below, except instead of a Traeger, you will be using an oven. Cook the seasoned tomahawk steak in a basting pan or a baking pan in your oven set to 225°F. You can also cook at higher temperatures in the oven. Just be sure to monitor the internal temp and remove it when it is about 20°F from your target temp. Then sear the tomahawk steak in a hot cast-iron skillet. For extra points, baste the tomahawk steak in butter while you sear it. Only sear for a couple of minutes maximum on each side and monitor the internal temperature to avoid overcooking it.
🛠Tools and Equipment
If you click on some of the following affiliate links and buy something, we might get a small commission. You don't pay any extra, but it will help us keep the lights on and our bellies full!
Where to Get the Ingredients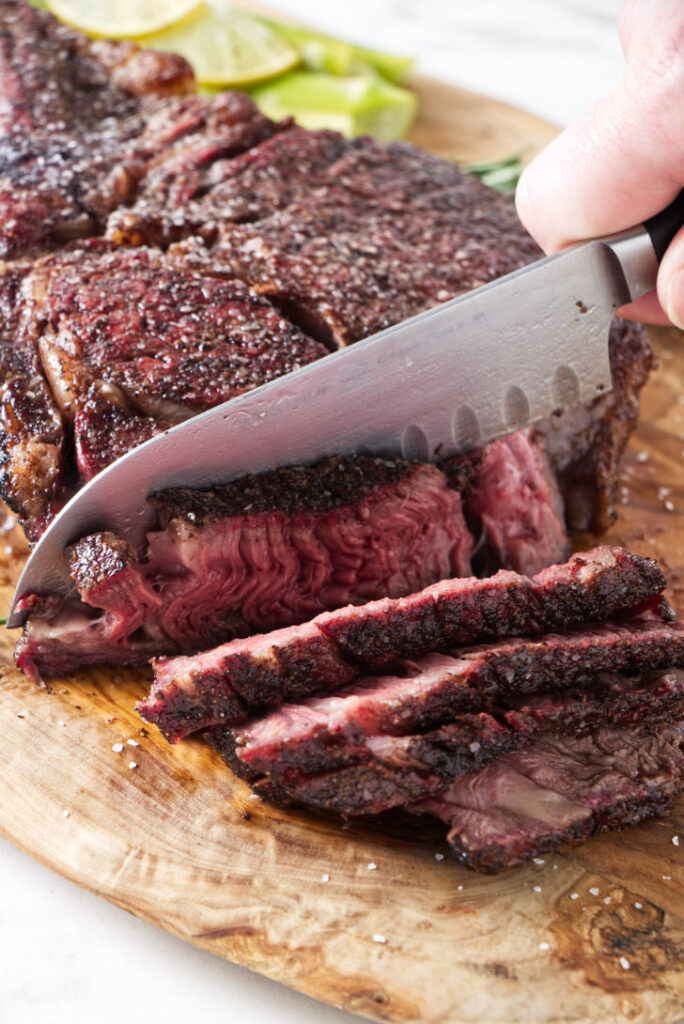 CONNECT WITH A LICENSE TO GRILL!
Be sure to follow us on our social media accounts.
Facebook * Instagram * Pinterest * YouTube * Twitter
Did you make this recipe? Tell us about it in the comments below!
💬Tell Me What You Think!
Did you try out this recipe? Please leave a comment below and let me know how you liked it. Also, snap a picture and post it to your favorite social platform. Be sure to tag me at @alicensetogrill and let me know how you liked it!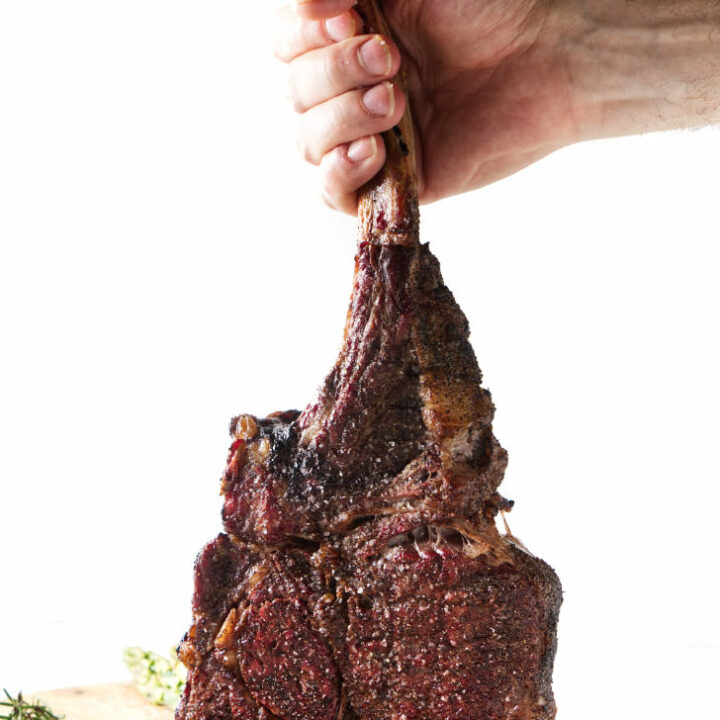 Reverse Seared Traeger Tomahawk Ribeye Steak
Total Time:
2 hours
15 minutes
This reverse-seared Traeger tomahawk ribeye is packed with flavor and melts in your mouth! This is the show stopper of all steaks and will leave your guests jaws on the floor once they see you pull this thing off the grill! The tomahawk ribeye is super juicy and tender, it is essentially a personal slice of prime rib. You really can't go wrong with this recipe!
Ingredients
A 2.5-3 pound tomahawk ribeye steak
2 tsp salt
2 tsp pepper
Optional
Instructions
Fire up your Traeger pellet grill to 225°F. See the notes below for alternate methods if you don't have a Traeger or other pellet grill.
Season all sides and edges of the tomahawk steak with a 50/50 salt and pepper mixture. You can brush the steak with olive oil before seasoning if you like. This helps the steak soak up more seasoning, almost acting as a marinade.
Throw the tomahawk steak on the Traeger and cook for 1.5-2 hours, or until the internal temperature reaches 110°F-115°F. While the Trager is doing its job, fire up your charcoal or gas grill to maximum temperature.
Once the steak is done smoking, throw the tomahawk on the ripping hot charcoal or gas grill. Cook for 1 minute, rotate 90° and cook for another minute. Then flip the steak and do the same thing on the other side.
Remove the tomahawk steak from the grill and cover it with a piece of tinfoil or butcher paper. Allow it to rest for 10 minutes.
The internal temperature of the steak should reach 130°F after resting. If you prefer something other than medium-rare, check out the steak doneness chart in the post above.
Slice the tomahawk steak and remove the bone. Serve with your favorite sides and enjoy!
Notes
Use coarse ground Kosher salt. Regular iodized table salt is much denser and you can easily oversalt your steak. The iodine can also drastically change the flavor if you use too much at once.
If you don't have a Traeger, you can instead use a charcoal grill or gas grill. If using a gas grill, fire it up to medium heat and try to target 225°F at the grill grates. If you are using a charcoal grill, use the snake method to prolong the burning of the charcoal. Simply make a line of charcoal briquettes around the perimeter of the grill and place some smoking wood on top of the charcoal. Light one end of the "snake" and allow it to burn as the fire slowly advances along with the snake. Try to target 225°F as well.
For the sear, I prefer a ripping hot charcoal grill. You can also use a propane grill to get a nice sear on the tomahawk. However, you can also use your Traeger at 450°F or 500°F. If you want to sear on the Trager, remove the steak prior to increasing the temperature so we don't overcook the steak in the process. For best results on the Traeger, use these GrillGrates to get a beautiful sear.
Recommended Products
As an Amazon Associate and member of other affiliate programs, I earn from qualifying purchases.
Nutrition Information:
Yield:

2
Serving Size:

1
Amount Per Serving:
Calories:

370
Total Fat:

27g
Saturated Fat:

9g
Trans Fat:

0g
Unsaturated Fat:

15g
Cholesterol:

107mg
Sodium:

349mg
Carbohydrates:

1g
Fiber:

0g
Sugar:

0g
Protein:

29g
Nutrition information is a guideline only, is calculated automatically by third party software, and absolute accuracy is not guaranteed.