Air Fried Oreos with Nutella
on Sep 29, 2022, Updated Oct 09, 2022
There's something seriously sinful about Nutella. Whether it's slathered on toast, stuffed in a donut, or dolloped onto pancakes, this hazelnut spread never fails to impress. But I feel this indulgent ingredient truly met its match when I tasted these air fried Oreos with Nutella for the first time. The combination of delicate puff pastry, smooth Nutella, and chocolatey Oreos resulted in a dessert that was crisp on the outside but warm and gooey on the inside. In short, it was total perfection.
The secret to this recipe is fully encasing the Oreos within the puff pastry packages. This keeps the Nutella runny without burning the Oreos. The mish-mash of textures also gives these guys an enjoyable mouthfeel, and they're considerably healthier than the deep-fried versions that you'll find at county fairs.
If the taste of these bad boys wasn't enough to reel you in, this recipe takes just under 20 minutes to complete from start to finish! So, whether you're on the hunt for sleepover-friendly snacks for the kids or you want to pull out a new dessert at Sunday dinner, these air fried Oreos with Nutella will be ready in a flash.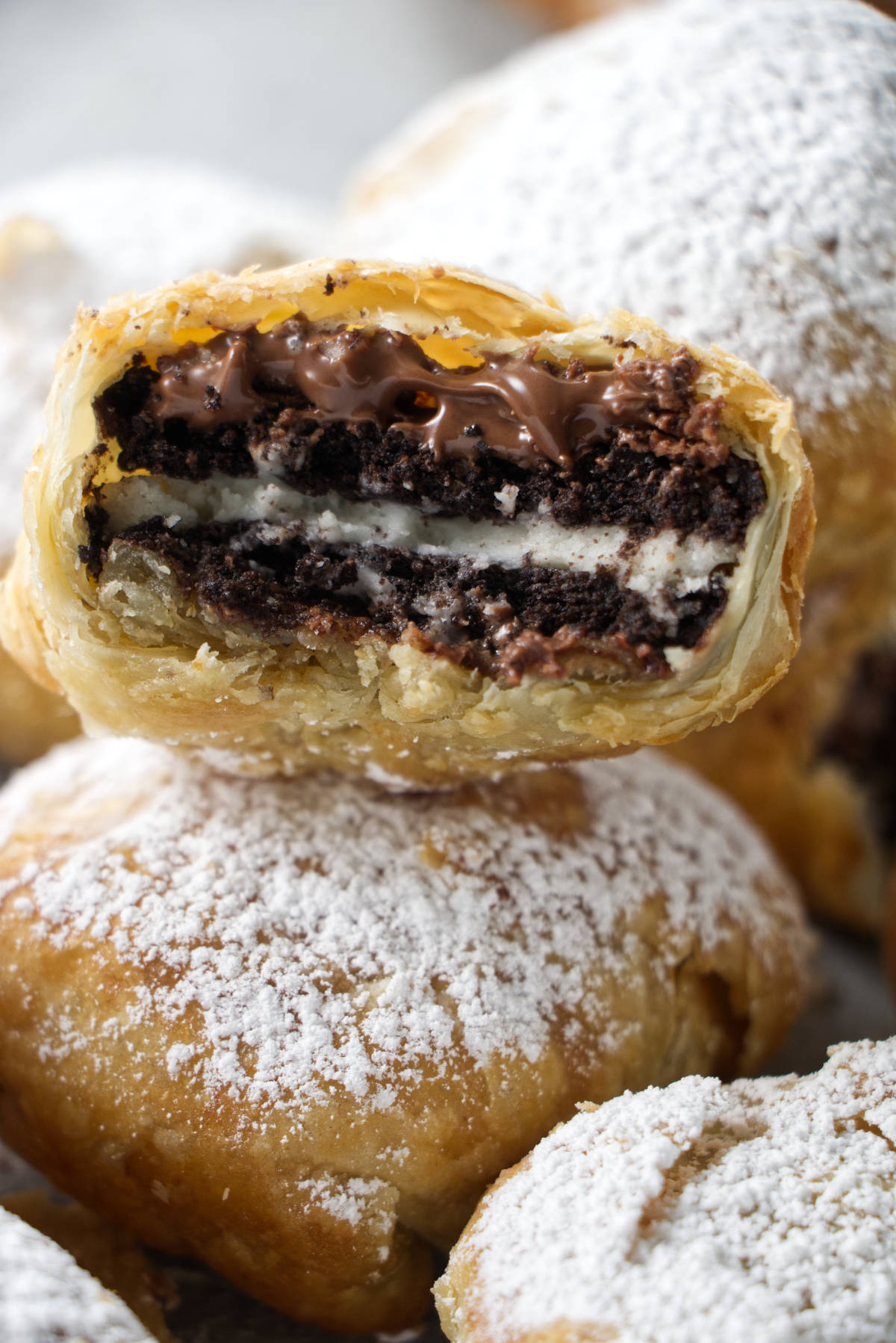 Why This Recipe Works
You're wrapping your Oreos and Nutella in a neat pastry package with no mixing required. So, there's a minimal mess!

It's ideal for beginners and can be made even easier with crescent rolls.

The sweetness of the Oreos pairs perfectly with the rich Nutella and buttery pastry for a surprisingly well-rounded and indulgent bite.

It's ready in under 20 minutes.
Ingredients
Oreo cookies. The star of the show gives the recipe a delicate, nostalgic, and chocolatey taste.

Flour. Stops the puff pastry from sticking to your surface.

Puff Pastry OR Crescent rolls. Crescent rolls are far easier to work with, but the puff pastry is super buttery. Choose whichever factor is more important to you.

Nutella. The hazelnut and chocolate flavors pair beautifully with the buttery puff pastry. It also gives your fried Oreos a hit of moisture.

Milk. It helps you achieve a glistening golden-brown effect and gets the powdered sugar to stick.

Powdered sugar. For an extra kick of sweetness. Be liberal with the dusting!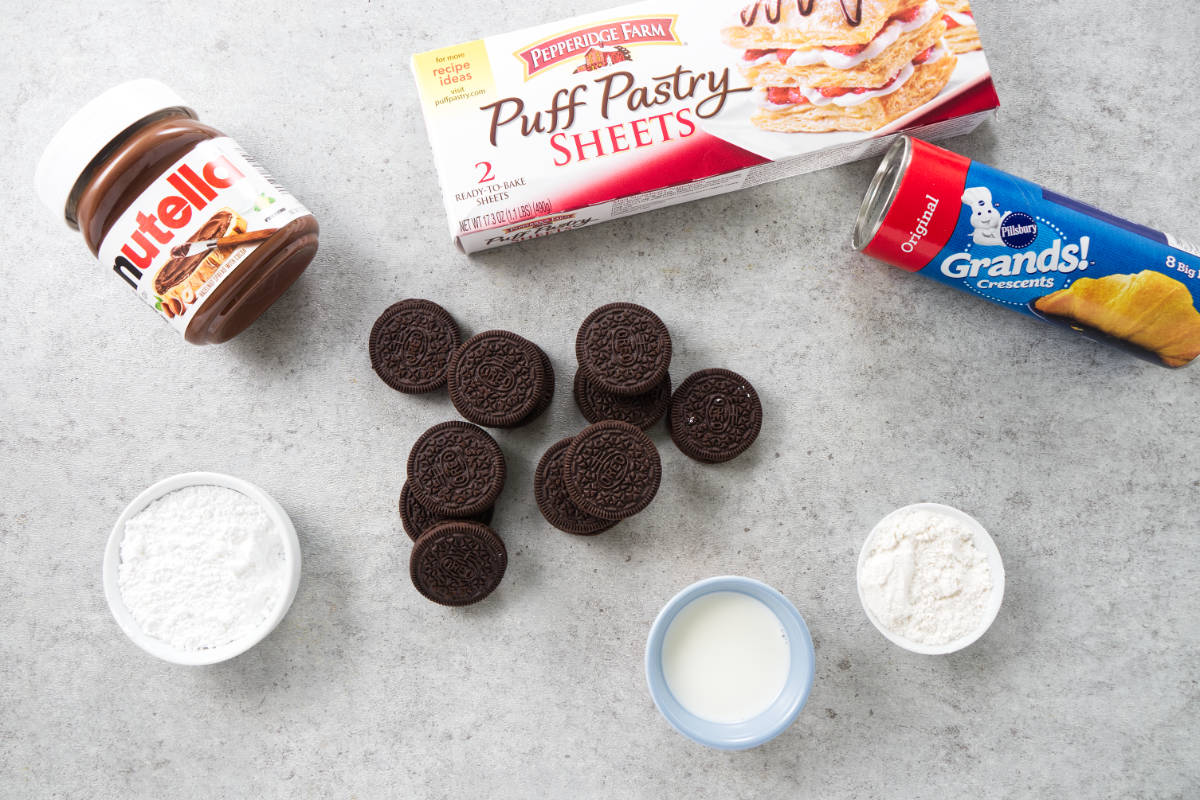 How To Make It
You have a couple of options for this delicious dessert. You can make these air fried Oreos with puff pastry or with crescent rolls. For detailed step-by-step instructions for this recipe, scroll down to the printable recipe card.
If using puff pastry
Dust the counter and the top of the puff pastry sheet with flour before rolling out the pastry.

Cut the desired number of squares out of the pastry dough and assemble with the Nutella and Oreos.

Brush tops with milk and put the Oreos in the air fryer.

Remove from the air fryer once baked, top with powdered sugar, and serve warm.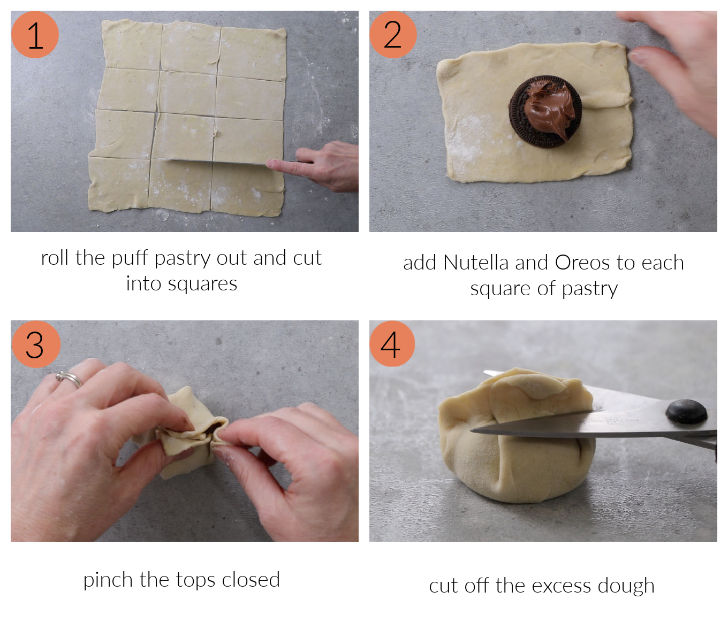 If using crescent rolls
Separate the crescent rolls along the perforation lines.

Assemble each square with Nutella and Oreos.

Brush tops with milk, place them in the air fryer, and bake until done.

Sprinkle with powdered sugar and serve warm.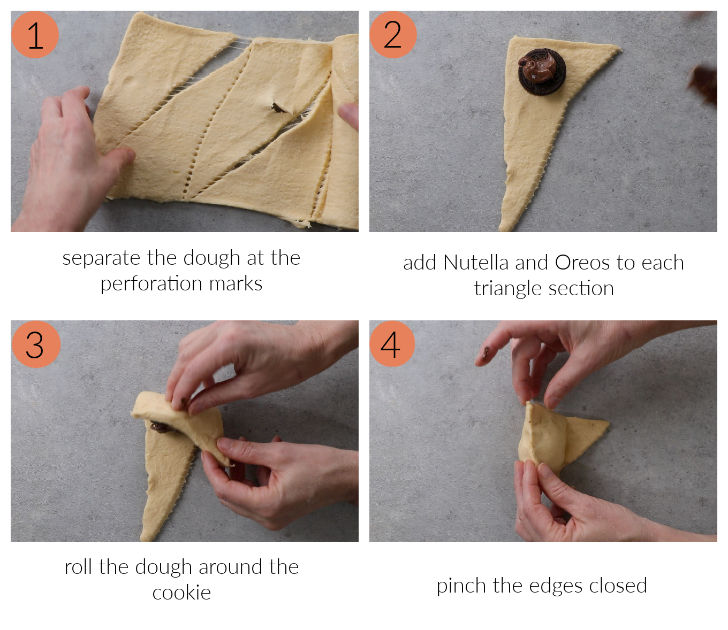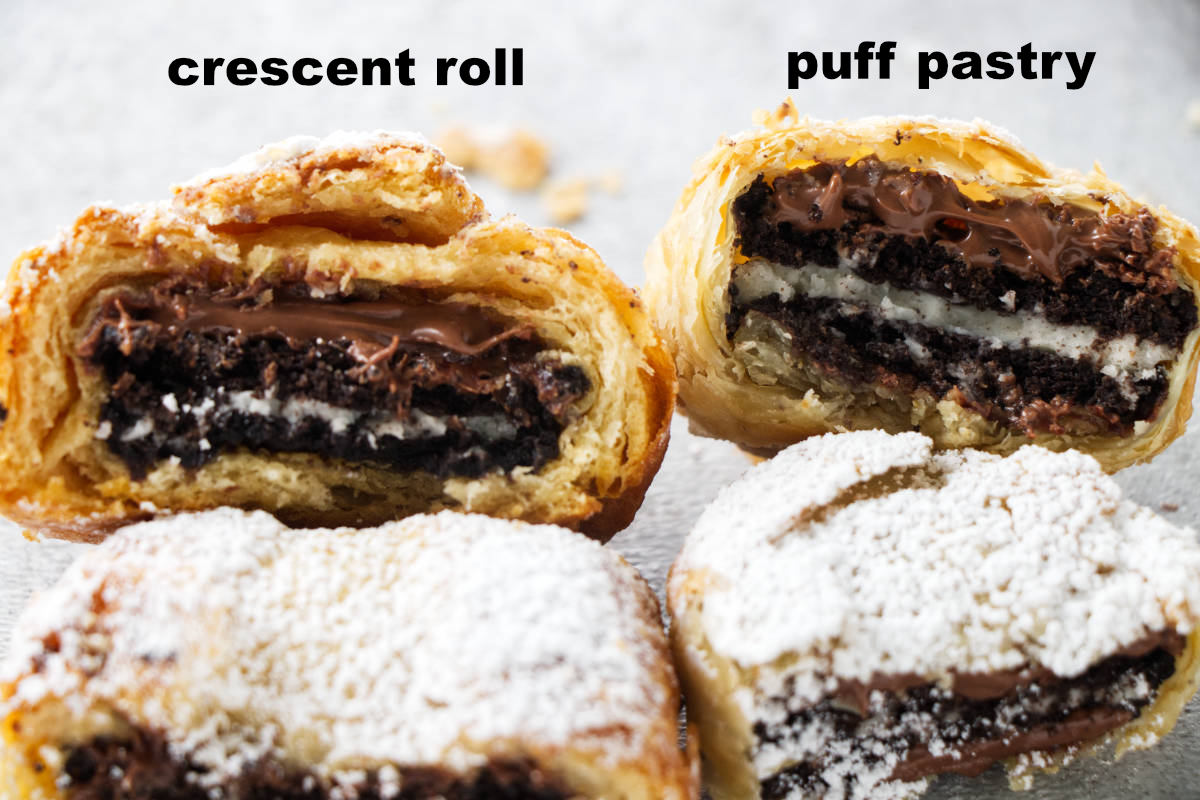 Tips For Success
Don't be tempted to overcrowd the air fryer. You need to give your air fried Oreos plenty of space to cook. Otherwise, they'll stick together! If you have a small air fryer, I recommend baking these treats in batches and leaving approximately 1.5 inches between each Oreo (trust me, they'll spread!).

Don't overfill your squares. It's tempting to lob tons of Nutella on each pastry square, but you want to be able to close your pastry parcels without anything leaking out.

If you're using puff pastry, be careful not to let the tops get too thick. When cutting off the excess dough at the top of your parcel, make sure you remove as much as possible to get a thorough bake.

Don't forget to thaw your puff pastry. You'll likely be buying frozen puff pastry, so ensure it's fully defrosted before working with it.

Roll your dough evenly. This is less of an issue with crescent rolls as they'll already be evenly rolled out, but lumpy puff pastry is asking for trouble when it comes to achieving an even bake.

For an even dusting of powdered sugar, use a sieve and hold it slightly above the air fried Oreos as you shake. The result will be much prettier and helps you avoid getting weird lumps of icing sugar on your Oreos.

If you want to live dangerously, create a dulce de leche or chocolate dipping sauce to serve with your Oreos!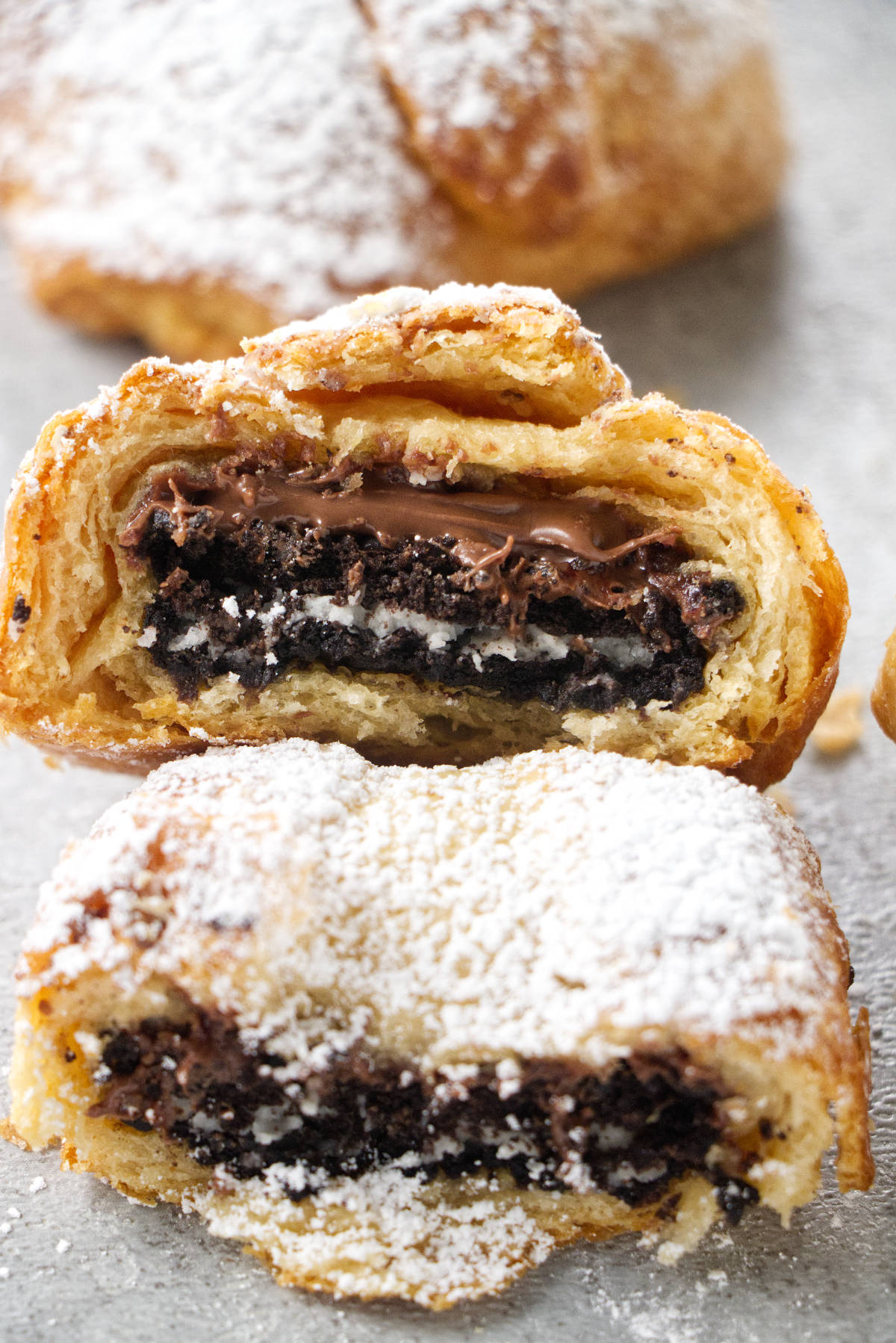 FAQ
Can you put Oreos in the air fryer?
Of course! Putting Oreos in the air fryer makes them tender and gooey, replicating a healthier version ofdeep-fried Oreos.
Can you reheat air fried Oreos with Nutella?
I wouldn't recommend reheating these. You're better off covering the pre-made pastry parcels with plastic wrap and cooking them just before you plan to eat them. If you need to reheat them, spritz your Oreos with cooking spray and put them in the air fryer at 350°F for 2 to 4 minutes. They should be warm and tasty but may not have that signature crunch.
How long do air fried Oreos last?
They will last up to 2 days if stored in an airtight container, but they're best eaten immediately or within 24 hours at a push.
Are air fried Oreos with Nutella healthy?
They are healthier than their deep-fried counterparts. The air fryer allows you to remove all the oil from this recipe, which reduces the overall calorie count. But you'll still have to deal with a serious sugar rush! But when a sweet tooth hits, there is only one cure!
What type of Oreos can I use?
Any will work well. Regular Oreos taste delicious, but you can use flavored variations (Mint is delicious!) or double-stuffed Oreos if you want a thicker bite. Just make sure everything is completely covered with pastry before air frying.
 🛠 Tools and Equipment
If you click on some of the following affiliate links and buy something, we might get a small commission. You don't pay any extra, but it will help us keep the lights on and our bellies full!
This Ninja Foodi XL Dual air fryer has two independent air fryer baskets, so you can make two different desserts simultaneously!

Use this John Boos butcher block as a working surface for your pastry.

The OXO pastry scraper is essential when working with dough. It also helps to clean your work surface after making a mess!
What Else Is Cooking
Do you have a sweet tooth or need multiple desserts for your party?
Other savory recipes
These homemade air fryer breakfast pockets are perfect for making ahead of time for a quick breakfast on the go.

And these homemade air fryer pizza rolls are the perfect after-school snack for the kiddos.
Wrap Up
As you can see, these air fried Oreos with Nutella are seriously indulgent and are sure to captivate anyone with a sweet tooth. The combination of ingredients in this recipe is simply irresistible, and I promise these little devils will be gone from any dessert plate in minutes. Consider yourself warned!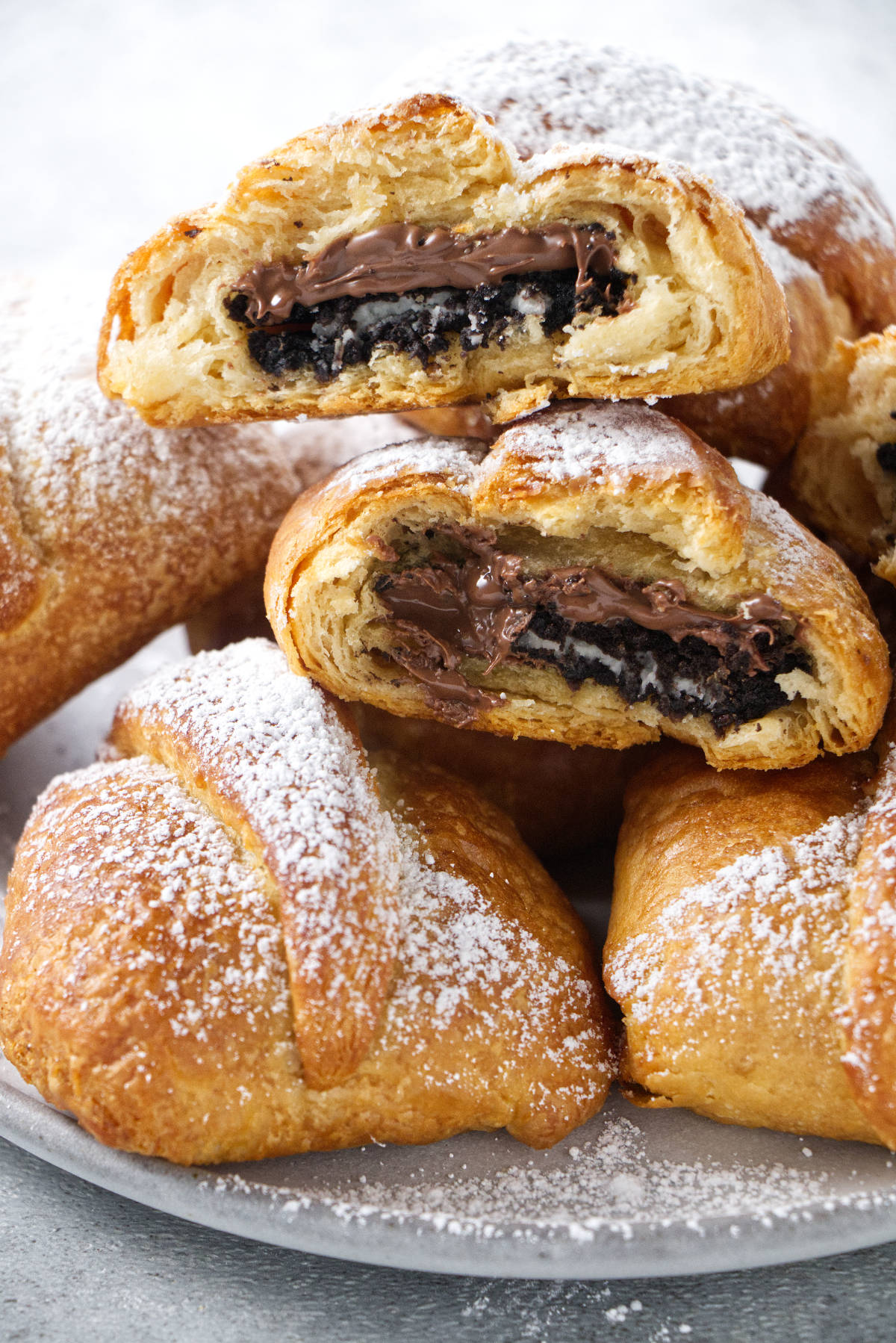 💬 Tell Me What You Think!
Did you try out this recipe? Please leave a comment below and let me know how you liked it. Also, snap a picture and post it to your favorite social platform. Be sure to tag me at @alicensetogrill and let me know how you liked it!
CONNECT WITH A LICENSE TO GRILL!
Be sure to follow us on our social media accounts.
Did you make this recipe? Tell us about it in the comments below!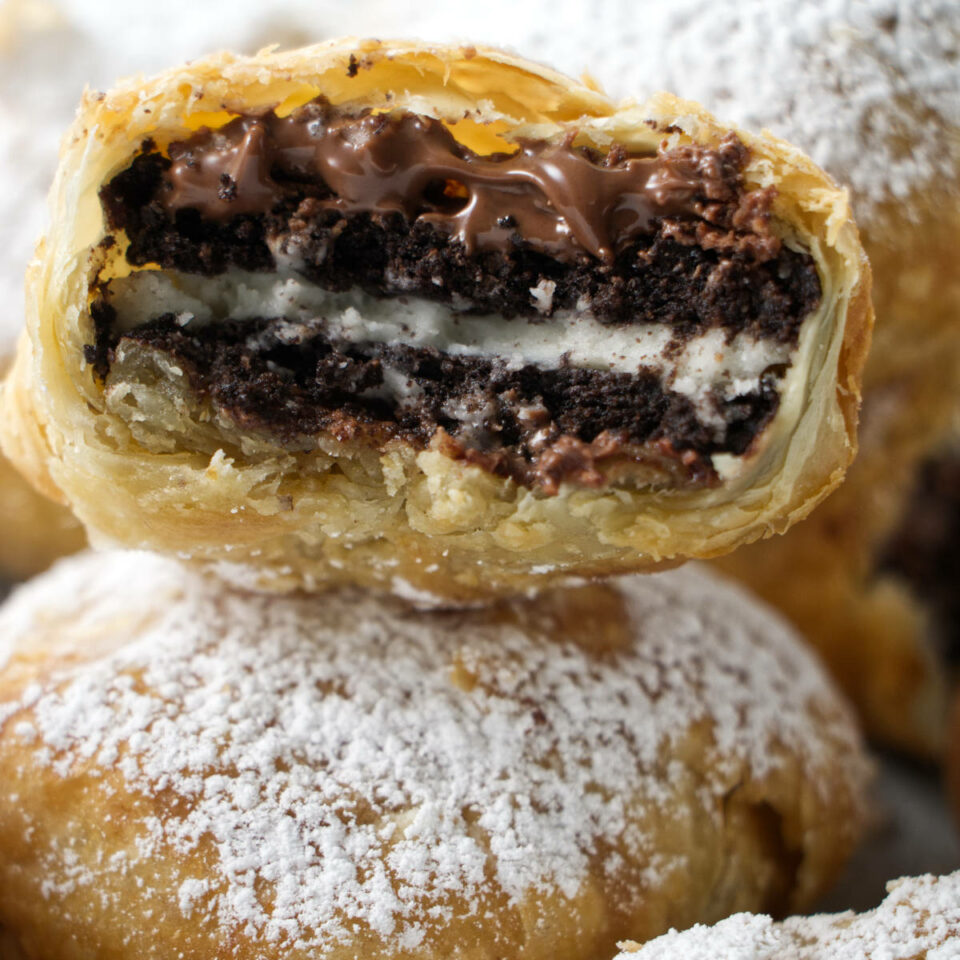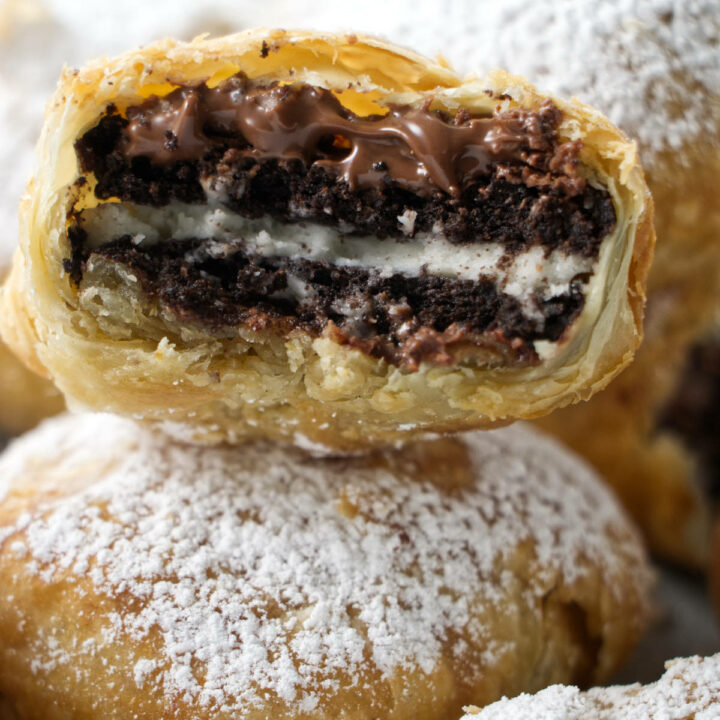 Air Fried Oreos with Nutella
These air fried Oreos with Nutella are crispy on the outside and warm and gooey on the inside. You can wrap the Oreos in either puff pastry or refrigerator crescent rolls. The puff pastry will take a little longer to bake, but you can get more fried Oreos with the puff pastry.
The Nutella spills out of the air fried Oreos with every crispy bite. Dust them with powdered sugar and serve them to your family and guests for a unique dessert.
Ingredients
8 to 12 Oreo cookies
2 tablespoons flour (if using puff pastry)
1 sheet puff pastry OR 1 package Crescent rolls
1 cup Nutella
3 tablespoons milk
1/4 cup powdered sugar
Instructions
If using puff pastry:
Dust the counter with flour and lay down a sheet of puff pastry. Dust the top of the puff pastry with flour, then roll the pastry sheet out to about 12 by 12 inches.
Cut 9 to12 squares out of the pastry dough. If you cut out 9 squares, the dough will be a little easier to wrap, but you will have a lot of extra dough to cut off.
Place a dollop of Nutella on each square, then top with an Oreo cookie. Top each Oreo with another dollop of Nutella and wrap the dough around the Oreos. Pinch the edges together at the top and cut off any excess dough with a kitchen knife. If you leave the extra dough on top of the Oreos, the thicker sections of dough will not cook all the way.
Brush the tops with milk and space the Oreos in the air fryer.
Set the air fryer temperature to 350°F and cook for 8 minutes, then flip them over and cook them for an additional 3 minutes.
Remove from the air fryer and sprinkle the tops with powdered sugar. Serve warm.
If using crescent rolls
Spread the crescent dough on a lightly floured counter and separate it along the perforation lines. You should have 8 triangles.
Place a dollop of Nutella on the wide end of one of the triangles. Top with an Oreo, then another dollop of Nutella.
Wrap the crescent roll around the Oreo and pinch the edges closed. Repeat with the rest of the Oreos.
Brush some milk on the tops of the wrapped Oreos, then space them apart in the air fryer basket.
Cook for 6 minutes, flip them over and cook for 2 minutes until golden brown on both sides.
Remove from the air fryer and dust with powdered sugar. Serve warm.
Notes
Brushing the wrapped Oreos in milk will help them brown better. 

If you use puff pastry, let it thaw completely in the fridge before you begin. 

The crescent dough is a little easier to work with, and you won't have to thaw the dough or roll it out. 

Puff pastry will have a slightly crispier texture and buttery flavor than the crescent dough. 

If using puff pastry, make sure you don't have too much excess dough layered on top of the cookies. If the dough is too thick, it won't bake thoroughly. 

You don't have to worry about thicker layers of dough on the cookies when using crescent dough.
Recommended Products
As an Amazon Associate and member of other affiliate programs, I earn from qualifying purchases.
Nutrition Information:
Yield:

12
Serving Size:

1
Amount Per Serving:
Calories:

167
Total Fat:

8g
Saturated Fat:

6g
Trans Fat:

0g
Unsaturated Fat:

1g
Cholesterol:

0mg
Sodium:

46mg
Carbohydrates:

22g
Fiber:

1g
Sugar:

16g
Protein:

2g
Nutrition information is a guideline only, is calculated automatically by third party software, and absolute accuracy is not guaranteed.