These air fryer potato wedges use an air fryer in order to achieve a wonderfully crispy crust. With the addition of a crispy, cheesy crust you will be reaching for these until they are all gone! These potato wedges go incredibly well with our air fryer tilapia fish recipe and they are super easy to make for a quick meal!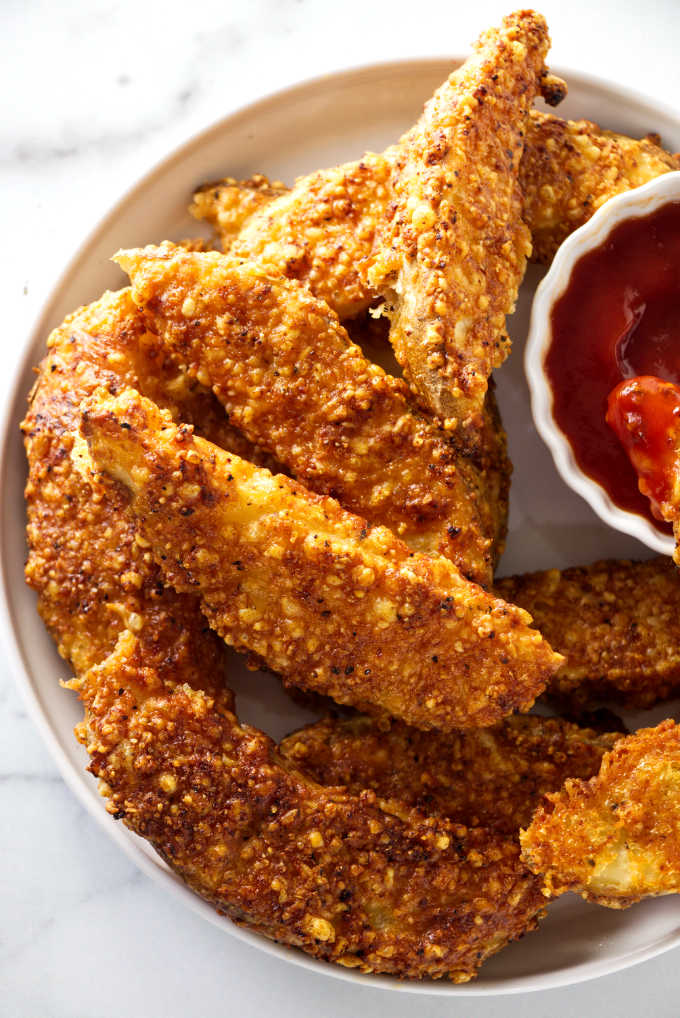 How to Cook with an Air Fryer
You can cook in an air fryer without any oil at all – just line your basket with parchment paper.
If you prefer oil you can simply coat the bottom of your basket with your favorite oil to prevent the food from sticking.
Preheat your air fryer to the correct temperature.
Arrange your food in the basket. Don't overcrowd the food.
Cook for the desired time frame – flip halfway through the cooking time in order to achieve a nice crust on both sides.
For this recipe, we cooked our cheese potato wedges on top of parchment paper inside of the air fryer basket. The parchment paper keeps the wedges from sticking to the basket and allows for a quick and easy clean up afterward.
If you use parchment paper you won't need to use oil and we have found that the parchment paper works better. Food NEVER sticks to parchment paper.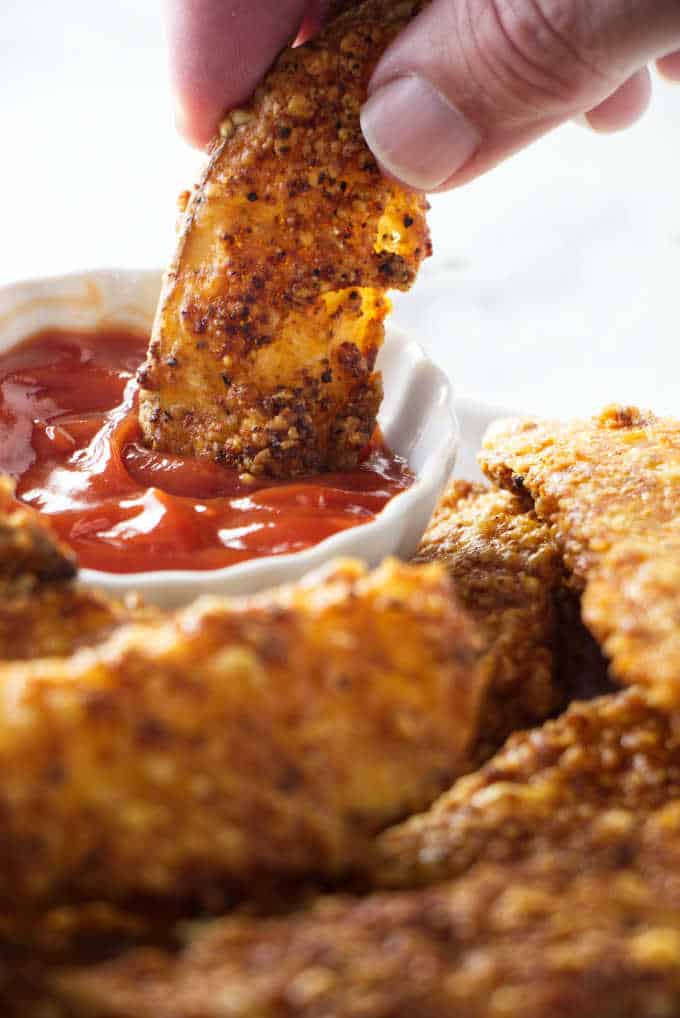 How To Cut and Prepare Potato Wedges
Start by first scrubbing and cleaning your potatoes. Make sure to remove all of the dirt.
Then slice your potatoes in half lengthwise, then cut in half again.
Continue to cut the wedges in half until all of your slices are about 1/2″ thick.
Coat the wedges in flour. The flour will help the egg cling to the potato wedges.
Dredge in the egg mixture. The egg mixture will help the cheese stick to the potato wedges.
Finally coat your wedges in the cheese mixture and transfer to your cooking surface or basket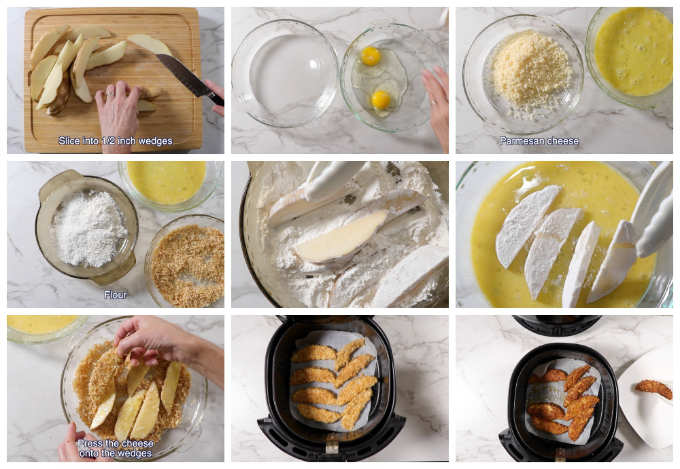 Coating Your Potato Wedges to Get a Crispy Crust
Once you have your potato wedges in slices approximately 1/2″ thick you will want to prepare three separate bowls. Put them in this order:
Flour
Eggs
Cheese
In order to achieve a nice crisp crust, you will want to first coat your wedges in flour. The flour will allow the egg mixture to soak up and coat the potato wedges.
Now dip the wedges in the cheese and seasoning mixture. I used Parmesan cheese with garlic powder, salt, black pepper, and paprika. The Parmesan cheese will become very crispy without melting and sagging off of the potato wedges as they cook in the air fryer.
Use a hard cheese:
Make sure you select a hard cheese like Parmesan for this recipe. If you use a soft melting cheese it will melt right off the potato wedges. For best results, purchase a block of cheese and grate it yourself. Most pre-grated cheese has a non-caking agent on them.
Here is a list of cheeses that work well for this recipe:
Parmesan
Romano
Asiago
Grana Padano
Cooking Potato Wedges in the Air Fryer
Place the coated potato wedges in the basket of the air fryer. Arrange the wedges in the basket so that they don't stick together.
Set the air fryer to 400°F and cook the cheesy potato wedges for 12-14 minutes. When they are finished, the Parmesan cheese will be golden brown and super crispy.
We didn't flip them and they were still crispy on both sides. Your air fryer might work a bit differently. If your potato wedges are not crispy on the bottom then flip the next batch half-way through the cooking time.
Set the finished potato wedges aside and keep them warm as you cook the rest of the wedges.
Serving These Potato Wedges
Serve these crispy cheesy air fryer potato wedges with ketchup or make a special sauce like a curry ketchup dipping sauce or this Sriracha Fry Sauce.
For a perfect meal, serve these with our easy air fryer tilapia recipe for the ultimate air fryer fish and chips!
The air fryer tilapia recipe uses the same egg, flour, and cheese coatings. The only difference is the addition of lemon zest added to the cheese which adds a delicious citrus zing! Cook these together and make a quick, easy, and simple fish and chips meal perfect for Football Sunday!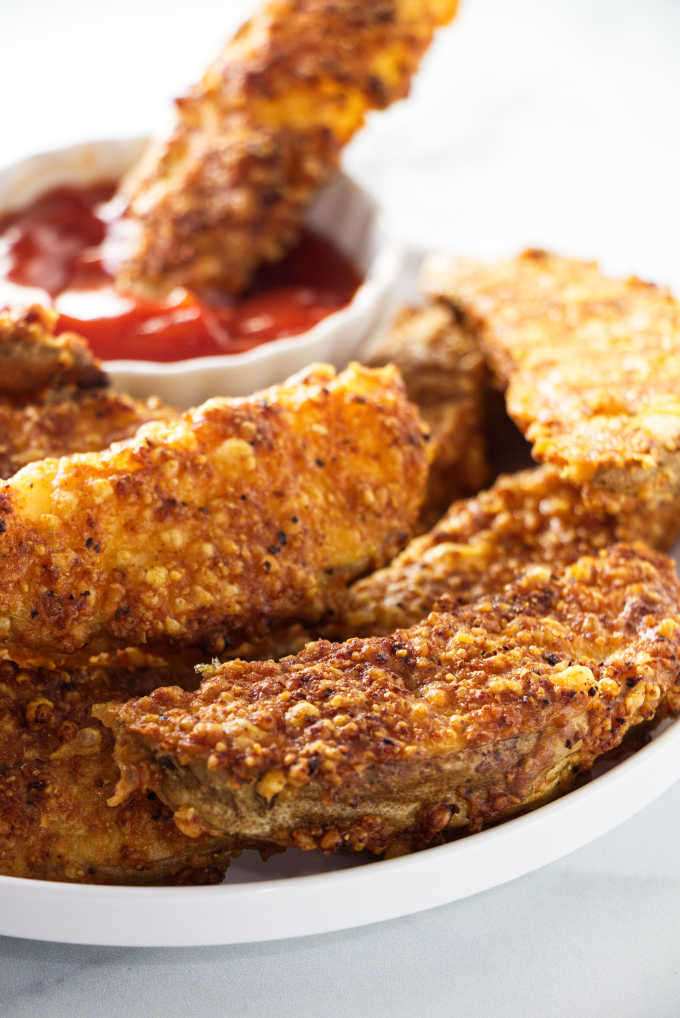 CONNECT WITH A LICENSE TO GRILL!
Be sure to follow us on our social media accounts
Facebook * Instagram * Pinterest * YouTube * Twitter
Did you make this recipe? Tell us about it in the comments below!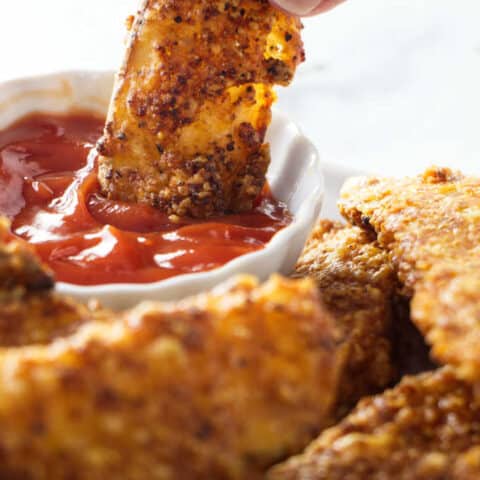 Cheesy Air Fryer Potato Wedges
A crisp cheesy coating surrounds tender, fluffy potato wedges that get cooked to perfection in the AirFryer.
Ingredients
2 medium Idaho potatoes
2 eggs
1/2 cup flour
6 ounces parmesan cheese, grated
1 teaspoon salt
1 teaspoon garlic powder
1/2 teaspoon black pepper
1/2 teaspoon paprika
Instructions
Place a piece of parchment paper on the bottom of the AirFryer basket.
Scrub the potatoes clean and slice them into 1/2 inch thick wedges.
Whisk the eggs in a shallow dish (I used a pie plate). Combine the flour in a second dish then combine the cheese and seasonings in a third dish.
Toss the potato wedges around in the flour then transfer them to the egg mixture and coat them completely with the egg.
Transfer them to the cheese mixture and press the cheese onto the potato wedges.
Place 8 to 10 wedges in the AirFryer basket in a single layer (you will need to work in batches). Close the basket and cook for 12-14 minutes at 400°F. When they finish cooking set them on a serving platter and repeat with the rest of the potato wedges.
Notes
Slice the wedges 1/2 inch thick for best results. If you slice them thicker then they will need to cook longer and you will have to turn them halfway through the cooking time.
Coat the potato wedges in the flour first. The flour will help more of the egg stick to the potato which will give them a better crust.
Use parchment paper in the basket to prevent the cheese from sticking. The parchment paper works so much better than non-stick spray.
Do not crowd the potato wedges in the AirFryer basket. If you have a smaller AirFryer you will need to cook fewer potato wedges at a time.
If you substitute a different cheese for the parmesan use a hard cheese like Pecorino Romano or Manchego. Do not use a soft melting cheese.
Nutrition Information:
Yield:

4
Serving Size:

1
Amount Per Serving:
Calories:

356
Total Fat:

15g
Saturated Fat:

7g
Trans Fat:

0g
Unsaturated Fat:

5g
Cholesterol:

130mg
Sodium:

1341mg
Carbohydrates:

37g
Fiber:

3g
Sugar:

1g
Protein:

19g
Nutrition information is a guideline only, is calculated automatically by third party software, and absolute accuracy is not guaranteed.