I'm always on the lookout for new recipes that are lean and mean but don't sacrifice flavor. And that's where these delicious air fryer turkey burgers come in! Have you ever had dry turkey burgers? This recipe uses some secret ingredients to make sure your turkey burgers are always moist and delicious. Plus, the herbs and spices make these patties anything but bland.
You can cook these patties on the stovetop or on the grill, but putting turkey burgers in the air fryer gives them a gloriously crispy exterior and keeps them oh-so-tender and moist. And you honestly can't beat the quick cook time if you're trying to get dinner on the table during a busy weeknight!
Oh, and did I mention that these bad boys pair well with virtually any side dish? I'm a sucker for onion rings or air fryer potato wedges, but just about anything works! Talk about a jack of all trades.
As you'll be coming back to this recipe time and again, you'll want to bookmark this page or pin it for later. You absolutely won't want to lose track of this one!
Keep reading below so you can learn how to have extra juicy air fryer turkey burgers by using some gelatin and chicken stock.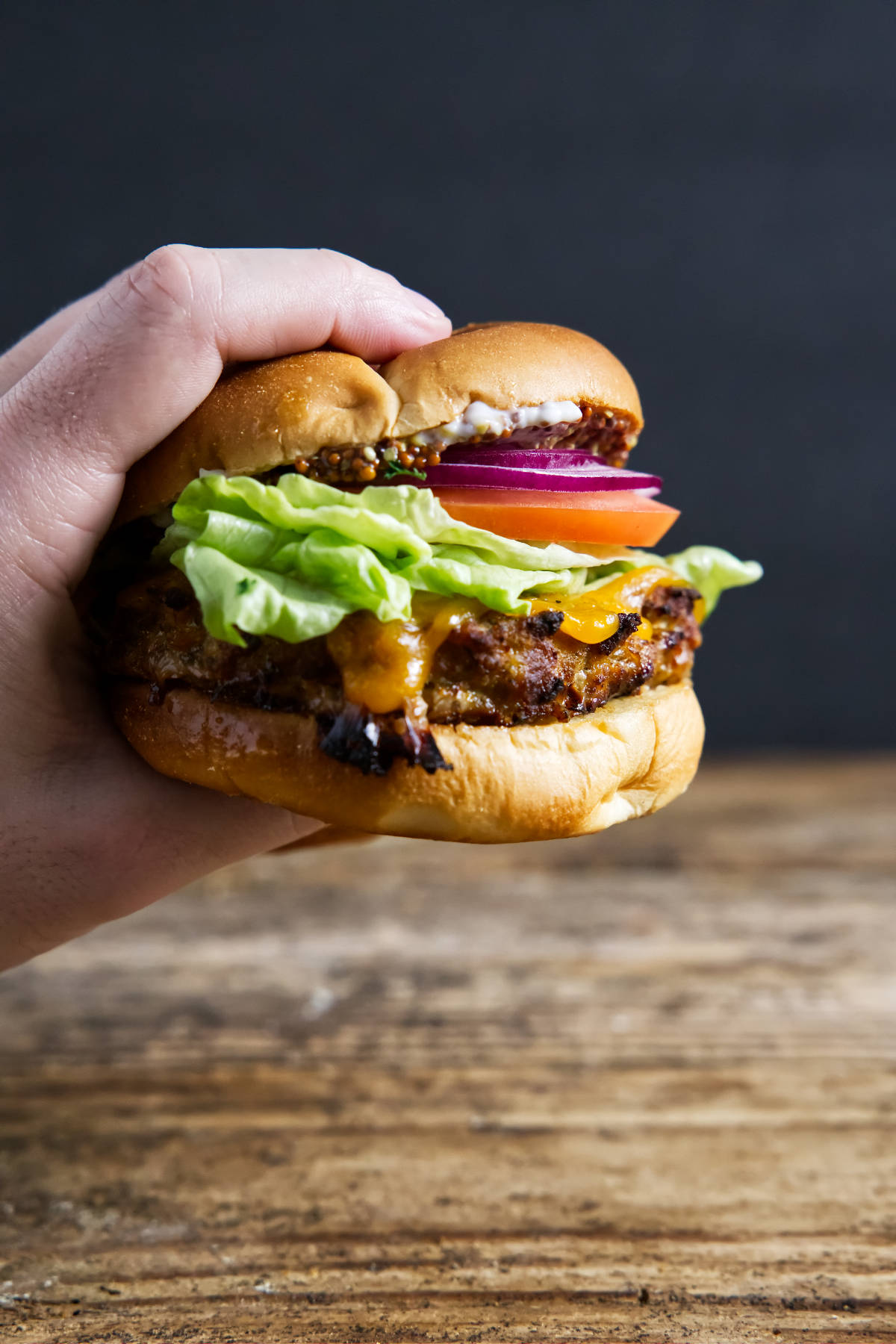 💪Why This Recipe Works
Adding the chicken stock gelatin to the burger infuses the patties with tons of extra moisture, making them incredibly juicy!

It's ideal for your summer BBQ when you want something homemade but without tons of effort!

It's easy enough for beginners, and the burgers are ready in minutes!

Using ground turkey and putting the patties in the air fryer makes this a healthy alternative to other burger recipes!

The air fryer makes for easy cleanup.

The onion and garlic powder means you don't need to waste time chopping!

It's made with a handful of simple ingredients that you can grab at any grocery store.

You can easily mix and match your toppings for the ultimate BBQ bonanza!
🍽Ingredients
Ground turkey. The star of the show! Try and grab ground turkey with a slightly higher percentage of fat to keep it from drying out.

Salt. Essential for any great burger!

Black pepper. For a hint of spiciness.

Paprika. Paprika brings out the meaty flavor in the turkey while adding subtle heat and a bit of color!

Dried oregano. For a fresh and herby flavor that complements the thyme.

Dried thyme. For earthiness!

Garlic powder. Works with the onion powder to add tons of savory flavor to the ground meat.

Onion powder. To bring in some onion flavor to the burgers.

Worcestershire sauce. Give the patty mixture a glorious umami flavor that ensures they never taste boring!

Plain breadcrumbs. Helps bind the patties together and prevents them from falling apart in the air fryer. You can use any breadcrumbs, including Panko. Just make sure that they are not too large.

Apple sauce. A wonderful addition that adds moisture to the burgers and gives it a unique, sweet flavor!
🤫The Secret Ingredient
If you want extra juicy turkey burgers, add these ingredients to your shopping list! You can use unflavored gelatin to make gelatin from chicken stock. After the chicken stock gelatin sets in the fridge, it is strained into small pieces before being added to the meat mixture.
When the turkey burgers cook in the air fryer, the gelatin melts and infuses the burgers with tons of moisture!
Chicken stock (optional). Adds moisture and flavor to the burgers.

Unflavored gelatin (optional). The magical component acts as the vehicle for bringing moisture into your turkey burgers while they cook in the air fryer.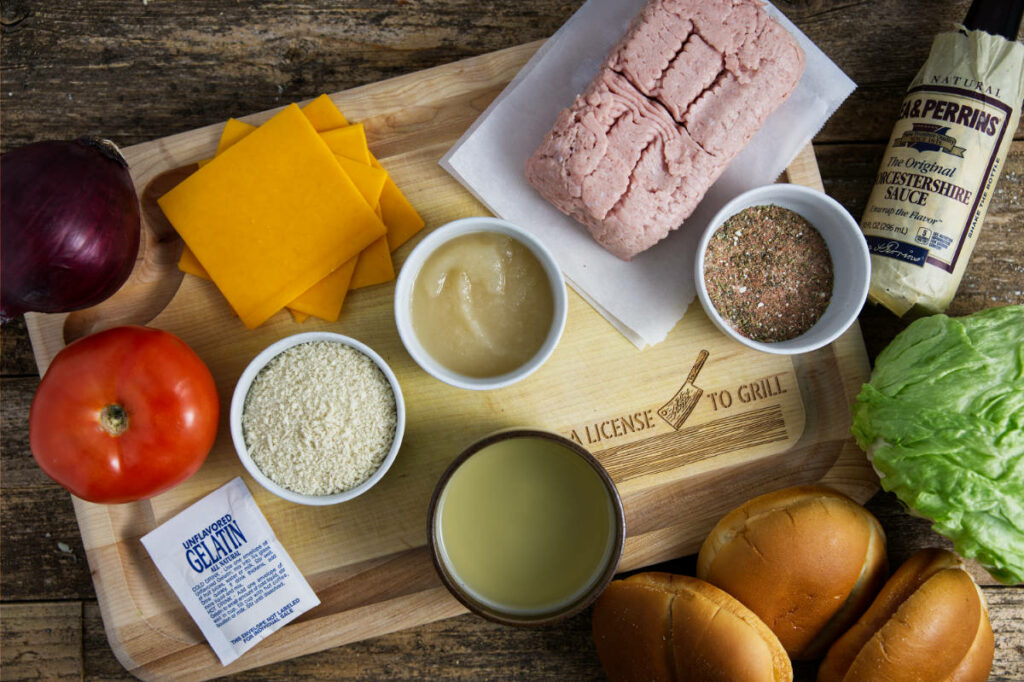 👨‍🍳How To Make It
These extra juicy air fryer turkey burgers are easy to make. The overview is listed below, but scroll to the bottom to see the printable step-by-step instructions. Pin the recipe to come back to it at any time!
If you're using gelatin, make the gelatin chicken stock and let it set in the fridge.

Combine the patty ingredients in a large mixing bowl.

Press the gelatin through a mesh strainer and mix the granules of gelatin stock with the turkey burger mixture. If you are not using the gelatin, skip this step.

Form the mixture into equal-sized portions and flatten them into patties about ¼-inch to ½-inch thick and place them in the freezer to cool.

Preheat the air fryer.

Place the turkey burgers in the air fryer and cook until they reach an ideal internal temperature.

Place a slice of cheese on top of each burger patty and let it melt.

Serve the burgers on some buns and top away to your heart's content!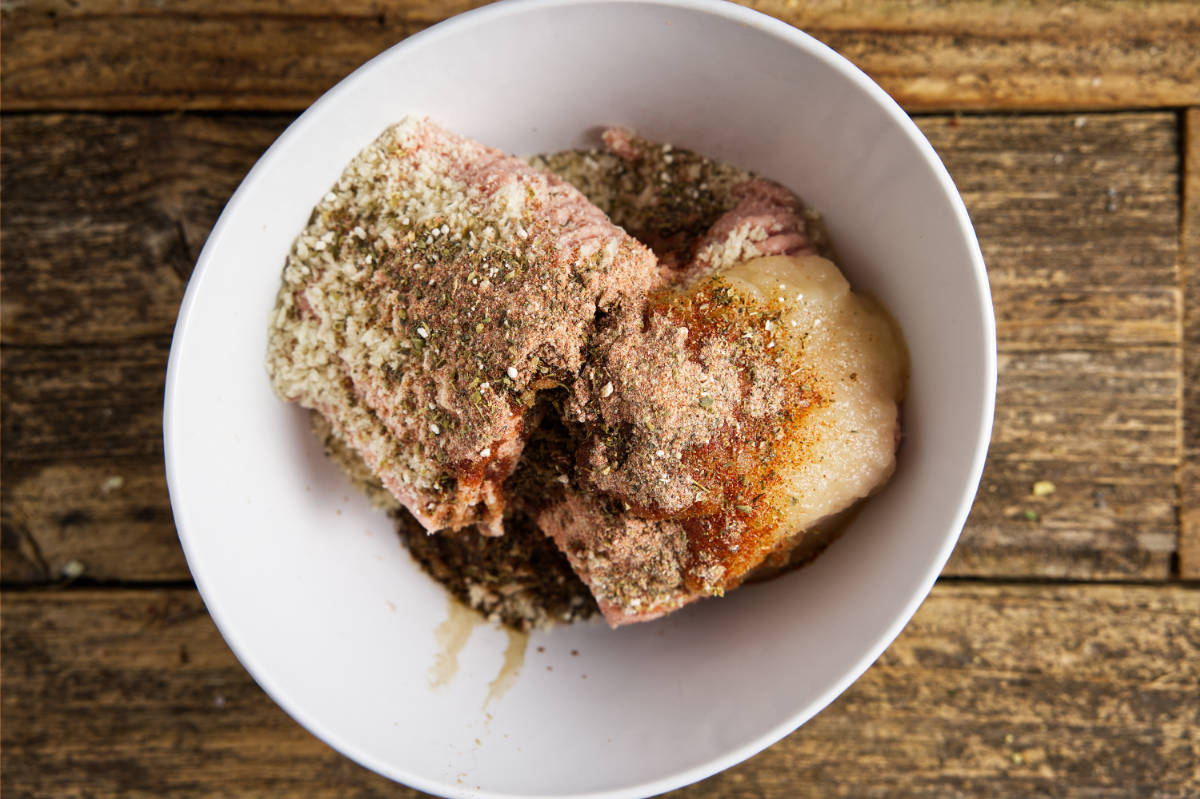 Mix the ground turkey, seasoning, apple sauce, breadcrumbs, and Worcestershire sauce.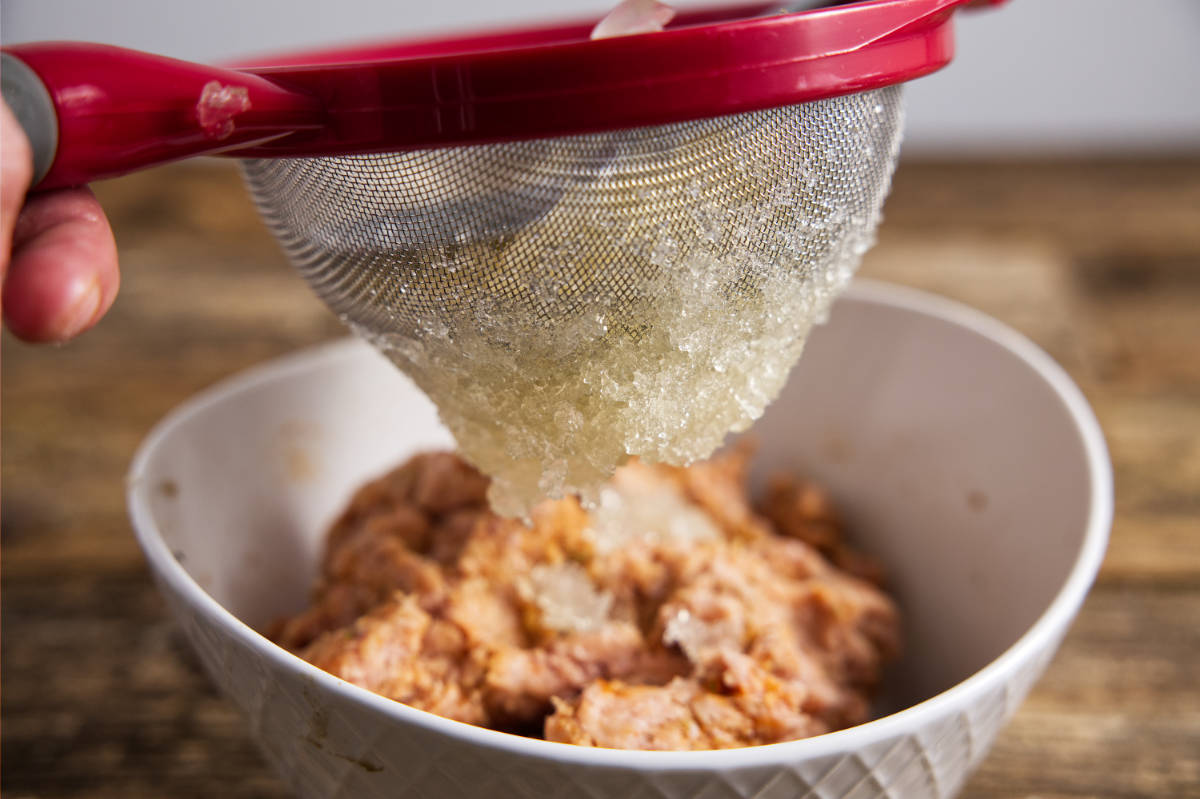 Strain the chicken stock gelatin through a mesh strainer.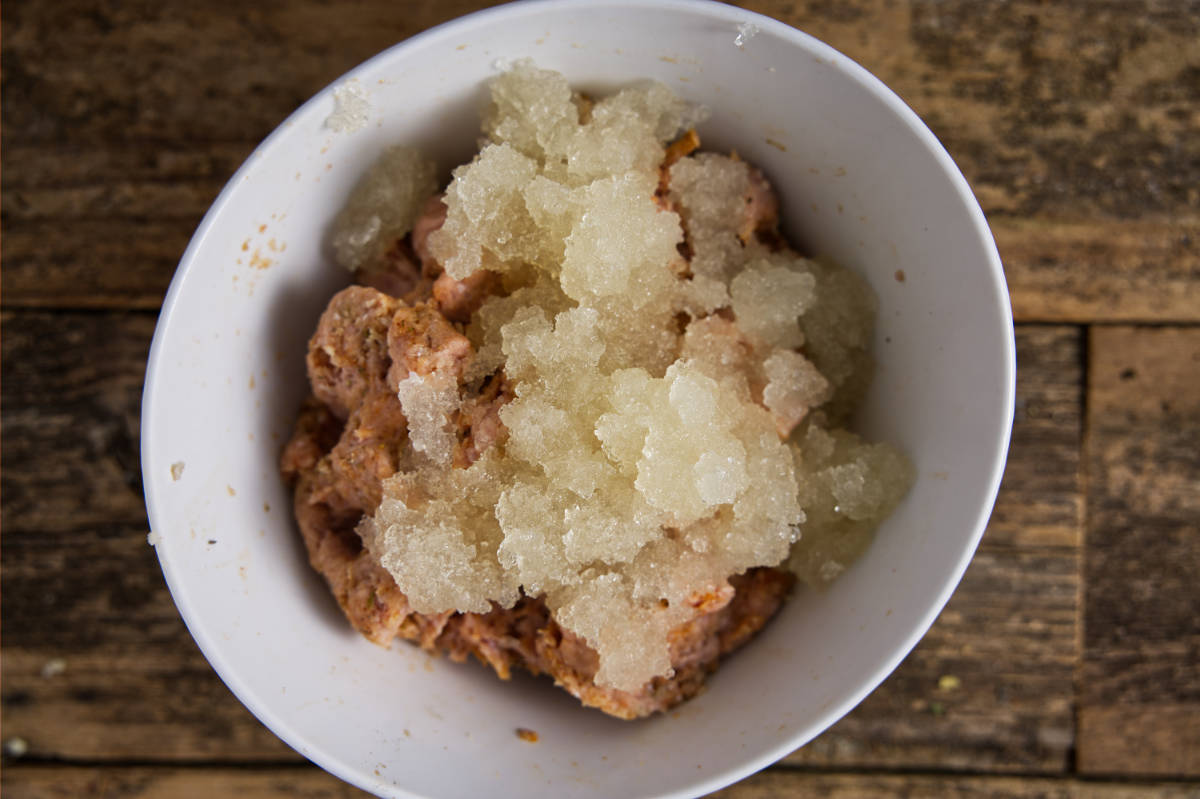 Mix the small granules of chicken stock gelatin with the turkey burger mixture.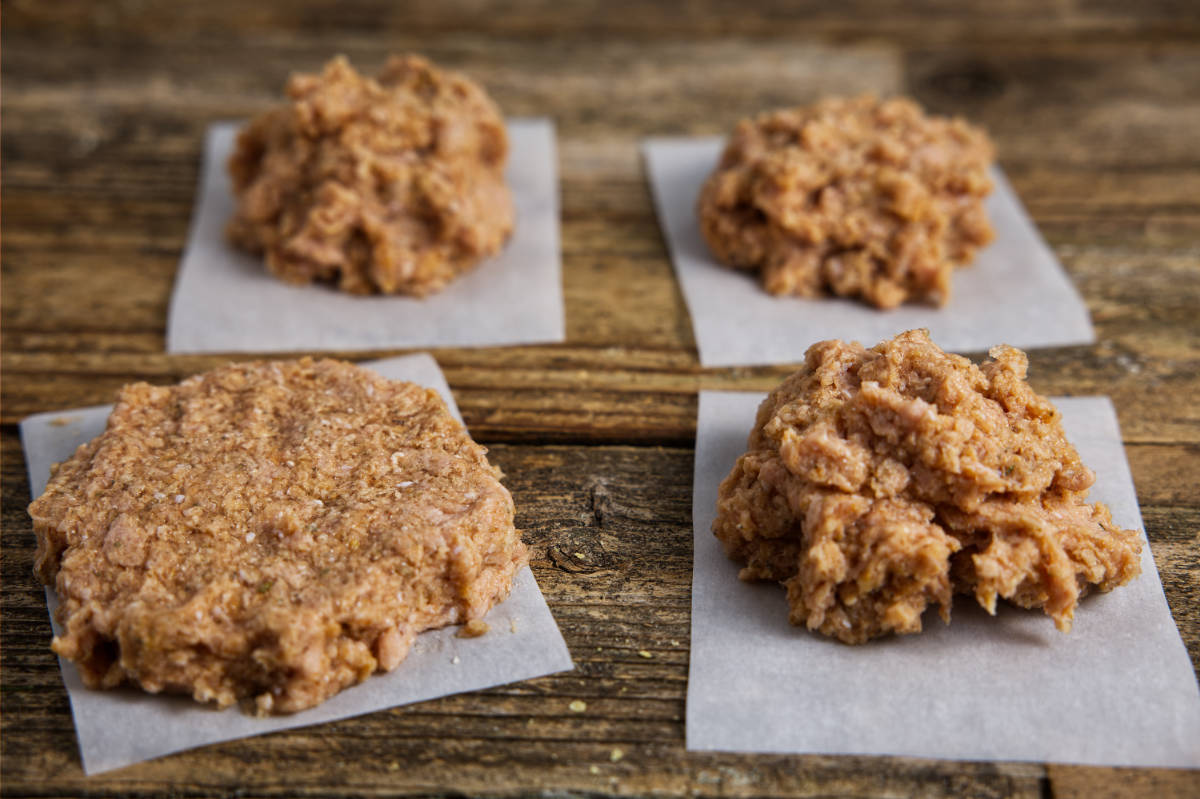 Form the turkey burgers into four equally sized patties and line them with parchment paper. Freeze them for at least 20-30 minutes.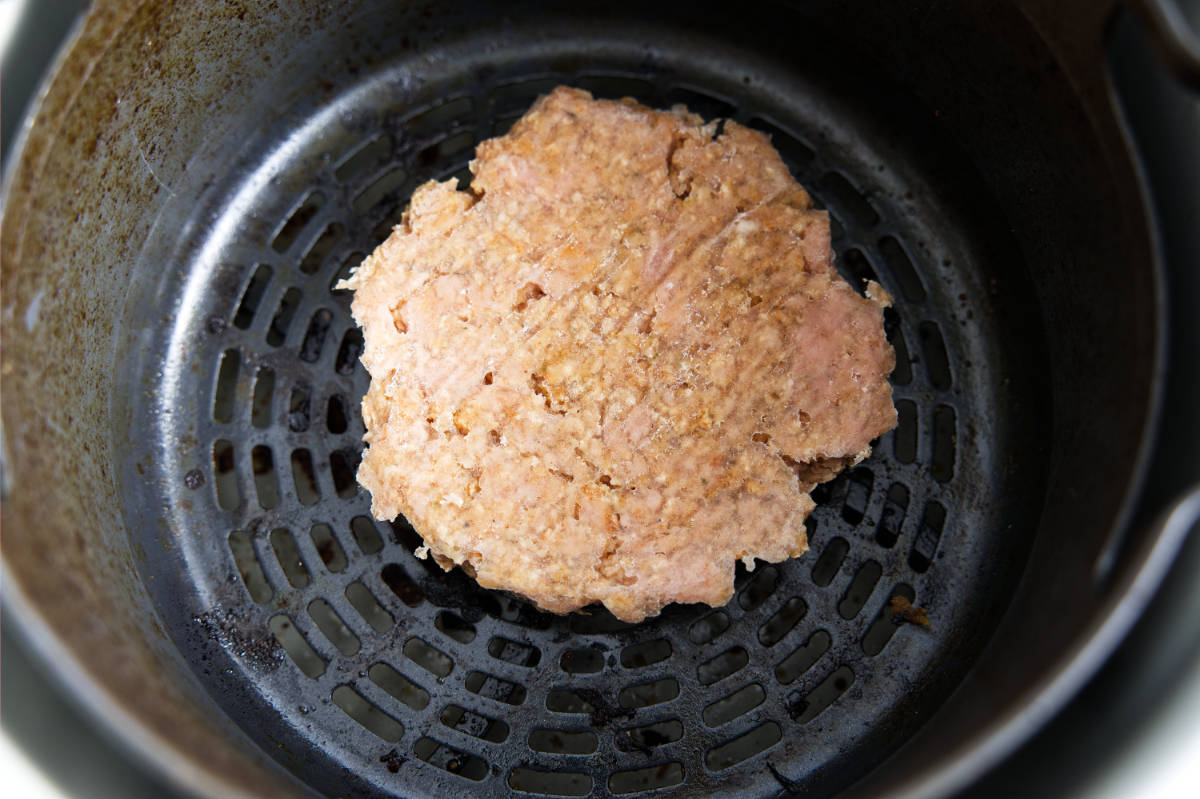 Cook in the air fryer at 360°F for 8-10 minutes or until the internal temperature reaches 160°F.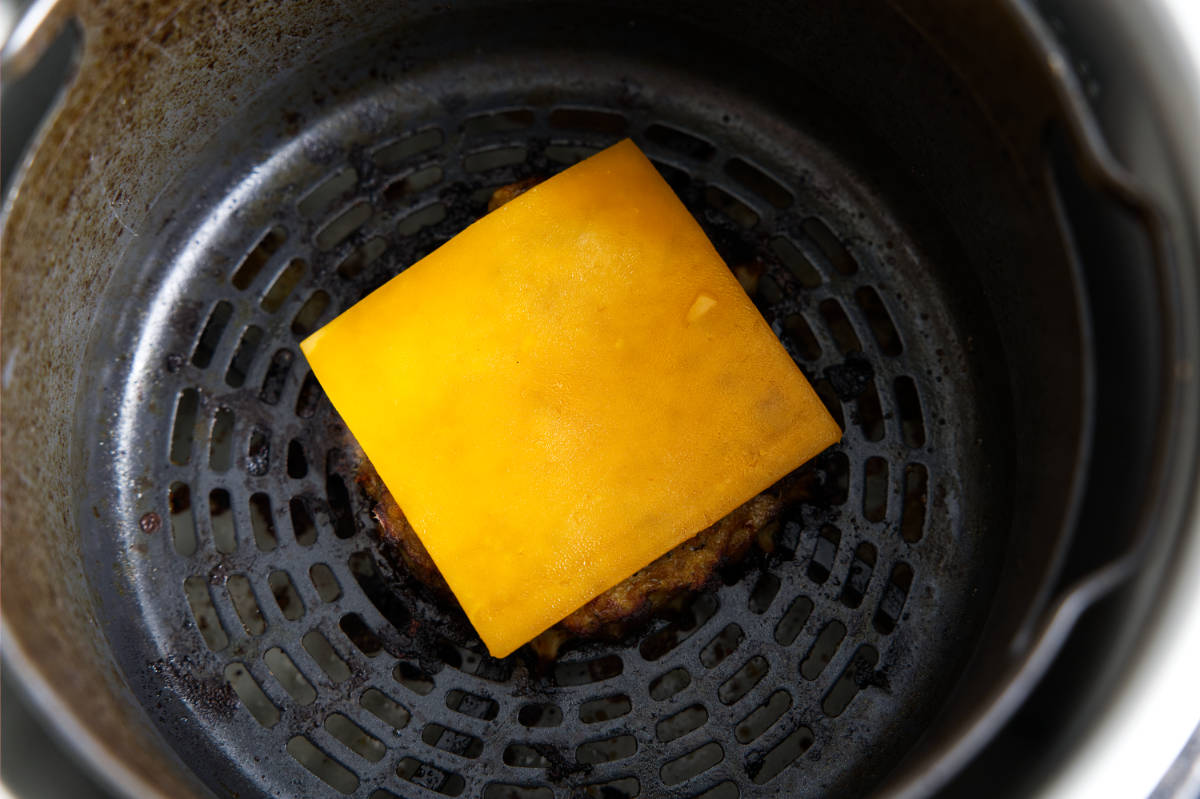 Place a slice of cheese on each patty and close the lid to let the residual heat melt the cheese.
😉Tips For Success
If you're cooking the patties from frozen, don't forget to add a few minutes to the cooking time.

Don't overmix your burgers. You obviously want to make sure all the herbs and spices are incorporated. But overmixing is asking for dense and chewy burgers!

Use a meat thermometer if you're remotely unsure about internal temperatures. You don't want to mess around with turkey, and a meat thermometer can give you extra peace of mind! Use a ThermoWorks Thermapen One for one-second readings.

Don't forget to refrigerate the patties. It can seem like an unnecessary step, but this makes the patties way easier to handle and helps them hold their shape when cooking them in the air fryer.

Don't overcrowd your air fryer. It's best to work in small batches so that the turkey burgers have enough space and aren't crowded.

If you want all your patties to cook evenly, weigh them out on parchment paper before putting them in the air fryer.

There's no need to flip the burgers while you're cooking – just let them be!

If you want your patties to have crispy edges, spritz them with a bit of oil after putting them in the air fryer basket. I use this pure avocado oil spray.

Don't be afraid to toast your buns for even more deliciousness!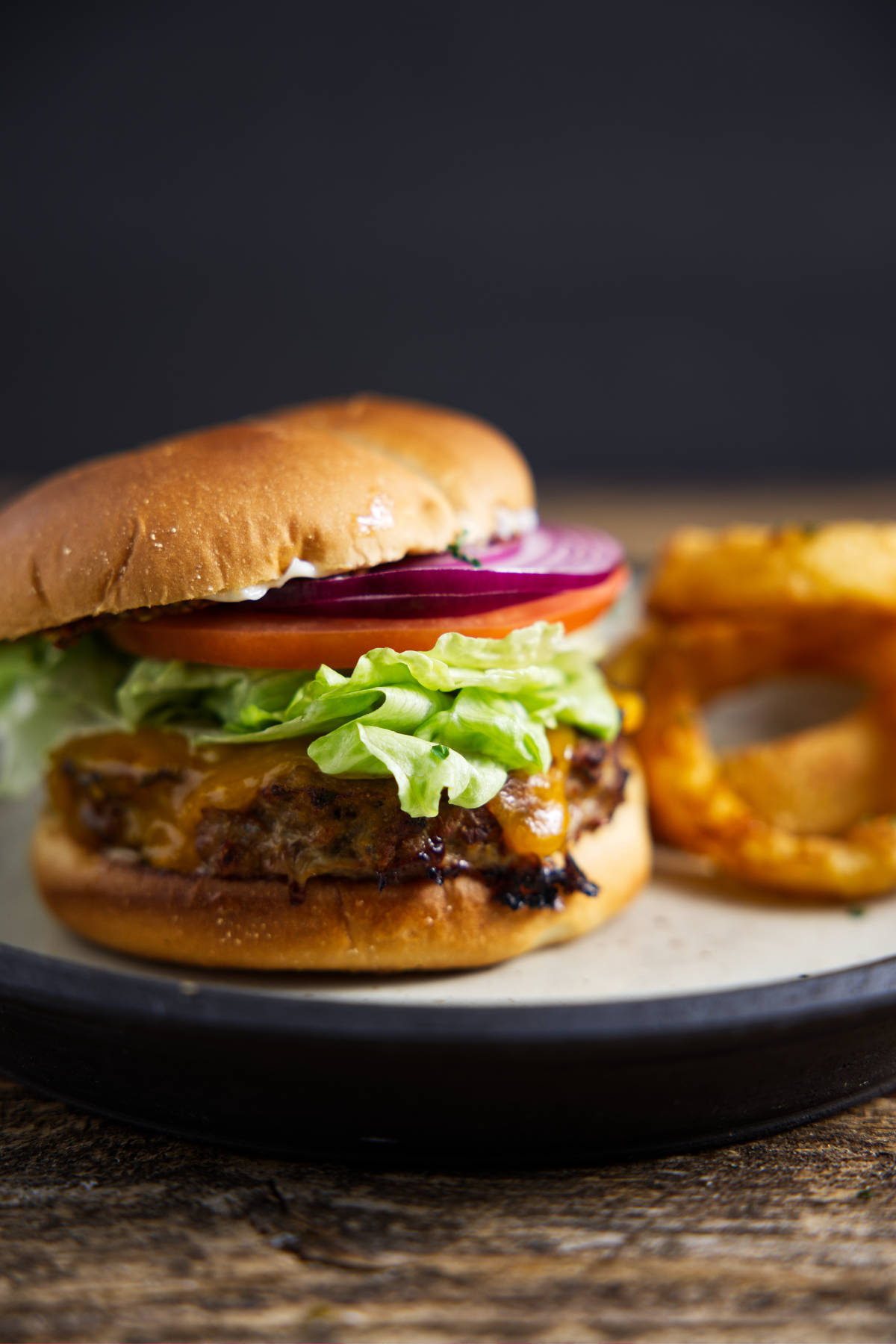 ❓FAQ
How long does it take to cook turkey burgers in an air fryer?
Air fryer turkey burgers take between 12 and 14 minutes to cook. If you are cooking the turkey burger patties from frozen, you will need 16-18 minutes to cook them. The size and thickness of the patties can make a difference, so monitor them towards the end of the cooking time and take them out when they reach 160°F internally.
How do I know when air fryer turkey burgers are done?
You can use a meat thermometer to check that the burgers are at an internal temperature of at least 160°F. Ifyou'ree unsure, gently cut into one of the burgers and check that the juices run clear and there are no pink parts left!
Can you make turkey burgers in an air fryer ahead of time?
You can cook these burgers ahead of time and store them in the fridge for a couple of days. Ifyou'dd rather prep them ahead, make the patties and throw them in the freezer. Then you can pop them in the air fryer whenever you need a burger fix!
What temperature should turkey burgers be cooked at?
Turkey burgers should be cooked in the air fryer at 360°F to ensurethey'ree fully done in the middle while getting the perfect crisp edges that you should have with any burger.
🛠Tools and Equipment
If you click on some of the following affiliate links and buy something, we might get a small commission. You don't pay any extra, but it will help us keep the lights on and our bellies full!
Try These Awesome Recipes
🎁Wrap Up
Itdoesn'tt matter whetheryou'ree looking for a healthier alternative to burger night or need uber-moist patties for your next tailgate party or game night hangout. These air fryer turkey burgers are amazing. Just slap them on a few toasted buns, grab your condiments, and prepare your palate for the ultimate BBQ inspired air fryer bite!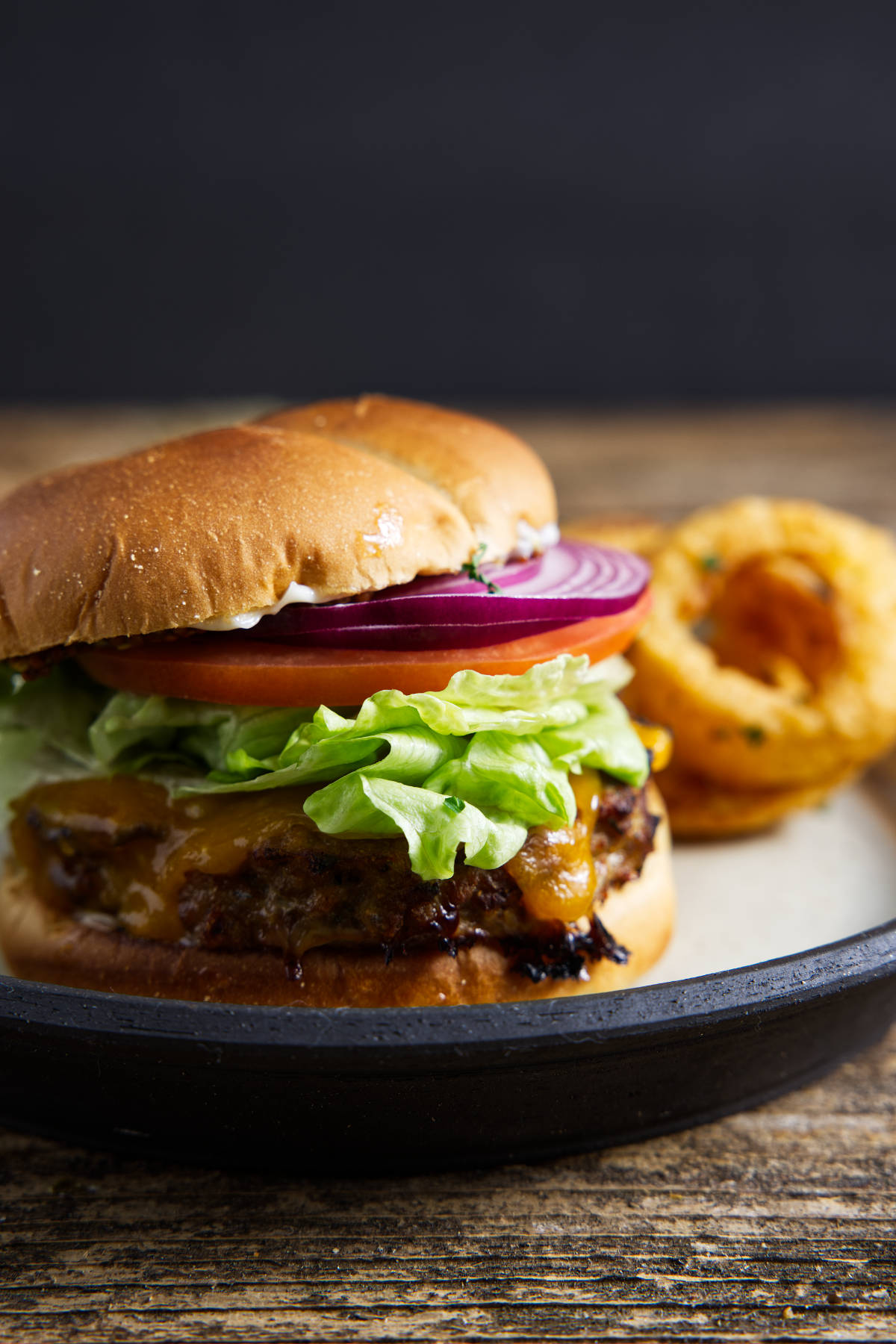 💬Tell Me What You Think!
Did you try out this recipe? Please leave a comment below and let me know how you liked it. Also, snap a picture and post it to your favorite social platform. Be sure to tag me at @alicensetogrill and let me know how you liked it!
CONNECT WITH A LICENSE TO GRILL!
Be sure to follow us on our social media accounts.
Facebook * Instagram * Pinterest * YouTube * Twitter
Did you make this recipe? Tell us about it in the comments below!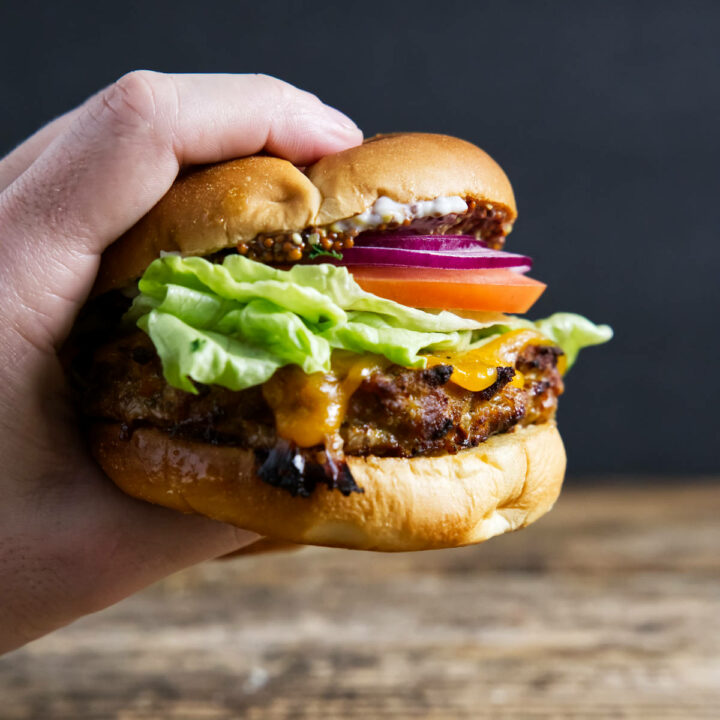 Air Fryer Turkey Burgers
These air fryer turkey burgers are seriously the juiciest you will ever have! The secret here is mixing in small granules of chicken stock gelatin. As the turkey burgers cook, the gelatin melts and infuses tons of moisture into the burgers.
Load the burgers up with cheese, some whole grain mustard, and some wonderful garlic aioli, and dig in. Serve it up alongside some air fryer parmesan potato wedges for the ultimate at-home pub burger experience.
Ingredients
Optional (For Extra Juicy Burgers)
½ cup chicken broth
½ pouch of unflavored gelatin (about 1-¼ teaspoons)
For The Burgers
1 pound ground turkey (85/15)
1 teaspoon fine salt
1 teaspoon ground black pepper
1 teaspoon paprika
½ teaspoon dried oregano
½ teaspoon dried thyme
1 teaspoon garlic powder
1 teaspoon onion powder
2 teaspoons Worcestershire sauce
¼ cup plain breadcrumbs
¼ cup apple sauce
Instructions
Optional: for extra juicy burgers, make the gelatin chicken stock. Add half of the chicken stock to a bowl and dump the gelatin to let it bloom. Then heat the rest of the chicken stock in the microwave for 1-2 minutes or until it appears that it will start to boil. Mix in the hot chicken stock and stir to dissolve the gelatin completely. Let the gelatin set in the fridge for 2-4 hours.
In a separate bowl, combine the ground turkey, apple sauce, Worcestershire sauce, seasoning, and breadcrumbs into a large mixing bowl.
Once the gelatin is completely set, press the gelatin through a mesh strainer, so you get small granules of chicken stock gelatin. Then, mix the granules of chicken stock gelatin into the bowl with the turkey burger mixture.
Form the patties into four equally sized patties about 1 inch thick. Use parchment paper to handle the patties easily.
Cool the patties in the freezer for 30 minutes.
Preheat the air fryer to 360°F. Place the turkey burgers in the air fryer and cook at 360°F for 12-14 minutes or until the internal temperature reaches 160°F.
Place a slice of cheese on top of the burger patties and close the air fryer to allow the cheese to melt. Serve the burgers on some buns with your favorite toppings.
Notes
If the turkey burgers are frozen, cook them at 360°F for 16-18 minutes.
The chicken stock gelatin will melt while the burgers cook, infusing the turkey burger patties with extra moisture and making them surprisingly juicy!
The USDA recommends cooking turkey burgers at 165°F. I always remove the turkey burgers from the air fryer once they hit 160°F and let the patties rest on a plate for 5 minutes. The residual heat will continue to cook the burgers.
Recommended Products
As an Amazon Associate and member of other affiliate programs, I earn from qualifying purchases.
Nutrition Information:
Yield:

4
Serving Size:

1
Amount Per Serving:
Calories:

348
Total Fat:

20g
Saturated Fat:

5g
Trans Fat:

0g
Unsaturated Fat:

12g
Cholesterol:

121mg
Sodium:

823mg
Carbohydrates:

10g
Fiber:

1g
Sugar:

3g
Protein:

31g
Nutrition information is a guideline only, is calculated automatically by third party software, and absolute accuracy is not guaranteed.