Nothing warms your body and soul better than a delicious bowl of smoked brisket chili! This chili takes the term hearty to a whole new level! It is packed with beans and huge chunks of incredibly tender brisket that spent almost 17 hours in the smoker. Of course, it wouldn't be chili if it wasn't a bit spicy, and the chipotle and ancho chile peppers take care of that. Add in a bit of espresso powder and this is one awesomely unique dish!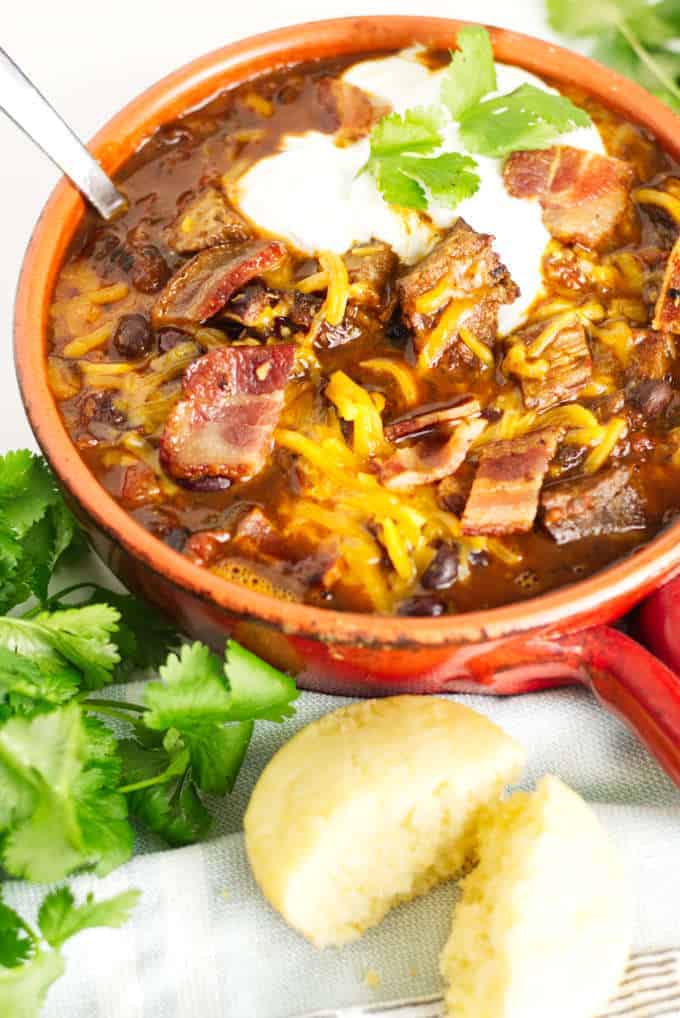 What makes this recipe so good?
Large chunks of tender, smoked brisket that melt in your mouth
An energetic zing of espresso powder that adds an earthy tang
Distinct flavor and heat from the chipotle and ancho chile peppers
I love this recipe because every spoonful is packed with awesomeness. The espresso powder amps up the flavor and makes this chili a winner in my book!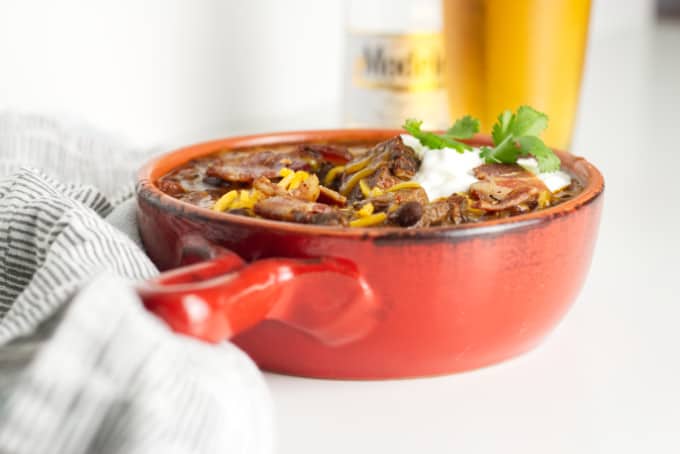 Ingredients that make this chili awesome!
Beans in Chili!?
Traditional Texas chili does not have any beans. Here in the Northwest, we are a bit strange and like to live life on the edge. So in this recipe, I do use beans. Don't lose your marbles though, this recipe is very specifically named and is not called "Texas Chili" for this very reason.
Coffee in Chili?
You may have caught on by now that I am from Seattle. If not, well then this recipe is now a testament to that fact. I put Starbucks Via Pike Place Roast instant coffee in this chili. Coffee adds a wonderful dynamic to certain foods. In this chili, it brings out a robust earthy tone. Coffee is very aromatic and pairs nicely with smoked brisket, bacon, and spicy peppers. Just like how adding coffee to chocolate brings out more depth and flavor, coffee in your chili does the same thing!
Spicy peppers
I cannot get enough of chipotle peppers. They have such an incredible flavor and aren't too spicy. This means you can get tons of flavor without ruining your palette and sweating profusely. I also use ancho chile pepper which has a wonderful smoky flavor and pairs nicely with the smoked brisket.
Leftover Brisket
Now, if you have ever smoked brisket in your life then you know that a full packer brisket yields a metric ton of meat. I have a blast finding new uses for my brisket leftovers and this chili is one darn delicious way to get rid of those leftovers.
An entire packer brisket can weigh in at 15 pounds. Unless you are feeding a small army, then you will need to find some space in your freezer. This is precisely why I LOVE to smoke brisket, it can last in the freezer for weeks and can be incorporated into several recipes after being smoked.
In this recipe, I sliced the thawed brisket into 1-inch cubes for the chili.
No leftovers? Adapt the recipe for raw brisket
If you don't have leftover smoked brisket and don't want to wait the many hours to smoke one, you can use raw brisket in this recipe. Just dice your 3-4 pounds of brisket into 1-inch cubes. After cooking the bacon, quickly brown the brisket cubes in bacon grease. Once they are browned, remove the brisket and add it to the recipe when instructed like normal. Instead of simmering for only 2 hours, you will want to simmer for about 5 hours, or until the brisket is super tender!
How to make smoked brisket chili
Step 1
In a large dutch oven, cook 6 slices of bacon until crispy. Remove the bacon from the dutch oven and save it for later. You will be using the bacon fat to build the base of your chili.
Step 2
Cook the onions and bell peppers in the bacon fat inside of the dutch oven until the peppers have softened and the onions are slightly translucent. Add some garlic and cook just long enough for the aromatics of the garlic to develop, a couple of minutes.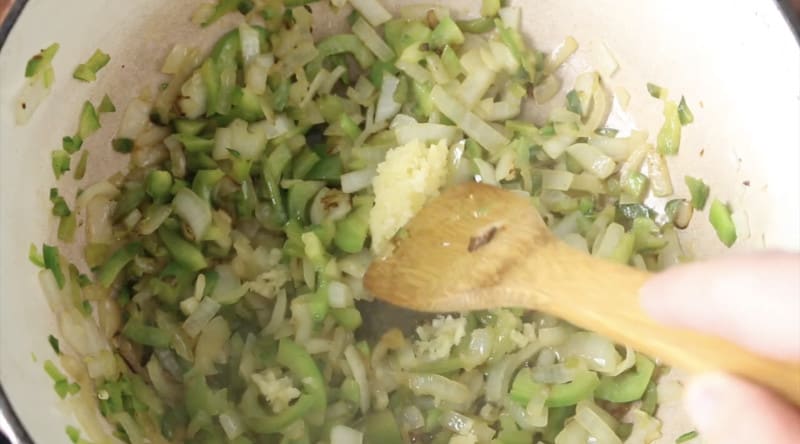 Step 3
Dump in your pre-cooked smoked brisket. Add in some beans, canned tomatoes, beef stock, chipotle peppers, and adobo sauce. Allow the flavors to develop and fully mix together. Expert tip: always cook canned tomatoes to remove any potential bitter tin flavor from the canning process.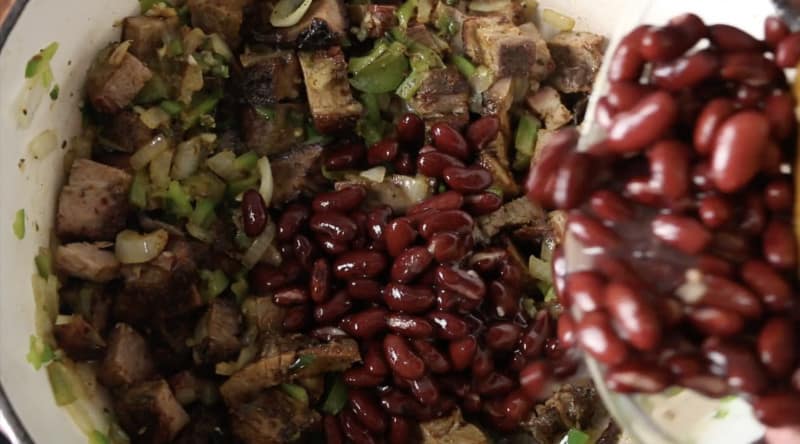 Step 4
Bring the chili to a low simmer and add in the seasoning and espresso powder. Espresso powder is the game-changing step! Even if you are not a coffee drinker, you have to try this chili with espresso powder.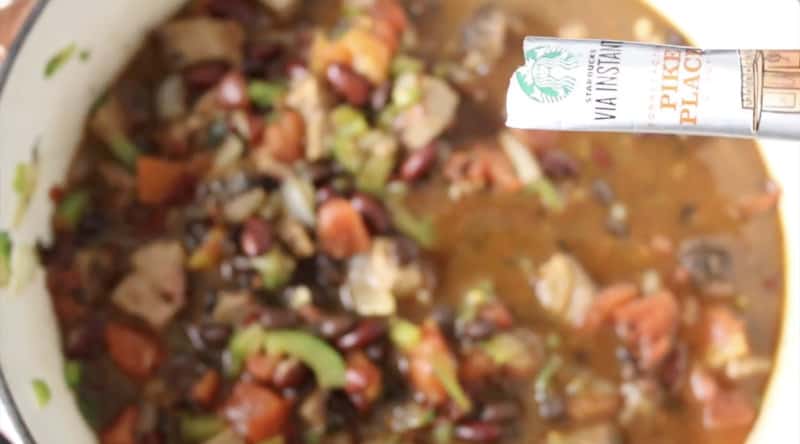 Step 5
Allow the chili to simmer for 30 minutes to 2 hours, stirring occasionally, until the desired thickness is achieved.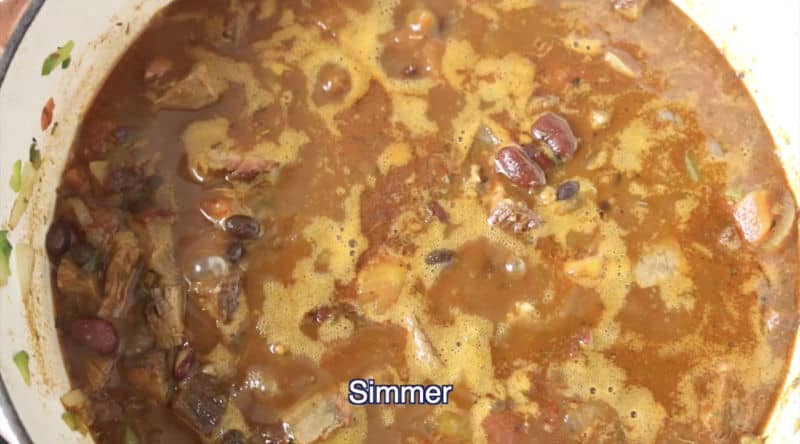 Step 6
Serve in a bowl with your favorite toppings! I always go for shredded cheddar cheese and sour cream. I also am a sucker for crumbled bacon so now is the time to add the reserved bacon slices cooked earlier! Enjoy!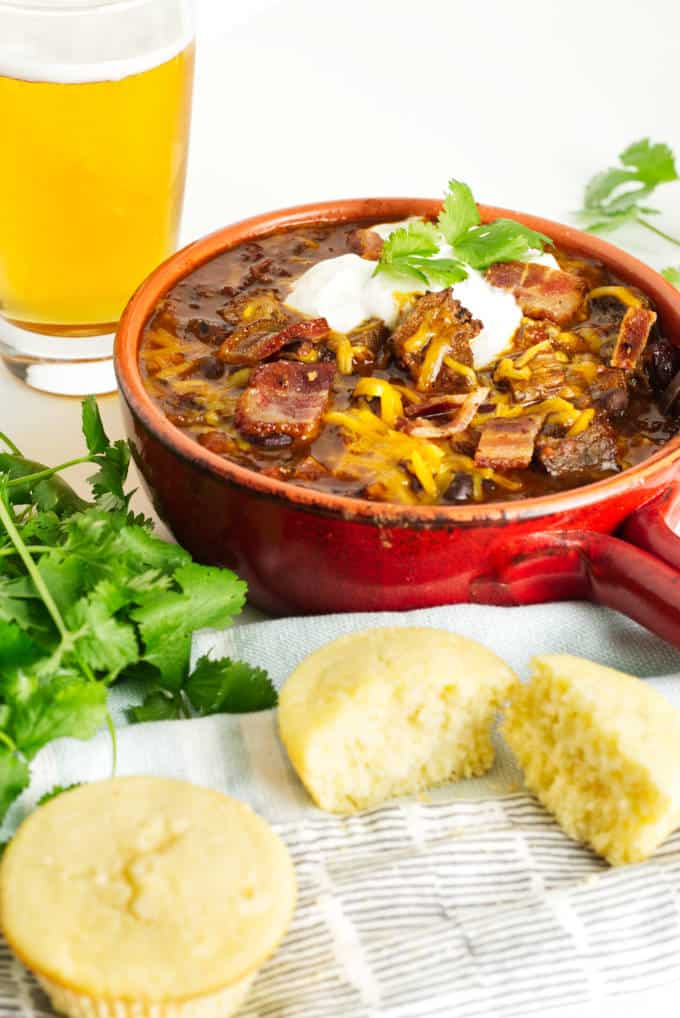 Tell me what you think!
Did you try out this recipe? If so, snap a picture and post it to your favorite social platform. Be sure to tag me at @alicensetogrill and let me know how you liked it!
What else is cooking over here?
Pork tenderloin is such a beautiful cut of meat. It is super tender, cooks relatively quickly, and is very versatile. Check out this recipe for smoked stuffed pork tenderloin. I love how the cheese stuffing spills out when it is cut into. If you want to get weird with it, then try this smoked bacon-wrapped pork tenderloin.
My favorite meal of the day is dessert, especially when I have dessert for breakfast! Check out this easy recipe for air fryer apple fritters. If you have a sweet tooth, this will be sure to cure you!
Speaking of the air fryer, have you seen this recipe for air fryer chocolate chip oatmeal cookies? If you're going to make some cookies, you may as well double down and try these chewy oatmeal raisin cookies which you can also cook in the air fryer!
CONNECT WITH A LICENSE TO GRILL!
Be sure to follow us on our social media accounts
Facebook * Instagram * Pinterest * YouTube * Twitter
Did you make this recipe? Tell us about it in the comments below!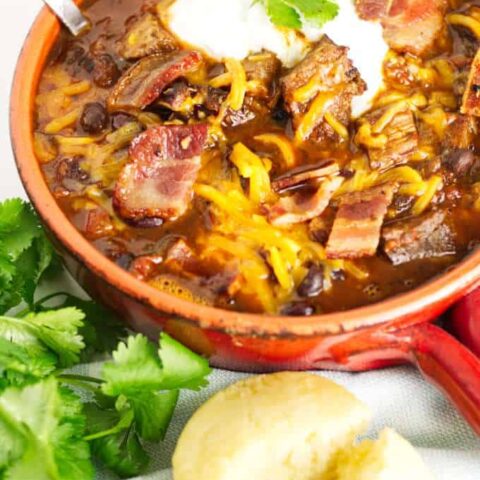 Smoked Brisket Chili
Total Time:
2 hours
10 minutes
This is probably the best chili I have EVER had! It is packed full of brisket, almost 3 pounds worth! There is so much great flavor that is developed from the veggies cooked in bacon fat. It is loaded with wonderful aromatic chipotle and ancho peppers which brings plenty of heat, just enough to make you reach for a soothing, cold beer! I cannot get enough of this brisket chili, and I know you are going to love it also!
Ingredients
2-3 pounds smoked brisket, cubed
6 slices thick bacon
A 15 oz can pinto or kidney beans drained and rinsed
A 15 oz can black beans drained and rinsed
2 cups white onion, chopped
3 small jalapeño peppers, chopped
1 green bell pepper, chopped
6 cloves garlic, minced
16 ounces beef stock (bouillon)
2 cans or 29 ounces of canned tomatoes
4 ounces of canned chipotle peppers in adobo sauce, chopped
1 tablespoon ancho chile pepper (or 1 tbsp paprika)
1 tablespoon cumin
1 teaspoon thyme
1 teaspoon oregano
2 teaspoon salt
1 packet of Starbucks Via instant coffee
Instructions
Place a large dutch oven on your stove and pre-heat to medium heat. Cook the bacon until crispy. Remove the bacon, chop, and reserve for later.
Cook the onions, green bell peppers, and jalapeños in the bacon fat for 5-6 minutes or until the veggies have softened and the onions are semi-translucent. Add in the garlic and cook for 1-2 minutes more.
Add the chopped brisket to the pot and stir gently until the mixture is well combined. Add in the beans, tomatoes, chipotle pepper, adobo sauce, beef stock, and seasonings. For the ultimate flavor boost, add some coffee. I use Starbucks Via Instant Coffee powder.
Stir until well combined, reduce the heat to a low simmer and cover. Cook for at least 30 minutes, up to 2 hours.
Serve with shredded cheese, diced onions, sour cream, or any other toppings that you like!
Cheers!
Notes
The chipotle peppers come in a can with adobo sauce. I typically buy these in 7-ounce cans. For this recipe, simply take about half of the chipotle peppers out of the can and chop them before adding. Then use about half of the adobo sauce in the recipe.
If you do not have instant coffee, you can replace 8 ounces of beef stock with 8 ounces of brewed coffee.
You can use raw brisket in this recipe. Just dice your 3-4 pounds of brisket into 1-inch cubes. After cooking the bacon, quickly brown the brisket cubes in bacon grease. Once they are browned, remove the brisket and add it to the recipe when instructed like normal. Instead of simmering for only 2 hours, you will want to simmer for about 5 hours, or until the brisket is super tender.
Nutrition Information
Yield

10
Serving Size

1
Amount Per Serving
Calories

651
Total Fat

30g
Saturated Fat

11g
Trans Fat

0g
Unsaturated Fat

14g
Cholesterol

151mg
Sodium

1132mg
Carbohydrates

42g
Fiber

14g
Sugar

9g
Protein

55g
Nutrition information is a guideline only, is calculated automatically by third party software, and absolute accuracy is not guaranteed.