If you are going to have a cookie, you may as well go all out with your air fryer and make a deep dish chocolate chip cookie bowl. Then you can put in a giant scoop of ice cream and have the best late night indulgence ever!
Is there really anything better than a gooey chocolate chip cookie and some vanilla ice cream? Now you can free up your hands and enjoy your cookie and ice cream at the same time with this personalized dessert cup. It is loaded with a buttery, crispy-edged, chocolate oozing, gooey-on-the-inside cookie AND it gets better with every bite as the ice cream soaks into the cookie!
This post may contain affiliate links. Please read our
disclosure policy
.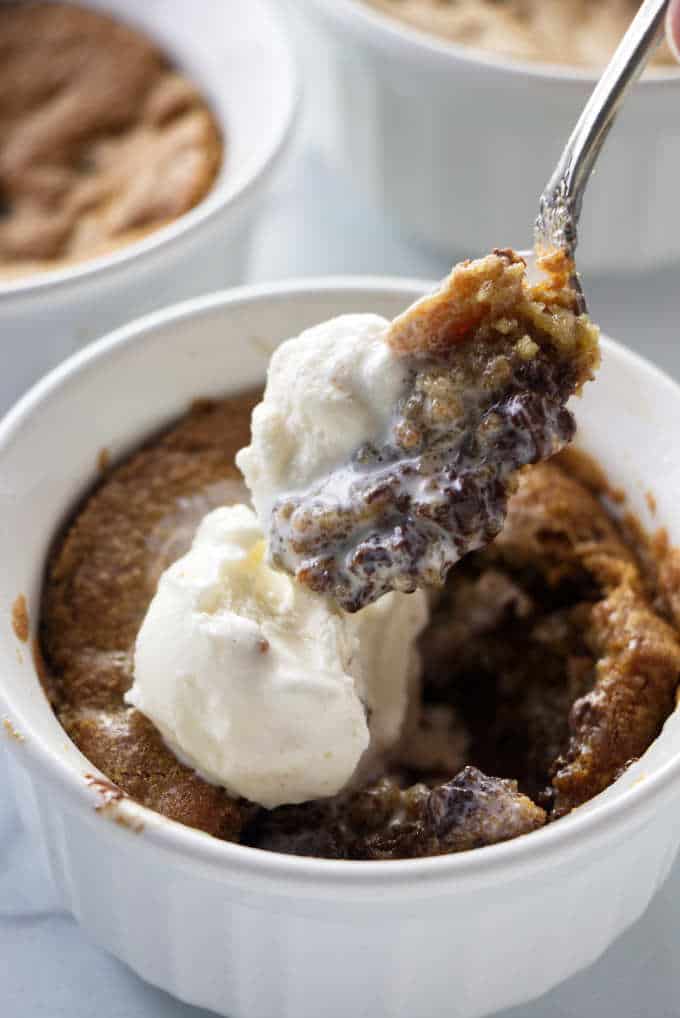 What makes the cookies perfect?
Well for starters, these air fryer cookies are in a bowl which means you have a very good excuse to eat the entire deep dish chocolate chip cookie!
These deep dish cookies are baked in the air fryer, which means you save valuable time waiting for the oven to preheat. Time that you can spend putting on some stretchy pants and flipping through Netflix, dishearteningly, as you realize you have watched everything…
The edges of the cookie bowls are tender, buttery, and crisp and the chocolate chip to cookie ratio is perfect! The cookie gets even better as you eat your way into the dense, soft, and chewy center of the deep dish cookie.
Finally, what I think really sets this cookie off is the fact that the ice cream slowly melts and soaks into the cookie. With its gooey cookie bowl center, melty chocolate chips, and creamy ice cream soaked cookie bites, the awesome medley of flavors and textures really doesn't get any better!
These air fryer deep dish cookies are:
Perfectly baked so the center is gooey
Crispy on the edges and buttery
Filled with tons of melty chocolate chips
Quick and easy in the air fryer
Best served with some ice cream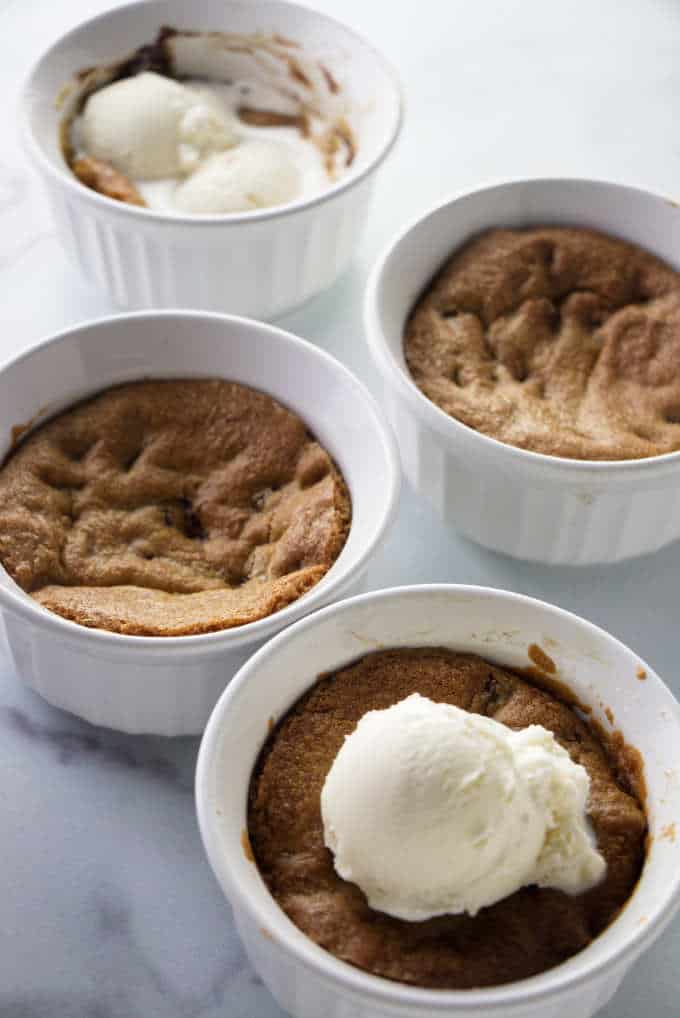 Ingredients for this indulgent cookie bowl
Flour
Brown sugar
Melted butter
Chocolate chips
Egg
Baking soda
Vanilla
Salt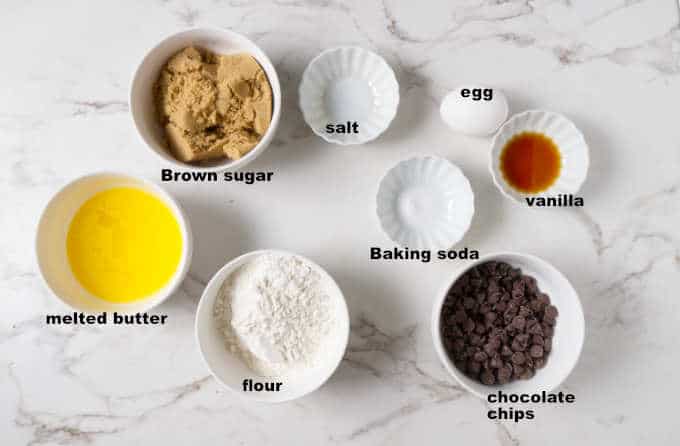 Tips for the perfect cookie!
Use real butter!
Don't be fooled, you cannot get perfect cookie results with margarine. Butter will give the cookie that chewy texture that every cookie hunter is searching for. It also provides a buttery flavor that makes these chocolate chip cookie bowls perfect!
Use melted butter
Melted butter is better. It gives the cookies a chewier texture. Instead, if you cream the butter, it will make the cookies cakier. I prefer my cookies far from cakey, so I recommend melted butter.
Make the bowls large
We're here for a gooey time, not a long time! So be sure to use a ramekin that is large enough to give your cookies a crispy crust but a slightly undercooked soft center. Since these are being baked in the air fryer, these chocolate chip cookie bowls will cook fast and naturally undercook the center if the temperature is set perfectly at 320°F.
Try bread flour
You can substitute half of the all-purpose flour with bread flour. Bread flour has a higher gluten content and will make these cookies slightly more dense and chewy. The ice cream on top of your chocolate chip deep dish cookie bowl will keep the cookie moist!
Don't overmix the cookie dough
Over mixing the dough can make your cookies tough. This is a result of the gluten molecules becoming damaged. It sounds crazy, but you can also be bad for gluten! Be gentle and mix in the dry ingredients by hand to ensure the best results.
Preheat the air fryer
If you don't have a preheat setting, just run your air fryer at 320°F for about 2-3 minutes before placing your bowls in the air fryer. Preheating will allow the cookies to cook evenly and keep the centers from being too undercooked.
Eat them warm and with ice cream
The ever so slightly undercooked center is the perfect chocolate chip cookie lava, so be sure to dollop on a scoop of ice cream to the bowl and eat it while it is hot! This way, you will get just enough of the ice cream to melt and soak into the cookie.
If you have left over cookie bowls, use the air fryer at 320°F for 2 minutes to warm them back up.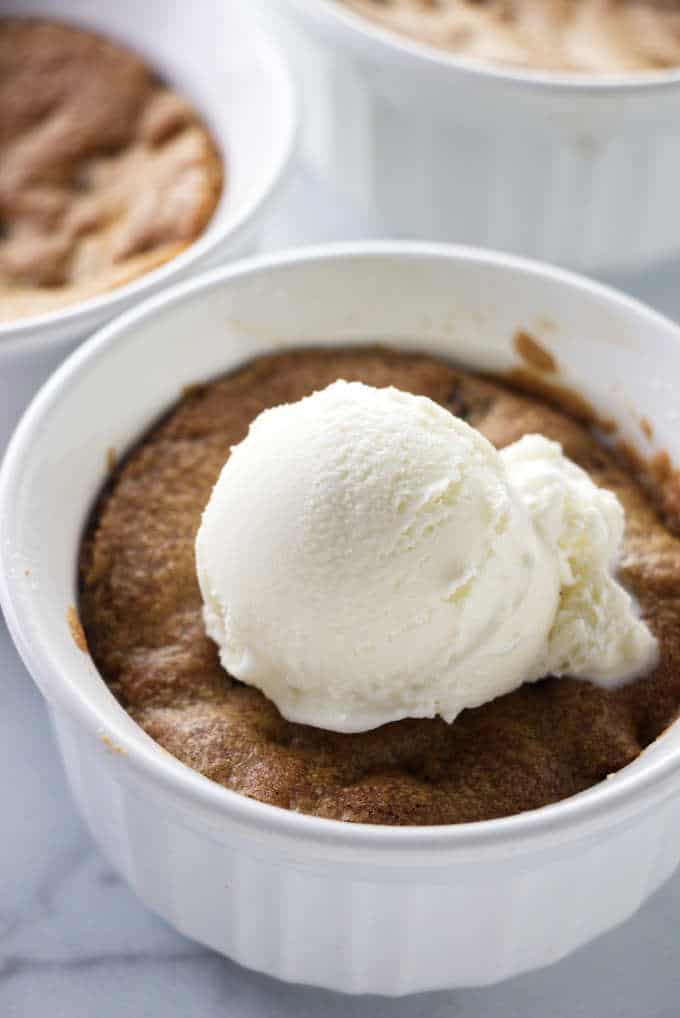 How to use your air fryer
Check out this air fryer tips and tricks guide, which I wrote to help others hit the ground running with their new air fryer. There you can read about the best types of oil to use and how to prevent your air fryer from smoking.
You will also want to use this air fryer calculator to convert your favorite recipes which normally use an oven. Now you will be able to confidently try recipes in your air fryer and have a great starting point so you don't overcook your food!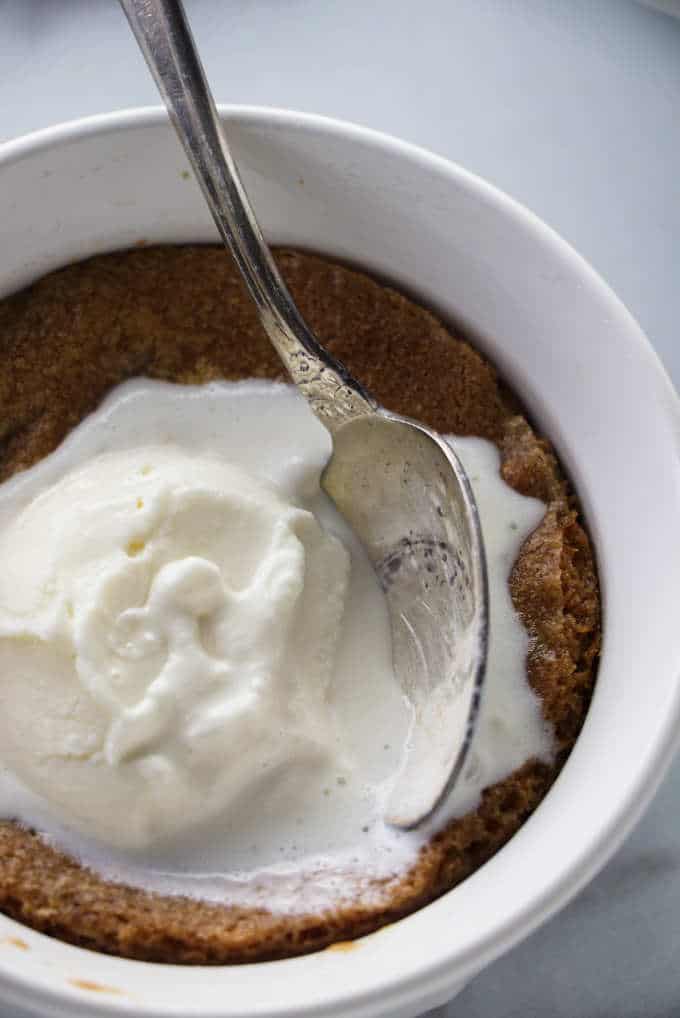 Tell me what you think!
Did you try out this air fryer deep dish chocolate chip cookie bowl recipe? Please give it a 5-star review! Also, snap a picture and share it with me on Instagram using the hashtag #alicensetogrill.
CONNECT WITH A LICENSE TO GRILL!
Be sure to follow us on our social media accounts
Facebook * Instagram * Pinterest * YouTube * Twitter
Did you make this recipe? Tell us about it in the comments below!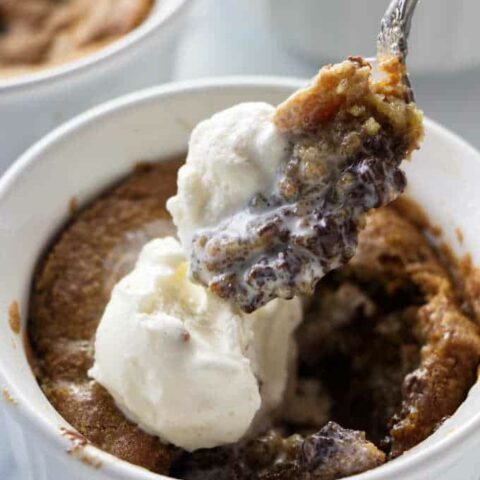 Air Fryer Deep Dish Chocolate Chip Cookie Bowl
These chocolate chip cookie bowls have a molten cookie center and buttery crispy crust. Pile it high with a scoop of ice cream and let it soak into the warm melty chocolate chip cookey! This small-batch dessert is perfect for a quick dessert, and the gooey chocolate chip cookie bowls will satisfy your sweet tooth!
Ingredients
2/3 cup brown sugar
6 tablespoons butter, melted
1 large egg
1 teaspoon vanilla extract
1 cup all purpose flour
1/4 teaspoon salt
1/4 teaspoon baking soda
2/3 cup chocolate chips
Instructions
Preheat your air fryer to 320°F. Spray four 7-ounce ramekins with non-stick spray.
Mix sugar, butter, egg, and vanilla until well combined.
Stir in the rest of the dry ingredients and blend well. Do not overmix.
Divide into four 7-ounce ramekins. Place 2 to 4 of the ramekins in the air fryer basket at a time (depending on the size of your air fryer).
Bake for 15 to 22 minutes.
Let sit for 5 minutes to firm up then serve.
Notes
Bake the cookie bowls until they are at your desired doneness. At 15 minutes they are very gooey in the center. At 17 to 18 minutes they are slightly under-baked, and they will be fully baked at 22 minutes.
Individual air fryers may require different baking times.
Depending on the size of your air fryer you may be able to fit all 4 ramekins in the basket at one time.
You can also use six 4-ounce ramekins. Adjust the cooking time. You may find that after 12 minutes, the center will be gooey. At 14-15 minutes they are slightly under-baked. At 18-19 minutes they should be fully baked.
Nutrition Information
Yield

4
Serving Size

1
Amount Per Serving
Calories

544
Total Fat

28g
Saturated Fat

17g
Trans Fat

1g
Unsaturated Fat

9g
Cholesterol

92mg
Sodium

378mg
Carbohydrates

73g
Fiber

3g
Sugar

46g
Protein

6g
Nutrition information is a guideline only, is calculated automatically by third party software, and absolute accuracy is not guaranteed.