on Oct 03, 2021, Updated Sep 21, 2023
Gone are the days when air fryers were used exclusively for wings and meat. Instead, you can make some lip-smacking vegetables using your air fryer. To prove that point, we've created this recipe for air fryer green beans with bacon, and it is downright delicious!
With this recipe for air fryer green beans with bacon, your traditional side dish of green beans gets a facelift. Everything in this recipe is cooked in the air fryer: bacon and green beans, which means there are fewer dishes to clean up afterward, and the meal is ready in a flash. Also, the air fryer keeps bacon grease from spattering everywhere. We call that a win!
Not only is the recipe easy to make, but the flavors are out of this world! The starchy buttery texture with the slightly creamy, nutty flavor of the green beans lends itself perfectly to the smoky, salty notes of the bacon. The green beans are cooked to a tender-crisp perfection and doused with luscious bacon grease, giving them a crisp exterior and a melt-in-your-mouth interior. You might find yourself snacking on this side dish instead of waiting for dinner!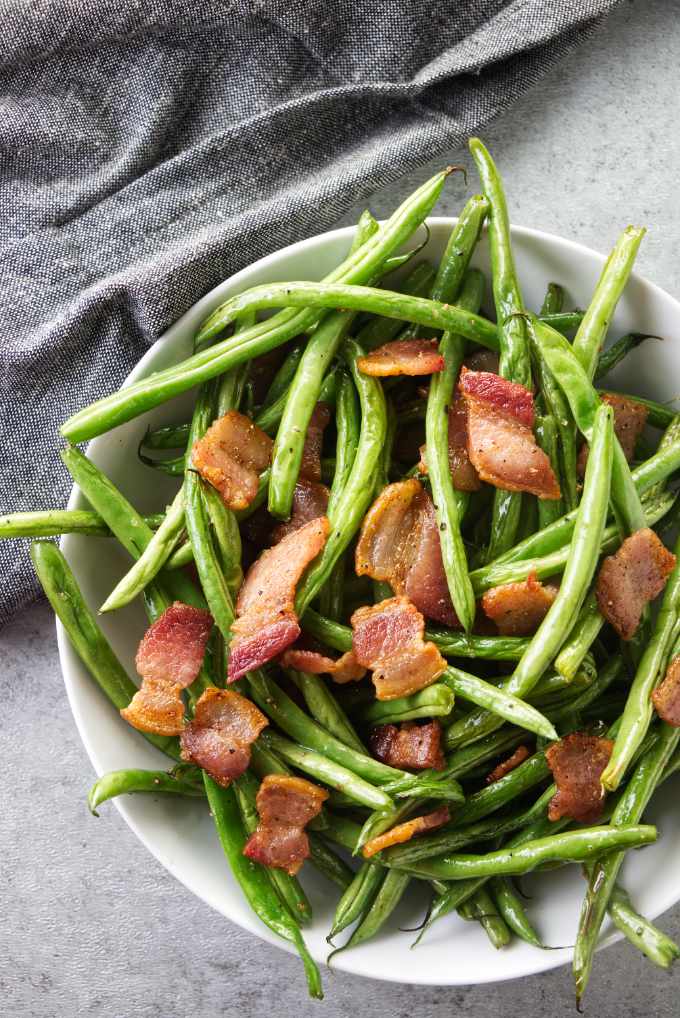 For a unique twist, top the green beans with some of this blue cheese compound butter. The fragrant blue cheese pairs perfectly with the bacon and give the air fryer green beans an amazing twist!
Why We Love This Recipe
Simple, delicious ingredients
Everyone loves bacon – not only is it salty, but there is that hint of sweetness too
The bacon fat is packed full of flavor
One-dish meal
Quick prep
Crowd-pleasing side dish
Ingredients
Green Beans. Buy them pre-trimmed or cut them yourself.
Bacon. Chopped into 1/2 inch sections.
Salt and Pepper.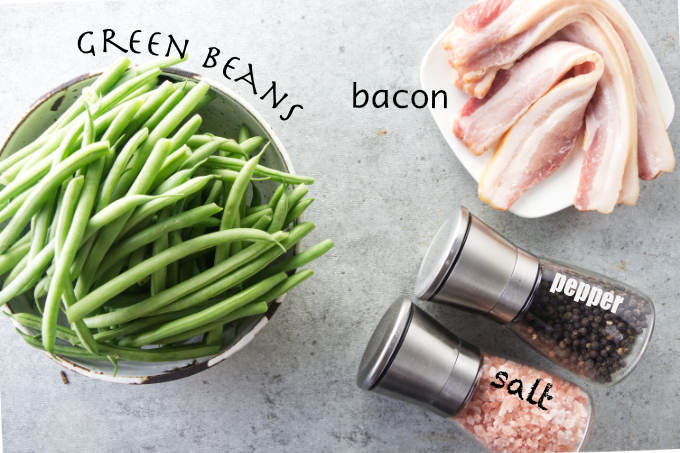 How to Make Air Fryer Green Beans with Bacon
Step 1: cook the bacon
Prepare the bacon by chopping it into 1/2 inch pieces. Toss the chopped bacon into the air fryer basket and cook them at 370°F for 7 minutes. If you like your bacon to be a bit chewier, you can skip step 1 and add the bacon with the green beans in step 2.
In order to make cleanup easier, you can place a piece of parchment paper underneath the basket. Or you can even throw in a piece of bread to soak up all the bacon grease. All of the grease that drips through the basket into the pan will be collected for easy cleanup.
Step 2: add the green beans
Add the green beans to the bacon in the air fryer. Toss to combine and sprinkle with salt and pepper. Cook at 370°F for 10 minutes to have tender-crisp green beans or 12-15 minutes for more tender cooked green beans.
Step 3: mix them up
Mix up the green beans after about 6 minutes to ensure they're evenly coated and so that they cook evenly.
Step 4: serve up the green beans
Serve the air fryer green beans with these delicious chipotle air fryer pork chops or serve them alongside a stunning grilled whole salmon.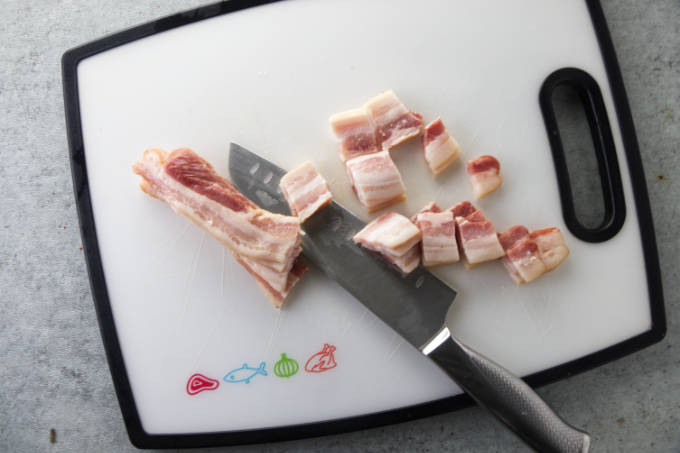 Cooking Tips and Tricks
If you want your bacon to be chewy and not crispy, skip step one of the instructions and add the bacon with the green beans in step two.
Preheating your air fryer is optional. Some recipes call for preheating, but most air fryers heat up in under a minute so it is really more of a preference for this recipe whether you preheat your air fryer or not.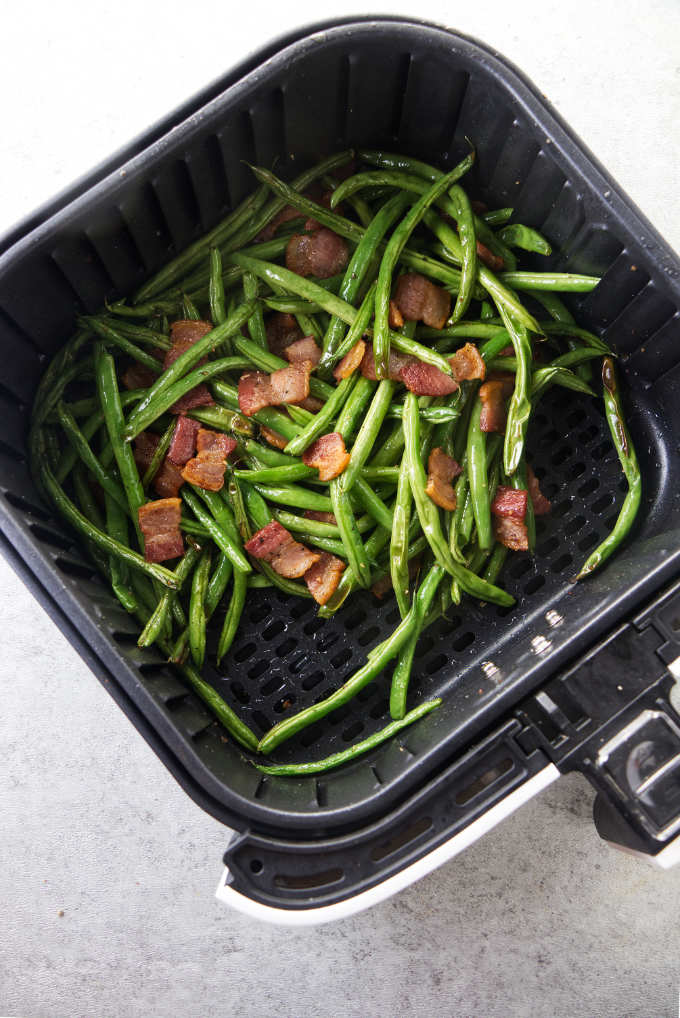 Frequently Asked Questions and Substitutions
What type of green beans should I use?
Any type of green beans you find at the store are good options for this recipe. You can use various green beans, but remember, thicker green beans will need to cook longer. You could even experiment with golden, purple, red, and streaked colors if you have access to them.
Can I substitute frozen green beans instead of fresh green beans?
Yes, you can. You will have to cook the beans for a few minutes longer. Otherwise, the recipe is the same. At the ten-minute mark, open the air fryer and toss the green beans with bacon again. If they aren't fully coated in bacon grease, you can use some cooking spray. This will help the beans have a crispier exterior.

We recommend cooking frozen green beans all the way through since they often don't have the same tender-crisp texture as fresh ones once cooked.
Can I use sausage instead of bacon?
Yes, you can. Make sure the sausage is precooked and add it in, sliced, to the green beans in step two. If you have uncooked, uncased sausage, you can cook it like the bacon in step one before adding the green beans.
How do I make cleanup easy after cooking bacon in the air fryer?
First of all, using an air fryer helps with clean up after cooking bacon because those grease splatters are contained. Yay! But here's how you can make clean-up even easier. Cover the outside of the basket with foil before inserting it into the air fryer base. The foil will catch the grease when cooking. When you're done making food and the air fryer has cooled down, remove the foil with the drippings and throw it out. Alternatively, you can also put a piece of bread underneath the basket to soak up all the grease.
How do I clean my air fryer?
Most air fryers are dishwasher safe. Place the basket and fryer in the dishwasher to get them squeaky clean. Wash down the base of the air fryer with a warm soapy rag, and you're ready for your next recipe!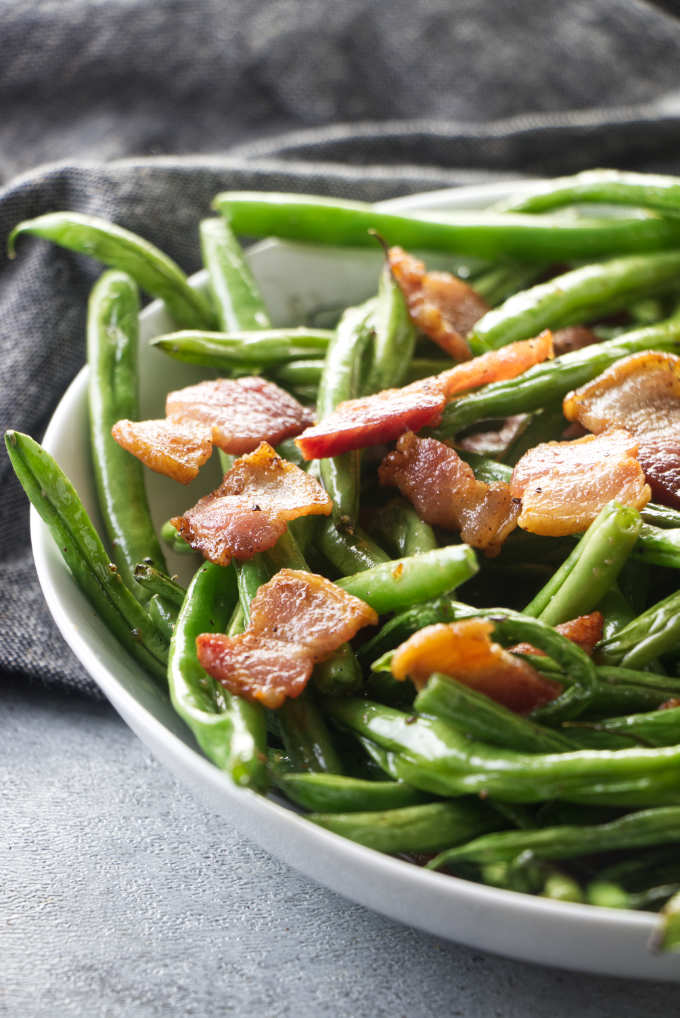 More Recipes You Will Love
This recipe for air fryer cauliflower is another one of my vegetable side dishes that I routinely serve. The air fryer gives the cauliflower a wonderful crisp on the outside but they are super tender and flavorful. It is, by far, my favorite way to enjoy cauliflower!
Have you ever had GIANT ribs that looked like they came from a dinosaur?! If not, you have to try this recipe for Traeger smoked beef short ribs. These suckers have an incredible amount of meat on them. I like to refer of these dino ribs as "brisket on a stick".
CONNECT WITH A LICENSE TO GRILL!
Be sure to follow us on our social media accounts.
Did you make this recipe? Tell us about it in the comments below!
💬 Tell Me What You Think!
Did you try out this recipe? Please leave a comment below and let me know how you liked it. Also, snap a picture and post it to your favorite social platform. Be sure to tag me at @alicensetogrill and let me know how you liked it!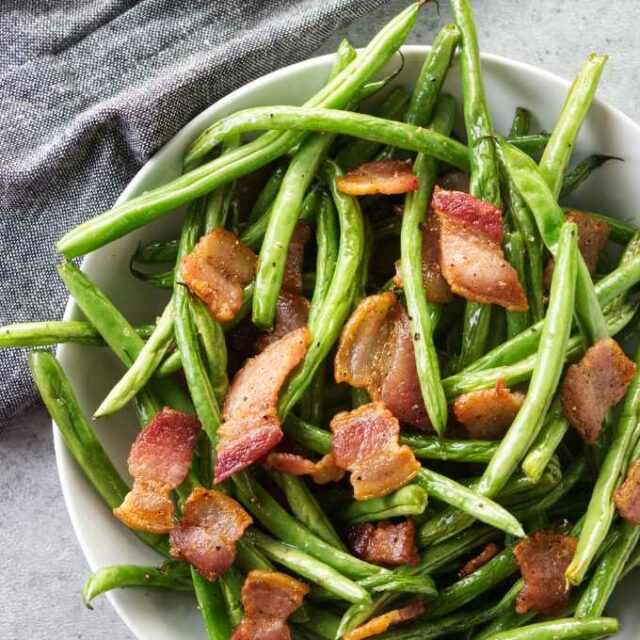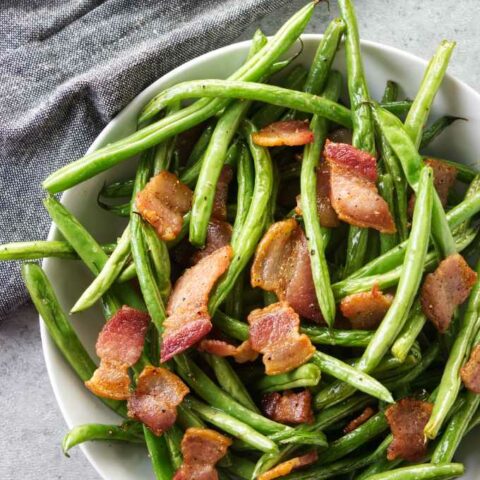 Air Fryer Green Beans with Bacon
No more boring vegetables! This recipe for air fryer green beans with bacon is incredibly tasty and is ready to eat in about 10 minutes. The green beans get tossed with the bacon in the air fryer, coating them in the delicious bacon grease as they cook to perfection. If you prefer chewy bacon, start cooking the green beans and bacon at the same time. Otherwise, you can cook the bacon before adding the green beans to make it extra crispy.
Ingredients
1 pound fresh green beans
5 to 6 slices of raw bacon
Salt and pepper to taste
Instructions
Chop the bacon into 1/2 inch pieces and toss them into the air fryer basket. Then, cook the bacon at 370°F for 7 minutes. Read the notes below for tips on making cleanup easier.
Open the air fryer and add the green beans. Toss the green beans with the bacon and sprinkle some salt and pepper over them.
Cook for 10 to 15 minutes, depending on how done you like your green beans. We cooked them for 10 minutes in the photos. That made them tender-crisp. If you want them soft all the way through, cook them for 12 to 15 minutes. Taste and season with additional salt and pepper if needed.
Notes
You do not need to preheat the air fryer for this recipe.
To make cleanup easy, line the underside of your air fryer basket with foil. After you finish cooking, you can remove the foil along with the bacon drippings for easy cleanup. Alternatively, you can place a slice of bread underneath the basket to soak up the bacon drippings.
Recommended Products
As an Amazon Associate and member of other affiliate programs, I earn from qualifying purchases.
Nutrition Information:
Yield:

4
Serving Size:

1
Amount Per Serving:
Calories:

210
Total Fat:

17g
Saturated Fat:

6g
Trans Fat:

0g
Unsaturated Fat:

10g
Cholesterol:

28mg
Sodium:

359mg
Carbohydrates:

8g
Fiber:

3g
Sugar:

4g
Protein:

7g
Nutrition information is a guideline only, is calculated automatically by third party software, and absolute accuracy is not guaranteed.