There are few things better than some extra crispy air fryer jojo potato wedges, especially when they are paired with a juicy burger and washed down by a cold beer!
I am a huge fan of the KFC potato wedges, there is something so perfect about their seasoning and crispy wedges. KFC has decided to remove their potato wedges from their menu, so I came up with a recipe for jojo potato wedges that are just as delicious. I always say that I am only going to have a few, but I inevitably end up eating the entire plate!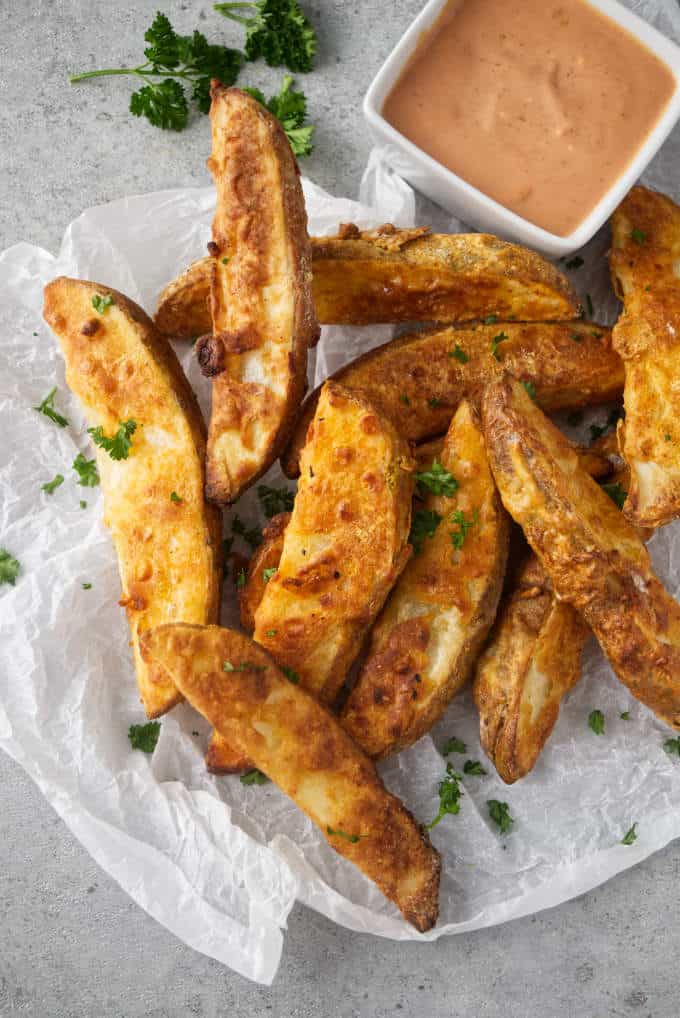 Why this recipe works
These KFC jojo potato wedges are lightly battered and fried to a perfect crisp in the air fryer. The seasoning is spot-on and really makes these wedges irresistible, to the point that you will swear that they were deep-fried in oil!
These wedges are:
Light – a very airy and fluffy batter
Crispy – the perfect amount of crunch and never dry
Seasoned – garlic and onion powders and cayenne powder give these wedges the perfect kick
Quick and easy – check out this air fryer tips and tricks guide to use your air fryer like a pro
This post may contain affiliate links. Please read our
disclosure policy
.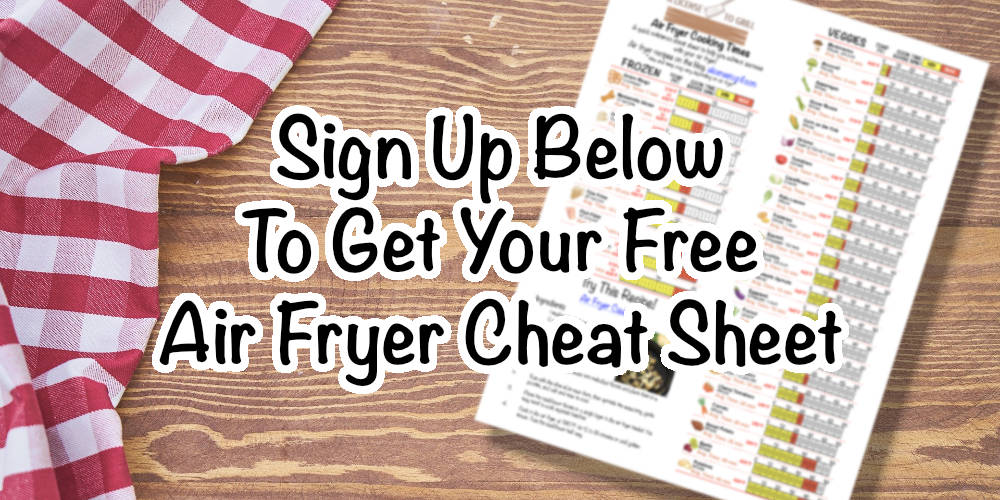 How to make these potato wedges crispy
Of course, these wedges get their crisp from the wizardry of the air fryer. However, the air fryer really cannot work its magic without a little help from the small amount of oil. As your food cooks in the air fryer, water will begin to vaporize and it will dry out.
By adding even just a spritz of oil to your potato wedges, you can be sure that your air fryer won't dry out the jojos and you get a wonderful crispy crust. The oil allows these wedges to get that golden-brown crust on the outside while retaining some moisture so that you don't bite into a wedge that resembles cardboard. Here are the easy steps:
Wash, slice, and soak the potato wedges in cold water. The cold water soak is optional but will help make your potato wedges much crispier.
Combine the flour and spices. Dry the potato wedges and dredge in the flour mixture.
Dip the floured wedges in the egg mixture.
Dredge them in the flour again.
Place them in the air fryer in a single layer and spray them with oil. Turn them over halfway through the cooking time.
Serve with your favorite dipping sauce.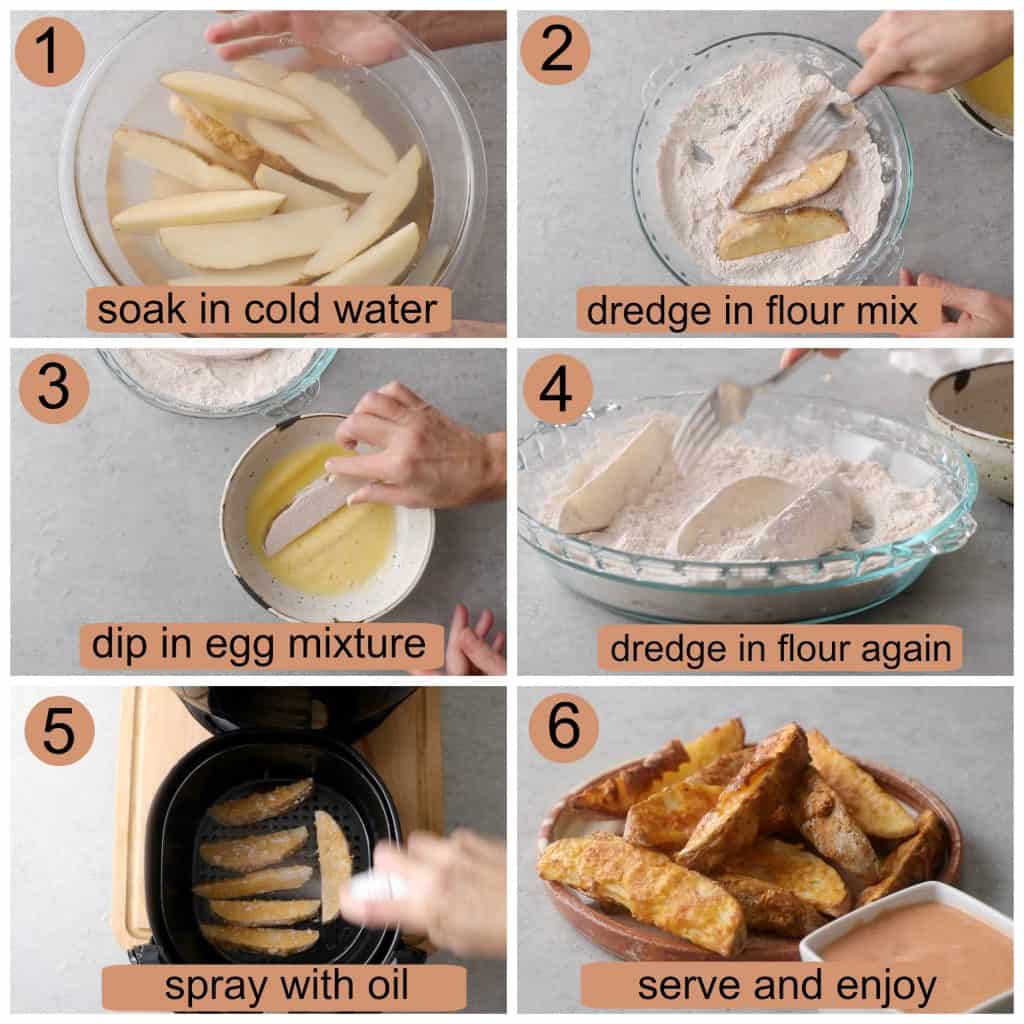 What kind of oil in the air fryer?
Not all oil is the same. Some oils smoke at lower temperatures and fill your kitchen with a burning smoke smell. Also, some spray oils use some petroleum-based propellants and other chemicals, which can damage the non-stick coating on your air fryer. I like to use this Primal Kitchen Avocado Oil Spray which has a higher smoke point and no other ingredients besides avocado oil.
Don't overcrowd the air fryer
Be sure to give the jojo potato wedges plenty of space in the air fryer basket. In order for the magic to work, there needs to be space in the basket for air to circulate. If you stack your potato wedges in the basket, you will notice that too much moisture is retained wherever the wedges are touching each other and they simply won't get crispy.
How to get out of a sticky situation
When you remove your food from the air fryer, the last thing you want is for the battered crust on the potato wedge to stick to the air fryer basket and peel off.
You can always use some air fryer parchment paper or aluminum foil to line the bottom of the basket. This will help to keep your food from sticking. Or, just spritz the bottom of the basket with some oil.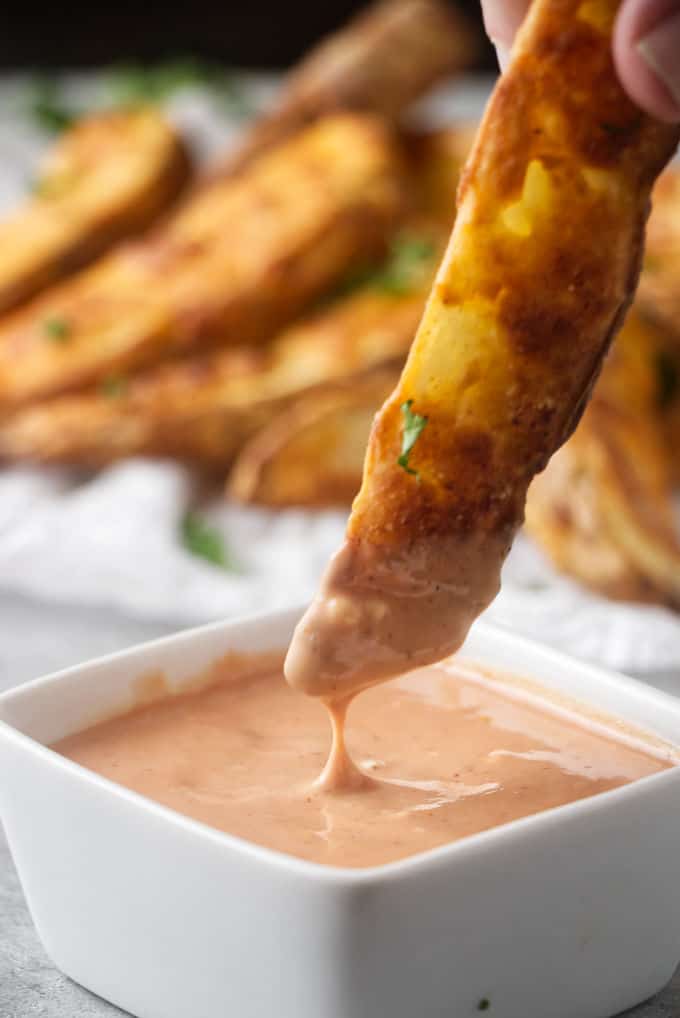 Ingredients for these jojo potato wedges
You don't need a deep fryer to get crispy jojo potato wedges, just grab your air fryer and these simple ingredients.
Potatoes. I used Russet potatoes because they will bake up nice and fluffy on the inside while keeping a crispy exterior. This is the potato to use if you want to make jojo potatoes that taste just like KFC's old recipe.
Egg. The egg will help that extra layer of spice stick to the wedges.
Water. Water helps loosen the egg so the potato wedges will have a thin, light layer just like KFC's jojo potatoes.
Flour. I used all-purpose flour.
Salt. Don't skip the salt. The potatoes will be bland without the salt.
Spices. Garlic powder, paprika, onion powder, and cayenne pepper give these potato wedges that classic flavor that you remember about KFC's jojo potatoes.
Vegetable oil spray. A spritz of oil will help the wedges crisp up nicely.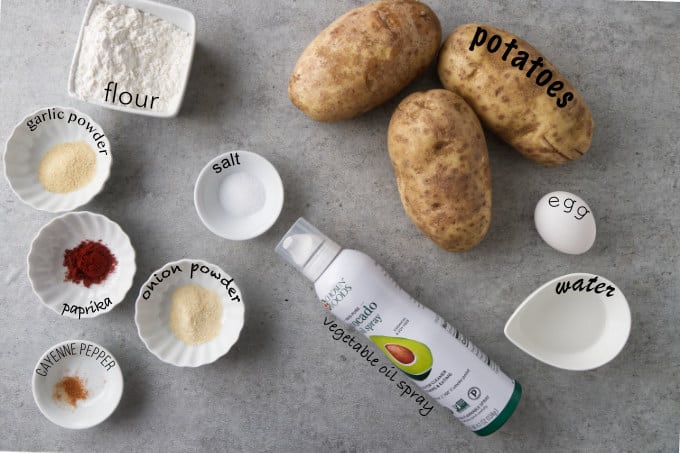 What else is cooking?!
These air fryer parmesan chicken tenders are AMAZING! The parmesan cheese crust makes them the perfect main dish to these air fryer potato wedges. You might even need to double the recipe and make extra tenders, they go down way too easy!
Everyone has had surf and turf, but have you ever had surf IN turf? Check out this tequila lime shrimp stuffed flank steak. The marinated flank steak is packed full of gooey Oaxaca cheese that drips from each bite and the shrimp has tons of flavor from an overnight tequila and lime marinade.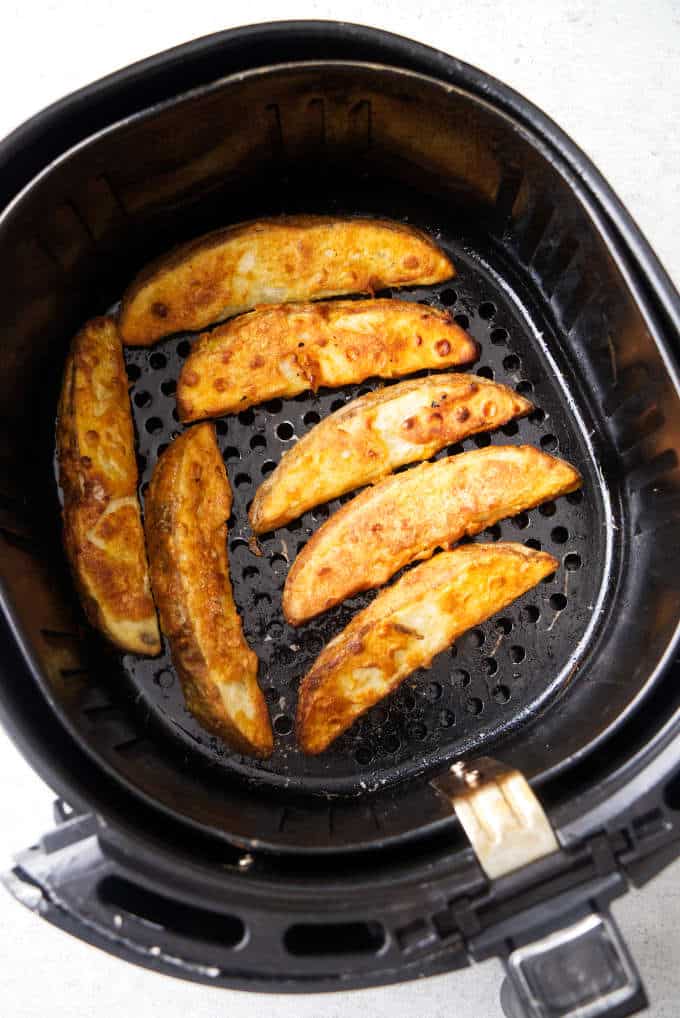 CONNECT WITH A LICENSE TO GRILL!
Be sure to follow us on our social media accounts.
Facebook * Instagram * Pinterest * YouTube * Twitter
Did you make this recipe? Tell us about it in the comments below!
💬Tell Me What You Think!
Did you try out this recipe? Please leave a comment below and let me know how you liked it. Also, snap a picture and post it to your favorite social platform. Be sure to tag me at @alicensetogrill and let me know how you liked it!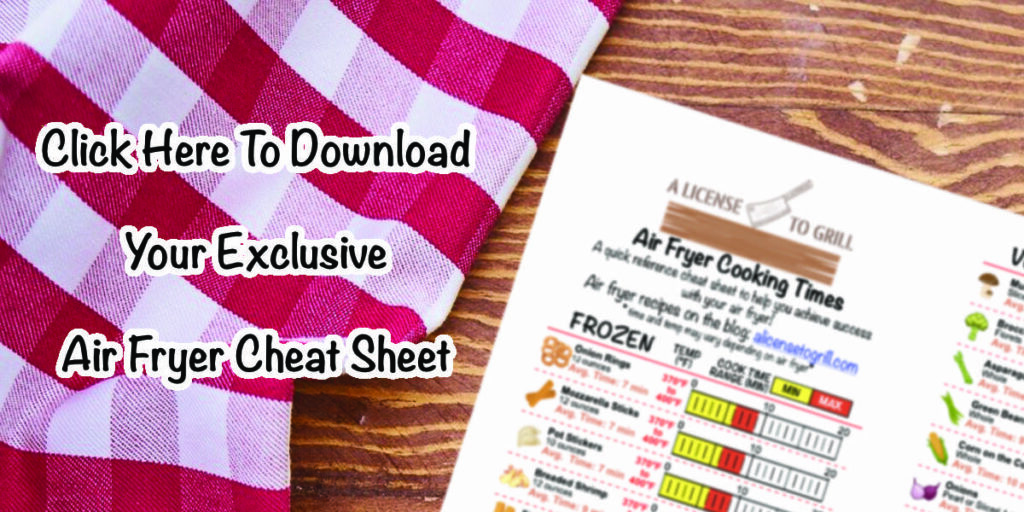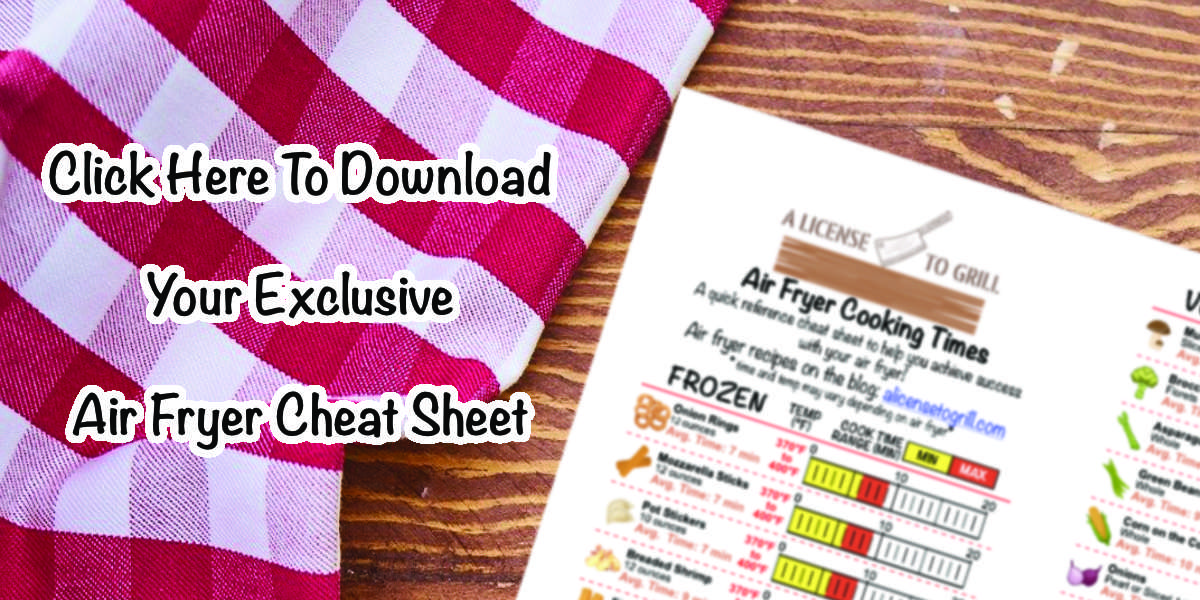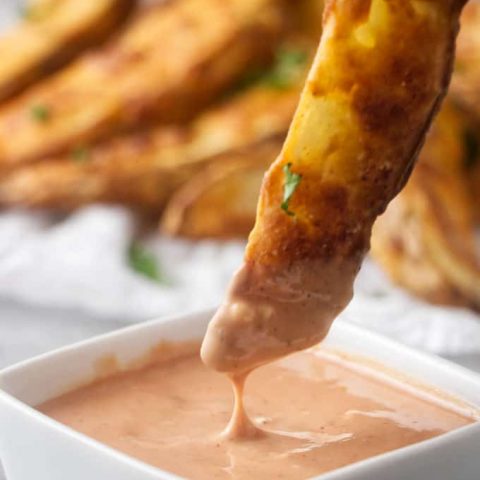 Air Fryer Jojo Potato Wedges
Additional Time:
20 minutes
Air fryer potato wedges that look and taste just like the "old school" potato wedges from KFC. They are crisp and crunchy on the outside, soft and fluffy on the inside and perfectly seasoned. KFC may have discontinued their potato wedges but now you can have them any time.
Ingredients
4 large russet potatoes
3/4 cup flour
1-1/2 teaspoons garlic powder
1-1/2 teaspoons onion powder
1 teaspoon paprika
3/4 teaspoon salt
Pinch of cayenne
1-2 large egg
2 tablespoons water
Oil spray
Instructions
Scrub the potatoes clean and slice them into wedges. For best results let them soak in cold water for 20 to 30 minutes.
In a wide dish, whisk the flour, garlic powder, onion powder, paprika, salt, and cayenne.
In a separate dish, whisk the egg and water.
Pat the potato wedges dry and dredge them in the flour mixture.
Next, dredge the potato wedges in the egg then back into the flour mixture one more time.
Place 4 to 8 wedges in the air fryer basket without overcrowding the basket. Spray the wedges with vegetable oil.
Cook at 400°F for 16 minutes flipping them over halfway through the cooking time. Spray the wedges with oil one more time after you flip them over.
Repeat with the remaining potato wedges.
Notes
If you have extra-large potatoes then you will need 2 eggs for the batter.
If you slice the wedges thicker than 1/2 inch then they will need to cook for an extra 2 to 4 minutes.
Do not crowd the potato wedges in the Air Fryer basket. Cook in batches so that air can circulate around the individual wedges.
Recommended Products
As an Amazon Associate and member of other affiliate programs, I earn from qualifying purchases.
Nutrition Information:
Yield:

6
Serving Size:

1
Amount Per Serving:
Calories:

290
Total Fat:

4g
Saturated Fat:

1g
Trans Fat:

0g
Unsaturated Fat:

3g
Cholesterol:

31mg
Sodium:

306mg
Carbohydrates:

56g
Fiber:

5g
Sugar:

2g
Protein:

8g
Nutrition information is a guideline only, is calculated automatically by third party software, and absolute accuracy is not guaranteed.