I have been getting tons of mileage out of my air fryer, I sometimes use it for the most ridiculous tasks, like toasting bread… and these chipotle air fryer pork chops are also ridiculous, ridiculously delicious! I love them for how simple they are (only 6 ingredients) and for how quickly they fry up in the air fryer. Only 12 minutes in the air fryer and you will have some chipotle pork chops on the table, and a new favorite quick dish!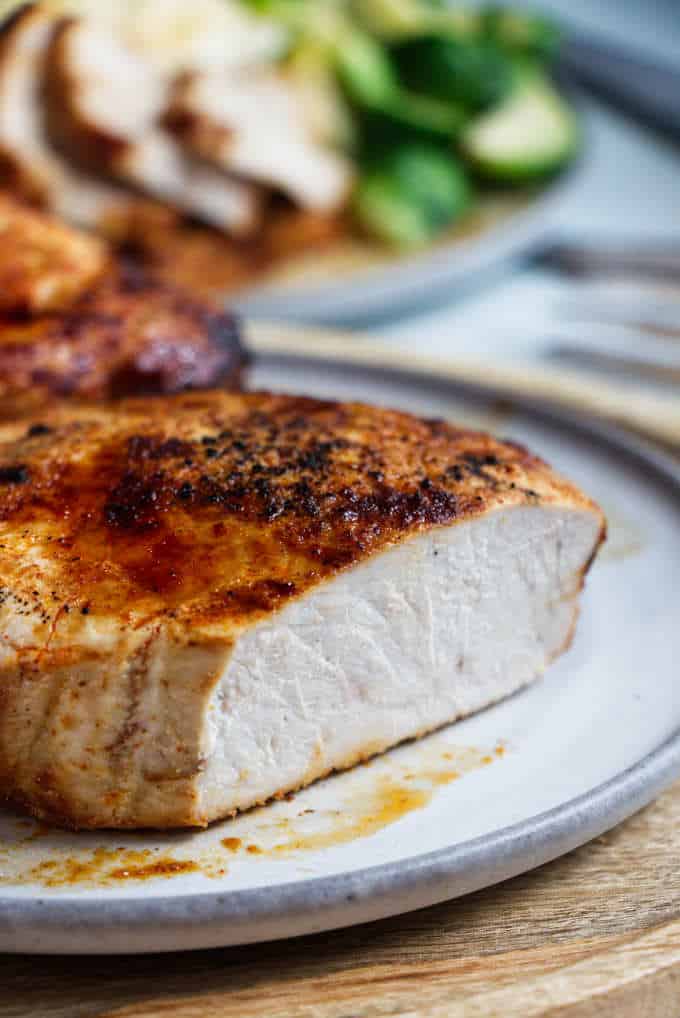 What temperature should pork chops be?
The modern standard for the internal temperature of pork chops is 145°F. I usually cook my pork chops to 140°F and let the meat rest, during the rest you will get another 3°F – 5°F of internal temperature. Plus, you always want the meat to rest so you can retain all the juicy flavors. If you cut into the meat right away, all of the juices will spill out and you will lose all of that good flavor.
Back in the day, people would often say pork chops need to be cooked to 160°F, but that is just blasphemous! You will end up with dry and boring pork chops. You want flavorful and tender meat, not a lackluster pork chop and a chewy workout for your mouth. Pull the pork chops out at 140°F – 145°F and you will be much happier!
Should I let my meat rest after cooking?
I always let my meat rest after cooking. Meat has surprisingly high water content, sometimes as much as 70% water. While you are cooking your meat, the protein chains will begin to redistribute and become denser as the water in the cells is pushed outward. During the cooking process, a good portion of this water will leak out of the meat, but whatever water is in the meat after cooking needs extra time to settle down and be reabsorbed in the protein-dense fibers.
If you cut into the meat too early after cooking, all those delicious juices will seep out. Give the meat plenty of time for the juices to reabsorb into the fibers – I usually wait about 5-10 minutes. When I rest my meat, I take it out of the air fryer, or off of the grill, and build a tent out of tin foil over the meat and let it rest on a wood cutting board.
Covered or uncovered rest?
There is some strategy involved here when allowing your cooked meat to rest. When resting, the internal temperature of the meat will continue to rise, so you will want to take your meat out a bit early as it continues to cook during the rest. When you place the meat under a foil tent, it will help to keep some heat from escaping into the environment which will help to finish the cooking while it is resting. Alternatively, if you let your meat rest in the warm air fryer, oven, or grill, you will risk overcooking the center of the meat as it rests.
Resting your meat on the right surface.
You will also want to be careful that you do not place your meat on a "cool" surface while resting. Surfaces like ceramics, stones, or metals have a relatively high thermal conductivity. This will pull the heat out of the meat quickly and reduce the effectiveness of the rest. You can visualize, and even test out, the thermodynamics at play here. Find a piece of wood and a piece of metal, preferably in the same room so that they have the same temperature at the surface. Now place the back of your hand on each surface. Can you feel the difference? Both surfaces are the same temperature but the metal has a higher thermal conductivity. This means that it absorbs heat from your hand better and feels colder, even though it isn't actually colder. So just play it cool, not chill, and let your meat rest on something like a wood cutting board.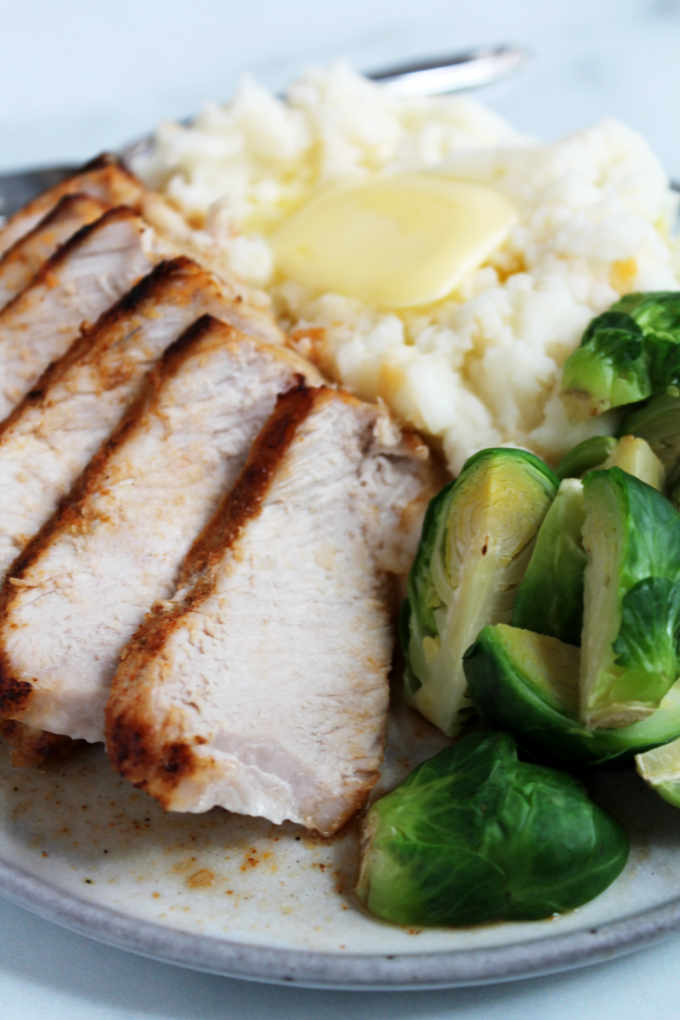 How long does it take to cook a pork chop in the air fryer?
You will need to adjust the cooking time of the pork chops depending on how thick they are. Check out the list below and adjust your air fryer accordingly. Also, some air fryers cook a bit differently than others, so pay close attention after cooking one side and adjust the time accordingly when you flip them.
1/2 inch thick = 3 minutes per side
3/4 inch thick = 4 minutes per side
1 inch thick = 6 minutes per side
1-1/2 inch thick = 8 minutes per side
Should you stack meat in the air fryer?
No. It is best to not stack the meat in the air fryer. Air fryers work by circulating the air around the food in the basket. If you stack the meat you will drastically decrease the effectiveness of this convection heat process which may increase cooking times or cooking consistency. I would recommend, especially for meats, to not stack them in the air fryer. But, if you must stack them, just be sure to regularly flip and rearrange the meat frequently as it cooks and adjusts the cooking time to allow them to cook longer to completion.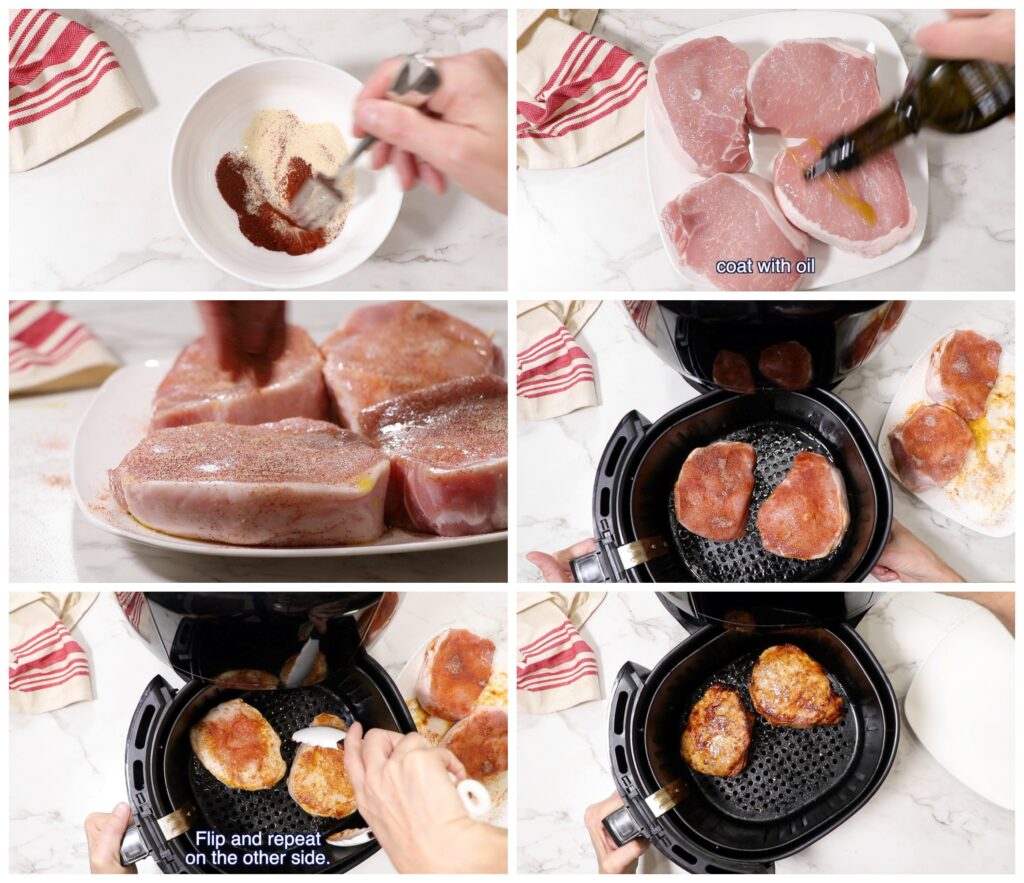 How do you use an air fryer?
I use my air fryer for EVERYTHING! And in doing so, I have learned several tricks and have been refining my process. I put together this guide, how to use an air fryer – tips and tricks so you too can hit the ground running and get the most from your air fryer, too!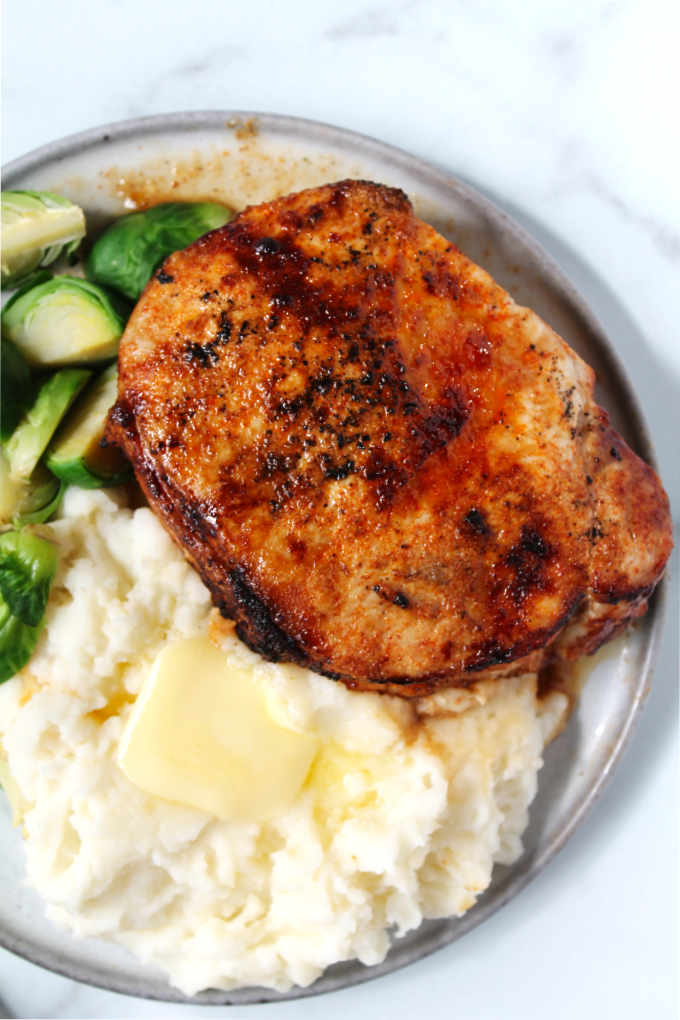 Some more recipes to go along with the chipotle air fryer pork chops!
We could all use more veggies in our lives, right?! These air fryer Brussels sprouts with bacon are so delicious, plus with bacon, you cannot go wrong. They fry up super crispy, there is nothing good about soggy Brussels sprouts.
A grilled romaine salad is maybe one of my favorite, quick things to throw on the BBQ. The romaine soaks up the smokey flavor of the grill in just a few seconds and is so delicious! I know you are probably thinking that it seems weird to grill lettuce, but trust me and give these a shot, you will love it too!
Meat and potatoes! These air fryer baked potatoes are a perfect pair to the chipotle air fryer pork chops.
CONNECT WITH A LICENSE TO GRILL!
Be sure to follow us on our social media accounts
Facebook * Instagram * Pinterest * YouTube * Twitter
Did you make this recipe? Tell us about it in the comments below!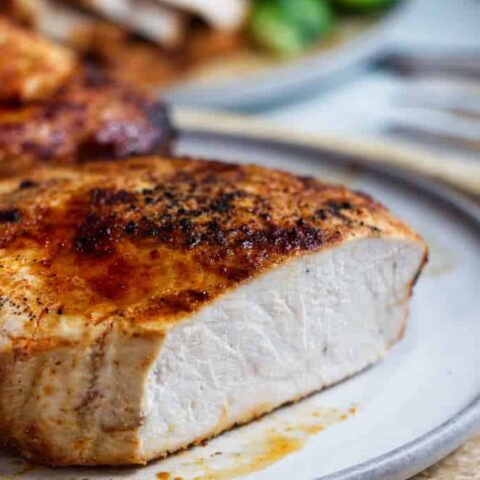 Chipotle Air Fryer Pork Chops
Tender, juicy air fryer pork chops with a spicy chipotle chili seasoning for an extra kick. These thick-cut boneless pork chops cook so quickly in the air fryer, dinner will be ready in 12 minutes.
Ingredients
1 tablespoon chipotle chili powder
2 teaspoons garlic powder
2 teaspoons onion powder
1 teaspoon salt
4 boneless pork chops (about 1 inch thick)
1 tablespoon olive oil
Instructions
Combine the chipotle powder, garlic powder, onion powder and salt in a small dish
Coat both sides of each pork chop with olive oil.
Sprinkle the spice rub on each side of the pork chops.
Place the pork chops in the air fryer in a single layer.
Cook at 400°F for 6 minutes then flip them over and cook for another 6 minutes. (See notes if you have a different thickness than 1-inch)
Let the pork chops rest for 3 to 5 minutes before serving
Notes
Check out this post about air fryer tips and tricks so you can get the most out of your air fryer.
Do not stack the pork chops in the air fryer, keep them in a single layer. If you have a smaller air fryer basket you will need to cook the chops in batches.
Allowing the pork chops to rest before serving them will help them retain all their juices. If you slice into them immediately after cooking them then the juices will seep out of the meat.
If you have a meat thermometer the internal temperature should be 145°F (per the USDA). I usually cook it to 140°F and the temp will rise a few more degrees while resting.
The cooking time will vary depending on the thickness of your pork chops and the model of your air fryer.
Cooking times for different thickness pork chops:
1/2 inch thick = 3 minutes per side
3/4 inch thick = 4 minutes per side
1 inch thick = 6 minutes per side
1-1/2 inch thick = 8 minutes per side
Nutrition Information
Yield

4
Serving Size

1
Amount Per Serving
Calories

359
Total Fat

22g
Saturated Fat

7g
Trans Fat

0g
Unsaturated Fat

14g
Cholesterol

103mg
Sodium

706mg
Carbohydrates

3g
Fiber

1g
Sugar

0g
Protein

37g
Nutrition information is a guideline only, is calculated automatically by third party software, and absolute accuracy is not guaranteed.