Air fryer baked potato: You don't need to turn on your oven to bake a few potatoes. These air fryer baked potatoes take less time than your oven and they are just as good. They are crisp on the outside, soft and fluffy on the inside and absolutely delicious.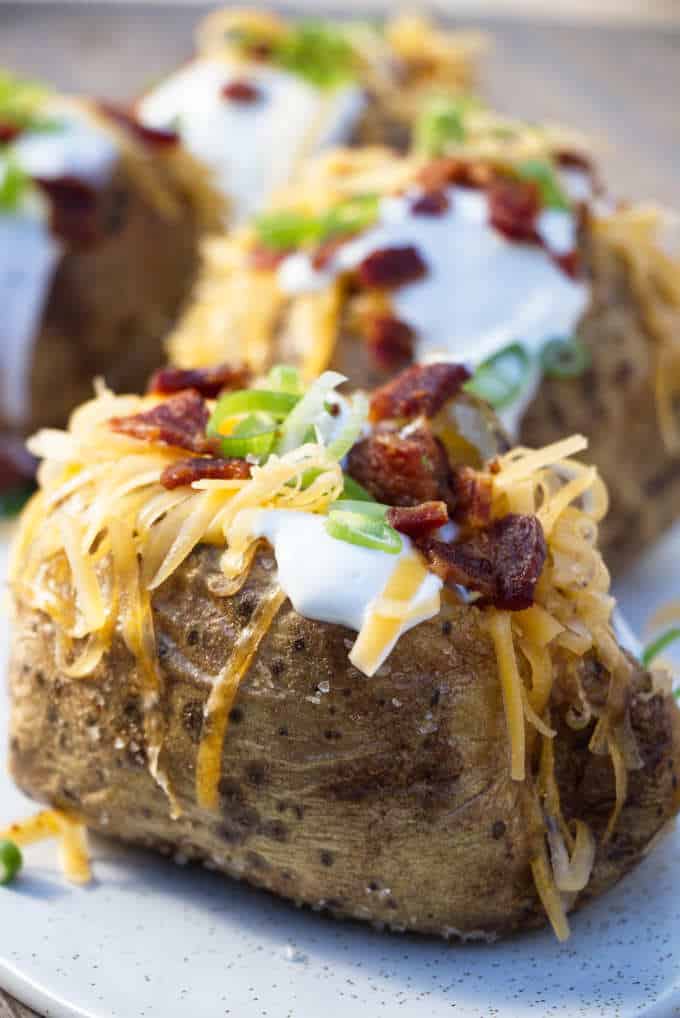 You can cook a potato much faster in your microwave but the interior of the potato will never get light and fluffy and the skin will never get crisp. These air fryer baked potatoes have everything going for them.
They are:
Crispy on the outside
Light and fluffy on the inside
Easy to make
Take less time than an oven
More energy efficient than an oven
This is the way you need to make baked potatoes every time!
How long does it take to make an air fryer baked potato?
It will take 25 to 30 minutes to make a medium-sized air fryer baked potato. The same-sized potato takes 45 to 55 minutes in a standard oven. Obviously, larger potatoes take longer and smaller potatoes take less time. But all things equal, you will save about 20 minutes if you use your air fryer to bake potatoes.
How does an air fryer work?
An air fryer cooks by circulating hot air throughout the device. As the hot air circulates around the food in the basket it will carry oils and fats and coat the food helping you to get MORE flavor and CRISPIER food. With an air fryer you can fry, grill, bake, or roast making it a must have in your kitchen!
Do you need to poke holes in potatoes before baking?
YES! Please remember to poke holes in the potatoes before baking them. Even a baked potato in the air fryer needs to have the skin poked. Don't believe anyone that tells you otherwise.
Potatoes have the potential to explode if you don't poke holes in them. The skin traps steam inside the potato. If enough pressure builds up then the potato will explode. A small prick in the skin allows steam to escape and prevents a huge mess.
Not every potato will explode but if you cook enough potatoes without poking holes in them, you will eventually have an explosion. The odds are in your favor.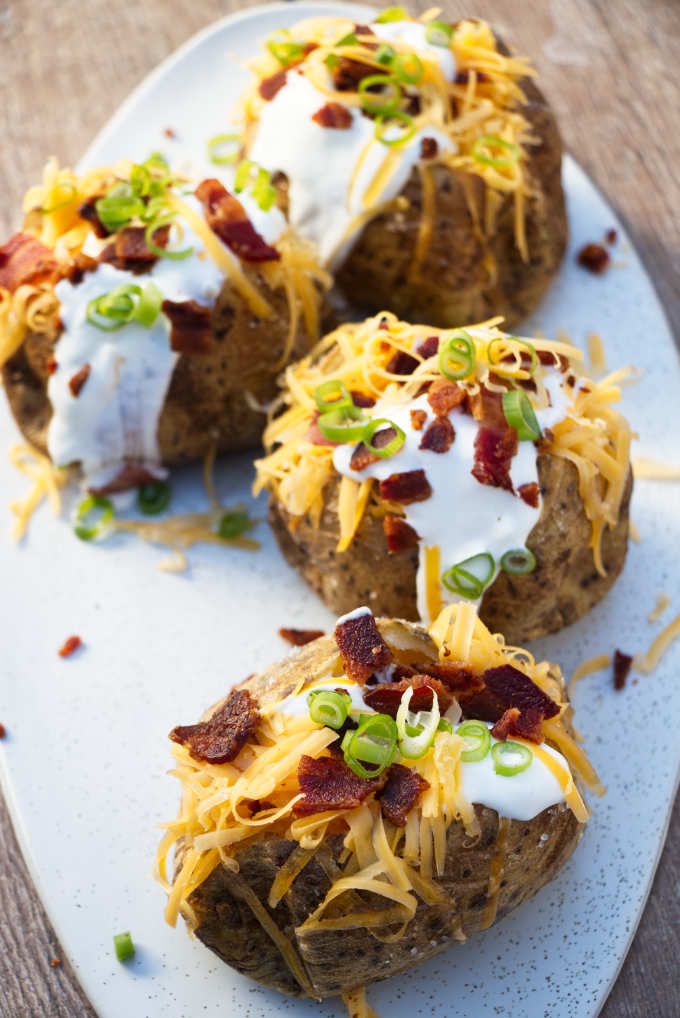 Can I wrap the potatoes in foil?
You can wrap air fryer baked potatoes in aluminum foil if you want but you won't get a crispy skin. Aluminum foil will shield the hot air from having direct contact with the potato skin. It will also hold in some steam which results in softer skin.
Want soft skin? Wrap them in foil.
Want crispy skin? Don't wrap them in foil.
Toppings for air fryer baked potatoes.
I'm not a minimalist when it comes to my baked potato toppings. I can turn a simple spud into a main course meal with the right toppings.
Every baked potato should start with some butter, salt and pepper. But from there you can go crazy. Here are some ideas for perfect air fryer baked potato toppings.
Sour cream
BACON!! (Of course)
Cheese
Chives or green onions
Chili with beans
Salsa and guacamole
BBQ pulled pork
Chicken fajita toppings
Marinara sauce and pizza fixings
Your turn! Leave a comment below and let us know what your favorite spud toppings are.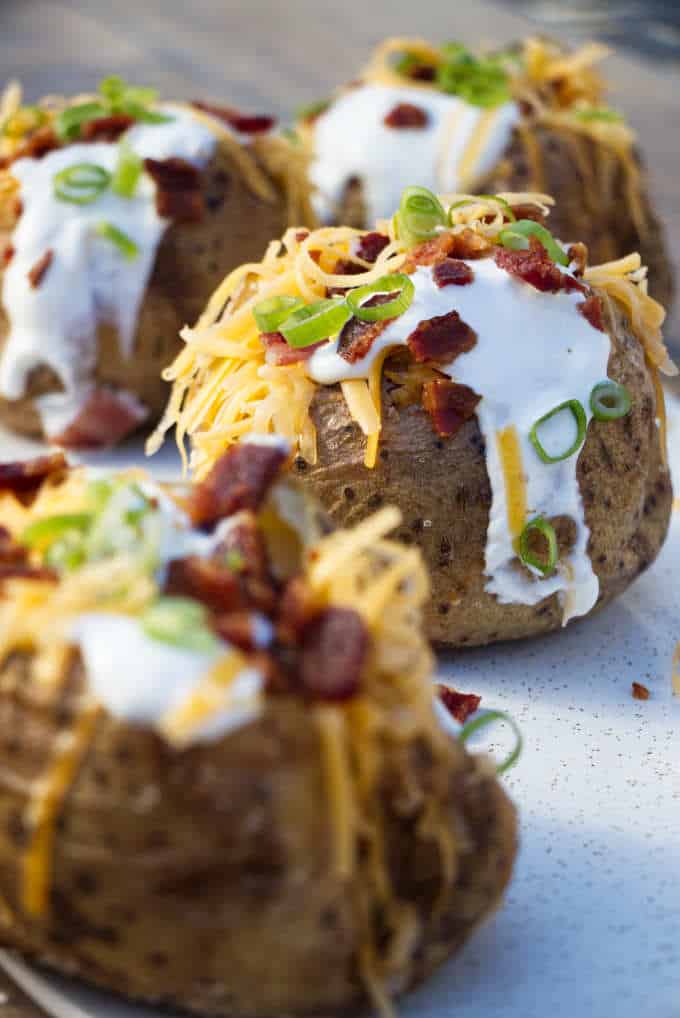 Tips for baked potatoes in the air fryer:
Don't overcrowd the air fryer basket.
Pierce the potatoes with a fork.
Different sizes will take different cook times.
Use tongs to grab the hot potatoes.
Our air fryer will fit 4 medium-sized potatoes in the basket. If you have a smaller air fryer you should select smaller potatoes or cook only 2 or 3 at a time. If you use a different size potato then start checking them for doneness at about 20 to 25 minutes and cook them longer if needed.
What kind of potato should you use?
You can bake any kind of potato in the air fryer but if you want a light and fluffy tater then we recommend using a Russet.
Yukon Golds have a creamier texture and red potatoes have a slightly waxy center. They all taste great, it just depends on your preference.
Re-heating a baked potato in the air fryer.
If you want to re-heat the baked potatoes it will only take about 10 minutes. Just stick the baked potato in at 400°F and set the air fryer timer for 10 minutes. Check the potato after 10 minutes. If the center isn't hot enough then stick it back in for 3 to 5 minutes.
CONNECT WITH A LICENSE TO GRILL!
Be sure to follow us on our social media accounts
Facebook * Instagram * Pinterest * YouTube * Twitter
Did you make this recipe? Tell us about it in the comments below!
Yield: 4 baked potatoes
Air Fryer Baked Potatoes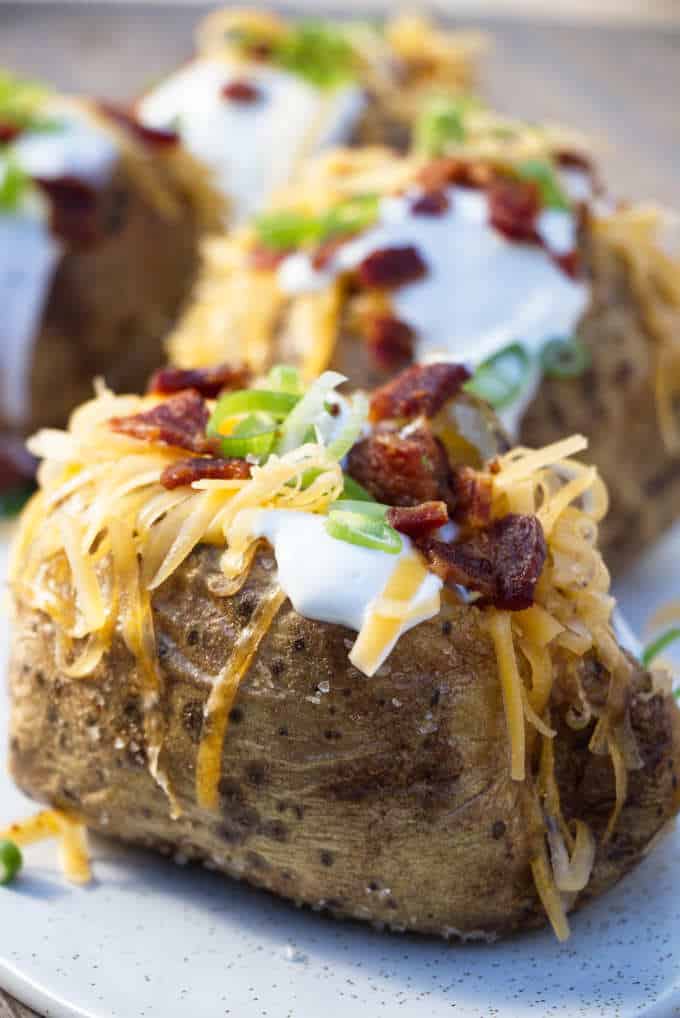 Air fryer baked potatoes are easy and fast. You don't have to pre-heat your large oven to bake a few potatoes. Make a perfect baked potato in less time and save the oven for the big jobs.
Ingredients
4 medium Russet potatoes
1 tablespoon olive oil
2 teaspoons coarse salt
Instructions
Scrub the dirt off the potatoes and prick a hole in the skin with a fork or knife.
Rub olive oil all over the potatoes and sprinkle them with salt.
Place them in the air fryer and set the temperature to 400°F. Bake for 30 minutes.
Check the potatoes after 15 to 20 minutes. If they start to get too brown on top, flip them over.
Potatoes are done if they feel soft when you squeeze them or they are fork-tender. Cook larger potatoes for an additional 10 to 20 minutes.
Notes
Don't overcrowd the air fryer basket and don't stack the potatoes on top of each other. If you have a small basket you might only be able to fit 2 potatoes in it at a time. 
The cooking time will vary depending on the size of your potatoes. Start checking them after 25 to 30 minutes. If they are fork-tender they are done.
Nutrition Information
Yield
4
Serving Size
1
Amount Per Serving
Calories

198
Total Fat

4g
Saturated Fat

1g
Trans Fat

0g
Unsaturated Fat

3g
Cholesterol

0mg
Sodium

1082mg
Carbohydrates

37g
Fiber

4g
Sugar

2g
Protein

5g
Nutrition information is a guideline only, is calculated automatically by third party software, and absolute accuracy is not guaranteed.