Fudgy, chewy, and ultra-rich brownies made in the air fryer! All you need is one bowl and a spoon to mix the brownies. This recipe for air fryer brownies is incredibly easy yet so delicious and one of my favorite air fryer desserts.
The secret to the the fudgy texture is to use both butter and melted chocolate. The extra rich chocolate flavor comes from two kinds of chocolate. You will want to bookmark this recipe or pin it for later because you will need to make these over and over. They are that good!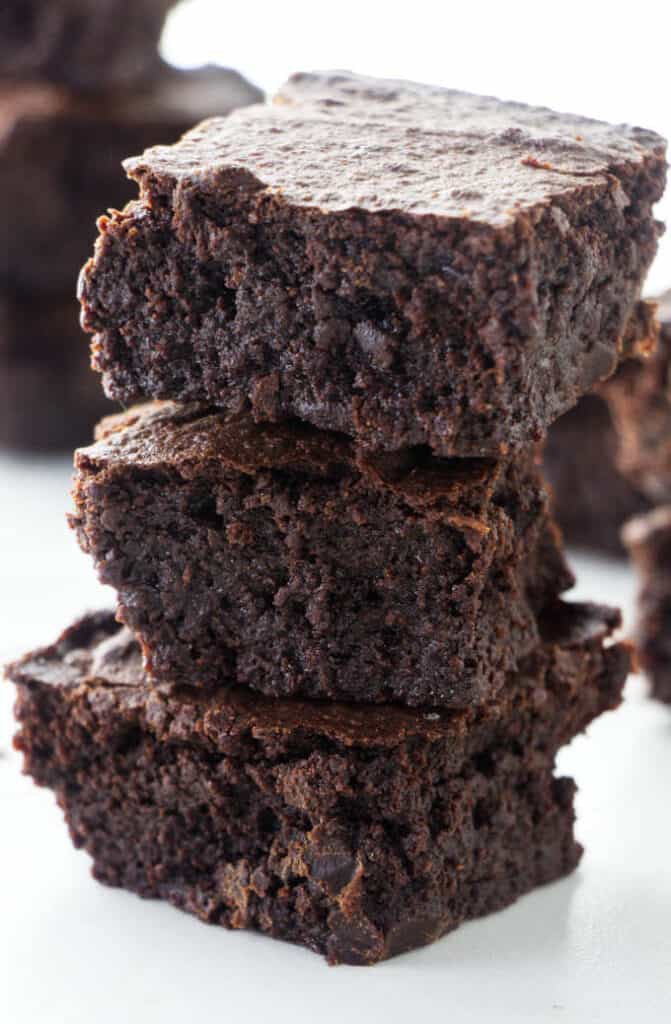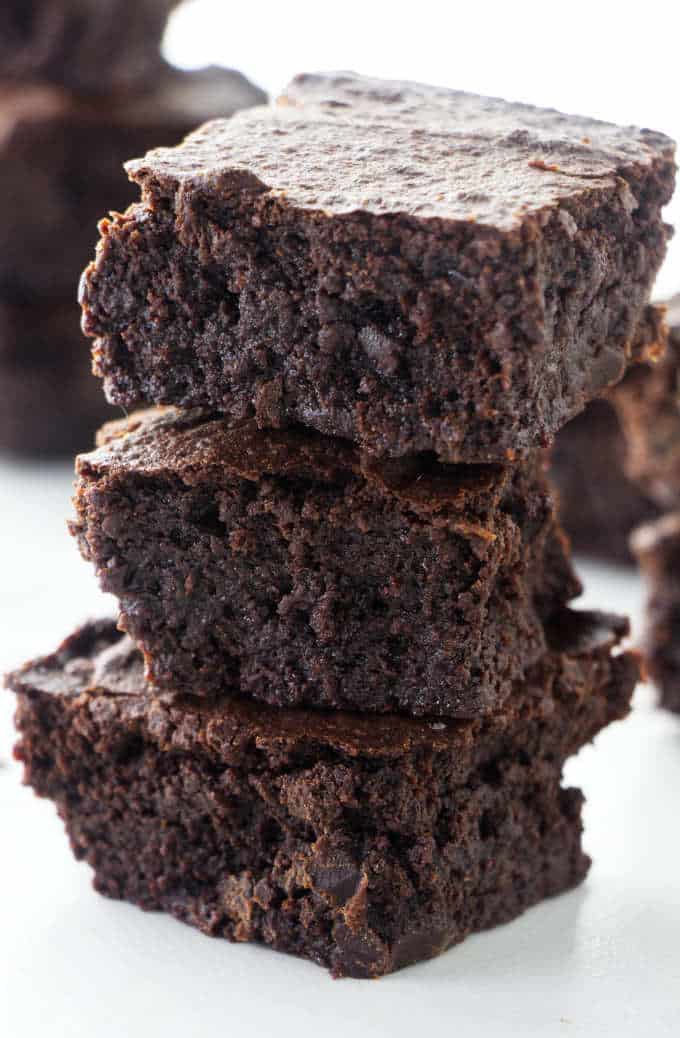 Did you know you can bake desserts in an air fryer? There are a few tips and tricks to know but you can make some amazing desserts in the air fryer. Check out our chocolate cupcakes, banana bundt cake, apple fritters, or chocolate chip oatmeal cookies. All of them were made in the air fryer, and we have many more.
Brownies are one of the first desserts I made in an air fryer, so it is about time I finally shared this recipe with you.
Air Fryer Brownies from Scratch.
Once you make these decadent chocolate morsels, you will never want to buy a boxed mix again. Making brownies from scratch is really easy, and this recipe is very forgiving.
There are so many reasons to love these brownies.
There is an extra dose of chocolate flavor from two kinds of chocolate.
You only need 1 bowl and a spoon so there is less mess to clean.
They are super fudgy.
If you like gooey brownies you can just bake them a few minutes less.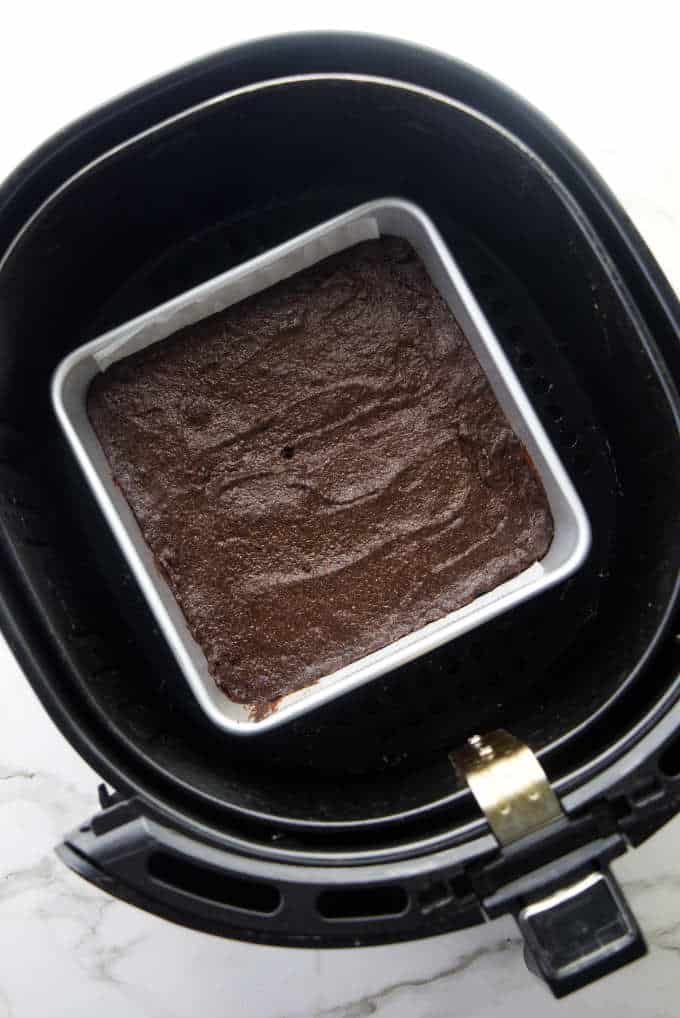 What you need:
You only need 8 ingredients. Keep these stocked in the kitchen at all times so you will always have what you need for your favorite brownie recipe.
Ingredients:
Butter. Butter adds another layer of flavor and makes these brownies dense and fudgy.
Unsweetened chocolate. Use the solid bar of unsweetened chocolate in the baking isle. It is inexpensive and 100% chocolate.
Cocoa powder. Use unsweetened cocoa powder, not the chocolate drink mix.
Flour. Use regular all-purpose flour. You don't need much because the cocoa powder replaces some of the flour.
Sugar. Make sure you use unsweetened chocolate and cocoa powder so these brownies do not get too sweet.
Salt. Salt enhances the flavor.
Eggs. The eggs are essential for the rich fudgy texture.
Vanilla extract. The vanilla gives these brownies an extra dimension of flavor and enhances the chocolate.
Equipment
This post may contain affiliate links. Please read our
disclosure policy
.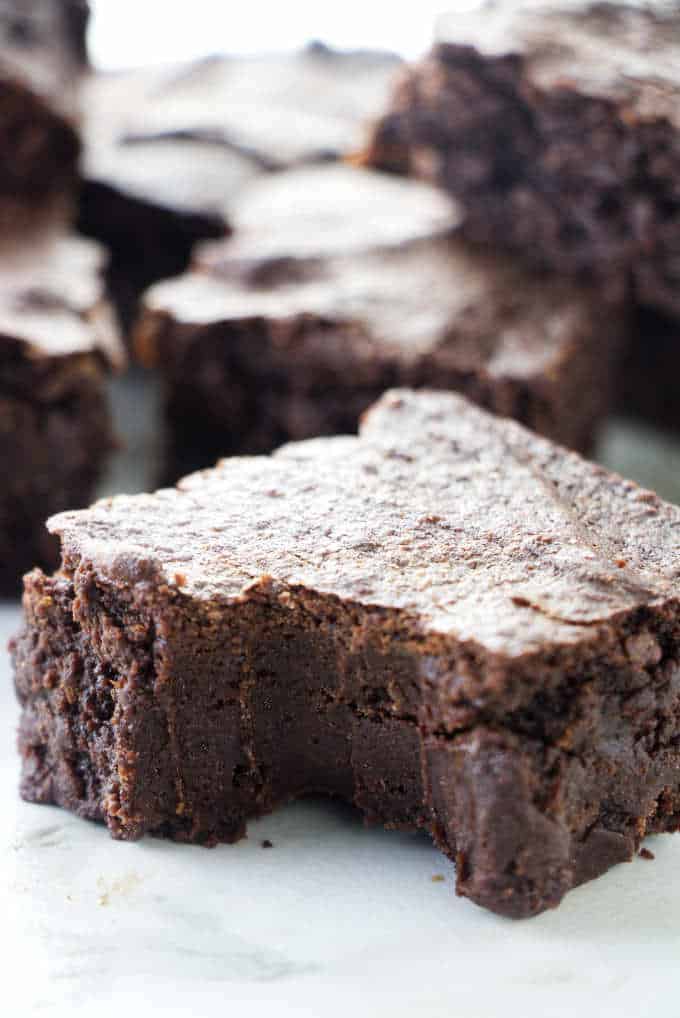 How to make them:
Spray a cake pan with non-stick spray. Optionally, line the pan with parchment paper.
Preheat the air fryer.
Melt the butter and chocolate in a mixing bowl.
Stir the rest of the ingredients into the melted chocolate mixture.
Pour the batter into the baking pan and air fry until done.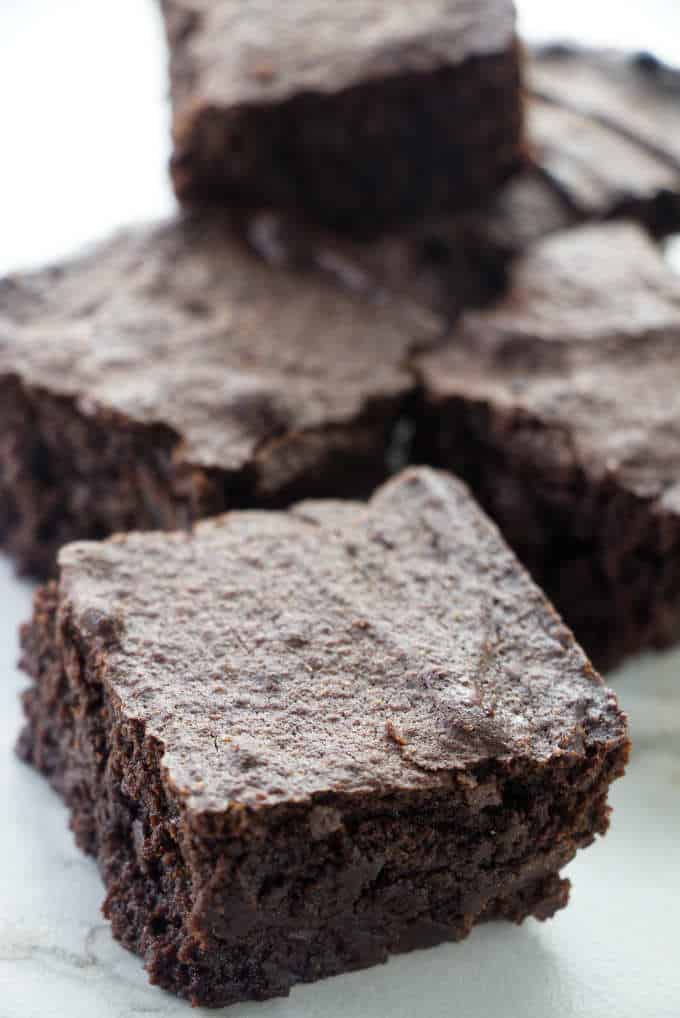 Tips for the best air fryer brownies:
If you like to line your cake pan with parchment paper then let the parchment hang over the edge, then you can use it as a sling and lift the brownies right out of the pan.
This recipe works in either a 7-inch round cake pan or a 6-inch square cake pan. If you use a different size pan then you will need to adjust the baking time. The thicker the batter is in the pan, the longer the brownies will need to bake.
If the butter and chocolate get too hot after you melt them, let the mixture sit for a few minutes to cool down. That way you won't "cook" the eggs when you add them into the batter.
Use a toothpick to check for doneness. You want some moist crumbs to stick to the toothpick. If the toothpick is wet then the brownies will be gooey. Add a few minutes unless you like them that way.
Cool the brownies before cutting into them (if you can wait). When they are hot, they will be very gooey and almost wet. After they cool down then they will slice much easier and prettier. If you can't wait then just dig your spoon right into the pan.
How to store leftovers:
You can store these brownies for about 5 days in an airtight container, but I promise they will not last that long.
If you want to freeze them, place them in a freezer-proof bag or container and freeze for up to 4 months.
What Else is Cooking?
It is summer time and when the sun it out, there is nothing better than some grilled shrimp! This recipe for grilled tequila lime shrimp is so delicious and is exactly what you need at your next cookout!
My favorite thing to cook in the air fryer is chicken wings! They are always super crisp and turn out EVEN BETTER than what you get at the restaurant. The best part is that they much healthier since they are not deep fried. Check out this recipe for air fryer honey mustard chicken wings. Or if you have frozen wings, grab this recipe for air fryer buffalo chicken wings – from frozen.
Tell me what you think!
Did you try out this recipe? Please give it a 5-star review! Also, snap a picture of it and share it with me on Instagram using the hashtag #alicensetogrill.
CONNECT WITH A LICENSE TO GRILL!
Be sure to follow us on our social media accounts.
Facebook * Instagram * Pinterest * YouTube * Twitter
Did you make this recipe? Tell us about it in the comments below!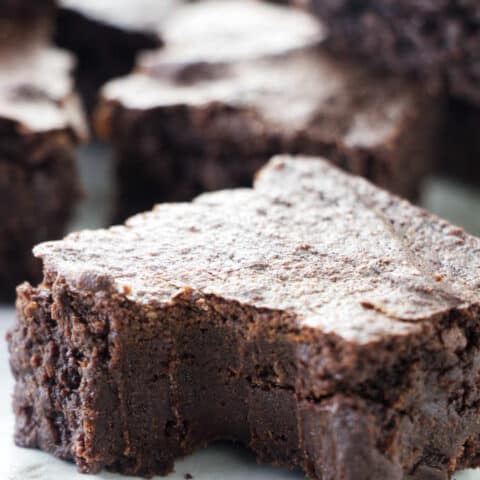 Air Fryer Brownies
Yield: 9 servings
Prep Time: 5 minutes
Cook Time: 22 minutes
Total Time: 27 minutes
These brownies are chewy, fudgy, dense, and moist. The secret to incredible brownies is to use cocoa powder AND melted chocolate. Mix the batter in one bowl and bake them in your air fryer for an outrageous chocolatey dessert. Save the larger oven for bigger jobs! PIn this recipe because we guarantee you will want to make these all the time.
Ingredients
8 tablespoons butter
1-ounce unsweetened chocolate
2/3 cup unsweetened cocoa powder
1/3 cup all-purpose flour
1 cup sugar
1/4 teaspoon salt
2 eggs
1 teaspoon vanilla extract
Instructions
Spray a 7-inch round cake pan or use a 6-inch square cake pan with non-stick spray. Line with parchment paper if desired. (see notes)
Preheat the Air Fryer to 310°F.
Melt the butter and chocolate in a microwave-proof bowl.
Stir in the rest of the ingredients. Mix until well combined.
Pour the batter into the prepared pan. Place in the Air Fryer and set the timer for 18 to 22 minutes.
Allow the brownies to cool for 15 to 20 minutes before cutting. Clean the knife after each cut.
Notes
Different models of air fryers will bake at different rates. Start at the lowest time recommended in the recipe and check them with a toothpick. These brownies are very fudgy so you should get some moist crumbs sticking to a toothpick. If the toothpick is wet then add a few minutes to the bake time.
The brownies will be super gooey and fudgy while still hot. Let them cool down so they will be easier to slice.
If you line the pan with parchment paper, create an overhang so you can lift the brownies out of the pan easily.
Nutrition Information:
Yield: 9
Serving Size: 1
Amount Per Serving:
Calories: 255
Total Fat: 14g
Saturated Fat: 8g
Trans Fat: 0g
Unsaturated Fat: 4g
Cholesterol: 69mg
Sodium: 157mg
Carbohydrates: 30g
Fiber: 2g
Sugar: 22g
Protein: 4g
Nutrition information is a guideline only, is calculated automatically by third party software, and absolute accuracy is not guaranteed.