Air Fryer Shishito Peppers
on May 19, 2023, Updated May 28, 2023
These air fryer shishito peppers are a perfect party snack. They're stuffed with indulgent bacon, cream cheese, Manchego cheese, and Cajun seasoning for the ultimate spiced bite. Plus, they're small enough that you can justify having multiple completely guilt-free!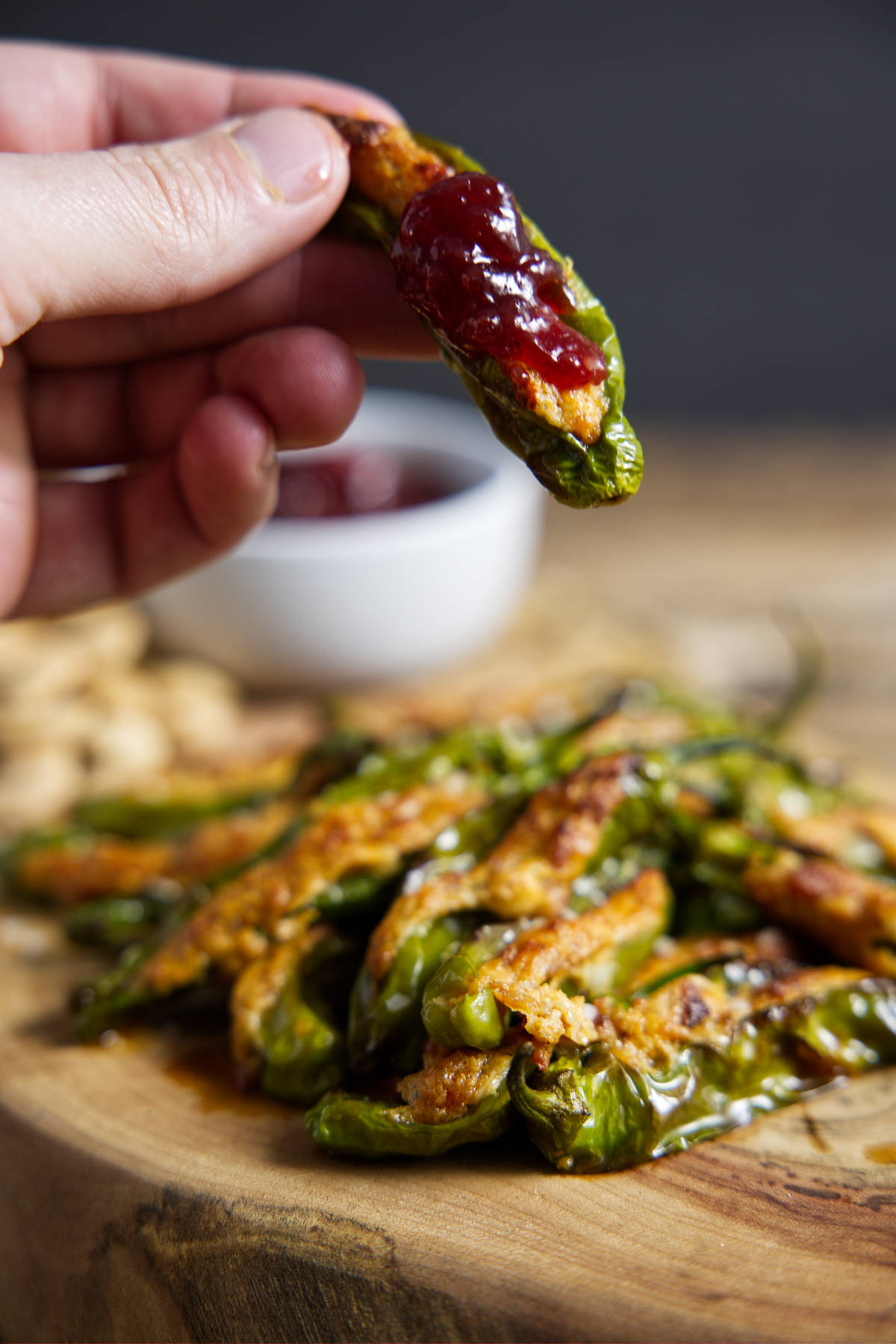 Although the rich and salty flavors are divine, it's the signature char that makes these mild peppers shine. Not only does it add a subtle smokiness to the recipe, but they look super aesthetic too!
If this is your first time trying shishito peppers, you might be worried about the heat. Luckily for you, these peppers are small and relatively mild with a slightly sweet flavor. So, they're the perfect entry pepper for sensitive tongues. And hey, you can always swap them out for jalapeños if you want more spice.
It doesn't matter whether you're looking for a reliable game night appetizer or something different to serve with turkey burgers or cheesesteaks. These cheese-filled delights are worth whipping up!
❤️ Why This Recipe Slaps
The peppers come out perfectly tender and charred, which complements the savory, cheesy filling.

It's ideal for whipping up when you need a plateful of finger food filled with complex flavors.

It works well as an appetizer or side dish.

You can easily switch up your peppers with different fillings or dips if you're a fan of customizing.

It requires virtually no prep work and is ready in minutes

This air fryer recipe​ is super easy, and cleanup is a breeze!

You can prepare these little peppers ahead of time and store them in the freezer until you are ready to cook.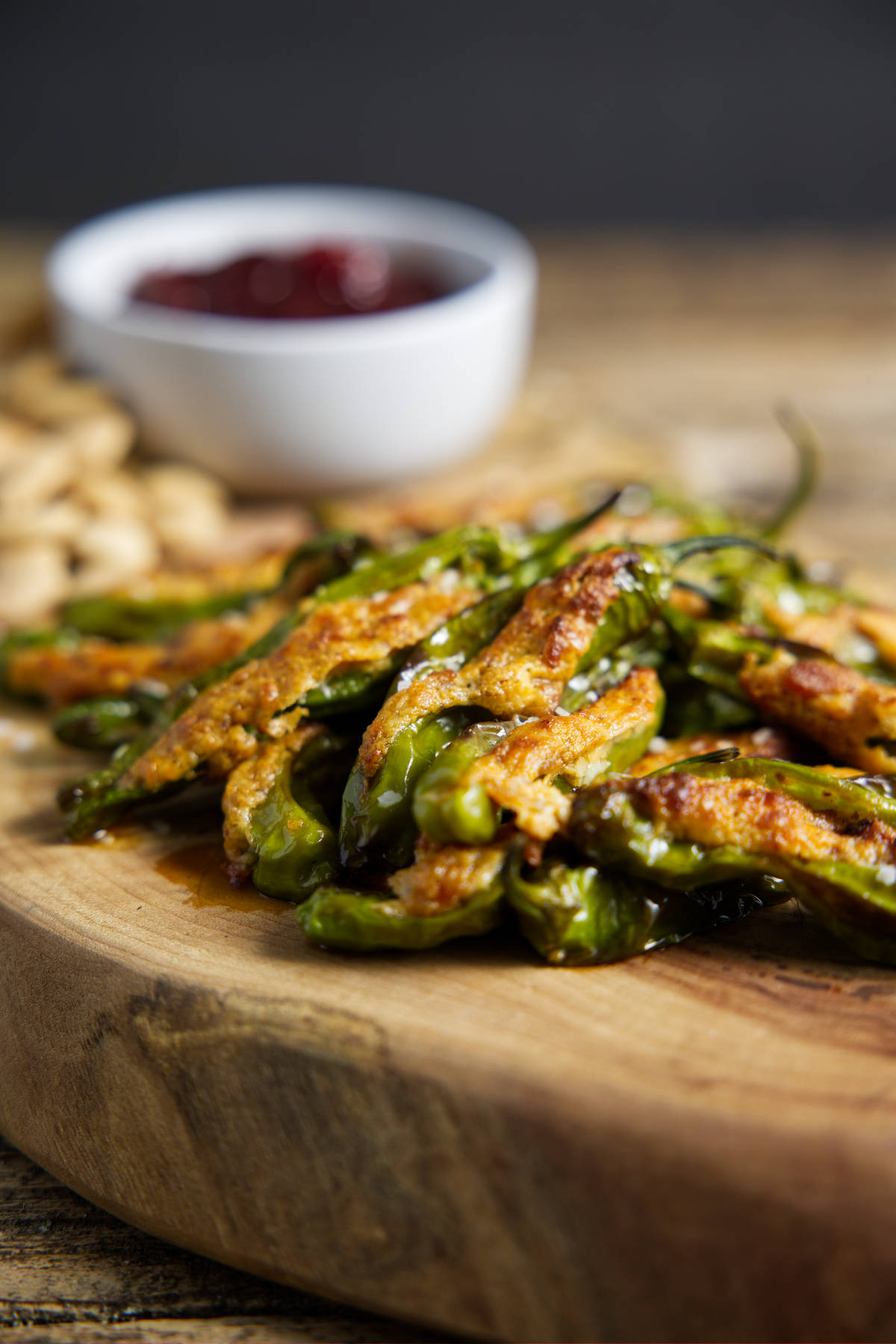 🗒️ Ingredients
It can be tricky to find shishito peppers, but most large grocery stores and Asian markets carry them. Check your specialty local grocery store to find the ingredients needed for this easy appetizer. Be sure to read the recipe card below for a printable list of ingredients and instructions.
Shishito peppers. You should find this mild heat and slightly sweet pepper in the produce section of most grocery stores. If you prefer, head to Asian grocery stores or farmer's markets for fresher selections. You can also substitute for jalapeño peppers if you prefer a kick.

Cream cheese. I recommend using full-fat cream cheese for a creamier taste, but you can get away with low-fat.

Manchego cheese. This cheese has a zesty and intense flavor (while being super crumbly yet buttery!). It's great for adding a slightly salty and creamy edge to your peppers.

Bacon. Make sure it's crumbled and cooked! Virtually any bacon works, but thinner varieties will crisp up better.

Smoked paprika. For a sweet and peppery taste that works beautifully with the Manchego and bacon.

Garlic powder. Adds a savory flavor to the recipe that complements the slightly sweet paprika.

Black pepper. Just a touch of some subtle spice.

Kosher salt. The large grains are perfect for sprinkling. Plus, even a small amount brings out the mild natural flavors in air-fried shishito peppers.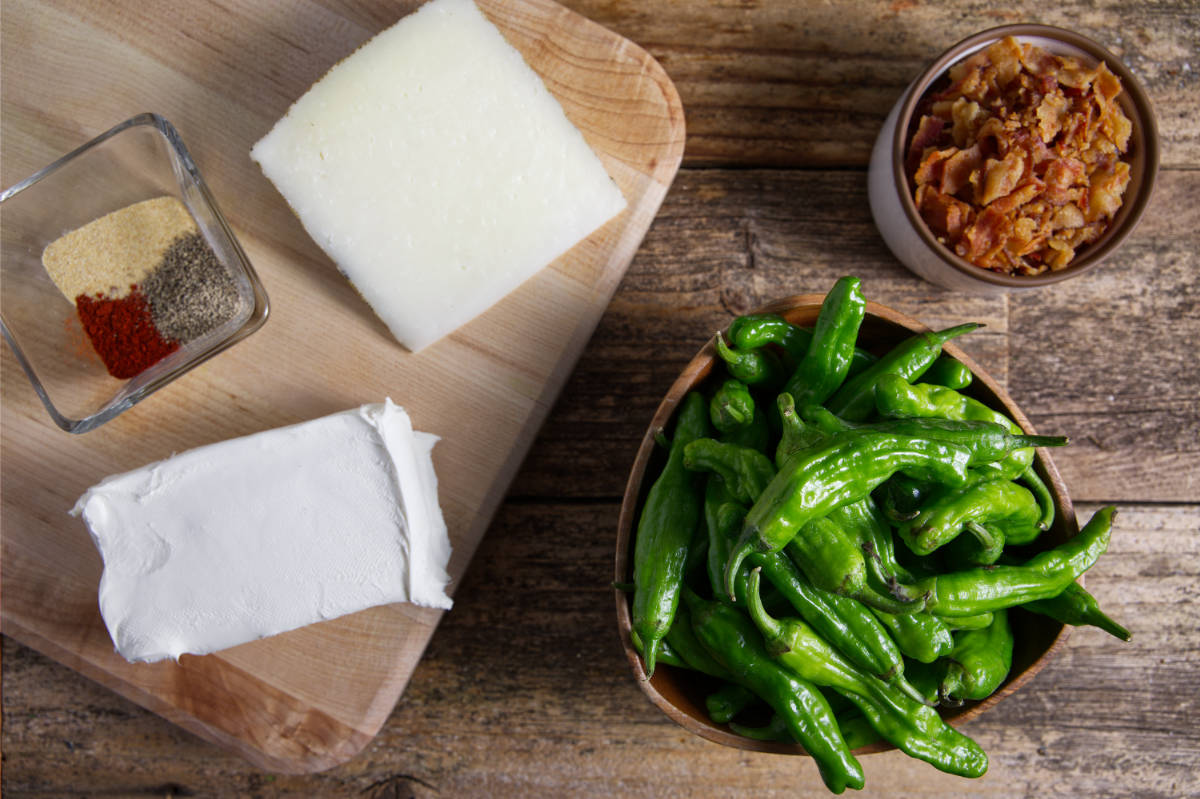 👨‍🍳 How to Make It
Here is the quick and dirty run down on how to make this delicious appetizer. Scroll down to see the easy recipe card with detailed instructions, including the cooking time and additional notes.
Use a paring knife to make slits down one side of your shishito peppers.

Mix the cream cheese, bacon, Manchego cheese, and seasoning in a large bowl.

Place a small amount of the cheese mixture into each shishito pepper.

Once the cheese is in the pepper, pinch the sides to enclose the cheese mixture.

Place the shishito peppers in the air fryer in a single layer and cook them for 5-6 minutes until they're blistered and charred.

Place them on a serving dish and finish with sea salt and serve with lemon wedges, honey, or fruit preserves and enjoy!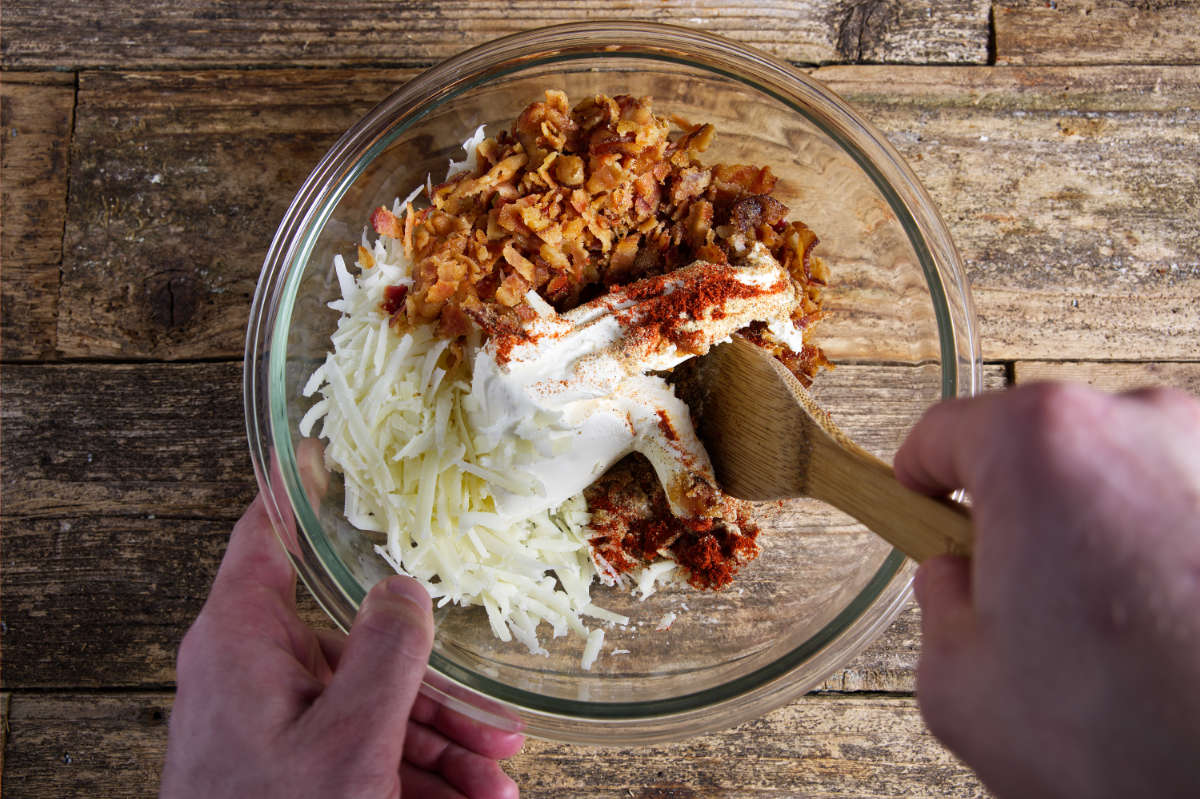 Combine the ingredients for the stuffing mixture.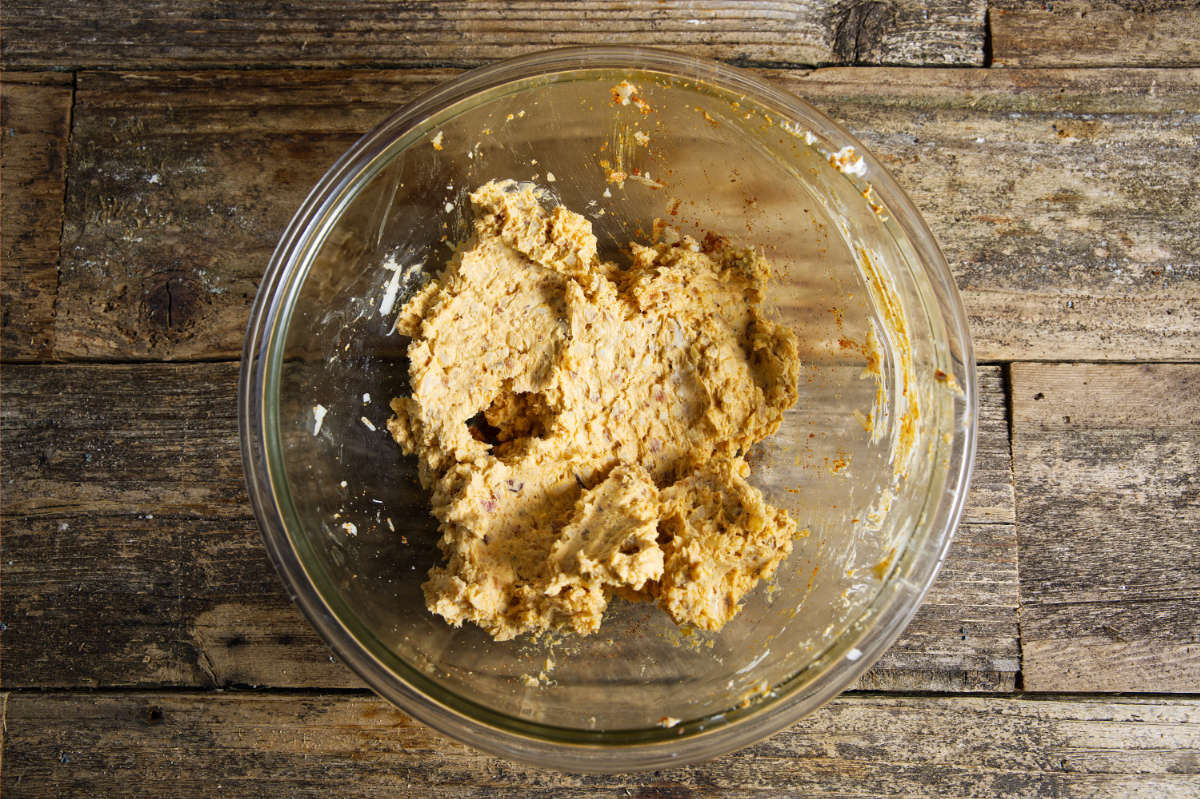 Use a hand mixer or stand mixer to make for a quicker process.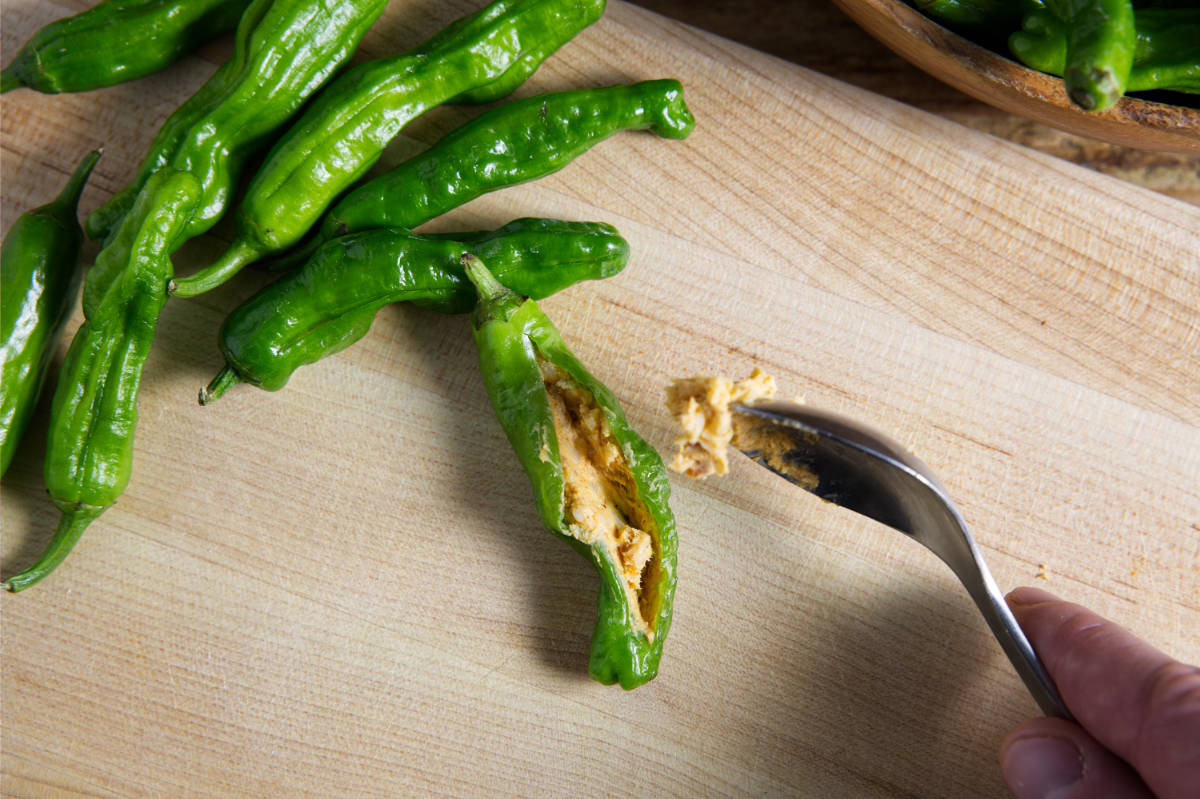 Slice the peppers open on one side and stuff them with some of the cheese mixture.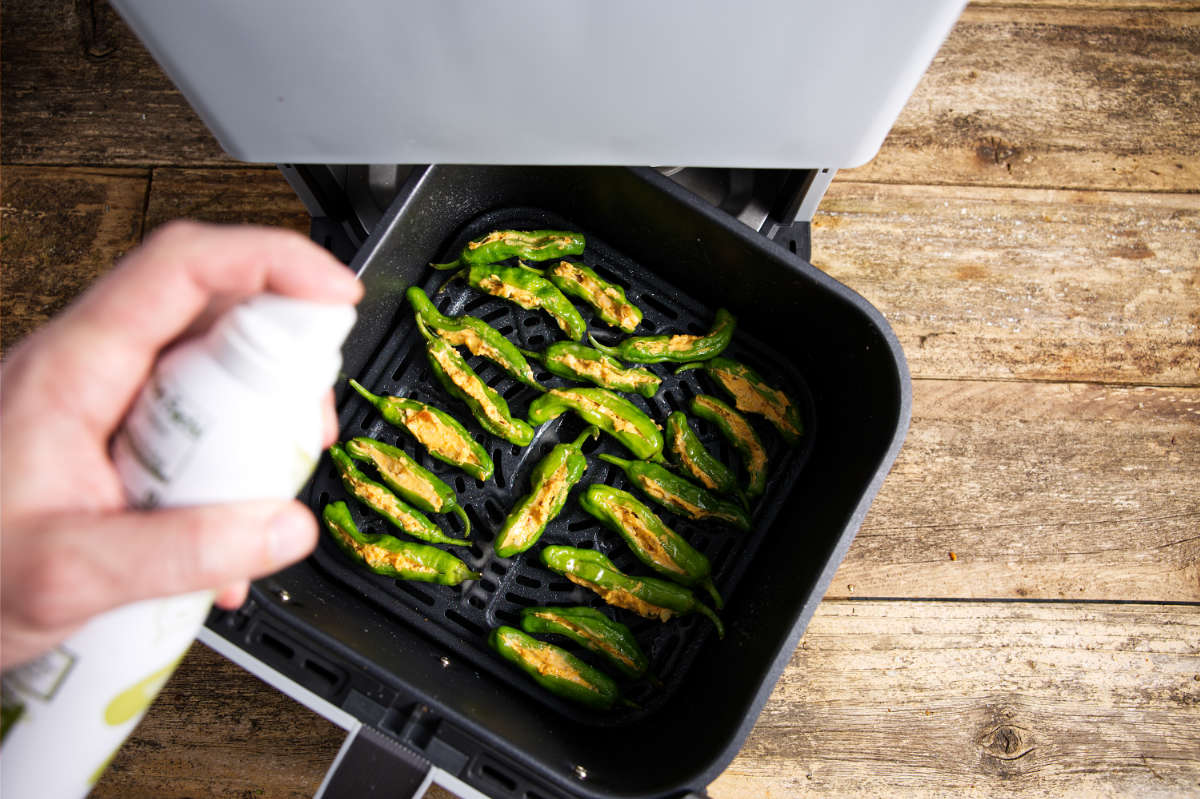 Arrange the stuffed peppers in the air fryer basket and cook until charred.
😉 Tips For Success
Because shishito peppers are generally mild, you can save a lot of legwork by keeping the seeds and ribs inside. You may find a particularly spicy pepper occasionally, but it's uncommon!

Don't forget to cook your peppers cheese side-up. You don't want the cheese melting into your air fryer and oozing out of the peppers. Keep that goodness IN.

Give the shishito peppers a spray of olive oil while cooking. This will help the peppers cook better, give them a boost of flavor, and makes finishing salt stick to the peppers after they cook.

It's important to fully preheat your air fryer before adding the peppers. If you let the peppers cook slowly as your fryer heats, you'll have a soggy mess on your hands.

You'll be chowing down on the entire pepper, so make sure you wash the skins properly before starting.

To help your peppers cook evenly, give them a light toss halfway through the cooking process.

To avoid any burning (not blistering!) keep a close eye on your peppers the first time you cook them.

Make sure that your peppers aren't overlapping in the air fryer basket. You need to cook these bad boys in an even layer to allow them to get that wonderful char.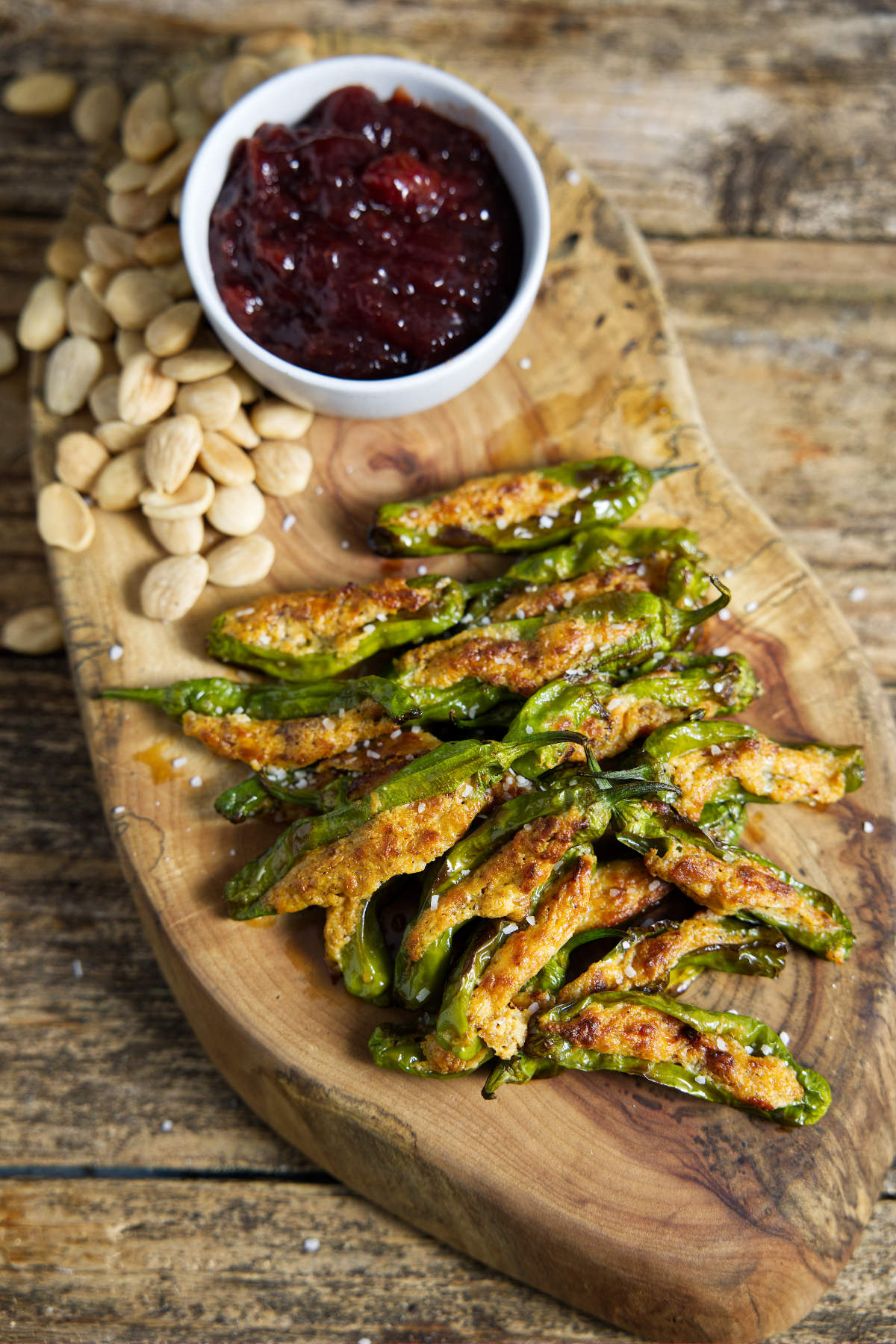 🤔 Substitutions and Variations
If you want to spice things up, you can serve this with a smoked queso dip or some guac.

If you want, you can even air fry the small peppers separately (without cheese!) and serve them with soy sauce and sesame oil-based dip. Sprinkle on some sesame seeds for garnish. Oh, and they're also amazing when dipped in a garlic aioli, like this donkey sauce!

For extra tang, a squeeze of citrus is always a winner. Just add a small amount of lime juice or lemon juice to the peppers before serving.

You can switch out the shishito peppers for jalapeños if you prefer smokier and spicier snacks! Just cut the tops of your jalapeños off instead of slicing them and stuff them with the cheese mixture.

Although Manchego cheese is delicious, pepper jack or other spicy cheeses can be excellent substitutes.
🌶️ More Air Fryer Appetizers
When the party is heating up, throw together some appetizers to keep the rager going! These air fryer recipes are easy and always a hit!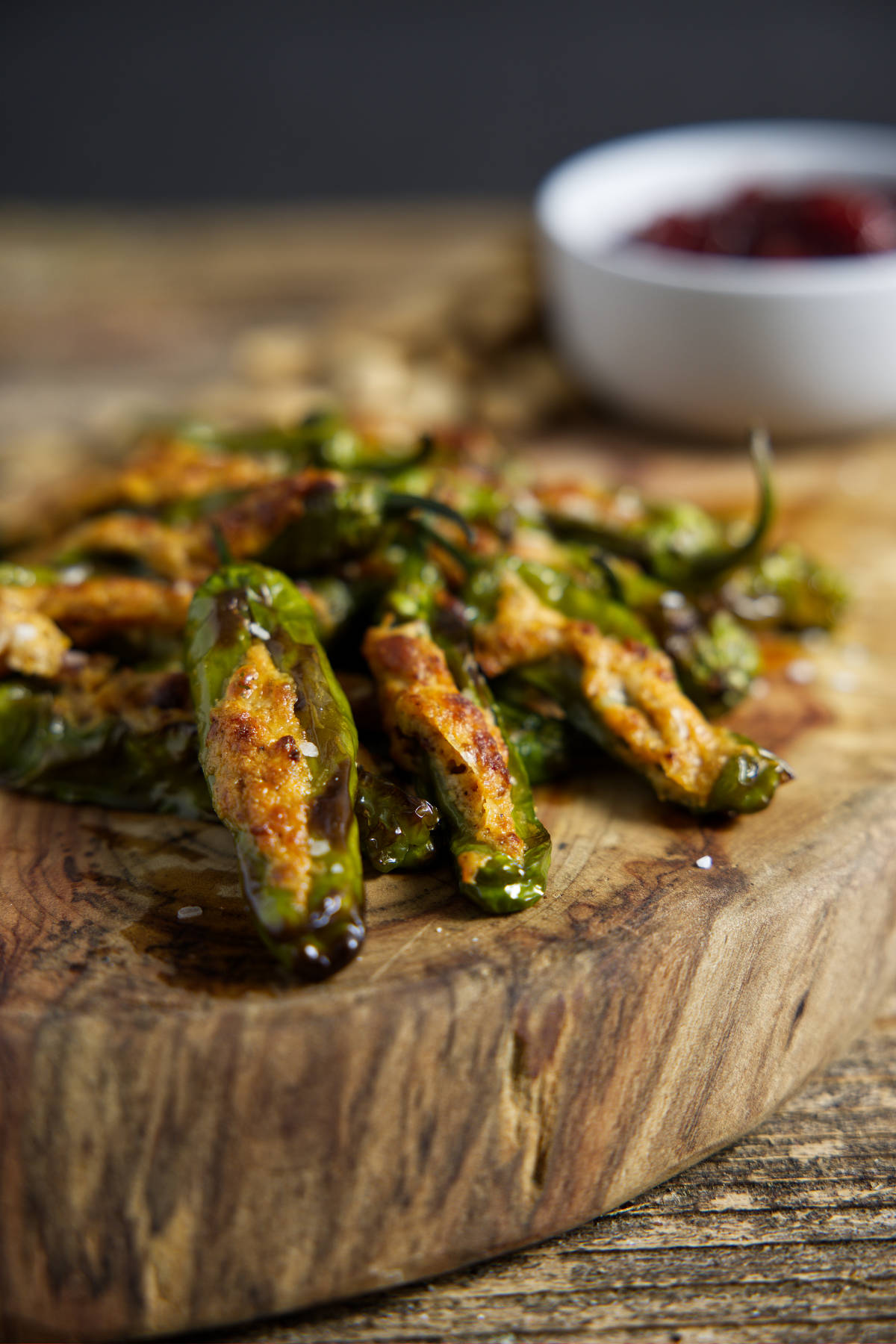 ⏱️ Storage and Reheating
These air fryer shishito peppers can be eaten hot or cold, making them the perfect appetizer. Eat them as-is for a perfect snack, throw the leftover peppers into salads, or enjoy them with sandwiches!
When it comes to storage, they should last in the fridge for up to 4 days in an airtight container.
If you need to reheat them, microwave them in short increments or pop them in the air fryer!
I prefer the air fryer as reheating them at 360°F for 5 minutes usually does the trick.
❓ FAQ
Are shishito peppers the same as Padrón?
No, Padróns are smokier and richer than shishito peppers which are sweet and mild.
Are shishito peppers healthy?
We're shoving these air fryer shishito peppers with cheese and bacon – so they could be healthier. 
If you prefer a healthier option, use low-fat cream cheese and skip the bacon.
But the peppers themselves contain Vitamins A, C, and E, plus a bunch of antioxidants!
Can you eat shishito peppers raw?
You can eat shishito peppers raw. But they're much tastier once they've been blistered and charred.
Do you remove the seeds from shishito peppers?
You don't need to remove seeds from shishito peppers. It's the ribs of the pepper that hold most of the spice!
🛠 Tools and Equipment
🤤 Things to Serve with Shishito Peppers
🎁 Wrap Up
Sometimes, you just need a touch of heat and a whole lot of cheese in your life. So, whether you're looking for a sumptuous side dish or a satisfying snack, these air-fried shishito peppers are a slam dunk!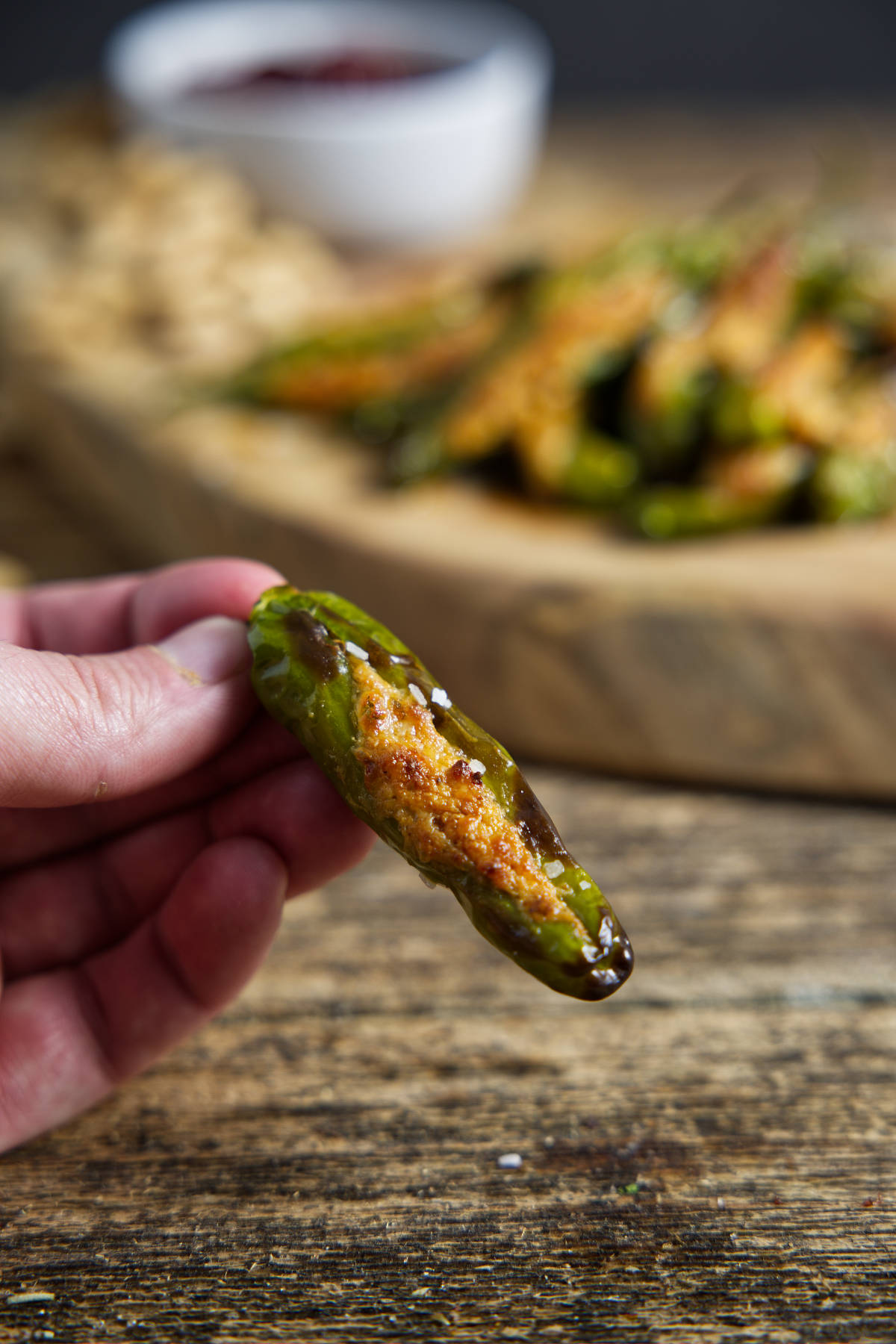 💬 Tell Me What You Think!
Did you try out this recipe? Please leave a comment below and let me know how you liked it. Also, snap a picture and post it to your favorite social platform. Be sure to tag me at @alicensetogrill and let me know how you liked it!
CONNECT WITH A LICENSE TO GRILL!
Be sure to follow us on our social media accounts.
Did you make this recipe? Tell us about it in the comments below!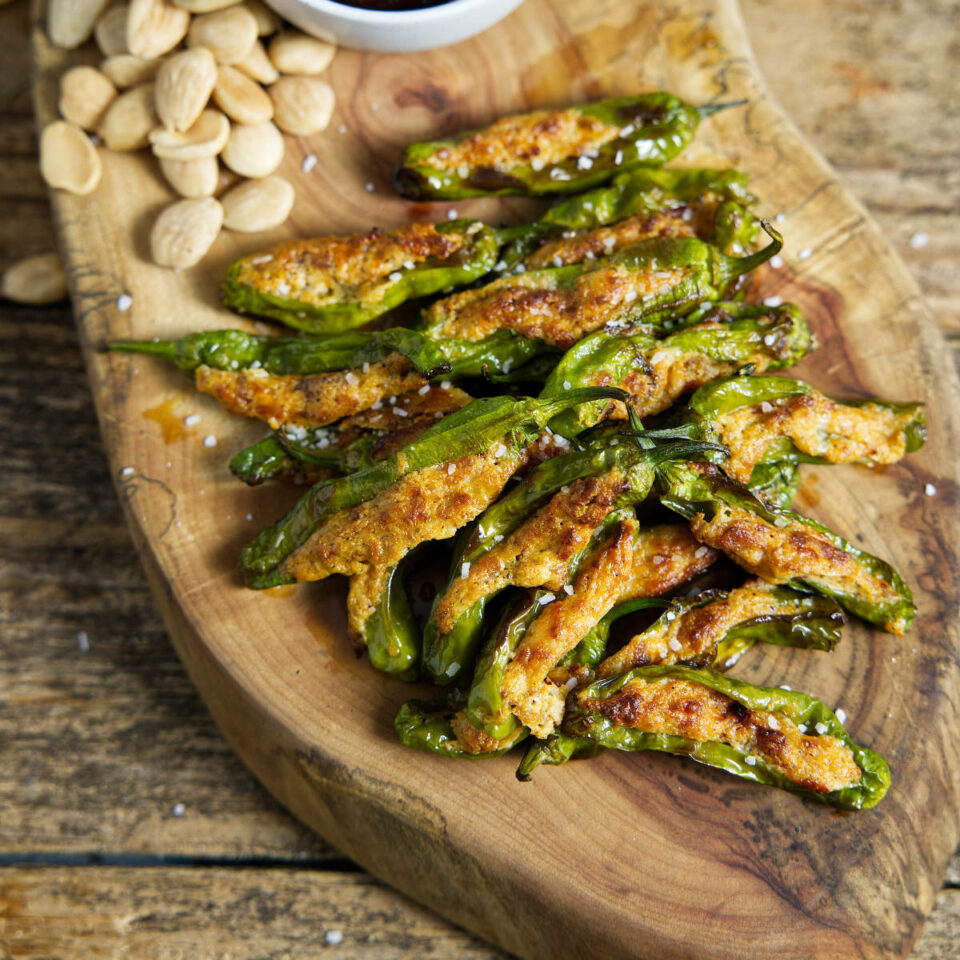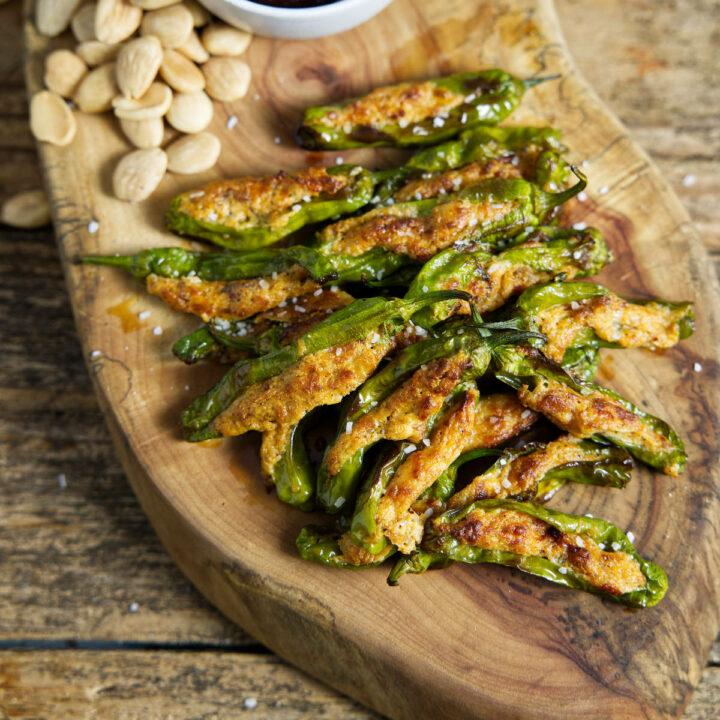 Air Fryer Shishito Peppers
These air fryer shishito peppers are stuffed with bacon, cream cheese, manchego cheese, and cajun seasoning. Blast them in the air fryer for a few minutes to get a beautiful char and a photo-worthy cheese pull with every bite.
Shishito peppers are small and relatively mild. Therefore, you can leave the seeds and ribs inside the peppers because they are relatively mild, although you sometimes get a spicy one!
You can also use this recipe but substitute another pepper. Try out jalapeños if you prefer a bit of spice, although you may want to remove the seeds and ribs then! 😉
Ingredients
1 pound shishito peppers
8 ounces cream cheese
1 cup manchego cheese, shredded
1 cup bacon, cooked and crumbled
1 teaspoon smoked paprika
1 teaspoon garlic powder
½ teaspoon black pepper
½ teaspoon Kosher salt
Instructions
Using a paring knife, make a slit down one side of all the shishito peppers and set them to the side.
Add the softened cream cheese, crumbled bacon, shredded manchego cheese, and seasoning in a large mixing bowl. Mix them to combine. Use a stand mixer or hand mixer to make for easy work.
Place about 1 teaspoon of the cheese mixture into each shishito pepper. Once the cheese is in the pepper, pinch the sides to enclose the cheese mixture as best as possible.
Place the shishito peppers in the air fryer, cheese side up. Cook them at 400°F for 5-6 minutes or until the shishito peppers have blistered and become charred.
Serve with a drizzle of honey or a dollop of fruit preserves.
Notes
Shishito peppers are generally mild. However, every once in a while, you may get a particularly spicy one. Since the peppers are so small and mild, I recommend keeping the seeds and ribs inside of the pepper to save on intensive labor.
You can also use this recipe to make stuffed jalapeños. Rather than cutting a slice down the side of the shishito pepper, you can cut the top of the jalapeño pepper off (including the stem). Then, use the handle side of an eating utensil to run around the inside of the pepper to scrape out the seeds and stem before stuffing them with the cheese mixture and cooking. You will need to add another 3-4 minutes of cook time, depending on the size of the peppers.
Recommended Products
As an Amazon Associate and member of other affiliate programs, I earn from qualifying purchases.
Nutrition Information:
Yield:

10
Serving Size:

1
Amount Per Serving:
Calories:

236
Total Fat:

19g
Saturated Fat:

11g
Trans Fat:

0g
Unsaturated Fat:

6g
Cholesterol:

55mg
Sodium:

370mg
Carbohydrates:

5g
Fiber:

2g
Sugar:

3g
Protein:

12g
Nutrition information is a guideline only, is calculated automatically by third party software, and absolute accuracy is not guaranteed.