Air Fryer Fried Pickles
on Jun 05, 2022, Updated Sep 21, 2023
If you're looking for a salty, zesty, and oh-so-delicious appetizer for your next party, don't sleep on these air fryer fried pickles. They're healthier than traditional fried pickles, as they use only a touch of oil. Better yet, these air fryer pickle chips take just minutes to make!
This dish is a comfort food Southern staple, and you'll often find fried pickles at pop-up vendor stalls and county fairs. This dippable recipe first had its heyday back in the early 1960s, but this modern version caters to 21st-century foodies by reducing the calories and grease factor. Don't worry though, they still pack a punch on the flavor front!
Combine them with a sweet and spicy dipping sauce, and they'll impress even the fussiest guests.
This is one of those recipes that you'll want to pin for later as you'll be pulling it out for parties, family reunions, and everything in between.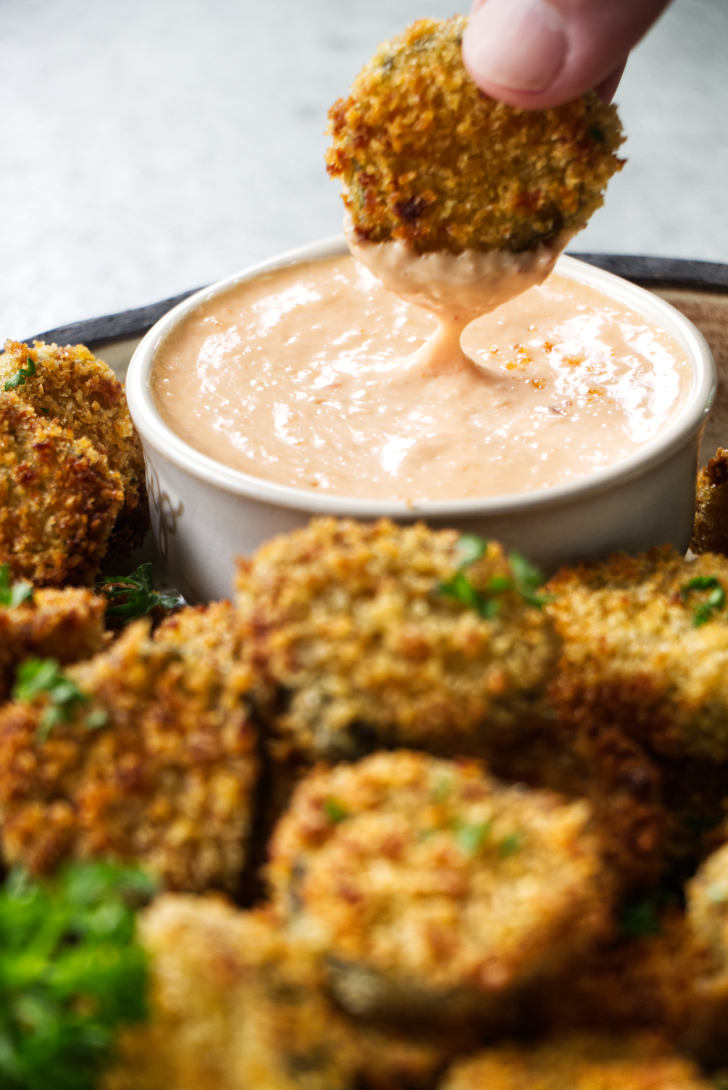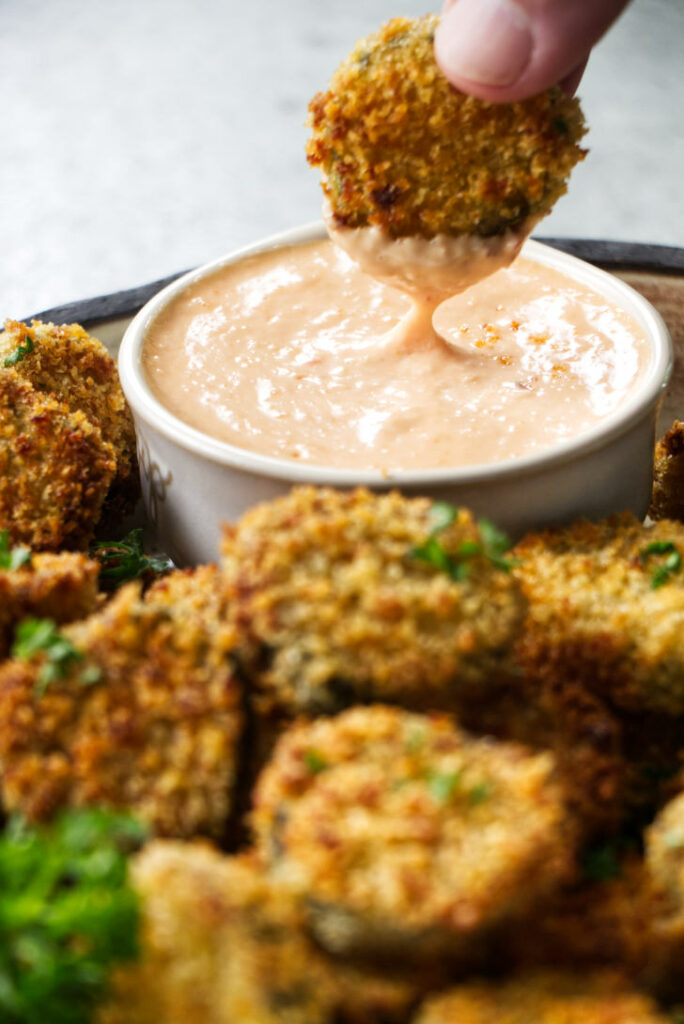 Why This Recipe Works
Using spray oil keeps these air fryer fried pickles crispy and non-greasy, giving them the perfect crunch.

It uses plenty of classic pantry ingredients, making it a cheap and easy recipe.

The air fryer reduces frying time and majorly cuts down on calories.

Using a mixture of Panko breadcrumbs and Cajun seasoning gives these pickle chips an exciting kick and crunchy crust that's identical to the deep-fried batter.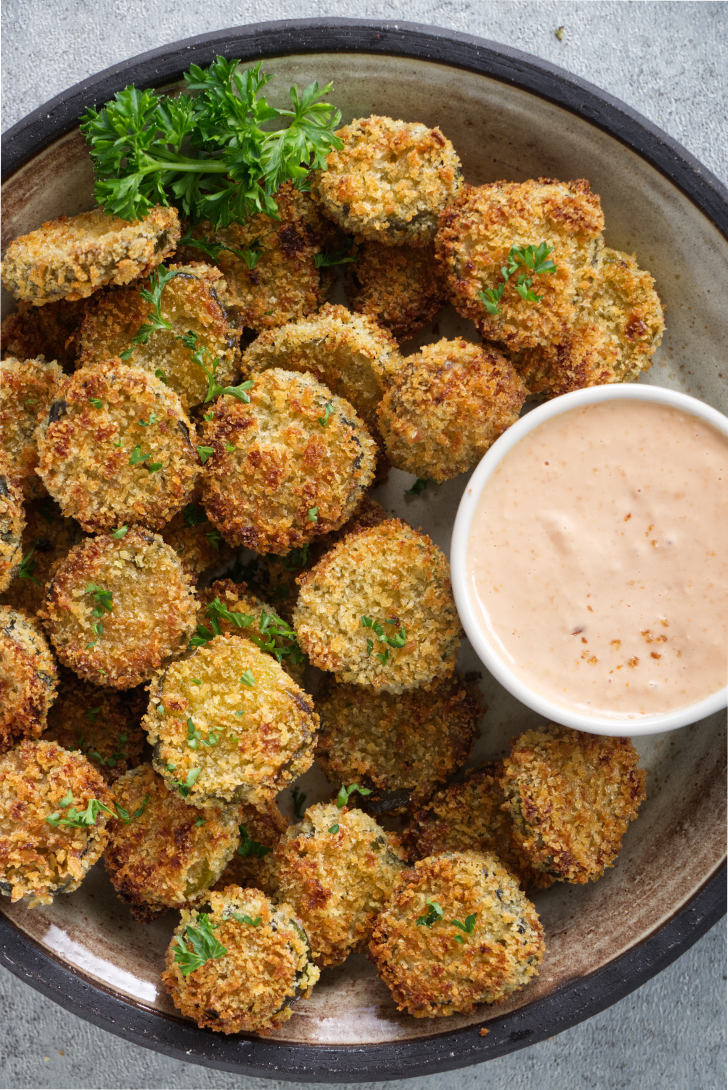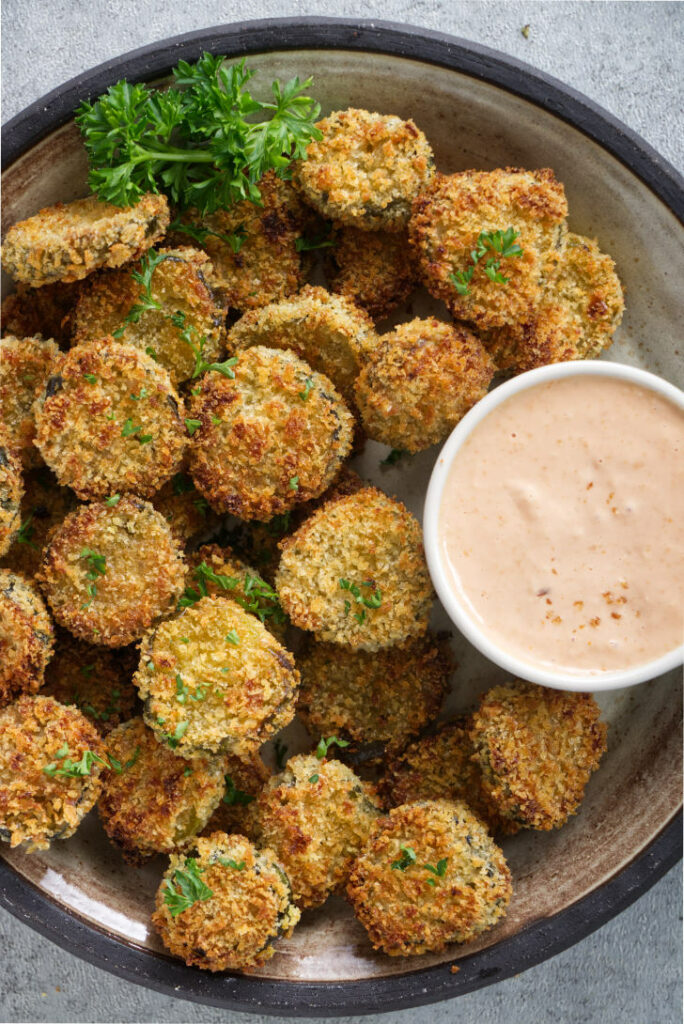 Ingredients
Here is a list of ingredients that you need to make this recipe. Scroll down to the printable recipe card for all the details.
For the air fryer fried pickles
Dill pickle slices. Dill pickles have a natural tang that pairs perfectly with the Cajun seasoning and crispy Panko breadcrumbs.
Flour. All-purpose flour helps the egg wash stick better to the pickle's surface.
Cajun seasoning. The Cajun seasoning gives your pickle chips a delicious, Southern flavor profile.
Eggs. The eggs provide a sticky base for the breadcrumbs and seasoning to cling to.
Pickle juice. A drop of pickle juice in the egg wash gives it just the right amount of tartness.
Panko breadcrumbs. Panko breadcrumbs are naturally crunchier than regular breadcrumbs.
Oil spray. The air fryer needs just a spritz of oil to work well, and spray keeps the calories way down.
For the dipping sauce
Mayonnaise. Acts as a tasty base.
Ketchup. Adds a touch of sweetness to the sauce.
Horseradish sauce. Perfect for giving the sauce a great kick and more depth.
Tabasco or Sriracha. Gives the sauce a tangy kick.
Worcestershire sauce. Balances all the above flavors.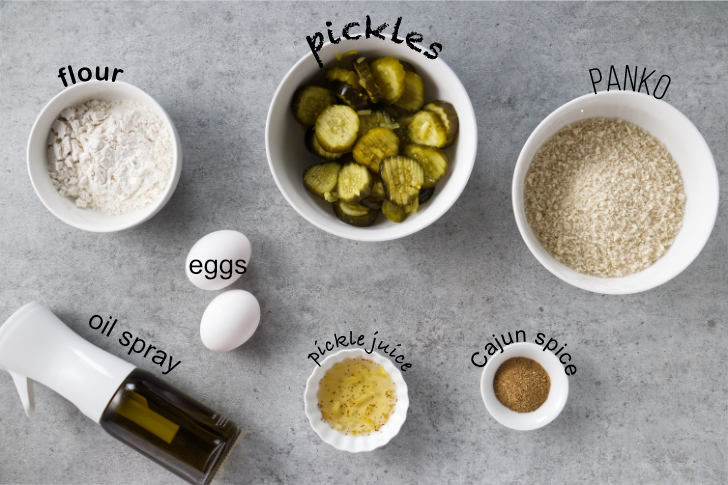 How To Make It
This recipe for air fryer pickle chips is so delicious, yet very simple to throw together. Scroll down to the printable recipe card for the step-by-step instructions for this recipe.
Preheat the air fryer.

Grab three bowls for the dredging process and place the relevant ingredients in each bowl.

Coat the pickles in the flour mixture.

Dip them in the egg wash.

Transfer to the final bowl to coat the pickles in the breadcrumb mixture.

Lightly spray the pickle chips with oil and place them in the air fryer to cook.

Flip the pickle chips over and continue cooking until done.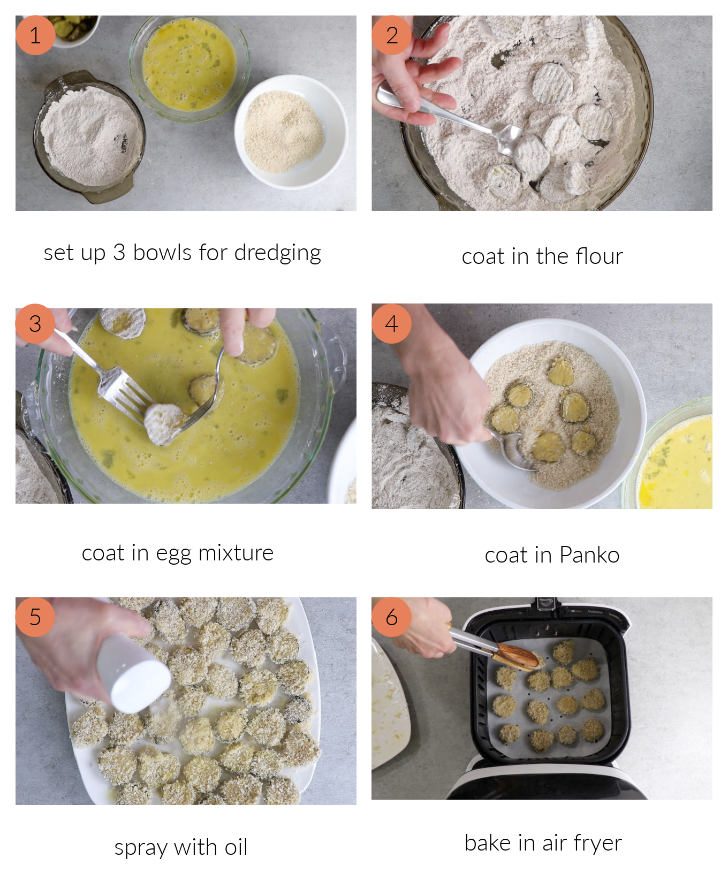 Tips For Success
Don't skip the spray oil. Spraying your pickle chips with a small amount of spray oil before cooking in the air fryer gives them a gorgeous golden-brown color.

Panko breadcrumbs are the way to go. It can be tempting to use cheaper breadcrumbs in this recipe, but Panko breadcrumbs are crispier than normal ones. They'll give your air fryer fried pickles the ultimate crunch.

Have a couple of bowls ready for your breadcrumbs. When met with egg wash, breadcrumbs have a habit of going slightly clumpy. To avoid this, separate your breadcrumbs into two portions and switch them out when the first batch starts to stick together.

Pat the pickles dry with paper towels before coating them. This will help the coating stick nicely and make the finished product far crispier.

If you don't have pickle slices, whole pickles or pickle spears work fine. Just cut them into slices to avoid uneven frying.

Don't be afraid to dial up the heat. I've recommended an amount of hot sauce for this recipe, but those who want tickly tongues can take things up a notch by adding as much spice as they like!

Keep an eye on your air fryer. Every air fryer works differently, so keep a close eye on your pickles to ensure they don't overcook.

Give your pickles space to breathe. Spreading your pickles out evenly in the air fryer helps them crisp up properly.
FAQ
How long do I air fry pickles for?
The total cook time for these pickles is around 10-12 minutes.
How many pickles should I put in the air fryer?
We use a 24-ounce jar of pickles for this recipe which yields around 2 cups of pickle slices.
What should I serve with air fryer fried pickles?
My ultimate dipping sauce is the best thing to serve with Air Fryer Pickle Chips, but they also taste delicious with BBQ sauce, ranch, or blue cheese dressing.
How can I make air fryer fried pickles gluten-free?
To make these chips gluten-free, you can go with store-bought gluten-free breadcrumbs or a mixture of almond flour and nutritional yeast. They won't have the same crunch as Panko breadcrumbs, but both options are solid alternatives.
Can I make fried pickles keto?
You certainly can. Just switch out the breadcrumbs with pork Panko and the all-purpose flour with almond or coconut flour.
 🛠 Tools and Equipment
If you click on some of the following affiliate links and buy something, we might get a small commission. You don't pay any extra, but it will help us keep the lights on and our bellies full!
What Else Is Cooking?
Wrap Up
Whether you're looking for the ultimate healthy snack for your next bash or just need something to keep your chip cravings at bay, these air fryer fried pickles will totally hit the spot. Trust me when I say that you'll be whipping these bad boys up every weekend from here on out!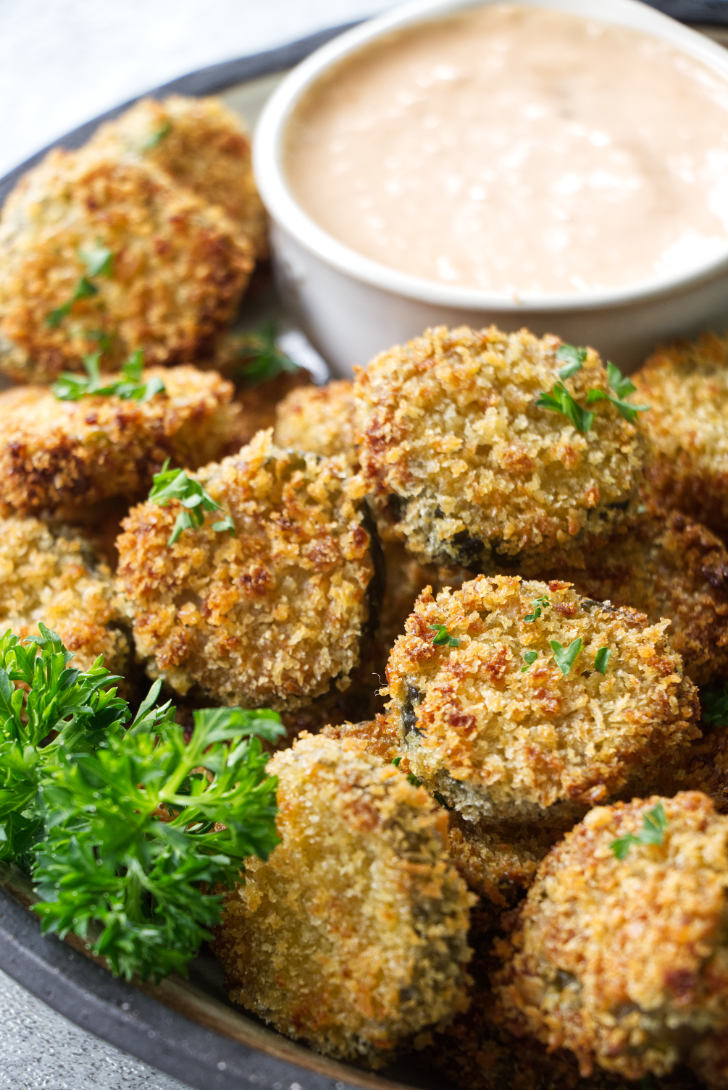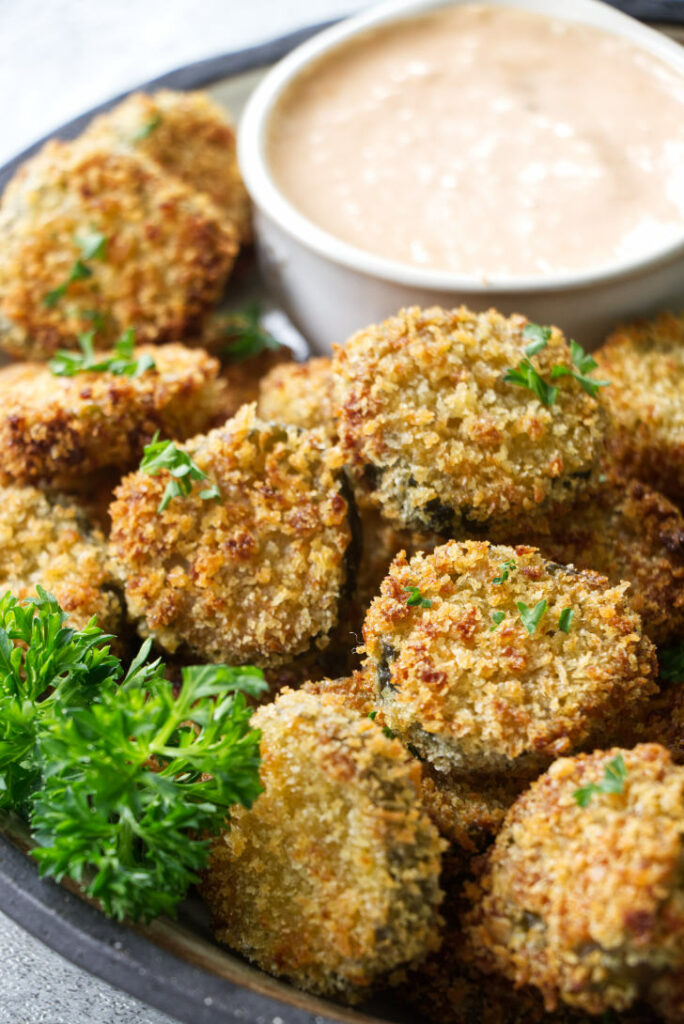 💬 Tell Me What You Think!
Did you try out this recipe? Please leave a comment below and let me know how you liked it. Also, snap a picture and post it to your favorite social platform. Be sure to tag me at @alicensetogrill and let me know how you liked it!
CONNECT WITH A LICENSE TO GRILL!
Be sure to follow us on our social media accounts.
Did you make this recipe? Tell us about it in the comments below!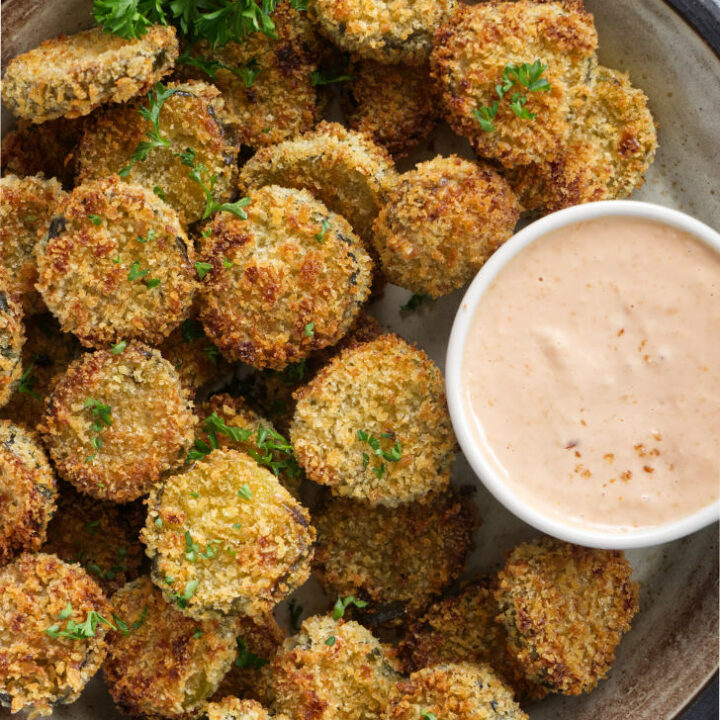 Air Fryer Fried Pickles
These air fryer fried pickles are a delicious snack or appetizer! The crispy coating gets seasoned with a zesty spice blend that you can easily change up to your own liking. Serve with a sweet and spicy dipping sauce for the perfect flavor combination.
Ingredients
For the Air Fried Pickles
2 cups dill pickle slices
1/2 cup flour
2 teaspoons Cajun seasoning (see notes for more options)
2 eggs
1 tablespoon pickle juice
1-1/2 cups Panko bread crumbs
Oil spray
Dipping sauce
1/3 cup mayonnaise
2 tablespoons ketchup
1 tablespoon horseradish sauce
1 to 2 teaspoons Tabasco sauce or Sriracha
1 teaspoon Worcestershire sauce
Instructions
Drain the pickle slices and pat them dry.
Set out three bowls for the dredging process.
Place the flour and seasoning blend in one bowl.
Add the eggs and pickle juice to the second bowl. Whisk them well.
Add the Panko bread crumbs to the third bowl.
Coat the pickles in the flour mixture. Dip them in the egg mixture then transfer them to the bread crumbs. Press them down a bit to make sure the Panko sticks to the pickle chips.
Spray the pickle chips with oil and place them in a single layer in the air fryer basket. Work in batches so you don't crowd the air fryer.
Cook at 400°F for 5 minutes. Flip the chips over and cook for another 4 to 6 minutes or until golden brown.
Notes
We used a 24-ounce jar of sliced pickles, which came to about 2 cups of pickle slices. 
Spraying the chips with oil will help them brown better. 
To reheat the pickle chips, toss them in the air fryer at 400°F for 1 to 2 minutes. 
Panko bread crumbs are much crispier than regular bread crumbs. You can use regular bread crumbs but the pickles will not be as crisp. 
Other seasoning blends that work great with this recipe are:
Black and Bleu Rub
Jamaican Jerk rub
Korean BBQ seasoning
Or, make your own seasoning blend by combining 1 teaspoon garlic powder, 3/4 teaspoon onion powder, 1/4 to 1/2 teaspoon chili powder, and a pinch of salt.
Recommended Products
As an Amazon Associate and member of other affiliate programs, I earn from qualifying purchases.
Nutrition Information:
Yield:

6
Serving Size:

1
Amount Per Serving:
Calories:

327
Total Fat:

16g
Saturated Fat:

3g
Trans Fat:

0g
Unsaturated Fat:

12g
Cholesterol:

68mg
Sodium:

1337mg
Carbohydrates:

38g
Fiber:

3g
Sugar:

5g
Protein:

9g
Nutrition information is a guideline only, is calculated automatically by third party software, and absolute accuracy is not guaranteed.