These air fryer brat sandwiches are great for a quick and easy dinner. The air fryer gives the bratwurst links a crispy exterior while still keeping them juicy in the center.
They get loaded with grilled onions, peppers, and melted cheese to make this dish even more delicious!
Pile on the toppings and serve these up during the next game day! These are sure to be a big hit!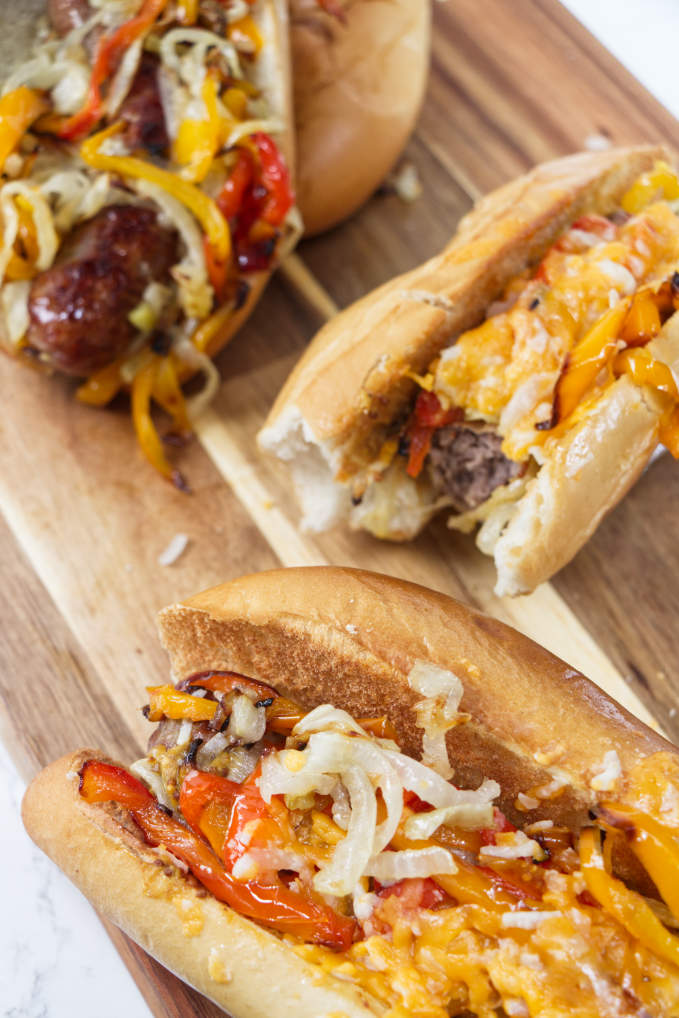 If the weather isn't cooperating for firing up the grill, that's okay! You can still make a great meal with the air fryer. An air fryer takes up very little counter space and is excellent for making this brat sandwich fast.
Try serving these brat sandwiches with some cowboy beans and coleslaw for a hearty meal. And if you like these brat sandwiches, you will love our homemade air fryer corn dogs.
Here is Why This Recipe Works
Minimal clean-up. You can cook the brats, onions, and peppers in the air fryer, and you only need to clean one appliance.
Quick. The air fryer cooks the brat sausages faster than the oven or the grill.
Easy. This brat sandwich recipe doesn't take any special skills.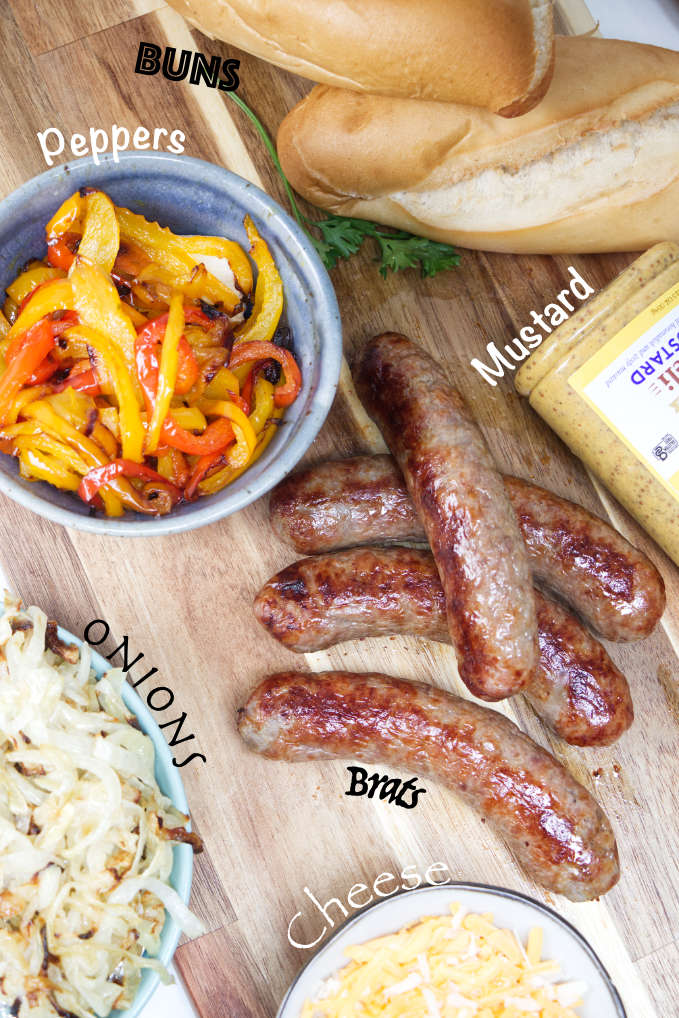 The Ingredients
Here is a list of the ingredients you will need for these brat sandwiches. Scroll down to the printable recipe card for the ingredient amounts.
Onions. We chose sweet white onions, but red or yellow onions are just as good.
Bell peppers. We used red and yellow bell peppers because they are sweeter than green peppers. However, you can use green peppers if you want.
Cooking oil. A small amount of oil will help the onions and peppers caramelize better and let the seasoning cling to the veggies.
Salt and pepper. A little salt and pepper will enhance the flavors in the veggies. Toss the veggies in some Greek Freak seasoning if you want to get fancy.
Bratwurst sausage links. Look for raw bratwurst sausages that are in their casings.
Hoagie rolls or hot dog rolls. The hoagie rolls are a bit larger and fit the size of the Brats, but hot dog buns will work in a pinch.
Mustard. Any type of mustard will do, but we love how spicy brown mustard goes with the brats.
Shredded cheese. We used a mix of cheddar and mozzarella, but some other great melting cheeses are fontina, Gruyere, and provolone.
How to Make Air Fryer Brat Sandwiches
Here's a little rundown to give you an idea of what to anticipate from the recipe. For more information, scroll down to the printable recipe card.
Air fry the onions and peppers then set them aside.
Cook the brats in the air fryer.
Assemble the sandwiches and enjoy.
That's really all there is to it! We have some extra instructions below so you can make the best brat sandwiches ever, but it really is that simple.
Tips for Success
Don't crowd the air fryer. If you pile in too many veggies at once, they will steam and won't get a nice caramelized brown to them. The caramelization gives them extra flavor, so take your time and do separate batches.

Space the brats apart so the hot air can circulate around them. That will help the brats get a crispy exterior.

Use tongs to turn and transfer the brats. If you use a fork or knife to grab them, the casing will break, and the juices in the brats will seap out.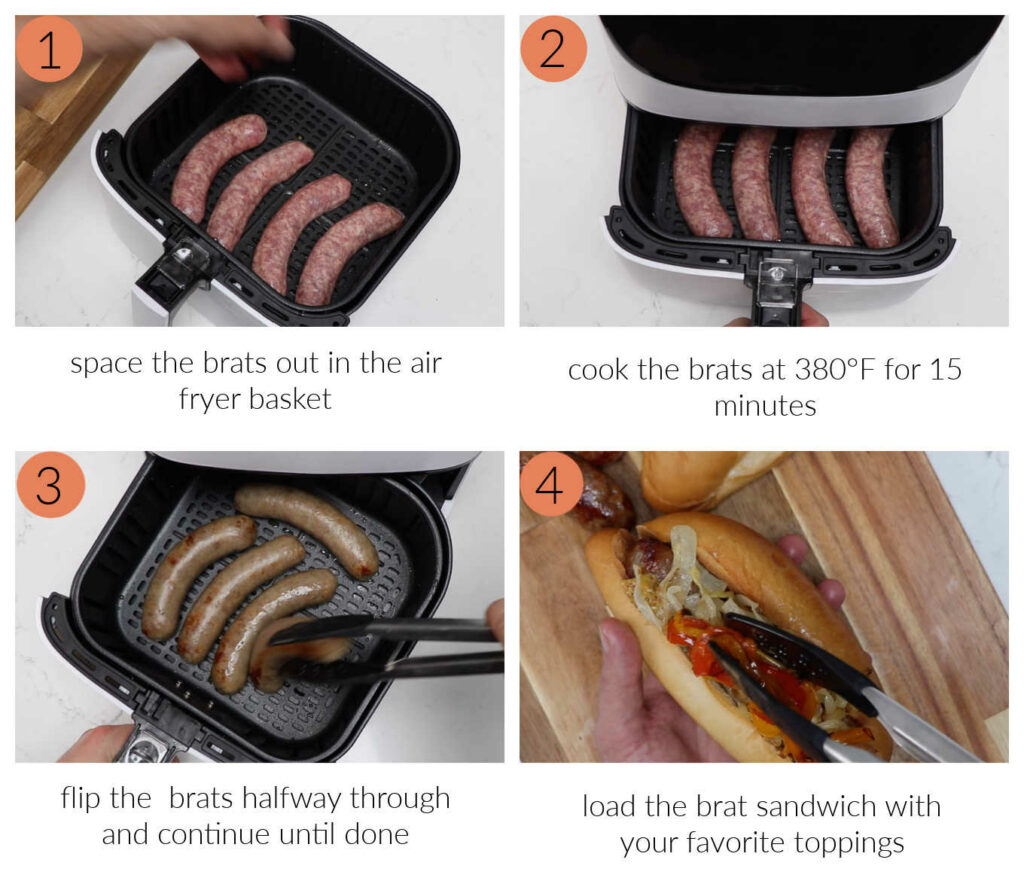 Frequently Asked Questions
What can I serve with bratwurst sandwiches?
Beer and chips are always a winning combination. You can also serve them with french fries, grilled potato wedges, or throw in some healthy veggies like air fryer cauliflower.
What are good toppings for brats?
The air-fried onions and peppers in this recipe are fantastic with the brat sandwiches. However, there are a lot of other options as well. Here are some suggestions. Sauerkraut, relish, roasted or air-fried tomatoes, cheese sauce, barbecue sauce, chili beans, bacon, grilled mushrooms, and coleslaw.
What cheese goes best with bratwurst?
Just about any cheese will work with brats, but strong, bold-flavored cheese works well here. Try sharp cheddar, Pepper Jack, and Swiss cheese.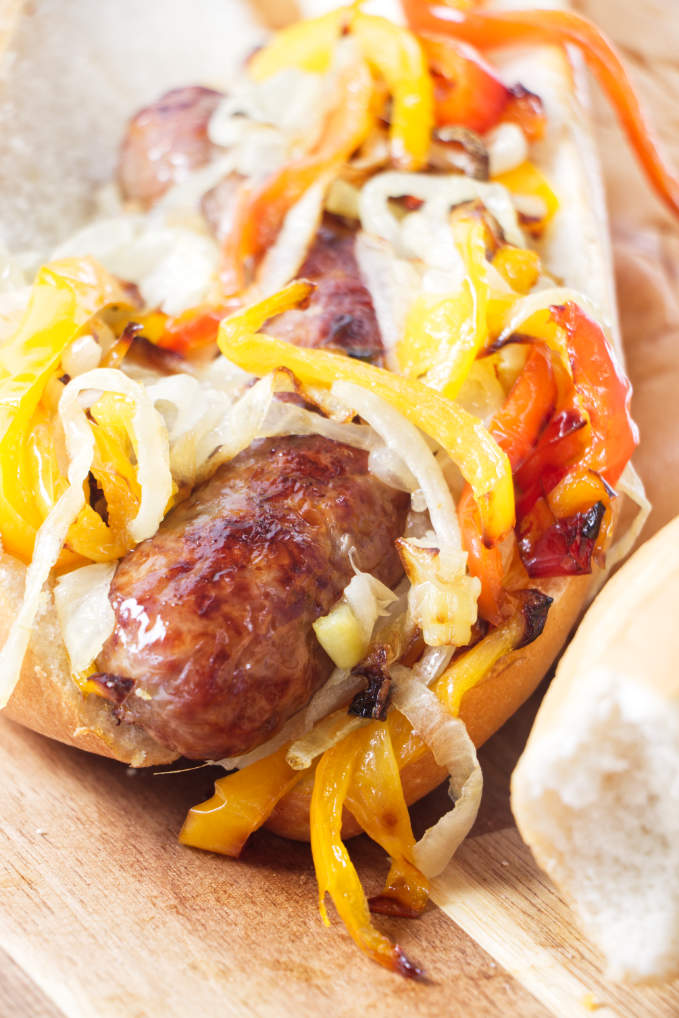 What Else is Cooking?
This jalapeno popper mac and cheese is the cheesiest and gooiest you will ever taste. It has over 2 pounds of cheese, as well as jalapeños and bacon, which give it a jalapeño popper flavor.
Don't put the air fryer away until you make these deep-dish chocolate chip cookie bowls. Make sure you top the gooey chocolate chip cookies with some ice cream while they are still warm. It is a dessert that won't disappoint.
This recipe for air fryer chocolate chip oatmeal cookies is another one of our favorites. The cookies are chewy and chocolatey and worth having a second one!
Tools and Equipment
If you click on some of the following affiliate links and buy something, we might get a small commission. You don't pay any extra, but it will help us keep the lights on and our bellies full!
CONNECT WITH A LICENSE TO GRILL!
Be sure to follow us on our social media accounts.
Facebook * Instagram * Pinterest * YouTube * Twitter
Did you make this recipe? Tell us about it in the comments below!
Tell me what you think!
Did you try out this recipe? Please leave a comment below and let me know how you liked it. Also, snap a picture and post it to your favorite social platform. Be sure to tag me at @alicensetogrill and let me know how you liked it!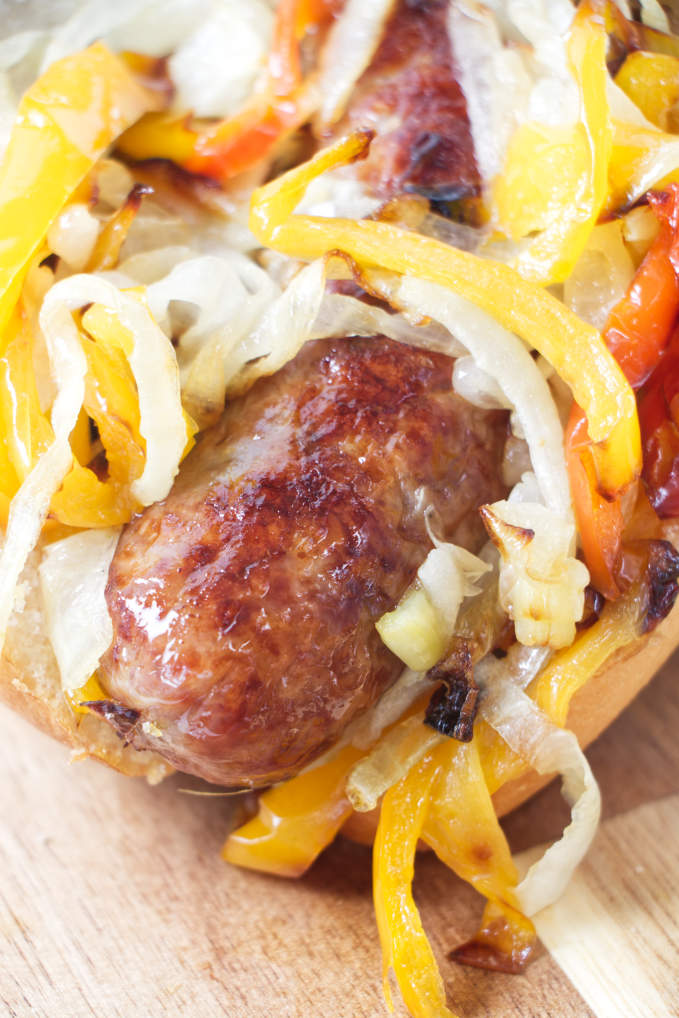 Air Fryer Brat Sandwiches
The air fryer is the perfect appliance to make these delicious bratwurst sandwiches. The links get a crispy exterior and remain juicy in the center. The sandwiches are loaded with grilled onions, peppers, and melted cheese.
Ingredients
Air Fryer Onions and Peppers
2 large onions, sliced
2 bell peppers, sliced
1 tablespoon cooking oil
salt and pepper
For the Brat Sandwiches
1 package bratwurst links (5 links)
5 hoagie rolls or hot dog rolls
Brown mustard
8 to 12 ounces shredded cheese
Instructions
Air Fry the Onions and Peppers
Toss the sliced onions and peppers in a large bowl with olive oil, salt, and pepper.
Transfer to the air fryer and spread them out. If you have a smaller air fryer, cook in batches so the onions and peppers don't get too crowded.
Air fry at 400°F for 10 minutes, stirring them halfway through the cooking time. If you want the onions browner, give them another stir and air fry them for 5 to 10 more minutes at 350°F. Stirring every 3 to 5 minutes. Transfer to a dish.
Air Fry the Brats
Place the bratwurst links in the air fryer, spacing them apart so air can circulate between them. If you have a small air fryer, cook them in separate batches.
Air fry the bratwurst at 330°F for 15 minutes, flipping them halfway through the cooking time.
Assemble the brat sandwiches
Place the cooked brats in the rolls. Top with mustard, air-fried onions and peppers, and a handful of shredded cheese.
Place the sandwiches in the air fryer and cook at 400°F for 1 minute or until the cheese melts.
Notes
Cook the brats in batches if you have a small air fryer. Do not stack them on top of each other or they will not brown well.
When you melt the cheese on the sandwiches, work in batches depending on the size of your air fryer.
If you want crispy onion rings, decrease the temperature of the air fryer to 300°F and cook the onions slices for 30 to 35 minutes, stirring them every 5 to 10 minutes until completely brown and crisp.
Nutrition Information:
Yield:

5
Serving Size:

1
Amount Per Serving:
Calories:

567
Total Fat:

43g
Saturated Fat:

17g
Unsaturated Fat:

66g
Cholesterol:

108mg
Sodium:

1176mg
Carbohydrates:

23g
Fiber:

2g
Sugar:

8g
Protein:

19g
Nutrition information is a guideline only, is calculated automatically by third party software, and absolute accuracy is not guaranteed.