Smoked Bacon Wrapped Meatloaf
on Feb 26, 2023, Updated Sep 21, 2023
Wave goodbye to dry dinners with this Traeger smoked bacon-wrapped meatloaf! It's the perfect combination of smokiness, spiciness, and sweetness, making it a winning meal for the entire family. Plus, the mixture of bacon, cheese, and ground meat means it's an incredibly hearty dish that'll have you leaping up for seconds.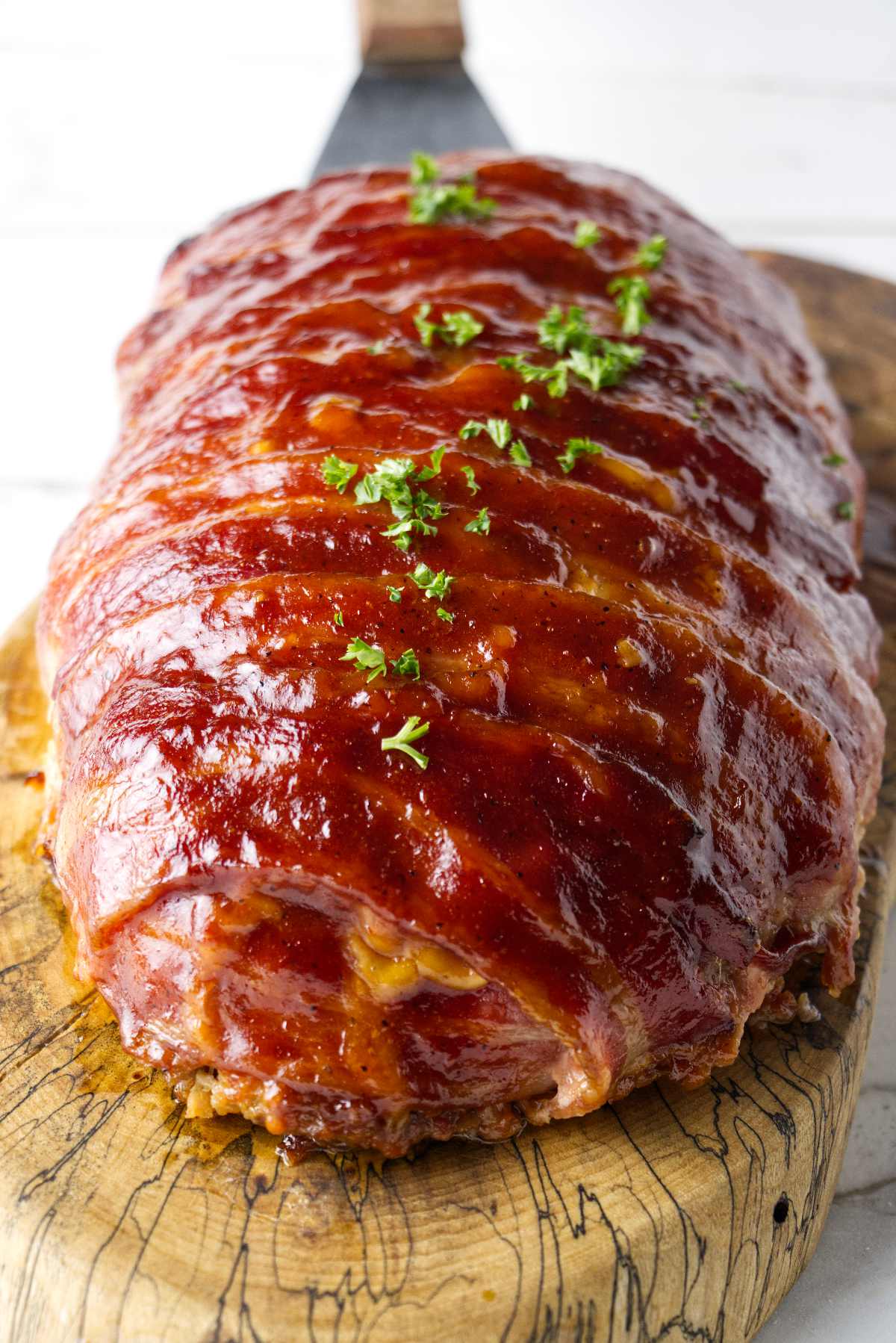 The bacon does a great job of keeping the meatloaf moist while it smokes away on the Traeger. But it's the sweet and tangy glaze of BBQ sauce that dials things up several notches! Requiring just a bit of prep work, it's easy to see why it's one of my go-to weeknight meals.
I love serving this Traeger smoked meatloaf with a crispy baked potato or a bunch of air fryer broccoli. But virtually anything goes when dinner is this delicious!
💪 Why This Recipe Works
Meatloaf is a beautiful dish that pairs perfectly with so many items. Try it alongside some smoked bacon-wrapped asparagus, Traeger smoked au gratin potatoes or these air fryer cherry tomatoes. You really can't go wrong with this hearty dish. And there is just so much going for it. Here are some reasons why this smoked meatloaf is one of my all-time favorite home-cooked comfort meals.
It's packed with protein and gets a gloriously smoky flavor from the pellet grill and BBQ sauce.

It requires just a handful of ingredients, many of which are pantry staples!

The thin-cut bacon gives the dish an excellent crackly top that works so well with the moist ground meat.

You can prepare the meatloaf ahead of time and pop it onto the pellet grill before guests arrive.

It cooks low and slow for a flavorful result (and hey, it's excellent for multi-tasking!).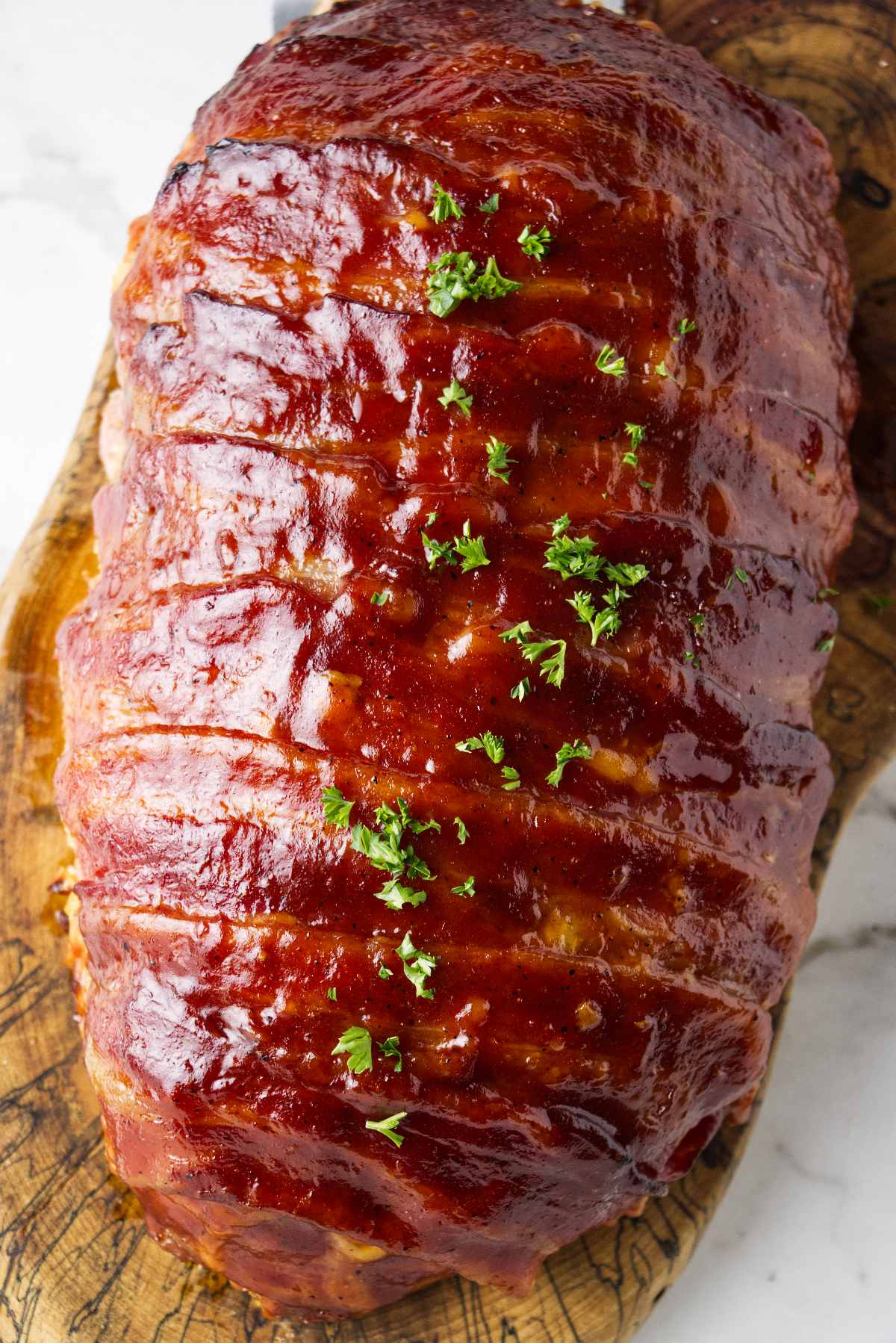 🍽 Ingredients
Sharp cheddar cheese. This should melt into the meat for a gloriously cheesy taste. I recommend using blocks instead of pre-sliced or grated cheese to ensure it melts properly. For a hint of spice, try pepper jack.

Onion. To create that sumptuous aromatic and savory base! White or yellow onion work equally well.

Worcestershire sauce. This slightly acidic and tart sauce gives the meatloaf an umami flavor that adds depth.

Kansas City BBQ sauce. I love this sauce as it's the perfect balance of smoky and sweet. But feel free to use any BBQ sauce you have on hand!

Eggs. For binding the ingredients.

Dry onion soup mix. Any brand works. You just want something that adds tons of savory flavor!

Garlic powder. A flavor enhancer to step up your meatloaf game.

Smoked paprika. Adds spice and color to the meatloaf. It also has a great smoky profile that pairs perfectly with the smoke from the Traeger.

Saltine crackers. Binds the meat and helps retain moisture while the meatloaf cooks.

Ground beef. I recommend using 85/15 high-fat ground beef and not low-fat versions. It's more likely to hold its shape during cooking and won't dry out.

Ground pork sausage. You can use regular sausage or something spicier if you like a kick.

Thin-cut bacon. Adds the perfect level of saltiness to the meatloaf. I like using thin-cut bacon as the fat will render down nicely while smoking on the pellet grill.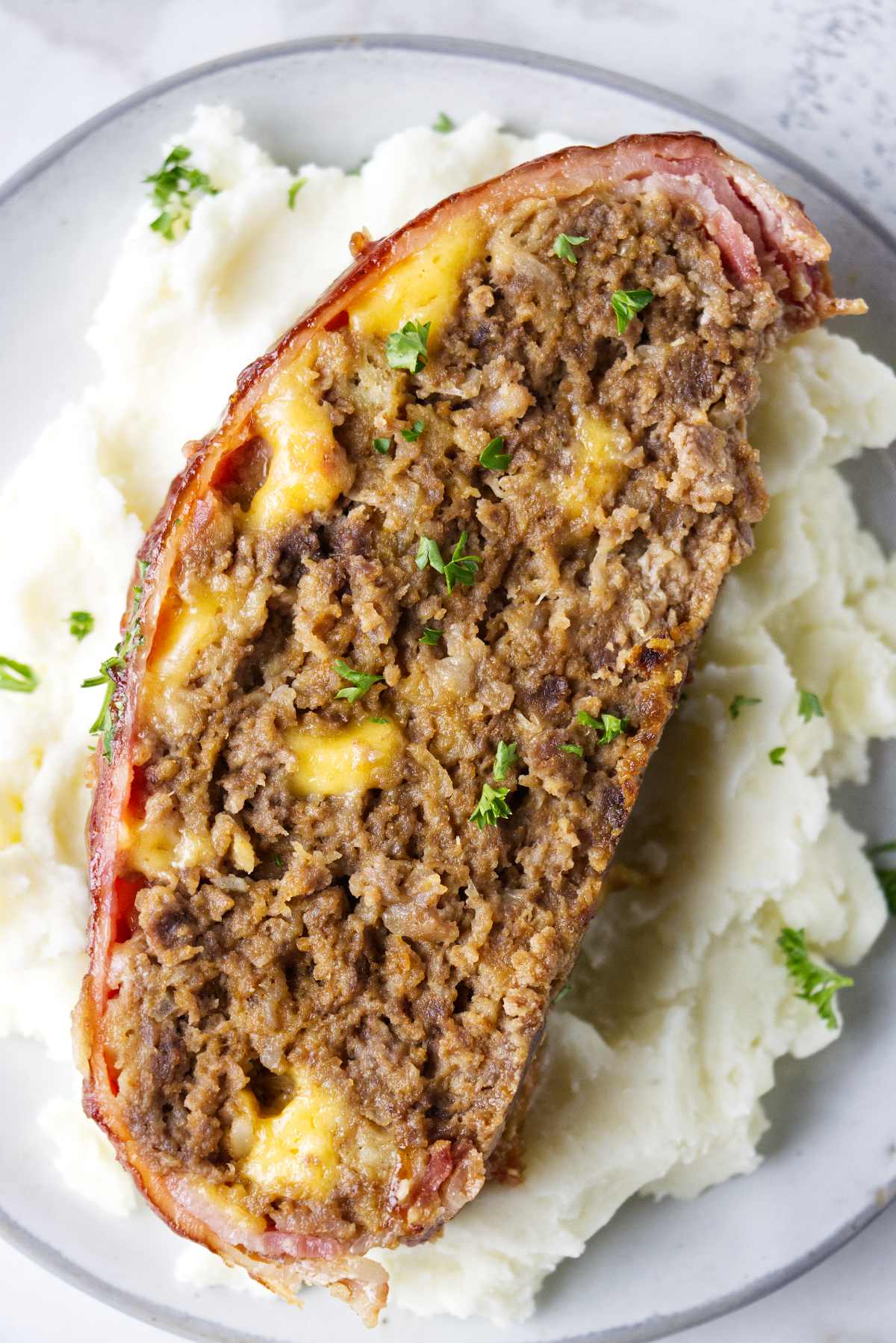 👨‍ How To Make It
Preheat the Traeger or pellet grill and line a baking sheet with aluminum foil.

Cut the cheese into small cubes.

Grate the onion and put it into a large mixing bowl.

Stir in the Worcestershire sauce, BBQ sauce, eggs, onion soup mix, garlic powder, and smoked paprika.

Stir in the cracker crumbs and let the mixture soak.

Mix in the ground beef and pork sausage.

Put the meat on the baking sheet and shape it into a loaf.

Top with slices of bacon.

Brush BBQ sauce over the top and put it on the grill.

Smoke the meatloaf and baste it with BBQ sauce once more during the cooking process.

Remove the smoked bacon-wrapped meatloaf from the Traeger and enjoy!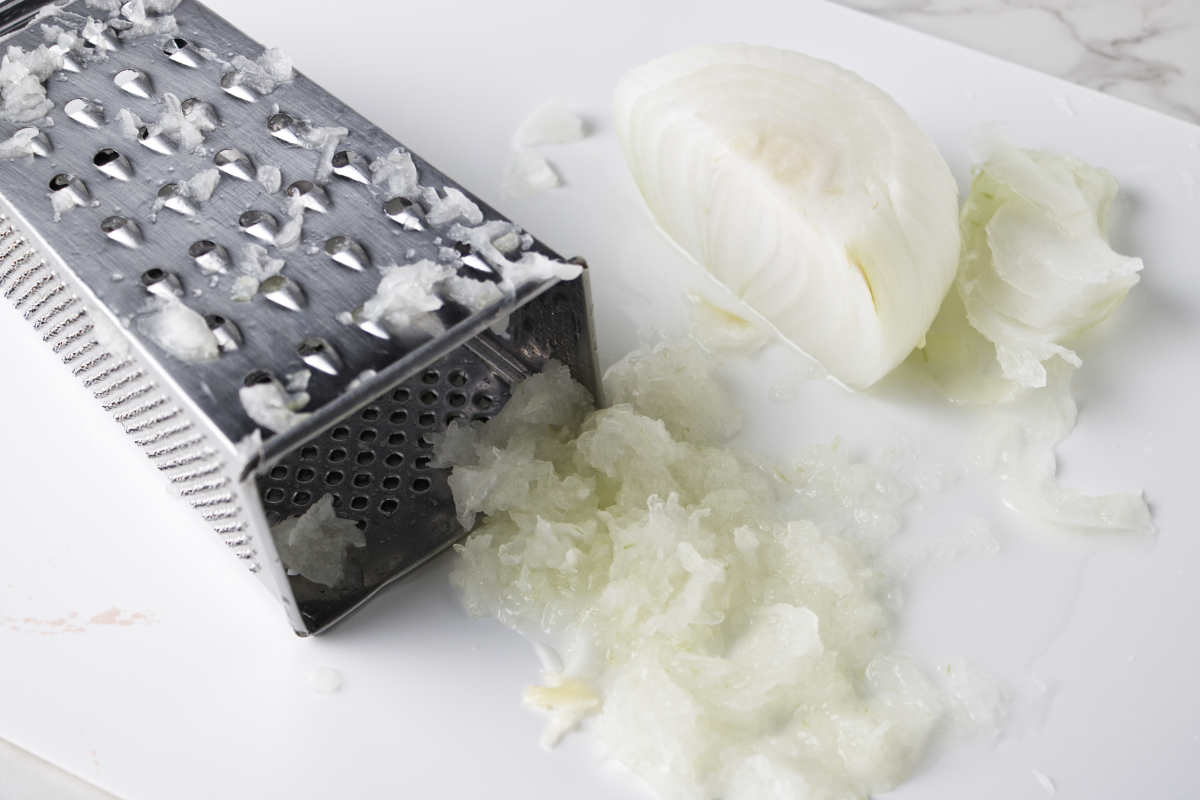 Grate the onions and toss them in a mixing bowl.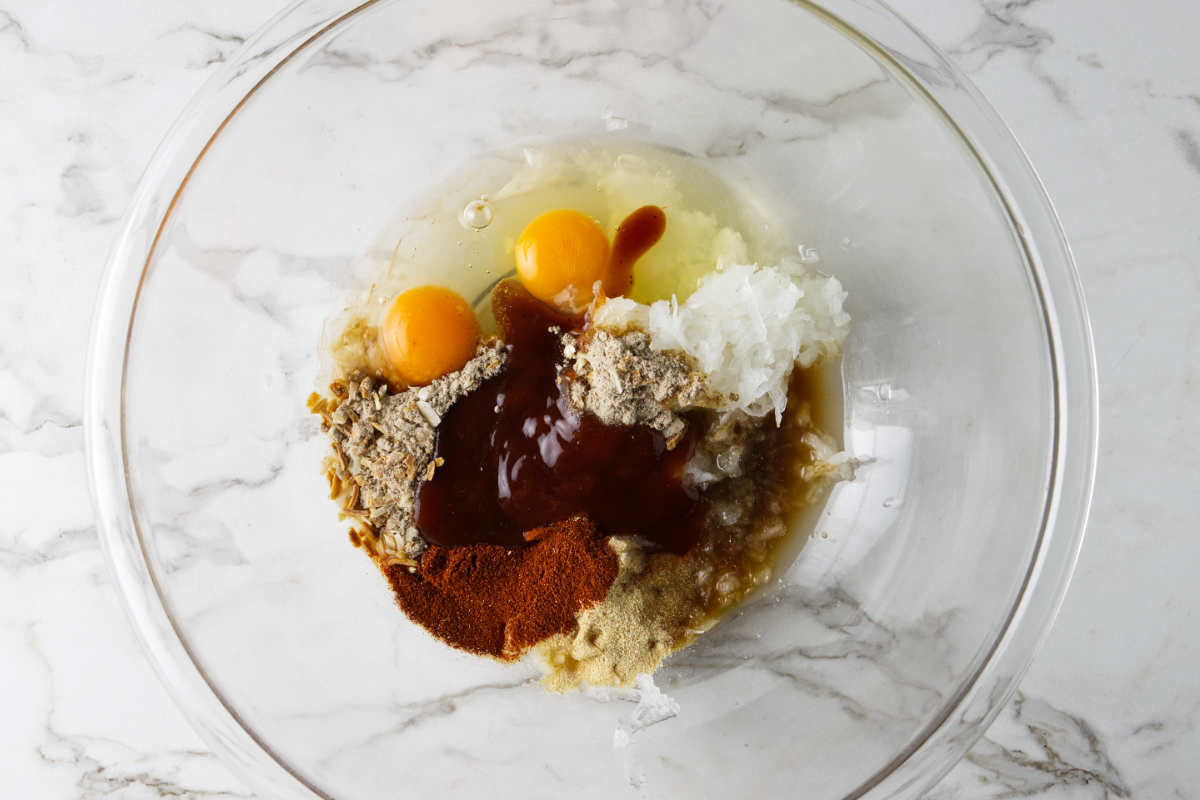 Combine the Worcestershire sauce, BBQ sauce, eggs, onion soup mix, garlic powder, and smoked paprika,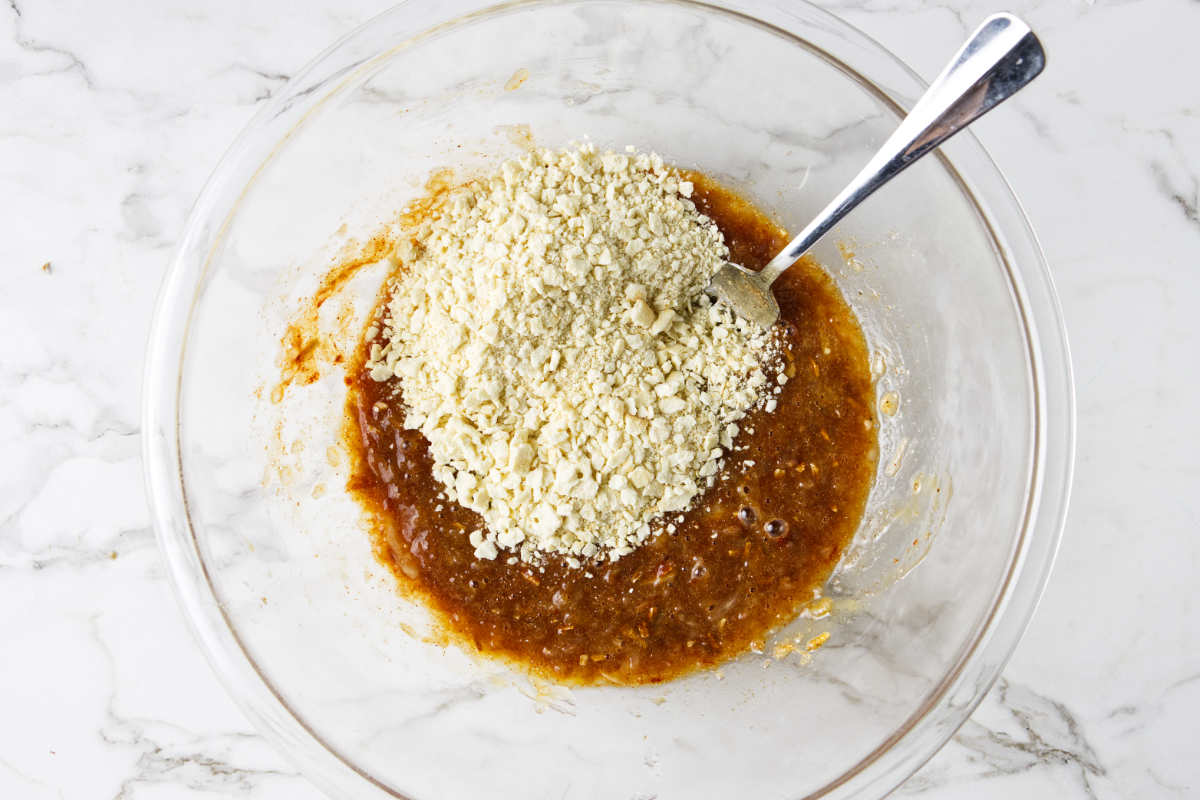 Mix in the saltine crackers.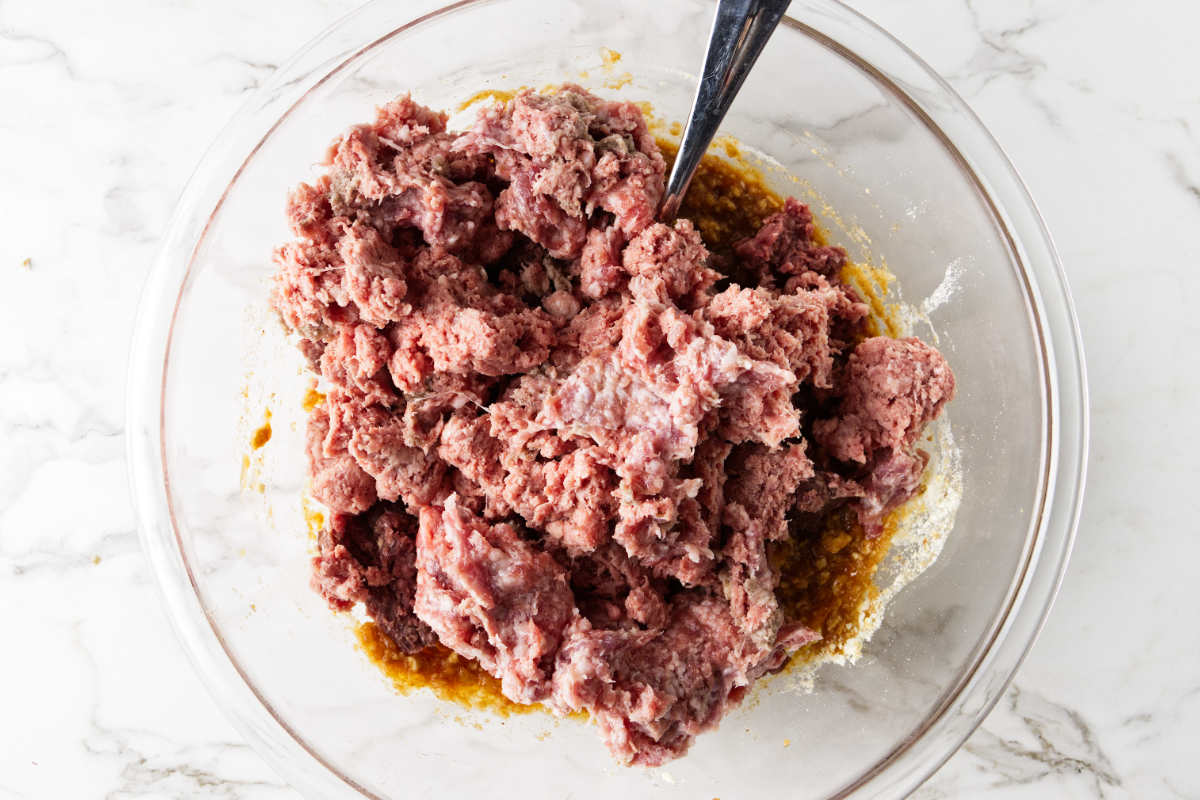 Add the ground beef and pork sausage.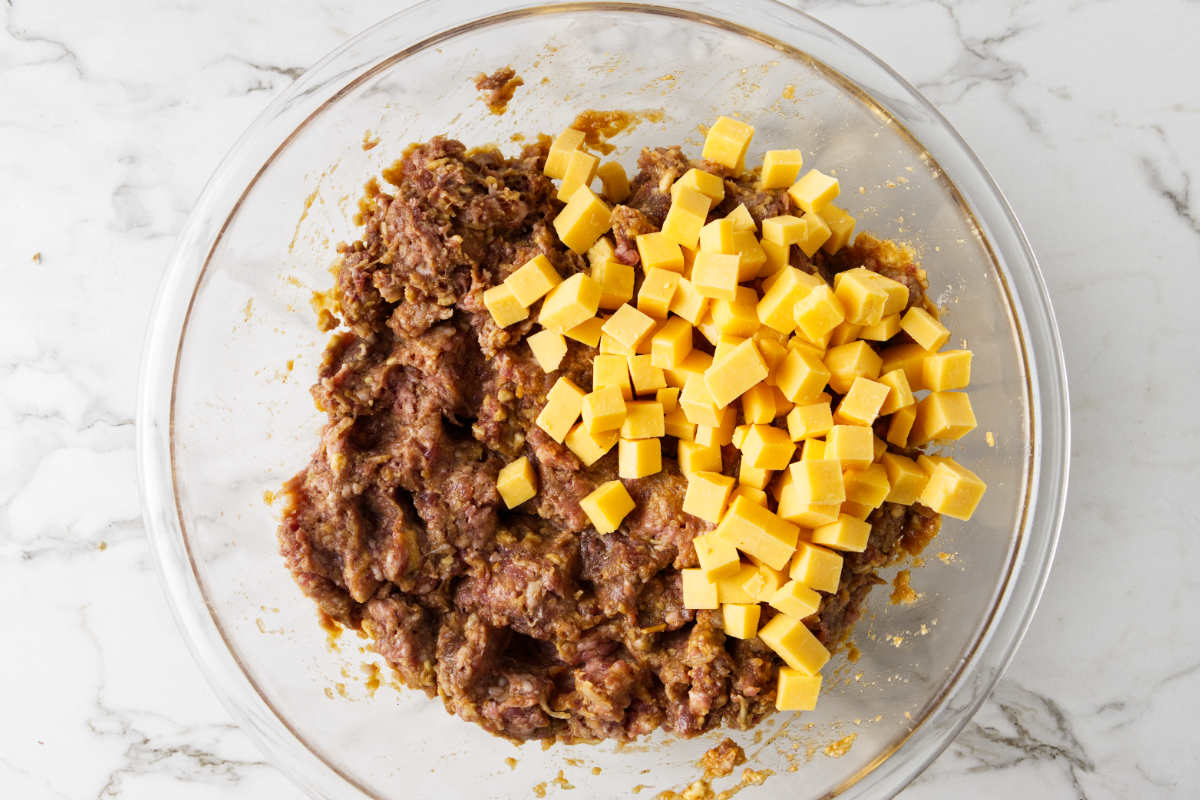 Toss in the cubed cheese.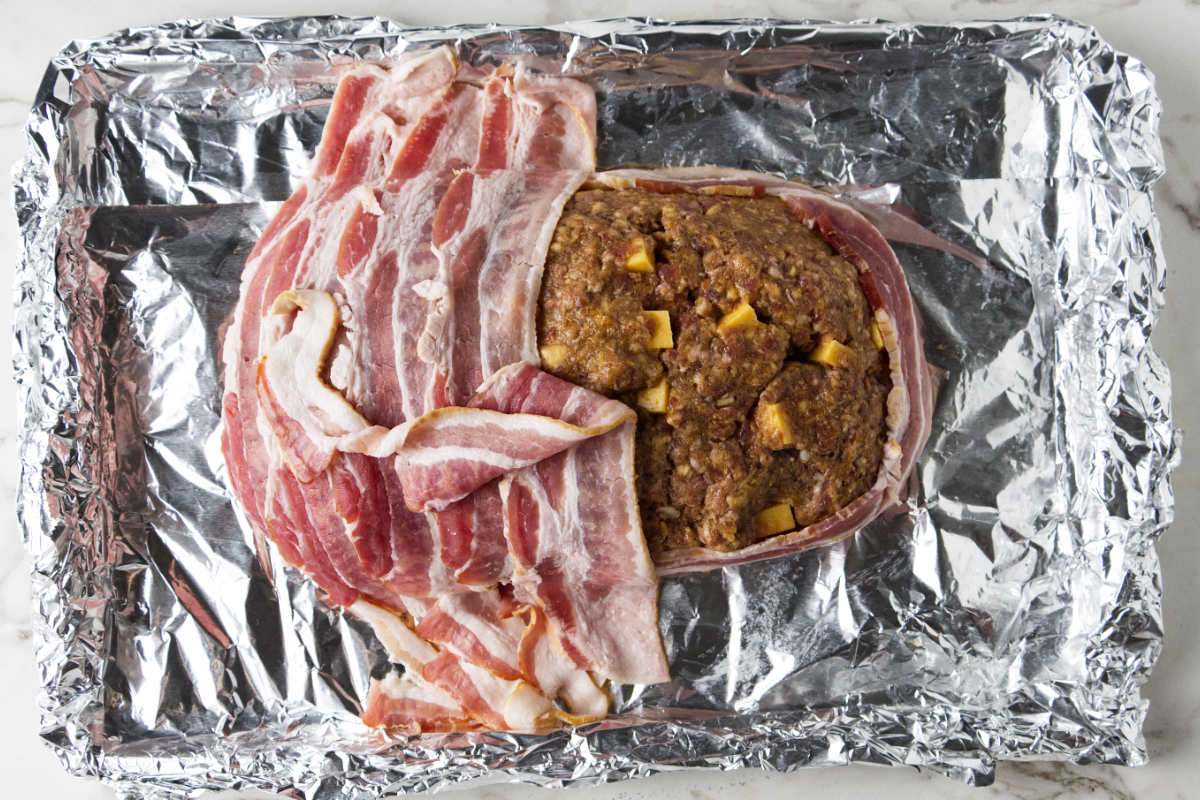 Layer with thinly sliced bacon.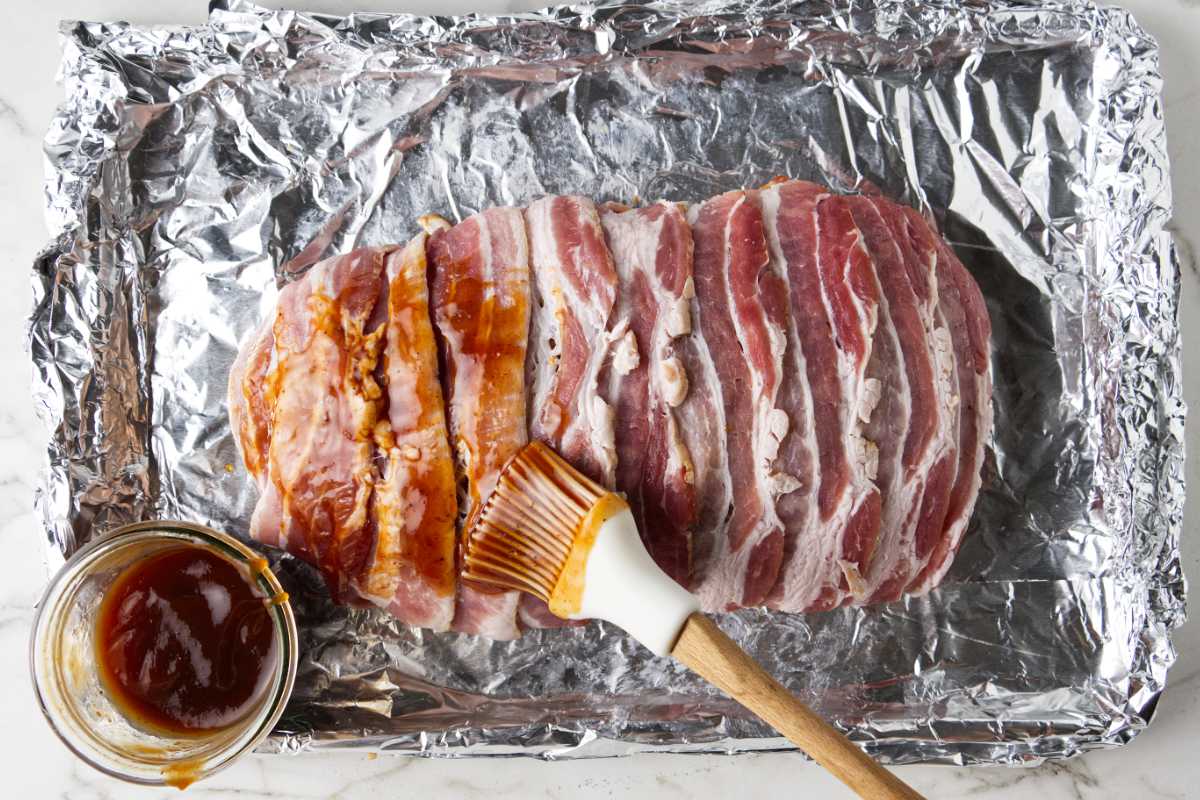 Brush the BBQ sauce.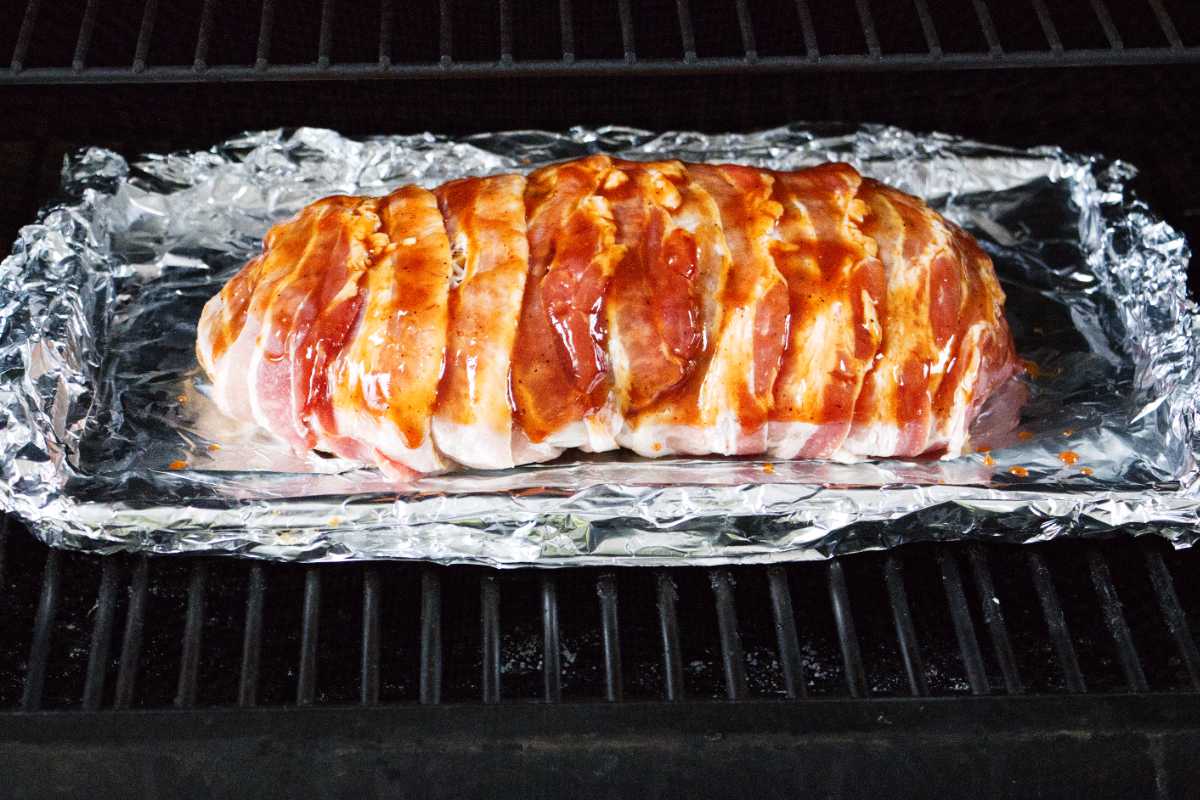 Smoke the meatloaf on the Traeger or other pellet grill.
😉 Expert Tips
Be careful not to overmix. Although it can be tempting to mix your meatloaf until it's smooth, you don't want to go overboard. Otherwise, your meat won't be tender. Just mix it until the ingredients are combined.

If you want to minimize clean-up, you can line your pan with foil. Then you can easily toss the foil after cooking.

Use a food thermometer for accurate internal readings. There's nothing worse than taking meatloaf off the grill before it's fully cooked! Check the doneness of your loaf by sticking the thermometer into the center.

Don't forget to brush the tops AND sides of your meatloaf with BBQ sauce. Most people remember to brush the tops, but covering the sides gives the entire loaf a gorgeous caramelization.

Don't overcook the meatloaf. I'm a sucker for food safety, but I'll usually pull it out right as it hits the correct internal temperature. This stops it from going dry!

Try a tiny trial portion on the cooker. It sounds weird, but frying off just a tiny amount of your meat mixture will let you see whether you have the spice balance right before cooking the entire loaf.

Let it rest for a while before slicing it. This will minimize any moisture loss and will make the meatloaf easier to cut.

Feel free to put it in the fridge before cooking. This is useful if you don't have much time before guests arrive. But the cooler temperature also stops the meat from falling apart when you handle it.
❓ FAQ
Which wood is best for this smoked bacon-wrapped meatloaf?
If you're wondering what wood chips to use for your pellet grill, I suggest mild options like maple, apple, or pecan. Oak or hickory can be good if you want a strong flavor, but it might overwhelm the rest of the ingredients.
What can you do with leftover Traeger smoked meatloaf?
You can use it to make a delicious sandwich, stuff it into tacos, crumble it over nachos, or eat it as-is! The sky's truly the limit here.
What is the secret to moist meatloaf?
For this particular recipe, the key is using high-fat meat and saltine crackers! The crackers lock in moisture, while the higher fat content of the meat stops the loaf from drying out on the smoker or pellet grill.
What ingredients keep the meatloaf from falling apart?
You can thank the eggs and saltine crackers for that! They work as binders and force the meat mixture to stick together as it cooks.
Is it better to cook smoked bacon-wrapped meatloaf covered or uncovered?
You can cook it uncovered, but it's worth covering your loaf with foil if you're worried about it burning. Personally, I'd leave it uncovered to let those smoky flavors infuse into the meat.
🤔 Variations and Substitutions
Ground turkey – replace the ground beef and pork with ground turkey. If your goal is to keep it lean, you can use ground turkey breast which is very low in fat, but the meatloaf won't be as flavorful. I like to replace the ground beef with ground turkey breast and replace the ground pork sausage with ground turkey thighs or drumsticks.
Breadcrumbs – replace the crushed saltine crackers with Panko breadcrumbs or homemade breadcrumbs. For a gluten-free option, you can use quick-cook oats.
🥡 Storage and Reheating
You can store the meatloaf in an airtight container in the fridge for 3-4 days.
You can reheat the meatloaf in the air fryer. I like to slice the meatloaf into portions before throwing it in the air fryer so it heats evenly. Reheat the meatloaf in the air fryer at 360°F for about 6-8 minutes.
 🛠 Tools and Equipment
If you click on some of the following affiliate links and buy something, we might get a small commission. You don't pay any extra, but it will help us keep the lights on and our bellies full!
🤤 Don't Sleep On These Recipes!
There is so much that goes well with smoked meatloaf.
I love these air fryer green beans with bacon. They really help to balance the heartiness of the meatloaf.
You should also add these grilled potato wedges to your rotation! They are perfect for those days spent outside on the patio with the BBQ.
Air fryer cauliflower is also a welcome addition to smoked meatloaf. They are packed full of flavor from the seasoning and cooked perfectly in the air fryer.
🎁 Wrap Up
Whether you're looking for a crowd-pleasing weeknight staple or a glorious centerpiece for a dinner party, this smoked bacon-wrapped meatloaf is a winner. Packed with savory flavors and perfect for leftovers, it's a family favorite that the whole brood will enjoy!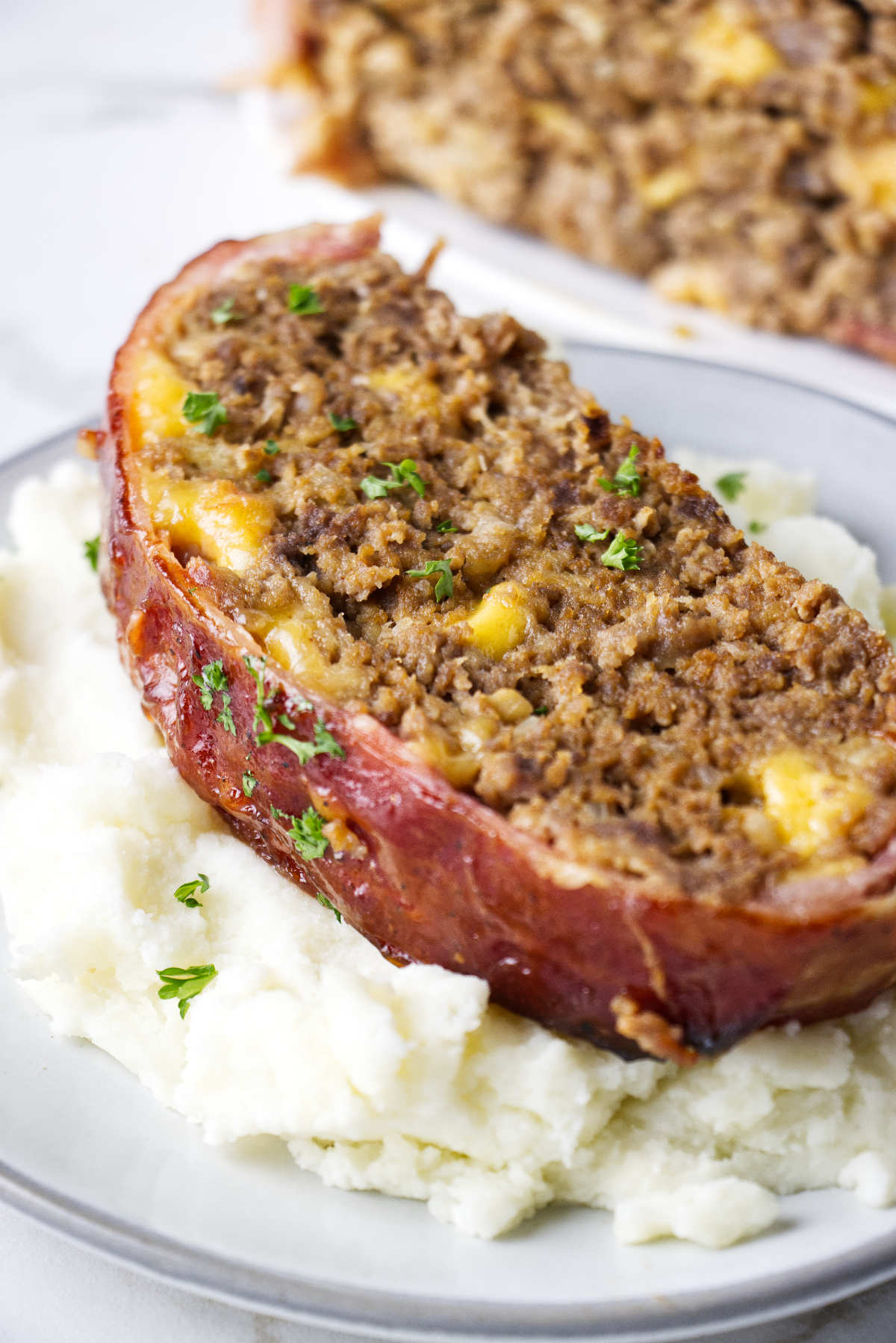 💬 Tell Me What You Think!
Did you try out this recipe? Please leave a comment below and let me know how you liked it. Also, snap a picture and post it to your favorite social platform. Be sure to tag me at @alicensetogrill and let me know how you liked it!
CONNECT WITH A LICENSE TO GRILL!
Be sure to follow us on our social media accounts.
Did you make this recipe? Tell us about it in the comments below!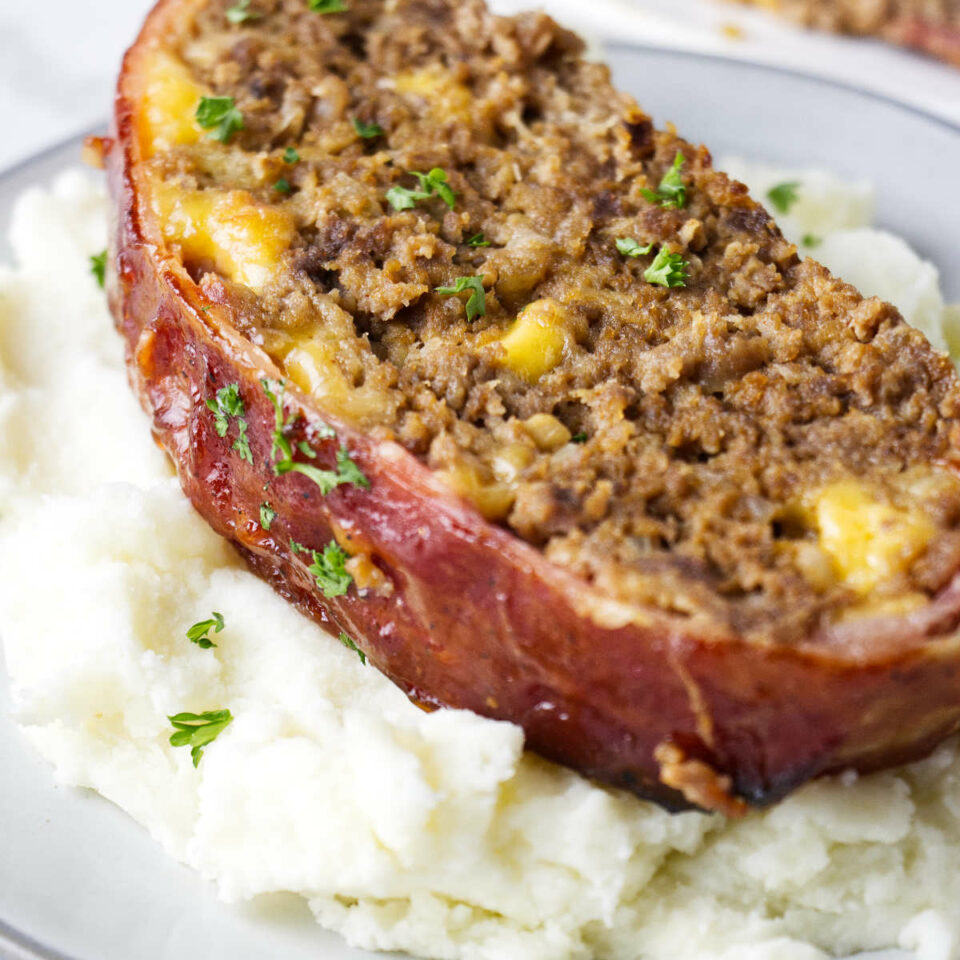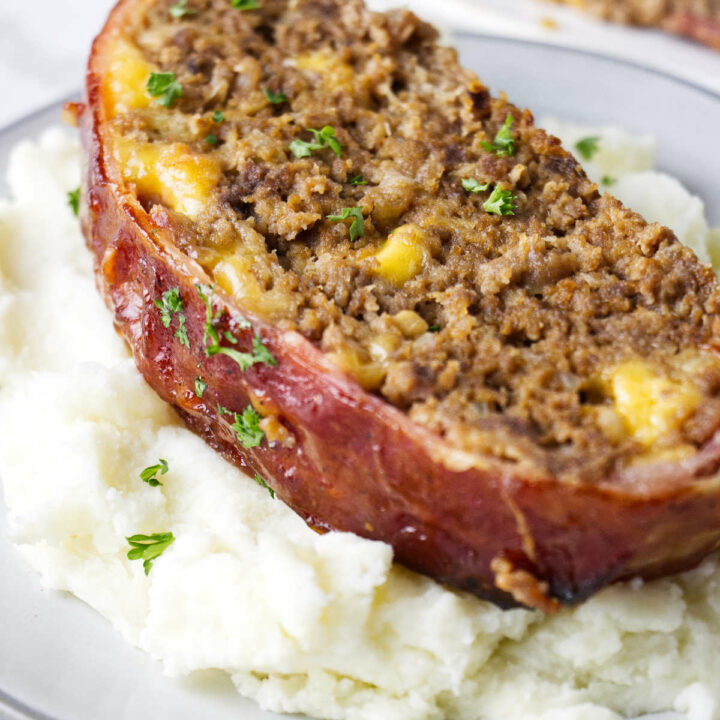 Smoked Bacon Wrapped Meatloaf
Total Time:
3 hours
20 minutes
This smoked bacon-wrapped meatloaf is easy to prepare, and it is loaded with a ton of flavor. A mixture of ground beef and pork combined with cheese, bacon, and spices creates a delicious and hearty dish.
The bacon helps keep the meatloaf moist and bastes the meat while it smokes on the Traeger pellet grill. Finish it with a sweet and tangy glaze of BBQ sauce and serve it with mashed potatoes or your favorite side dish.
Ingredients
6 ounces sharp cheddar cheese
1 large onion
1 tablespoon Worcestershire sauce
⅓ cup Kansas City BBQ sauce or your favorite BBQ sauce
2 eggs
1 packet dry onion soup mix
2 teaspoons garlic powder
2 teaspoons smoked paprika
1 cup crushed saltine crackers
1-½ pounds ground beef
½ pound ground pork sausage
1 pound thin-cut bacon
Glaze
Instructions
Preheat the pellet grill to 225°F and line a baking sheet with aluminum foil.
Cut the cheese into small cubes and set aside.
Grate the onion. It will turn into a paste, and the juices will be released. Toss the grated onion and the juices into a mixing bowl.
Stir in the Worcestershire sauce, BBQ sauce, eggs, onion soup mix, garlic powder, and smoked paprika. Stir until well combined.
Stir the cracker crumbs into the mixture and let them soak for 5 minutes.
Crumble the ground beef and pork sausage over the mixture and mix it until well combined. Stir in the cheese cubes.
Place the meat on the baking sheet and shape it into a loaf. Arrange slices of bacon over the top of the meatloaf, slightly overlapping them. Tuck the ends under the loaf.
Brush BBQ sauce over the top and place it on the grill.
Smoke for 2 hours, then baste the meatloaf one more time with bbq sauce and smoke for another 30 to 60 minutes or until the internal temp reaches 160°F.
Notes
You can use regular bread crumbs, Panko bread crumbs, or crushed croutons in place of the crackers. 
Don't over-mix the meat mixture, or the meatloaf will not be as tender.
Thin-cut bacon works best for this recipe as the fat will have time to render down.
Recommended Products
As an Amazon Associate and member of other affiliate programs, I earn from qualifying purchases.
Nutrition Information:
Yield:

10
Serving Size:

1
Amount Per Serving:
Calories:

506
Total Fat:

33g
Saturated Fat:

13g
Trans Fat:

0g
Unsaturated Fat:

18g
Cholesterol:

139mg
Sodium:

1646mg
Carbohydrates:

17g
Fiber:

1g
Sugar:

7g
Protein:

32g
Nutrition information is a guideline only, is calculated automatically by third party software, and absolute accuracy is not guaranteed.