Air Fryer Frozen Onion Rings
on Mar 07, 2023, Updated Sep 21, 2023
If you're looking for the perfect side to spice up burger night, these incredible air fryer frozen onion rings are ideal. They're the perfect combination of savory and sweet. But don't have that greasy mouthfeel you get with traditional deep-fried versions. And that means you can have twice as many, right?
Cooking these bad boys in the air fryer gives them unbeatable crispiness and a golden-brown color. Plus, you can whip them up in under 10 minutes. So, they're an ideal side dish for last-minute dinner parties!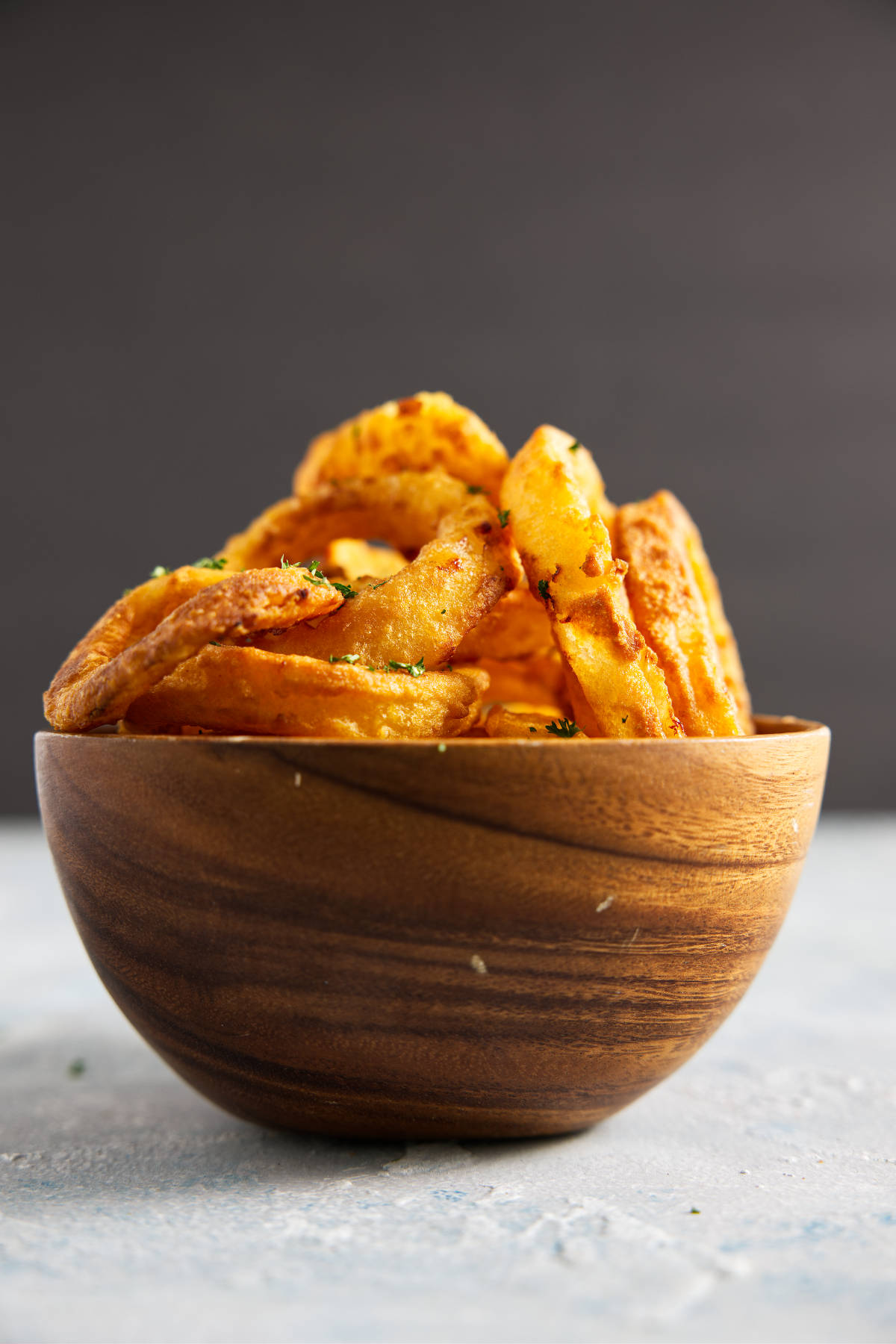 I love serving these air fryer frozen onion rings as-is with a tri-tip sandwich or a glorious grilled flank steak. But they're just as good flying solo with a dollop of ketchup or mayo if you're on the hunt for reliable movie night snacks! Dip it in some of this insanely yummy Donkey Sauce, a creamy garlic aioli.
Next time you grab a bag of frozen onion rings, refer to this recipe for perfect, crispy results. Don't forget to bookmark this page or pin it for later. Trust me – you won't regret it!
💪 Why This Recipe Works
It's ready in minutes and requires no prep.

It can be dipped in any delicious sauce for the perfect snack or side.

You'll get crispy and golden onion rings every time (without fail!).

The air fryer keeps things at the ideal cooking temperature, which means you don't need to deep fry anything for a crunchy result.

There's no hot and splattering oil to contend with!
🍽 Ingredients
Frozen onion rings. Any brand of frozen onion rings should work. Just look carefully to see whether any oils or seasonings have already been added to your onion rings before cooking them. You can always add oil and seasoning to adjust the flavor!

Spray oil. I like using avocado oil as it has a high smoke point and a neutral taste, but virtually any decent spray oil will work. Stay away from notorious sprays containing soy lecithin since this builds up over time and makes your air fryer sticky.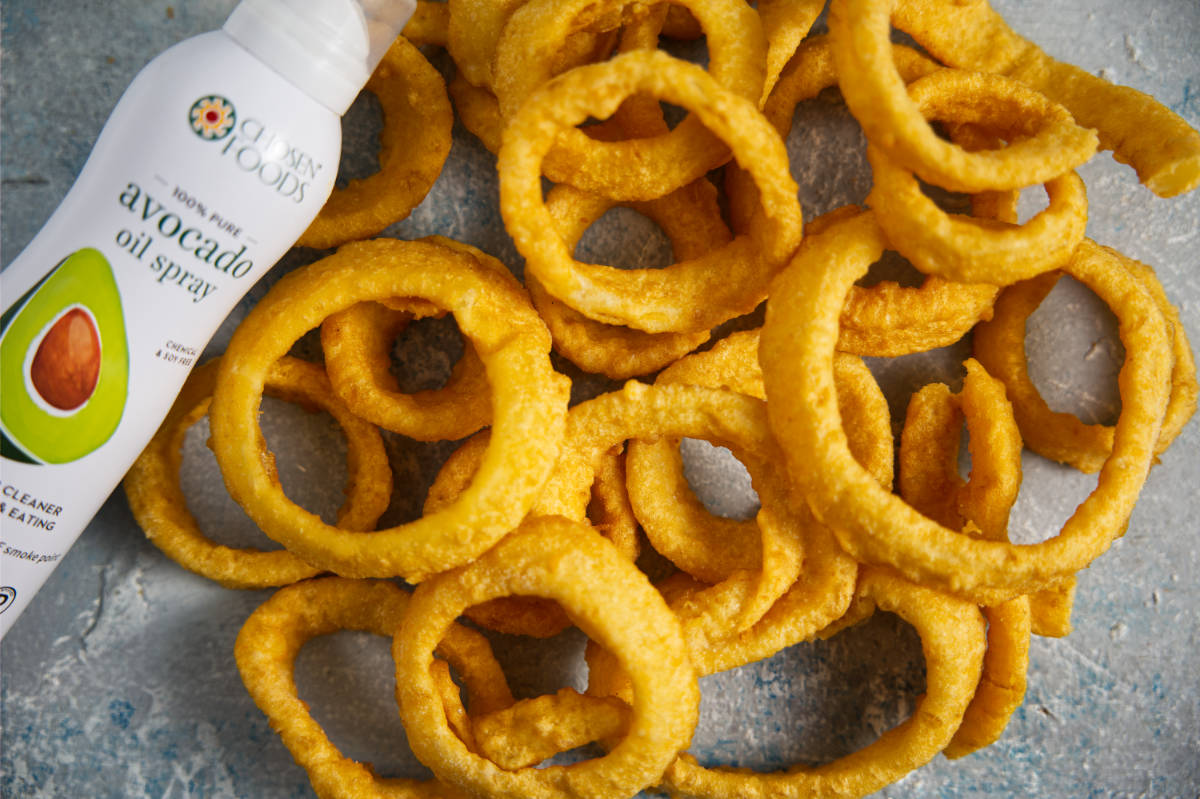 👨‍🍳 How To Make It
Load the air fryer with frozen onion rings.

Cook the onion rings and lightly shake the basket halfway through (or give them a flip!).

Remove the onion rings and serve with your favorite dipping sauce!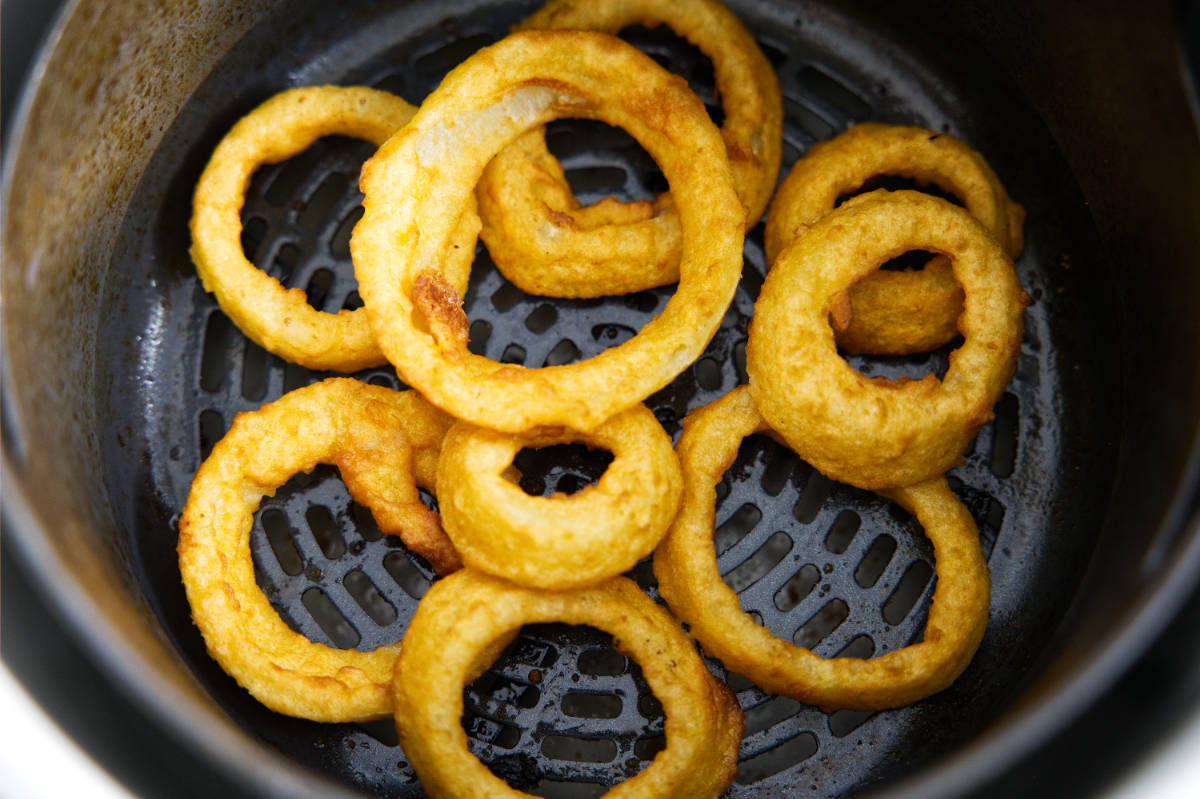 😉 Tips For Success
Don't stack your onion rings! The key to perfectly crispy onion rings in the air fryer is leaving enough space between each one. This lets them cook evenly and gives your onion rings a perfectly crispy and golden-brown exterior. If necessary, cook them in batches.

Don't be afraid of oil! The oil helps to get things crispy and gives you that golden brown exterior. Oil also helps bind any seasoning you add to the onion rings.

Flip them halfway through. If you want perfect crisp results, it's best to flip your onion rings. You can get away with giving them a shake if you have a basket air fryer. You can get away without flipping them, but they are much better if you toss them halfway through!

Don't forget to pre-heat your air fryer. As you're cooking frozen onion rings, you want them to start crisping up as soon as you put them in the air fryer. Having the hot air circulating and ready to go is key.

For extra crispiness, add a few minutes to the cooking time. Of course, you'll need to keep a close eye on your rings to make sure they don't burn. But an extra minute or two will give them tons of crunch.

Check sizes carefully before cooking. No two onion rings are the same, but you should try and choose rings of similar sizes for an even cook.

Season them slightly. If your rings aren't pre-seasoned, sprinkle them with salt or get crazy and dust them with some delicious Cajun seasoning or barbecue rub to take things to the next level.

Allow them to cool slightly before serving. Your air fryer frozen onion rings will be HOT when you take them out of the air fryer. So, leave them to cool for 1 or 2 minutes before digging in to avoid a burnt tongue!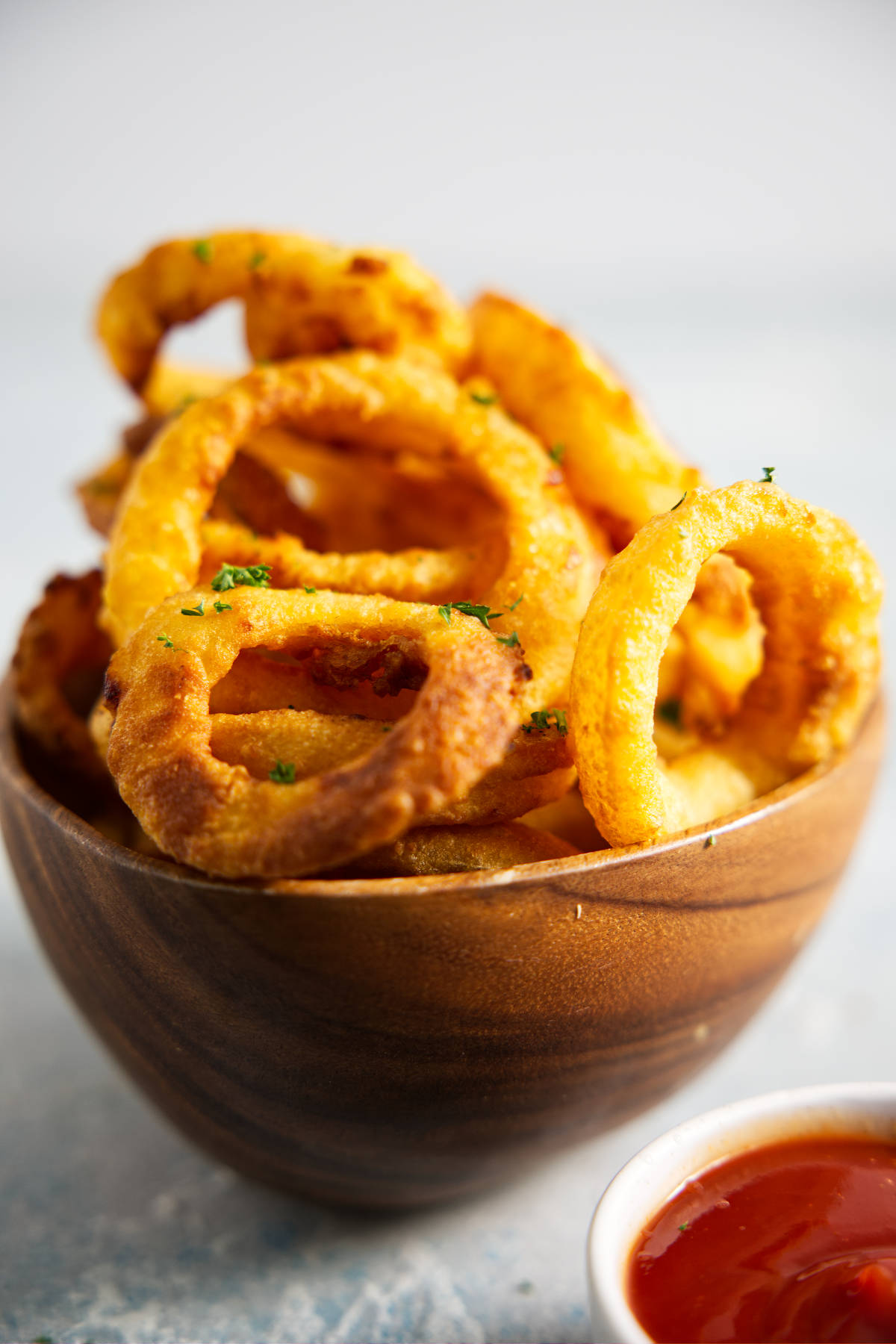 ❓ FAQ
Are air-fried onion rings healthy?
Since you aren't deep-frying these air fryer frozen onion rings, they're healthier than traditional fried onion rings recipes.
How long do you cook frozen onion rings in an air fryer?
These onion rings are usually ready in 8 minutes, but you can leave them in the air fryer slightly longer if you like them uber-crispy.
Do I need to defrost my air fryer frozen onion rings before cooking?
Nope – if you put your onion rings into the air fryer basket fully frozen, they'll crisp up in minutes!
What temperature should you use for cooking frozen onion rings in an air fryer?
To get beautifully crispy onion rings, heat your air fryer to 400°F!
What should I do if my onion rings aren't crispy?
If your onion rings aren't crispy enough, leave them in the air fryer for a few extra minutes. You can also add a dose of spray oil on the onion rings to help crisp them up.
Can I reheat frozen onion rings in the air fryer?
These onion rings taste best fresh, but you can pop them into the air fryer for around 2 minutes at 400°F if you're ready for round 2!
🤔 Variations and Substitutions
Add some delicious seasonings to your onion rings. Use some spray oil to help the seasonings coat the onion rings for a delicious bite every time!
 🛠 Tools and Equipment
If you click on some of the following affiliate links and buy something, we might get a small commission. You don't pay any extra, but it will help us keep the lights on and our bellies full!
I am a fan of Ninja air fryers. This dual-basket Ninja air fryer is great for large families.
If you prefer a single basket, this Ninja Max XL air fryer is a gem!
🤤 Don't Sleep On These Recipes!
Everyone loves meatloaf, but this recipe for smoked bacon wrapped meatloaf is no match! It is wrapped in delicious bacon that has been covered in caramelized BBQ sauce and the meatloaf is filled with gooey cheese.
These Blackstone Philly cheesesteak sandwiches are delicious served up alongside these air fryer frozen onion rings. Every bite is loaded with cheese and perfectly seasoned sliced steak.
🎁 Wrap Up
Whether you're in the midst of a snack attack or need a tasty side for a weeknight dinner, these air fryer onion rings are a dream. So, hit the frozen aisle at the grocery store and stock up as you'll be chowing down on these delicious treats for weeks to come!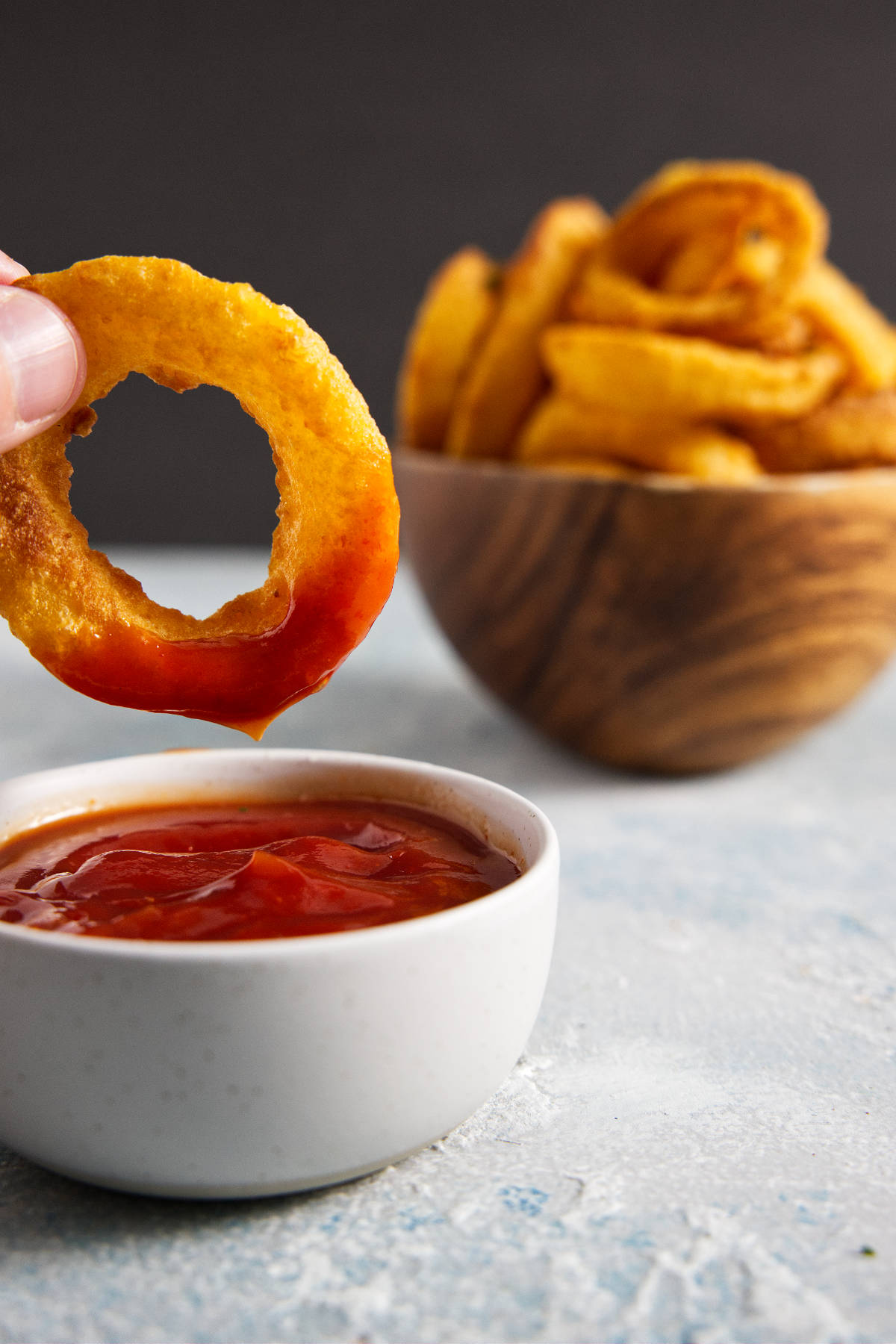 💬 Tell Me What You Think!
Did you try out this recipe? Please leave a comment below and let me know how you liked it. Also, snap a picture and post it to your favorite social platform. Be sure to tag me at @alicensetogrill and let me know how you liked it!
CONNECT WITH A LICENSE TO GRILL!
Be sure to follow us on our social media accounts.
Did you make this recipe? Tell us about it in the comments below!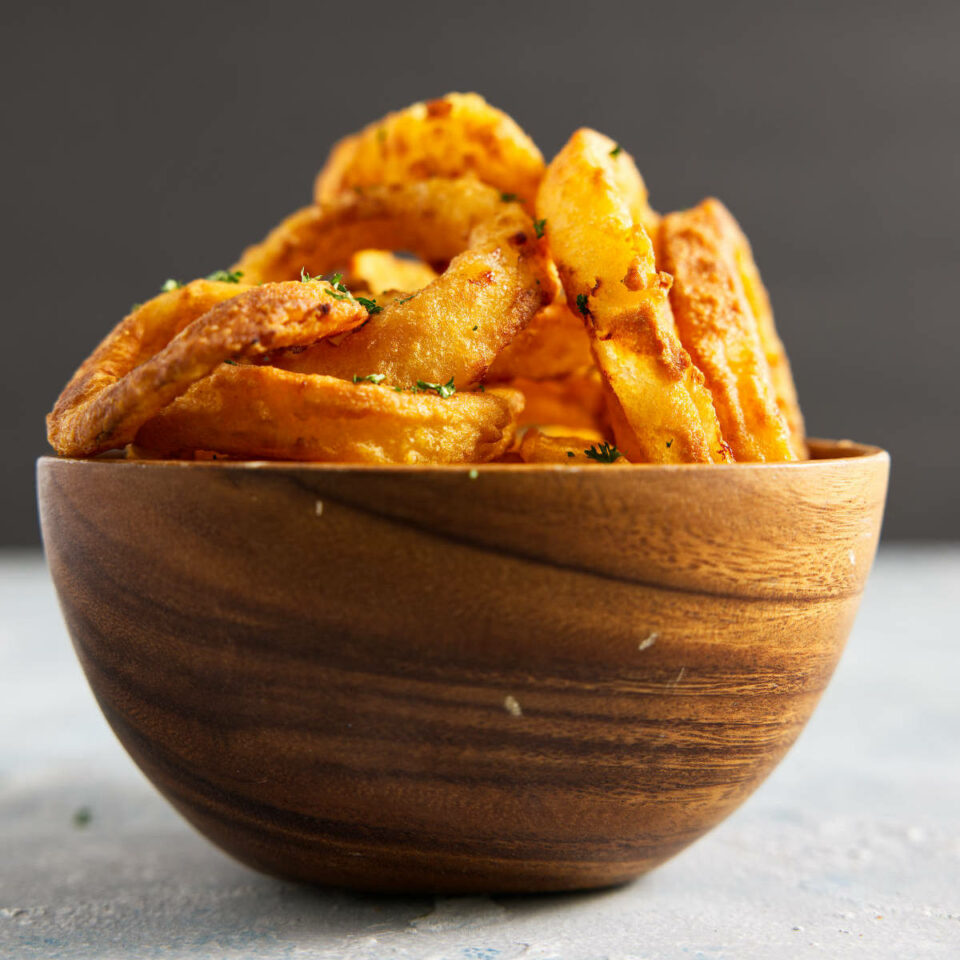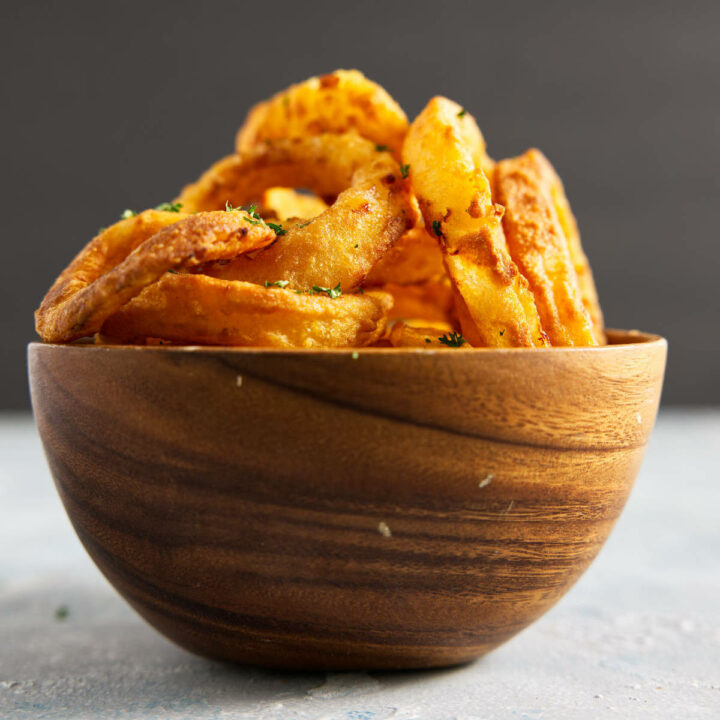 Air Fryer Frozen Onion Rings
A quick and easy way to serve up some super crispy and delicious onion rings.
Spray oil does wonders to give these onion rings a delectable crunch.
You may need to cook the onion rings in batches so that you don't crowd the air fryer.
Ingredients
1 bag of frozen onion rings
Spray avocado oil
Optional
Instructions
Load the air fryer basket with the onion rings. Be sure to space them out, so the onion rings are not touching.
Spray the onion rings with oil. Add the Cajun seasoning, or your favorite seasoning, if desired.
Cook the onion rings at 400°F for 8 minutes. Shake the basket or flip the onion rings halfway through to ensure an even cook.
Remove the onion rings and serve with your favorite dipping sauce.
Notes
If you have a smaller air fryer, you may need to cook the onion rings in batches so that they onion rings cook evenly. If they are crowded, the onion rings will not be as crispy.
I like to use spray oil when cooking onion rings. The oil he's to give them a wonderfully crispy exterior. Any oil works, but I like to use a neutral oil like avocado oil.
Recommended Products
As an Amazon Associate and member of other affiliate programs, I earn from qualifying purchases.
Nutrition Information:
Yield:

4
Serving Size:

1
Amount Per Serving:
Calories:

284
Total Fat:

17g
Saturated Fat:

3g
Trans Fat:

0g
Unsaturated Fat:

13g
Cholesterol:

0mg
Sodium:

1030mg
Carbohydrates:

29g
Fiber:

2g
Sugar:

3g
Protein:

4g
Nutrition information is a guideline only, is calculated automatically by third party software, and absolute accuracy is not guaranteed.