Tender, juicy, and a total crowd-pleaser, it's unsurprising that this Traeger Smoked tri-tip has become one of my all-time favorite grill recipes. Seriously – whenever I pull this out at a summer BBQ, I'll usually be fielding recipe requests for the rest of the afternoon.
Despite being big on flavor and packing a meaty punch, this recipe is surprisingly easy. You just need to fire up the trusty Traeger, dry rub your meat, and you'll be good to go. Incorporating brown sugar, cayenne, and smoked paprika, my specialty dry rub creates a delicate balance of flavors that allows the star ingredient to shine through.
You'll want to bookmark this recipe or pin it for later, as you'll be revisiting it again and again throughout the summer. Mark my words! Serve this Traeger smoked tri-tip with some mint cilantro chimichurri for an extra burst of flavor. Don't forget the sides, these au gratin potatoes, and these delicious cowboy baked beans are the perfect dishes for a barbecue.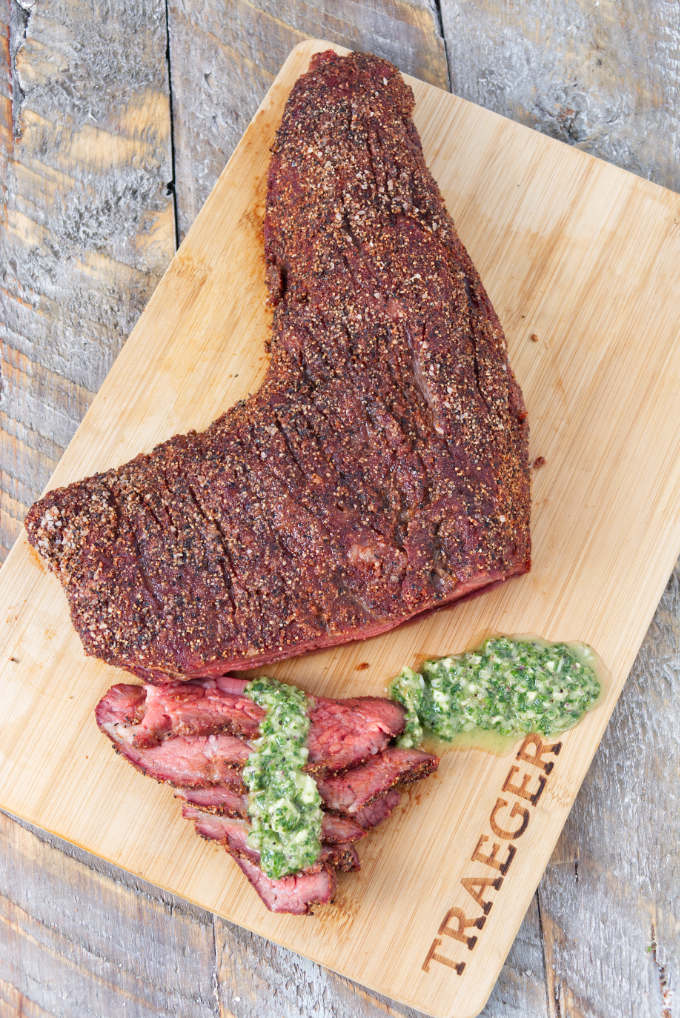 Here is Why This Recipe Works
Creating a dry rub helps maintain an even flavor across the meat.

Using kosher salt and brown sugar keeps the meat moist while creating that signature charred exterior that we know and love.

Wrapping the meat in tinfoil or butcher paper after cooking keeps those delicious juices in while the meat rests.

It requires few ingredients and requires virtually no clean-up!
Ingredients
Here is a list of ingredients that you need to make this recipe. Scroll down to the printable recipe card for all the details.
Tri-tip. For best results, choose a USDA Prime or Choice cut for your Traeger smoked tri-tip. This tri-tip from Double R Ranch has a wonderful marbling in the meat and is very well priced.

Kosher salt. Salt helps to add extra flavor to your meat and helps to build the crust while the meat cooks

Black pepper. Black pepper adds depth and spice.

Brown sugar. The sugar caramelizes on the steak to give it that signature crust.

Smoked paprika. This gives the tri-tip a rich flavor that pairs perfectly with the Traeger's smokiness.

Cayenne. You don't want to go overboard on the cayenne, but it'll give your dish a fiery kick.

Onion powder. This ingredient gives you all the depth of regular onion (without the watery eyes!) and distributes flavor evenly across the meat.

Garlic powder. Garlic powder is the star in any dry rub, as it disperses readily and isn't as potent as the fresh stuff.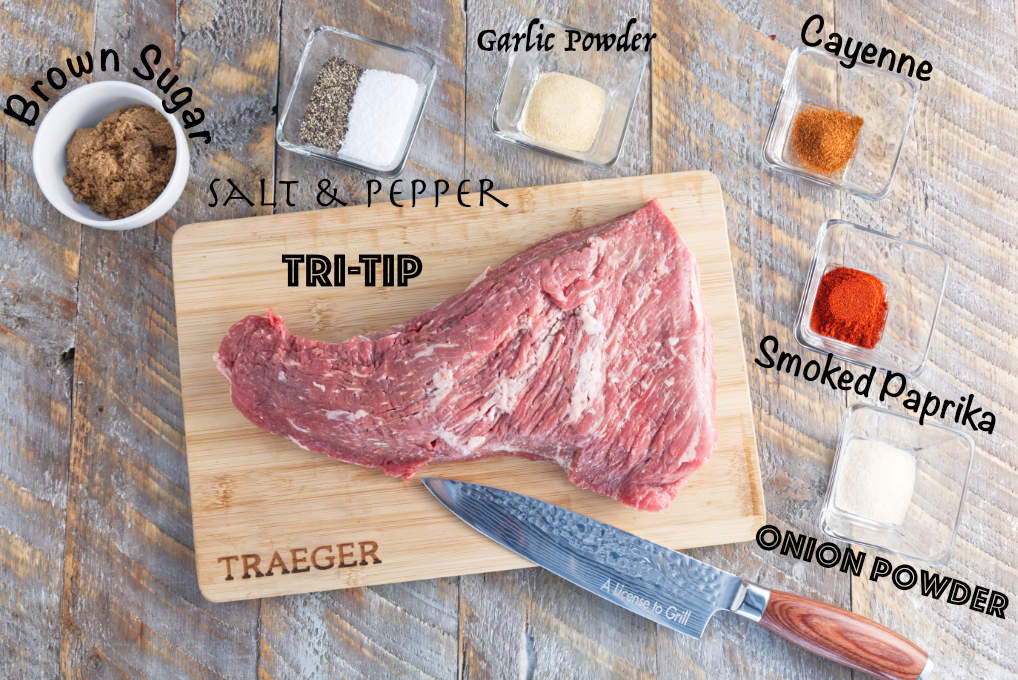 How to Make It
This Traeger smoked tri-tip is simple, but don't let it fool you! It is super delicious and perfect for your next BBQ outside. For step-by-step instructions for this recipe, scroll down to the printable recipe card.
Preheat the Traeger.

Mix ingredients for the dry rub and set aside.

Coat the meat evenly with the dry rub.

Place the tri-tip on the Traeger and cook until it reaches 125°F.

Wrap the meat in foil or butcher paper and let it rest before serving.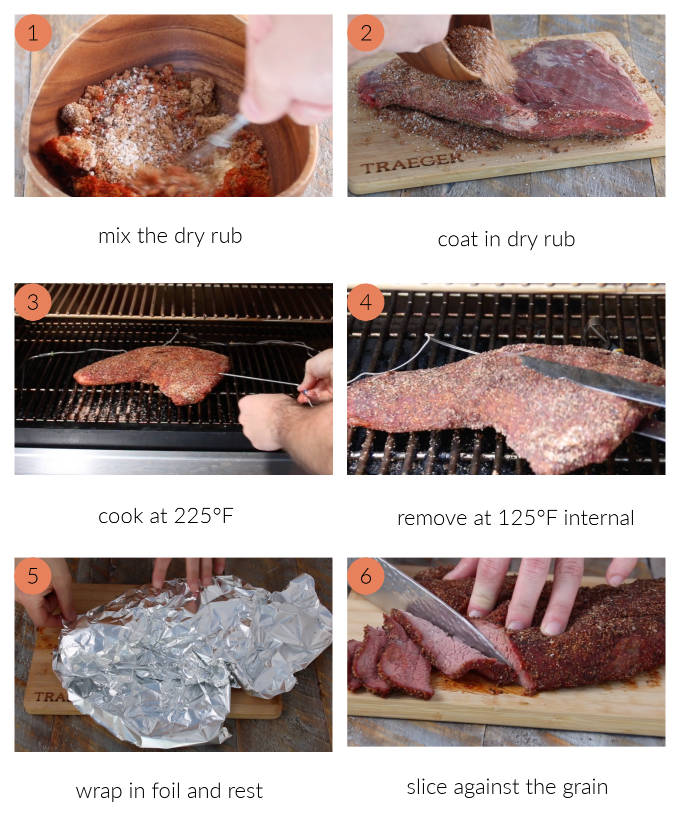 Steak Doneness Chart
| Steak Doneness Level | Internal Temperature |
| --- | --- |
| Rare | 120°F-130°F |
| Medium-rare | 130°F-135°F |
| Medium | 135°F-145°F |
| Medium-well | 145°F-155°F |
| Well-done | 155°F-160°F |
| VERY well-done | 160°F + |
Doneness Level for Steak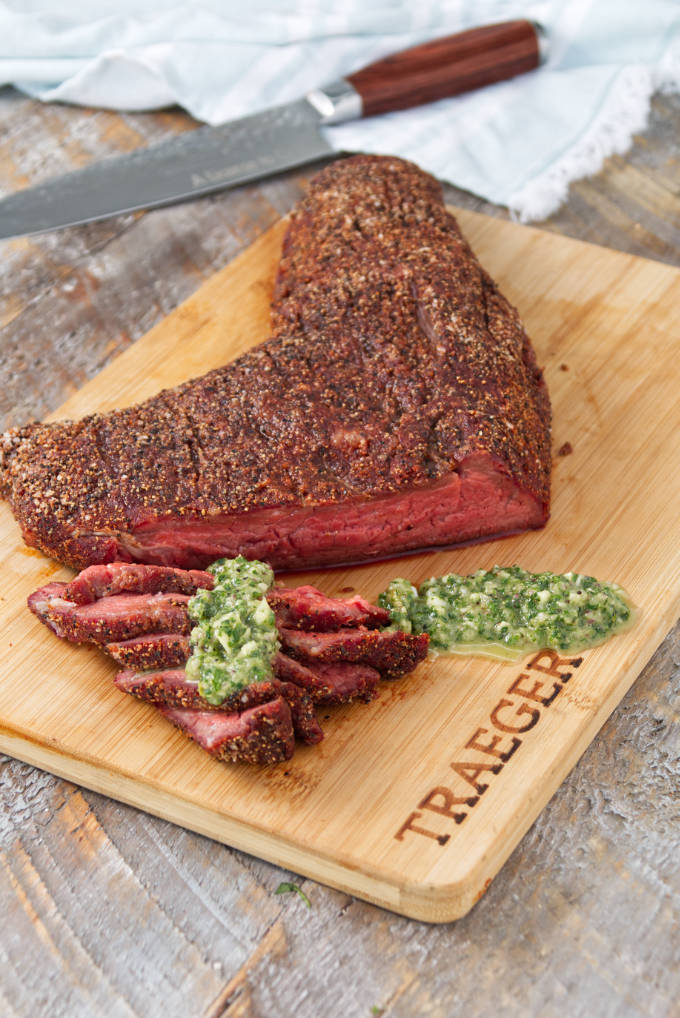 Tips For Success
Preheat the Traeger before you start cooking. Don't make it too hot. The Traeger should be at the right temperature to seal in all juices and get a wonderful smoky flavor without overcooking the tri-tip.

Remove the meat from the fridge at least 30 minutes before cooking. This allows the tri-tip to start cooking at room temperature, giving you more accurate timings to work from.

Take your time to coat the meat. This gives you an even flavor across the entire tri-tip.

A meat thermometer makes all the difference. Once your meat is resting and you cut into it, it's game over. Slide a meat thermometer into the center of your tri-tip to check the doneness. Just remember that the temperature will keep rising for 5 minutes after it's removed from the grill, so don't overdo it.

Season the meat in advance. This gives your dry rub time to penetrate the meat before it's placed on the Traeger. For best results, wrap the seasoned tri-tip with plastic wrap and store it in the fridge overnight. This will act as a dry brine to help pack in the flavor and make the meat tender and juicy.

Don't skimp on resting time. Resting your tri-tip for 5 or 10 minutes after cooking helps juices redistribute, resulting in a more tender slab of steak.

Always slice across the grain. This breaks up the muscle fibers in your tri-tip, making it far more tender. The grain changes orientation from the broadest part of the roast to the skinniest part, so pay attention when you're slicing!
🛠Tools and Equipment
If you click on some of the following affiliate links and buy something, we might get a small commission. You don't pay any extra, but it will help us keep the lights on and our bellies full!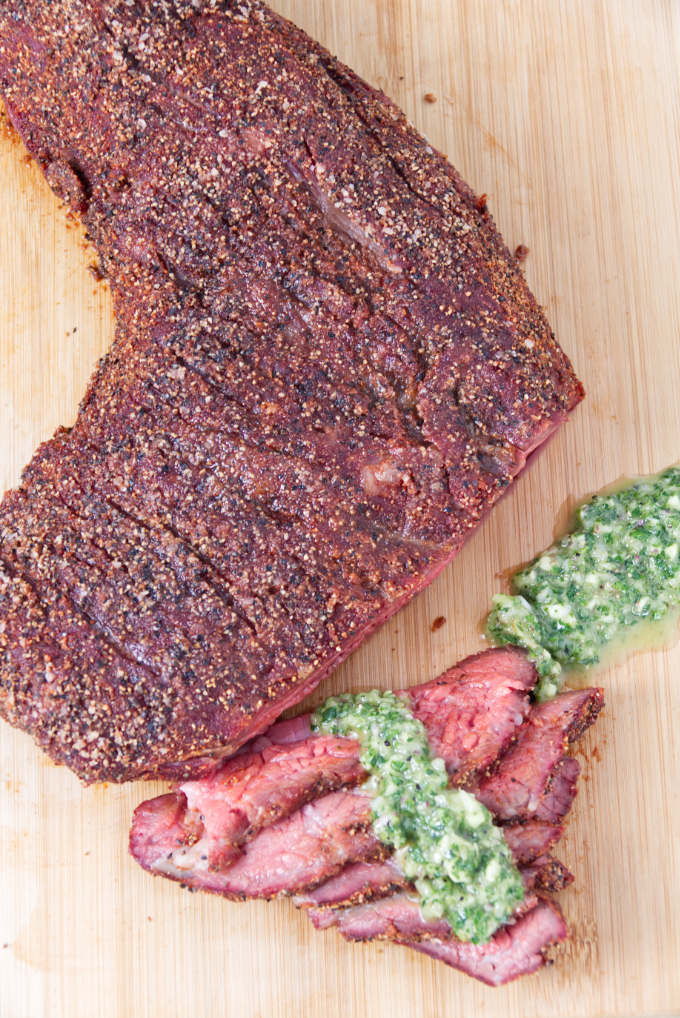 FAQ
What is a tri-tip?
A tri-tip is a triangular cut of beef that's cut from the bottom sirloin. It's usually lean, tender, and incredibly delicious.
How long does it take to smoke tri-tip?
The total cook time for a 1.5-2lb tri-tip is around 1.5-2 hours at 225°F. This will vary slightly depending on whether you're cooking your meat rare or well done, but it should only add a few minutes to your total cook time.
Is tri-tip steak tough?
Not if it's cooked properly! Tri-tip has plenty of marbling throughout. This Traeger smoked tri-tip is cooked to a perfect medium-rare, so it is juicy and tender. The meat will be tougher if you cook it for longer, but medium-rare tri-tips typically melt in your mouth. Don't forget to slice across the grain though, as much of a tri-tip's toughness comes from incorrect slicing.
Should you marinate your tri-tip?
If you have the time, certainly! Tri-tip does very well with a marinade. Try out this orange chili steak marinade. Soak the tri-tip in a sealable bag or large container overnight before throwing it on the Traeger. Once you remove the tri-tip from the marinade, lightly dry it off with a paper towel, coat it in the dry rub, and begin smoking on the Traeger.
Instead of marinating, you can also dry brine the tri-tip. After applying the dry rub to the steak, wrap it in plastic wrap and place it in the fridge overnight. This will help to make it juicier and add flavor deeper throughout the tri-tip.

What Else Is Cooking
This Traeger smoked tomahawk steak is reverse-seared for a perfect crust. It will definitely be the center of conversation at your next barbecue cookout!
If you have a Blackstone, you definitely need to try this Blackstone chicken fried rice. It is super easy and fun to make, and you will have leftover meals for days!
Serve up some of these grilled potato wedges or these air fryer jojo potato wedges. They go perfectly with this Traeger smoked tri-tip, especially when dipped in donkey sauce!
Wrap Up
Whether you're looking for your next garden party scene-stealer or you would just like to rustle up a next-level family dinner, this Traeger smoked tri-tip is an unbeatable choice for meat-lovers.
If that wasn't enough to convince you to try it, you'll be left with enough leftovers for sandwiches the next day!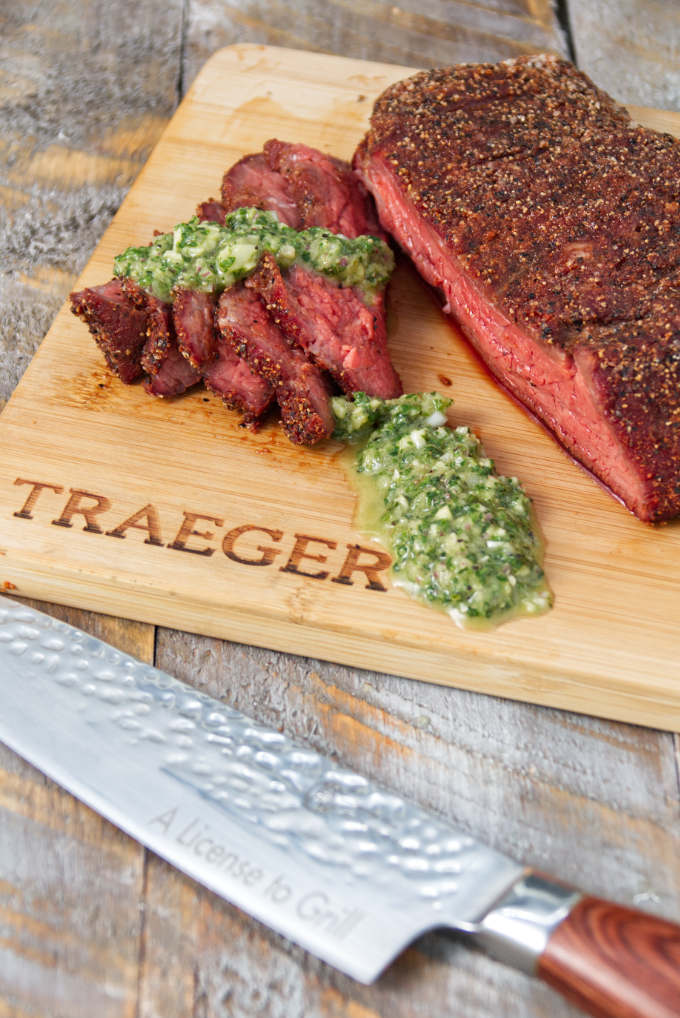 💬Tell Me What You Think!
Did you try out this recipe? Please leave a comment below and let me know how you liked it. Also, snap a picture and post it to your favorite social platform. Be sure to tag me at @alicensetogrill and let me know how you liked it!
CONNECT WITH A LICENSE TO GRILL!
Be sure to follow us on our social media accounts.
Facebook * Instagram * Pinterest * YouTube * Twitter
Did you make this recipe? Tell us about it in the comments below!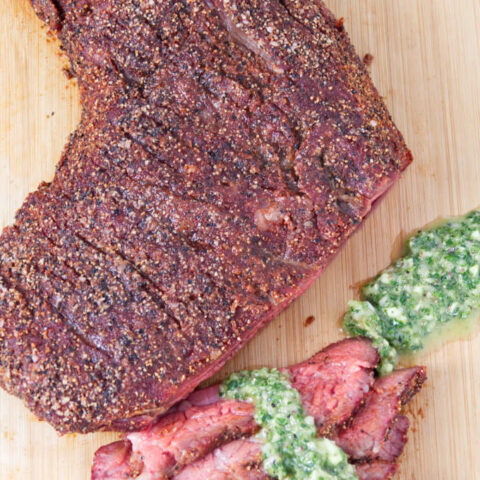 Traeger Smoked Tri-Tip
Total Time:
2 hours
5 minutes
Pull out the Traeger for this smoked tri-tip recipe! Tri-tip has an incredible flavor and, when smoked to perfection on the Traeger, is super tender and juicy. A simple sweet and savory dry rub brings a flavor boost that pairs perfectly with the smokiness from the Traeger. Slice the tri-tip across the grain and top the slices with some chimichurri for a delicious steak entree. Or load up the slices of tri-tip on a ciabatta roll for a killer steak sandwich. This Traeger smoked tri-tip is versatile and will give you multiple meals. You're going to want to throw this on the Traeger now!
Ingredients
For The Dry Rub
2 tablespoons kosher salt
1 tablespoon black pepper
2 tablespoons brown sugar
2 teaspoons smoked paprika
1 teaspoon cayenne
1 tablespoon onion powder
1 tablespoon garlic powder
Instructions
Preheat your Traeger to 225°F.
In a small bowl, mix the ingredients for the dry rub.
Rub the dry rub on the tri-tip. Coat the meat entirely on both sides.
Place the tri-tip on the Traeger and place your Thermoworks thermometer in the roast. Cook for 1.5 to 2 hours, or until the internal temperature reaches 125°F for medium-rare. See the notes below for other internal temperature recommendations.
Wrap the tri-tip in foil or butcher paper and allow it to rest for 10-15 minutes. Then, slice the tri-tip against the grain and serve.
Notes
The USDA and FDA recommend cooking beef to an internal temperature of 145°F. I prefer a medium-rare. Use a reliable thermometer like this Thermoworks Thermapen ONE for perfect results.
Use these cooking temps as a guide for perfect results. Rare = 120°F - 130°F, medium-rare = 130°F - 135°F, medium = 135°F - 145°F, medium-well = 145°F - 155°F, well-done = 155°F - 160°F, and VERY well-done = 160°F+.
Be sure to slice the tri-tip across the grain. The grain in the tri-tip changes orientation from the broadest part of the roast to the skinniest part, so pay attention while slicing and adjust as needed. The meat will be tough and chewy if you slice with the grain.
Recommended Products
As an Amazon Associate and member of other affiliate programs, I earn from qualifying purchases.
Nutrition Information:
Yield:

6
Serving Size:

1
Amount Per Serving:
Calories:

348
Total Fat:

17g
Saturated Fat:

0g
Trans Fat:

0g
Unsaturated Fat:

0g
Cholesterol:

125mg
Sodium:

1342mg
Carbohydrates:

7g
Fiber:

1g
Sugar:

4g
Protein:

40g
Nutrition information is a guideline only, is calculated automatically by third party software, and absolute accuracy is not guaranteed.