Smoked Queso Dip
on Jan 28, 2023, Updated Sep 21, 2023
If you're looking for something that'll turn any game night or dinner party into a complete fiesta, this recipe for smoked queso dip is perfect. It includes an unbeatable trifecta of cheeses for a ridiculously smooth and velvety texture that'll keep you dunking tortilla chips all night long.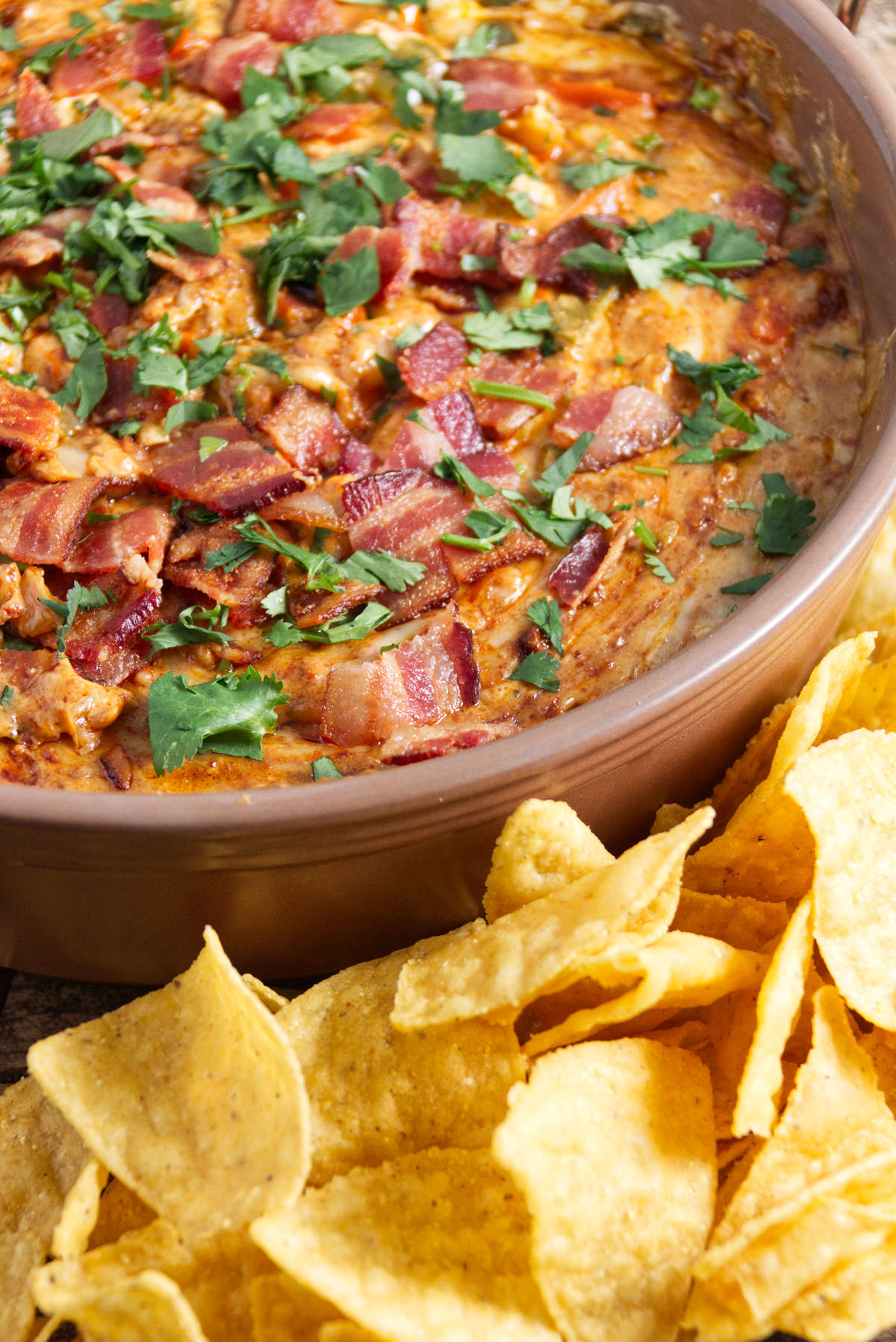 The mellow creaminess from the American and cream cheeses is glorious, but don't even get me started on the sharp bite from the pepper jack!
It's no secret that cheesy dips are always amazing. But what sets this smoked queso dip apart is the addition of bacon, ground chorizo, and a generous helping of garlic and spices.
These ingredients give the dip a seriously aromatic base with a super-savory, irresistible flavor. Throw in the heavy hit of spice from the jalapeño peppers, and it's easy to see why this dip is unbeatable!
Requiring just a bit of prep work and ideal for feeding large groups, you'll be pulling out this smoked queso dip recipe time and again. What can I say? It's a crowd-pleaser!
Drizzle the queso over these Blackstone smash burger sliders, or get crazy and dip your tri-tip sandwich in a bowl of this cheesy sauce.
💪 Why You Will Love This Recipe
It contains a glorious mix of cheeses for a slightly sharp and creamy flavor.

The addition of chorizo and bacon offers a meaty bite that instantly lifts the dip.

It's incredibly simple to make and prepared in one pan for easy clean-up!

The Traeger infuses the dip with a next-level smoky flavor that perfectly complements the cheese.

You can easily customize the meats or veggies for a unique take on the classic recipe.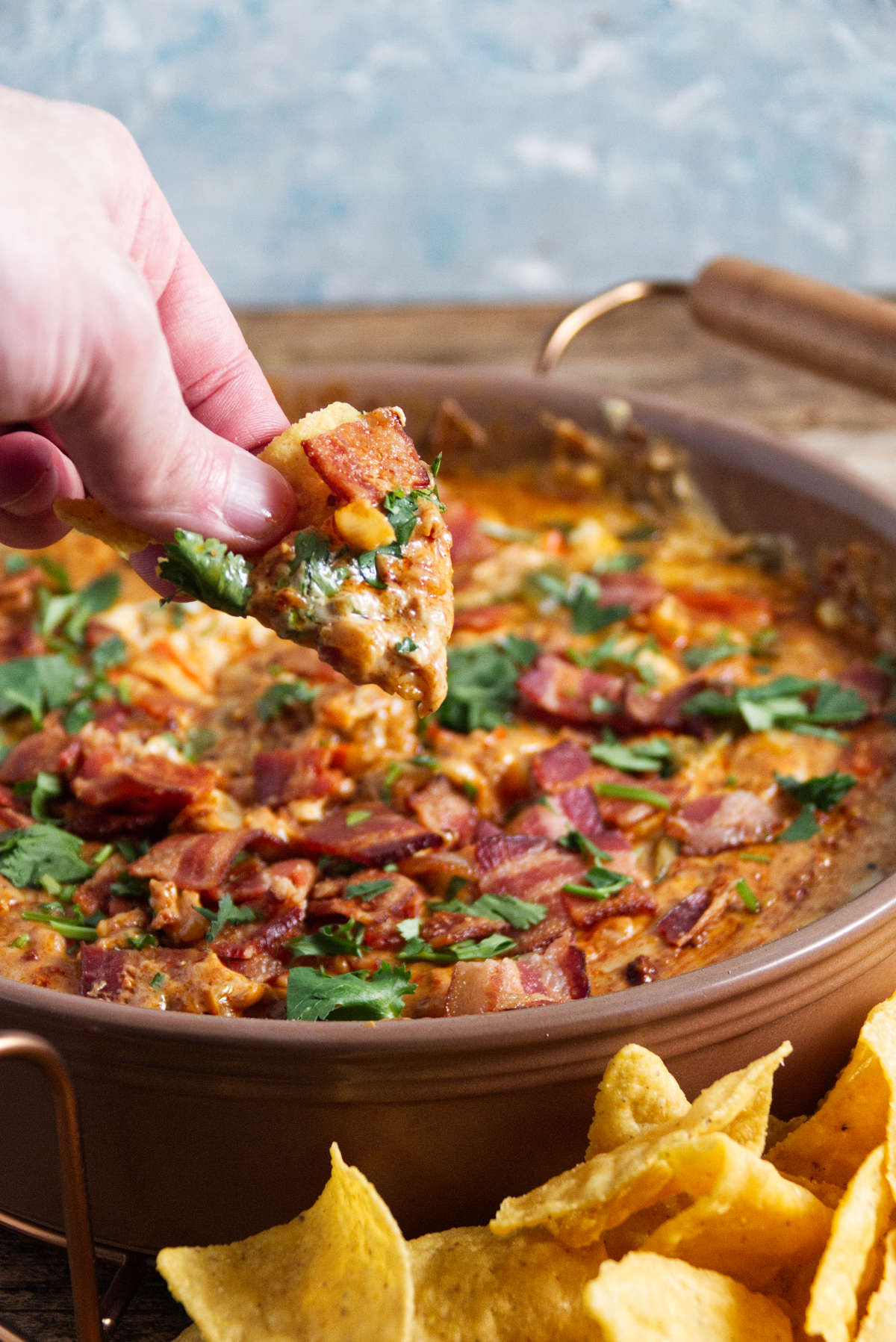 🍽 Here Are The Ingredients
This recipe for smoked queso dip is very easy to make. Simply dice and chop up these ingredients and throw them into a baking pan or casserole dish. Scroll down to the recipe card for a printout of the ingredients.
Ground chorizo. Chorizo is best for spiciness and richness, but you can use mild breakfast sausage or ground beef if you don't like fiery flavors.

Red bell pepper. Lends the dish crunch, sweetness, and brightness.

Yellow onion. Offers a slightly sweet flavor that forms the base.

Jalapeño peppers. It's best to deseed your jalapeño peppers, but leave them in if you're not afraid of serious spice!

Garlic cloves. For a delicate and aromatic flavor.

Spiceology's El Mariachi Mexican seasoning. To create a base of smoky flavors and lend the dip an authentic spice. You can use any Mexican seasoning mix.

Deli-style white American cheese. Gives the dish a classic cheese flavor that's incredibly creamy. You can use Velveeta cheese if you prefer, but I like American cheese's flavor, texture, and color more. Also, you can use any cheese, such as cheddar or Monterey Jack, but they are not as smooth when melted.

Cream cheese. For a smooth and melt-in-your-mouth consistency.

Pepper jack cheese. Gives the dip a hit of spice and sharpness. Switch it out for Monterey Jack if you don't like pepper jack!

Bacon. For additional crunch and pleasant saltiness.

Additional toppings (optional). I love adding guacamole, a bit of sour cream, and cilantro, but the sky's the limit.
👨‍🍳 How To Make It
This recipe is super easy, and you will be dipping into the smoked queso before you know it. Scroll down to the printable recipe card for the full instructions.
Preheat the Traeger.

Cook the ground chorizo until it's browned and transfer it to a paper towel-lined plate.

Add the bell pepper, yellow onion, and jalapeño and cook until the onions have started to soften.

Add the garlic and a small amount of Mexican seasoning and continue cooking.

Transfer the cooked veggies to a baking pan and add the cooked chorizo.

Add all three kinds of cheese and the rest of the Mexican seasoning to the pan.

Place the baking pan into the Traeger and smoke until the cheese has melted completely (don't forget to stir regularly!).

While the queso is smoking, cook the bacon in the oven.

Drain any extra oil from the bacon and crumble it into pieces before adding it to the queso.

Add additional toppings, serve, and enjoy!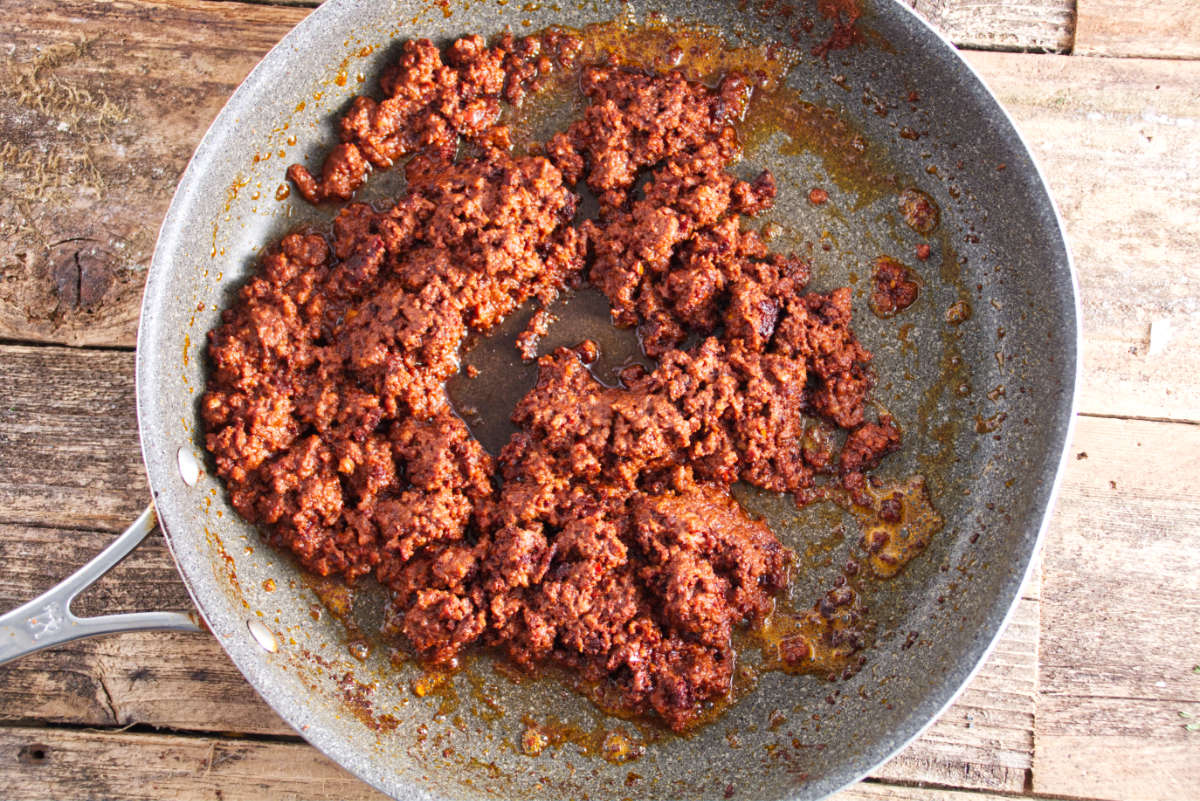 Cook the chorizo over med-high heat until browned.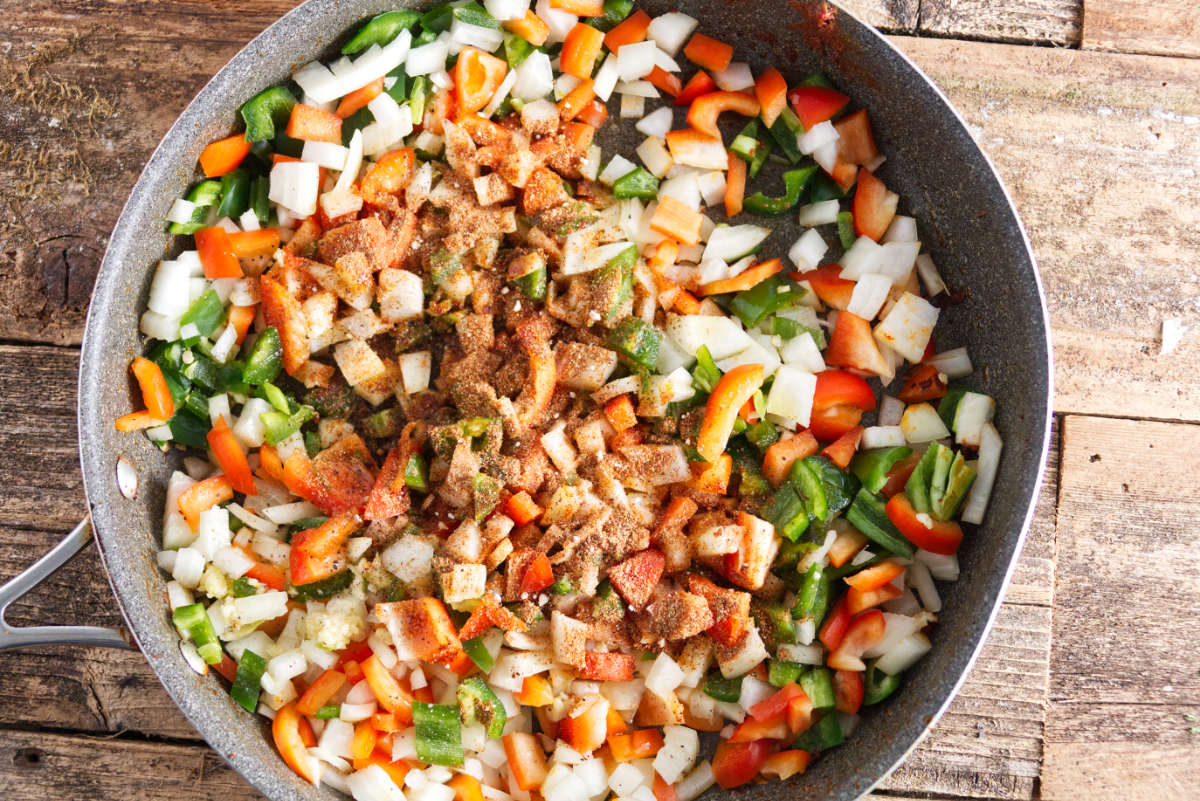 Remove the chorizo and add the diced veggies and seasoning to the pan.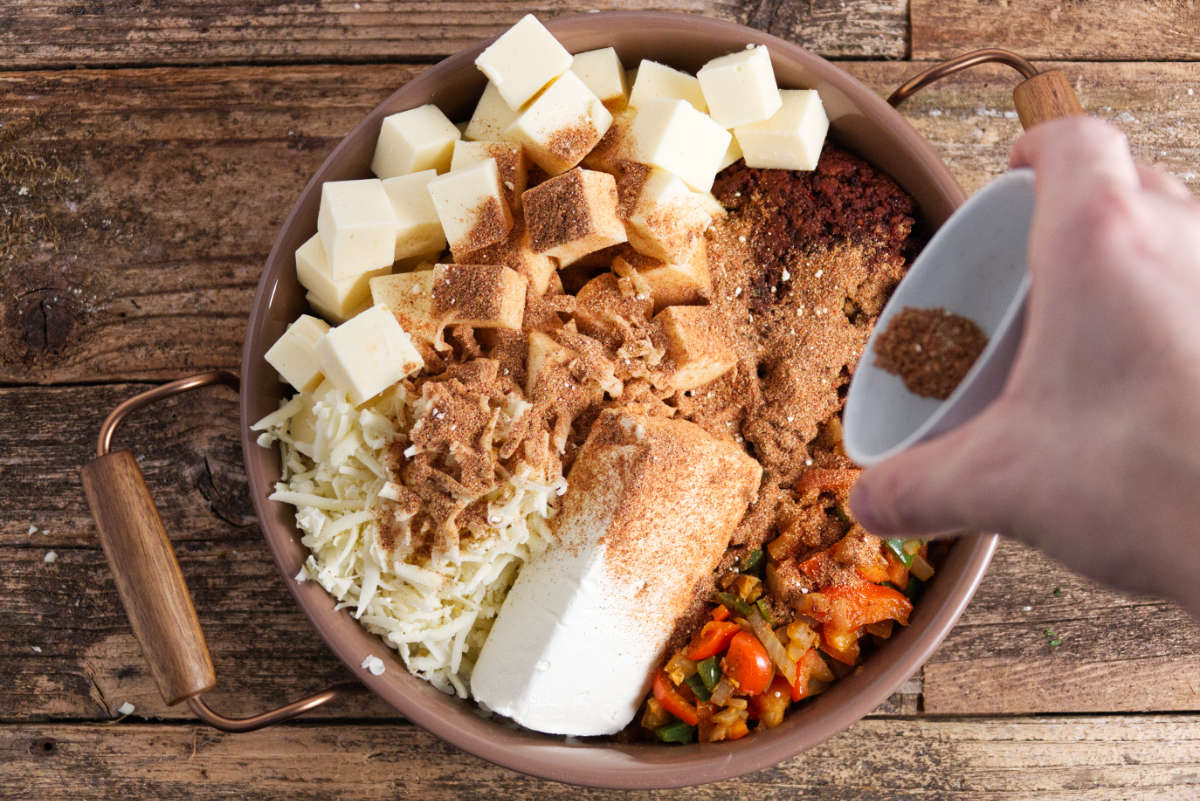 Combine the cheese, chorizo, vegetables, and the rest of the seasoning in a baking pan.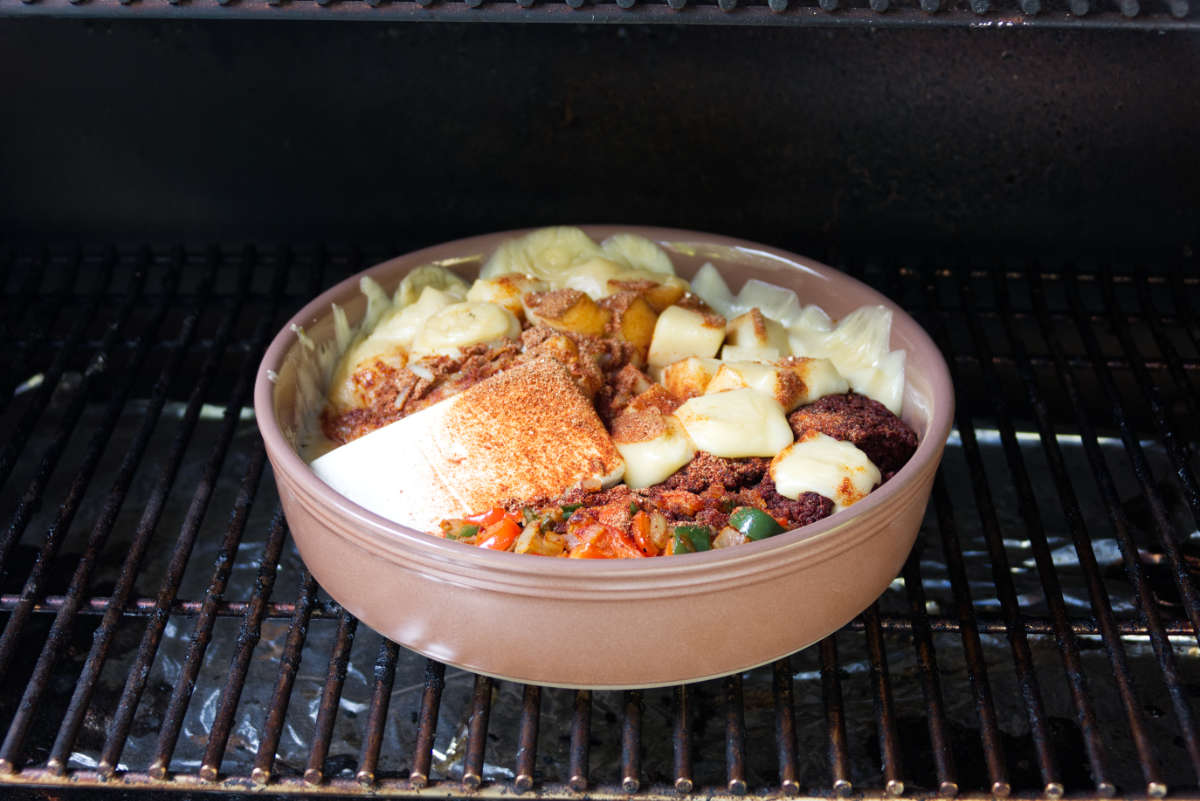 Place the backing pan on the Traeger at 225°F for 2 hours, stirring every 30 minutes.
😉 Tips For Success
I always recommend using deli-style American cheese as it melts well and doesn't have the strange flavor or additives that Velveeta has.

Speaking of cheese, it's a good idea to ask the deli for the cheese in blocks instead of slices at any deli counter. Also, don't purchase the Kraft Singles slices of American cheese because this will take ages to unwrap each slice.

For the pepper jack cheese, purchase it in a block and shred it yourself. Pre-shredded cheese contains added cellulose that affects how it melts!

It's important to regularly stir your queso to stop it from sticking to the bottom of your pan.

If you want more spice, feel free to add crushed pepper flakes or Serrano peppers which are significantly spicier than jalapeños.

I usually make this with a regular 8-inch round pan or 9-inch square pan, but feel free to use a disposable dish of the same dimensions for fuss-free clean-up after a party.

If you want to reheat the queso dip to enjoy it the next day, I recommend transferring it to a Crockpot and warming it slowly. Be careful how many times you reheat the queso. Eventually, the queso dip will break, and it will become oily. Reheating once or twice should be OK.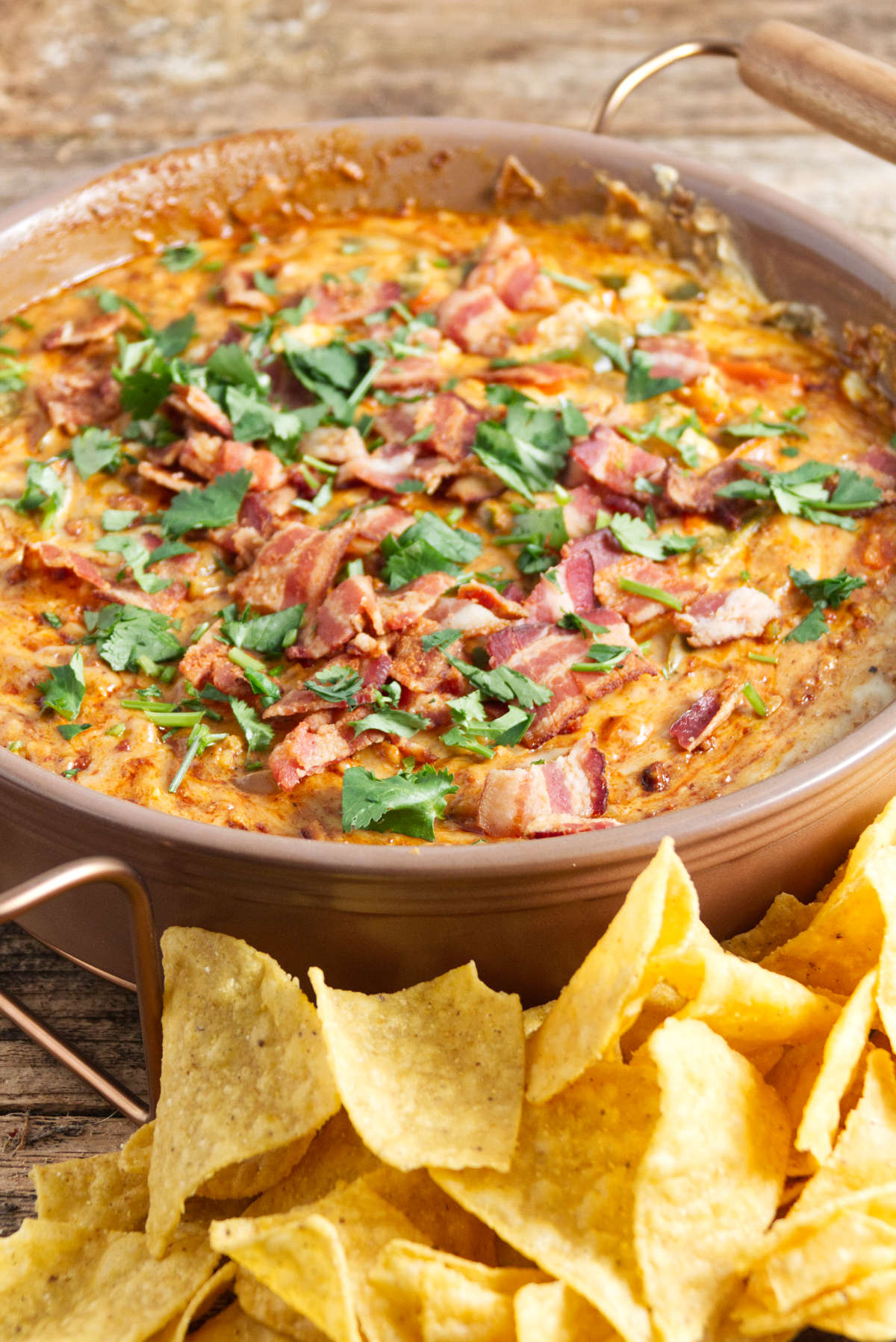 ❓ FAQ
What wood is best for smoking queso?
Heavy smoke woods like hickory and oak are excellent choices for intense smokiness. Apple, cherry, and maple are popular choices for a milder flavor that works perfectly with mellow cheeses.
Can you reheat smoked queso dip?
You can, but you'll need to be careful not to overdo it. Reheat it in a Crockpot over low to medium heat. Only reheat it one or two times maximum, any more than that, and the queso dip can break and become oily.

If you use Velveeta cheese instead of American cheese, it will be less likely to break.
What should I serve with smoked queso dip?
Tortilla chips and veggies are a given, but the queso can also be delicious when drizzled over an air fryer baked sweet potato for an easy lunch!
Can I make this in a slow cooker or Crockpot?
It tastes best with the smokiness from the Traeger or pellet grill, but you can also make this recipe in a slow cooker on low heat until you reach the perfect consistency.
How do I store leftover queso dip?
You can store this smoked queso dip in an airtight container in the fridge for up to 4 days.
How do you thin out smoked queso?
The best way to thin out this recipe is with a splash of milk. It keeps the creamy and smooth texture of the dip intact while loosening things up.
 🛠 Tools and Equipment
If you click on some of the following affiliate links and buy something, we might get a small commission. You don't pay any extra, but it will help us keep the lights on and our bellies full!
🤤 Try Out These Other Recipes
🎁 Wrap Up
Whether you're looking to spice up chili night or simply need to pull out the stops for dinner party guests, this recipe never disappoints. So, grab the chips and prepare to have this dip hoovered up in minutes!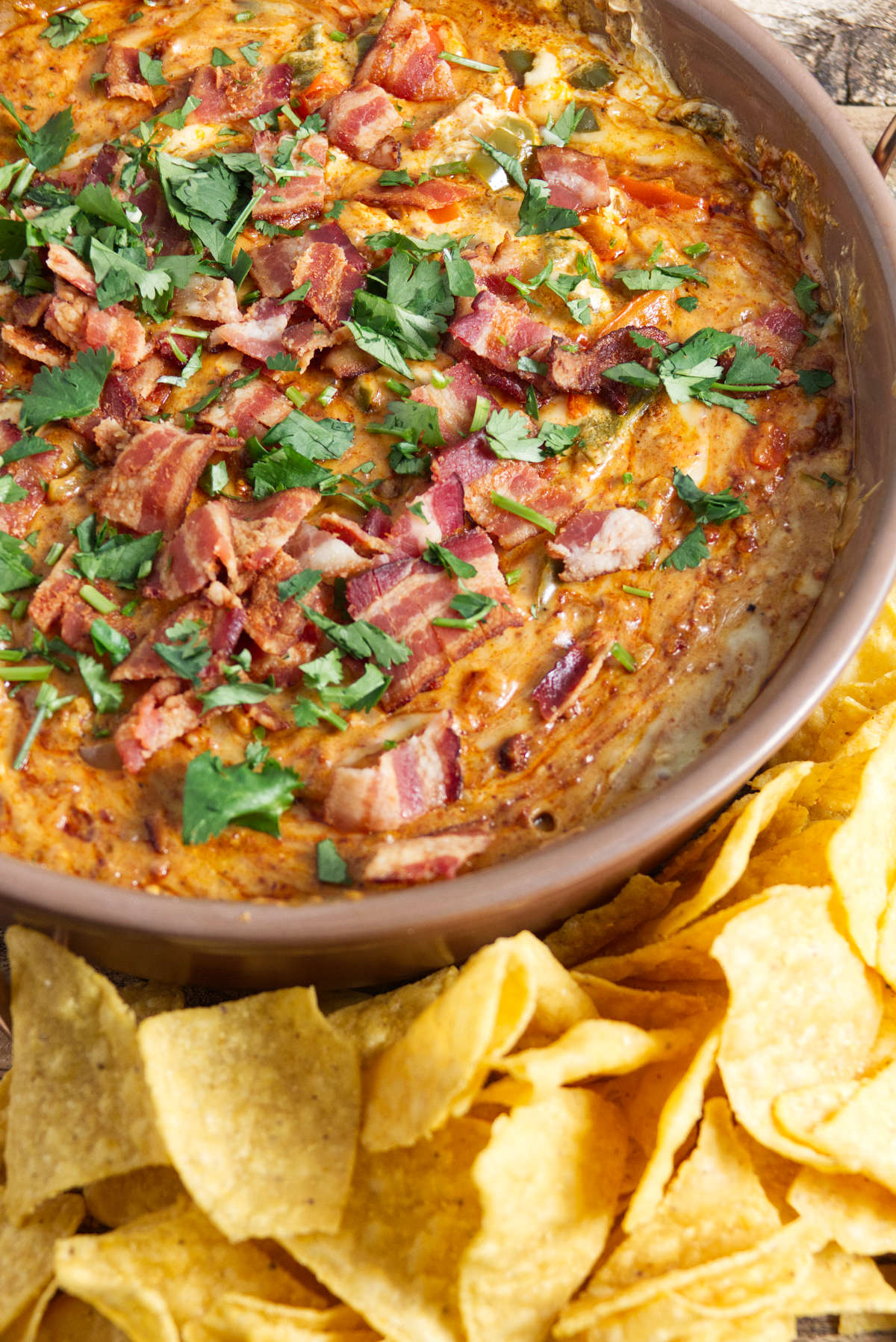 💬 Tell Me What You Think!
Did you try out this recipe? Please leave a comment below and let me know how you liked it. Also, snap a picture and post it to your favorite social platform. Be sure to tag me at @alicensetogrill and let me know how you liked it!
CONNECT WITH A LICENSE TO GRILL!
Be sure to follow us on our social media accounts.
Did you make this recipe? Tell us about it in the comments below!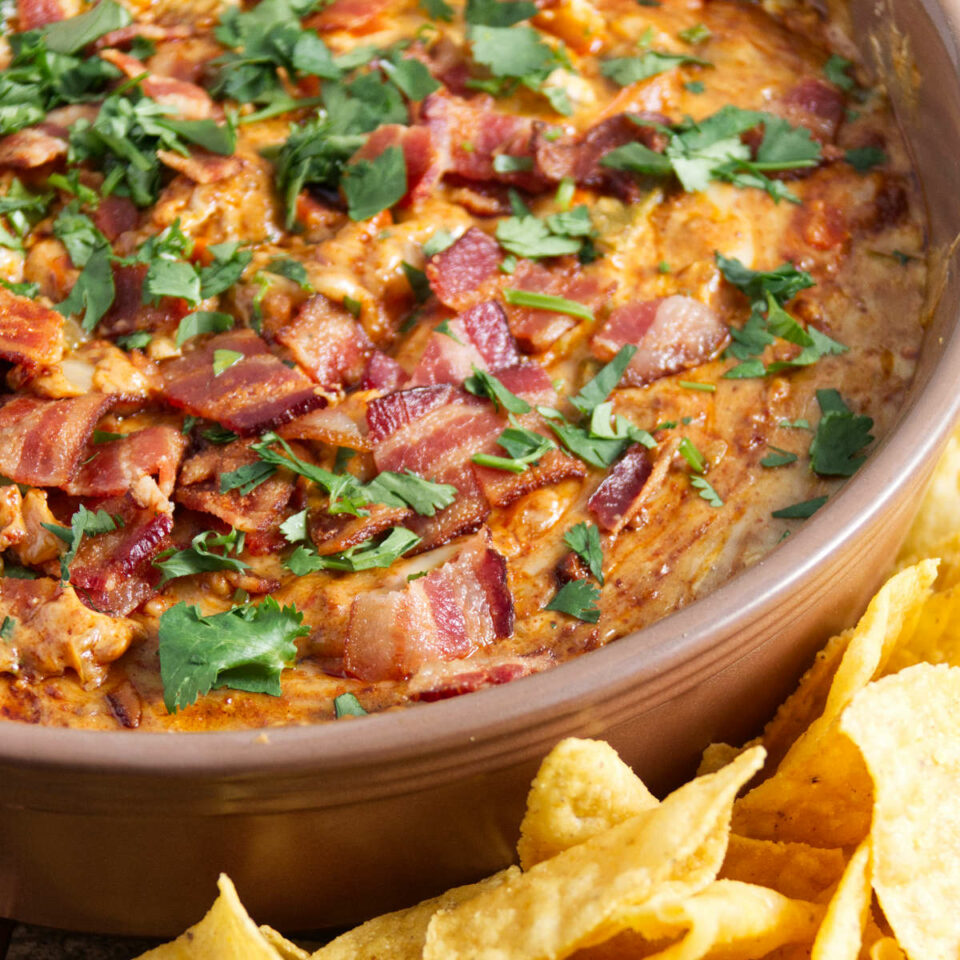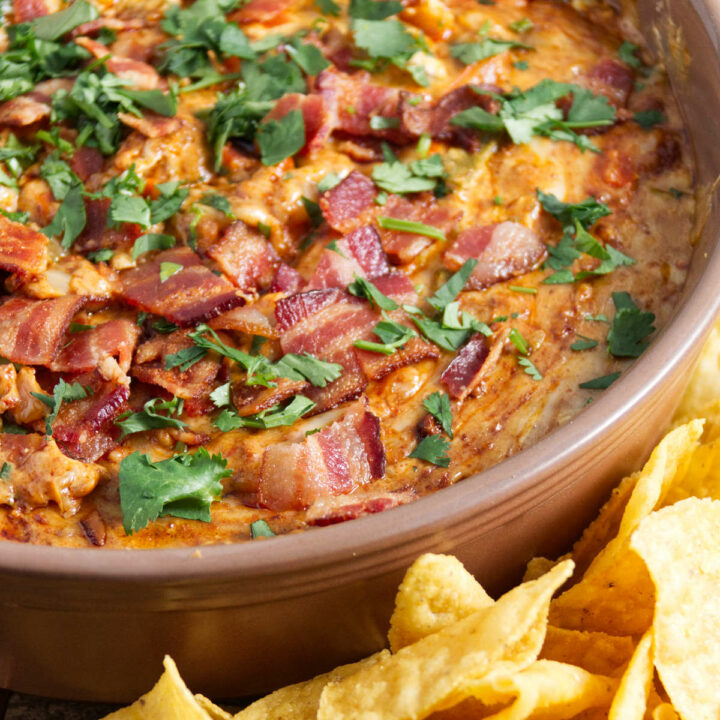 Smoked Queso Dip
Total Time:
2 hours
10 minutes
If you serve this smoked queso dip during the Super Bowl, you will have a hard time keeping the chip bowl full! This queso dip is a favorite at our house every weekend during football season.
Melty American cheese and gooey cream cheese pair perfectly to give this smoked queso dip a velvety smooth texture, while the pepper jack cheese gives a spicy bite. The chorizo and bacon give it a heartiness that keeps everyone dunking their chips in for another bite.
Ingredients
1 pound ground chorizo
1 red bell pepper, seeded and diced
1 yellow onion, diced
4 jalapeño peppers, seeded and diced
6 cloves garlic, minced
3 tablespoons El Mariacha Mexican Seasoning (or your favorite Taco inspired seasoning)
32 ounces deli-style white American cheese, cubed
8 ounces cream cheese, cubed
8 ounces pepper jack cheese, shredded
1 pound thinly sliced bacon, cooked and crumbled
Optional: additional toppings for serving such as sour cream, guacamole, chopped cilantro, etc.
Instructions
Preheat the Traeger to 225°F.
In a large skillet, over medium-high heat on the stove, add the ground chorizo. Cook until browned. Transfer the chorizo to a paper towel-lined plate.
In the skillet, add the red bell pepper, yellow onion, and jalapeño. Cook for about 5 minutes. Once the onions start to soften, add the garlic and one tablespoon of Mexican seasoning and cook for another 5 minutes. Transfer the cooked veggies to an 8x8 square baking pan or round casserole dish and add the cooked chorizo.
Add the white American cheese, cream cheese, pepper jack cheese, and the rest of the seasoning to the casserole dish. Place the dish in the Traeger and smoke for 1.5 to 2 hours, stirring every 30 minutes until the cheese has melted completely.
Remove the queso from the Traeger and top it with the crispy, crumbled bacon. Add additional toppings as desired and serve with chips for dipping.
Notes
I use deli-style American cheese in this recipe because it melts well and doesn't have the odd flavor that Velvetta has. You can use any cheese that you prefer, but it may not be as smooth and creamy as it would be with American cheese.
You can find the deli-style American cheese at the deli counter of your favorite grocery store. Ask them to give you the cheese in blocks rather than slices.
If you plan to serve this queso over several hours, place it in a crockpot to stay warm. Otherwise, the queso will cool, and after reheating it several times, it may start to break. Just be sure to keep it warm and stir it every 30 minutes or so.
Recommended Products
As an Amazon Associate and member of other affiliate programs, I earn from qualifying purchases.
Nutrition Information:
Yield:

24
Serving Size:

1
Amount Per Serving:
Calories:

369
Total Fat:

29g
Saturated Fat:

14g
Trans Fat:

0g
Unsaturated Fat:

13g
Cholesterol:

83mg
Sodium:

1329mg
Carbohydrates:

6g
Fiber:

0g
Sugar:

3g
Protein:

21g
Nutrition information is a guideline only, is calculated automatically by third party software, and absolute accuracy is not guaranteed.