Blackstone Philly Cheesesteak
on Oct 31, 2022, Updated Sep 21, 2023
Nothing says "comfort food" like this indulgent Blackstone Philly Cheesesteak. It's packed with sweet caramelized onions, various peppers for unbeatable crunch, and melt-in-your-mouth steak that's oh-so-tender. Oh, and did I mention the perfectly toasted hoagie rolls that add a signature softness and heartiness to the dish?
With all this considered, it's unsurprising that this recipe has become one of my all-time favorites for classic family dinners and while watching football games with friends.
The secret to this delicious recipe is cooking everything on an enormous Blackstone griddle. Not only does this mean you can make enough cheesesteak for a large group, but it'll seriously impress your guests (as everything is cooked out in the open and served immediately!). To make things even more appealing, this recipe is ready to serve in under 15 minutes, which is always a plus.
If you're on the hunt for a killer weeknight meal that's bursting with melty cheese and meaty goodness, then you'll want to pin this recipe or bookmark it for later. You definitely won't regret it.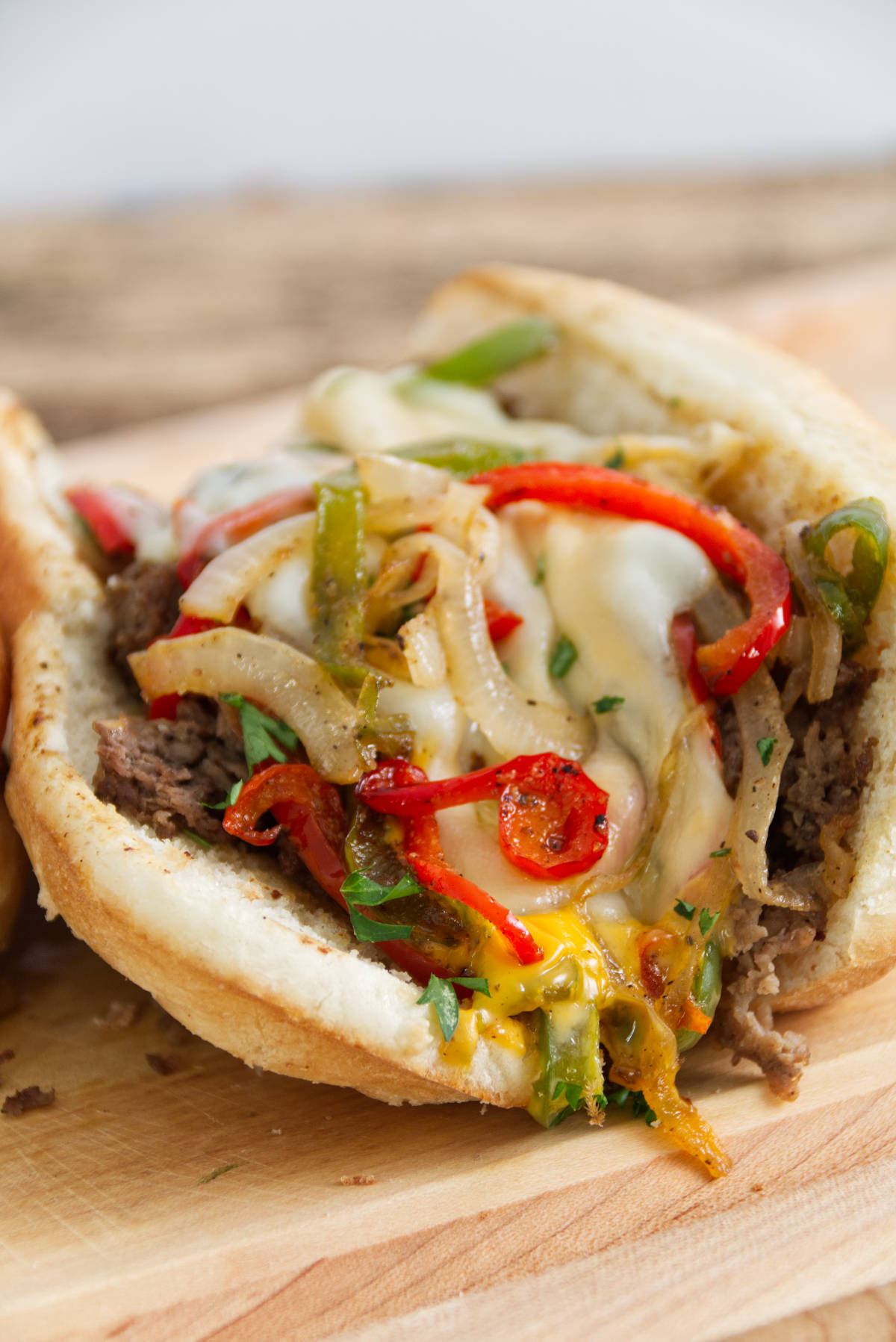 Why This Recipe Works
The combination of juicy meat and gooey cheese is simply unbeatable.

The Cheese Whiz in this recipe gives you that sharp and authentic taste.

The mix of bell peppers and white onions gives the recipe the perfect amount of crunch.

The caramelized onions give a hint of sweetness that makes this sandwich tickle your tastebuds.

The Blackstone griddle cooks things quickly and allows you to simultaneously toast your hoagie rolls.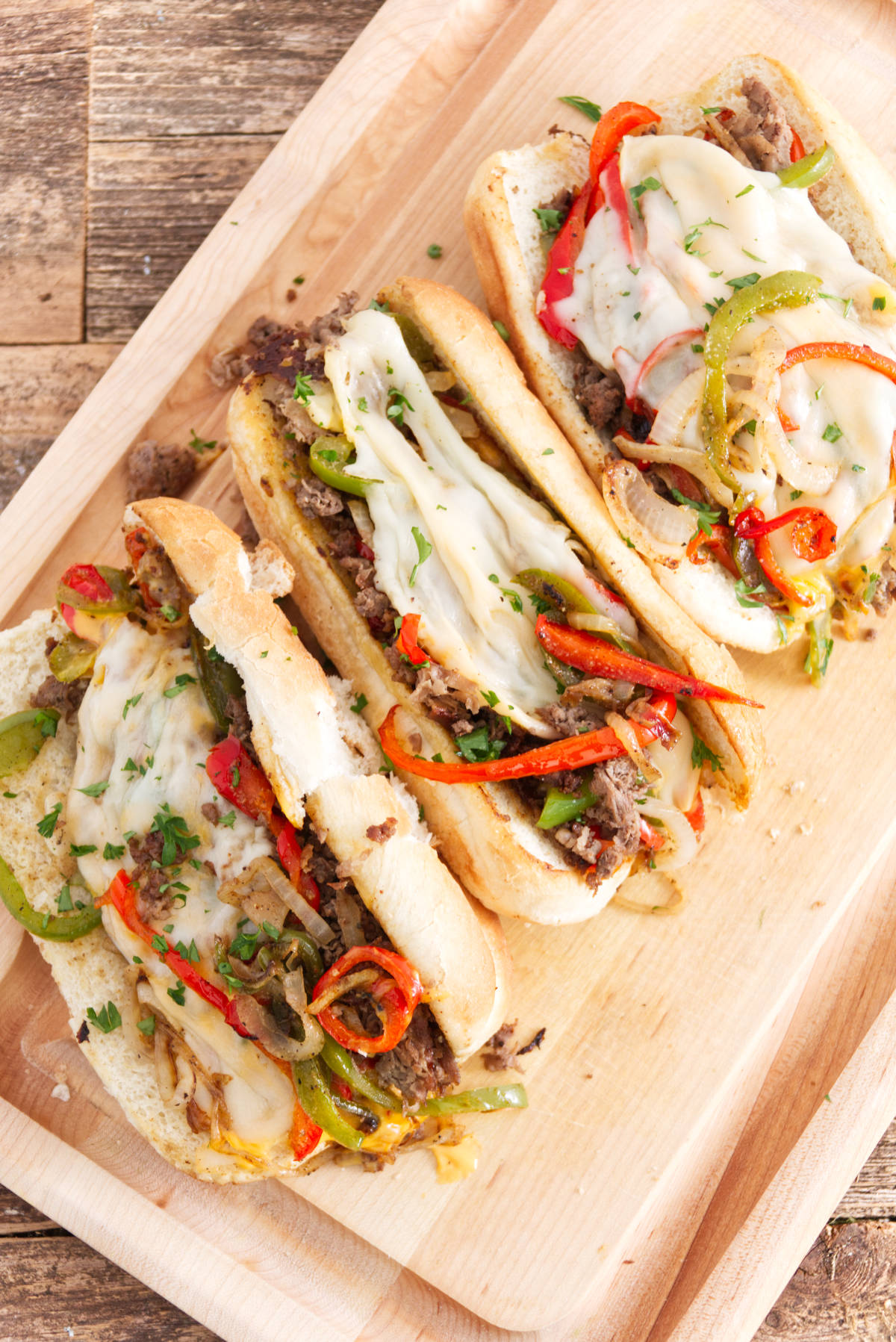 Ingredients
Thinly sliced steak. Sliced steak from the butcher is easiest, but gorgeous ribeye or top-round steaks from the grocery store work just as well. If you cannot find sliced steak, buy a ribeye or top-round steak and slice yourself. Throw the steak in the freezer before slicing it for easier knifework.

White onion. White onions caramelize beautifully and aren't too strong.

Red bell pepper. For sweetness and crunch.

Green bell pepper. Green bell peppers are slightly tarter and will bulk your cheesesteak out.

Oil. Avocado oil is ideal for high-heat cooking, but you can easily use vegetable oil or another alternative.

Salt. Crucial for seasoning your meat!

Black pepper. For a slight spiciness that works perfectly with the creamy cheese and tender steak.

Garlic powder. Adds extra flavor to the beef without overwhelming the rest of the ingredients.

Butter. Unsalted butter is best for controlling the saltiness of your dish and dispersing flavor throughout each roll.

Hoagie rolls. Try and grab high-quality rolls from a bakery that won't go too soggy when the filling is added.

Cheese Whiz. Cheese Whiz is the traditional go-to for cheesesteak sandwiches and blends with the hot steak for a sharp, delicious, and cheddar cheese-like flavor.

Provolone (optional). Has a semi-sharp flavor that adds depth and richness to your sandwich.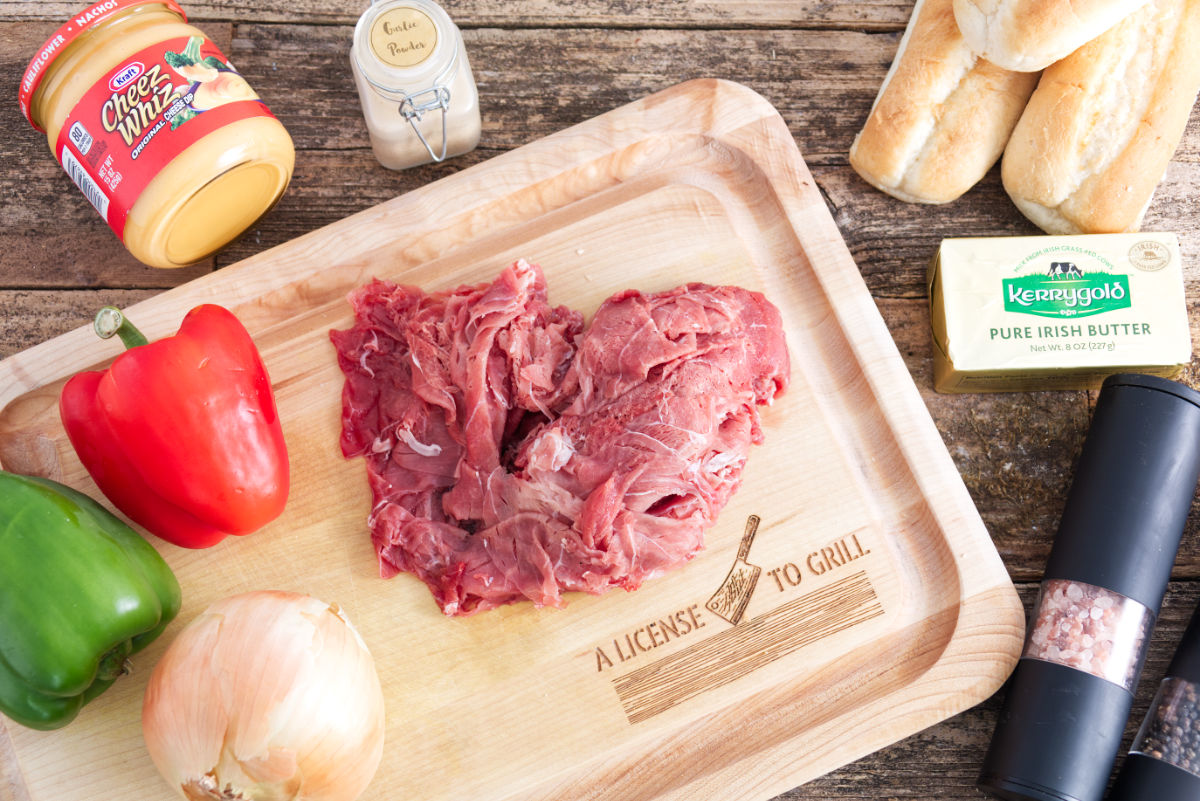 How To Make It
Preheat the Blackstone griddle. I like to get one side ripping hot and set the other half of the griddle to medium heat.

Season the steak and set it aside while you prepare the veggies.

Slice the veggies.

Oil the griddle, cook the vegetables, and season.

Move the veggies to the cooler side of the grill.

Butter the hoagie rolls and toast them on the Blackstone griddle.

Cook the steak and portion it appropriately. Use a turner or spatula to chop the meat up while it cooks.

Place the cooked veggies on top of the cooked steak.

Add the Cheese Whiz and if you want extra cheese, throw a slice of provolone on top for a stringy cheese pull and a variety of flavors.

Use a basting dome to finish the cheesesteaks.

Put the cheesesteaks together and enjoy!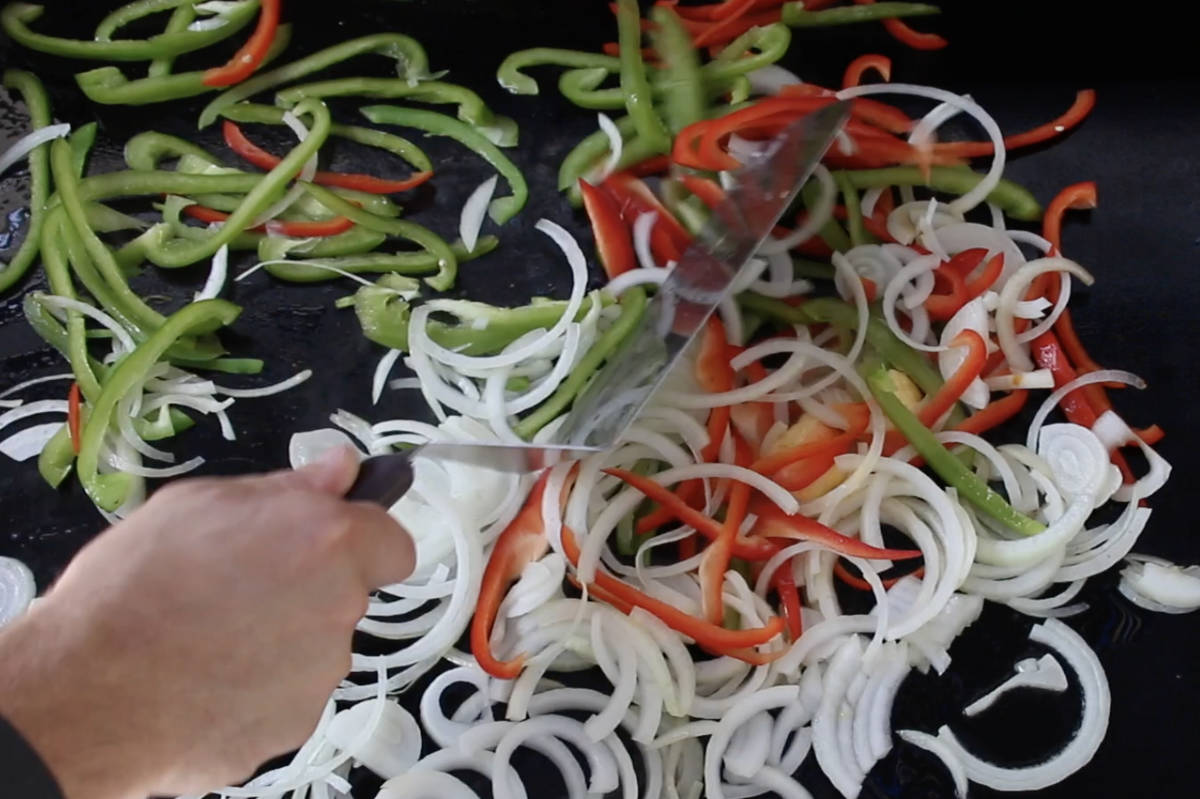 Sauté the onions and peppers on the Blackstone griddle until the onions are translucent.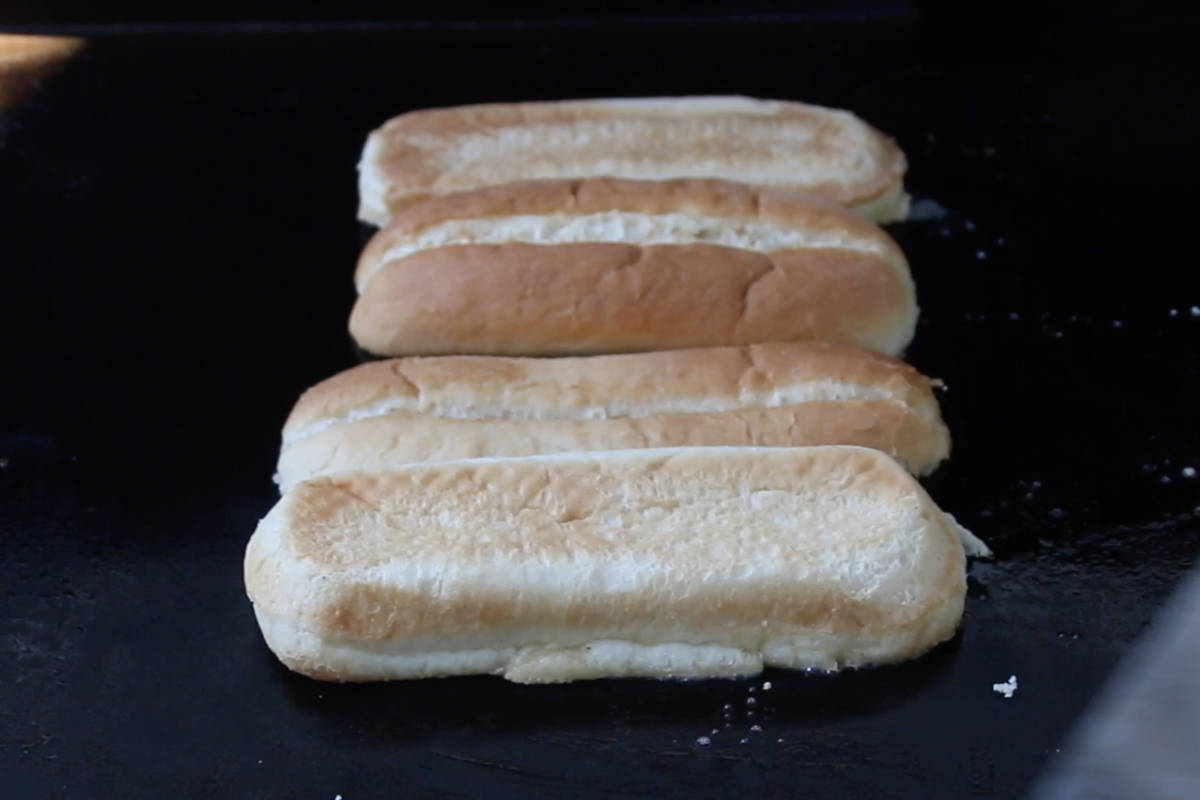 Butter the hoagie rolls and toast them on the Blackstone.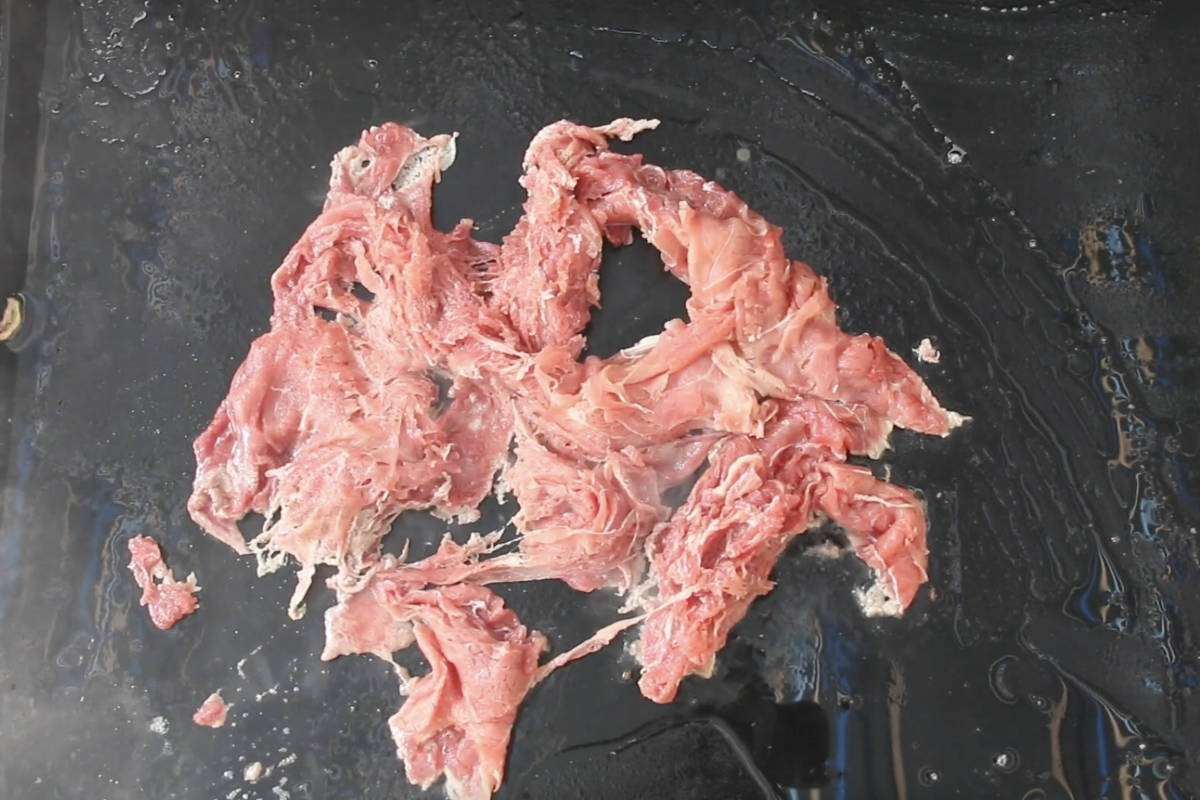 Cook the sliced steak on the hot side of the Blackstone.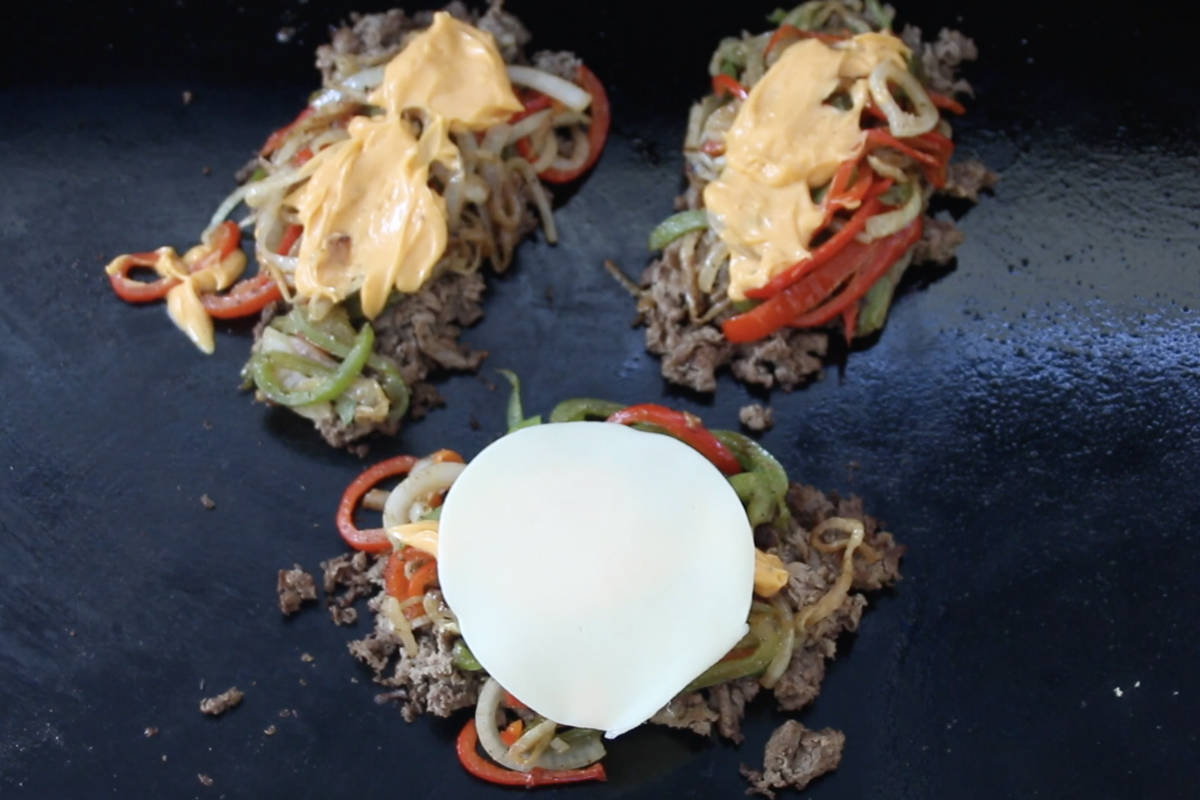 Divide the cooked steak into three piles and top each pile with Cheese Whiz and provolone cheese.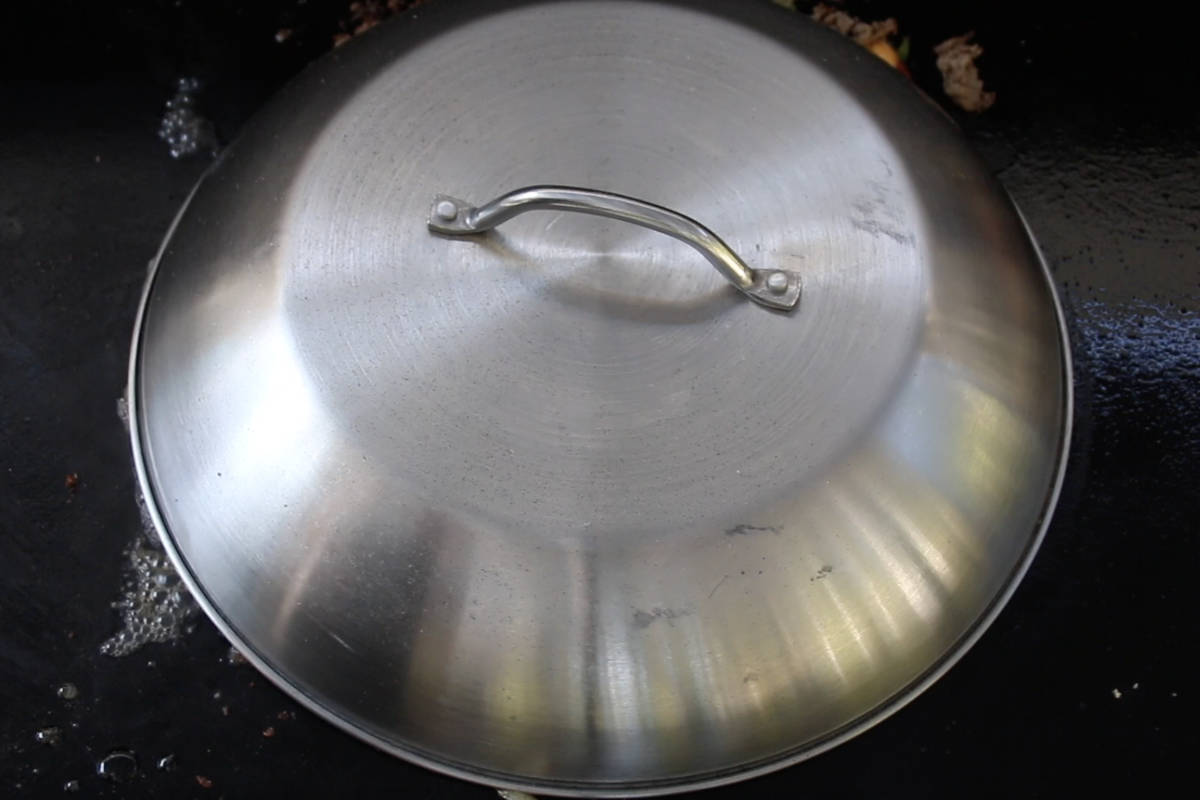 Cover the cheesesteak with a basting dome and add a splash of water to help melt the cheese.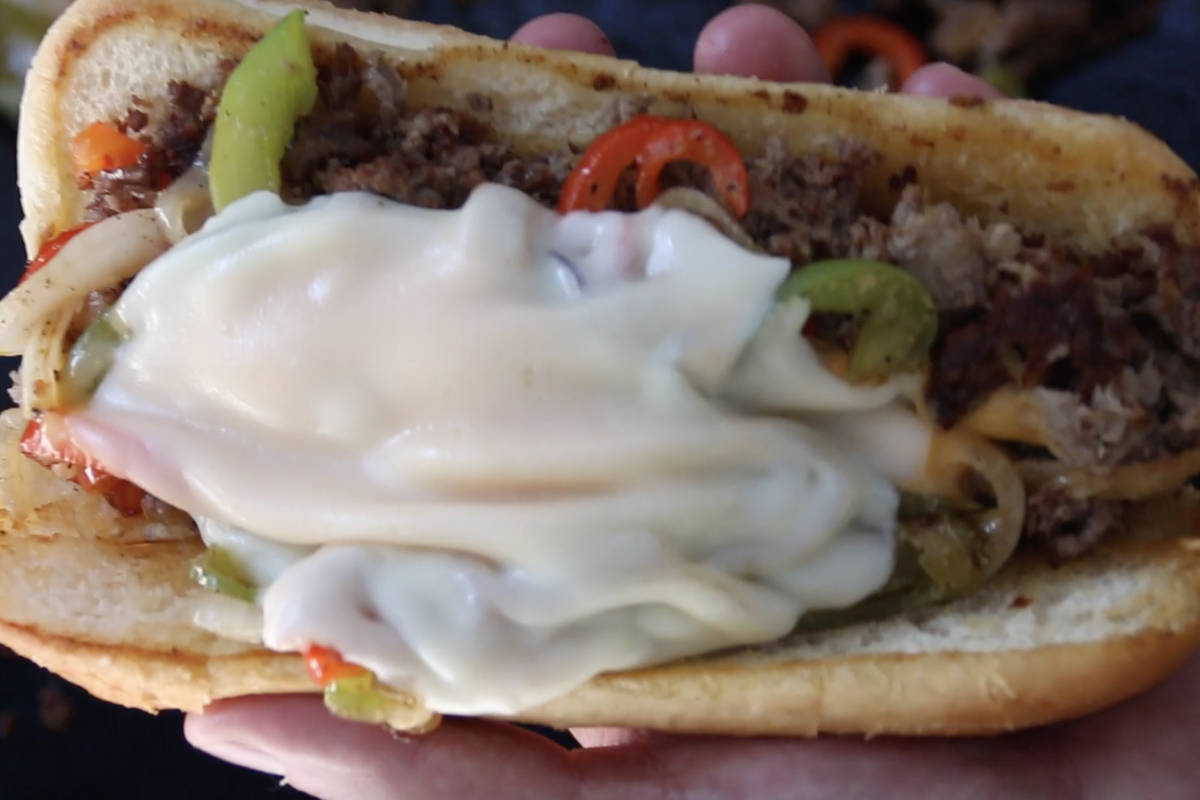 Serve the cheesesteak on a toasted hoagie roll.
Tips For Success
If you cannot find thinly sliced steak directly from a butcher, putting your steak in the freezer for 30 minutes before slicing is a great idea. Once the steaks are cold, slicing them thinly will be much easier.

If you're slicing the steak yourself, use a sharp chef's knife. It should slice through the meat effortlessly.

Don't forget to clean your grill as soon as possible after cooking. It's not difficult to do, and it'll keep your Blackstone in excellent working order. First, scrape the Blackstone griddle while it is still hot. Then, if there is a lot of food debris, splash some water on the hot cooktop and scrape the griddle clean. Once the Blackstone is clean, oil the griddle with vegetable oil or your favorite cooking oil.

Don't overcook the steak, as you want this sandwich to melt in your mouth. Since we are working with thinly sliced steak, it will cook fast and overcook quickly.

To keep your hoagie roll fluffy, create a barrier between the steak and bread by toasting the roll. Putting a hefty toast on the roll will keep the bread's interior fluffy while giving you a sufficient crunch with each bite.

Don't skimp on seasoning. You can cook one of the most gorgeous cheesesteak sandwiches on the Blackstone griddle, but it'll taste underwhelming if it's not seasoned. Salt, pepper, and garlic powder are all you need, but don't forget them! Mix it up and use your favorite seasoning if you want to put your own spin on it.

If you can, eat your cheesesteak immediately. The appeal of an authentic cheesesteak is its gooey deliciousness. You'll lose the cheesesteak's melty texture and juicy flavors if you do not serve them right away.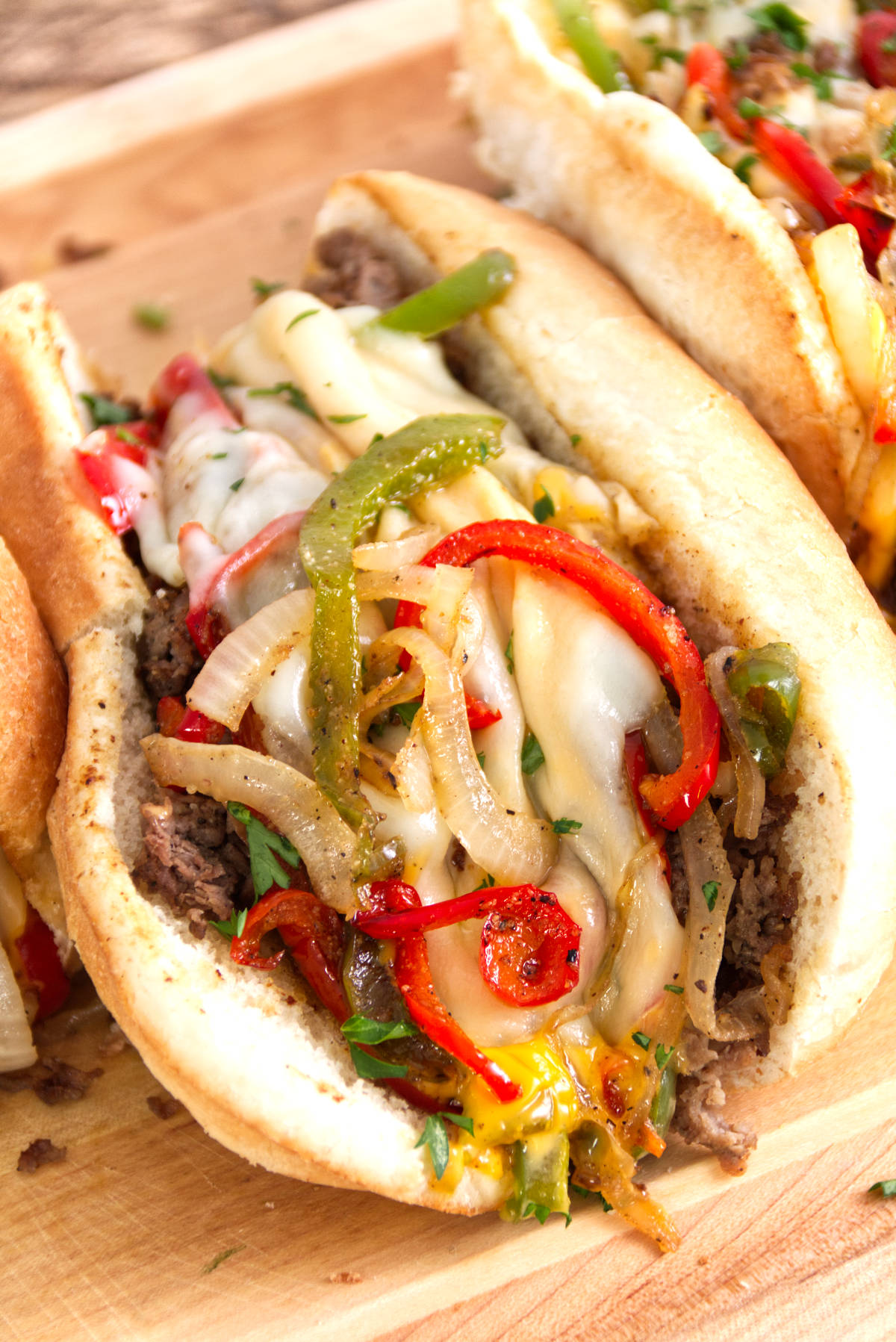 FAQ
What is a Blackstone Philly cheesesteak?
A Blackstone Philly cheesesteak is a delicious sandwich that combines tender sliced beef with gooey melted cheese and optional toppings like caramelized onions and peppers.
What meat is best for Philly cheesesteak?
Ribeye or top-round steak works best for this recipe as both cuts are full of beefy flavor and are always easy to find at the supermarket or butcher. If you go to the butcher, ask them to thinly slice the steak for you, so there is less work for you.
Does mayo go on a Philly cheesesteak?
Although it's not a traditional topping, you can jazz up your sandwich with mayo, ketchup, or hot peppers if you want to experiment! A traditional Philly cheesesteak consists of thinly sliced steak with Cheese Whiz, American cheese, or provolone melted over the top and optional toppings like caramelized onions or peppers.
What is the best cheese for a Blackstone Philly cheesesteak?
Provolone, American cheese, and Cheese Whiz are the best options for a traditional cheesesteak, as they'll give you that signature meltiness that makes this sandwich so appealing.
Do you put oil on a Blackstone grill before cooking?
It's crucial to put oil on your griddle to avoid any nasty sticking. You'll also want to season the griddle properly before cooking your meat. Be sure to clean the Blackstone griddle after cooking and always wipe it down with a coating of oil afterward to prevent oxidation of the cooktop griddle.
Wrap Up
This Blackstone Philly cheesesteak sandwich is one of my all-time favorite recipes for meat lovers who can't get enough of melted cheese, crunchy peppers, and caramelized onions. Whether you're on the hunt for an indulgent weekend meal or need the perfect dish for entertaining large groups, this knockout dish is bound to be devoured in minutes!
 🛠 Tools and Equipment
If you click on some of the following affiliate links and buy something, we might get a small commission. You don't pay any extra, but it will help us keep the lights on and our bellies full!
Other Delicious Recipes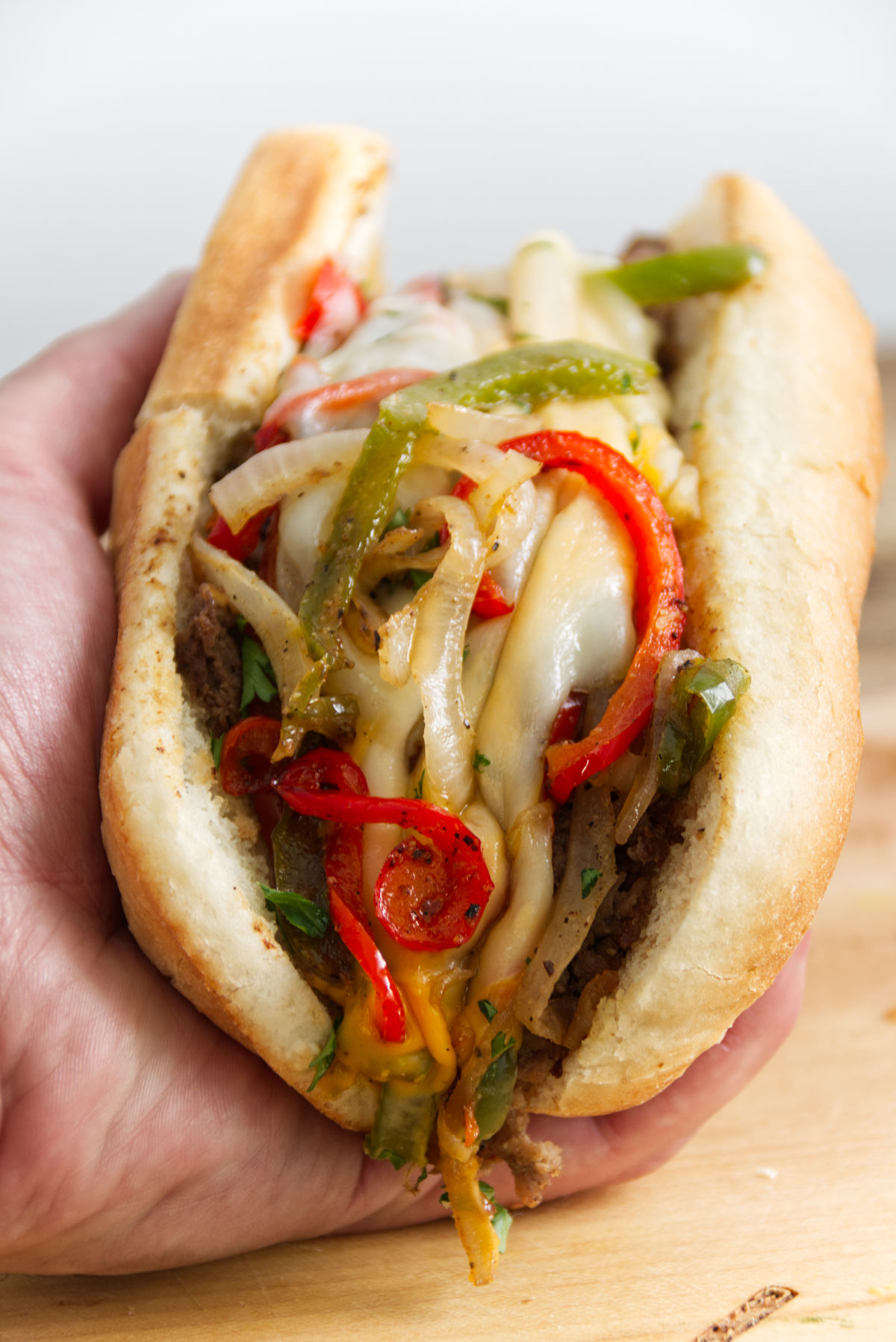 💬 Tell Me What You Think!
Did you try out this recipe? Please leave a comment below and let me know how you liked it. Also, snap a picture and post it to your favorite social platform. Be sure to tag me at @alicensetogrill and let me know how you liked it!
CONNECT WITH A LICENSE TO GRILL!
Be sure to follow us on our social media accounts.
Did you make this recipe? Tell us about it in the comments below!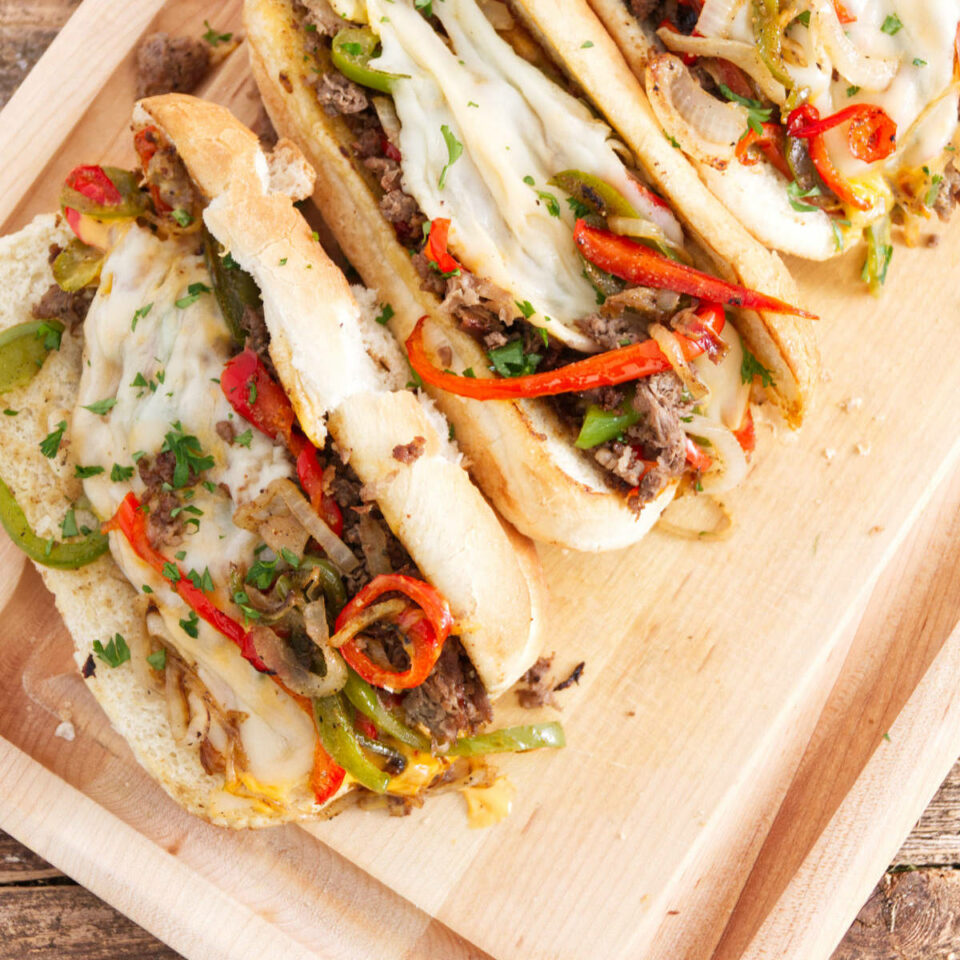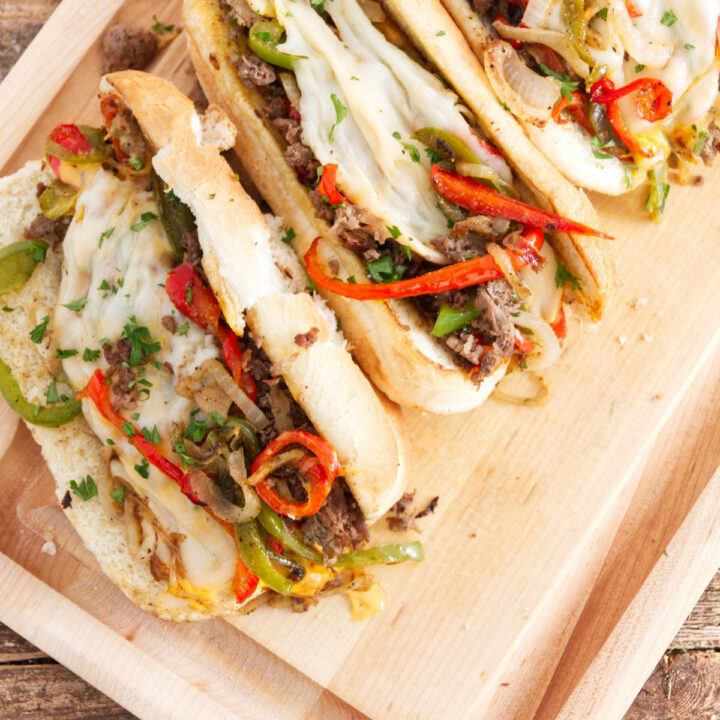 Blackstone Philly Cheesesteak
The best way to make an indulgent Philly Cheesesteak is on a ripping hot Blackstone griddle. This sandwich is packed with sweet caramelized onions, vibrant peppers for unbeatable crunch, and melt-in-your-mouth steak that's oh-so-tender.
You can easily multiply this recipe to make more sandwiches, as long as your Blackstone is large enough. Go big on game day and impress your friends with the most delicious sandwich to grace their plates!
This recipe uses two types of cheeses for the most ultimate gooey experience. Adapt the recipe to use your favorite type of cheese, but I definitely recommend choosing a cheese that melts well.
Ingredients
1.5 pounds thinly sliced steak
1 white onion
1 red bell pepper
1 green bell pepper
2 tablespoons oil
1 teaspoon salt
1 teaspoon black pepper
1 teaspoon garlic powder
2 tablespoons butter
3 hoagie rolls
6 tablespoon Cheese Whiz
6 slices provolone (optional)
Instructions
Preheat the Blackstone griddle. Set one half to medium-high and keep the other half off.
Season the sliced steak with half of the salt, pepper, and garlic powder. Once it is seasoned, set it aside while you prepare the veggies.
Thinly slice the onion and bell peppers.
Oil the Blackstone griddle and toss the sliced vegetables on the hot side of the Blackstone. Season with the rest of the salt, pepper, and garlic powder. Cook the veggies for 5-10 minutes or until the onions begin to carmelize and become translucent.
Slide the veggies to the cooler side of the grill.
Butter the hoagie rolls, place them in the middle of the Blackstone, between the hot and cool sides, and toast them for 5 minutes while the steak cooks.
Place the sliced steak on the hot side of the Blackstone griddle. Cook the steak for 5 minutes or until done. While the steak is cooking, use your spatula or turner to chop the meat up into smaller pieces.
When the steak is done cooking, portion it out into three equal piles. Place equal amounts of cooked veggies on each pile of meat. Place 2 tablespoons of Cheese Whiz on each pile. Optional: for extra cheese, place 2 slices of provolone cheese on top of each pile of meat and veggies.
Use a basting dome and cover the cheesesteak ingredients. Use a splash of water on the griddle to trap steam under the dome. Allow the cheese to melt for 2-3 minutes.
Place each pile of cheesesteak ingredients on the toasted hoagie rolls. Serve and enjoy!
Notes
Set one side of the Blackstone to high and the other to medium-low for an efficient worktop that lets you toast your hoagie rolls while you cook the steak.
I recommend using Cheese Whiz on your sandwich for an authentically indulgent experience. I also added provolone because, why not! If you want to switch up the cheese, use a melty cheese like Colby, Havarti, Monterey jack, muenster, or gouda.
Use a basting dome to melt the cheese. If you don't have a basting dome, use a large metal bowl or a large piece of foil to create a dome over the sandwiches.
Recommended Products
As an Amazon Associate and member of other affiliate programs, I earn from qualifying purchases.
Nutrition Information:
Yield:

3
Serving Size:

1
Amount Per Serving:
Calories:

1204
Total Fat:

85g
Saturated Fat:

37g
Trans Fat:

0g
Unsaturated Fat:

37g
Cholesterol:

313mg
Sodium:

2155mg
Carbohydrates:

25g
Fiber:

2g
Sugar:

8g
Protein:

83g
Nutrition information is a guideline only, is calculated automatically by third party software, and absolute accuracy is not guaranteed.