Yes, Blackstone smash burger sliders! These miniature but impossibly delicious cheeseburgers have taken the fast-food world by storm. Though they may be small, slider burgers are big on flavor and perfect for a quick and easy meal. Plus, they're fun to make and eat! These slider burgers get smashed on the Blackstone griddle, giving the burger patties a seared, crispy outside and a juicy, flavor-packed inside.
We'll show you how to make the best smash burger sliders on your Blackstone griddle.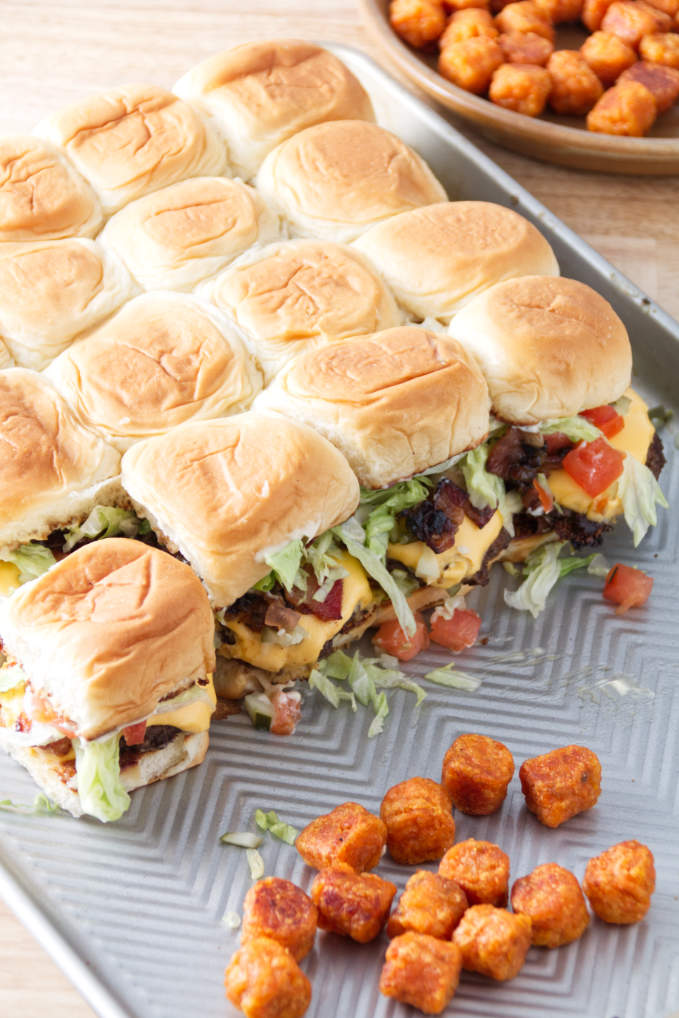 Here is Why This Recipe Works
Dicing and finely chopping the toppings will keep their size in perspective with these bite-sized burgers.

Using King's Hawaiian rolls gives the perfect bun-to-patty ratio.

Warming the buns makes them more tender and soft.

The Blackstone grill cooks the patties quickly so they stay juicy. Use a large 36″ Blackstone griddle so you can make a bunch of sliders at once!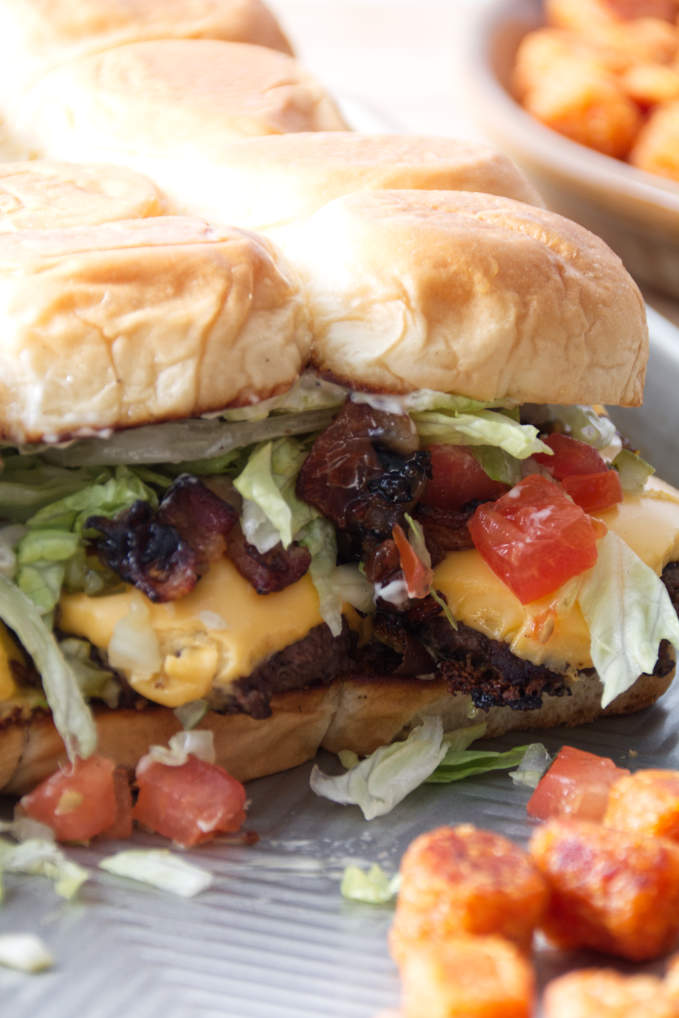 The Ingredients
Here is a list of the ingredients you will need for this recipe. Scroll down to the printable recipe card for all the details.
Ground beef. Purchase 80/20 ground beef. You want at least 20% fat for juicy, tender sliders. Use Wagyu beef for ultimate flavor.

Bacon. Get thick sliced bacon that has plenty of meat and less fat.

Onion. Any color onion will work. Chop it up finely.

King's Hawaiian rolls. These rolls are soft, fluffy, and perfectly sized for sliders.

Salt and pepper. Seasoning the patties is essential and enhances their flavor.

American cheese. You can substitute with another cheese, but we like how easily American cheese melts over the sliders.

Donkey Sauce. Every slider needs a great sauce!

Iceberg lettuce. Shredding the lettuce makes the sliders easier to bite into and keeps the focus on the meat and cheese.

Dill pickles. Dice the pickles and scatter them over the sliders.

Tomato. Small bits of tomato add extra juiciness and sweetness to the sliders.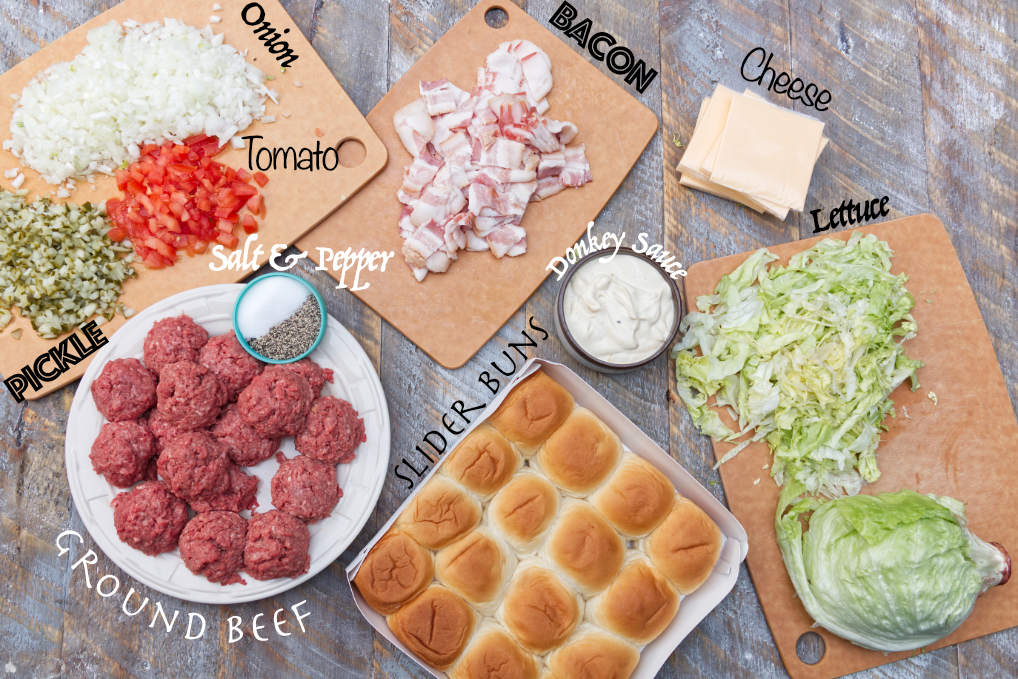 How to Make It
Here is a brief overview to get an idea of what to expect with the recipe. Scroll down to the printable recipe card for all of the details and step-by-step directions.
Portion the ground beef into 16 meatballs.
Saute the bacon and diced onions on the hot griddle.
Toast the rolls and place a towel over them to keep them warm.
Toss the meatballs on the Blackstone and smash them flat with a spatula, then season them with salt and pepper.
Flip the patties and top them with cheese slices.
While the cheese melts, slather the rolls with Donkey sauce.
Transfer the burger patties to the rolls and top them with all the toppings.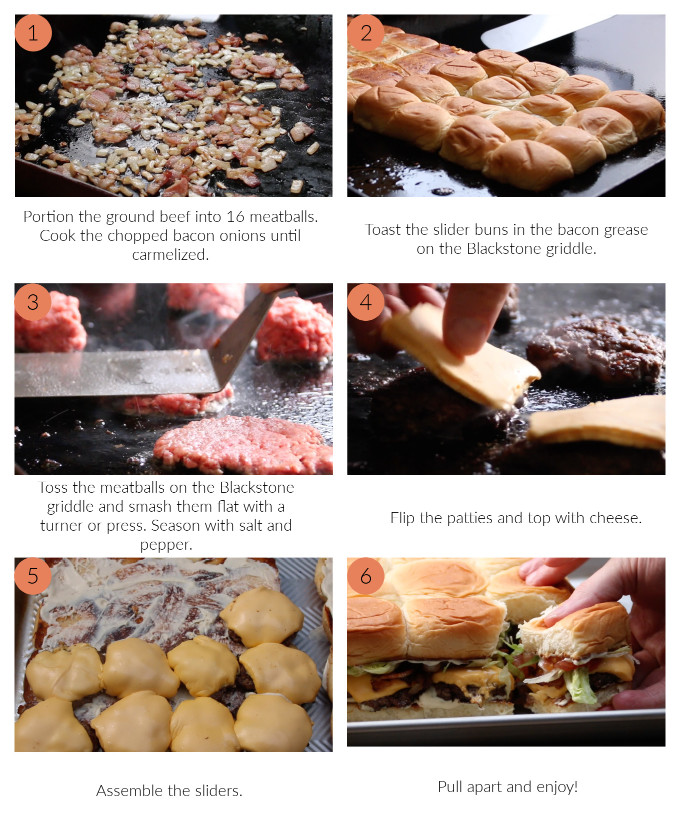 Tips for Success
Preheat the griddle before you start grilling. Get it ripping hot to get a nice crust on the patties and seal in those juices.

Use an ice cream scooper to get perfectly portioned slider patties. The ice cream scooper will also help speed up the prep work.

Leave some bacon grease on the hot Blackstone griddle for extra flavor.

Keep the heat on high. The faster you cook the slider patties, the juicier they will be.

After you put the cheese on the patties, cover them with a basting lid to help the cheese melt quicker.

Sliders are supposed to be messy! Don't worry if some of the shredded lettuce and diced onions fall off the edges.
Frequently Asked Questions
Why are sliders called sliders?
White Castle first marketed the term sliders in 1921. The small, inexpensive burgers became popular because they are easy and fun to eat. They slide across the grill, slide out of the box, and slide right down when you eat them.
How much meat goes in a slider?
Each slider patty will have about 2 ounces of meat. Two pounds of ground beef will give you 16 sliders. If you want double patty sliders, purchase 4 pounds of meat.
What to Serve With Sliders
Sure, you can cook some frozen French fries or open a bag of potato chips, but if you want to take these sliders to the next level, try some extra flavorful sides.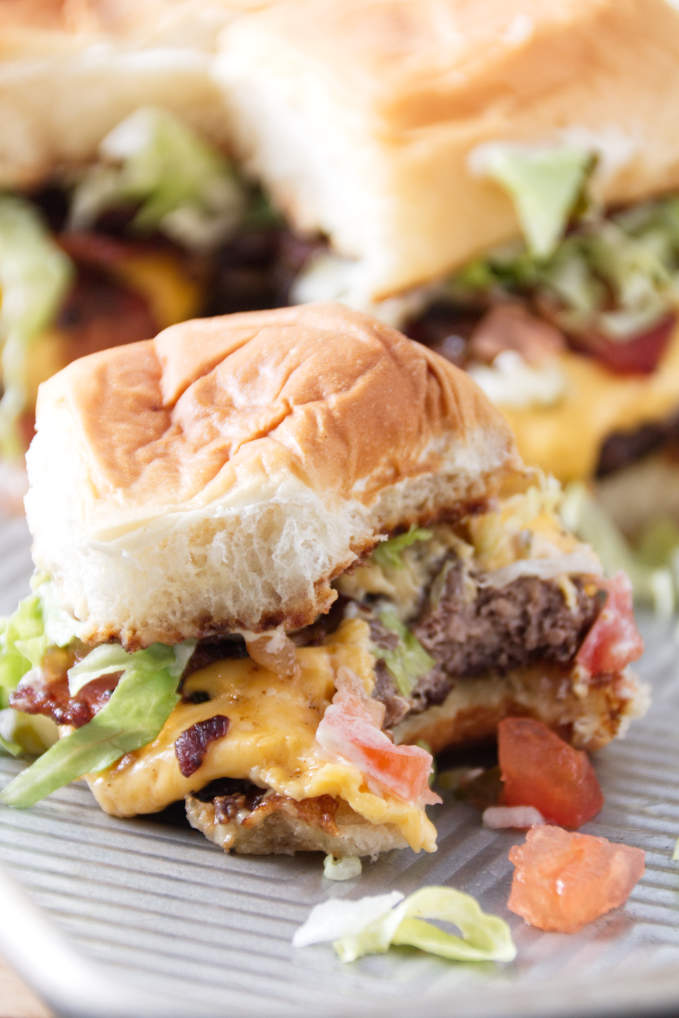 🛠Tools and Equipment
If you click on some of the following affiliate links and buy something, we might get a small commission. You don't pay any extra, but it will help us keep the lights on and our bellies full!
CONNECT WITH A LICENSE TO GRILL!
Be sure to follow us on our social media accounts.
Facebook * Instagram * Pinterest * YouTube * Twitter
Did you make this recipe? Tell us about it in the comments below!
💬Tell Me What You Think!
Did you try out this recipe? Please leave a comment below and let me know how you liked it. Also, snap a picture and post it to your favorite social platform. Be sure to tag me at @alicensetogrill and let me know how you liked it!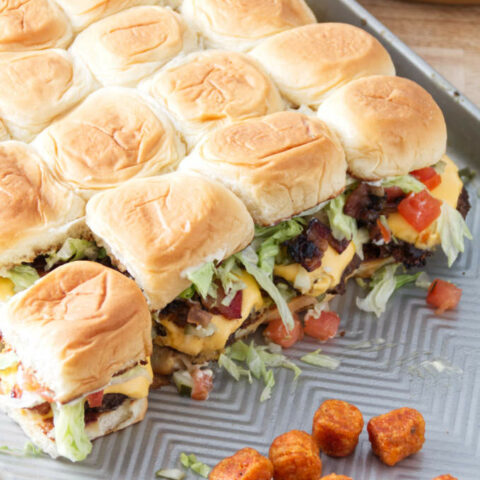 Blackstone Smash Burger Sliders
Don't be fooled by their size, these tiny burgers are packed full of big flavor! These Blackstone slider burgers are perfect for any party or gathering, and they're so easy to make that you'll want to put them on your regular menu rotation. The Blackstone gives the burgers an amazing crust while keeping the burgers super juicy. Plus, there are endless possibilities when it comes to toppings, so you can create a different slider burger every time.
Ingredients
2 pounds 80/20 ground beef
8 slices raw bacon, chopped
1 onion finely diced
16 King's Hawaiian rolls
salt and pepper
16 slices American cheese
1 iceberg lettuce, shredded
4 dill pickles, diced
1 tomato, diced or thinly sliced
Instructions
Preheat the Blackstone griddle to high heat.
Use an ice cream scooper to portion 16 meatballs. Set them on a plate near the Blackstone.
Toss the bacon and diced onions on the griddle. Cook until the bacon gets crisp and the onions look golden brown. Slide the bacon/onion mixture to the side.
Slice the rolls open. Add some oil to the grill (or just leave some bacon grease on the griddle) and lay the rolls cut side down. Cook until golden brown and toasted. Place the rolls on a tray or plate and cover them with a dish towel to keep them warm.
Place the balls of ground beef on the griddle and smash them flat with a large spatula and sprinkle them with salt and pepper. They should be a bit larger than the rolls because they will shrink as they cook.
Let them cook until they get dark brown on the bottom then flip them over.
Immediately place the cheese slices on the burger patties. Cover the patties with a basting lid to melt the cheese. If you don't have a basting lid, you can use a metal lasagna pan.
While the cheese melts, slather the rolls with Donkey sauce.
Transfer the burger patties to the rolls and top them with the bacon/onion mixture then add the lettuce, pickles, and tomatoes if using.
Notes
For the juiciest burgers, buy an 80/20 mix of ground beef. That means the beef has 20% fat. If you purchase beef with less fat, the burgers will be dry.
Recommended Products
As an Amazon Associate and member of other affiliate programs, I earn from qualifying purchases.
Nutrition Information:
Yield:

16
Serving Size:

1
Amount Per Serving:
Calories:

250
Total Fat:

14g
Saturated Fat:

6g
Trans Fat:

0g
Unsaturated Fat:

6g
Cholesterol:

48mg
Sodium:

599mg
Carbohydrates:

20g
Fiber:

2g
Sugar:

7g
Protein:

11g
Nutrition information is a guideline only, is calculated automatically by third party software, and absolute accuracy is not guaranteed.