Traeger Au Gratin Potatoes have a smoky flavor and extra cheese for a wonderful addition to any supper. The crispy Panko topping adds texture and contrast to the creamy sauce. These Traeger smoked potatoes are sure to be a hit with everyone. You can make these on any pellet grill for a winning side dish.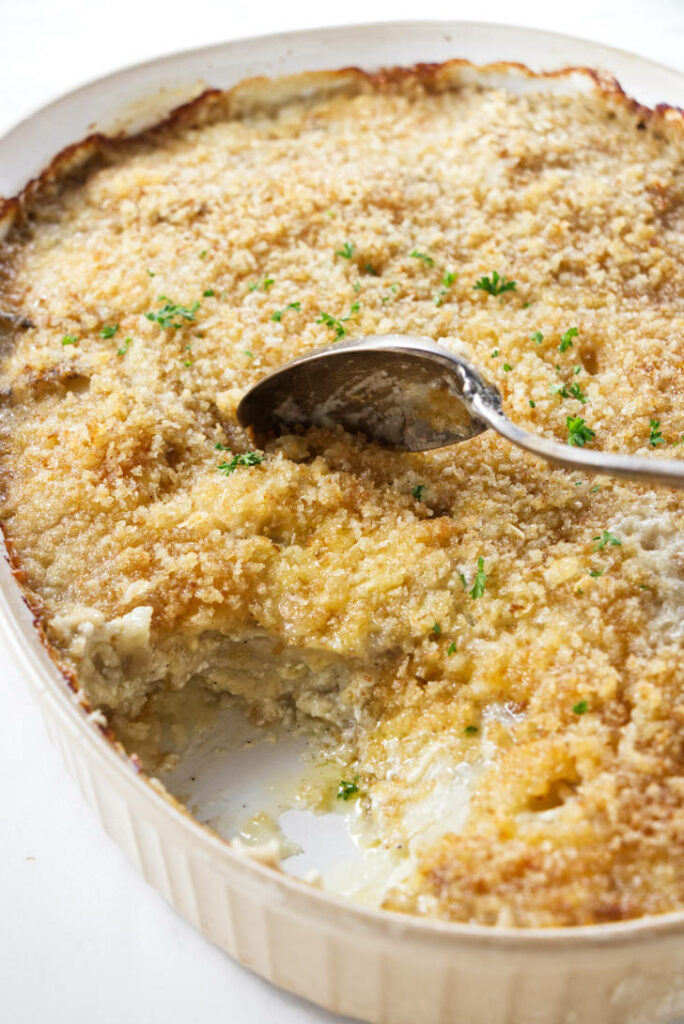 Here is Why This Recipe Works
Leaving the dish uncovered inside the pellet grill lets the potatoes get a maximum smoky flavor.

Using two different kinds of cheese gives extra depth of flavor.

Layering the potatoes, cheese, and cream sauce ensure that each bite is packed with flavor.

Tossing the cheese in some cornstarch helps prevent the sauce from clumping as it melts.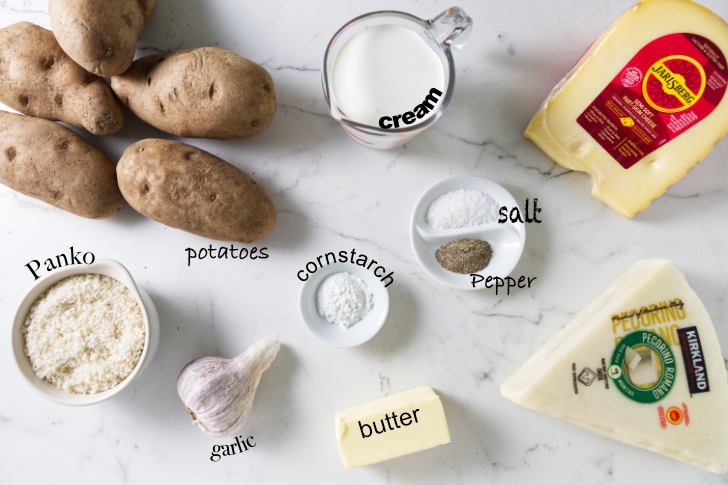 If you have been following us for a while, you know we love a good potato side dish. And this one is right up there at the top of our list!
Smoked Traeger Au Gratin Potatoes are the perfect way to add some cheesy goodness and smoky flavor to any meal. Whether you're having a family barbecue or a casual get-together with friends
For more potato side dishes, check out our grilled potato wedges, air fryer baby potatoes, or cheese-crusted potato wedges.
The Ingredients
Here is a list of the ingredients you will need for this smoky au gratin potato recipe. Scroll down to the printable recipe card for all the details.
Jarlsberg cheese. Jarlsburg is rich, buttery, and slightly sweet and nutty. You can substitute with Gruyere, Swiss cheese, Emmental, or any good melting cheese that you have on hand.

Pecorino Romano cheese. Pecorino Romano adds a sharp, salty flavor and depth to the dish. You can substitute with Parmesan cheese.

Cornstarch.

Cream. Heavy cream gives this dish an ultra-rich and decadent flavor.

Garlic. You can use fresh garlic or dried garlic powder.

Salt and pepper.

Potatoes. Choose either Yukon Gold or Russet potatoes. You don't need to peel Yukon Golds, but Russets will have a slightly creamier texture.

Butter. Dollops of butter in between the layers add flavor and richness.

Panko bread crumbs. The Panko topping adds a nice crunch to the dish.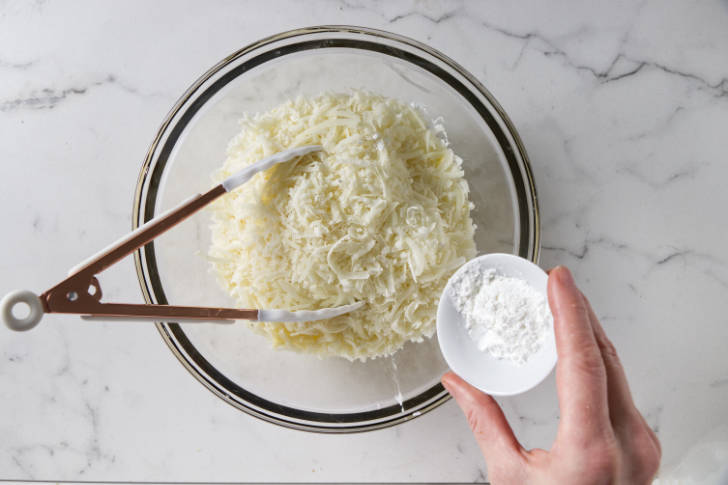 How to Make Au Gratin Potatoes on the Pellet Grill
Here is a brief overview to get an idea of what to expect with this creamy, cheesy potato casserole. Scroll down to the printable recipe card for all the details.
Combine the cheese and cornstarch in a dish.
Mix the cream, salt, pepper, and garlic in a separate dish.
Add some potato slices to the bottom of a casserole dish. Top with pats of butter and some cream. Add a layer of cheese. Repeat until you have three layers.
Sprinkle Panko bread crumbs on top and bake in the preheated Traeger (or whatever pellet grill you have).
What to Serve with Smoked Au Gratin Potatoes
Au gratin potatoes are a great side dish for any meal. They are especially good with pulled pork, chicken, or steak (try our reverse seared Tomahawk).
For a complete meal, you could also serve them with some green vegetables, like air fryer broccoli or air fryer asparagus. We love serving this during the holiday season with a smoked turkey.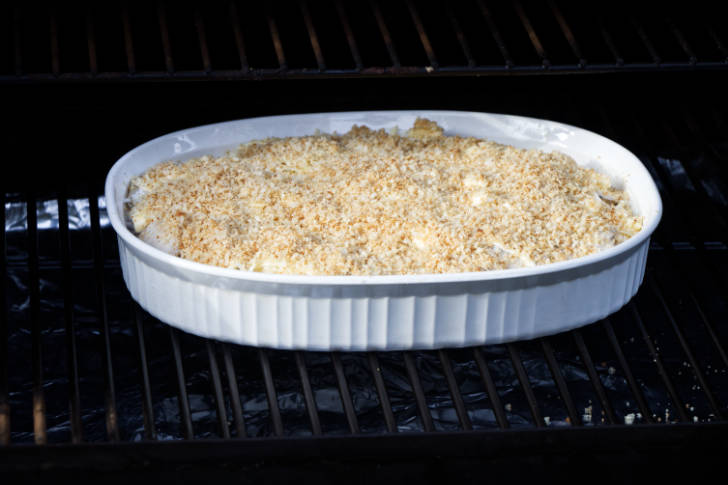 Tips for Success
Slice the potatoes very thin. A mandoline slicer or the slicing disk on a food processor works great.

You can assemble the unbaked dish up to two days in advance. Cover it with plastic wrap and keep it in the refrigerator until time to cook. Let it come to room temperature, and remove the plastic wrap before cooking it.

Use a glass baking dish for the best results. Potatoes can react to aluminum pans and turn them a brown color. You can still make these potatoes in a metal pan if you don't have a glass dish, but they won't look as pretty.

Don't open the grill door frequently, or you will let out too much heat, and the potatoes will take longer to cook.
Frequently Asked Questions
Why do my sliced potatoes look gray or purple?
If you let the sliced potatoes sit out for too long before preparing the dish, they will oxidize and turn gray, brown, or purple. You can prevent oxidation if you soak the sliced potatoes in water or assemble the dish right away.

Another thing that turns the potatoes a different color is if you use a metal pan. Sometimes the sliced potatoes react with metal and turn brown or gray.
Why are my au gratin potatoes watery?
If you use milk instead of cream, the sauce will be thin. You can replace 1/2 of the cream with milk or half-and-half without making the au gratin potatoes watery. However, if you use milk, the sauce is more likely to curdle.
The sauce can also get watery if you don't drain the potatoes after soaking them in water.
What's the difference between scalloped potatoes and au gratin potatoes?
Scalloped potatoes get cooked in cream, while au gratin potatoes have cheese added to the dish.
Why did my sauce curdle?
If you replace the cream with milk, then you may notice curdling.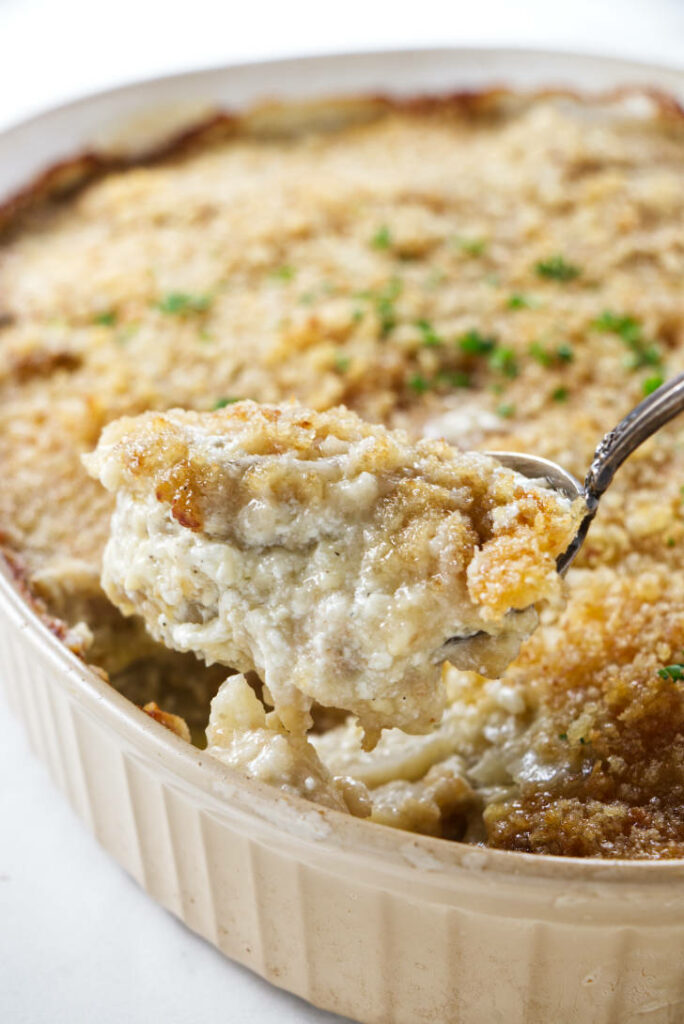 Traeger smoked Traeger Au Gratin Potatoes are a delicious side dish perfect for any occasion and time of the year. These potatoes are guaranteed to please everyone with the smoky flavor and extra cheese.
Helpful Tools
Some of the following are affiliate links. If you click on these links and purchase something, we may receive a small commission. Of course, you don't pay any extra, but it will help us keep the lights on.
Some Other Recipes We Are Sure You Will Love
Our Traeger prime rib would make a great main dish for the smoky au gratin potatoes. Serve it with a grilled Romaine salad and a pumpkin cheesecake parfait for dessert.
Our smoked cornish game hens have an excellent sweet and smoky taste that you will fall in love with at first bite. Serve them with a lemon butter sauce and some air fryer green beans.
These smoked beef short ribs are tender, juicy, and full of flavor. And best of all, they're easy to make. They are so good you don't need a sauce but if you love a good BBQ sauce, serve them with our Kansas City BBQ sauce.
💬Tell Me What You Think!
Did you try out this recipe? Please leave a comment below and let me know how you liked it. Also, snap a picture and post it to your favorite social platform. Be sure to tag me at @alicensetogrill and let me know how you liked it!
CONNECT WITH A LICENSE TO GRILL!
Be sure to follow us on our social media accounts.
Facebook * Instagram * Pinterest * YouTube * Twitter
Did you make this recipe? Tell us about it in the comments below!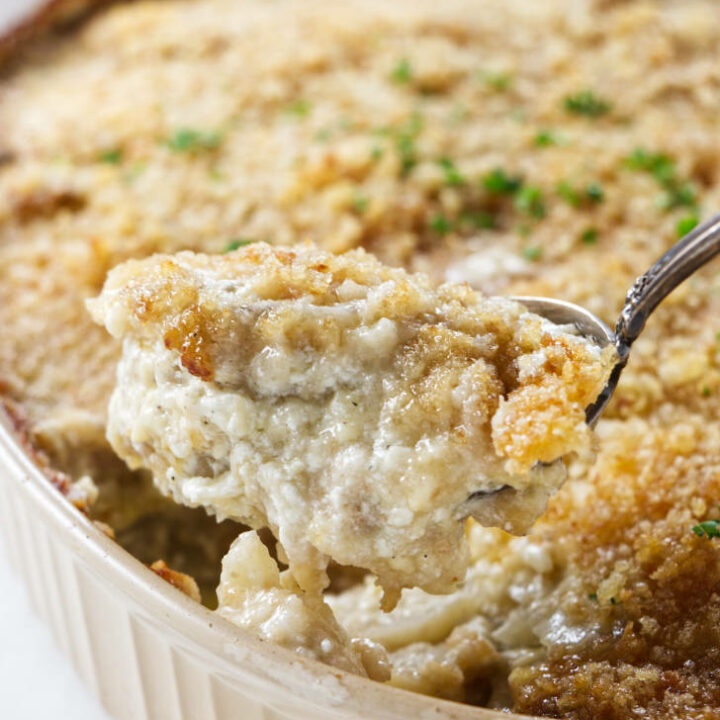 Traeger Au Gratin Potatoes
Cook Time:
1 hour
15 minutes
Total Time:
1 hour
35 minutes
Traeger au gratin potatoes have a smoky flavor and extra cheese for a delicious side dish to any meal. The crunchy Panko topping gives them a nice crunchy texture that contrasts with the creamy sauce. These potatoes are guaranteed to be a huge hit.
See the recipe notes for ideas to substitute the cheeses and change up the flavor.
Ingredients
2 cups Jarlsberg cheese**
2 cups Pecorino Romano cheese**
1 tablespoon cornstarch
2-1/2 cups cream
4 cloves minced garlic (or 1 teaspoon granulated garlic)
1/2 teaspoons salt
1/2 teaspoon ground pepper
3 pounds potatoes, sliced 1/8 inch thick
8 tablespoons butter
1-1/4 cups Panko bread crumbs
Instructions
Preheat your Traeger or pellet grill to 350°F and grease a 2-quart to 3-quart casserole dish.
Combine the cheeses and cornstarch in a bowl and toss to coat the cheese in the cornstarch.
Combine the cream, garlic, salt, and pepper in a separate bowl.
Spread a thin layer of the potato slices on the bottom of the casserole dish.
Slice several pats of butter and scatter over the potatoes.
Drizzle 1/3 of the cream over the potatoes, then sprinkle 1/3 of the cheese on top. Repeat to make two more layers.
Sprinkle the top with Panko bread crumbs and place the casserole dish directly on the grill grates.
Close the lid and cook for 60 to 75 minutes or until the potatoes are tender when poked with a fork.
Notes
Peeled or skin-on potatoes work just fine. If you don't want to peel your potatoes, make sure you scrub them well and rinse them.

You can use Russet potatoes or Yukon gold potatoes. The Yukon gold potatoes make a good choice if you don't want to peel the potatoes because their skin is thin and tender.

Substitutes for Jarlsberg: Gruyere, Swiss cheese, Emmental.

Substitutes for Pecorino Romano: Parmesan. Asiago, Manchego.

You can use a 10-inc cast iron skillet, disposable aluminum pan, or a porcelain lasagna dish. The smoke from the pellet grill will stain the dish. However, the porcelain dish scrubs clean.

If you use a metal pan, the potatoes may turn slightly gray, but they will still be edible.

Use a mandolin or a food processor to slice the potatoes as thin as possible.

You can prepare the unbaked dish up to two days in advance if you like. Keep it covered with plastic wrap and refrigerate it until time to cook. Let it come to room temperature, and remove the plastic wrap before cooking it.
Recommended Products
As an Amazon Associate and member of other affiliate programs, I earn from qualifying purchases.
Nutrition Information:
Yield:

10
Serving Size:

1
Amount Per Serving:
Calories:

702
Total Fat:

41g
Saturated Fat:

24g
Trans Fat:

1g
Unsaturated Fat:

13g
Cholesterol:

117mg
Sodium:

796mg
Carbohydrates:

63g
Fiber:

5g
Sugar:

6g
Protein:

22g
Nutrition information is a guideline only, is calculated automatically by third party software, and absolute accuracy is not guaranteed.