I know, it seems strange to grill lettuce on the BBQ, a grilled romaine salad!? When I think of heat and romaine lettuce, I think of green, bitter mush, but the secret is to only let the romaine kiss the grill. In less than a couple minutes on the fire, the romaine picks up just enough of the smokey grilled flavor and a bit of char on the ends of the leaves making for one of the best salads I have ever had!
Stack on some smokey bacon, a sharp blue cheese, some pomegranate seeds for a bit of sweet crunch, and a tasty, creamy cilantro dressing. A grilled romaine salad so good you won't even realize that you are being healthy!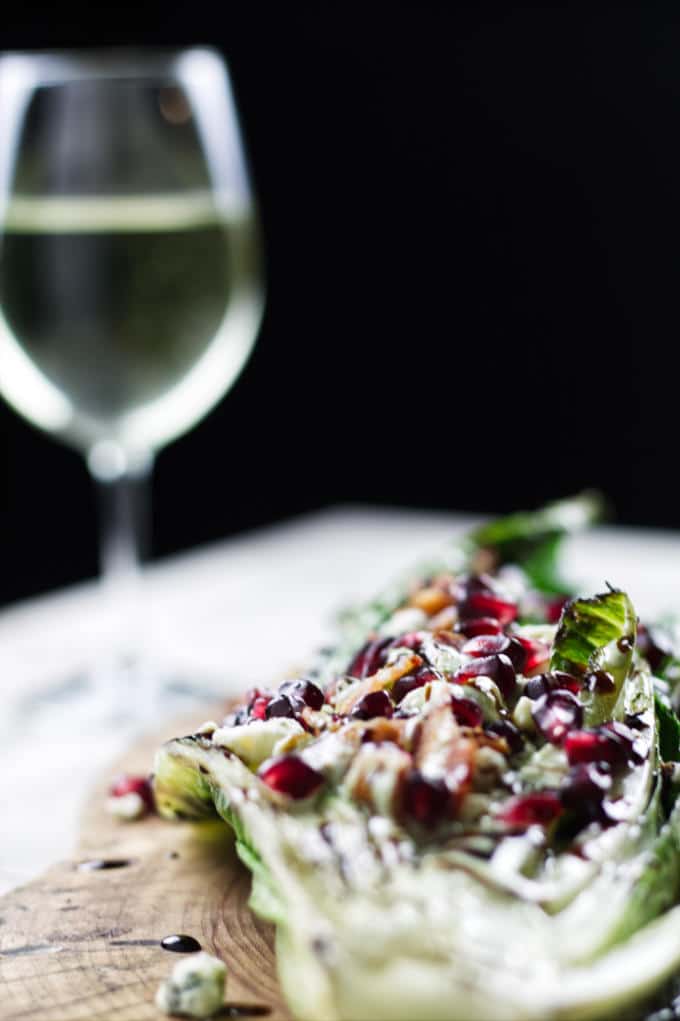 How to make the best grilled romaine salad
Slice the head of romaine in half lengthwise. This will keep the head of romaine intact in two pieces and open up all the crevices of the leaves to allow the smokey flavor to fully infuse the lettuce.
Oil and season the romaine. Once the head of romaine is sliced in half, paint a healthy dose of olive oil over it. Season the lettuce with salt and pepper before placing on the grill.
Place the romaine on the grill. Cook each side of the romaine for about a minute or so on the grill. You do not want to leave it on the grill for too long otherwise you will have a mushy grilled romaine salad. You will want just enough char on the leaves, so pay attention and adjust the time based on the heat of the grill.
How to serve a grilled romaine salad
When it comes to salads, I need some heft. I am not a fan of boring salads tossed in a light dressing, I want a pile of goodies on top. So why not serve your guests or family a halved grilled romaine head with the fixings on the side? Set up a salad bar, have them dig in and build their own salad. Plus, it saves you the prep time and you can focus on enjoying a glass of wine or beer!
Salad bar with a plethora of toppings to choose from – see below for some ideas
Add some grilled meat for a steak or chicken salad
Make it a grilled taco salad and add some ground beef along with cheddar cheese, salsa, grilled corn, and avocado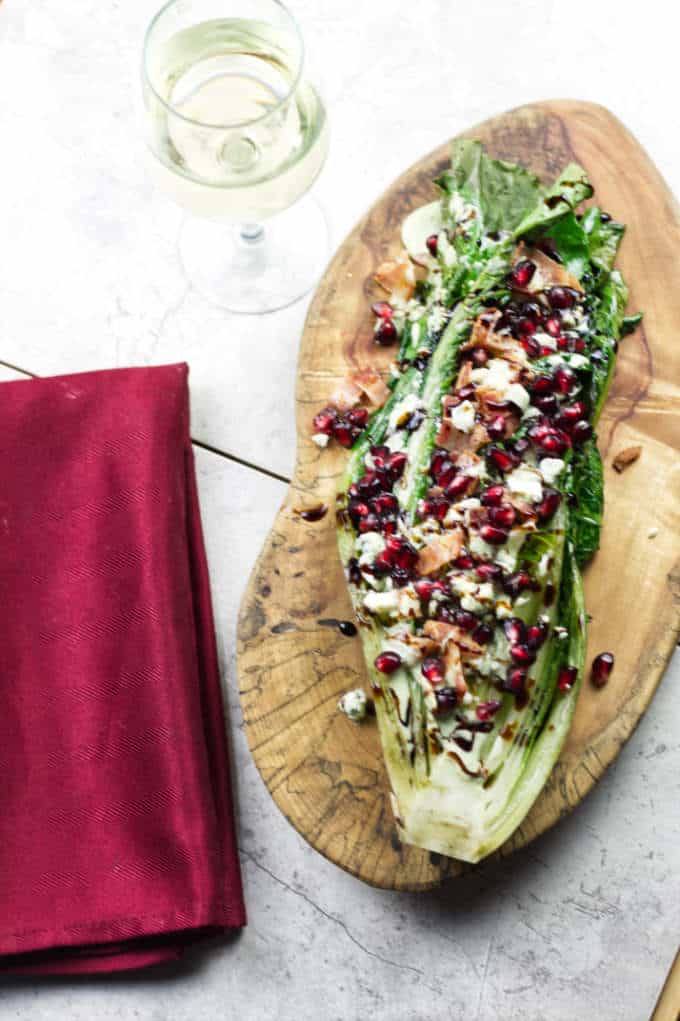 Toppings for your grilled romaine salad
BACON! Always! The answer is bacon.
Cheese (you have to have cheese), try blue cheese, gouda, and parmesan
Fresh fruit, my favorites are clementine or orange slices, apples, and raspberries
Fried onions
Nuts like chopped pistachios, almonds, cashews or candied pecans
Seeds like pomegranate, pumpkin or chia
Grains, try out some quinoa, farro, or barley
I love beans and legumes on salad, try black beans or kidney beans
And lastly, of course, a dressing! I really enjoy this blue cheese salad dressing and this delicious vegan pesto recipe.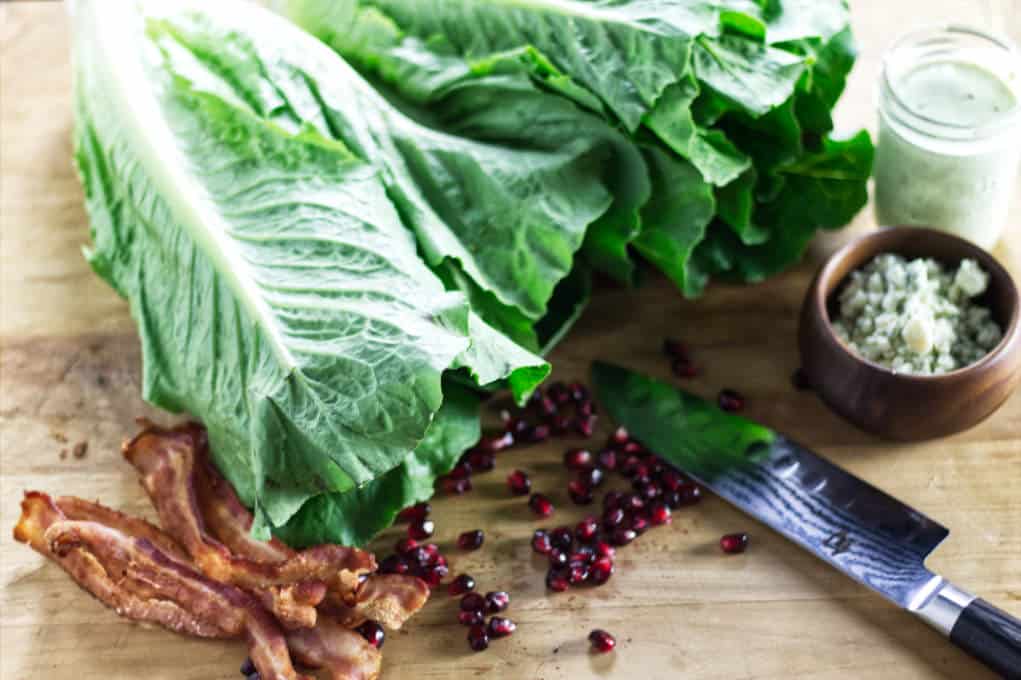 How do you store lettuce?
If you're like me, you stock up on way too much food when you go shopping. It does not help that I live only a 5-minute walk away from Costco. If you end up having lots of extra lettuce and need to store it, there are a few tricks you can do to make it last longer.
Most people just throw their lettuce in a plastic bag or bowl and call it good. If you want your greens, or lettuce, to stay fresher, longer there is an easy trick. Grab a kitchen towel or terry cloth. You can soak this in water and wring it out, leaving it damp to the touch. You don't want it wet, at all. Then wrap your lettuce in the towel and place it in a plastic bag. You can also use a paper towel if you don't want to surrender one of your kitchen towels.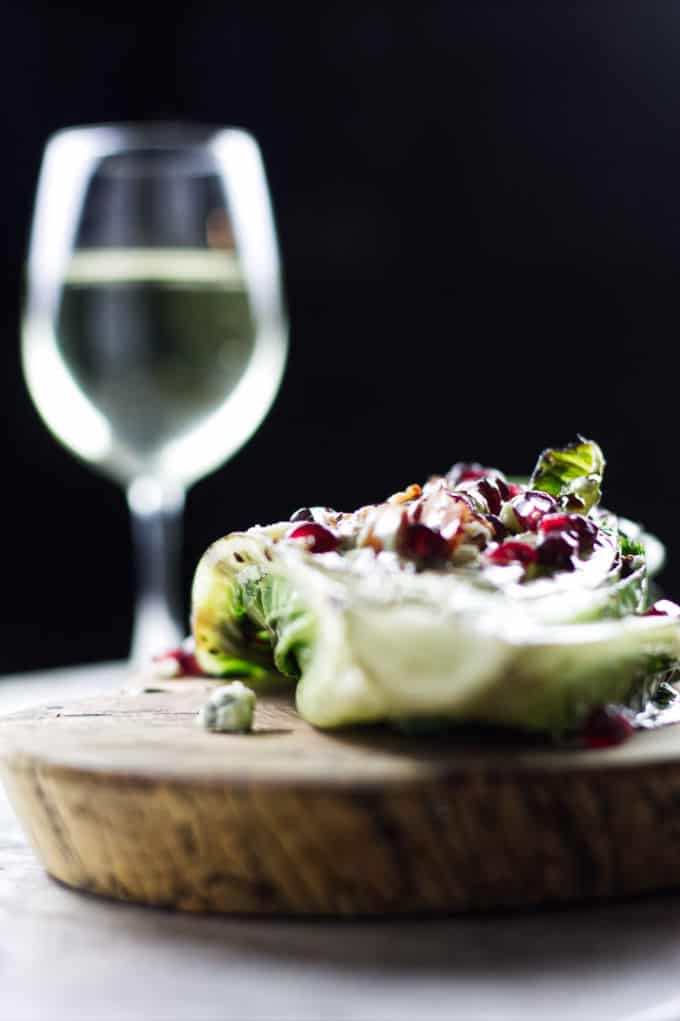 Some other recipes you will dig!
A grilled romaine salad could be a meal all on its own, but sometimes you need some meat to go with it, right?! Check out these other delicious recipes for some great accompaniments to your salad.
You need to try this air fryer bacon, plus, it goes extremely well with this grilled romaine salad! It is super easy to cook bacon in the air fryer and it comes out extremely crispy! It would add the perfect amount of crunch and saltiness to the salad.
These grilled bacon wrapped scallops need to have a delicious grilled romaine salad to go along with them. Scallops might be my favorite treat from the ocean, they are so tender! Plus wrapped in bacon and flavored form the smoke on the BBQ, YUM!
WINGS! Of course, salad always goes well with wings. Try out these air fryer buffalo chicken wings – from frozen, or these air fryer honey mustard chicken wings.
CONNECT WITH A LICENSE TO GRILL!
Be sure to follow us on our social media accounts
Facebook * Instagram * Pinterest * YouTube * Twitter
Did you make this recipe? Tell us about it in the comments below!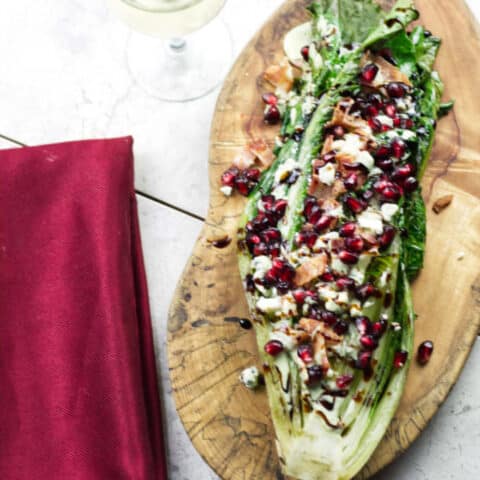 Grilled Romaine Salad
This is my favorite salad ever! After only a couple minutes on the fire, the romaine lettuce picks up so much smokey flavor. Throw on some delicious toppings like bacon, pomegranate seeds, creamy cilantro dressing, balsamic glaze, and oh man, you have a delicious treat!
Ingredients
2 heads of romaine lettuce
6 slices of bacon
6 oz. pomegranate seeds
6 oz. of blue cheese crumbles
12 oz. of blue cheese dressing (see recipe card below)
4 tbsp of olive oil
1 tbsp balsamic glaze
Instructions
Cook the bacon in an air fryer at 370°F for 8-12 minutes until crispy and slice into crumbles. Check out the recipe for the best air fryer bacon.
Slice the heads of romaine in half, lengthwise.
Brush the romaine lettuce with olive oil.
Place the romaine cut side down on the medium-hot grill.
Flip the heads of romaine after 1-2 minutes and cook on for equal time on the other side.
Transfer the romaine cut side up to a serving platter and pile on the bacon, pomegranate seeds, and blue cheese crumbles.
Finish by drizzling the amazing blue cheese salad dressing over the grilled romaine (see recipe below)
Drizzle with a sweet balsamic glaze, and serve.
Notes
Be sure that you do not overcook the lettuce. Only 1-2 minutes on each side. Otherwise, the lettuce will become wilted.
Nutrition Information
Yield

4
Serving Size

1
Amount Per Serving
Calories

574
Total Fat

51g
Saturated Fat

13g
Trans Fat

1g
Unsaturated Fat

36g
Cholesterol

50mg
Sodium

901mg
Carbohydrates

17g
Fiber

6g
Sugar

10g
Protein

14g
Nutrition information is a guideline only, is calculated automatically by third party software, and absolute accuracy is not guaranteed.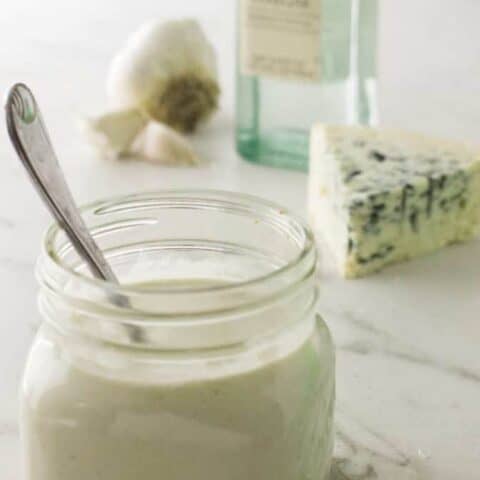 Homemade Blue Cheese Dressing
This blue cheese salad dressing is packed with blue cheese and a delicious tangy flavor. It goes well on salad and makes the perfect dip for chicken wings.
Ingredients
8 ounces cream cheese (softened)
1/2 cup whole milk cottage cheese
6 to 7 ounces blue cheese, crumbled
1 cup full-fat buttermilk
2 tablespoons white wine vinegar
1 teaspoon whole-grain mustard
1 teaspoon Worcestershire sauce
2 clove of garlic, finely minced
1/4 teaspoon sea salt
1/4 teaspoon fresh ground pepper
Instructions
Put everything except for 2 to 3 ounces of the blue cheese into a blender or food processor and process until smooth.

For a chunky dressing add the remaining crumbled blue cheese after the processing.

Pour into a sealed container and refrigerate.
Notes
We recommend whole milk cottage cheese and buttermilk.
Store in the fridge for up to 2 weeks.
Recipe adapted from Savorthebest.com
Nutrition Information
Yield

12
Serving Size

2 tablespoons
Amount Per Serving
Calories

125
Total Fat

10g
Saturated Fat

6g
Trans Fat

0g
Unsaturated Fat

3g
Cholesterol

30mg
Sodium

302mg
Carbohydrates

3g
Fiber

0g
Sugar

3g
Protein

5g
Nutrition information is a guideline only, is calculated automatically by third party software, and absolute accuracy is not guaranteed.