I'm always on the hunt for a delicious new recipe to try on the Traeger and these smoked shotgun shells are my new favorite thing! They're essentially manicotti shells stuffed with glorious pepper jack cheese and sausage, wrapped in bacon, and smothered in Kansas City BBQ sauce.
Oh, and did I mention the optional melty string cheese that takes things to a whole new level of gooey deliciousness?
I always take these mouthwatering tubes of pasta to tailgating parties, but you can easily throw these BBQ shotgun shells on the Traeger for a relaxed mid-week meal that's packed with smokey goodness.
Whip up some air fryer baked potatoes or grilled potato wedges, and you'll have a well-balanced plate that'll have you clamoring for seconds (and thirds!).
Whether you're looking to create make-ahead BBQ snacks for the kiddos or want to impress your buddies before a major sporting event, these smoked shotgun shells have got you covered. Just don't blame me when they're snaffled up in minutes!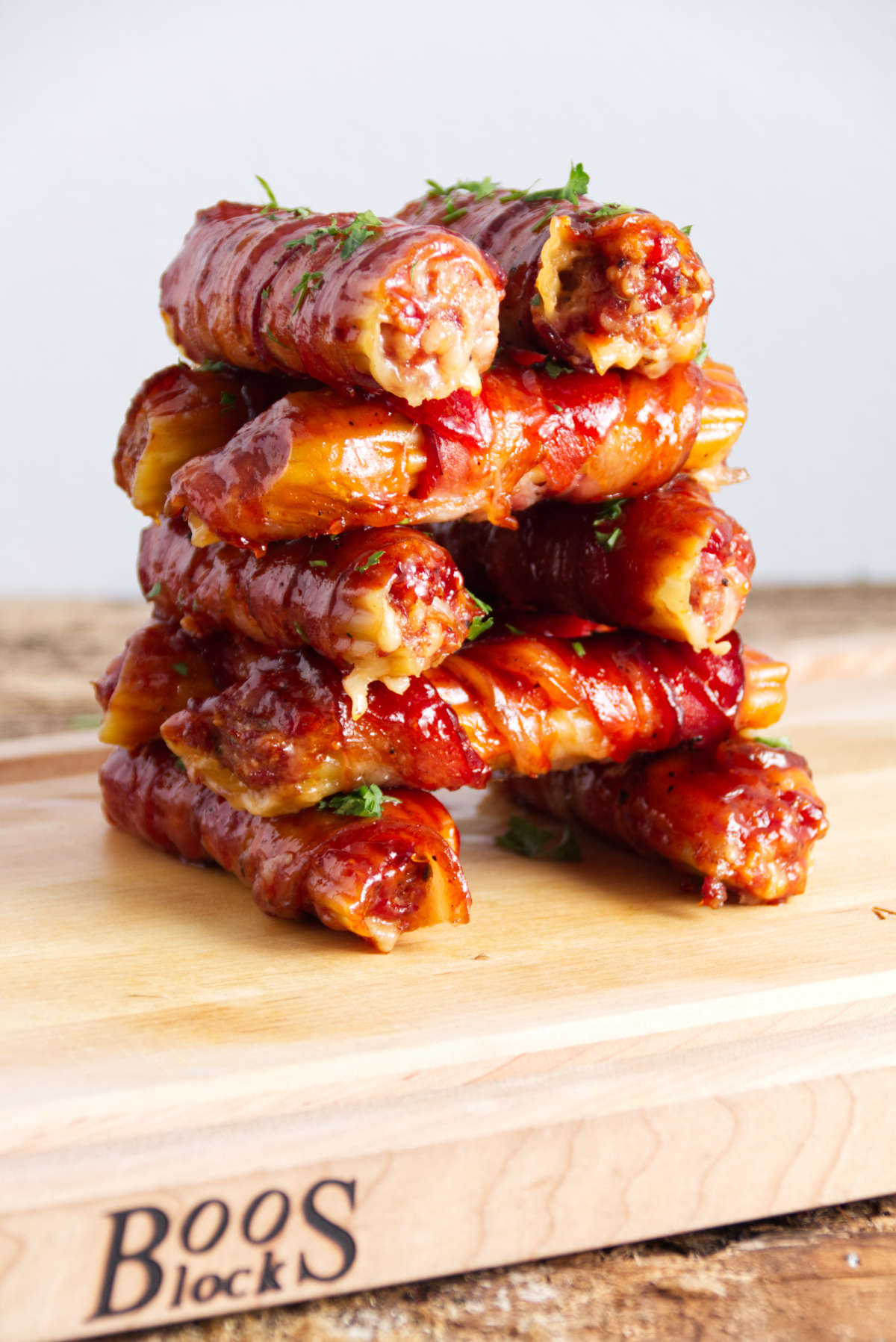 💪Why This Recipe Works
This recipe is unique, with the optional cheese stuffing for some smoked shotgun shells unlike any other.

It's loaded with delicious pepper jack cheese and sausage for a distinctive, savory bite.

The steps are foolproof and allow beginners to have tons of fun!

The shells are glazed with sweet and smokey BBQ sauce and wrapped in glorious bacon.

Pre-cooking the manicotti shells gives you the perfect al-dente result, but for quicker preparation, you can cook them starting from raw.

No manicotti? No problem! We give you an alternative preparation with lasagna noodles.

You don't need much equipment to pull this recipe together.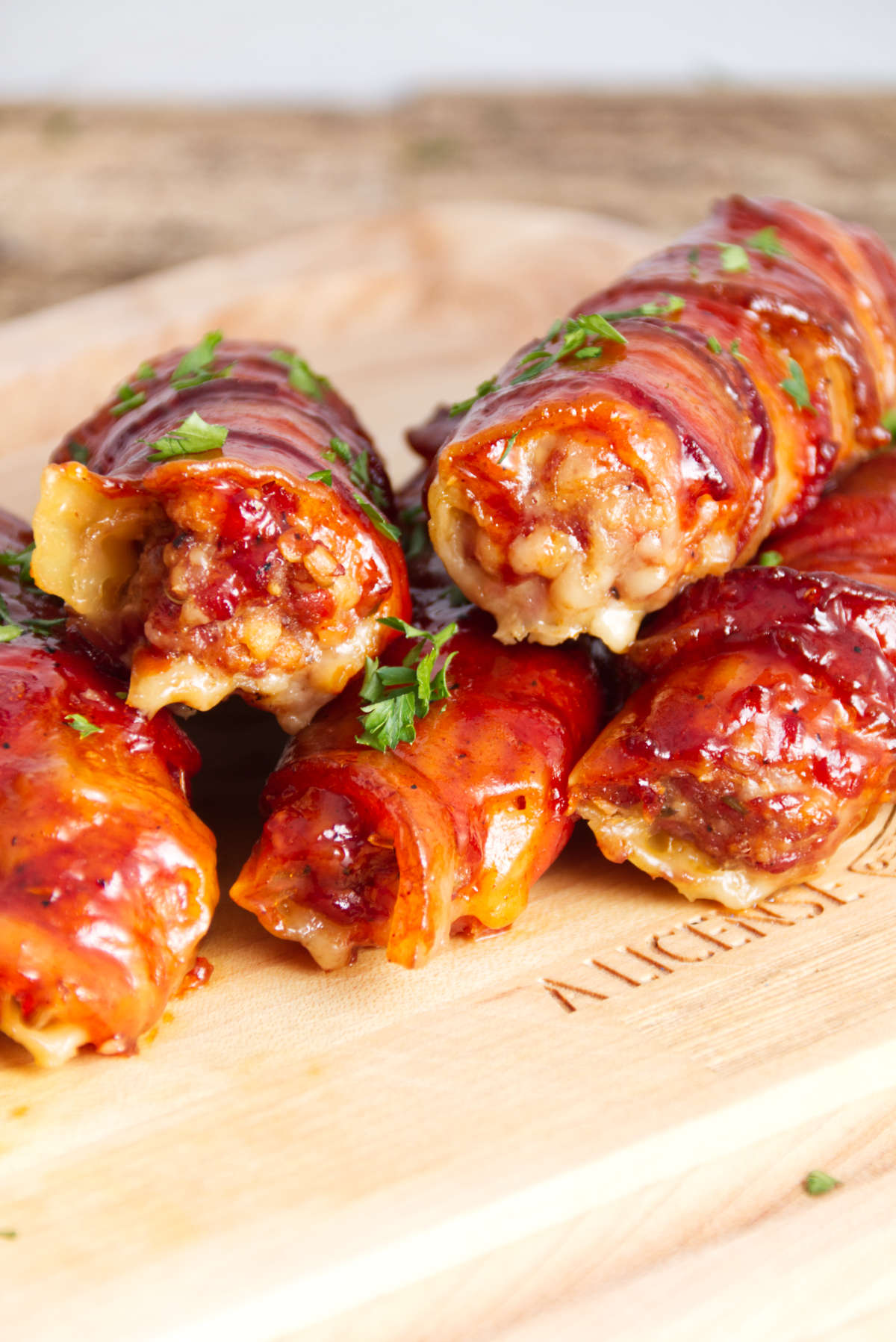 🍽Ingredients
Here is a list of ingredients you'll need to make this. Scroll down to the printable recipe card for all the details.
Manicotti shells. Manicotti shells are great, but if you cannot find them anywhere, you can use lasagna noodles in a pinch!

Ground pork sausage. Try to find meat with a slightly higher fat percentage to keep things moist and flavorful.

Pepper jack cheese. Crucial for adding texture and a spicy flavor to your shotgun shells. This cheese also melts incredibly easily and tastes uber-buttery with a slight kick, making it a perfect choice for this recipe.

Spiceology hickory peach porter rub. This delicious beer-infused rub has chocolate, caramel, and toffee tones that instantly lift the sausage and bacon for the ultimate BBQ flavor.

Salt and pepper. To taste!

Thin-cut bacon. You want to use thin bacon to give your shells that signature crispy texture. Thick-cut bacon just won't have enough stretch!

Kansas City-style BBQ sauce. The ketchup and molasses in this sauce will give your shotgun shells a sweet and smokey flavor that blends perfectly with the smokiness of the Traeger.

String cheese (optional). For that classic cheese pull! The string cheese works best when using lasagna noodles, so you have extra room for the cheese.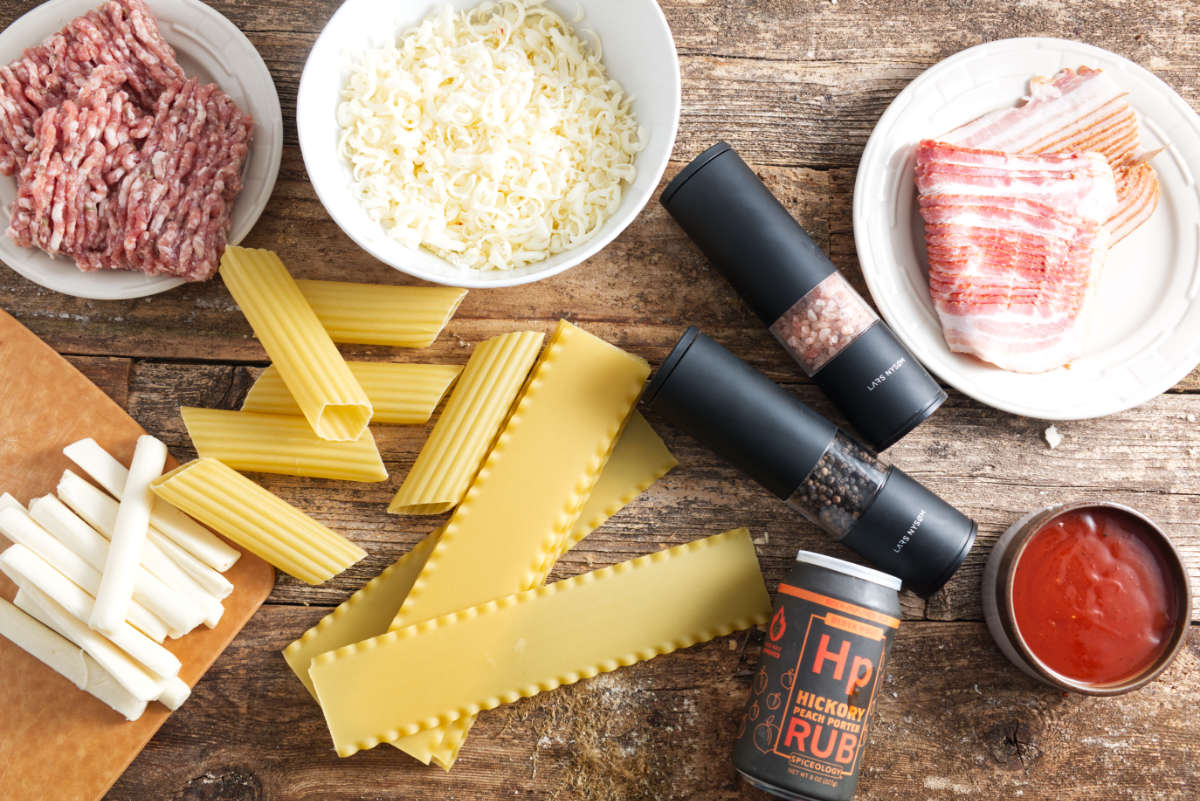 👨‍🍳How to Make It
These smoked shotgun shells are worth every minute on the Traeger, and it is an easy-to-follow recipe. This guide should give you a decent overview of how to make these shells, but you should scroll down to the printable recipe card for step-by-step instructions for this recipe!
If you cannot find manicotti shells, follow the instructions for lasagna noodles. They work just as wel, but require slightly different instructions.
Bring a pot of salted water to a boil.

Preheat your Traeger using your favorite pellets. I like these Traeger Signature pellets.

While the water boils, combine the sausage, cheese, dry rub seasoning, salt, and pepper in a large mixing bowl.
For Manicotti Shells
Boil the manicotti shells until slightly soft, about 4 minutes.

Stuff the shells with the sausage and cheese mixture and wrap them in 1 to 2 slices of thin bacon.
For Lasagna Noodles
Boil the lasagna noodles until flexible but still slightly firm, about 10 minutes.

Portion the sausage mixture into equal amounts and create a cheese-stuffed log. Wrap the cooked lasagna noodle around the log of sausage. Then, wrap the stuffed noodle in 1 to 2 slices of thin bacon.
To Smoke The Shotgun Shells
Place the shotgun shells on the Traeger and smoke them for an hour.

Coat the shells with BBQ sauce (don't be afraid to go ham with the sauce!).

Continue to smoke on the Traeger until the sausage is fully cooked and the BBQ sauce is caramelized.

Remove from the Traeger and serve immediately.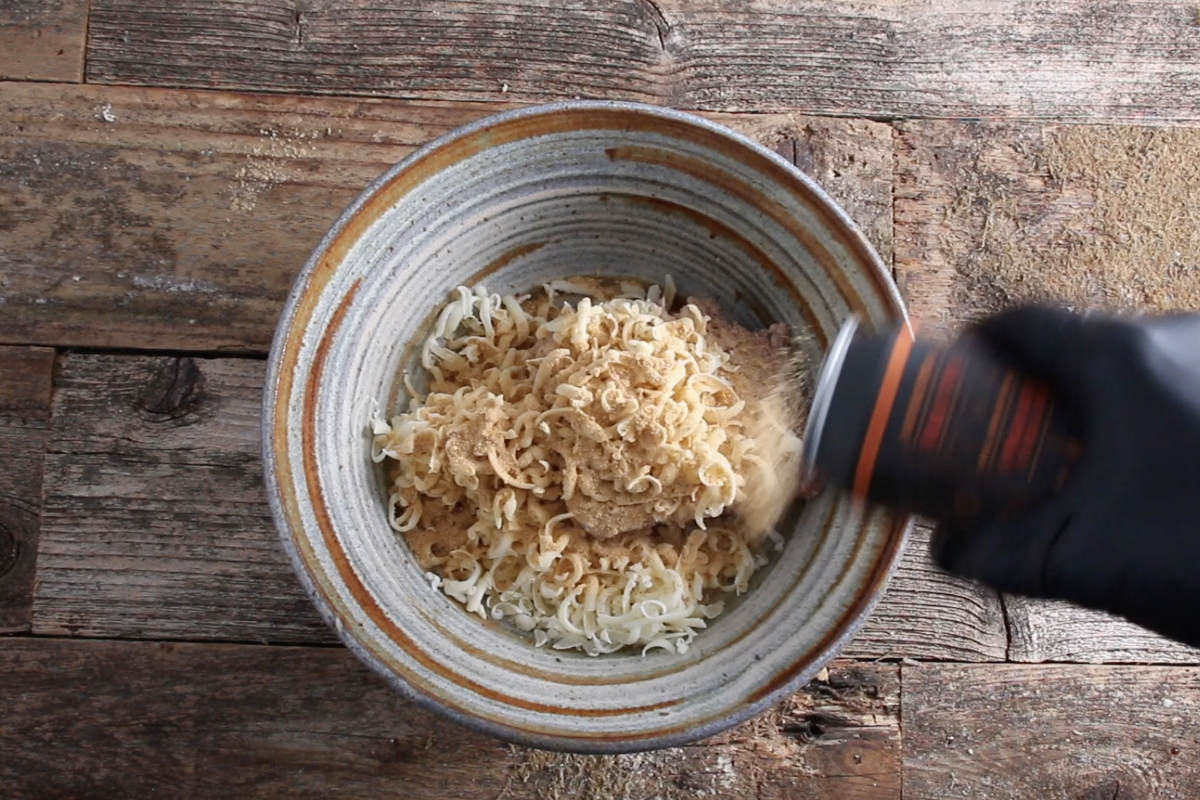 Mix the sausage, cheese, and seasoning.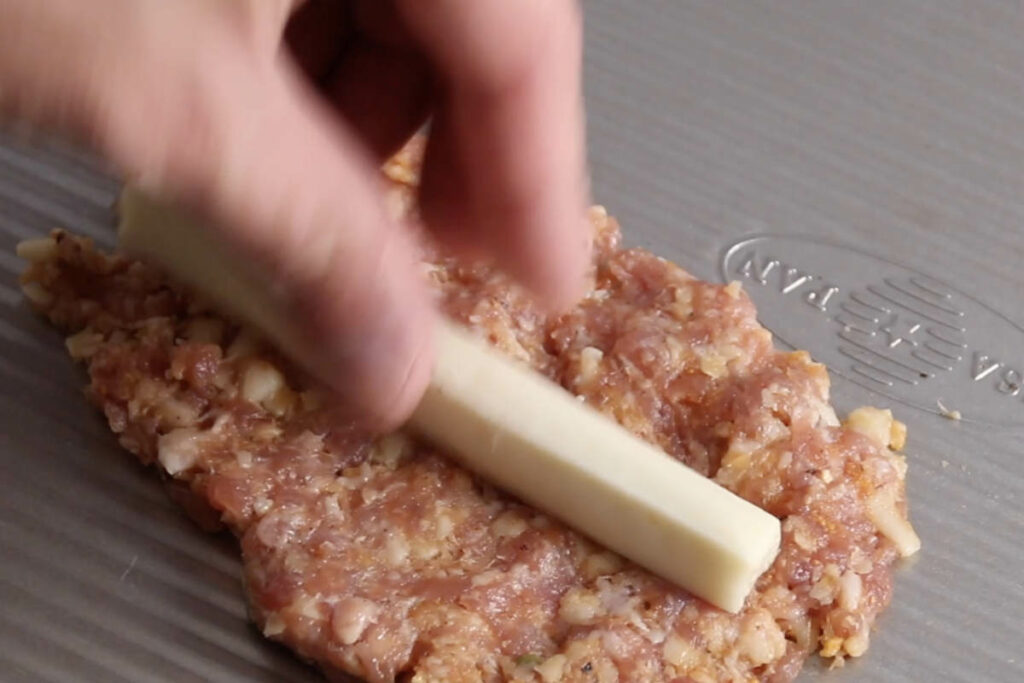 If you use lasagna noodles, form a sausage patty and stuff it with a piece of string cheese.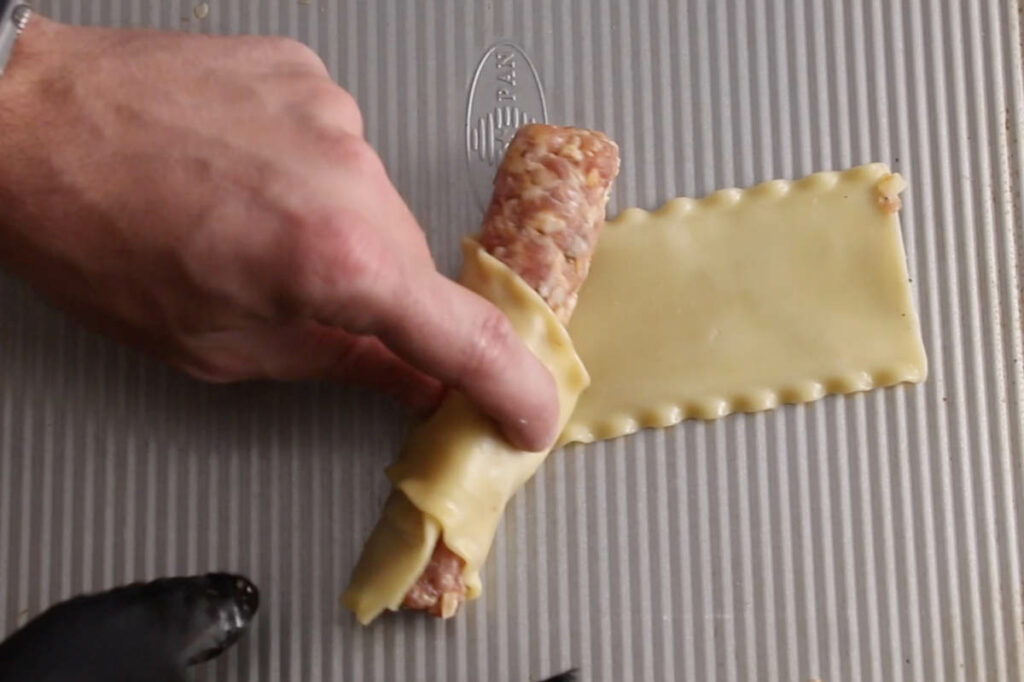 Roll the cheese-stuffed sausage log in the lasagna noodle.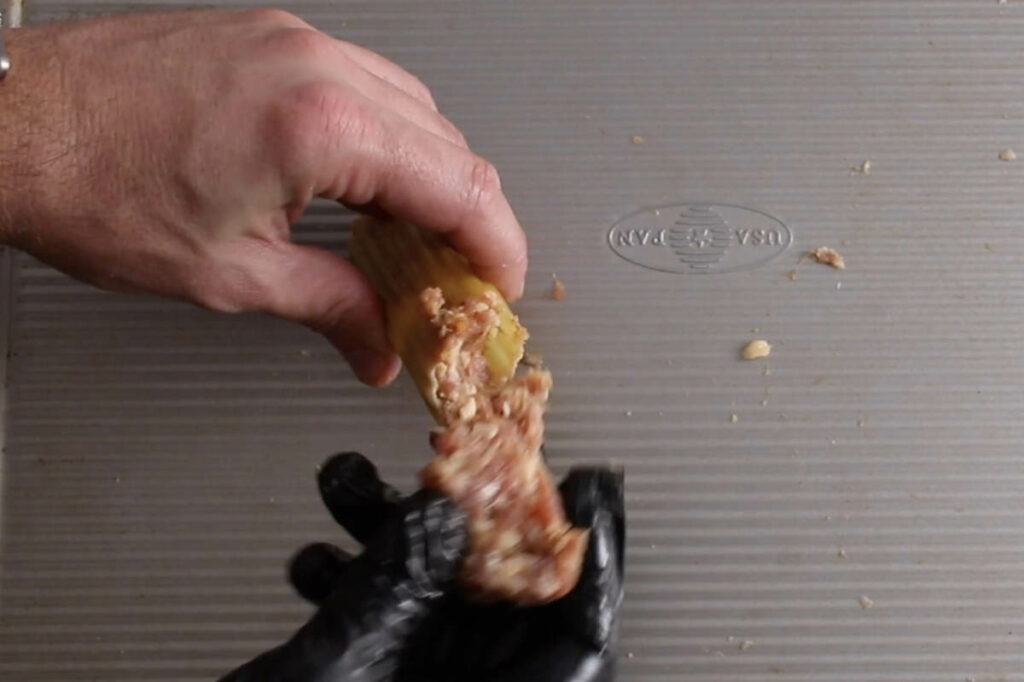 If using manicotti shells, stuff the sausage in the shells.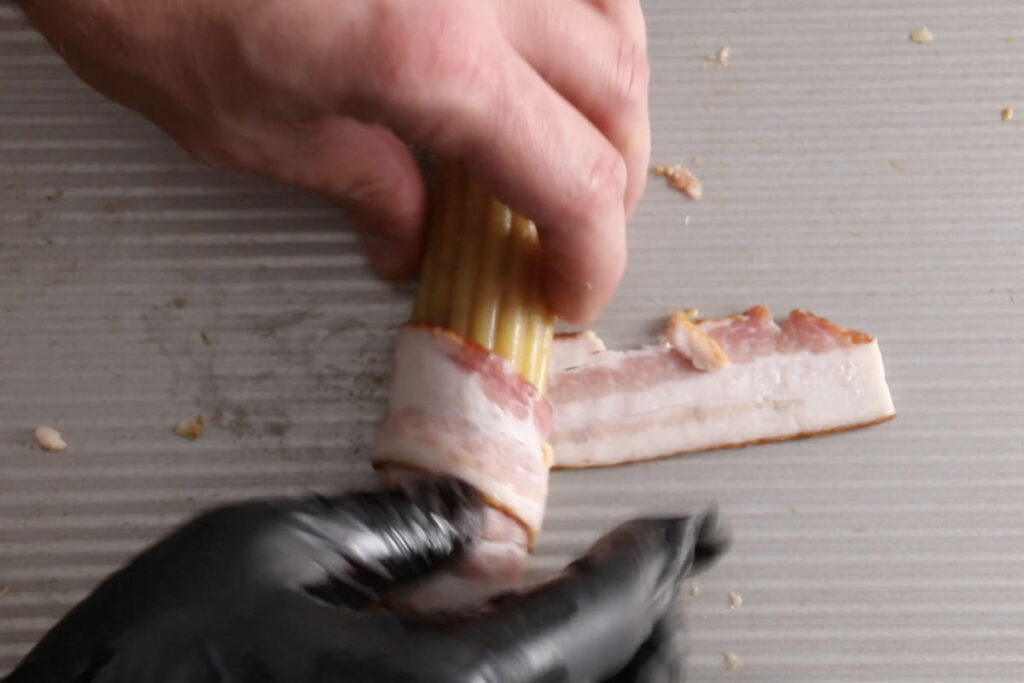 Wrap the shotgun shells in 1 to 2 slices of bacon.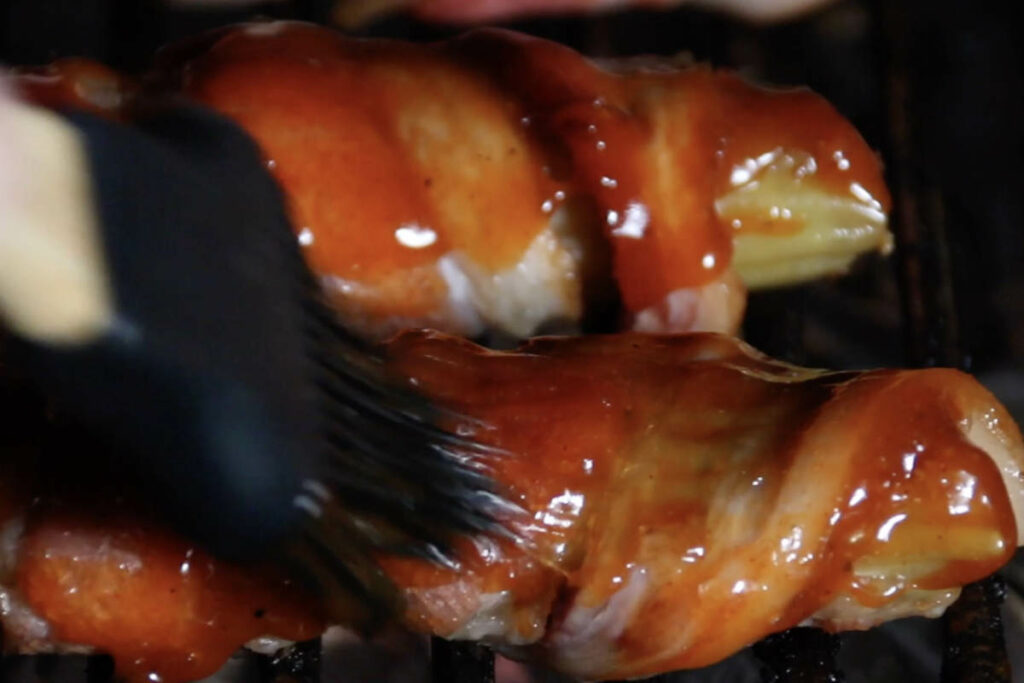 Smoke the shotgun shells on your Traeger. Coat with BBQ sauce.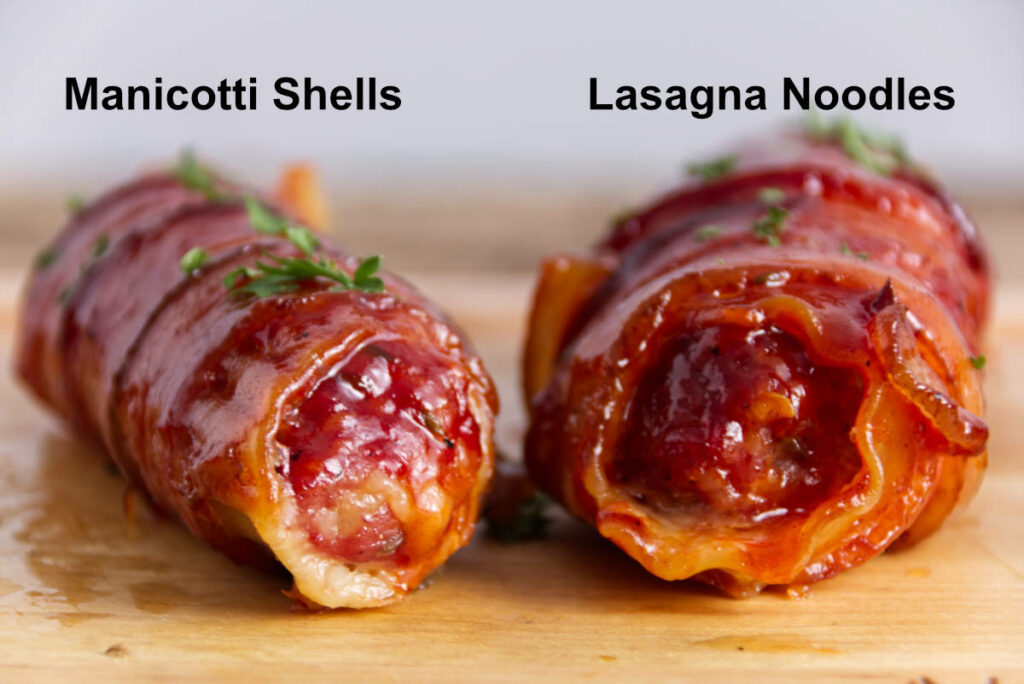 😉Pro Tips for Success
Be sure to pre-boil the manicotti shells before stuffing them. It only takes a few extra minutes and makes sure the pasta shells aren't crunchy when you take them off the Traeger. Obviously, you need to cook the lasagna noodles prior to rolling them around the sausage.

Make sure you coat all sides and ends of the shotgun shells in your delicious BBQ sauce. This will keep the shells and the meat moist, preventing them from drying out and going crispy.

Don't skimp on the bacon! The bacon adds extra moisture to the pasta as it cooks. So, it's important not to leave the raw pasta exposed if possible!

Some people like to store the stuffed shotgun shells in the fridge prior to throwing them on the BBQ. You can do this if you like, but I found that as long as they are wrapped in bacon and smothered in BBQ sauce, they come out perfectly!

If you're after more heat, it's worth choosing a pepper jack cheese packed with spicy peppers!
❓FAQ
What is in smoked shotgun shells?
These manicotti-stuffed delights feature sausage meat, bacon, tons of cheese, and BBQ sauce!
How long does it take to smoke shotgun shells?
It should take around 1.5 to 2 hours to completely smoke your shotgun shells from beginning to end.
What should I serve with smoked shotgun shells?
You can serve them with potatoes and fries, or just eat them on their own!
What kind of cheese goes into BBQ shotgun shells?
I love using pepper jack and string cheese for a blend of mild and peppery flavors. But you can also use sharp cheeses like cheddar in place of the pepper jack.
What's the best way to reheat leftovers?
You can put them in the microwave for 1-2 minutes if you're in a rush but heating them in the air fryer at 380°F for 5 minutes is the best way to revamp those delicious textures.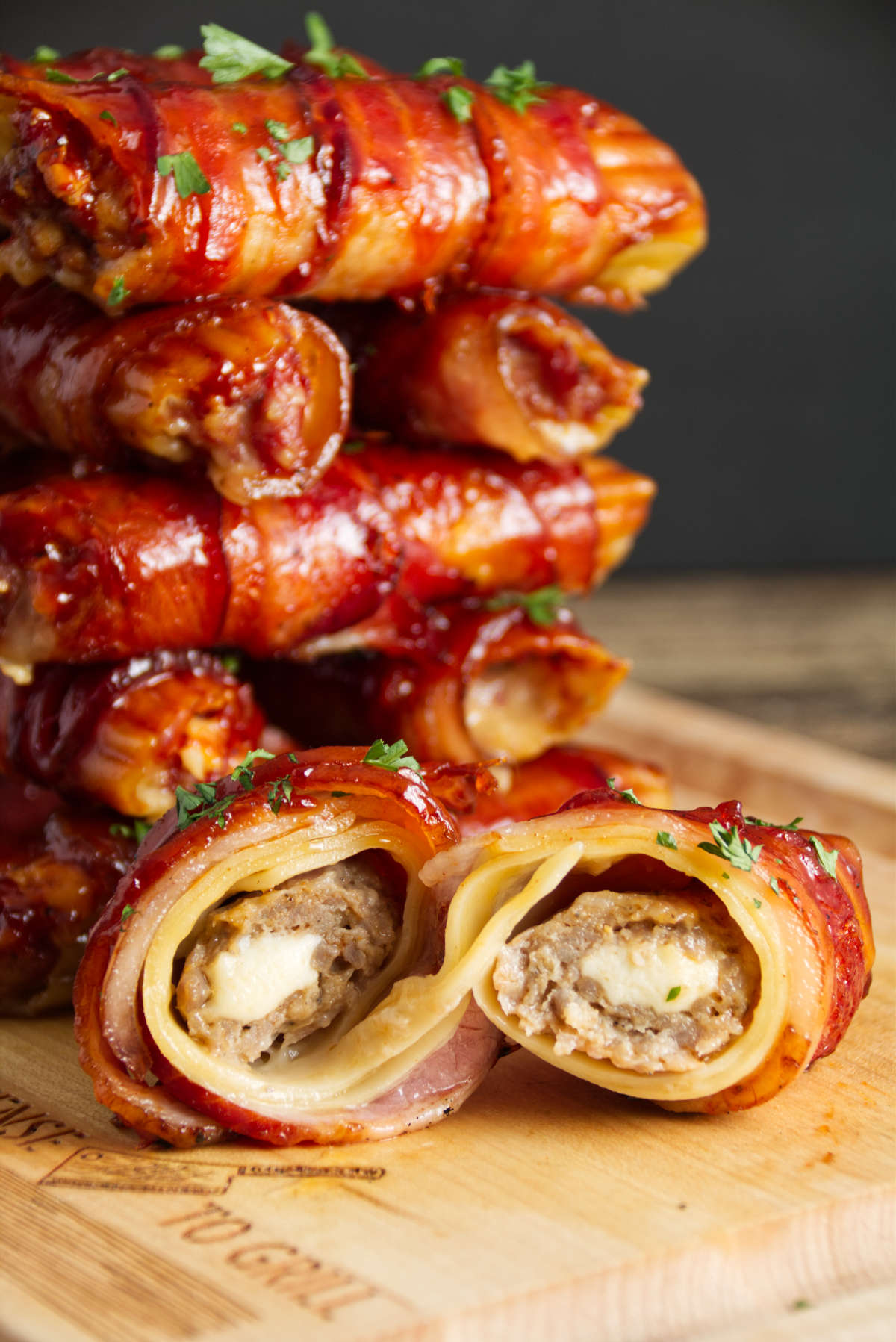 🎁Wrap Up
Whether you've wanted to pull out your trusty BBQ sauce for a new recipe or simply want to spice up your next tailgating event, this recipe for smoked shotgun shells is bound to fit the bill.
Packed with sweet and smokey flavors, a wonderful slight crunch, and boasting a moist texture, this knockout recipe is bound to please the entire family.
🛠Tools and Equipment
If you click on some of the following affiliate links and buy something, we might get a small commission. You don't pay any extra, but it will help us keep the lights on and our bellies full!
🍗More Awesome Recipes
💬Tell Me What You Think!
Did you try out this recipe? Please leave a comment below and let me know how you liked it. Also, snap a picture and post it to your favorite social platform. Be sure to tag me at @alicensetogrill and let me know how you liked it!
CONNECT WITH A LICENSE TO GRILL!
Be sure to follow us on our social media accounts.
Facebook * Instagram * Pinterest * YouTube * Twitter
Did you make this recipe? Tell us about it in the comments below!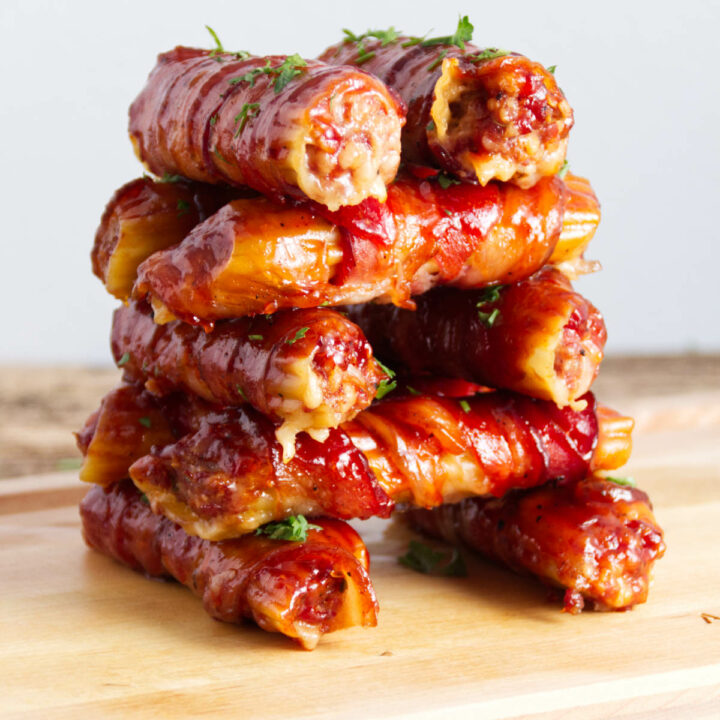 Smoked Shotgun Shells
Total Time:
2 hours
20 minutes
Manicotti shells stuffed with cheese and sausage, wrapped in bacon, smothered in BBQ sauce, and smoked to perfection. These shotgun shells are sure to be a hit, and they are perfect for tailgating. They can be made ahead of time and reheated when you're ready to eat. So fire up the grill and get cooking!
You can also make these shells with lasagna noodles, making it easier to stuff the sausage with a piece of melty string cheese (because you can't have too much cheese).
Wrapping the shotgun shells in lots of bacon and ensuring that they are coated with plenty of BBQ is essential for a perfect result. The extra moisture from the bacon and BBQ sauce helps to cook the pasta completely and prevent the edges of the pasta from drying out while cooking and becoming crispy.
Precooking the manicotti slightly will give the shotgun shells a better texture and ensure the noodles get fully cooked on the smoker. If you use lasagna noodles, cook them until they are flexible enough to wrap around the sausage.
Ingredients
12 manicotti shells (or 12 lasagna noodles)
1 pound ground pork sausage
8 ounces pepper jack cheese, shredded
1 tablespoon Spiceology hickory peach porter rub
Salt and pepper to taste
18-24 slices of thin cut bacon
Optional
6 sticks of string cheese
Instructions
Fill a large pot with salted water and bring it to a boil on your stove.
If you are using manicotti shells, we recommend pre-boiling them first. Boil the manicotti shells for 3-4 minutes until the exterior is slightly soft, but they should still be firm and hold their shape. If you are using lasagna noodles, boil them for 10-11 minutes until they are flexible but still slightly firm.
In a large mixing bowl, combine the sausage, shredded pepper jack cheese, dry rub seasoning, and salt and pepper.
Preheat the Traeger to 225°F.
If You Are Using Manicotti Shells
Stuff the manicotti shells with the sausage and cheese mixture.
Wrap the stuffed manicotti in 1 to 2 slices of bacon.
Ensure that the entire manicotti shell is covered by bacon. This will help to prevent the edges from getting too crispy.
If You Are Using Lasagna Noodles
Portion the sausage into 12 equal amounts. If you want to add the extra cheese, slice the sticks of string cheese lengthwise. Form the sausage into flat patties and wrap it around the cheese to make a cheese-stuffed sausage log.
Roll the lasagna noodles around the sausage log, then wrap it with 1 to 2 slices of bacon.
Cook The Shotgun Shells
Place the shotgun shells on the Traeger grates and smoke for 1 hour.
After 1 hour, coat the shotgun shells with the BBQ sauce (we use a BBQ basting brush). Be sure to coat the shotgun shells well on all sides. The BBQ sauce will keep the noodles soft, so slather it on thick.
Cook on the Traeger for another hour until the internal temperature of the sausage reaches 160°F.
Remove from the Traeger and serve.
Notes
If you can't find manicotti shells, we recommend the alternative lasagna noodles. Be sure to cook the lasagna noodles until they are soft enough to roll around the sausage easily.
If you are using lasagna noodles, you can also use string cheese to stuff in the center of the sausage logs. The manicotti shells are not large enough to fit the string cheese and the sausage.
We recommend pre-boiling the manicotti shells prior to stuffing them. It only takes a few minutes to do this, and it ensures the noodles are not crunchy.
Be sure to coat all sides and ends of the shotgun shells in the BBQ sauce. The sauce will help keep the noodles moist and prevent the exposed noodles from drying out and getting crispy.
I tested this recipe without pre-boiling the manicotti shells. After cooking on the Traeger for 2 hours, the pasta was cooked through but more firm than the pre-boiled manicotti shells. As long as the bacon covers the raw manicotti shells entirely and you coat the shells in a lot of BBQ sauce, there will be enough moisture to cook them thoroughly.
It isn't necessary to store the uncooked shotgun shells in the fridge. As long as you pre-boil the noodles, wrap them completely in bacon, and ensure they are well coated in BBQ sauce when smoking, the noodles will not become too dry and crunchy.
Recommended Products
As an Amazon Associate and member of other affiliate programs, I earn from qualifying purchases.
Nutrition Information:
Yield:

12
Serving Size:

1
Amount Per Serving:
Calories:

353
Total Fat:

21g
Saturated Fat:

9g
Trans Fat:

0g
Unsaturated Fat:

10g
Cholesterol:

69mg
Sodium:

691mg
Carbohydrates:

17g
Fiber:

1g
Sugar:

4g
Protein:

20g
Nutrition information is a guideline only, is calculated automatically by third party software, and absolute accuracy is not guaranteed.