Air fryer halibut is easy to make and ready in just under 20 minutes! Flaky, flavorful, and fully customizable, it's a great option for a simple and delicious weeknight dinner. I'm using my special homemade Cajun seasoning mix for blackened halibut in the air fryer, but you can feel free to switch up the spices. I also love the idea of using a fruity seasoning mix like this Maui Wowee from Spiceology. Both taste great with my made-from-scratch mango salsa.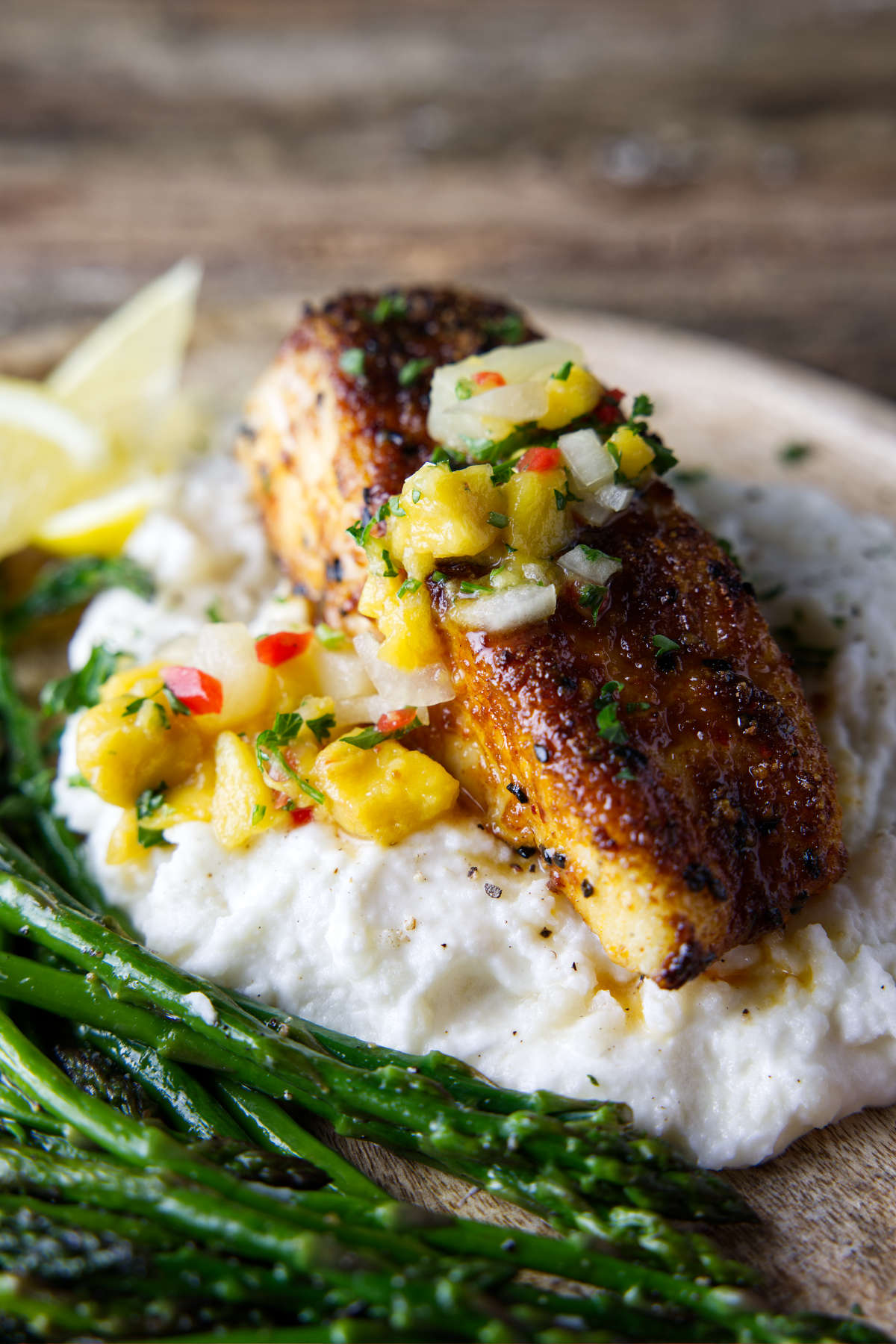 The possibilities are endless when it comes to making air-fried halibut!
For more delicious air fryer seafood recipes, check these out!
💪 Why This Recipe Works
It comes together quickly and easily in the air fryer.

You only need 3 ingredients to air fry the fish.

My mango salsa adds a pop of fruity flavor.

Dinner is served in less than 20 minutes.

There's next to zero clean-up required!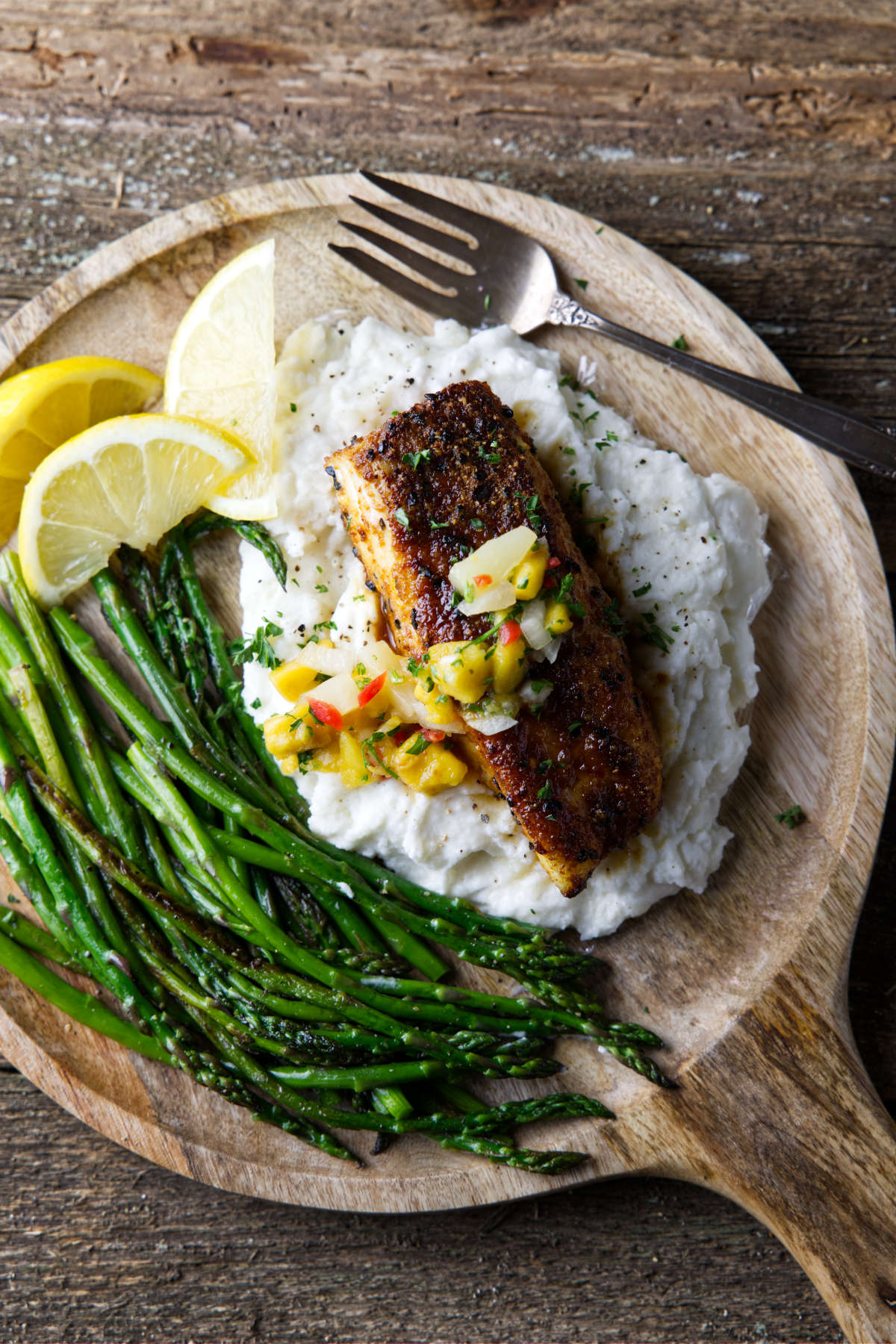 🗒️ Ingredients
Remember that you'll only need 3 ingredients to make air fryer halibut. The rest of the ingredients are for your mango salsa! Refer to the printable recipe card below for all the details.
Halibut. I typically use 2 halibut filets that are 6-8 ounces each.

Olive oil. You need to add a touch of olive oil before you add the seasoning. It will help the spices stick and gives the halibut a wonderful color.

Cajun seasoning mix. I swear by my homemade version. It's spicy, a little bit sweet, and packed with flavor. Or go with Spiceology's Black Magic seasoning; it is 🔥!

Fresh fruit. You'll need mango and pineapple for your mango salsa. I like champagne mangoes, but you can use your preference.

Onion. For your salsa, chopped onion adds a crunch and a bit of a bite to the overall taste.

Bell pepper. I'm using red bell peppers.

Jalapeño. For more fiery flavor! If you don't like spicy foods, you can omit it. Or, if you want more heat, replace them with habanero peppers.

Salt and pepper. Add to taste.

Cilantro. To add even more fresh (and herby) flavor to the salsa.

Lime juice. Freshly squeezed lime juice is the finishing touch!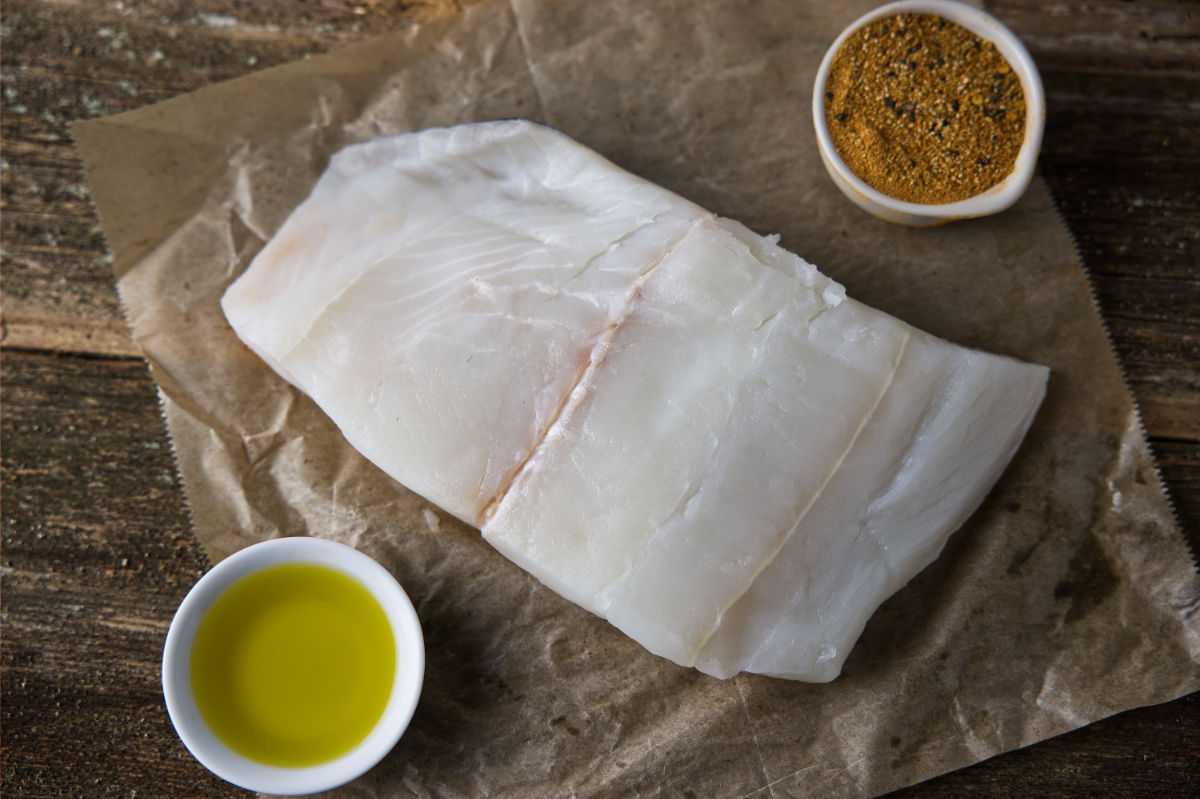 👨‍🍳 How To Make It
You'll find specific instructions, including quantities, temperatures, and cook times, on the printable recipe card below. In the meantime, here's what you can expect.
Prepare the halibut.

Brush the olive oil all over the fish, then add the Cajun seasoning mix.

Preheat your air fryer.

Add the halibut to the air fryer basket and allow it to cook.

Remove the fish from the air fryer so that it can rest.

Make your mango salsa while you wait.

Serve your air fryer halibut with the salsa and your favorite side dishes!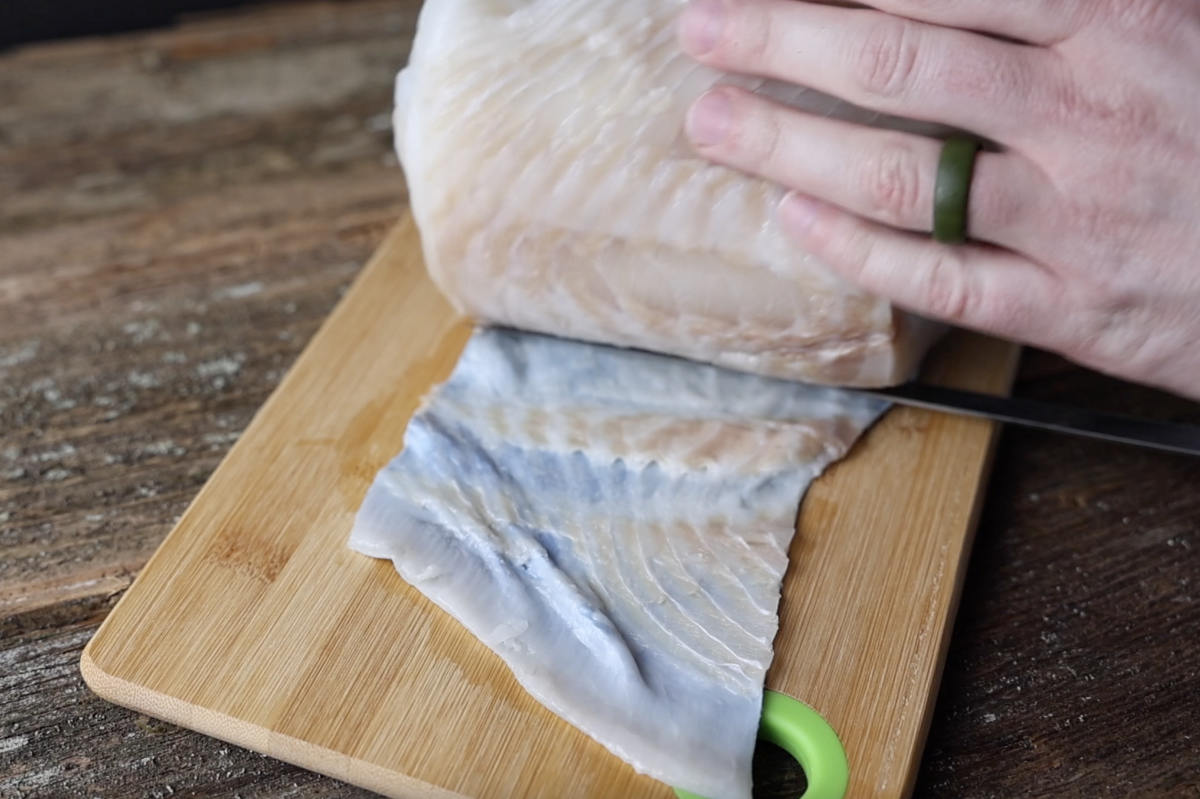 Use a fillet knife to remove the skin from the halibut fillet.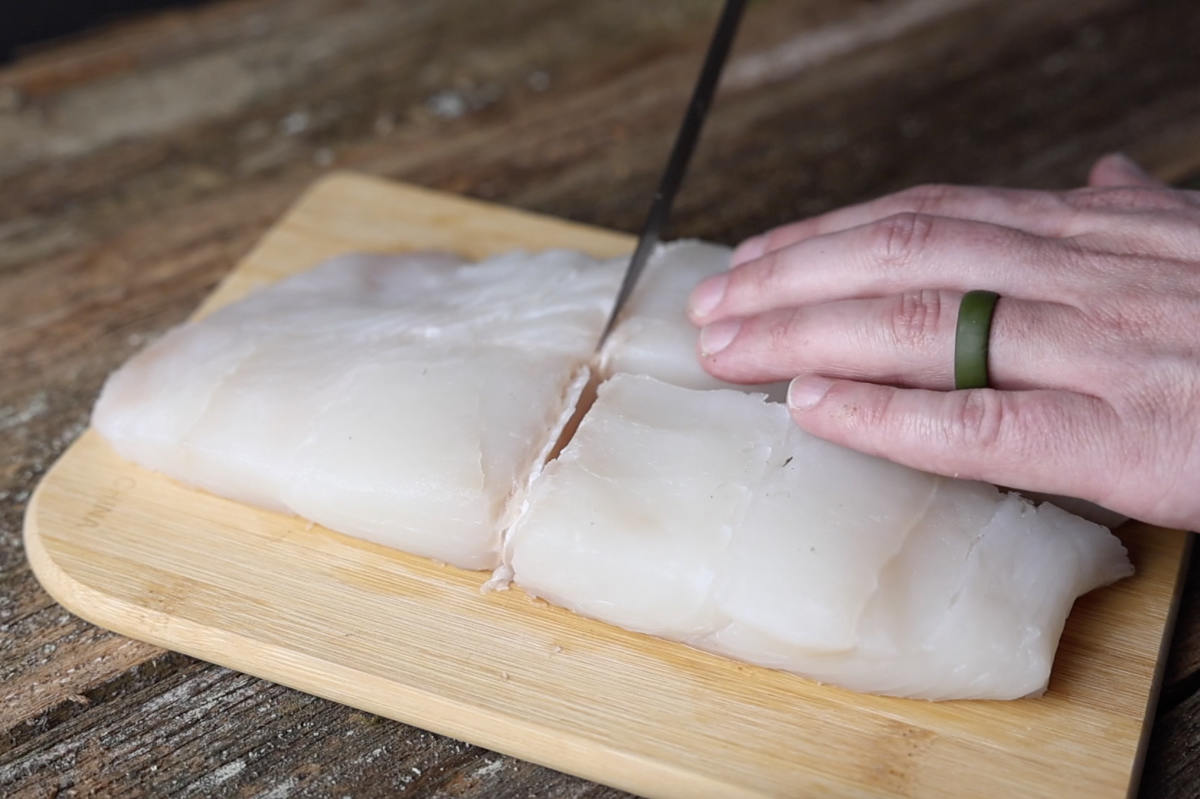 Portion your halibut fillet into 6-8 ounce portions.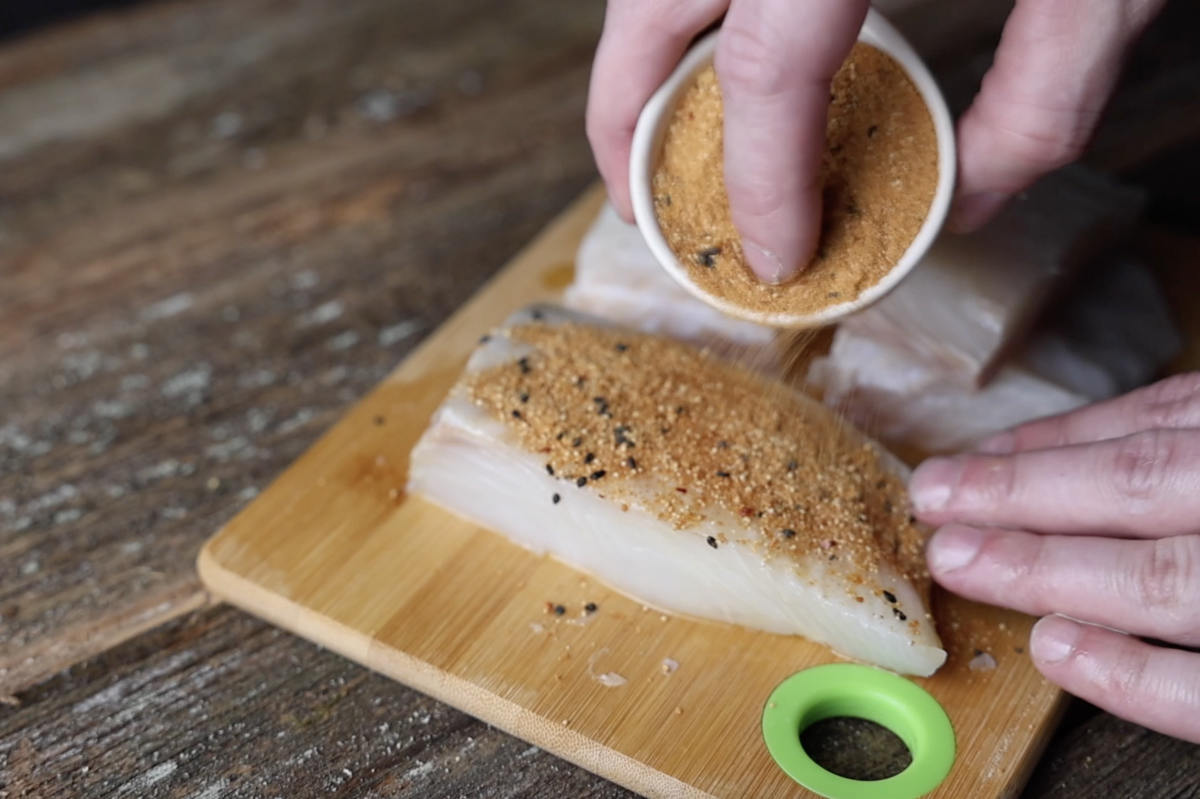 Brush olive oil on the halibut fillet and season on all sides.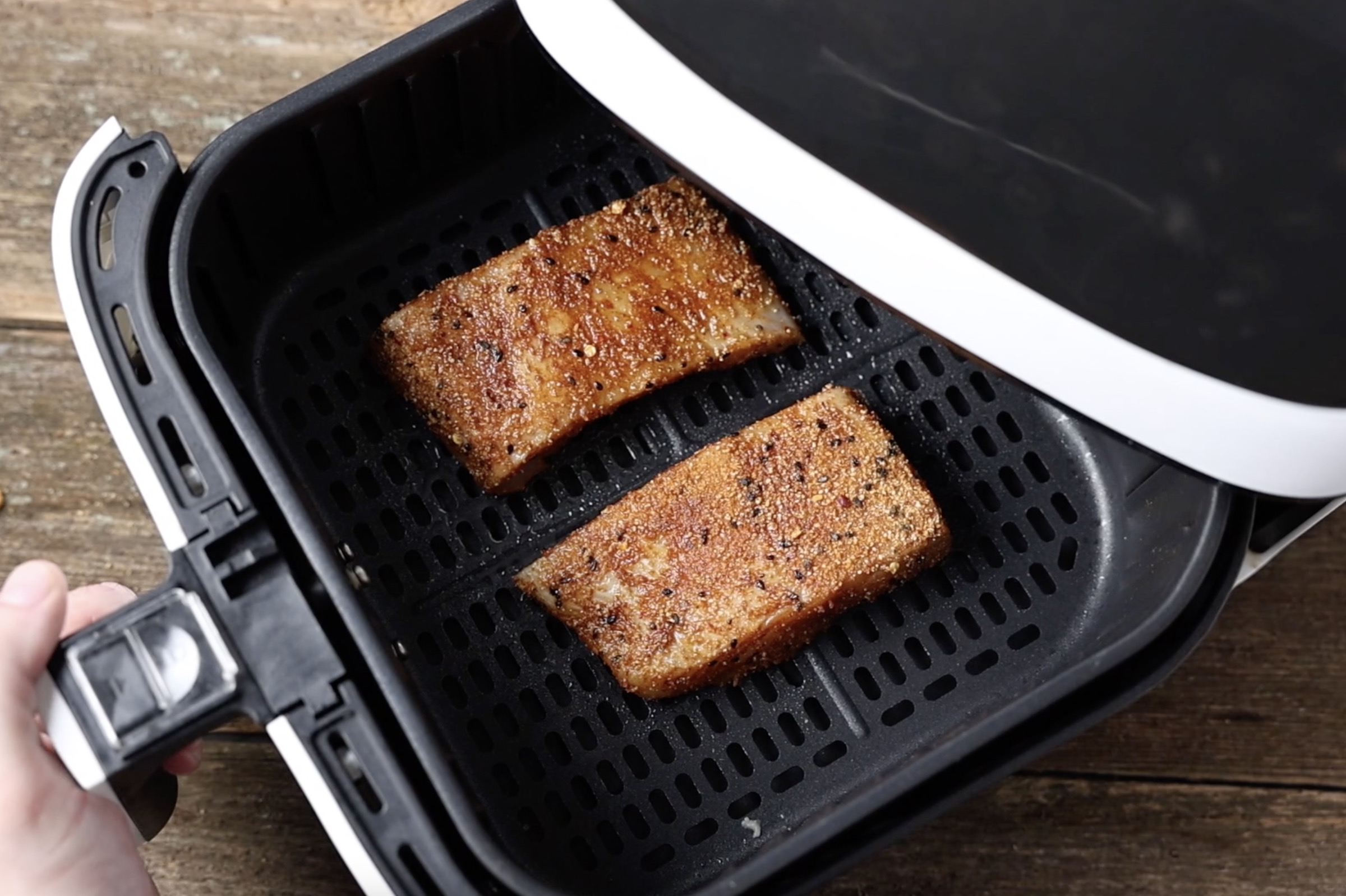 Cook the halibut in the air fryer until flaky and tender.
😉 Tips For Success
If you purchase your halibut with the skin on, make sure you remove it before getting started. Halibut skin is definitely on the tough side, and you don't want to eat it. Plus, when you remove it, you'll be able to season the entire filet with my Cajun seasoning.

Use a sharp fillet knife to remove the skin!

Not all air fryers have a preheat setting. If yours doesn't, you can run it at 360°F for 2-3 minutes before adding your halibut to the air fryer. This ensures that the fish will cook evenly.

To get perfect results, use a ThermoWorks Thermapen thermometer to check the internal temperature of your air fryer halibut before serving. The FDA recommends that halibut have an internal temp of 145°F. I personally find that it tastes best at about 135°F, which is medium-rare. You'll get flaky, tender, and juicy results!
❓ FAQ
How long do you cook fish filets in an air fryer?
I usually cook my air fryer halibut for about 8-10 minutes. Any less and the fish won't be cooked enough. Any more, and you'll end up with tough results. 8-10 minutes at 360°F seems to be the sweet spot!
How do you cook halibut so it's not dry?
The key is to use your air fryer for baking it! The added olive oil also helps keep it tender and juicy. You just need to keep a careful eye on the cooking time. Remember that 8-10 minutes will get you the flaky air-fried halibut that you're after.
Do you need to flip halibut in the air fryer? 
You don't have to. I find that this recipe for air-fried halibut cooks up perfectly without any flipping. Halibut is pretty delicate, so flipping it can be difficult. That said, you should keep a watchful eye on the fish as it cooks. If you find that one side is cooking faster than you expected, feel free to flip.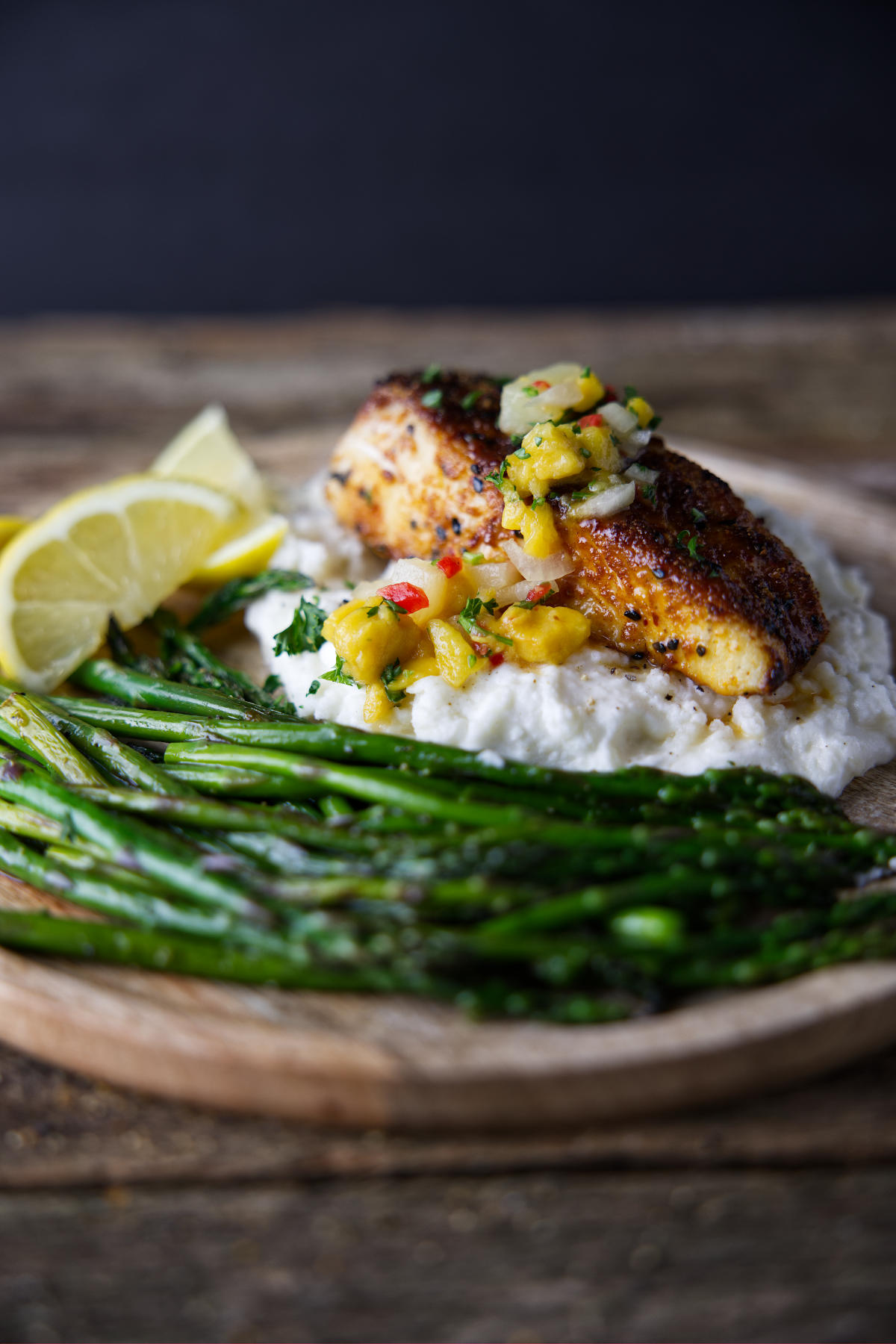 🤔 Substitutions and Variations
Use a different type of seasoning. I already suggested the Maui Wowee from Spiceology, but you can use your own personal favorite! I also love this smoky honey habanero seasoning.

Opt for a different type of fish. This air-fried halibut recipe will work for several different types of white fish. Choose between cod, mahi mahi, or haddock.
⏱️ Storage and Reheating
Store your air fryer halibut in an airtight container in the fridge. It will keep for 3-4 days.
If you want to freeze leftovers, place the air-fried halibut in a freezer-safe bag and store it in the freezer for up to 3 months. 
To reheat, use your air fryer! Some air fryers have a "reheat" setting that you can use. If yours doesn't, set the temperature to 325°F. It will take about 7-10 minutes to reheat. You can also use your microwave. Heat in 30-second increments until it is warmed through. 
🛠 Tools and Equipment
🤤 Other Amazing Recipes
🎁 Wrap Up
I hope this easy and tasty weeknight dinner idea inspires you! Air fryer halibut is such an easy way to prepare and cook fish. The spicy and slightly sweet cajun seasoning on the halibut pairs perfectly with the vibrant mango and pineapple salsa. Serve it up with your favorite sides, like air fryer cauliflower or air fryer butternut squash. If you try it yourself, make sure to let me know how you like it in the comments below. Happy air frying!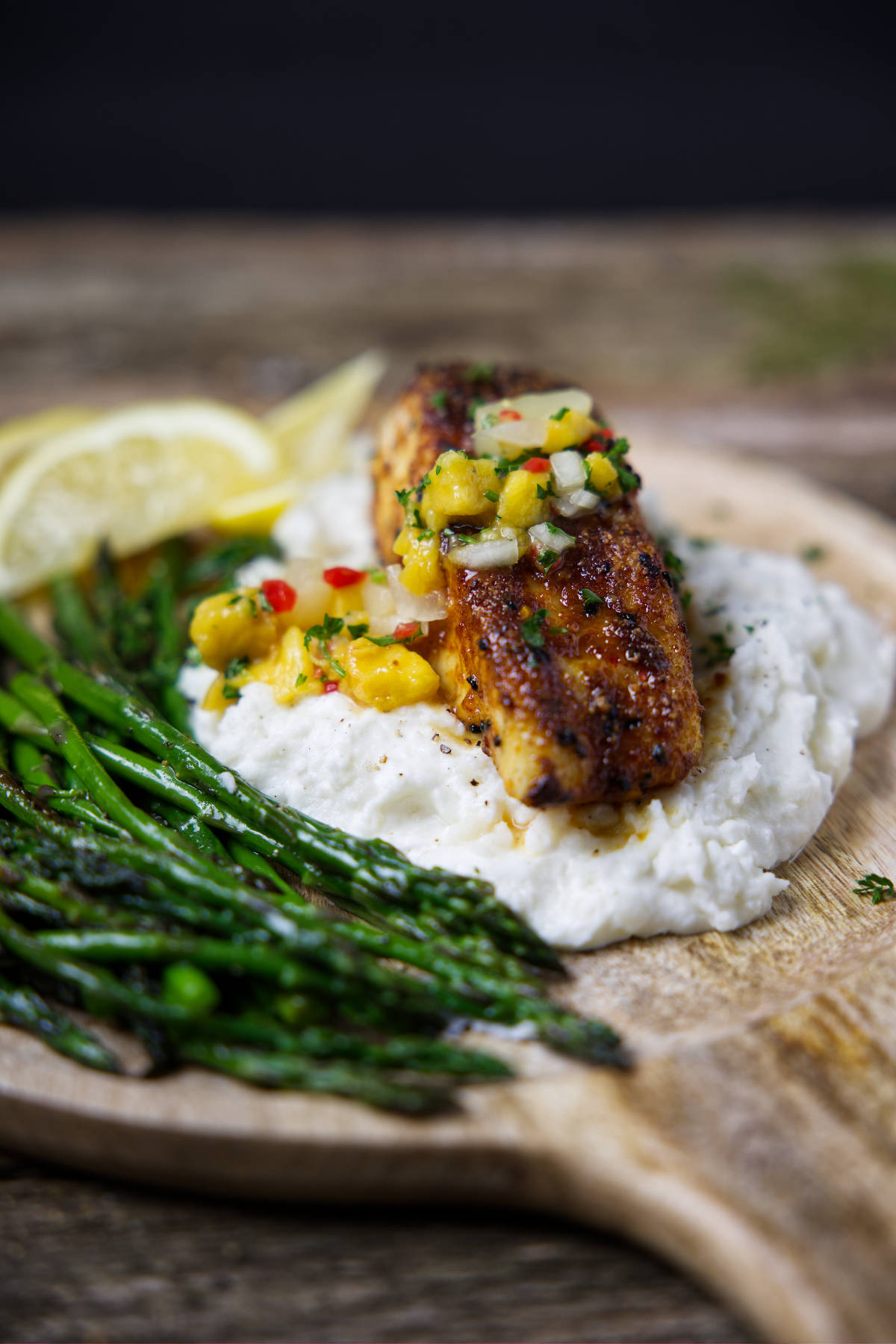 💬 Tell Me What You Think!
Did you try out this recipe? Please leave a comment below and let me know how you liked it. Also, snap a picture and post it to your favorite social platform. Be sure to tag me at @alicensetogrill and let me know how you liked it!
CONNECT WITH A LICENSE TO GRILL!
Be sure to follow us on our social media accounts.
Did you make this recipe? Tell us about it in the comments below!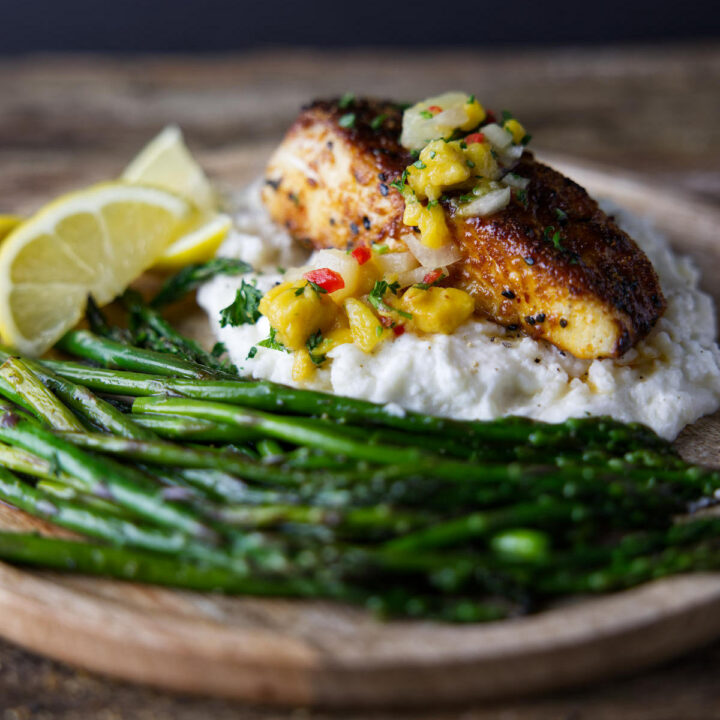 Air Fryer Halibut
Air fryer halibut is super simple, and cleanup is a breeze! The halibut only takes 8-10 minutes to cook to a perfect medium-rare that is fork tender, moist, and super flaky.
Use our Cajun seasoning for a blackened halibut or mix it up and use a fruity seasoning like this Spiceology Maui Wowee for a pineapple-flavored crust.
Ingredients
For A Quick Mango Salsa
1 fresh Champagne mango, diced
1 cup fresh pineapple, diced
½ cup yellow onion, diced
½ red bell paper, diced
1 jalapeño pepper, diced
2 tablespoons cilantro, chopped
¼ teaspoon Kosher salt
¼ teaspoon black pepper
1 fresh lime, juiced
Instructions
Rinse the halibut fillets under cold water and pat them dry with a paper towel. If your halibut has skin, use a sharp knife to remove the skin before cooking (see notes below).
Brush or spray the olive oil on all sides of the halibut fillets. Coat the halibut with the seasoning.
Preheat the air fryer to 360°F.
Place the halibut fillets in the air fryer and cook at 360°F for 8-10 minutes or until the internal temperature of the halibut reaches 130°F (see notes below).
Remove the halibut and allow it to rest for 5 minutes while you prepare your salsa. In a large mixing bowl, combine all of the ingredients for the mango-pineapple salsa and toss them to combine.
Serve the halibut topped with some of the mango-pineapple salsa and plated next to your favorite sides!
Notes
Halibut skin is tough, and removing the skin before cooking allows you to season the entire halibut fillet.
Remove the skin from the halibut to help cut down on the cooking time. Use a sharp fillet knife to remove the skin. It is easiest to remove the skin when the halibut is on the cutting board skin-side down.
If your air fryer doesn't have a preheat setting, just run the air fryer at 360°F for 2-3 minutes. This helps to cook the halibut evenly and yields a more moist, flaky halibut.
The FDA recommends cooking halibut to an internal temperature of 145°F. I have found that for optimal results, halibut is best at 130°F to 135°F, which is a medium-rare. The halibut will be flakey, tender, and moist. Any lower, the halibut will not be flaky, and any higher, the halibut will be tough.
Recommended Products
As an Amazon Associate and member of other affiliate programs, I earn from qualifying purchases.
Nutrition Information:
Yield:

2
Serving Size:

1
Amount Per Serving:
Calories:

650
Total Fat:

13g
Saturated Fat:

2g
Trans Fat:

0g
Unsaturated Fat:

9g
Cholesterol:

191mg
Sodium:

2707mg
Carbohydrates:

46g
Fiber:

6g
Sugar:

35g
Protein:

75g
Nutrition information is a guideline only, is calculated automatically by third party software, and absolute accuracy is not guaranteed.