Traeger Smoked Spatchcock Turkey
on Oct 23, 2022, Updated Sep 21, 2023
Is there anything better than a roast dinner with tender meat, sinful sides, and a decent helping of holiday cheer? I didn't think so! With Thanksgiving fast approaching, you'll totally want to check out this incredible Traeger smoked spatchcock turkey recipe that the entire family will adore. Suitable for Turkey Day, Christmas, and chilly winter evenings, this super-simple spatchcock turkey recipe is a complete winner on every front.
Although you might think that this is a regular ol' turkey recipe, you'd be wrong. This Traeger smoked spatchcock turkey is flattened to perfection for a speedy cook, and it's beautifully basted with olive oil for a crispy finish. When you throw in the almighty Spiceology Turkey Rub that rivals even the Colonel's famous spice blend, it's easy to see why I love this succulent dish.
If that wasn't enough to convince you to give it a whirl, I throw this bad boy on the Traeger around Thanksgiving every single year. So, it's been tried and tested by everyone from kiddos to old-timers! So, whether you're looking for a reliable dinner staple or you want to jazz up your holiday feast with a few new flavors, you're bound to pull out this recipe year after year! You have my word.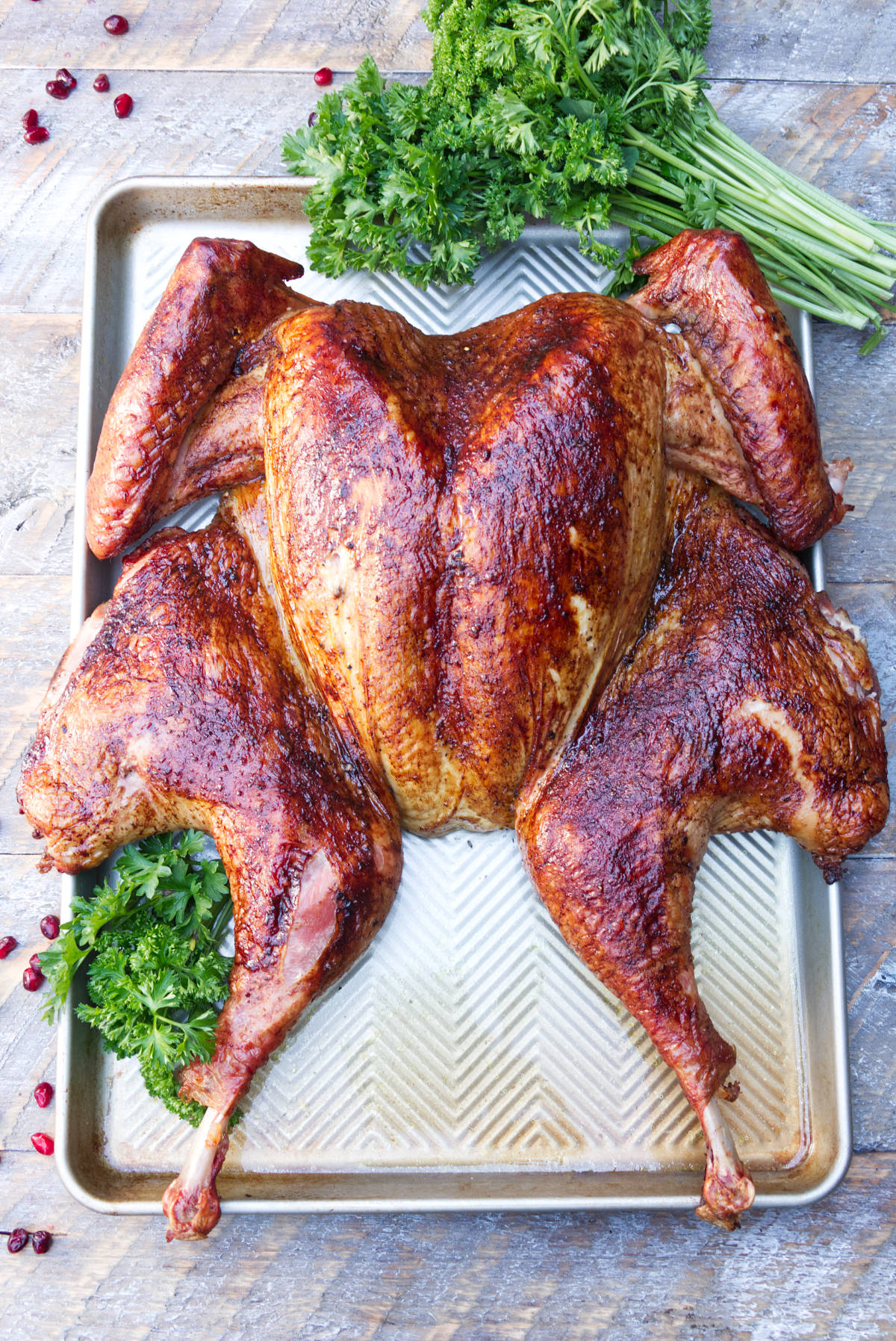 Why This Recipe Works
It's basically foolproof, as it contains just 5 ingredients!

The Traeger adds a glorious smokiness to the meat that you simply won't get from a regular oven.

The flat shape of the spatchcocked turkey cooks evenly and more quickly than full-sized turkeys, resulting in juicy meat and crispy skin.

It stores well in the fridge for those post-Thanksgiving turkey sandwiches!

It pairs beautifully with classic sides like potatoes, green bean casserole, and gravy for the ultimate holiday dinner.
Ingredients
A whole turkey. A turkey around 15-20lbs will work best for this recipe as the white and dark meat will cook evenly in the Traeger.

Olive oil. To baste and create that iconic crispy and crackling skin.

Kosher salt. Creates juicy and moist meat that's bursting with flavor.

Black pepper. Adds a delicate spice.

Spiceology Turkey Rub. This rub is designed to boost the natural flavor of your turkey and includes a stellar blend of herbs and spices, onion, and garlic. I also like to use this Spiceology Honey Mustard IPA Rub – it has a wonderful flavor with hints of IPA beer.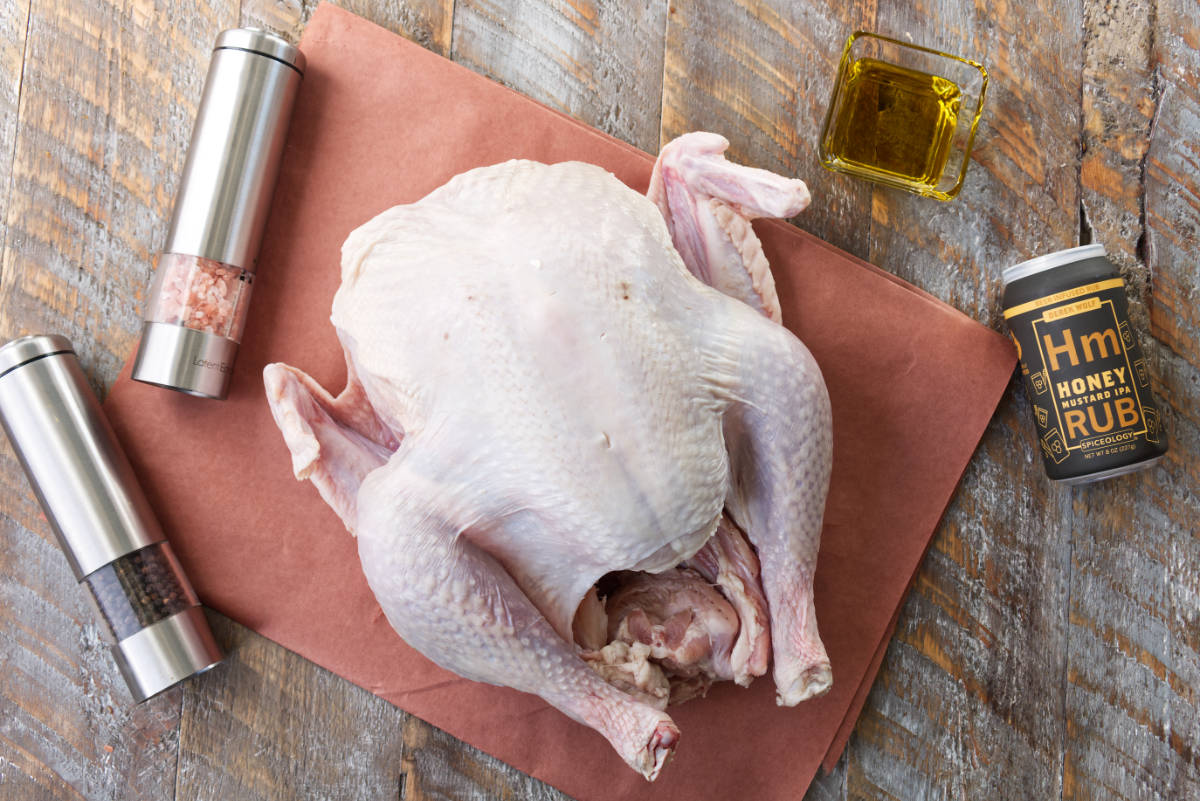 How To Make It
Preheat the Traeger.

Prepare the turkey and pat it dry with some towels.

Place the turkey on a cutting board and cut down the backbone.

Flip the turkey and press down on the breastbone to flatten it.

Brush the turkey with oil and season.

Coat the surface of the turkey with a spice rub.

Place on the Traeger and make sure it's lying flat.

Carefully arrange the wing tips to prevent them from burning.

Smoke the turkey until cooked before increasing the temperature to finish.

Remove the turkey from the Traeger and rest it before carving.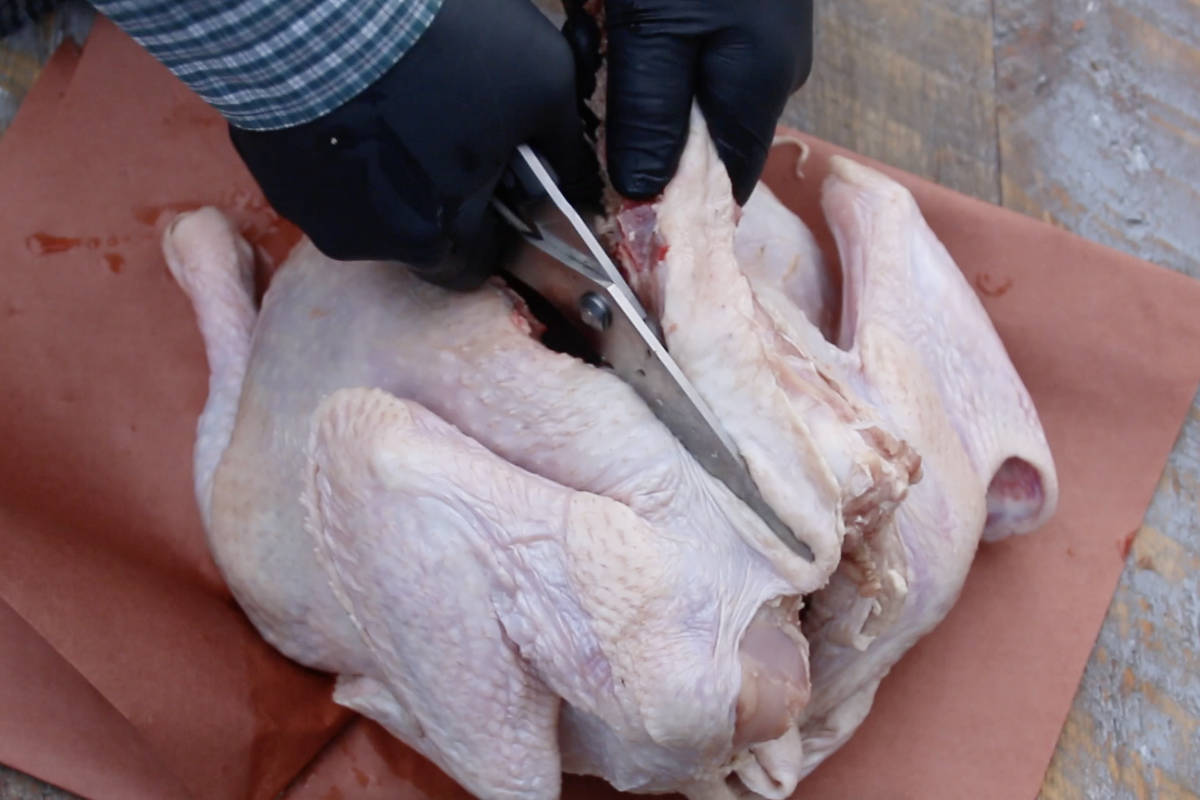 Use kitchen shears to cut down either side of the backbone and remove it.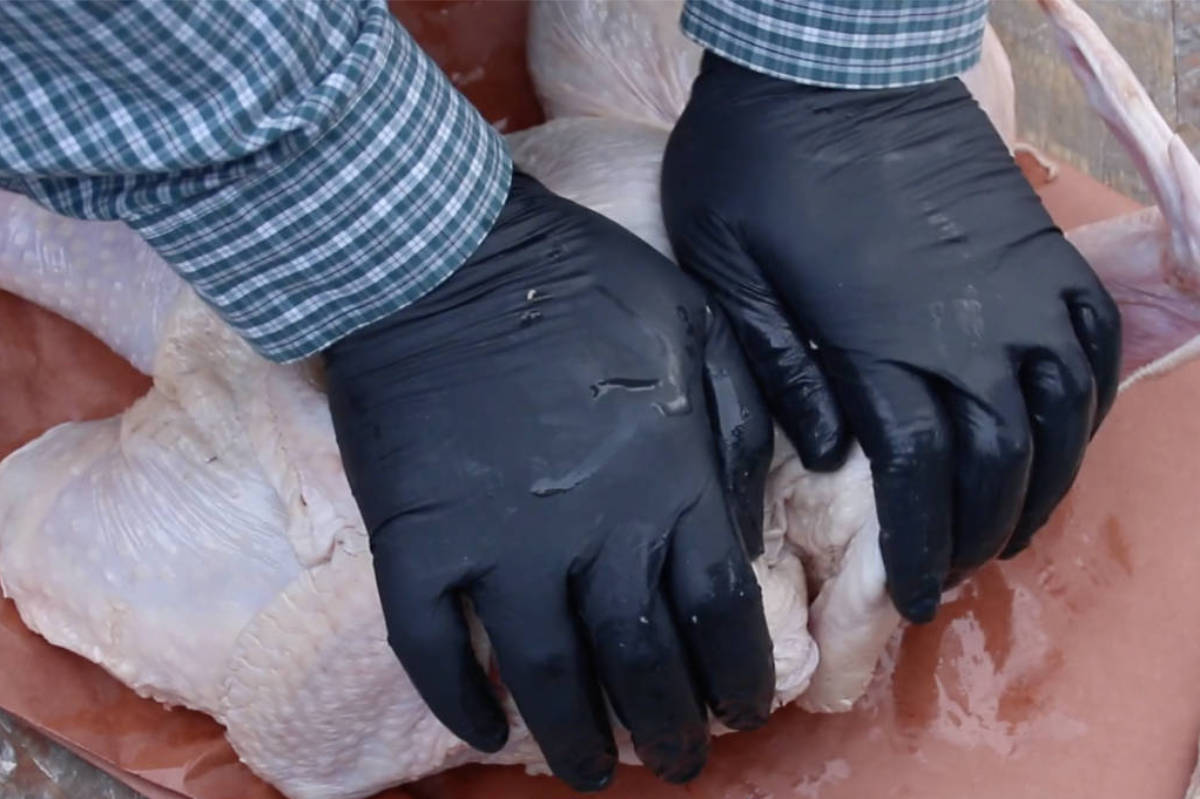 Flip the turkey over and press down firmly on the breast until the breastbone breaks and the bird is flat.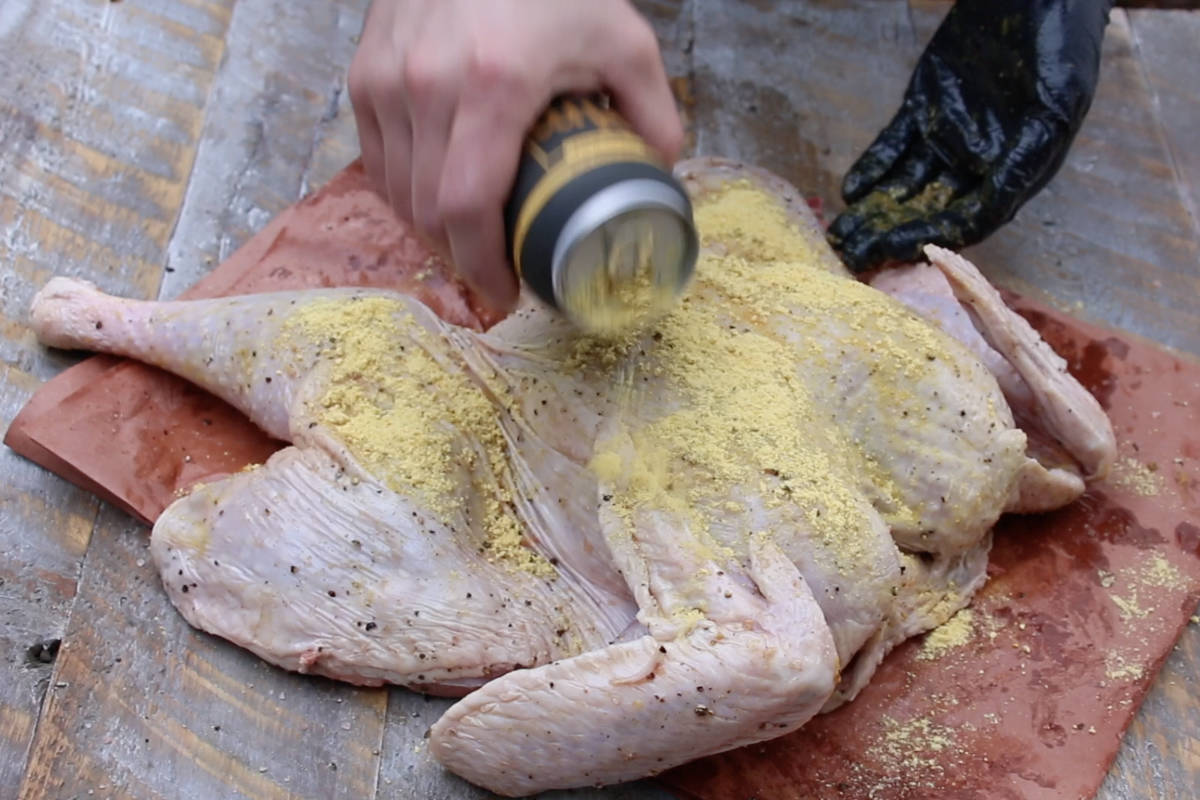 Coat the turkey in olive oil and season with your favorite turkey rub.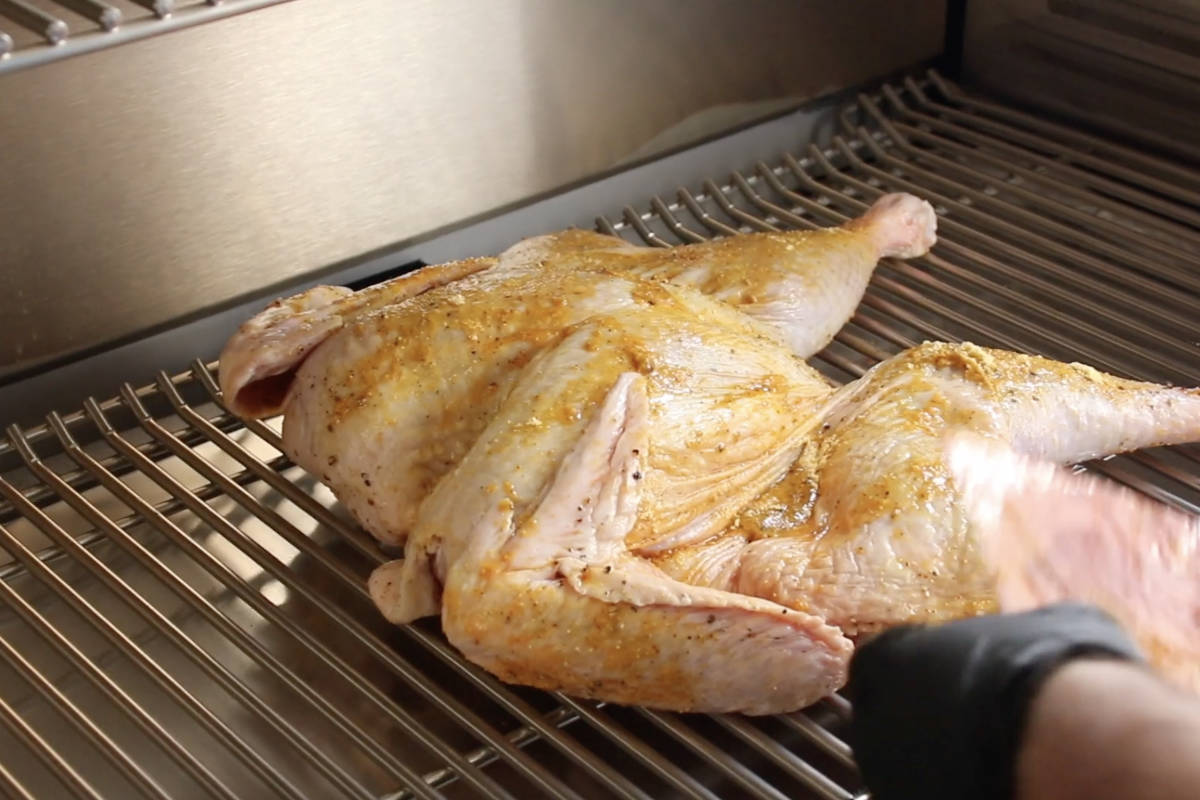 Place the spatchcocked turkey on the Traeger grill grates.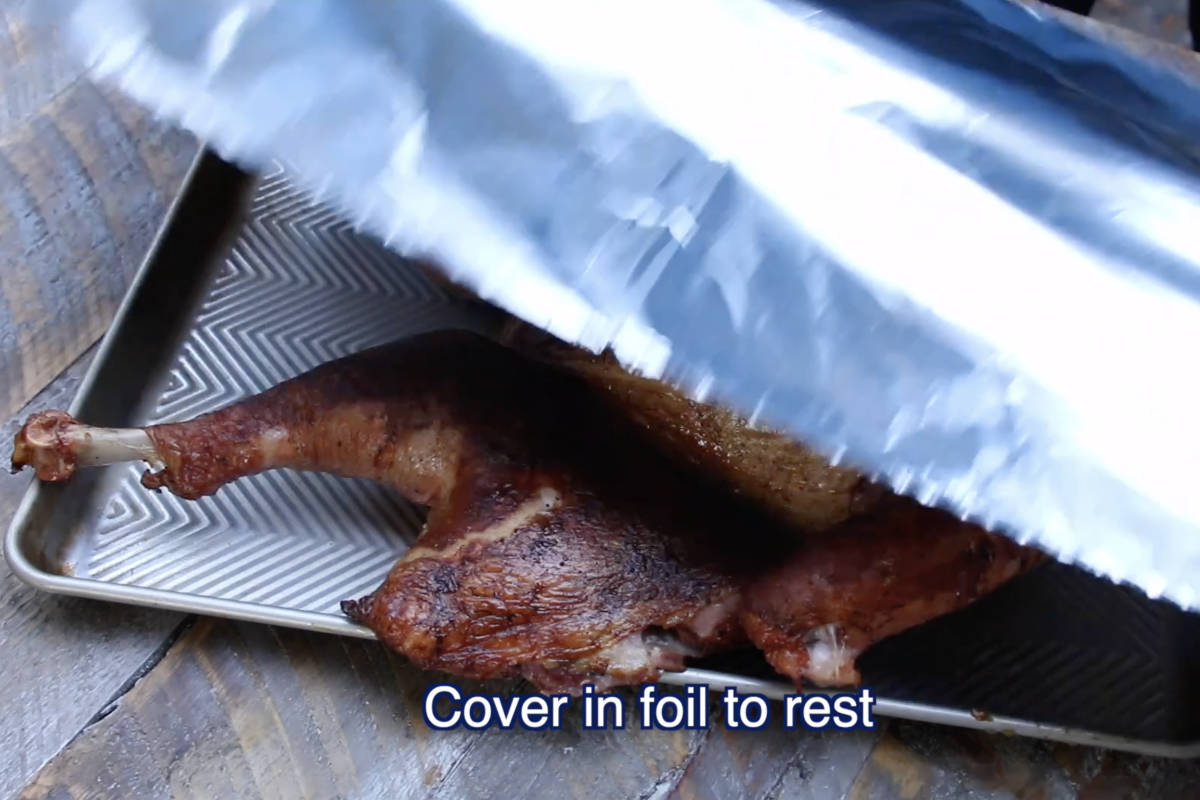 Remove the turkey from the Traeger and cover it with foil and allow it to rest.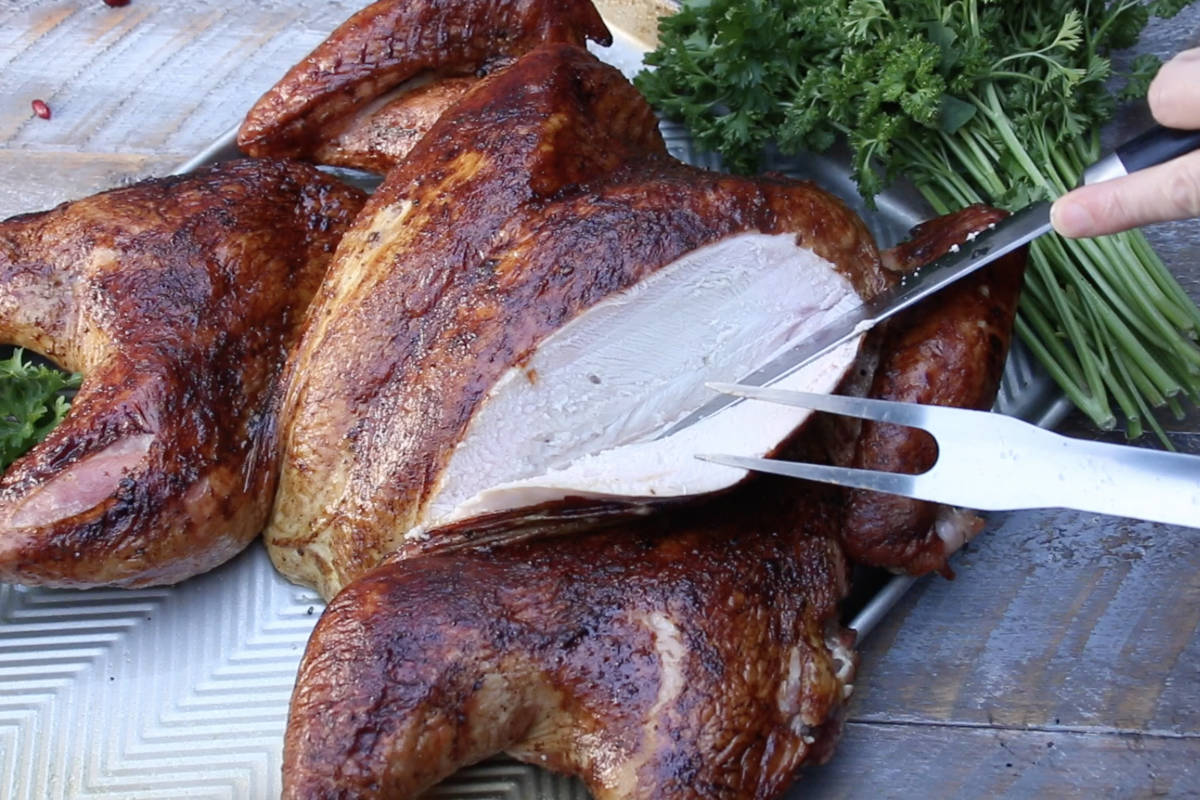 Carve the turkey.
Tips For Success
It's a great idea to cover the tips of each drumstick and wing with some foil to prevent them from browning too much.

Always cook your turkey to an internal temperature of 165°F to keep things safe. I usually remove this turkey from the oven once it reaches 160°F as it cooks to 165°F once it's had time to rest. To monitor the temperatures, keep a meat thermometer handy.

If you're dealing with a larger bird, you'll need to cook it for longer. To avoid over or undercooking, use a meat thermometer and adjust the cooking times accordingly.

Don't skip the underside of the turkey when seasoning! It's so easy to do, but you'll want to make sure you season, rub and brush both sides of the bird for an even cook and flavor.

Save the backbone and giblets to make a delicious turkey stock later! You never know when you might need it.

Think carefully about the woods you use on the Traeger. Hickory and mesquite offer a strong and bold flavor, while woods like pecan or maple are delicate and light. There's no wrong wood – it just depends on your taste!

Be generous with the rub. You're working with a relatively large bird here, so you don't want to skimp on the seasoning. Rub over the entire turkey and be careful not to miss any sides or hidden parts.

ALWAYS rest your bird before slicing. This allows the juices to distribute throughout the turkey for a perfectly moist texture.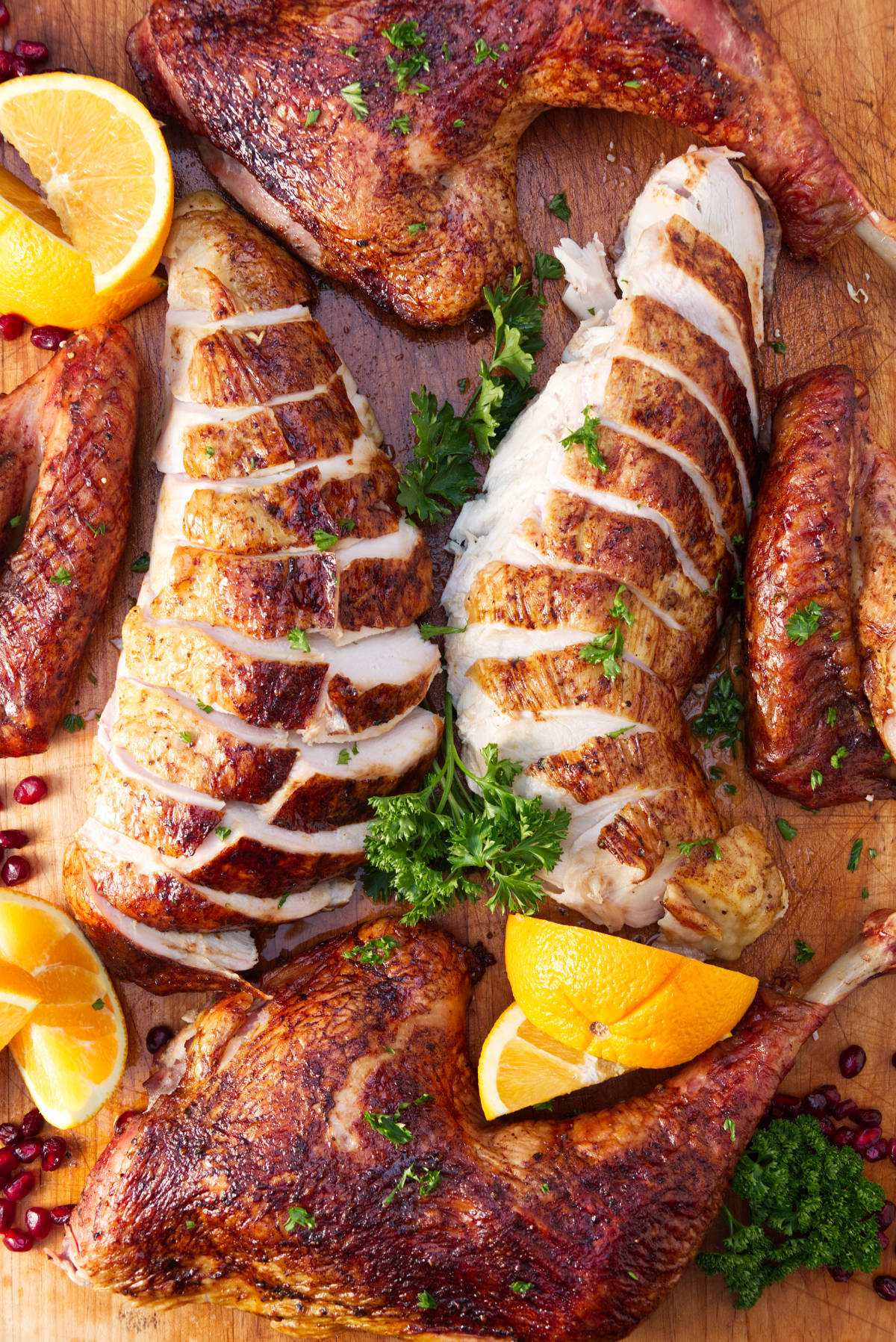 FAQ
What is the benefit of Traeger smoked spatchcock turkey?
The increased surface area and flat shape of the turkey once it is spatchcocked reduces the cooking time and allows your bird to cook more evenly in the Traeger. This generally leads to a juicy and tender turkey.
Should you baste a turkey in the Traeger?
It's technically optional, but it tends to add moistness and flavor to the bird.
How do you keep a turkey moist when smoking?
The best way to do this is to smoke the turkey directly on your Traeger's grill grates. You can intermittently baste with olive oil or spritz the bird with melted butter and apple juice. To make things even more delicious, fill a roasting pan with a small amount of water to keep the meat moist throughout the cooking process.
Should I wrap my spatchcock turkey in foil while smoking on the Traeger?
You certainly can, but this recipe doesn't require you to. If you want to prevent the smaller bits of dark meat from browning too much, you can wrap those in foil! Wrapping the entire turkey in foil will prevent the smoke from encompassing the bird while it cooks.
Does Traeger smoked spatchcock turkey taste different?
Absolutely. It tastes way better as the smoke from the Traeger surrounds the bird as it cooks. This gives the meat a moreish smokey flavor (that isn't overwhelming!), and it's ideal for the cooler months. Also, spatchcocking the turkey makes it cook much faster and helps it to retain more juices giving you an amazing Thanksgiving turkey to put on the table.
How long does it take to smoke a spatchcocked turkey?
It takes around 10 minutes per pound, which is 5 minutes less per pound than cooking a whole turkey!
 🛠 Tools and Equipment
If you click on some of the following affiliate links and buy something, we might get a small commission. You don't pay any extra, but it will help us keep the lights on and our bellies full!
Check Out These Recipes
Wrap Up
It's always worth taking the stress out of Thanksgiving meal prep, and I feel that this Traeger smoked spatchcock turkey does the job beautifully. Packed with rich flavors and virtually melting in your mouth, this reliable recipe promises to become your go-to recipe for the holidays! And hey, who doesn't love leftover turkey sandwiches?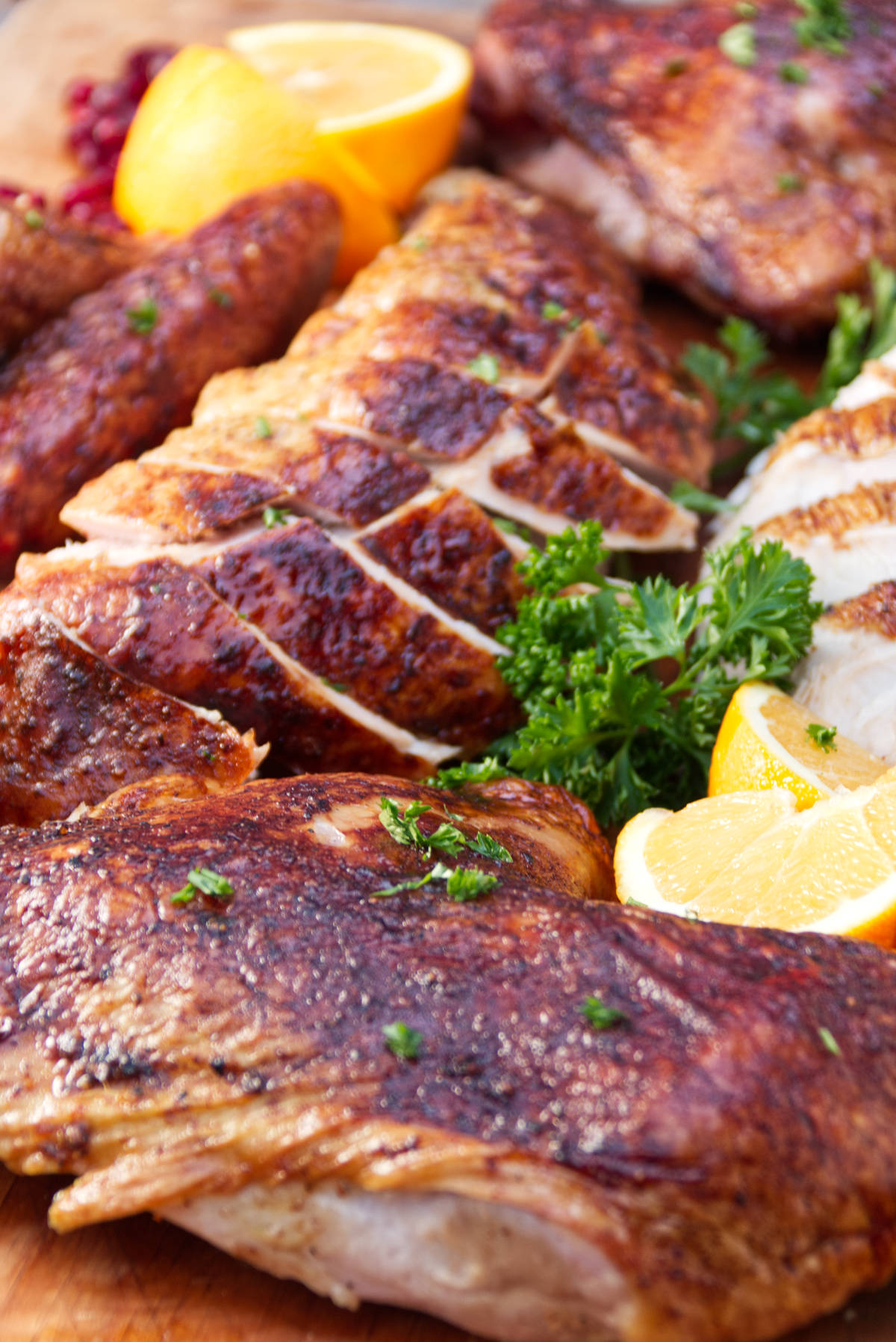 💬 Tell Me What You Think!
Did you try out this recipe? Please leave a comment below and let me know how you liked it. Also, snap a picture and post it to your favorite social platform. Be sure to tag me at @alicensetogrill and let me know how you liked it!
CONNECT WITH A LICENSE TO GRILL!
Be sure to follow us on our social media accounts.
Did you make this recipe? Tell us about it in the comments below!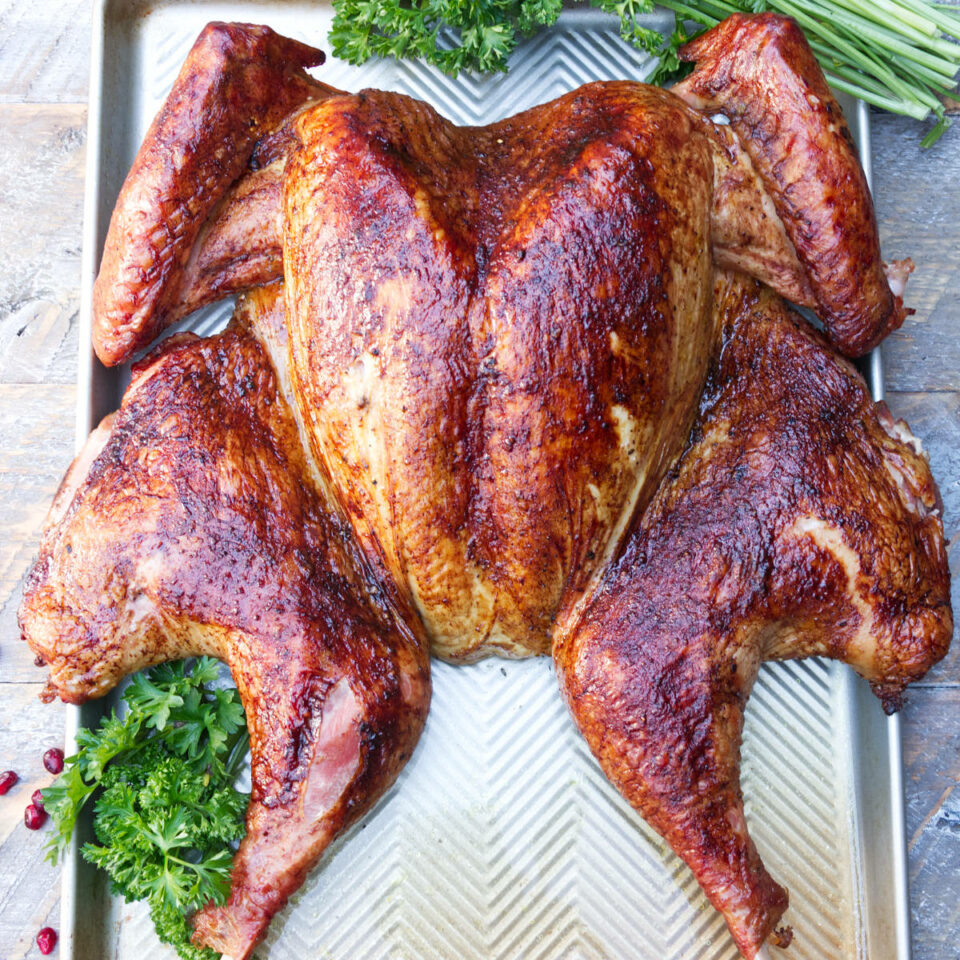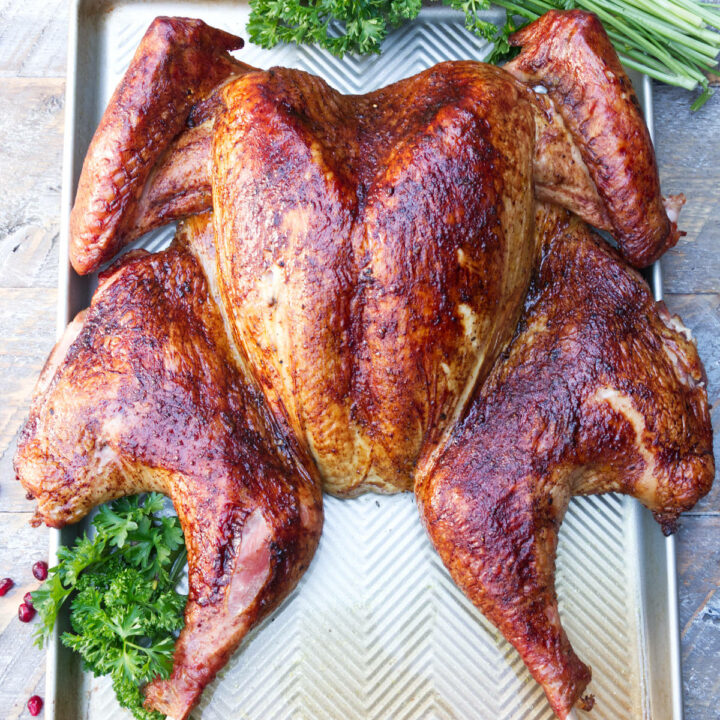 Traeger Smoked Spatchcock Turkey
Total Time:
2 hours
15 minutes
This Traeger smoked spatchcock turkey will be your new go-to recipe for Thanksgiving and any other holiday where you need a fabulous centerpiece at the dinner table.
A spatchcocked turkey cooks extremely fast compared to a whole turkey cooked in the traditional manner. It only takes about 10-15 minutes per pound to cook a turkey that has been spatchcocked which means you can get dinner on the table very quickly!
This is also the ideal way to cook a turkey if you want to ensure a juicy and tender result.
Ingredients
1 whole turkey (15-20 pounds)
2 tablespoons olive oil
2 teaspoons Kosher salt
2 teaspoons black pepper
Instructions
Preheat the Traeger to 225°F.
Remove the giblet and gravy package from inside the cavity of the turkey. Remove or discard any plastic or metal cages or pop-up thermometers. Pat the turkey dry with some towels.
Place the turkey breast side down on a cutting board. With some heavy-duty poultry shears or a shape knife, cut down both sides of the backbone.
Once the backbone is removed, flip the turkey breast side up. With both hands, press down on the turkey breast until you hear the breastbone crack. You will also feel the turkey flatten once the breastbone breaks.
Brush the entire surface of the turkey with olive oil and season it with salt and pepper. Use the Spiceology Turkey Rub or your favorite BBQ rub to coat the entire surface of the turkey.
Place the turkey in the middle of the lower grill grates of your Traeger, breast side up. Be sure that the drumsticks and wings are spread out and the turkey is laying flat on the grill greatest.
Tuck and fold the wing tips under the body of the turkey toward its back to help prevent them from burning.
Smoke the turkey until the internal temperature reaches 110°F. Increase the temperature of the Traeger to 400°F and smoke it until the internal temperature reaches 160°F-165°F (see notes).
Remove the turkey from the Traeger and place it on a butcher board. Drape a sheet of aluminum foil over the turkey and allow it to rest for 15-20 minutes before carving.
Notes
Smoking the turkey initially at 250°F allows for a better smokiness, infusing the meat with more flavor. Then, cranking it up to 400°F allows you to brown the skin and get that crispy result you want.
You can use a strip of aluminum foil to cover the tips of each drumstick and wing to prevent them from browning too much.
The FDA recommends cooking turkey to an internal temperature of 165°F. I remove the turkey when it reaches 160°F. The carry-over heat usually brings the temperature up to or over 165°F. I recommend you follow FDA guidelines.
If you have a large turkey, it will take longer to cook. Use a thermometer to monitor the cook of your turkey and adjust the cooking time according to the internal temperature.
Recommended Products
As an Amazon Associate and member of other affiliate programs, I earn from qualifying purchases.
Nutrition Information:
Yield:

20
Serving Size:

1
Amount Per Serving:
Calories:

659
Total Fat:

27g
Saturated Fat:

8g
Trans Fat:

0g
Unsaturated Fat:

17g
Cholesterol:

373mg
Sodium:

478mg
Carbohydrates:

0g
Fiber:

0g
Sugar:

0g
Protein:

98g
Nutrition information is a guideline only, is calculated automatically by third party software, and absolute accuracy is not guaranteed.