When I first tried this Traeger smoked asparagus recipe, I knew I'd found the mother of all side dishes. Seriously, as soon as I tasted those rich, smoky flavors, perfectly grilled tips, and crunchy stalks, I was truly transported to veggie-filled heaven.
I'll usually throw these bad boys onto the grill alongside a few chicken thighs or a hunk of steak. But they can also add a healthy kick to a casserole, grilled salmon, or a brat sausage sandwich! Trust me when I say that the sky is the limit when it comes to this mouthwatering Traeger smoked asparagus recipe.
Although the strong flavors should be enough to tempt you into trying these guys, you're also bound to appreciate just how easy this recipe is. Not only does it involve minimal prep time, but you simply shove them straight onto the Traeger's grill grates when they're ready to cook. And you know what that means – there's no need to grab (or clean!) any additional dishes! Talk about a win-win.
You'll want to pin this recipe or save it for later, as it promises to become a trusty side dish for just about any weeknight meal!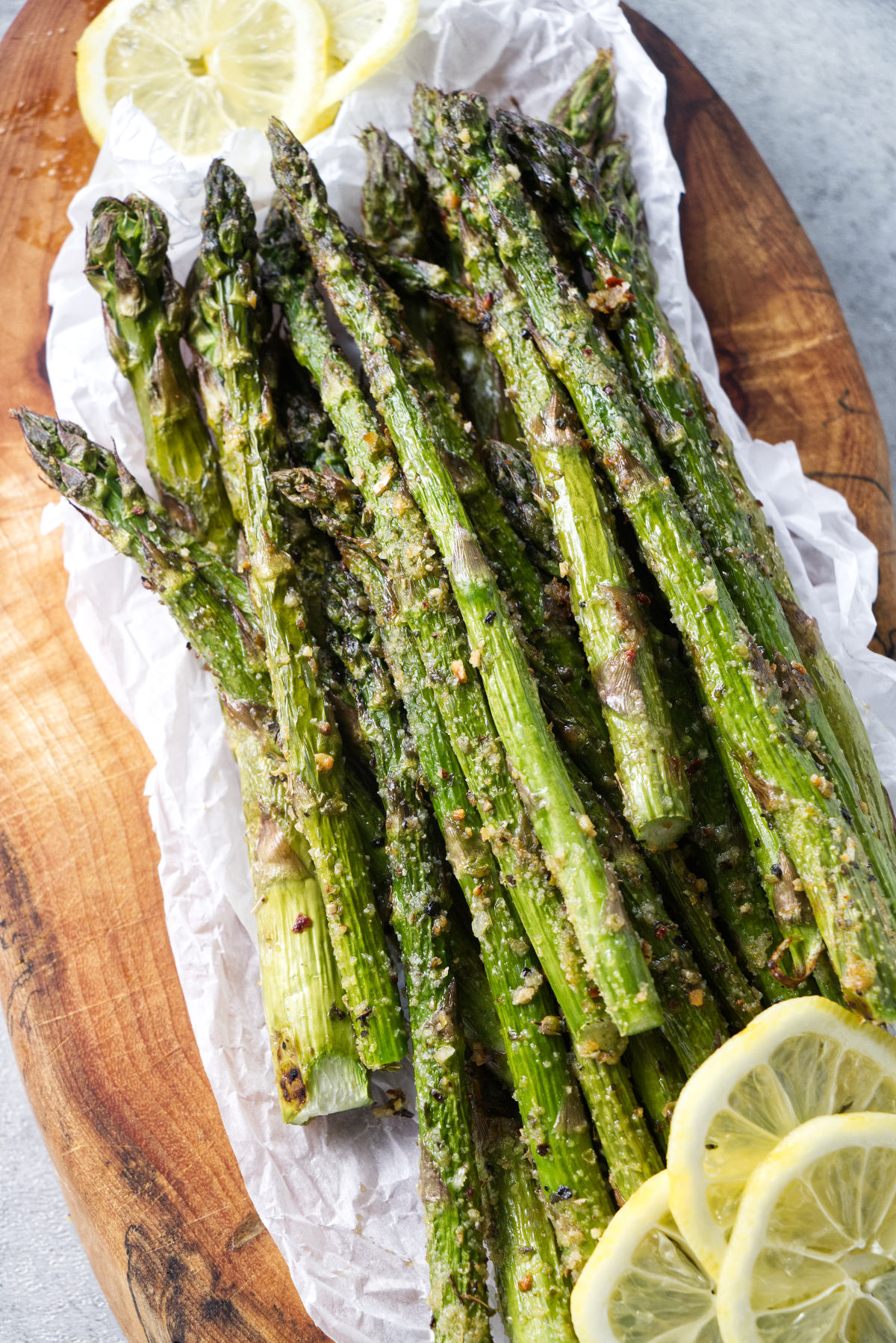 Why This Recipe Works
Using the Traeger gives these asparagus spears an incredible smoky flavor while retaining this vegetable's signature crunch.

It pairs perfectly with virtually any protein.

It's extremely easy to make and is almost completely mess-free with minimal clean-up!

It uses very little oil, making it a glorious side dish for health-conscious folks.
Ingredients
Asparagus. I suggest using thicker stalks to make sure they don't slip through the grill grates or overcook in the blink of an eye.

Olive Oil. Any vegetable oil will work well, but olive oil gives your spears a delicate fruity taste that works well with a squeeze of lemon and a sprinkle of sharp parmesan cheese.

Salt. Crucial for adding flavor.

Pepper. Adds a hint of spice without being overwhelming.

Seasoning rub (optional). I recommend the Greek Freak, Rosemary Dijon, Black and Bleu, or Pizza Pie blends. But don't be afraid to use whatever you have to hand or love working with!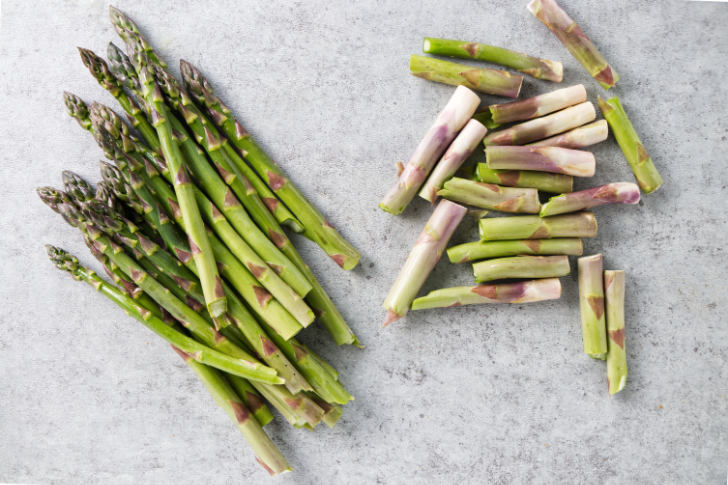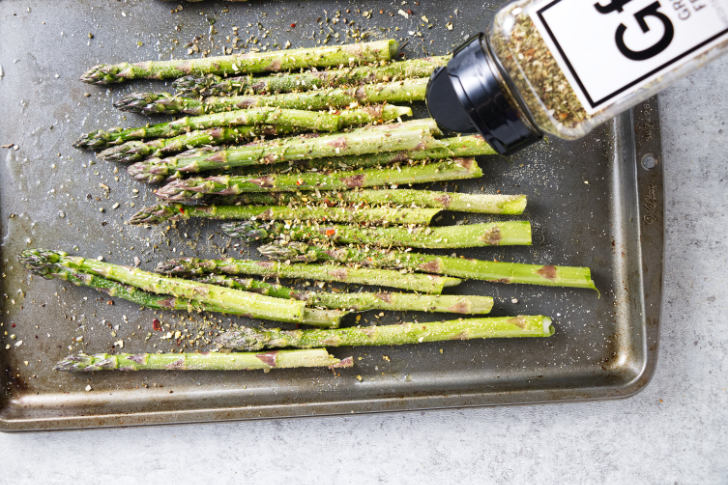 How To Make It
Pre-heat the Traeger grill.

Trim the asparagus and put it on a plate.

Prepare the asparagus with olive oil and ensure each stem is well-coated.

Season the asparagus.

Place your asparagus on the grill grates.

Roast the asparagus until cooked to an ideal texture.

Serve the asparagus!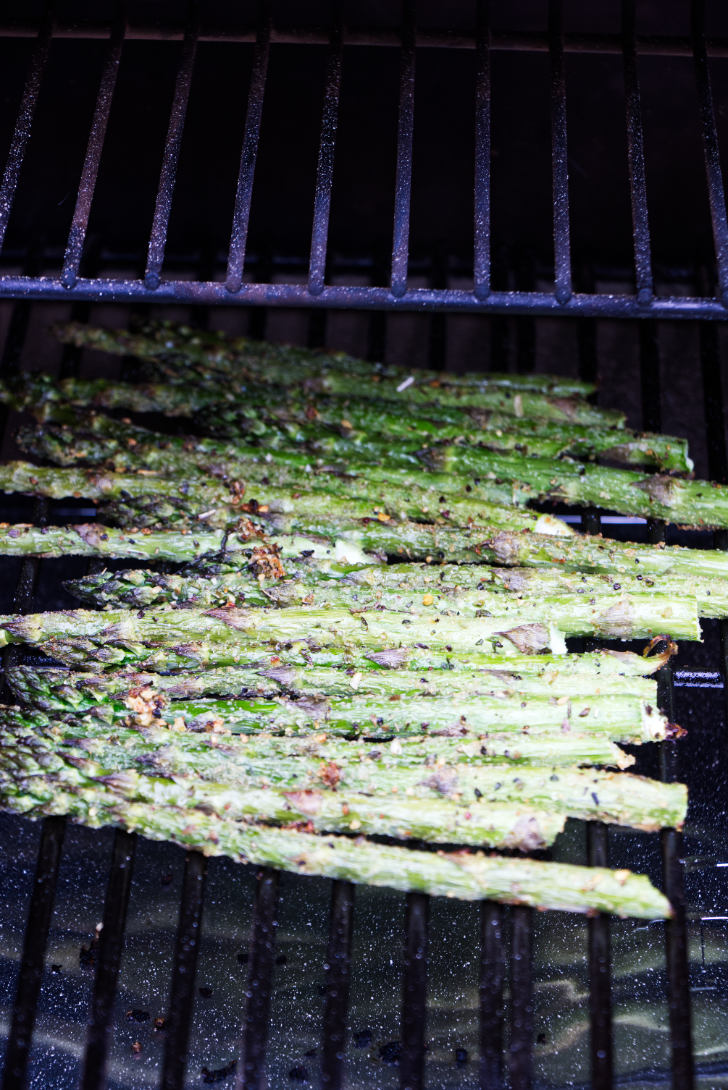 Tips For Success
Don't double up on salt if you're using a seasoning blend. Just omit it from the recipe or you'll be wincing with every bite. However, you shouldn't be afraid to give the spears a taste after cooking as they might still benefit from a sprinkle of salt.

If you'd rather use thin asparagus, secure your veggies with a wire rack that can then be put on the grill rack. Otherwise, they'll probably fall through the grates.

Don't overcook your smoked asparagus! If in doubt, poke it with a fork before removing it from the Traeger to ensure they're still a tad crunchy.

To trim the rough ends from your asparagus, you'll want to hold the stalk with one hand in the center and with one hand at the end. This will snap it in the woody and fibrous area of the stalk for perfectly matched asparagus spears!

If you need to store your cooked asparagus, put everything in an airtight container in the fridge. It'll keep well for up to 4 days.

If you like a hint of spice, don't be afraid to add a few chili flakes to the mix for a vibrant kick!

Choose the right wood pellets for your Traeger. Hickory, oak, and mesquite are all incredible woods to use for that signature smokey flavor that the Traeger is known for. If you cannot decide, then go for this Traeger signature blend for a well rounded delicious blend of pellets.
FAQ
Do you soak asparagus before grilling?
It's not 100% necessary to soak asparagus in water before cooking. But it can remove fine grit that sometimes lies inside the tips and around the vegetable. You'll only need to soak your asparagus for a few minutes, so it won't eat into your prep time too much!
Why do you soak Traeger asparagus in ice water?
It might sound like an old wives' tale, but "shocking" the asparagus in an ice bath after cooking can prevent them from going soggy. But for this recipe, I'd suggest against it. Otherwise, you'll lose the wonderful smoky flavor and glorious layer of olive oil!
How do you cook smoked asparagus without overcooking?
It's a good idea to keep an eye on your asparagus, but you'll probably need to remove it from the grill just before you think it's done.
Why is my Traeger smoked asparagus soggy?
Sadly, you may have overcooked it. If you remember to prepare your asparagus correctly and remove it from the Traeger in time, you should be good to go.
What goes well with asparagus?
Asparagus is delicious with a simple drizzle of olive oil and a smidge of salt and pepper. But if you want to dial things up, you can pair this delicious vegetable with basil, dill, lemon, parmesan, nutmeg, and honey. If you're looking to bulk out this dish, serve it with a portion of potatoes and your protein of choice!
How do you know when smoked asparagus is done?
The best asparagus can be easily pierced with a fork but shouldn't be mushy or pale.
Wrap Up
Whether you're on the hunt for a reliable side dish or just want a tasty recipe that'll make you feel good, this Traeger smoked asparagus recipe promises to impress. Just don't blame me when there aren't any leftovers. It's the price you pay for greatness!
🛠Tools and Equipment
If you click on some of the following affiliate links and buy something, we might get a small commission. You don't pay any extra, but it will help us keep the lights on and our bellies full!
These grill grates allow you to get some serious sear marks while using your Traeger. Perfect for veggies but also to get those grill marks on a beautiful steak.

Traeger Timberline 1300 – the perfect smoker for massive cookouts. Or check out this Traeger Pro 780.

Grab some of these grill baskets so you can easily transfer the asparagus to and from the Traeger.
Other Must-Try Recipes
If you don't want to try this Traeger smoked asparagus, give the air fryer a shot! This air fryer asparagus recipe is super easy and incredibly delicious.

Nothing goes better with smoked asparagus than steak. This Traeger smoked tomahawk steak is perfection and, served alongside asparagus, the perfect meal. Or try this Traeger smoked tri-tip that is packed full of beefy flavor.

This easy grilled marinated flank steak might be one of my favorite things to cook. It is super versatile. Use it in tacos or on top of a salad, and serve it alongside some wonderful smoky asparagus.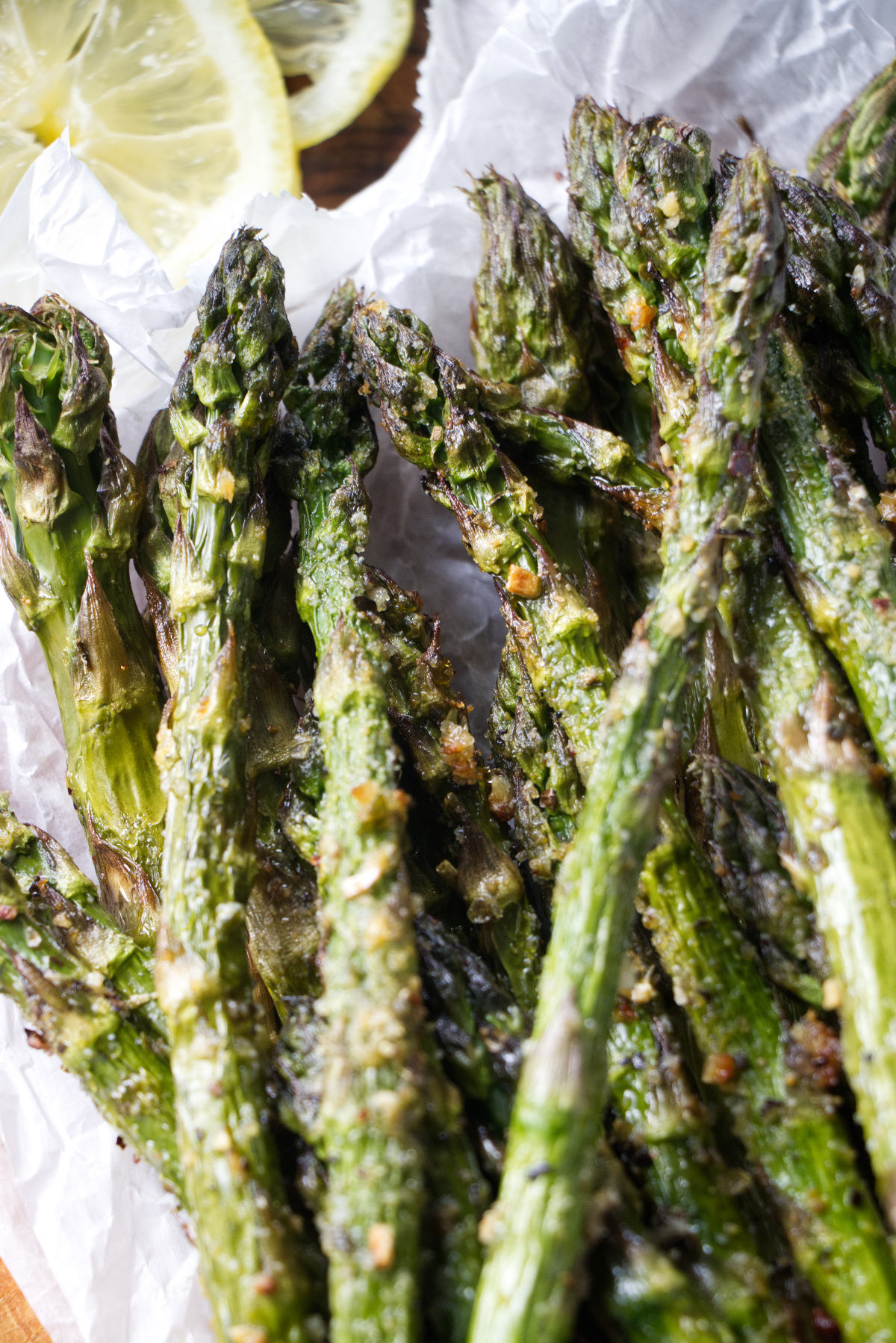 💬Tell Me What You Think!
Did you try out this recipe? Please leave a comment below and let me know how you liked it. Also, snap a picture and post it to your favorite social platform. Be sure to tag me at @alicensetogrill and let me know how you liked it!
CONNECT WITH A LICENSE TO GRILL!
Be sure to follow us on our social media accounts.
Facebook * Instagram * Pinterest * YouTube * Twitter
Did you make this recipe? Tell us about it in the comments below!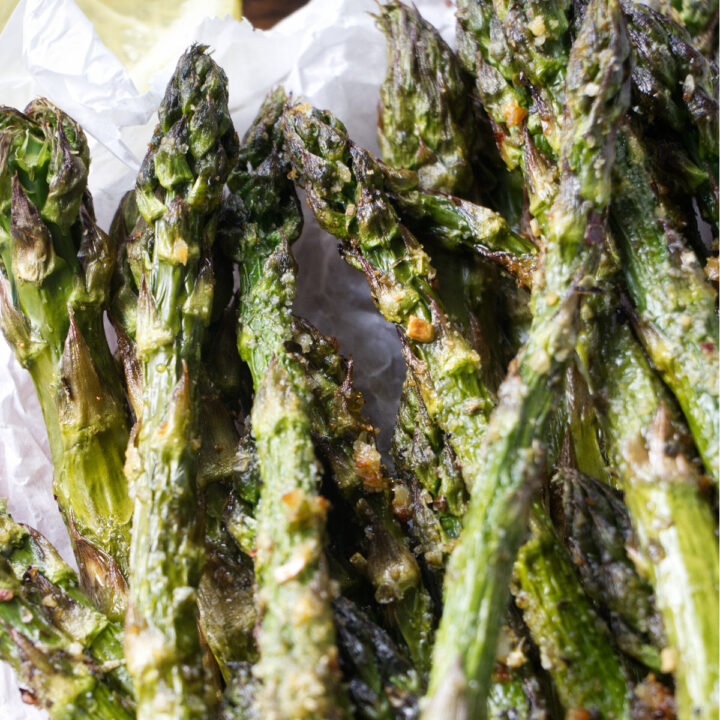 Traeger Grilled Asparagus
This grilled asparagus is one of the best ways to prepare asparagus. The recipe is fast, easy, and versatile. Season the spears with salt and pepper, or get creative with flavorful seasoning blends.
It is delicious on its own, or you can serve it with a squeeze of lemon and some shavings of Parmesan cheese. Either way, this is a dish that is sure to please.
Ingredients
1 bunch asparagus
2 tablespoons olive oil
1/2 teaspoon salt
1/2 teaspoon pepper
Optional: 2 teaspoons seasoning rub (see notes)
Instructions
Preheat the Traeger smoker to 450°F.
Trim the woody ends off the asparagus and place them on a plate.
Drizzle the asparagus with olive oil and toss them until well coated.
Sprinkle the salt, pepper, and optional seasoning on the asparagus.
Place the asparagus directly on the grill grates and close the lid.
Roast for 5 to 7 minutes for tender-crisp texture (it will still have a snap to it). Roast for 10 to 15 minutes if you want the asparagus cooked until soft.
You can serve grilled asparagus hot, cold or at room temperature. It is great with a squeeze of lemon juice or some shavings of Parmesan cheese.
Notes
Here is a quick way to trim the tough ends off the asparagus. Hold one asparagus stalk with one hand in the center and one hand at the end. Bend it until it snaps. It will automatically snap off in the spot of the woody, fibrous area. Now, line the shorter asparagus up next to the bunch and slice them so they are all the same length as the one you snapped.
Optional seasoning blends
or use your favorite seasoning blend

If you use a seasoning blend with salt, you may want to omit or adjust the salt in the recipe.
Recommended Products
As an Amazon Associate and member of other affiliate programs, I earn from qualifying purchases.
Nutrition Information:
Yield:

4
Serving Size:

1
Amount Per Serving:
Calories:

62
Total Fat:

7g
Saturated Fat:

1g
Trans Fat:

0g
Unsaturated Fat:

6g
Cholesterol:

0mg
Sodium:

1025mg
Carbohydrates:

1g
Fiber:

0g
Sugar:

0g
Protein:

0g
Nutrition information is a guideline only, is calculated automatically by third party software, and absolute accuracy is not guaranteed.