These air fryer Brussels sprouts with bacon are my favorite go-to vegetable dish to serve as a side for the perfect dinner. Brussels sprouts seem to be a polarizing vegetable, you either hate them, or you love them. If you are part of the group that hates them, you need to try them cooked to a crisp in the air fryer with bacon!
The air fryer renders the fat from the bacon and sweats the sugary juices from the onions to provide the Brussels sprouts with the perfect foundation for a flavorful, crunchy roast in the air fryer. The bacon fat will coat the Brussels sprouts and fry them to a crisp while infusing them with a sweetness from the onions. The dried cranberries add just the right amount of extra sweetness to balance out the bacon.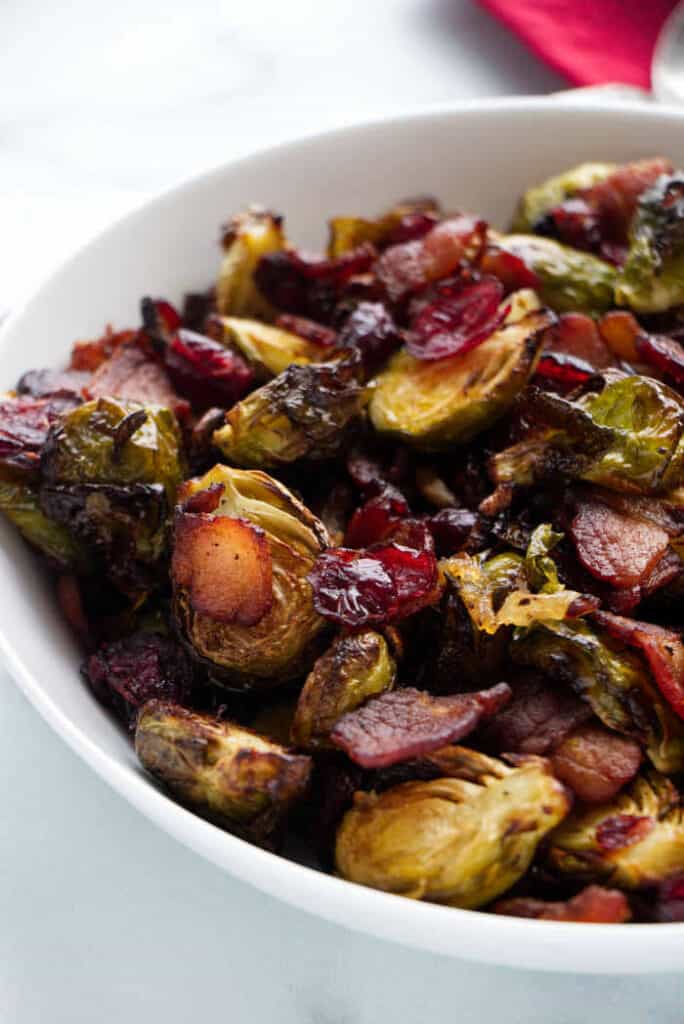 Brussels sprouts are a winter superfood!
Brussels sprouts are available year-round. However, their peak season is during the wintertime making these a winter superfood! Usually, Brussels sprouts can be a tad bitter, but as the days get cooler towards the end of their peak season, they will begin to get sweeter. The starches in the Brussels sprouts begin to convert to sugars as the weather becomes cooler, so you may get a sweeter, less bitter sprout.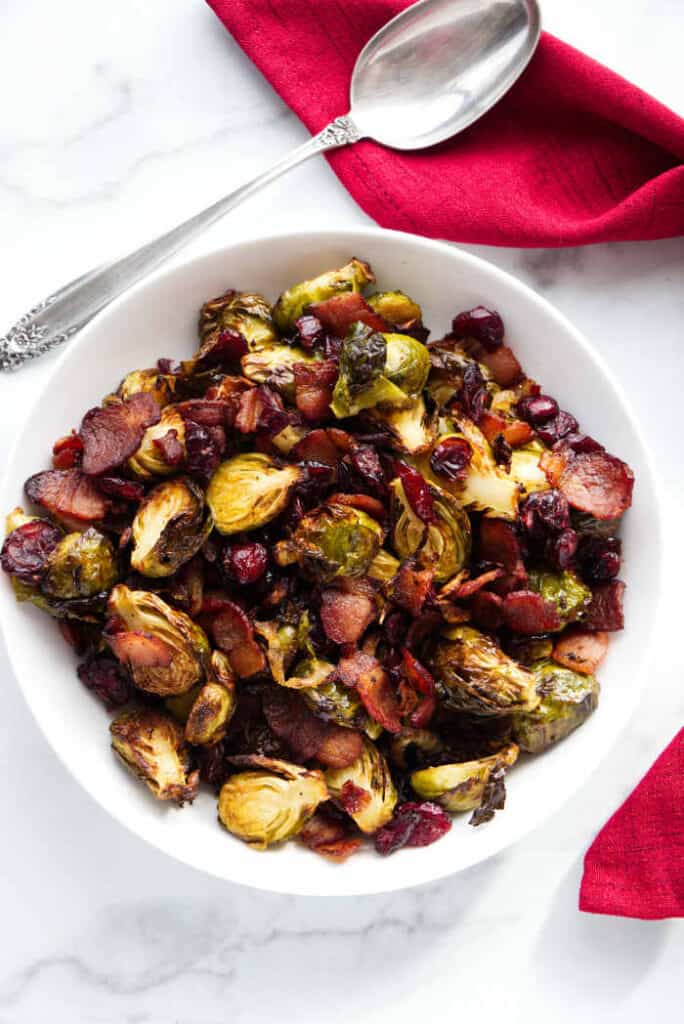 How to make air fryer Brussels sprouts
Step 1: slice up the ingredients
Slice the onion into thin sections, about 1/8″ thick. Slice the bacon into small pieces about 1/4″ wide. Then halve the Brussels sprouts. You can use any onion, but I like to use a sweet onion. As the onion cooks, it carmelizes and adds a natural sweetness to the Brussels sprouts.
Step 2: add water
Add water to the pan of the air fryer below the air fryer basket. The water helps keep any oil or fat from burning and smoking up the kitchen while cooking.
Step 3: cook
Place the onions and bacon in the air fryer basket. Cook at 390°F for 7 minutes. After 3-4 minutes, stir the bacon and onions. The bacon fat will render and the onions will begin to caramelize to a golden brown.
Step 4: add the Brussels sprouts to the air fryer
Add the sprouts and cook for another 15 minutes. After every 5 minutes, stir the Brussels sprouts to ensure even cooking. The Brussels sprouts will continue to get crispy in the air fryer. You can always cook for an additional 3-5 minutes if you prefer them more crispy.
Step 5: transfer to a serving dish
Transfer everything from the air fryer basket to a serving platter and sprinkle with dried cranberries. Enjoy!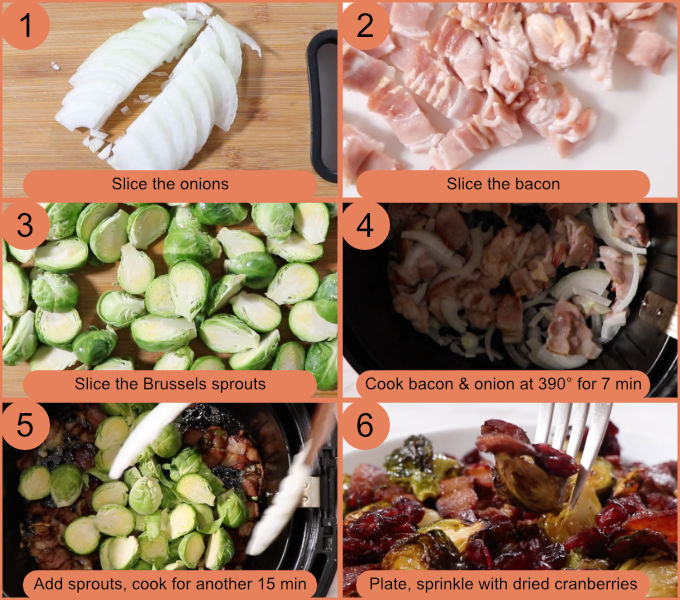 Air Fryer Brussels Sprouts FAQ
Can you use frozen Brussels sprouts in the air fryer? Absolutely! Add about 5 more minutes to the cooking time, allowing the Brussels sprouts to thaw while cooking.
To make for easier cleanup, you can line your air fryer basket with foil or some handy air fryer parchment paper, which is cut to fit the basket perfectly.
Adding water to the pan below your air fryer's basket will help keep the bacon fat from burning and smoking up your kitchen. A couple of tablespoons should be enough to coat the bottom sufficiently.
Preheat the air fryer to help evenly cook the contents of your air fryer. This will help to eliminate any hot/cool spots in the air fryer.
Routinely shake or stir the Brussels sprouts to prevent any of them from burning.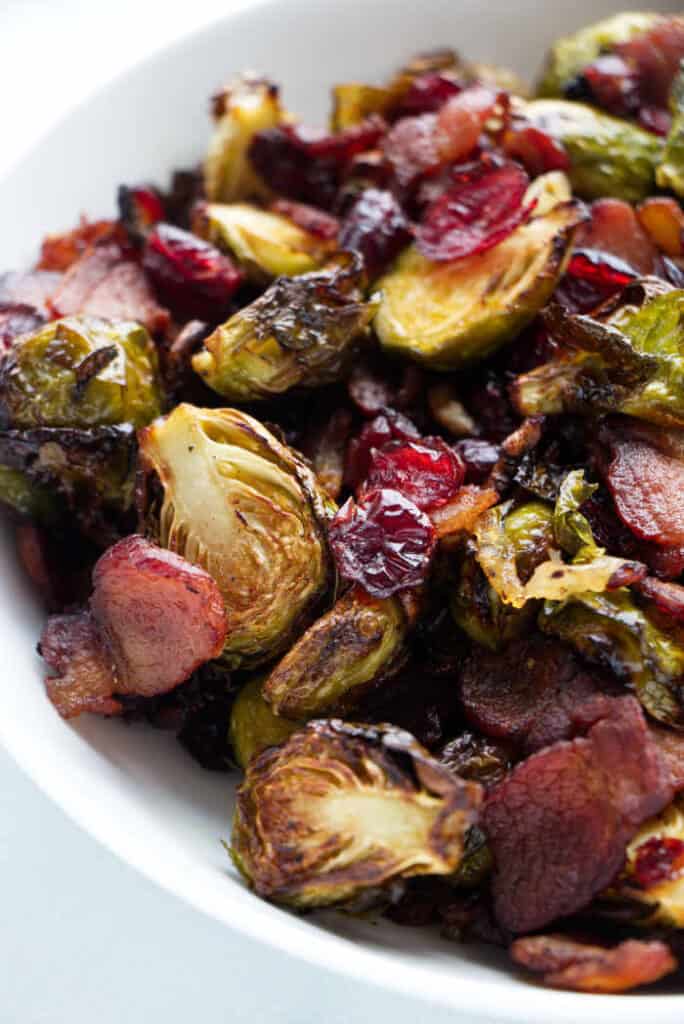 Some other recipes you will dig!
These air fryer brussels sprouts could be a full meal all on their own! But if you plan to cook these up as a side then check out these other delicious recipes for some great accompaniments to your veggies.
These grilled bacon wrapped scallops need to have some delicious, crispy air fryer brussels sprouts with bacon to go along with them. Scallops might be my favorite treat from the ocean, they are so tender! Plus wrapped in bacon and flavored from the smoke on the BBQ, YUM!
WINGS! Of course, Crispy wings need some crispy veggies to go along with them. Try out these air fryer buffalo chicken wings – from frozen, or these air fryer honey mustard chicken wings.
CONNECT WITH A LICENSE TO GRILL!
Be sure to follow us on our social media accounts
Facebook * Instagram * Pinterest * YouTube * Twitter
Did you make this recipe? Tell us about it in the comments below!
Tell me what you think!
Did you try out this recipe? If so, snap a picture and post it to your favorite social platform. Be sure to tag me at @alicensetogrill and let me know how you liked it!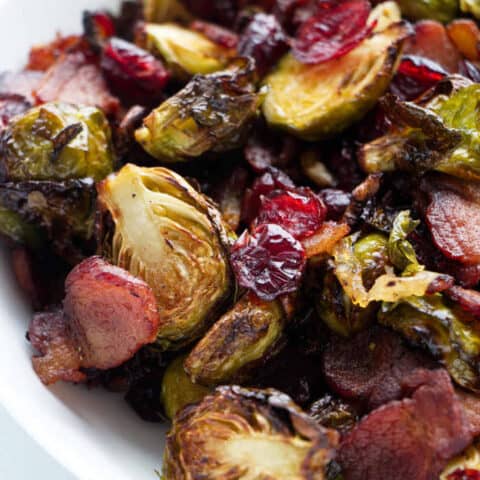 Air Fryer Brussels Sprouts with Bacon
Air fryer Brussels sprouts with bacon, onions, and sweet cranberries. This combination will make anyone a lover of Brussels sprouts. Crisp bacon, caramelized onions, and sweet dried cranberries make Brussels sprouts a winning side dish.
Ingredients
8 slices of thick-cut bacon, sliced into 1/2 inch pieces
1/2 onion, sliced
1 pound Brussels sprouts, halved
1/2 teaspoon salt
1/2 teaspoon pepper
1/2 cup dried cranberries.
Instructions
Remove the air fryer basket from the basket holder and pour 1/2 cup of water into the bottom of the basket drawer then replace the basket.
Add the bacon and onion slices to the air fryer and cook for 7 minutes at 390°F. Stir the bacon and onions after 3 to 4 minutes.
Add the Brussels sprouts and stir them around to coat them with a little of the bacon fat.
Sprinkle some salt and pepper over the Brussels and cook for 15 more minutes. Stop and stir the Brussels sprouts every 5 minutes.
If the bacon and Brussels are not as crispy as you like then air fry them for an additional 3 to 5 minutes.
Transfer to a serving platter and sprinkle with dried cranberries.
Notes
This recipe is written for a larger 6-quart air fryer basket. If your air fryer is smaller then cut the recipe in half or cook in batches.
Since the ingredients are stacked on top of each other you will need to stop and stir everything every 5 minutes as the Brussels sprouts cook.
Adding water to the bottom of the air fryer basket holder is optional but will reduce smoke as the bacon cooks. It will also make the air fryer easier to clean the bacon grease when you finish cooking.
Choose Brussels sprouts that are similar in size to ensure even cooking. If you have some Brussels sprouts that are a lot bigger than others, cut them in quarters.
Start the bacon and onions 7 minutes in advance so the bacon has time to get crisp and the onions get more caramelized.
To cook this in a regular oven, toss the bacon and onions in a rimmed baking sheet and cook at 425°F for 7 minutes. Then add the Brussels sprouts and roast for 25 minutes. Add the cranberries at the end of roasting time.
Nutrition Information
Yield

4
Serving Size

1
Amount Per Serving
Calories

221
Total Fat

9g
Saturated Fat

3g
Trans Fat

0g
Unsaturated Fat

6g
Cholesterol

24mg
Sodium

694mg
Carbohydrates

26g
Fiber

4g
Sugar

17g
Protein

11g
Nutrition information is a guideline only, is calculated automatically by third party software, and absolute accuracy is not guaranteed.