Boston butt isn't only a term to describe the physique of a fit marathon runner. The Boston butt I am talking about tastes amazing, and you can almost always find it at a BBQ cookout. This pulled smoked pork butt, or pork shoulder, is rubbed in a sweet and spicy mixture and cooked low and slow, then it is pulled apart and tossed with a delicious barbecue sauce. Nothing quite says barbecue like some smokey and juicy pulled smoked pork. You're going to want to stock up on the beer and get ready to dig into the best pulled pork you have ever had!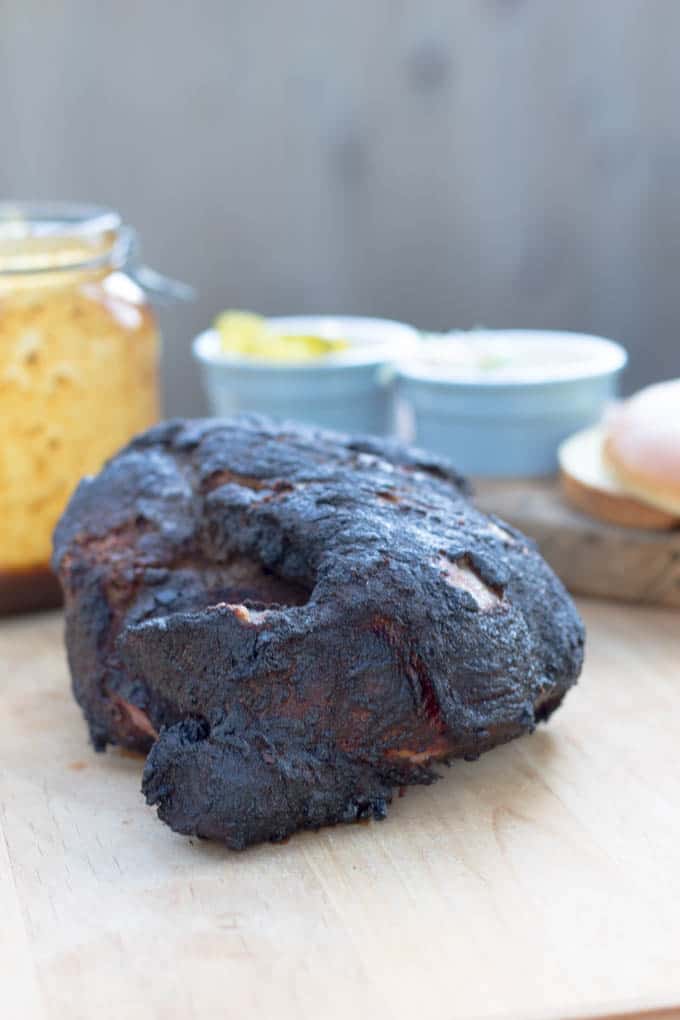 Pork butt vs. Pork shoulder
There are several terms used for the cut of meat coming from this certain area on the pig used to make pulled pork.
Pork Butt
Boston Butt
Blade Shoulder
Pork Shoulder
Picnic Shoulder
Picnic Roast
Arm Shoulder
In fact, all of these terms refer to one of two cuts of meat from the pig, both of which are from the front portion of the pig and not the butt. And yes, of course, you can make pulled pork with either cut of pork and you can call it whatever you want! But to be specific, the shoulder portion of the pig has two sections. The upper cut of meat above the shoulder blade is called the pork butt or Boston butt. The lower cut of meat below the shoulder blade is called the pork shoulder.
Pork butt generally has more intramuscular fat marbled throughout. This makes it perfect for juicy, succulent, fall-apart pulled pork.
Pork shoulder is usually sold in the store with the skin still attached and sometimes the hock will be left on as well.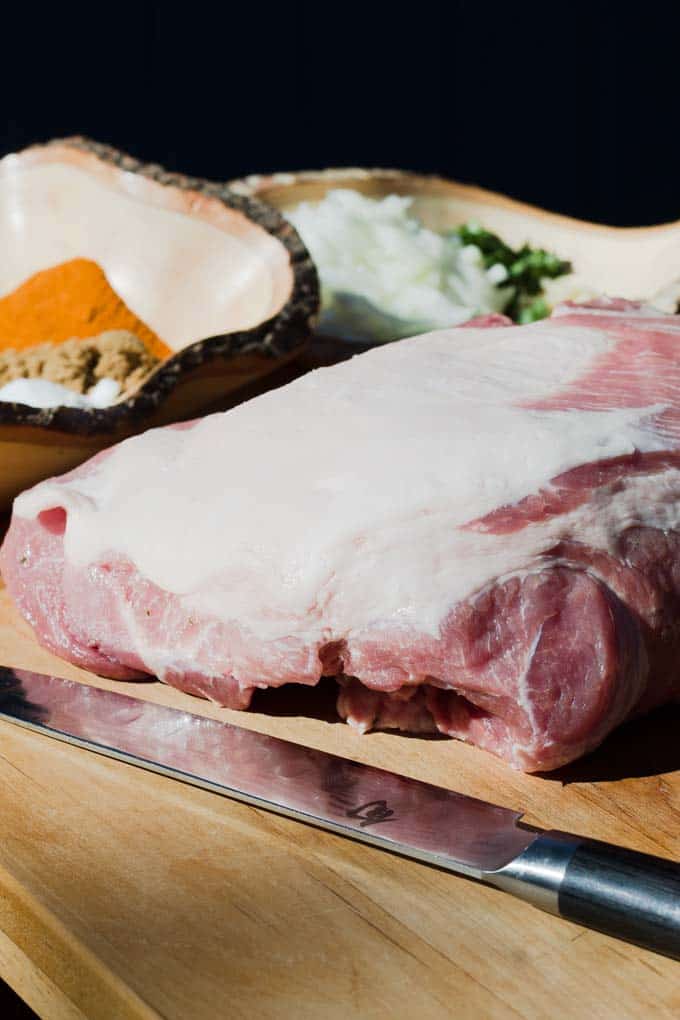 What is Boston butt? Where did it come from?
You may have heard of Boston butt before, and it is the same thing as pork butt or blade shoulder. It refers to the upper portion of the pork shoulder above the shoulder blade and is marbled with fat and lots of delicious meat!
Butt (pun intended!) where did this term come from? During colonial days, New England butchers would take less desirable cuts of pork and place them into barrels for transportation. These barrels were called butts and these butts were stuffed to the brim and shipped to neighboring towns. The craziest part is that these pre-revolutionary people thought pork shoulder was a less desirable cut of pork! Regardless, the term Boston butt was coined and it spread throughout the country.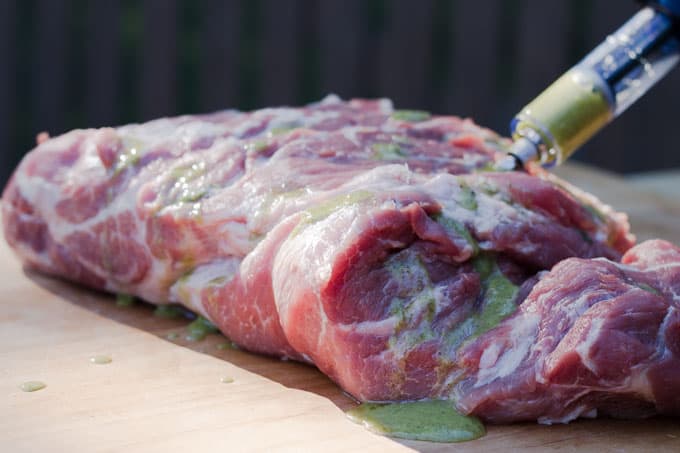 How to make pulled pork:
Plan to cook for 90 minutes per pound of meat
Inject, or soak, the pork with marinade
Apply a dry rub on the pork
Start cooking and maintain a temperature in your grill, smoker, BBQ, or oven from 225°F – 250°F
Once the meat reaches 160°F you can wrap the meat in foil to trap in the moisture
The pork is ready to be pulled when it reaches 190°F – 200°F
Shred and pull the pork apart and toss with your favorite BBQ sauce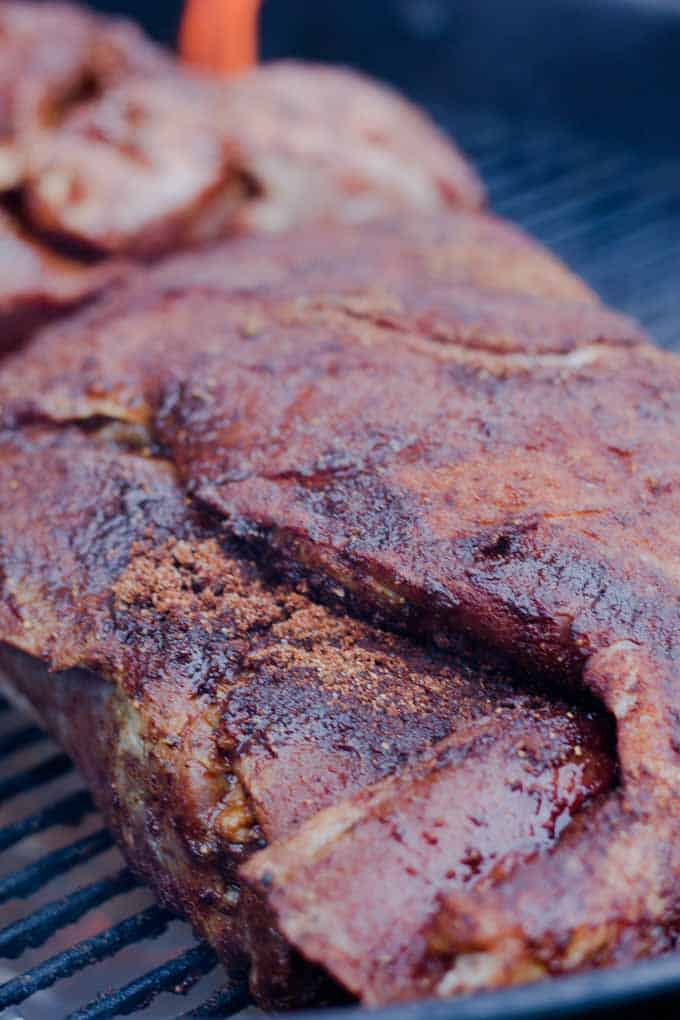 How to inject marinade into meat:
In this recipe, I inject garlic and herb infused oil into the pork to add flavor and moisture. A meat injector looks a lot like something you may find in the doctor's office. There is a wide needle that allows you to pierce the meat and squeeze some of the marinade into the pork. I generally aim to insert the needle to varying depths inside the pork while spacing out the injections by about 1″ in a grid pattern. You can see a bit of my technique in the video below.
Should you wrap your pork?
Yes, if you want to maintain moist and juicy pork then you should wrap the meat in foil once it reaches 160°F. The foil will help to catch the moisture that evaporates while cooking. If you are smoking the pork it will also prevent the meat from absorbing too much smoke and ruining the flavor.
How to sauce your pulled pork
After pulling you pulled pork apart, place it into a giant bowl. You will want to pour the BBQ sauce onto the pork and allow it to coat the pork thoroughly. Be careful not to overdo it, you will have a wet soggy mess! I would recommend approximately 1 cup of BBQ sauce per pound of pulled pork, but adjust to your liking on the fly!
I recommend trying a vinegar based Carolina style BBQ, or if you are feeling festive for the Fall season try this Pumpkin Spice BBQ Sauce.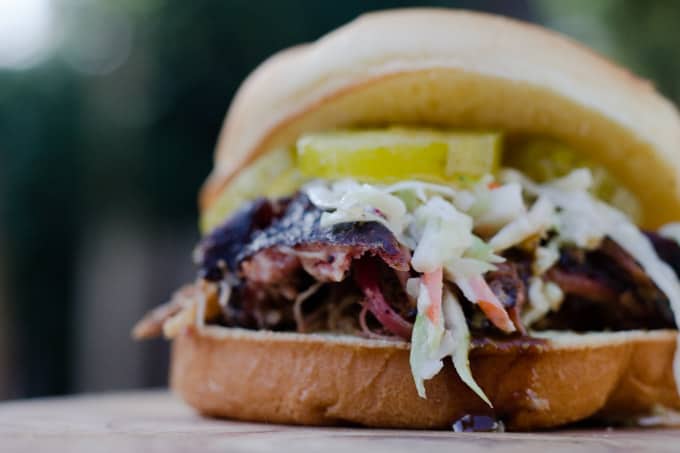 CONNECT WITH A LICENSE TO GRILL!
Be sure to follow us on our social media accounts
Facebook * Instagram * Pinterest * YouTube * Twitter
Did you make this recipe? Tell us about it in the comments below!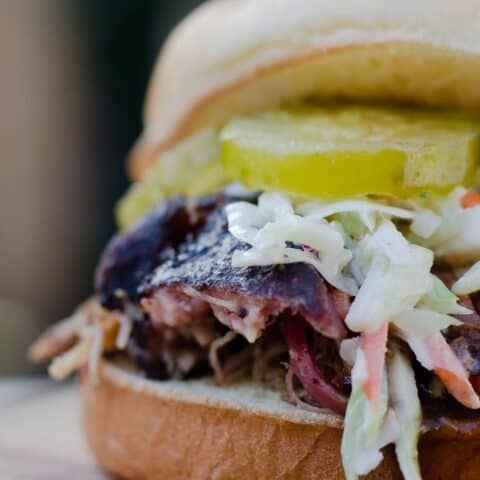 Pulled Smoked Pork Butt (Shoulder)
Additional Time:
3 minutes
Total Time:
16 hours
3 minutes
My favorite thing at the BBQ is pulled pork. This pulled pork is coated in a savory and sweet dry rub and injected with a zesty marinade just before smoking for 15 hours!
Ingredients
1 10 pound pork shoulder (bone in for more flavor)
Rub
1/4 cup smoked paprika
2 tablespoons salt
2 tablespoons granulated sugar
2 tablespoons brown sugar
2 tablespoons ground cumin
2 tablespoons chili powder
2 tablespoons freshly ground black pepper
1 tablespoon cayenne pepper
Injection
2 teaspoons salt
2 teaspoons freshly ground black pepper
1 teaspoon parsley
1 tablespoon dried oregano
1/2 teaspoon rosemary
1 large clove minced garlic
1 medium onion
1/4 cup water
1/2 cup apple cider vinegar
1 cup olive oil
Instructions
Begin by starting the BBQ. You will want to maintain a temperature in your BBQ of about 225°F-250°F.
Trim the excess fat from the surface of your pork butt.
Then blend all of the ingredients together to make the injection marinade.
Once the injection is completely smooth and no longer chunky, begin injecting the marinade into the pork in a grid like pattern.
The injections should be spaced about 2" apart.
Next, mix all ingredients together for the rub.
Thoroughly coat the pork butt in the dry rub. Be sure to apply the rub in a crevices of the pork butt.
Place the pork butt on the BBQ and plan to cook for about 15 hours, or 90 minutes per pound of meat.
Continue to feed charcoal and hardwood onto the fire to maintain the temperature over the 15 hour cook time.
Once the meat reaches an internal temperature of 160°F, cover the pork in tin foil to trap in the moisture.
Continue cooking until the internal temperature reaches 190°F-200°F.
Take the pork off the grill and allow it to rest for 30 minutes, don't let it cool down too much since it is easier to pull the pork apart while warm.
Pull the park apart using two forks to tear apart.
Lightly coat the pork in your favorite BBQ sauce and enjoy!
Notes
The pork will shred easier while still warm.
Pour drippings over shredded pork. This will add flavor and keep the pork moist.
Use just enough of the drippings to moisten the pork.
When making a sandwich, toasting or grilling the buns will crisp them and prevent sogginess from the juicy pork.
Nutrition Information
Yield

30
Serving Size

1
Amount Per Serving
Calories

522
Total Fat

40g
Saturated Fat

13g
Trans Fat

0g
Unsaturated Fat

24g
Cholesterol

136mg
Sodium

685mg
Carbohydrates

4g
Fiber

1g
Sugar

2g
Protein

36g
Nutrition information is a guideline only, is calculated automatically by third party software, and absolute accuracy is not guaranteed.