This orange lemon butter sauce is to die for, and it only takes a few minutes to whip up. It is made like a traditional beurre blanc, which is French for "dang, this is good!" Actually, it really translates to "white butter," and it is very good.
This sauce is packed with flavor from reducing shallots in a syrup of orange and lemon juice along with a healthy dose of dry white wine. The orange and lemon zest is added to bring even more aromatics to the sauce. Drizzle this beurre blanc on some air fryer tilapia, smoked wild turkey breast, or some fresh air fryer asparagus.
This post may contain affiliate links. Please read our
disclosure policy
.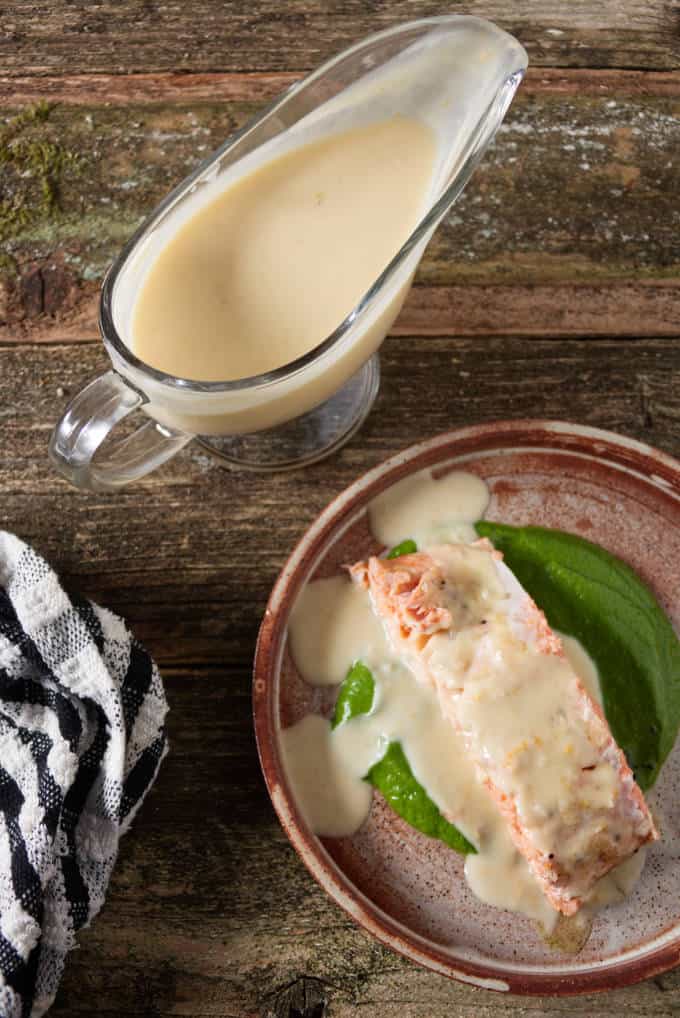 Ingredients for this crazy good sauce
Ultimately, you only need a few simple ingredients to make a beurre blanc. The secret is all in how you whip it up, quite literally! Keep reading to find out how to ensure the most creamy and delicious beurre blanc.
Unsalted butter
Dry white wine (sauvignon blanc, pinot grigio, etc.)
Lemon
Orange
Shallot
Garlic
Salt
Pepper (white pepper, if you have it)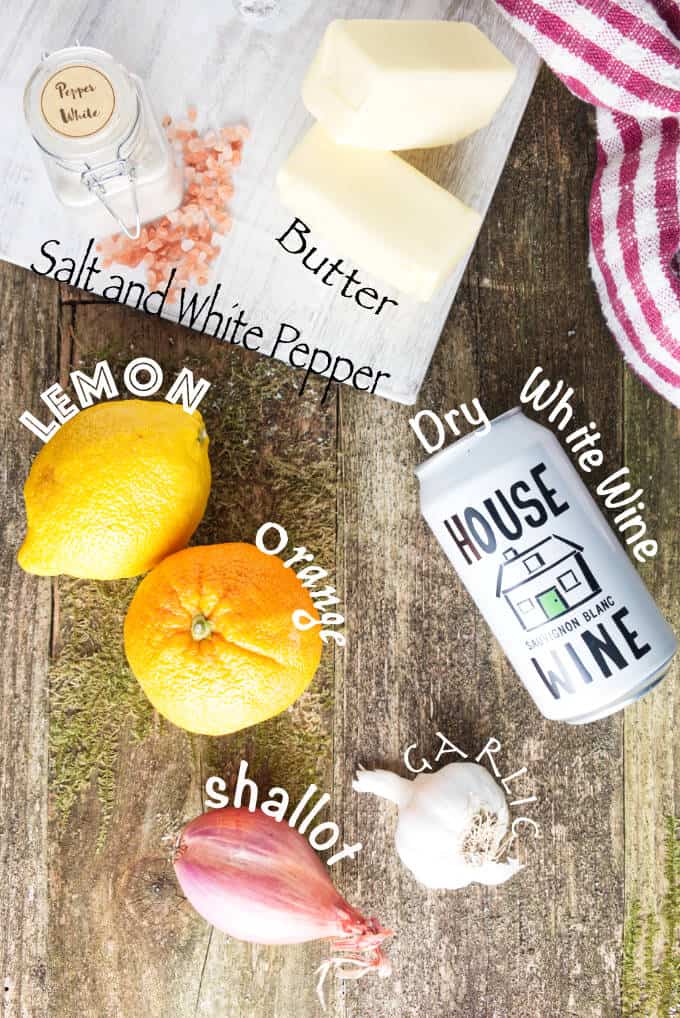 What is an emulsion?
Fat is not water soluble. Just like the oil and vinegar you dip your bread in, this orange lemon butter sauce would also separate if it wasn't emulsified. By adding heat to the sauce and whisking vigorously, we are able to make the butter, wine, and citrus juice blend together into a creamy smooth sauce.
Can you refrigerate beurre blanc?
This orange lemon butter sauce can be made ahead of time and stored in the fridge or freezer. Once the emulsification is set, it will maintain in the fridge for 3-5 days or in the freezer for 1-2 months.
Can you reheat the orange lemon beurre blanc?
If you try to reheat the beurre blanc, you may notice that it falls out of emulsification. Once the orange lemon butter sauce has been in the fridge, it will solidify. At that point, I like to think of it as more of a compound butter. Just take a scoop of it and place it on top of some grilled veggies or fish. I have even spread some of this sauce on a freshly baked sliced of sourdough.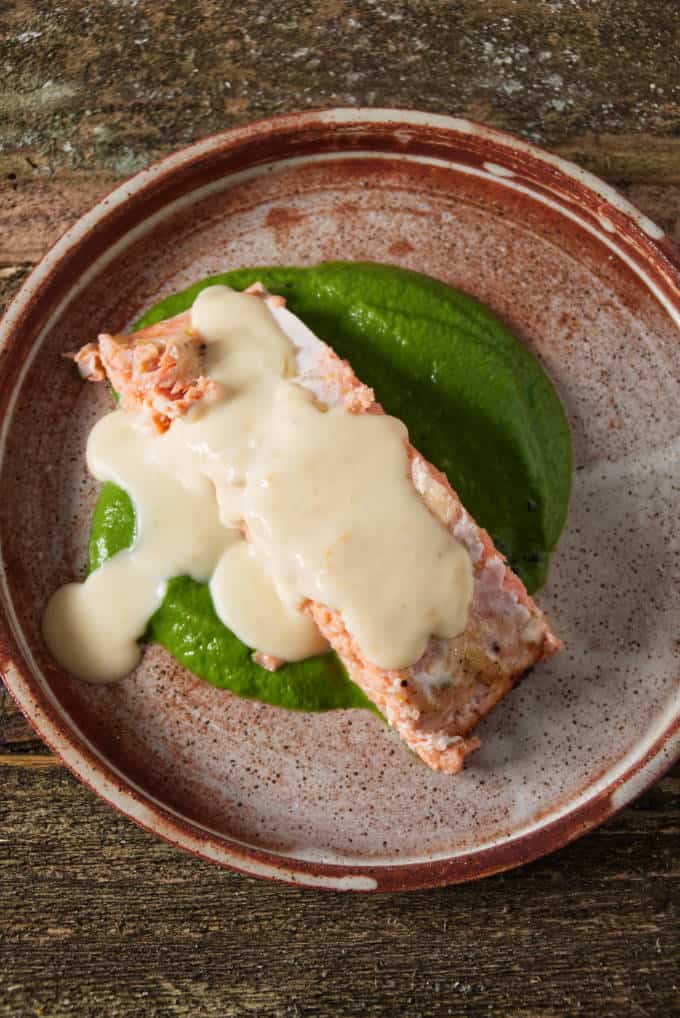 Why use white pepper?
Sure, you could just use black pepper, but then that would defeat the purpose of making a white butter sauce, right?
When the peppercorn fruit is picked, it can immediately be dried. Once it is dried, the skin of the peppercorn turns black. This is how the all so common, spice rack staple, black pepper is made.
White pepper is just that, white. It is made from the exact same peppercorns as black pepper. White pepper, on the other hand, is made through a soaking process. Once the peppercorn is picked, it is soaked. This removes the outer layer of the peppercorn and reveals a white surface underneath. At this point, the peppercorn is dried and processed as normal.
3 easy steps to make this orange lemon butter sauce!
Step 1: Reduce
Add one finely chopped shallot to the juice, along with zest of one orange and one lemon. Dump in you your 1/2 cup of dry white wine and reduce until the liquid becomes syrupy. This will take about 8-10 minutes. Then add the two cloves of minced garlic and cook for another 2 minutes until it is fragrant.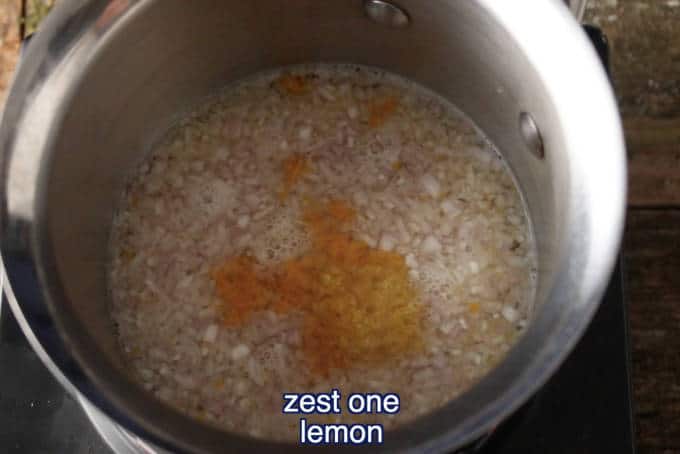 Step 2: Whisk away
Remove the reduction from the heat and slowly add 1 cup (two sticks) of cold, unsalted butter. Be sure to add the butter 1 tbsp at a time and whisk vigorously in between.
This is the critical step where we want to ensure that there isn't too much heat added to the sauce. The emulsification will not work if it gets too hot or if you add too much butter all at once.
Once the sauce is creamy and smooth, add your white pepper and salt. Be sure to taste the sauce and add more if needed.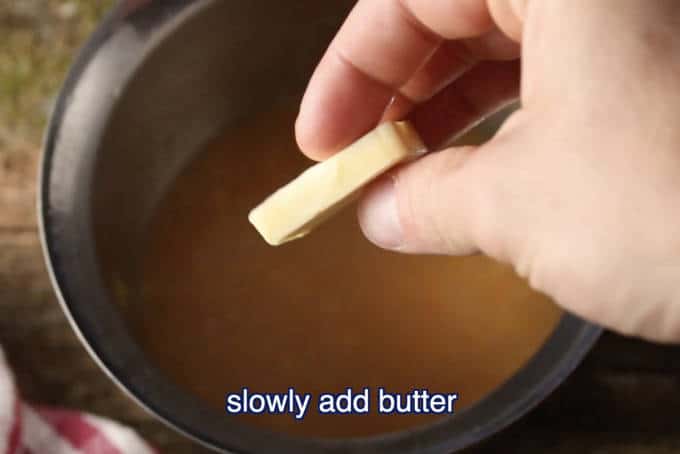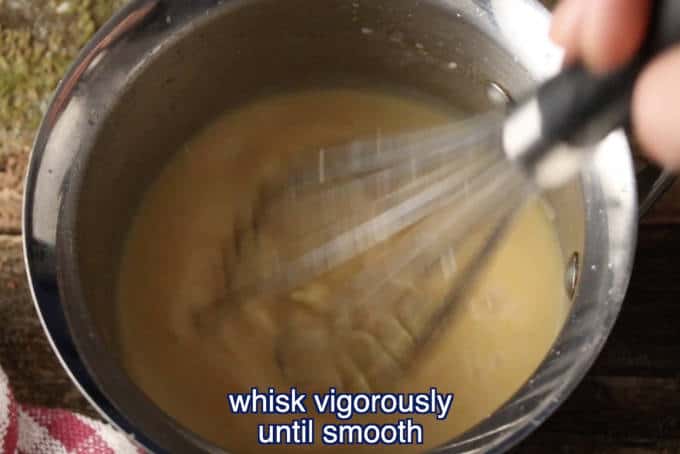 Step 3: Drizzle the orange lemon butter sauce!
Once you are happy with the texture of the sauce, it can be transferred to a gravy boat or drizzled directly onto your food.
If you have leftovers, store it in an airtight container in the fridge for later use as a compound butter alternative.
Tip: If you prefer, you can strain the beurre blanc using these mesh strainers. This gravy boat is the perfect size for this recipe.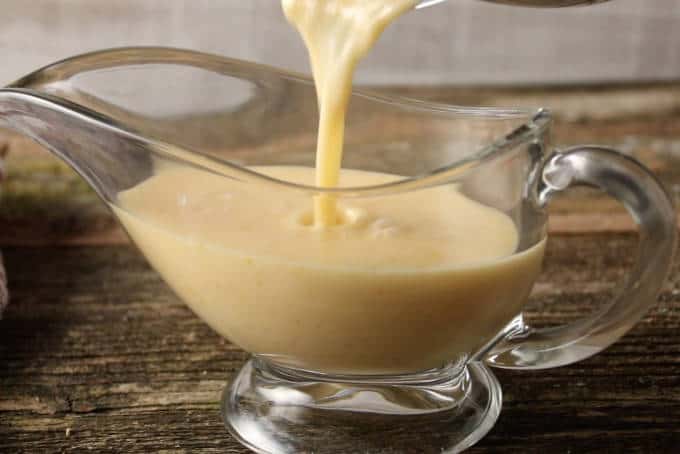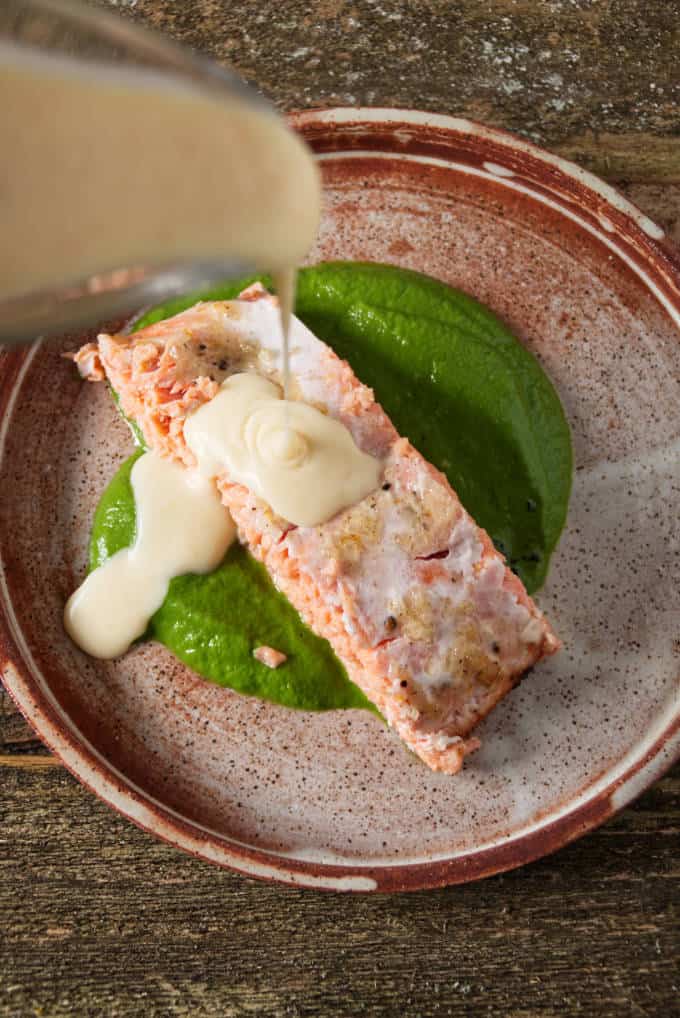 What else is cooking?
This recipe for air fryer broccoli is a must-have for a quick and simple veggie to go along with dinner. Go crazy and drizzle some of the orange lemon butter sauce on top!
Who doesn't love chili?! This smoked brisket chili is my favorite recipe for leftover smoked brisket. Often times, I will cook brisket just so I can make this recipe. Give it a try! I will give you a hint to read the recipe so you can find out the secret ingredient that makes this chili a HIT!
CONNECT WITH A LICENSE TO GRILL!
Be sure to follow us on our social media accounts
Facebook * Instagram * Pinterest * YouTube * Twitter
Did you make this recipe? Tell us about it in the comments below!
Yield: 1 cup
Orange Lemon Butter Sauce (Beurre Blanc)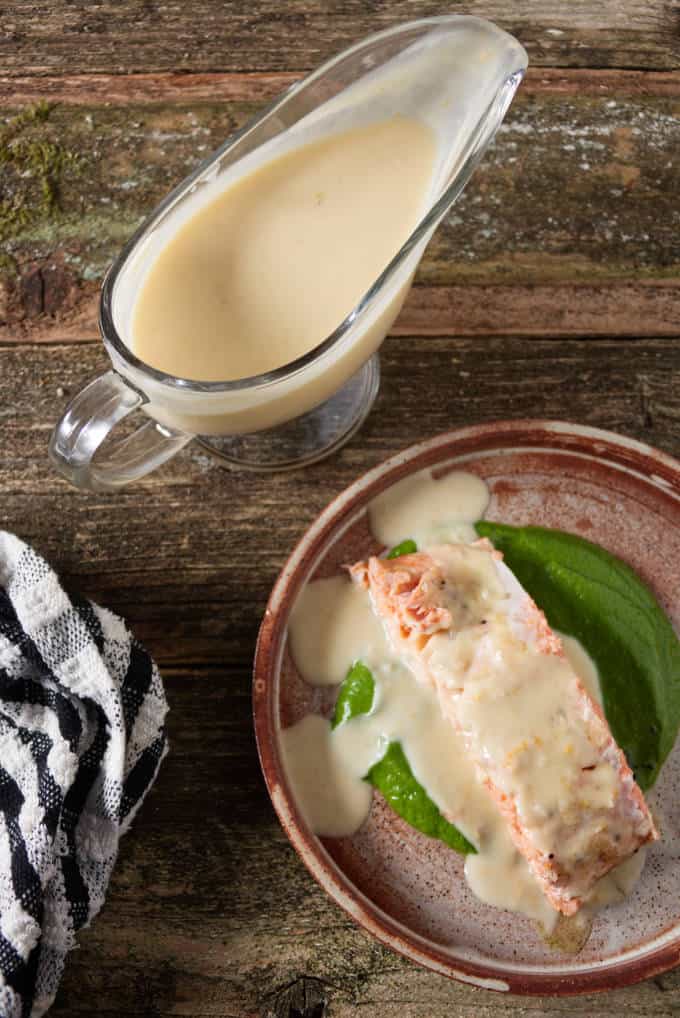 A smooth and creamy orange lemon butter sauce that goes perfectly with seafood and poultry. Like in a typical beurre blanc, a crisp, dry white wine is used as the base of the sauce along with some orange and lemon juice to bring a bright citrus flavor.
Ingredients
1 orange
1 lemon
1/2 cup dry white wine
1 shallot (finely chopped, about 1/2 cup)
2 cloves of garlic (minced)
1 cup cold butter (cubed)
Salt to taste (about 1/2 tsp)
White pepper to taste (a pinch)
Instructions
In a medium saucepan over medium-low heat, add the zest and juice of one lemon and orange, wine, and finely chopped shallots. Do not let the sauce boil, this could cause the sugars to burn. Cook until the liquid reduces and the shallots become translucent, or about 10 minutes.
Add the minced garlic and cook for another 1-2 minutes, or until fragrant.
Take the saucepan off the heat and slowly add the butter one cube at a time. Whisk vigorously as the butter melts.
Add salt and white pepper to taste.
Optional: strain the sauce. Transfer to a gravy boat or a sauce bowl.
Notes
Remove the sauce from the heat while adding the butter. If it gets too hot, the sauce will not emulsify properly and it will likely separate.
Be patient and add the butter slowly while whisking vigorously. This will help to make the emulsification and keep butter from separating in the sauce.
Optional: strain the sauce to remove the small pieces of zest and shallots which did not reduce completely.
Nutrition Information
Yield
10
Serving Size
1
Amount Per Serving
Calories

187
Total Fat

19g
Saturated Fat

12g
Trans Fat

1g
Unsaturated Fat

6g
Cholesterol

49mg
Sodium

207mg
Carbohydrates

4g
Fiber

1g
Sugar

2g
Protein

1g
Nutrition information is a guideline only, is calculated automatically by third party software, and absolute accuracy is not guaranteed.