It is pumpkin spice season so why not double down on that pumpkin spice latte and dig into this no-bake pumpkin cheesecake parfait?! The airy pumpkin cheesecake fluff is sandwiched between layers of gingersnap crumbles and blanketed with a creamy brown sugar vanilla cheesecake. The best part, you don't even need to bake this cheesecake and you can be eating it yourself in about 15 minutes!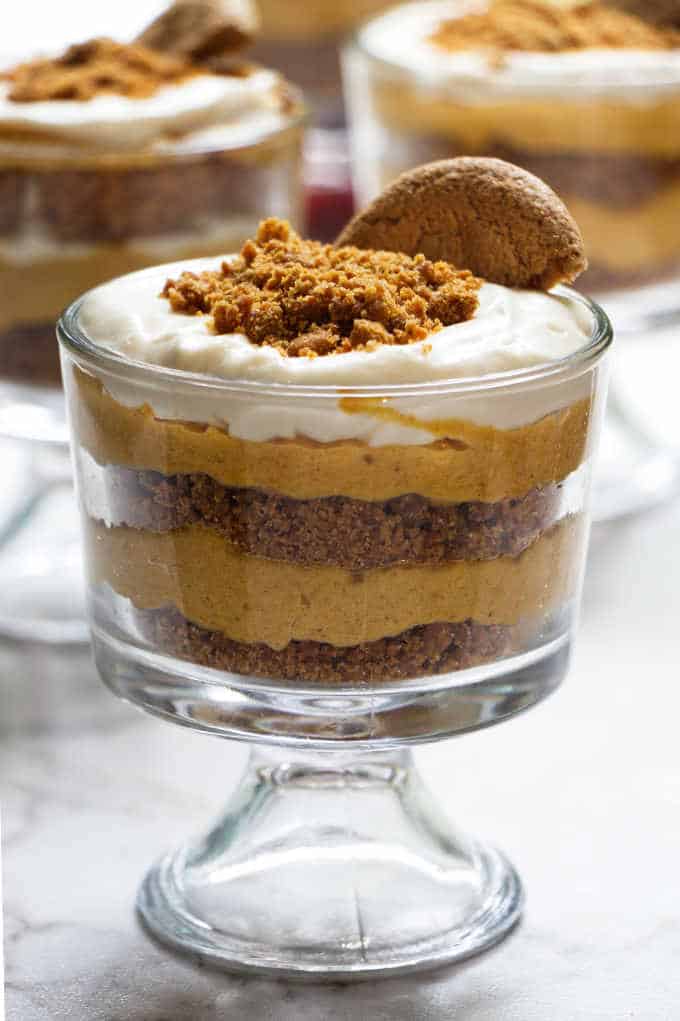 This no-bake pumpkin cheesecake parfait is so easy to make. You don't need to use any gelatin or wait for it to set up before eating it. Just blend the ingredients, layer them in glasses and dig in with your spoon.
There are three components to these delicious pumpkin cheesecake parfaits.
A gingersnap crumble.
An ultra-creamy no-bake brown sugar vanilla cheesecake fluff.
A light and airy no-bake pumpkin cheesecake fluff.
I'm calling the no-bake cheesecake layers a fluff because they are light, airy, and fluffy. They are almost like a mousse and they are perfect for a parfait dessert.
The gingersnap crumble!
How amazing does a crisp, buttery, gingersnap crumble sound? This crumble takes gingersnap cookies to a new level of deliciousness. Gingersnaps and pumpkins go together so well but this isn't just crushed gingersnaps. It has a couple of extra ingredients:
Gingersnap cookies. We have tried a couple of brands and really like Nabisco the best.
Melted butter. Because butter makes everything better.
Sugar. Just enough to make this dessert extra special.
Salt. A pinch of salt enhances the flavors. It is amazing what a little salt will do.
Crunch the gingersnap cookies up pretty fine. We used a rolling pin and some elbow grease to pound them up. Of course, we put them in a plastic bag before pounding them but you could toss them in a food processor and pulse them instead.
If you put the cookies in a food processor then you can add the melted butter, sugar and salt to the food processor bowl as well.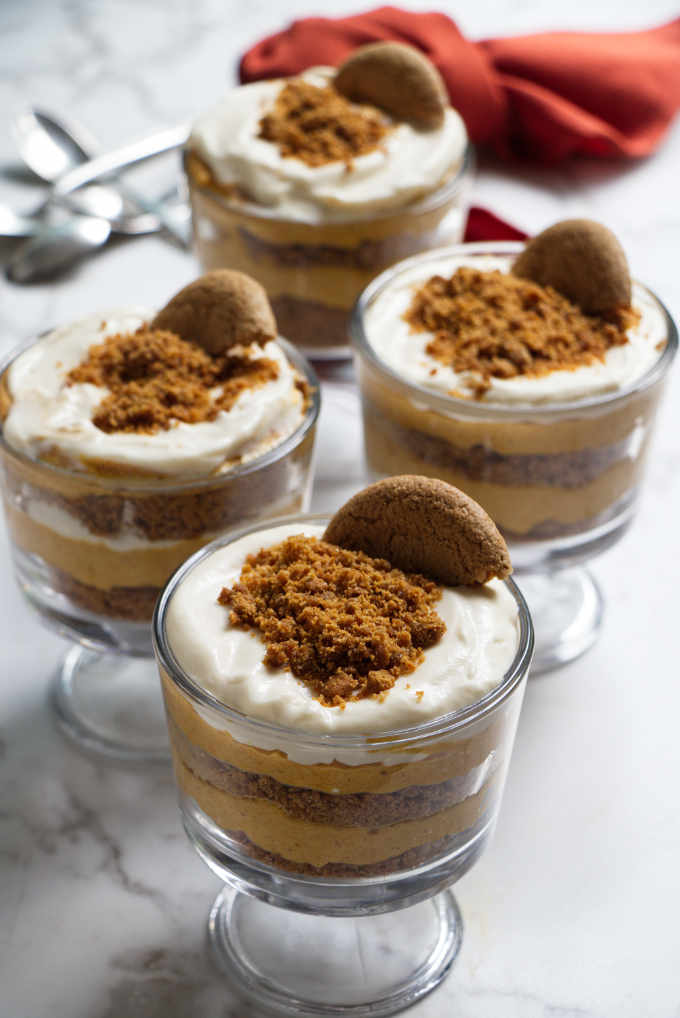 The no-bake cheesecake layers:
There are two cheesecake flavors in these parfait desserts.
Brown sugar vanilla
Pumpkin spice
It all starts with the brown sugar vanilla layer. You will make one larger batch of brown sugar vanilla cheesecake. Once that first flavor is mixed up you will divide it into two bowls and add some pumpkin and spices to one of the bowls. That will give you 2 flavors in one easy step.
Since you are adding a cup of pumpkin puree to half of the cheesecake mixture, you will end up with twice as much pumpkin cheesecake than vanilla cheesecake. It helps to keep that in mind when you layer the no-bake cheesecake into the parfait glasses.
I placed the parfait ingredients in this order:
2 tablespoons of gingersnap crumbs on the bottom
4 tablespoons pumpkin cheesecake fluff
2 tablespoons gingersnap crumbs
4 tablespoons pumpkin cheesecake fluff
4 tablespoons vanilla cheesecake fluff
2 tablespoons gingersnap crumbs on the top
About the whipping cream.
Make sure you use heavy whipping cream with at least 30% fat content. The whipping cream is what gives the no-bake pumpkin cheesecake it's structure. When you whip it into the cream cheese it will get thicken up with soft billowy peaks. It won't be as firm as a no-bake pumpkin cheesecake that has gelatin in it but it is firm enough for a parfait dessert.
Another tip is to keep the cream cold until it is time to whip it into the cheesecake mixture. Cold aerates better when it is really cold. If you let it sit out and come to room temperature then it will not get as light and fluffy.
About the cream cheese.
Use block cream cheese. Not the spreadable stuff that comes in a tub. Unlike the heavy cream, the cream cheese should come to room temperature so it gets soft. Soft cream cheese will get creamy and smooth when you whip it. If you use cold, hard cream cheese it will have lumps in it when it gets blended.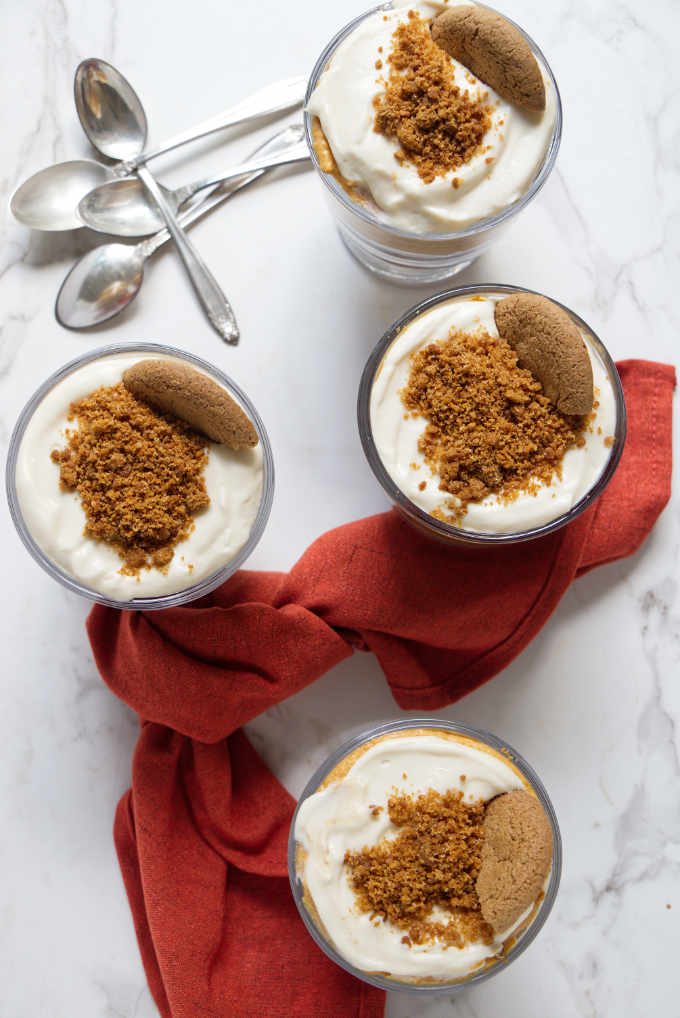 What do you put the cheesecake parfaits in?
We used four 12-ounce dessert glasses but you could use small mason jars or even wine glasses. Keep the size of the containers in mind. If you use glasses that hold more than 12 ounces then don't fill them all the way to the top.
You can freeze these no-bake cheesecake parfaits.
You can make these parfait desserts in advance and freeze them. They will store in the freezer for up to 3 months if they are in an airtight container. When you are ready to eat them let them thaw in the fridge overnight.
CONNECT WITH A LICENSE TO GRILL!
Be sure to follow us on our social media accounts
Facebook * Instagram * Pinterest * YouTube * Twitter
Did you try these no-bake pumpkin cheesecake parfaits? Let us know what you thought in the comments below!
Yield: 4 servings
No-Bake Pumpkin Cheesecake Parfait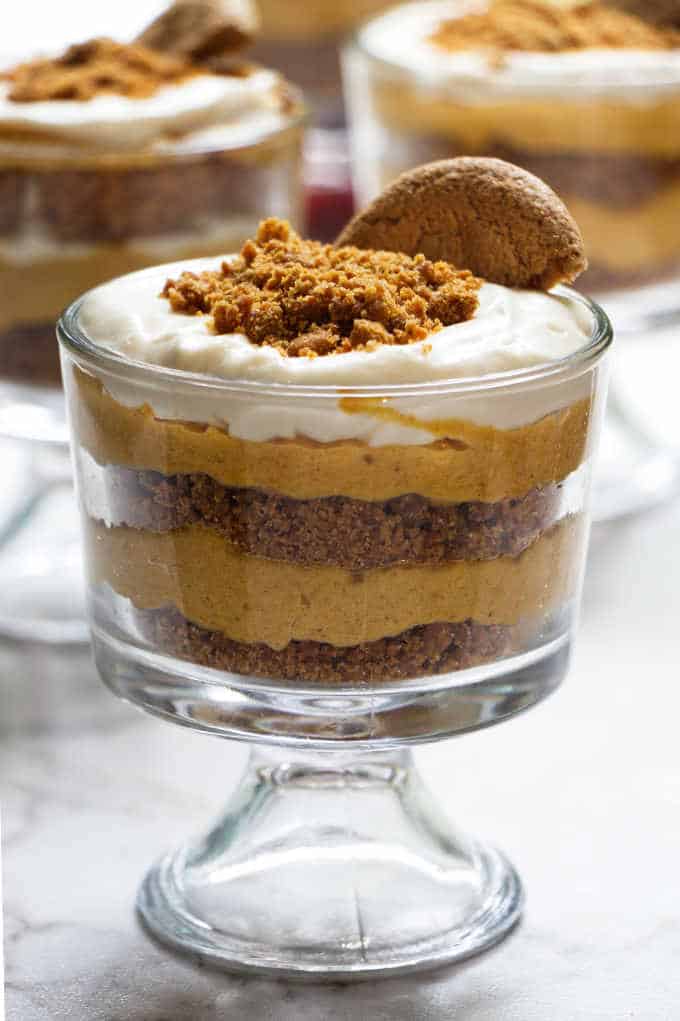 These easy no-bake pumpkin cheesecake parfaits have layers of crunchy gingersnap crumbles, fluffy pumpkin cheesecake fluff, and creamy vanilla cheesecake. It's an impressive dessert that will be perfect for holiday parties.
Ingredients
Gingersnap crumble
32 gingersnaps cookies (1/2 of a 1 pound box)
4 tablespoons butter, melted
2 tablespoons sugar
pinch of salt
Cheesecake layers
8 ounces cream cheese, softened
1/3 cup brown sugar
1/3 cup granulated sugar
1 cup heavy whipping cream
1 teaspoon vanilla extract
1 cup pumpkin puree (NOT pumpkin pie filling)
2 teaspoons pumpkin pie spice
1/2 teaspoon cinnamon
Equipment
You will need 4 (12-ounce) parfait glasses or wine glasses to assemble the parfaits.
Instructions
Gingersnap crumble:
Place the gingersnaps in a sealable bag and pound them with a rolling pin until you have fine, even crumbs. Dump the crumbs into a mixing bowl and add the butter, sugar, and salt then stir until well combined. Set aside while you make the two cheesecake layers. 
Vanilla and Pumpkin Cheesecake Fluff:
Place the cream cheese, brown sugar, and granulated sugar in a mixing bowl and mix on medium speed until there are no lumps and the sugar dissolves. 
Add the heavy whipping cream and vanilla and blend on low speed until well blended. Increase the speed to high and beat for 2 to 3 minutes until the mixture is thick and has stiff peaks. 
Place half of the cheesecake mixture into a separate bowl. Stir in the pumpkin puree and the spices. 
Assemble the parfaits:
To assemble the parfaits, spoon alternating layers of gingersnap crumbles and pumpkin cheesecake filling then top with vanilla cheesecake filling. Garnish with extra gingersnap cookies.
Refrigerate up to 2 days until ready to serve.
Notes
You will end up with approximately 1-1/2 cups of gingersnap crumbs, 2 cups of pumpkin cheesecake fluff and 1 cup of vanilla cheesecake fluff. 
I placed the parfait ingredients in this order:
2 tablespoons of gingersnap crumbs on the bottom
4 tablespoons pumpkin cheesecake fluff
2 tablespoons gingersnap crumbs
4 tablespoons pumpkin cheesecake fluff
4 tablespoons vanilla cheesecake fluff
2 tablespoons gingersnap crumbs
Nutrition Information
Yield
4
Serving Size
1
Amount Per Serving
Calories

1024
Total Fat

61g
Saturated Fat

35g
Trans Fat

1g
Unsaturated Fat

21g
Cholesterol

157mg
Sodium

658mg
Carbohydrates

106g
Fiber

4g
Sugar

64g
Protein

12g
Nutrition information is a guideline only, is calculated automatically by third party software, and absolute accuracy is not guaranteed.