With summer right around the corner, barbecue season is fast approaching, and this recipe for air fryer chicken legs screams summer! As much as I love to use the grill, the air fryer comes in handy when it is raining or simply not a good time to fire it up. This delicious air fryer BBQ chicken recipe is perfect for those quick dinners when you need a barbecue.
These easy-to-make air fryer chicken legs are ready to serve in under thirty minutes. Top them with this homemade Kansas City-style version or your favorite store-bought barbecue sauce. The homemade BBQ sauce is crazy good, packed with a beautiful balance of sweet and spicy flavors, and incredibly easy to make. Although if you are not a fan of BBQ sauce, feel free to substitute with your preferred chicken coating. Try this honey mustard sauce, it is one of my favorite sauces to put on my air fryer BBQ chicken.
These air fryer barbecue chicken drumsticks are sure to be a family favorite, especially if you are looking for a simple weeknight dinner. They also make for a fantastic lunch option since they taste just as delicious the next day. Regardless of when you choose to eat this excellent air fryer chicken, the meal will leave you feeling oh so satisfied.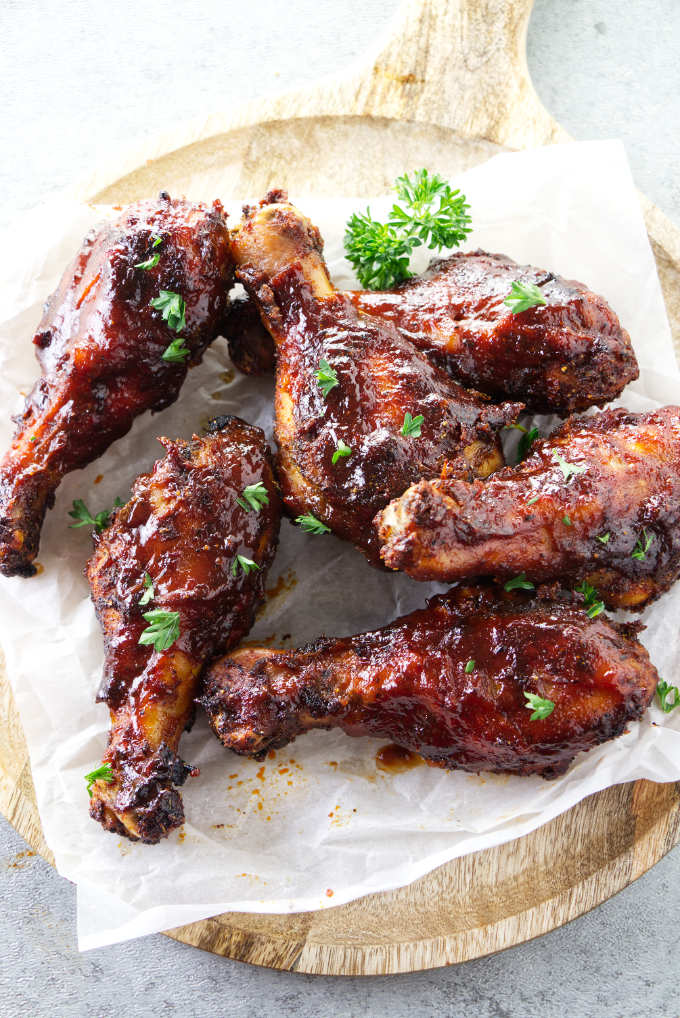 Why You Will Love This Recipe
I love these air fryer chicken legs so much, and I am sure you will too! Here are some reasons that you will enjoy this dish:
Super quick and easy to make in the air fryer.
Extraordinarily versatile and can be paired with a myriad of scrumptious side dishes.
A hearty, protein-packed dish that will keep you full.
This air fryer version is similar in taste and appearance to chicken drumsticks fresh off the grill!
This post may contain affiliate links. Please read our
disclosure policy
.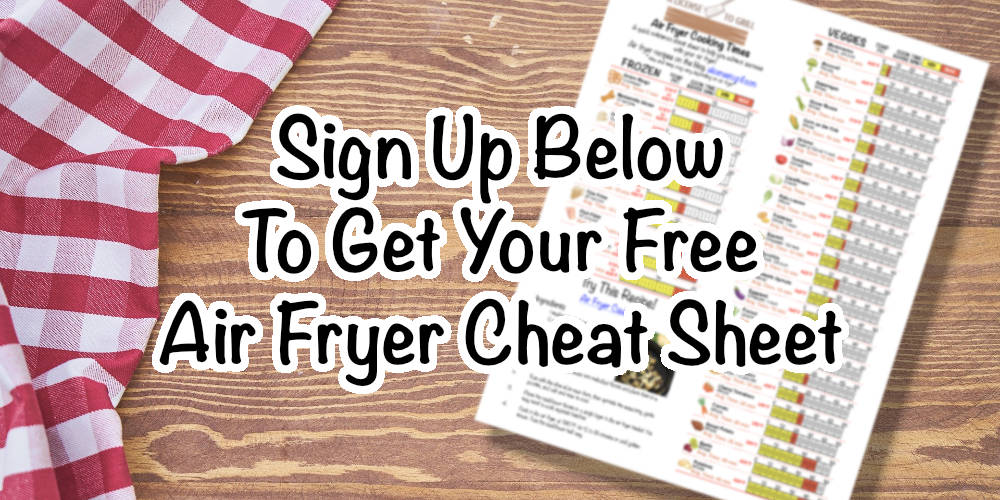 Ingredients
Chicken legs (drumsticks)
Olive oil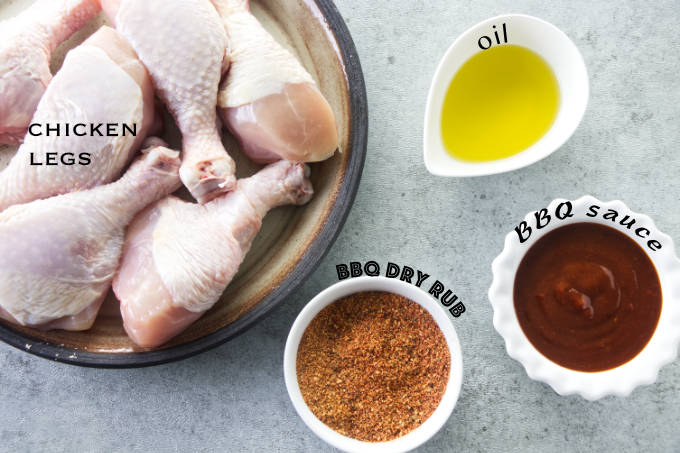 Instructions
Step 1: begin the marinade
In a large bowl or plastic bag, place your chicken drumsticks and coat them in olive oil. Shake or toss the chicken legs to completely coat them.
Step 2: add the seasoning
Once the chicken drumsticks are thoroughly coated in olive oil, toss in the barbecue seasoning dry rub and ensure they are entirely coated. If you have the time, let the chicken legs rest in the fridge for up to 8 hours. The dry rub will act as brine, bring more flavor to your chicken, and help it be more tender and juicy.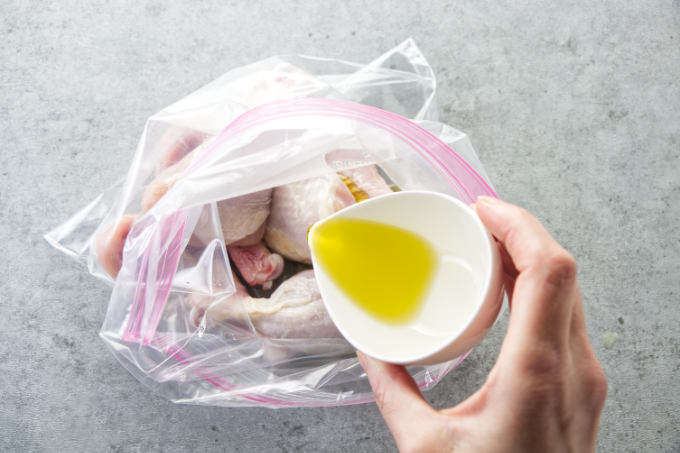 Step 3: cook the chicken legs in the air fryer
Place the chicken drumsticks in your air fryer basket. Be sure to space them out so that they do not steam; the skin can get crispier if there is plenty of space between them. Cook them at 370°F for 18 minutes, flipping them halfway through the cooking time.
Step 4: add the BBQ sauce
Brush the BBQ sauce over the tops of the drumsticks and cook in the air fryer at 390°F for 2 minutes. Flip them and coat the other side before cooking them for another 2 to 4 minutes.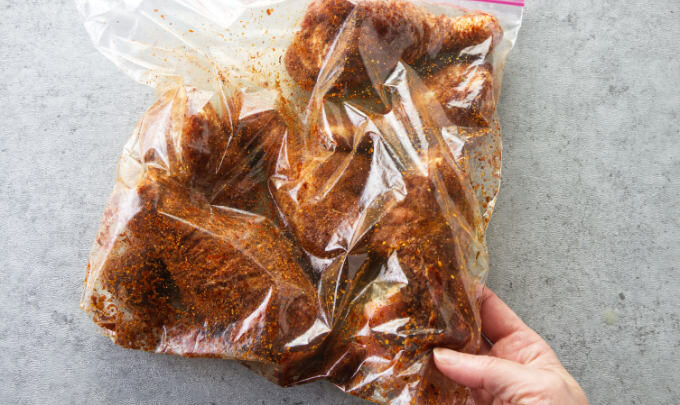 Tips For Success
Any brand of BBQ dry rub and BBQ sauce will work. One of my go-to store-bought BBQ sauces is from the brand Sweet Baby Ray's. My absolute favorite BBQ sauce is my Kansas City-Style BBQ Sauce. It is sweet and tangy! For a delicious homemade seasoning blend, try out this barbecue dry rub.
Ensure that the chicken legs are spaced out in the air fryer basket so that heat can circulate each piece evenly. If you own a small air fryer, you will need to cook the drumsticks in batches. Overcrowding the air fryer basket will cause the chicken legs not to cook evenly.
Spice things up! The BBQ dry rub already contains various spices, including cayenne, chili powder, and smoked paprika. Although, if you are looking for more heat, add some extra cayenne or swap out BBQ sauce for a hot buffalo sauce.
Avoid adding your BBQ sauce to the drumsticks until the end of the cooking time to ensure that it doesn't burn and leave a sticky topping on your air fryer chicken legs.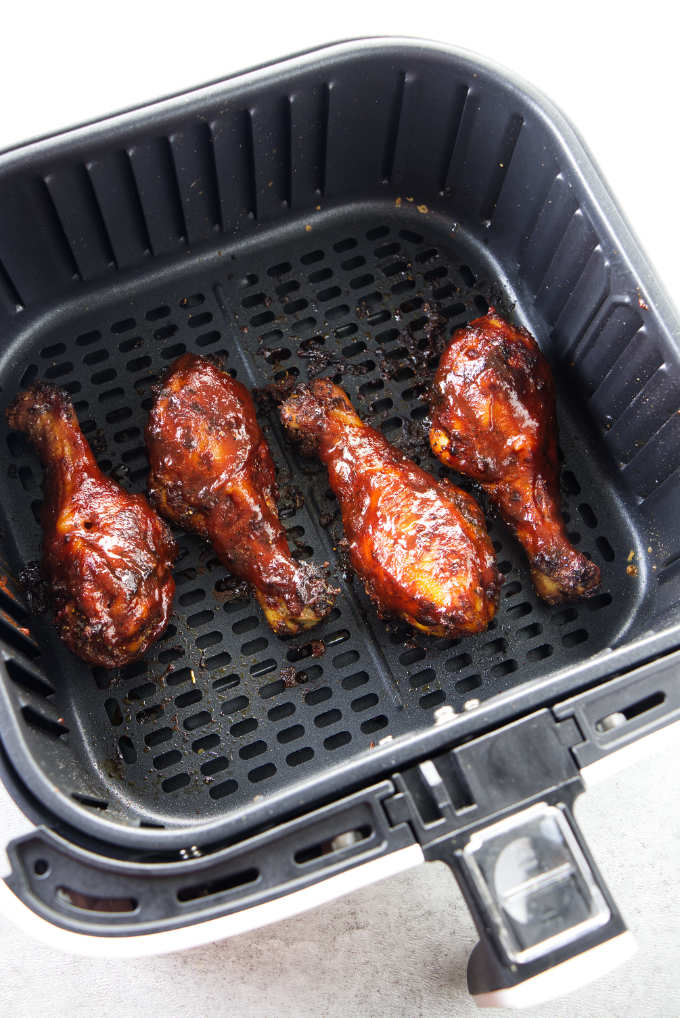 FAQ
How should I store this dish?
You can store the chicken drumsticks in the refrigerator for approximately three to four days. They may also last in the freezer for up to three months in a tightly sealed bag or container. To reheat your chicken once it is thawed, throw it back in the air fryer for three to five minutes to warm up. Be sure not to leave it in there for too long as the chicken will lose its moisture over time.
What should I serve with these air fryer barbecue chicken legs?
These tasty air fryer chicken legs can be paired with virtually any side dish. I love to serve them alongside this incredible smoked jalapeño popper mac and cheese. Although, some roasted, grilled, or air-fried vegetables are also great options. Some ideas for vegetables you can use are asparagus, cauliflower, broccoli, portobello mushrooms, corn on the cob, and zucchini.
How will I know if my chicken is finished cooking?
According to the FDA, it is recommended to cook your chicken to an internal temperature of 165°F. I usually take my chicken out of the air fryer when it reaches 155°F to 160°F. By the time the chicken finishes resting, it often reaches an internal temperature close to 165°F.
What else is cooking?
If we are talking barbecue, then we should definitely also include these cowboy baked beans in the conversation. There are 6 different types of beans in this recipe and they are baked in a delicious BBQ sauce and topped with bacon. This dish makes a perfect side on your big cookouts and I can guarantee that it will be a huge hit at your party!
At your next BBQ, you are going to need some dip. This guacamole has a special ingredient and gives it just a hint of spiciness and a wonderful tangy flavor. Make sure to whip up a big batch because it is going to disappear quickly!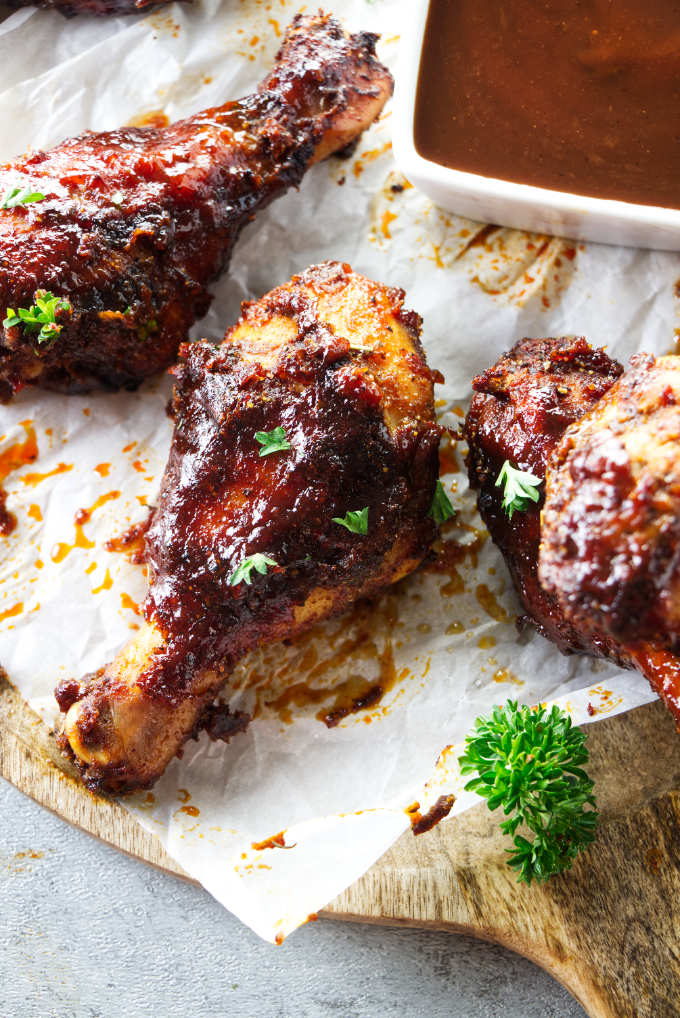 CONNECT WITH A LICENSE TO GRILL!
Be sure to follow us on our social media accounts.
Facebook * Instagram * Pinterest * YouTube * Twitter
Did you make this recipe? Tell us about it in the comments below!
💬Tell Me What You Think!
Did you try out this recipe? Please leave a comment below and let me know how you liked it. Also, snap a picture and post it to your favorite social platform. Be sure to tag me at @alicensetogrill and let me know how you liked it!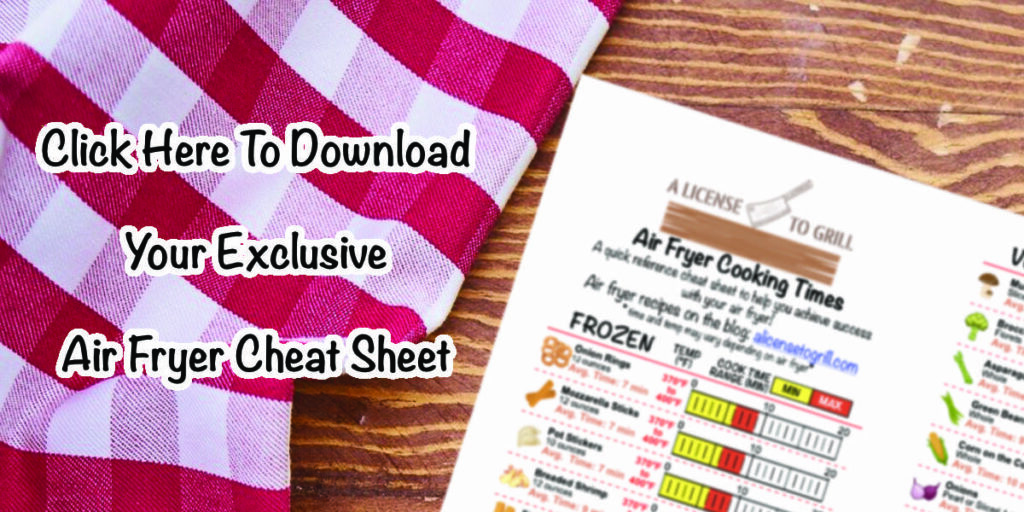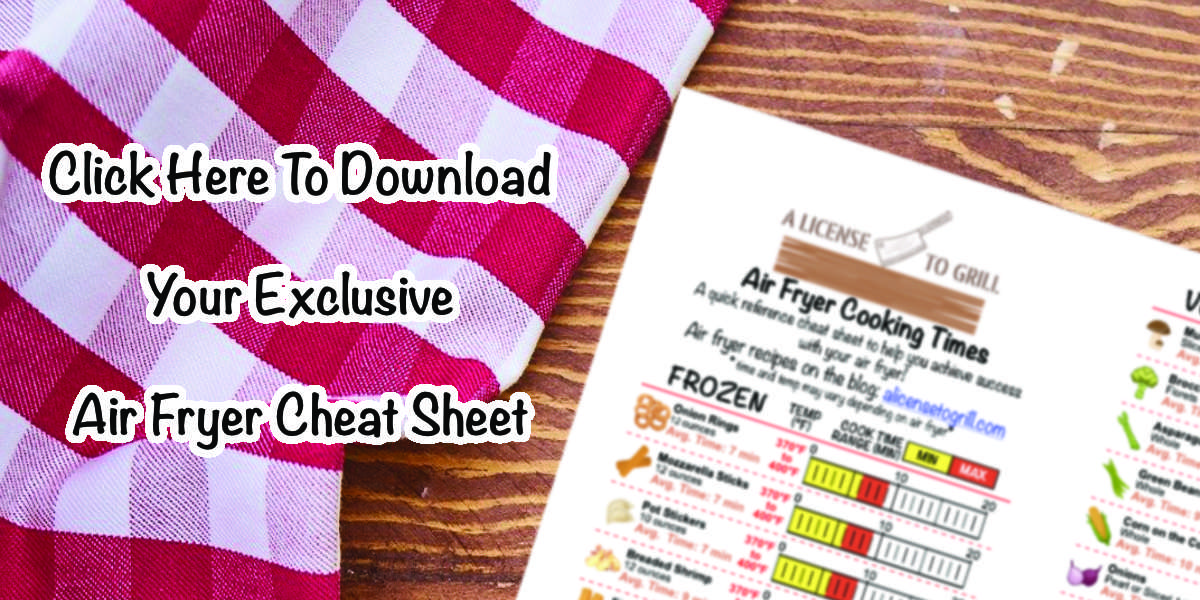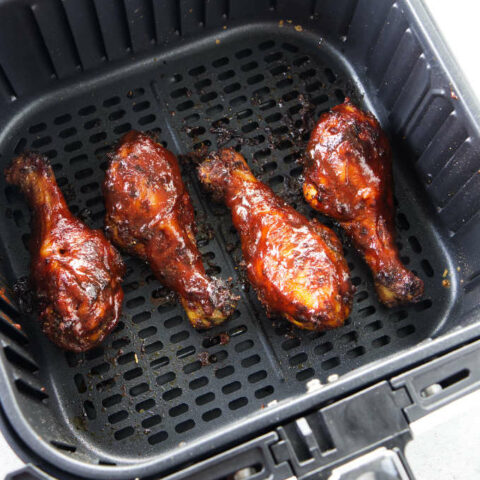 Barbecue Air Fryer Chicken Legs
These are seriously the best air fryer BBQ chicken legs ever. They get coated in a BBQ dry rub which acts as a brine to keep them moist and infuse flavor into every bite. At the end of the cooking time, coat them in BBQ sauce and cook them a little more to get the sauce thick and sticky. They are finger-licking good.
Instructions
Place the chicken legs in a sealable plastic bag or large bowl. Add the olive oil and coat the chicken thoroughly in the oil.
Add the dry barbecue seasoning rub and toss the legs around until they are completely coated in the dry rub. If you have the time, let the chicken sit in the fridge for 8 hours (it acts as a dry brine and makes the chicken juicy and fully seasoned).
Place the chicken legs in your air fryer and cook at 370°F for 18 minutes (turn them halfway through the cooking time).
Brush some BBQ sauce over the tops of the drumsticks and cook at 390°F for 2 minutes. Turn them, coat the other side and cook them for another 2 to 4 minutes.
Notes
Any brand of BBQ dry rub and BBQ sauce will work. If you want to make your own seasoning and sauce, check the post for recipes.
Don't overcrowd the air fryer. Make sure the chicken legs get spaced out so heat can circulate around them. If you have a small air fryer you will need to cook the drumsticks in batches.
Don't put the bbq sauce on the drumsticks until the end of the cooking time or it will burn on top of the chicken legs.
The FDA recommends that you cook chicken to an internal temperature of 165°F. You can get away with cooking chicken legs a bit higher since they are higher in fat. The BBQ dry rub also acts as a brine and helps keep the chicken moist.
Recommended Products
As an Amazon Associate and member of other affiliate programs, I earn from qualifying purchases.
Nutrition Information:
Yield:

6
Serving Size:

1
Amount Per Serving:
Calories:

553
Total Fat:

26g
Saturated Fat:

7g
Trans Fat:

0g
Unsaturated Fat:

16g
Cholesterol:

331mg
Sodium:

627mg
Carbohydrates:

12g
Fiber:

0g
Sugar:

9g
Protein:

64g
Nutrition information is a guideline only, is calculated automatically by third party software, and absolute accuracy is not guaranteed.