If you've been to a Disney park, you may have tried their famous smoked turkey legs! This recipe allows you to recreate that experience from the comfort of your own home. The skin of the turkey legs gets nice and crispy, while the meat is juicy and tender. The smoked turkey legs are packed with flavor. This recipe calls for brining the turkey legs and coating them in a dry rub before cooking in a smoker. All these steps contribute to flavorful, perfectly cooked turkey legs that are incredibly easy to make.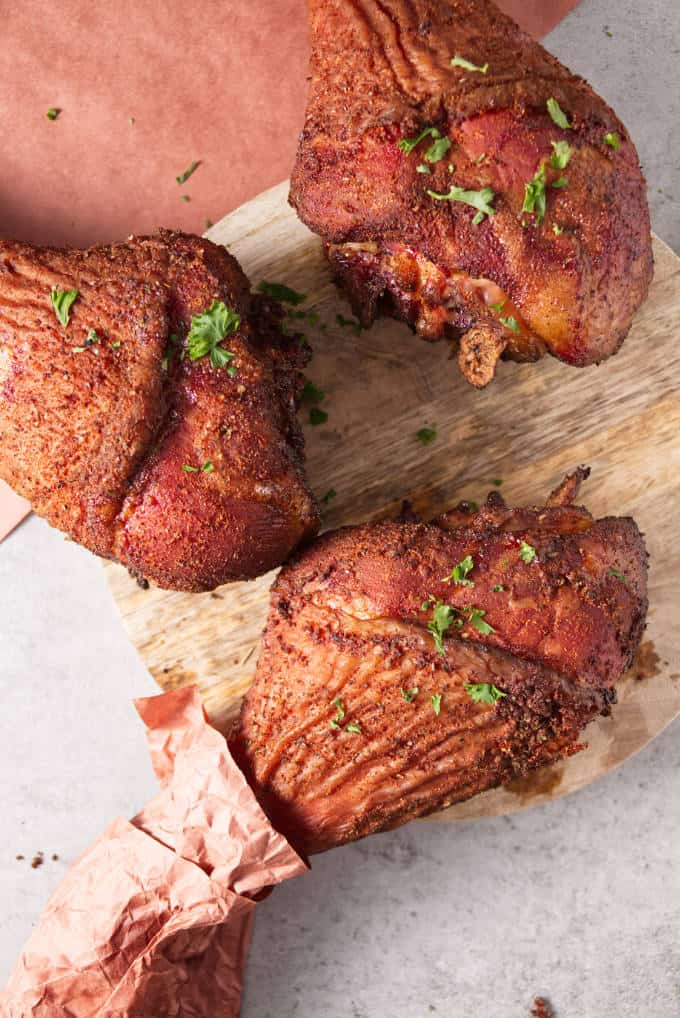 Why you will like smoked turkey legs
Smoked turkey legs are delicious and a little nostalgic for anyone who has eaten one at a Disney park. They sell incredible smoked turkey legs at their turkey leg carts! It may not always be possible for you to get your hands on a turkey leg from Disney park, but the great news is, now they are effortless to make at home.
Other than for nostalgia, here are all the reasons why you'll love these Disney inspired smoked turkey legs:
The turkey leg meat is tender and flavorful, while the skin is wonderfully crispy
You only need 10 minutes of prep time!
You need less than 10 ingredients to make this recipe
It's an excuse to use your smoker
This post may contain affiliate links. Please read our
disclosure policy
.
Ingredients needed for smoked turkey legs
Here are all the ingredients you need to make smoked turkey legs:
Turkey legs, skin on
Ice cubes
Kosher salt
Brown sugar
Smoked paprika
Onion powder
Garlic powder
Crushed black pepper
Cayenne pepper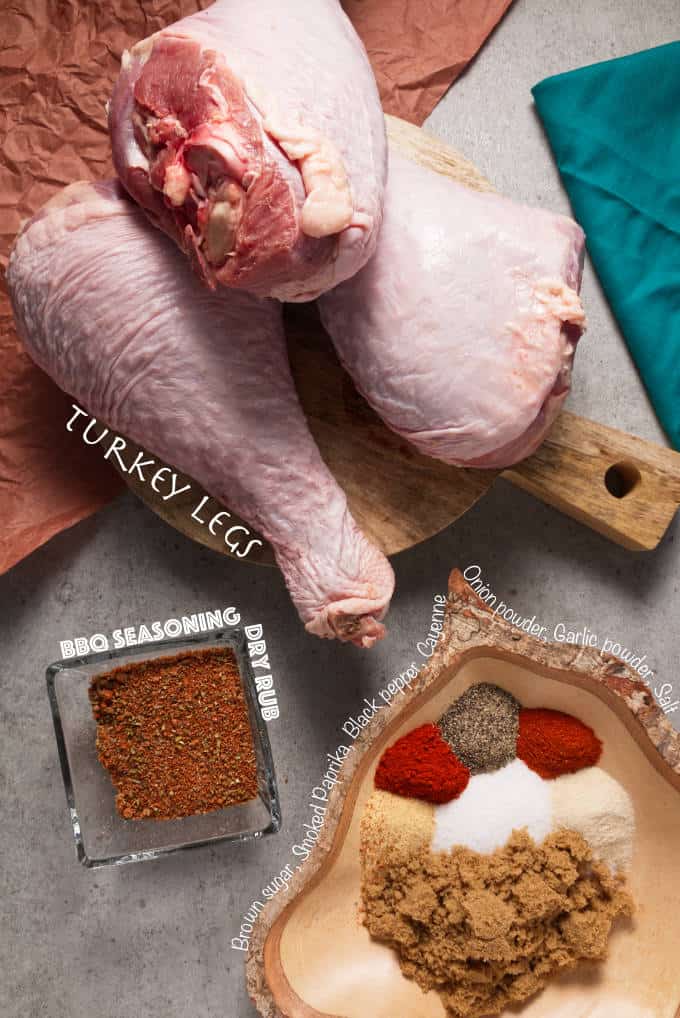 How to make smoked turkey legs
Step 1: Prepare the brine
Combine the sugar, spices, and salt in a large bowl. Then, add the boiling water to dissolve the ingredients. Add ice cubes to fully cool the wet brine.
Step 2: Brine the turkey legs
Submerge the turkey legs fully in the bowl with the brine. Cover tightly with plastic wrap. You can also use a resealable plastic storage bag or an airtight container. Brine the turkey legs for up to 24 hours.
Step 3: Prepare turkey legs
Remove the turkey legs from the brine and pat them dry. Coat each turkey leg with the barbecue seasoning rub.
Step 4: Smoke the turkey legs
Place your turkey legs in a pre-heated smoker set to 225°F with your favorite wood or pellets. I like to use the Pit Boss Competition Blend. Cook until the thickest part of the turkey legs reaches 155°F. The USDA recommends cooking the turkey until it is 165°F, but after the turkey rests, it should reach that temperature. It will take about 4 to 5 hours.
Step 5: Mist the turkey legs
Now, this step is totally optional, but I always like to give my meat a mist with some kind of liquid while it is smoking. This can help to keep the skin and outer layer of meat from drying out too early. This is more critical for the low and slow cooks that you do. I like to mist with apple cider vinegar or just plain apple cider.
Step 6: Eat up!
Allow your turkey legs to rest for about 10 minutes. This will allow the juices to reabsorb into the meat and, during this time, they should hit the recommended 165°F. Eat it just like you would at Disney, holding the entire leg in your hand and digging in!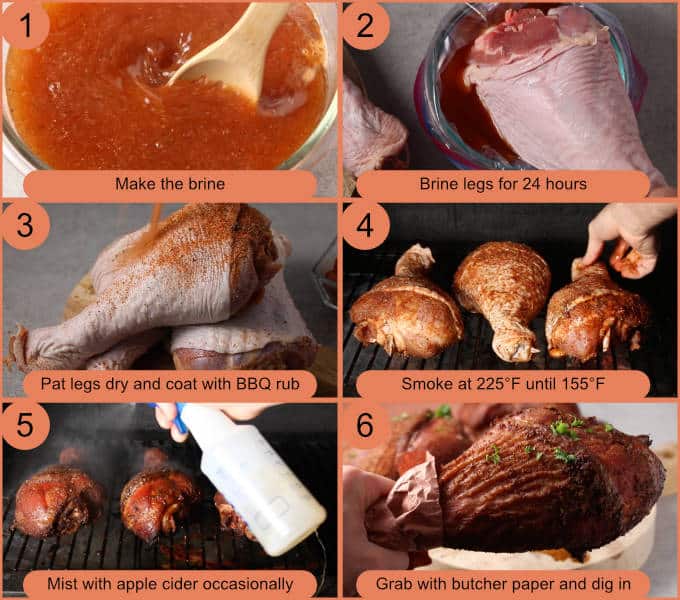 Tips for recipe success
To nail this recipe, keep in mind the following tips:
Ensure your sugar and spices dissolve well when combined with your boiling water. If there is separation, your turkey legs won't absorb all that great flavor so well.
Cool your brine before adding your turkey. You do not want the turkey legs to partially cook, nor do you want bacteria to develop. This is an important tip to prevent any foodborne illnesses.
Brine the turkey legs for at least 1 hour. For the best results, brine for up to 24 hours. However, you do not want to exceed 24 hours of brining as the meat will start to break down and get mushy.
Patting the turkey legs dry after brining is an important step to ensure a crispy skin. You want to pat them dry and then add your spice rub.
If you are using extra-large turkey legs, budget for additional cooking time, and be patient!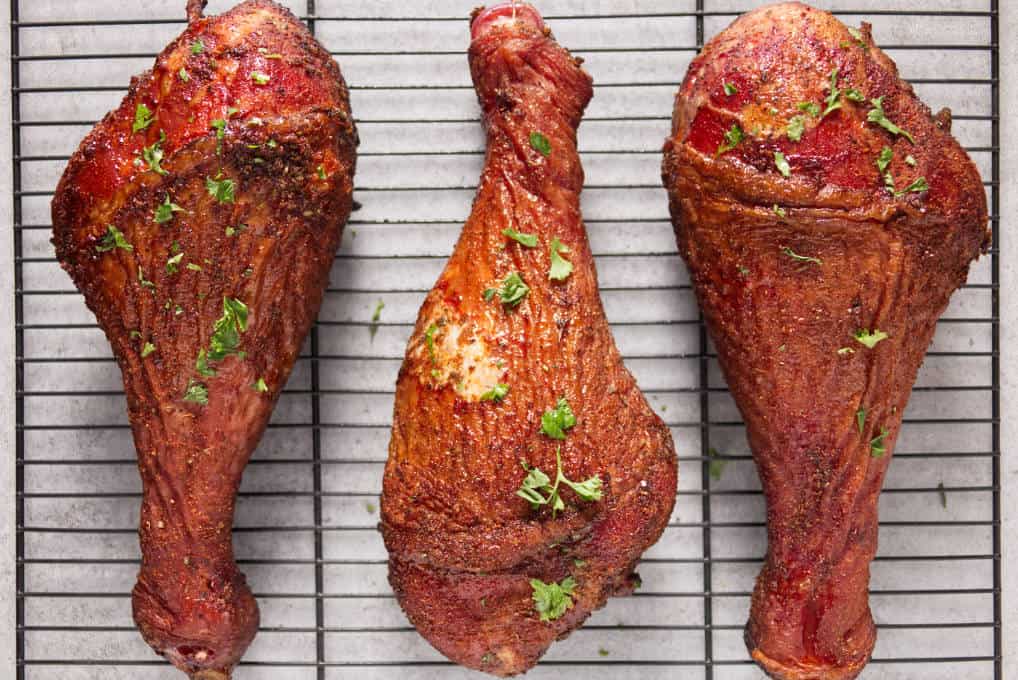 Frequently asked questions
Can you smoke turkey legs without a smoker?
Yes! If you do not have a smoker, you have a couple of options.
You can smoke your turkey legs in the oven. Place some soaked and drained wood chips on the bottom of a roasting pan. Place your roasting rack on top. Then, place your turkey legs on top of the rack. Smoke your turkey legs in the oven at 250°F until they reach an internal temperature of 155°F.
You could also achieve a smoky flavor by adding 1/2 teaspoon of liquid smoke to the brine. Then you can cook them on the charcoal grill or in your oven and still get that awesome smoke flavor.
How do you know when your turkey legs are done?
If you have a meat thermometer, this is the most effective way to check if your turkey legs are cooked. Ensure that the internal temperature of the thickest part of the turkey leg reaches 165°F after smoking and resting, as per FDA guidelines.
If you do not have a meat thermometer, you'll notice that the turkey feels firmer when cooked. The juices will run clear when sliced into. When you cut into one of the legs, the meat will be a paler, opaquer pink color.
When you bite into the turkey legs, you should see a red smoke ring, which signifies that the turkey was smoked perfectly.
How do you make sure your turkey legs are juicy and tender?
The good news is that turkey legs are incredibly forgiving! The juices of bone marrow permeate into the meat, which adds flavor and helps ensure tenderness. The fat from the skin cooks off and infuses into the meat as well. Both of these factors make cooking turkey legs reasonably foolproof.
That said, there are a couple of additional tricks in your control that will help you achieve juicy and tender turkey legs. The first trick is to brine the turkey legs. The longer you brine your turkey legs, the better. The salt solution infuses into the meat and helps break it down a little, which prevents it from being overly tough. The brine also adds flavor. The second trick is cooking your turkey legs low and slow. The muscles are less likely to overcook, which keeps the meat moist, so you get that perfect fall-off-the-bone juiciness.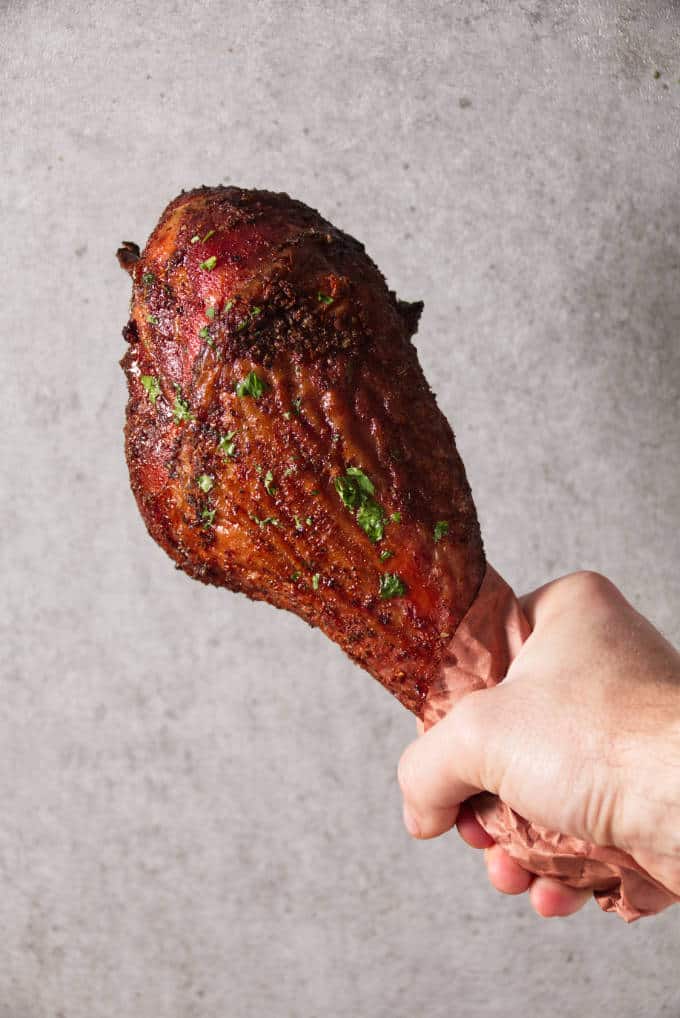 What else is cooking?
Do you have a whole turkey to cook as well? Check out this wet brined Traeger smoked turkey. This is my go-to recipe when the holiday season comes up. Every time I smoke my turkey, it turns out perfectly moist and full of flavor. Gone are the days of dried out, bland turkey. You will be the hero at the next family gathering!
These air fryer jojo potato wedges make the perfect side for your smoked turkey legs. These things are just like the wedges you used to get at KFC, a bit spicy and extremely crispy.
Tell me what you think!
Did you try out this recipe? If so, snap a picture and post it to your favorite social platform. Be sure to tag me at @alicensetogrill and let me know how you liked it!
CONNECT WITH A LICENSE TO GRILL!
Be sure to follow us on our social media accounts
Facebook * Instagram * Pinterest * YouTube * Twitter
Did you make this recipe? Tell us about it in the comments below!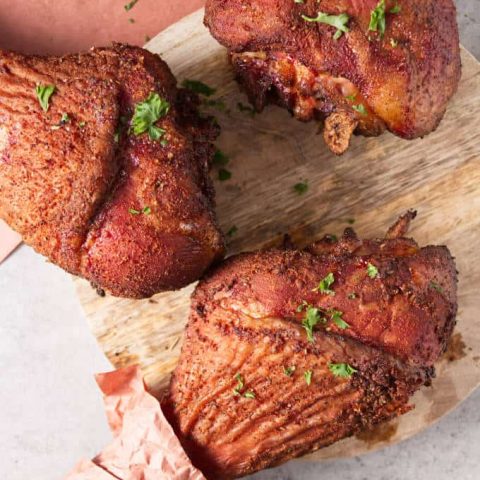 Disney Smoked Turkey Legs
Total Time:
1 day
5 hours
10 minutes
Turkey legs are my favorite type of turkey to smoke. These turned out incredible after spending a full day in the spicy brine and over 5 hours on the smoker. The turkey legs were covered in a sweet and spicy bbq seasoning dry rub that made every bite just as good as the last. The best part is, once you finish smoking these bad boys, you can simply pick them up by the bone using some butcher paper and chow down, just like the turkey legs served at the Disney parks!
Ingredients
3 large turkey legs, skin on
1 cup BBQ seasoning dry rub
For the brine
4 cups boiling water
2 cups ice cubes
3/4 cup kosher salt (or 9 tablespoons table salt)
1/3 cup brown sugar
1 tablespoon smoked paprika
1/2 tablespoon onion powder
1/2 tablespoon garlic powder
1/2 tablespoon crushed black pepper
1 teaspoon cayenne pepper
Instructions
brine the turkey
Prepare the brine. In a large bowl, combine the salt, brown sugar, smoked paprika, onion powder, garlic powder, black pepper, and cayenne pepper. Then add the boiling water and carefully stir until all of the spices are dissolved. Add the ice cubes and allow the brine to cool down. It should be cool to the touch. If it is still hot, add another cup of ice.
Soak the turkey legs. Use a large bowl or container that can hold all of your turkey legs and pour the brine in with the turkey. If you do not have a large enough container, you can use gallon size Ziploc bags. Be sure the brine covers the turkey legs entirely. If it doesn't, add cool water until the brine covers the legs. Leave the turkey legs in the brine, covered, for up to 24 hours.
prepare the turkey legs
Preheat your smoker to 225°F. After your turkey legs are done brining, preheat your smoker. Use your favorite wood or pellets. I use a blend of maple, hickory, and cherry woods.
Season the turkey legs. Remove the turkey legs from the brine and pat them dry. Thoroughly coat each turkey leg with the barbecue seasoning dry rub.
smoke the turkey legs
Smoke the turkey legs. Place the turkey legs on the smoker at 225°F and cook for 4-5 hours, or until the internal temperature of the turkey at the thickest point reaches 155°F (see notes).
Mist the turkey legs. This will keep the turkey legs from drying out too quickly while smoking. Give them a mist every 30-60 minutes with your favorite liquid. I like to use apple cider.
Eat up! Remove the turkey legs from the smoker and allow them to rest before serving. I like to use a square of butcher paper to grab the turkey leg by the bone while eating. These really are best to eat just like you would at Disney Land, holding the entire leg in your hand and digging in!


Notes
FDA guidelines state that turkey should reach an internal temperature of 165°F. I always take my turkey off early, around 155°F. By the time the turkey finishes resting, the internal temperature should reach 165°F. I recommend you follow FDA guidelines.
If you have extra-large turkey legs, you may find it takes considerably longer to cook. Be patient, it will be worth the wait!
Recommended Products
As an Amazon Associate and member of other affiliate programs, I earn from qualifying purchases.