Traeger Smoked Cornbread Stuffing
on Sep 23, 2022, Updated Sep 21, 2023
Nothing livens up your Turkey Day or a festive holiday feast like this Traeger smoked cornbread stuffing. Perfectly blending hearty sausage with rich spices and comforting cornbread, this delicious dish is a complete delight. It's particularly popular during Thanksgiving, but no matter the occasion or holiday, your guests are bound to appreciate every crunchy yet tender bite. Yup – this recipe does both.
Since cornbread can be on the sweet side, this Traeger smoked sausage stuffing recipe mellows things out with onions, celery ribs, and a decent serving of broth for a savory crunch that's not too salty.
The fact that it's made in the Traeger also gives it a delicate smokiness that you simply won't get from a regular oven. Basically, it's a winner on all fronts!
With its moist filling and classic golden top, this is a smoked side dish that you'll be pulling out for years to come. Just make sure you bookmark this page or pin or for later, as this recipe promises to transform any festive spread. Trust me, it's a game-changer!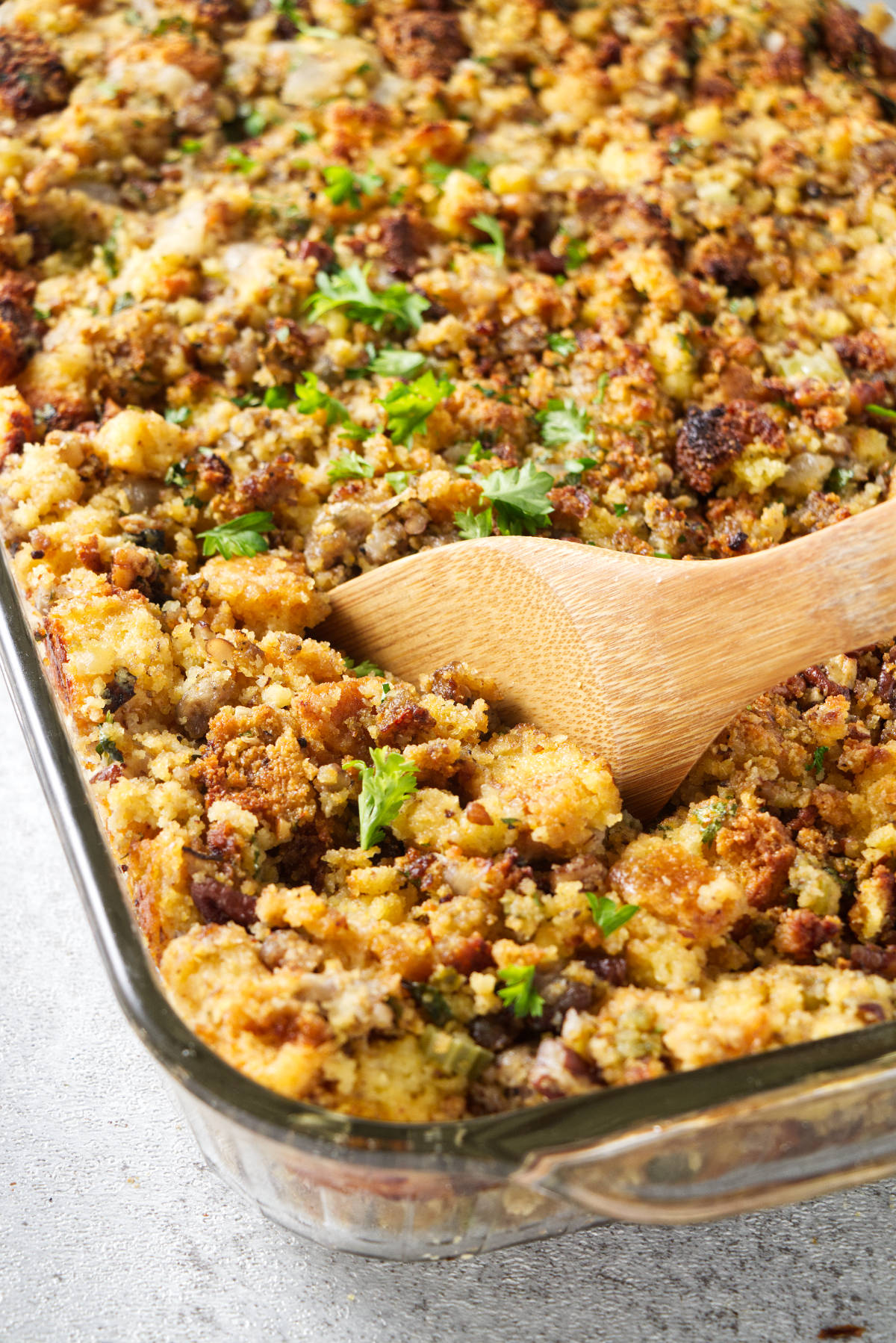 💪Why This Recipe Works
The sausage gives this stuffing a rich and savory flavor that you can't beat.

You can easily save time by purchasing cornbread croutons.

You can prepare this smoked side dish in advance and cook it just before guests arrive.

It's super simple to make and is suitable for beginners.
🍽Ingredients
You just need a few ingredients to make this Traeger smoked cornbread stuffing come to life. Scroll down to the printable recipe card for all the details
Cubed cornbread. Either cornbread croutons or regular cornbread cubes work well.

Ground sausage. Gives the stuffing a hearty and meaty bite. Grab these tasty sausage links from Snake River Farms to step your stuffing game up!

Onions. Bulks up the smoked stuffing while adding intense flavor.

Celery ribs. Adds brightness and crunch to the recipe.

Garlic cloves. Crucial for an aromatic dish.

Dried thyme. Gives the stuffing an earthy and citrusy tang.

Dried sage. Works alongside the other herbs for added pepperiness.

Fresh rosemary. Grounds the other ingredients with a woodsy base.

Black pepper. For a hint of spice.

Salt. Balances the flavor in your stuffing. Just don't overdo it! This Himalayan Pink Salt from Spiceology is my go-to!

Chicken broth. Keeps the moisture in your stuffing while giving it an intense, savory flavor.

Half and half. Works beautifully with the stock for a rich and slightly creamy texture.

Butter. Keeps the edges crispy while giving your stuffing moisture and richness.

Eggs. Binds your stuffing and gives it a fluffy texture.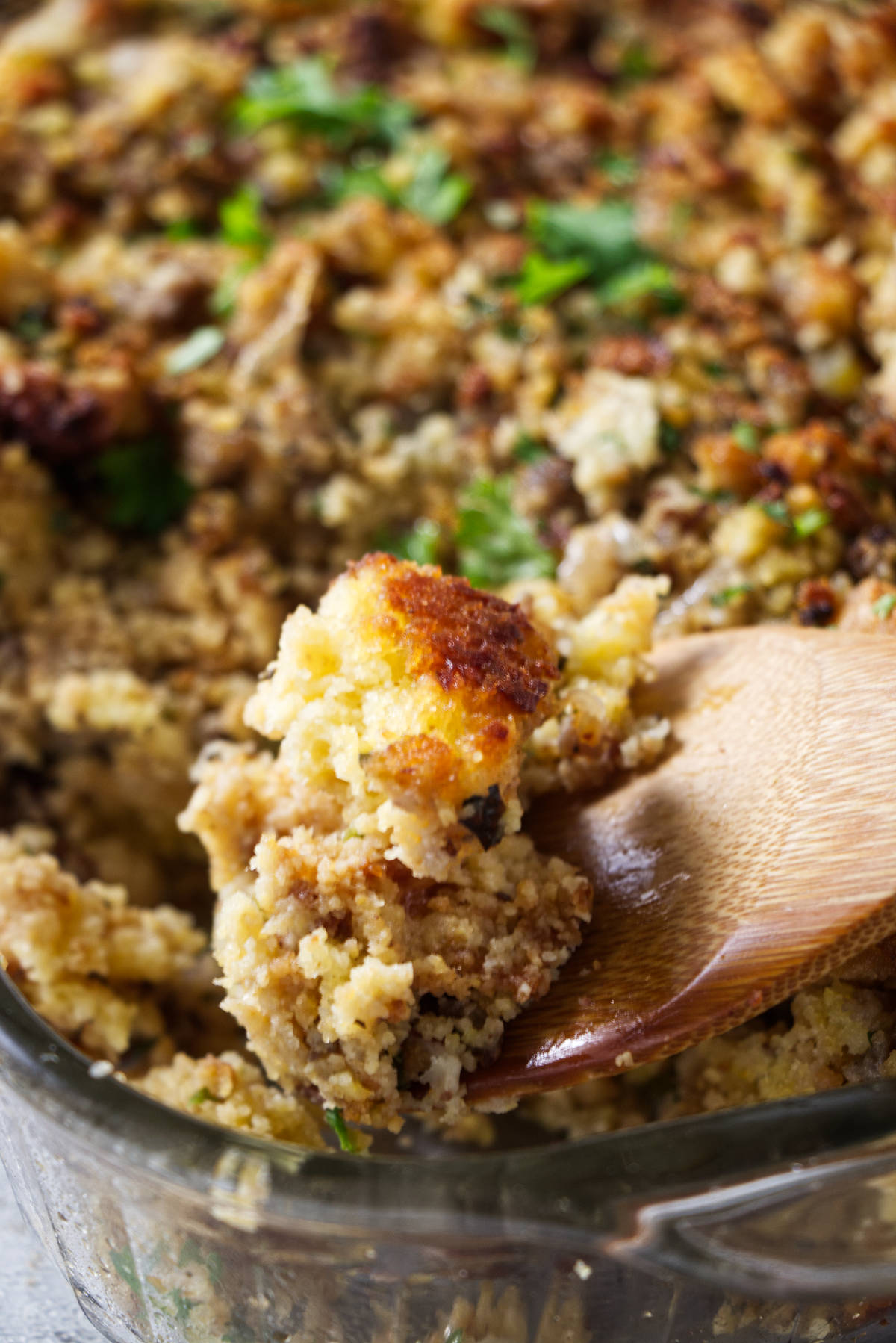 👨‍🍳How To Make It
Putting this delicious stuffing together couldn't be simpler! For detailed step-by-step instructions for this recipe, scroll down to the printable recipe card.
Heat up the Traeger.

Bake the cornbread cubes until slightly toasted.

Transfer the cubes to a mixing bowl.

Cook the sausage in a skillet on medium heat, either on the Traeger or on your stove. Add the cooked sausage to the cornbread cubes.

Cook the onions, celery, and garlic.

Stir in the herbs and spices.

Whisk the chicken broth, half and half, melted butter, and eggs then add it slowly to the cornbread mixture.

Cover the cornbread stuffing mixture and refrigerate.

Cook on the Traeger until golden brown.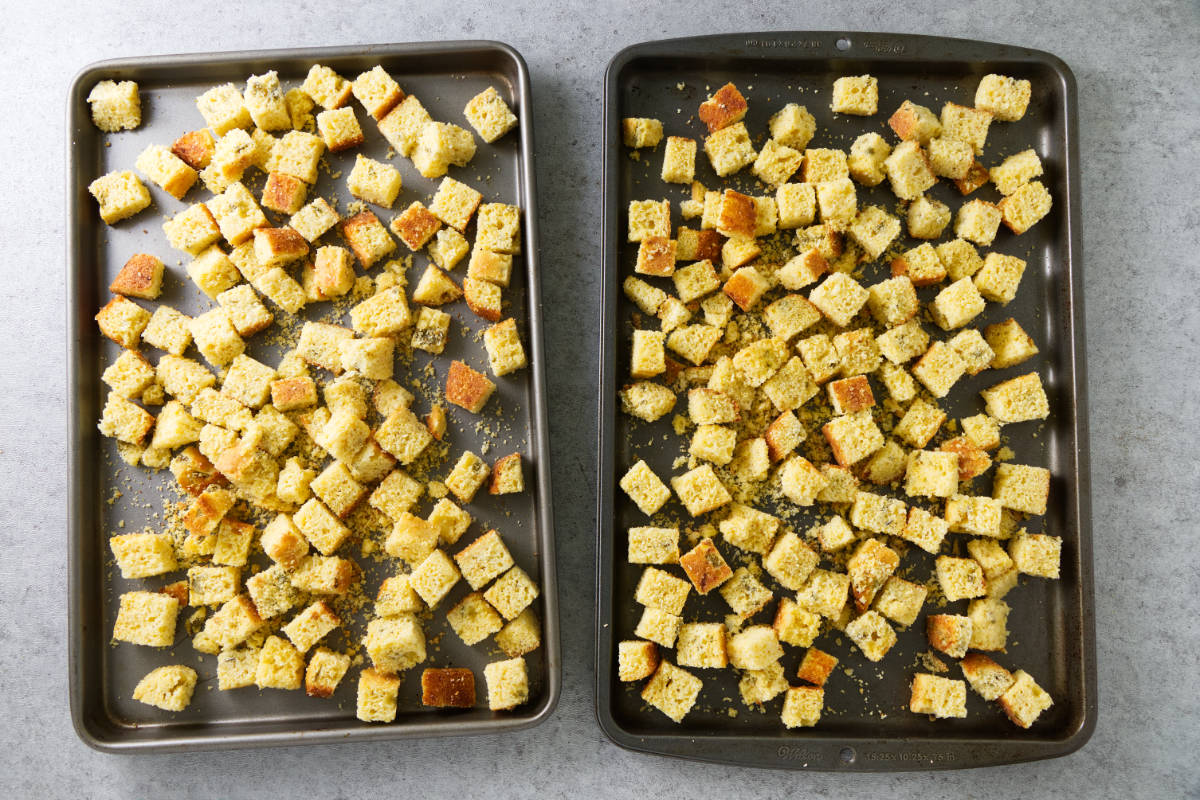 Spread the cornbread cubes on a large baking sheet or two smaller baking sheets. Dry and toast the cubes on the Traeger grill.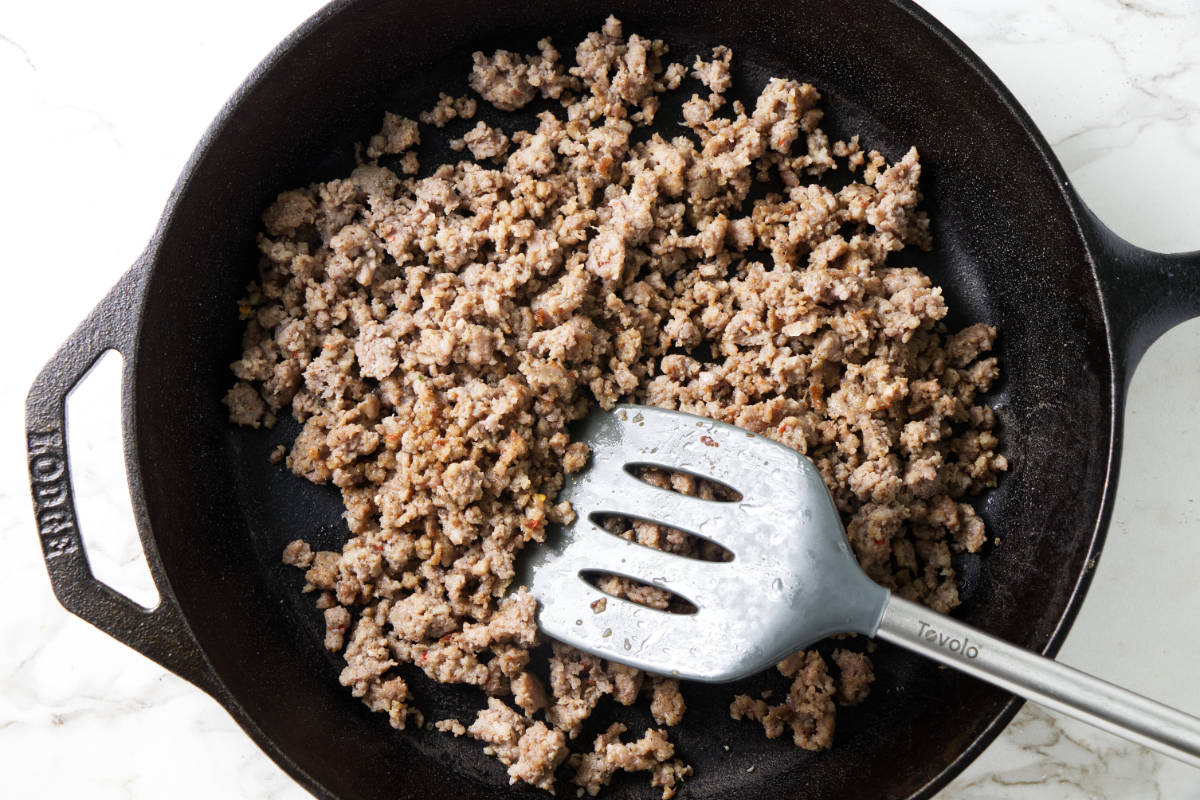 Cook the ground sausage until well browned.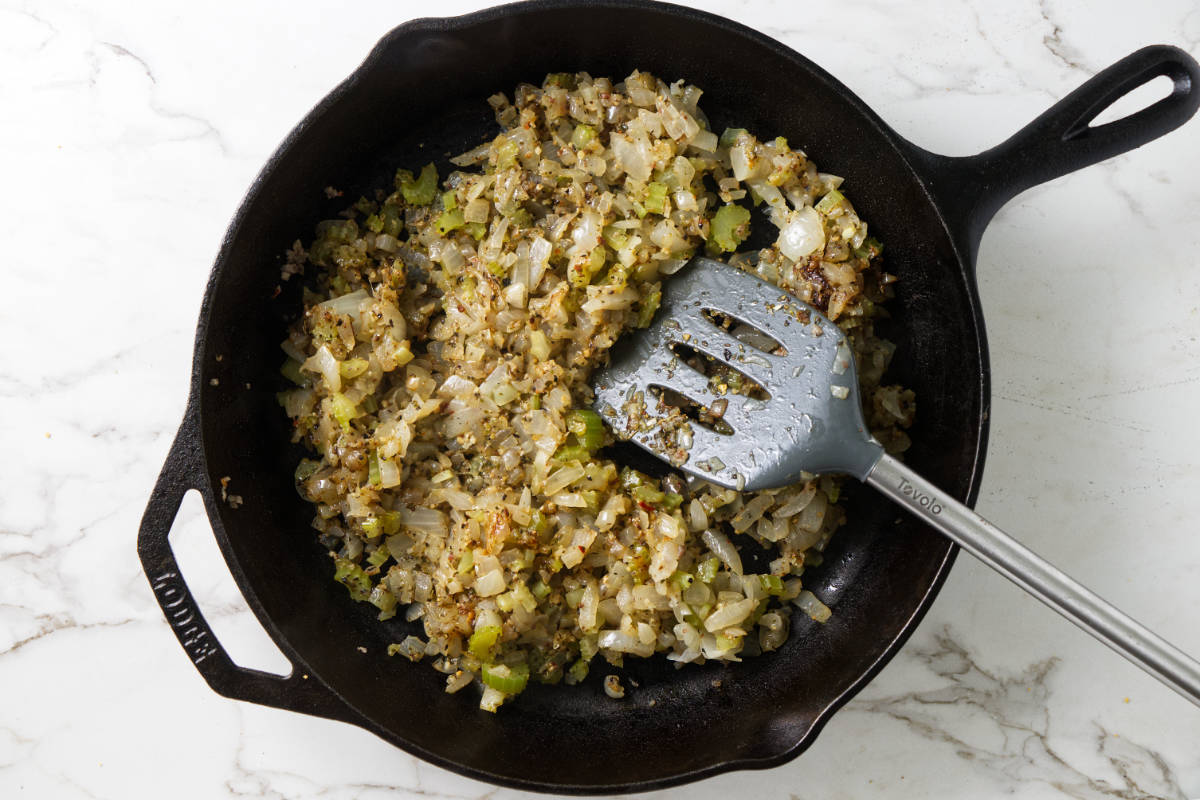 Cook the onion and celery until soft. Add the herbs and spices.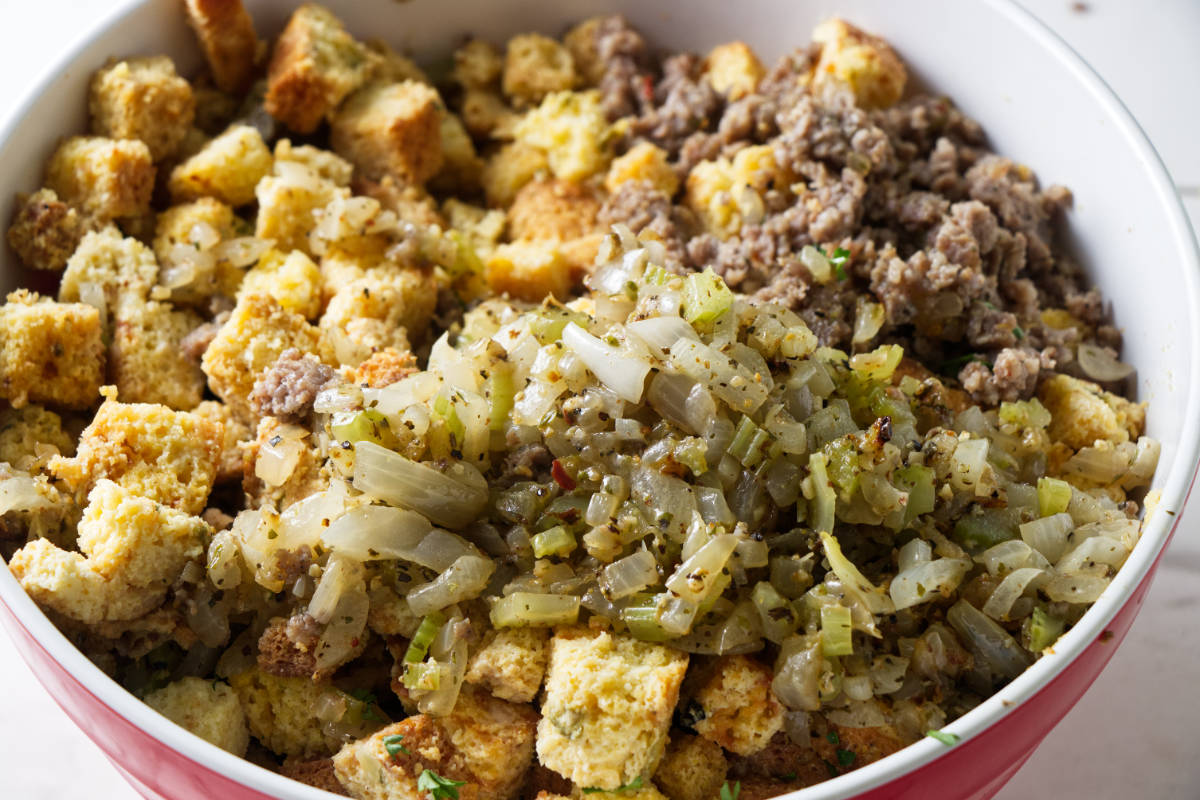 Combine the cornbread, sausage, and vegetable mixture in a bowl. Mix the broth, half and half, and eggs together, then pour into the bowl with the stuffing mixture.
😉Tips For Success
Toasting the cubes is crucial! Toasting your cornbread cubes before adding them to the recipe dries the outsides and gives you great control over how mushy your stuffing becomes. For even better results, use slightly stale cornbread.

If you don't have time to prep homemade cornbread, then a stuffing mix works well. I just have one piece of advice for this – double-check the sodium content before buying a boxed mix. Some store-bought brands can be seriously salty which can throw off the balance of your dish.

Don't skimp on the liquid. You need to have enough stock to bind your stuffing together and prevent it from falling apart after cooking.

Add your broth gradually. I suggest adding your broth half a cup at a time and making sure everything has settled before mixing in the rest. When it starts clumping together, you'll know you're good!

Don't go nuts on the salt. Salt makes everything better but adding too much salt can upset the balance of this recipe. Taste your sausages, broth, and bread before dumping them in. You might only need a pinch of salt to lift the stuffing.

Although this recipe makes 8 cups of cornbread cubes, you can easily double the ingredients for a larger gathering.

If you want to sweeten things up slightly, add a dash of honey to the recipe. Just keep things light and always do a taste test before adding more!
❓FAQ
Is cornbread stuffing the same as cornbread dressing?
The difference between cornbread stuffing and dressing is technically how it's cooked. To clear things up, stuffing is cooked inside poultry while dressing is cooked in a pan. A dressing is also served separately and is typically used to "decorate" the turkey. These days, this idea isn't usually observed – it's a free for all!
Should you dry out cornbread stuffing?
Dried-out bread or croutons usually works best when making stuffing. This stops your stuffing from getting mushy and allows it to absorb liquid easily.
Should I cover stuffing when making it?
For this recipe, you don't need to cover your stuffing. Just place it on the Traeger and get cooking!
How do you stop stuffing from getting mushy?
Don't overmix! The secret to a gorgeous texture that doesn't turn to mush is gradually adding your stock, using crisp cornbread squares, and allowing the stuffing to sit in the fridge before baking. The stuffing trifecta if you will!
Can you reheat this Traeger smoked cornbread stuffing?
You can. Simply bring it to room temperature and bake it in the oven or Traeger at 350°F for 30 minutes, or until the internal temperature is about 165°F.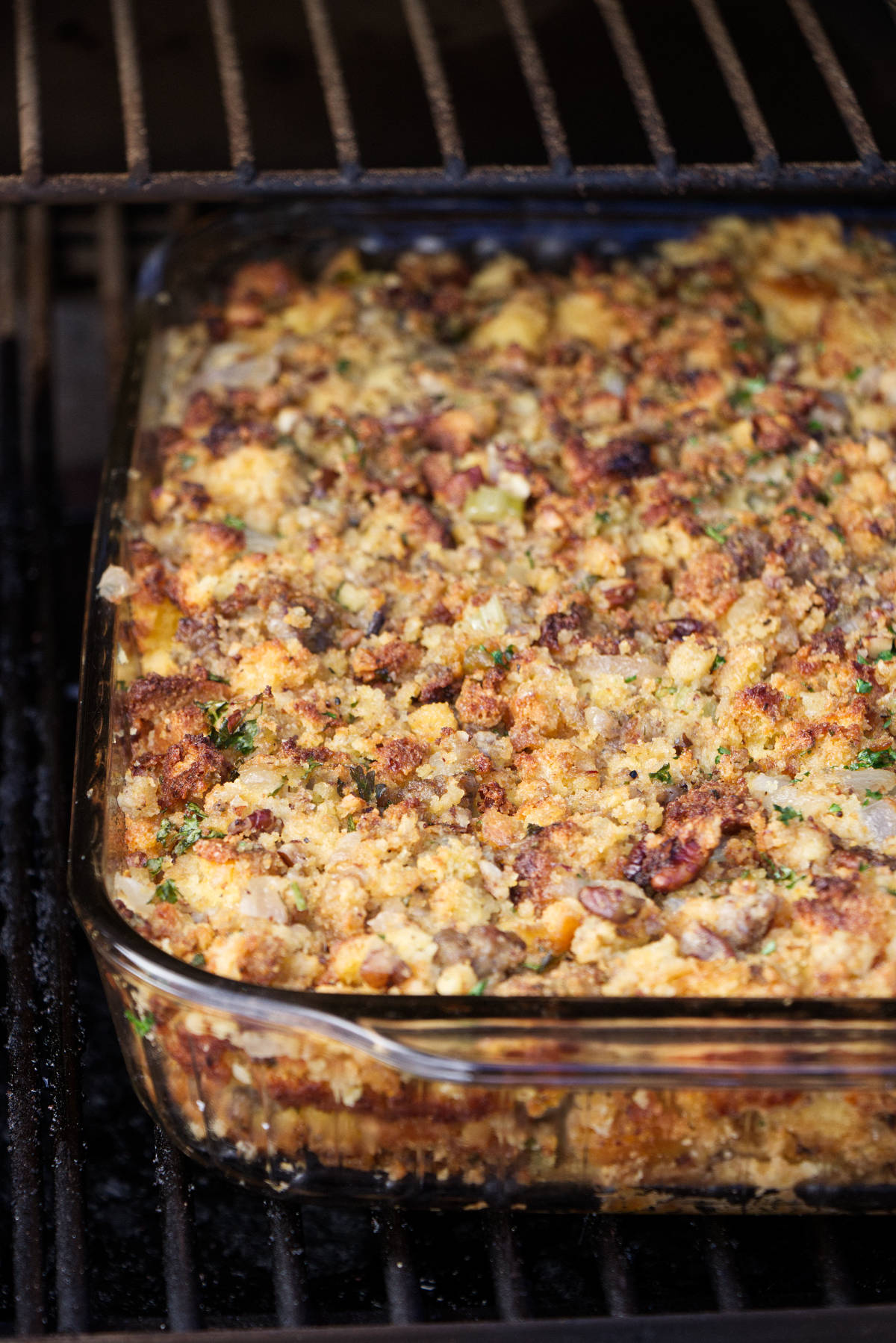 Bake the stuffing in the Traeger on a lower heat for the first 25 minutes to give it time to get infused with a smoky flavor. Finish it at a higher heat to get a crunchy crust on top.
 🛠 Tools and Equipment
If you click on some of the following affiliate links and buy something, we might get a small commission. You don't pay any extra, but it will help us keep the lights on and our bellies full!
🍗What Else Is Cooking?
Need some Turkey Day ideas? I absolutely love to smoke a turkey on the Traeger for the holidays, but I have also made some killer turkey dishes in my air fryer. Here are several recipes to try for your next gathering.
Need a dessert for your holiday party? Try any of these incredible desserts.
🎁Wrap Up
Whether you need a centerpiece for Thanksgiving and Christmas or simply want to dial up a traditional turkey roast dinner, this Traeger smoked cornbread stuffing is a total slam dunk. As it requires just a few minutes to prep and can be left to sizzle away in the Traeger, it's a simple but scrumptious addition to any turkey dinner.
💬 Tell Me What You Think!
Did you try out this recipe? Please leave a comment below and let me know how you liked it. Also, snap a picture and post it to your favorite social platform. Be sure to tag me at @alicensetogrill and let me know how you liked it!
CONNECT WITH A LICENSE TO GRILL!
Be sure to follow us on our social media accounts.
Did you make this recipe? Tell us about it in the comments below!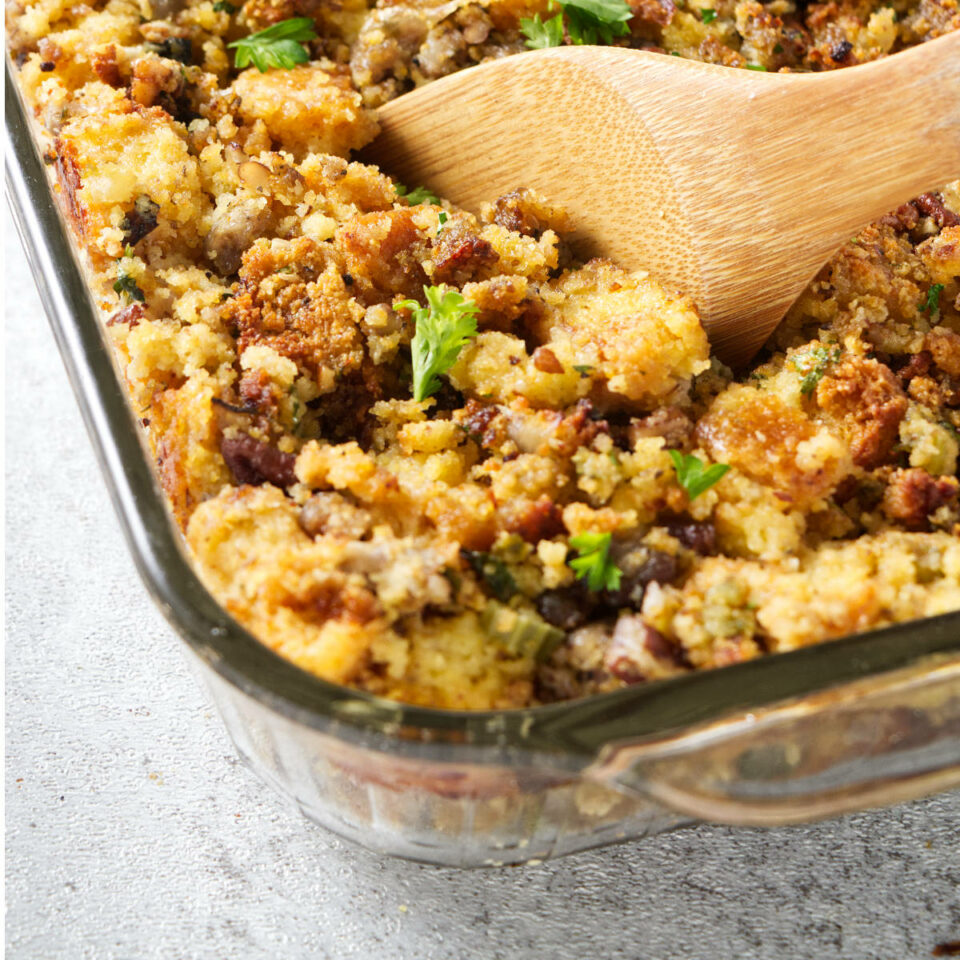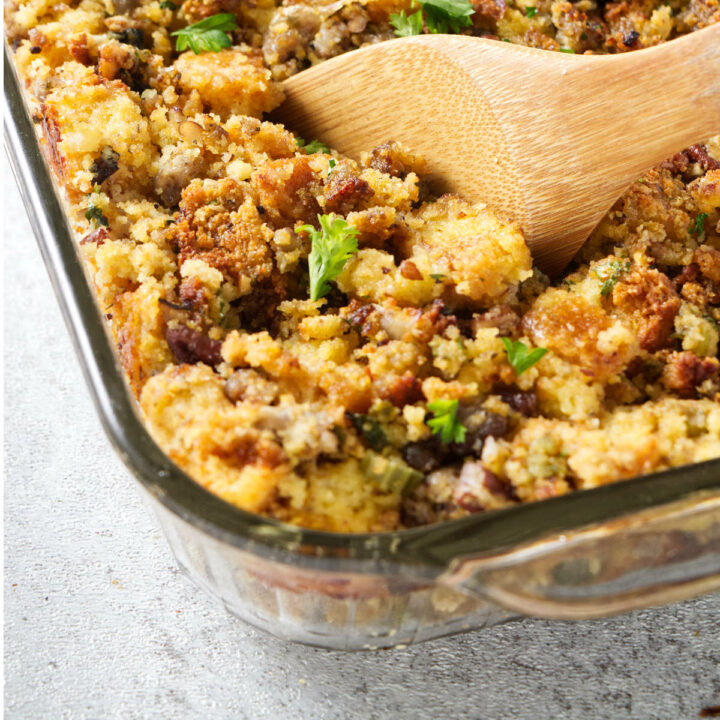 Traeger Smoked Cornbread Stuffing
Total Time:
1 hour
10 minutes
Our Traeger cornbread stuffing gets cooked at a lower heat for the first 25 minutes to give it a smoky flavor. Then, we turn the heat up during the last 25 minutes to get a crisp, brown crust on the top and ensure the interior is well cooked.
This is a great recipe to prep in advance so that the flavors meld in the fridge overnight before you cook it. However, if you are in a hurry, you can cook it immediately. 
Ingredients
1 pound ground sausage (optional)
2 medium onions, chopped
3 celery ribs, chopped
3 garlic cloves, finely minced
1 tablespoon dried thyme
1 tablespoon dried sage
2 teaspoons chopped fresh rosemary
2 teaspoons ground black pepper
1 teaspoons salt
2 cups chicken broth
1 cup half and half
8 tablespoons butter, melted
2 eggs
Instructions
If you purchased cornbread croutons, you can skip the first step.
Heat the Traeger to 275°F. Spread the cornbread cubes out on a large baking sheet (or use two half sheet pans). Bake on the grill for 60 to 90 minutes or until the cubes dry out and get slightly toasted. Turn the Traeger off until the stuffing is ready to cook.
Transfer the dried cornbread cubes to a large mixing bowl.
Heat a skillet over medium high heat and add the sausage. Cook stirring to break the sausage up, until browned.
Transfer the sausage to the bowl with the cornbread cubes.
Place the skillet back on the stove and add the onions, celery, and garlic. Cook until the onions are soft. Stir in the thyme, sage, rosemary, pepper, and salt. Cook for 1 minute then transfer the mixture to the bowl with the cornbread.
Whisk the chicken broth, half and half, melted butter and eggs together in a large bowl. Pour it over the cornbread mixture and use a large spoon to gently fold the mixture together. Don't worry if it looks like there is too much liquid, the croutons all soak it up in a while.
Grease a 13 x 9 inch baking dish. Transfer the cornbread stuffing to the baking dish. If there is any liquid left in the bowl, drizzle it over the top of the stuffing.
Cover the baking dish with plastic wrap and refrigerate for 60 minutes (or overnight) to give time for the cornbread to absorb the liquid and develop flavor.
Preheat the Traeger to 275°F.
Remove the plastic wrap and place the baking dish directly on the grill grates. Close the lid to the Traeger and cook at 275°F for 25 minutes. Increase the heat to 400 and cook for 20 minutes or until golden brown.
Notes
You can either make homemade cornbread and prep it by cubing it and drying it out or purchase a 10-ounce package of cornbread stuffing mix.
Sometimes grocery stores sell cornbread croutons in the bakery section, but you can also find it in boxes in the grocery aisle. 
Our recipe for Traeger cornbread recipe is large enough to get 8 cups of cornbread cubes for this stuffing recipe.
Recommended Products
As an Amazon Associate and member of other affiliate programs, I earn from qualifying purchases.
Nutrition Information:
Yield:

12
Serving Size:

1
Amount Per Serving:
Calories:

638
Total Fat:

32g
Saturated Fat:

12g
Trans Fat:

0g
Unsaturated Fat:

17g
Cholesterol:

143mg
Sodium:

1732mg
Carbohydrates:

70g
Fiber:

1g
Sugar:

2g
Protein:

17g
Nutrition information is a guideline only, is calculated automatically by third party software, and absolute accuracy is not guaranteed.