Traeger Smoked Turkey Breast (wrapped in bacon)
on Jan 16, 2020, Updated Sep 21, 2023
Smoked turkey breast is always a crowd-pleaser, but wrap it in bacon and inject it with a marinade made from butter and herbs and you have one of the best turkeys to come off your Traeger grill! The herb-infused marinade packs the turkey breast with intense flavor and keeps it juicy while it is smoked on the Traeger. The bacon adds, well, it adds bacon flavor, no more needs to be said on that front. This Traeger smoked turkey breast is super easy and only takes a few minutes to prepare, let the Traeger do all the hard work so you can relax.
I love my Traeger Pro 780, it makes it incredibly easy to smoke this turkey while you work on other side dishes to go along with it. If you don't have a Traeger (or other pellet style grill), keep reading, I will give you tips on how to modify the recipe for use on a charcoal grill or oven.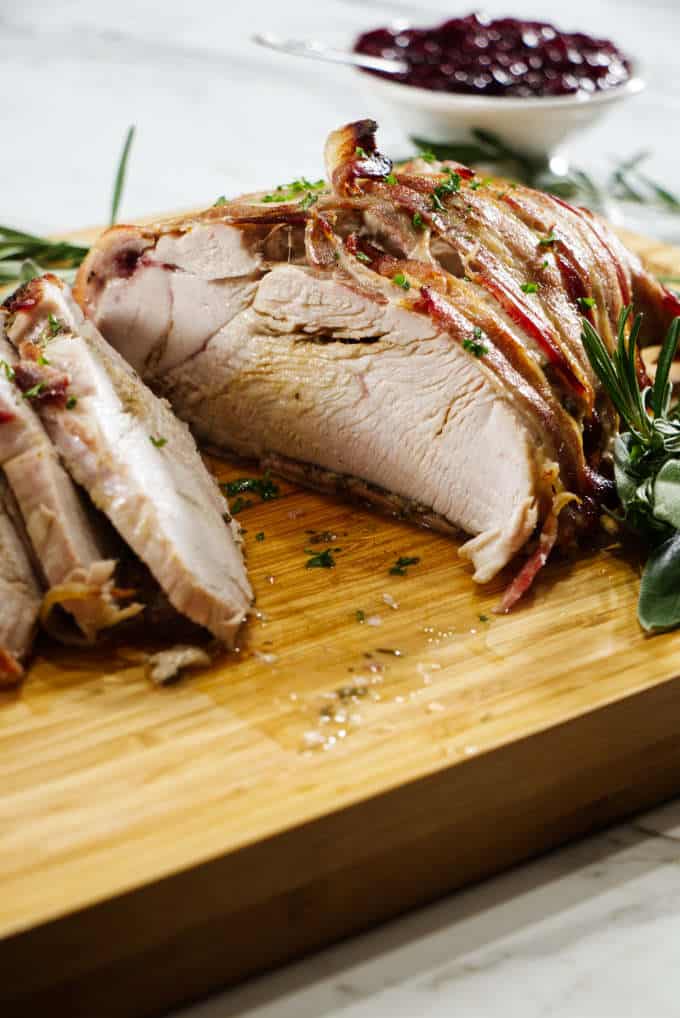 How to inject a turkey breast
Use a meat injector with a wide needle so it doesn't clog
Inject the meat in a grid pattern
Space out each injection 1-2″ apart
Vary the depth of each injection to get the flavor in every portion of the meat
Tip: I use this injector and it works flawlessly. Always super moist, perfect turkey! For a cheaper option, go for this plastic injector.
Injecting a marinade into the turkey breast helps to add flavor and moisture to the meat. An injection is a quicker method to marinate the meat and doesn't mean you have to let the meat soak in a liquid prior to cooking.
When I inject my turkey breast, I always make my injections in a grid pattern and space each injection about 1-2″ apart. I also try to inject the marinade into varying depths of the meat so that I can try to maximize the marinade flavor into each bite of meat.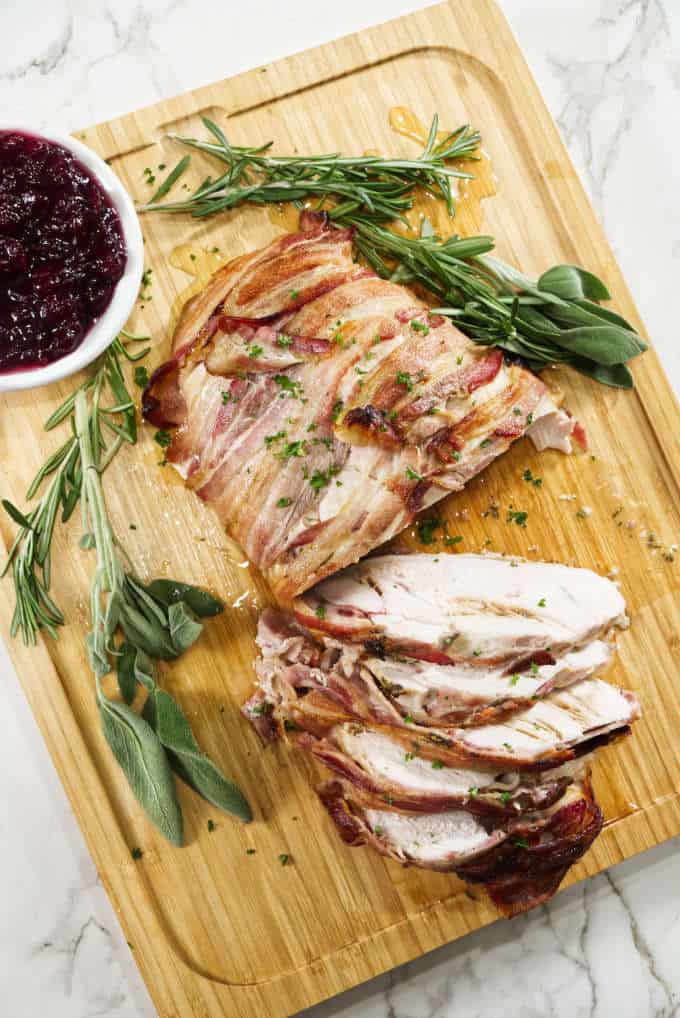 How long to smoke a turkey on a pellet grill like the Traeger
In general, you should plan to smoke your turkey breast for about 30-40 minutes per pound at 250°F. However, there are several factors that come into play when cooking the turkey breast. Some of these variables are whether your turkey breast has a bone in or is boneless, how well the heat is distributed in your oven or grill, how close it is to the heating element, etc.
As always, I recommend setting your thermometer to alert you when the internal temperature of the turkey breast reaches 160°F. Instead of shooting for a specific time to take out the turkey breast, plan to take it out when it reaches that perfect temperature!
I always trust this ThermoWorks Signals WiFi thermometer to tell me when I am done cooking. The Signals thermometer has 4 probes, so you can monitor multiple items, all from the comfort of the couch using the ThermoWorks App on your phone.
For super fast temperature checks, this ThermoWorks ONE Thermapen gives you an accurate reading in only one second! Now you will not have any more excuses for not hitting perfection!
How to modify this recipe for the oven or charcoal grill
I used a Traeger in this recipe, but if you don't have a pellet grill then you can still enjoy this recipe. I like to use my trusty Traeger Pro 780.
Charcoal Grill
I enjoy the flavor of my charcoal grill and sometimes like to alternate my charcoal grill with my Traeger. When I grill turkey breast on my charcoal kettle I will build my hot coals using a chimney filled to the brim. Then once the charcoal is red hot, I will distribute them evenly on the bottom of the grill. Once the inside temperature of the grill reaches about 270°F, I will place some wood smoking chips wrapped in some tin foil on the charcoal. I will then add charcoal and more wood chips every 45 minutes to 1 hour and maintain the temperature from 230°F to 270°F. Again, cook the turkey breast at this temperature until it reaches 160°F.
Oven
If you prefer to use your oven, you can set it to 250°F and set the timer for 30-40 minutes per pound. Observe the internal temperature of the turkey breast and remove it once it reaches 160°F, allow it to rest.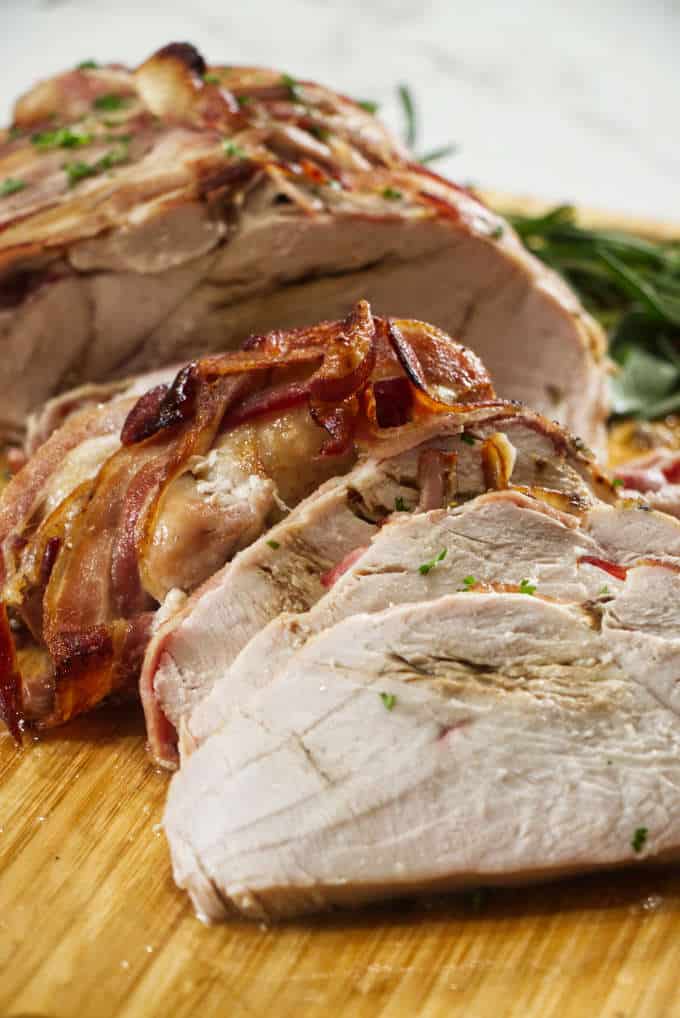 Do you have to brine a turkey before smoking it?
No, you do not need to at all! In this recipe, I do not brine the turkey breast. Instead, I use an injection method to get more flavor into the meat. If you prefer, you can instead brine the turkey breast overnight. Typically with brine, the turkey will be even juicier and moister. Check out my recipe for this wet brined Traeger smoked turkey. You can use this brine and let your turkey breast sit overnight in the fridge, just skip the steps in this recipe for the injection, but of course, still, wrap it in bacon!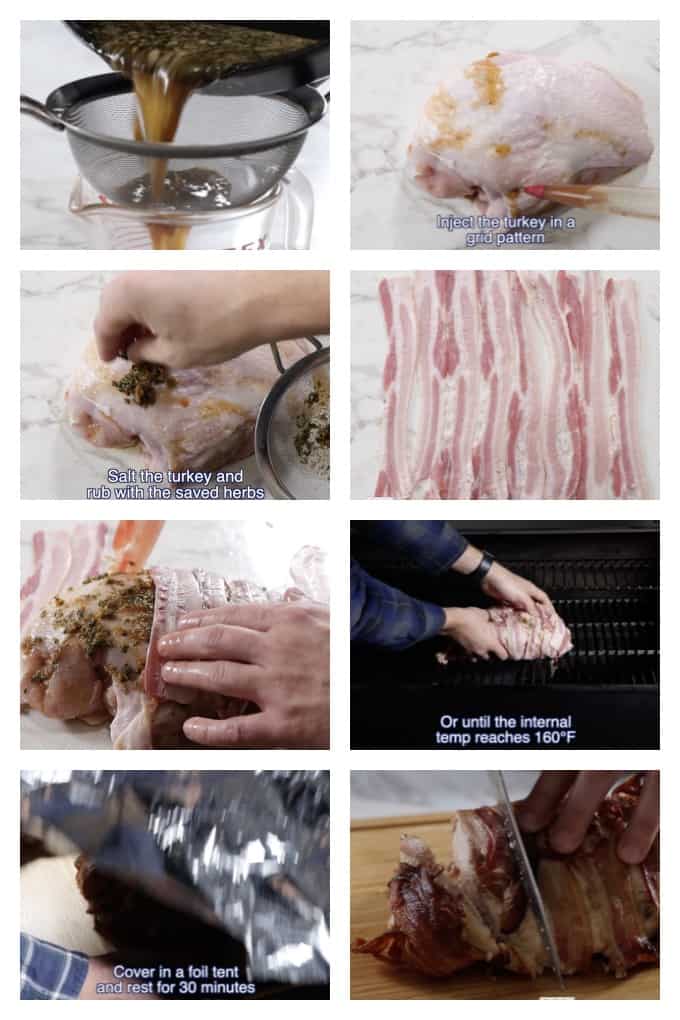 What smoke flavor is the best for a turkey?
I prefer to use a blend of pellets or wood chips when I smoke my meat. For turkey, I usually use woods with a sweeter smoke profile. Think woods like apple, cherry, apricot, peach, or maple. Sometimes, I will blend my pellets with some hickory wood as well since you generally get a much stronger smokiness from hickory. Play with different wood chips and pellets and experiment a bit. Everyone is different and it takes some time to figure out what your favorite wood is in the smoker.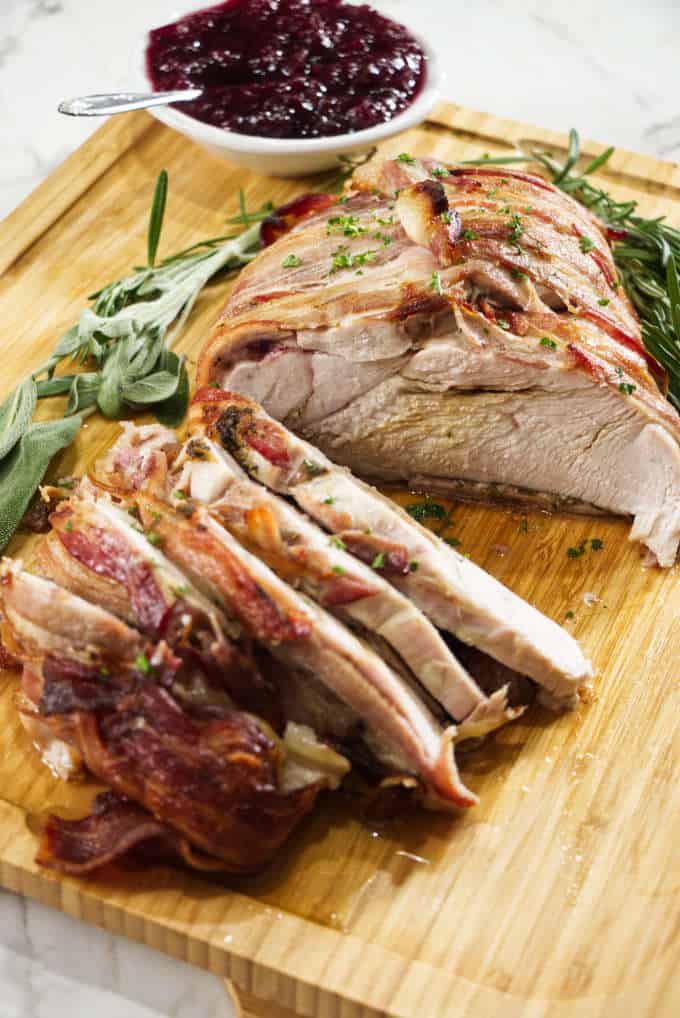 What temperature should turkey breast be?
The FDA recommends cooking turkey breast to 165°F. I will usually take out my turkey breast at 160°F and let it rest for about 15 minutes in a foil tent. During the rest, the turkey breast will gain another 5°F or so and finish cooking.
Should you let turkey breast rest?
YES! I always let turkey breast rest after cooking for about 15 minutes. When the meat rests, you allow the juices that were heated up during the cooking time to settle in and redistribute between the fibers of the meat. If you cut the meat without resting, you will lose those precious, flavorful juices onto your cutting board. We don't want that, so put a foil tent over your turkey breast and allow it to sit for about 15 minutes while the juices settle.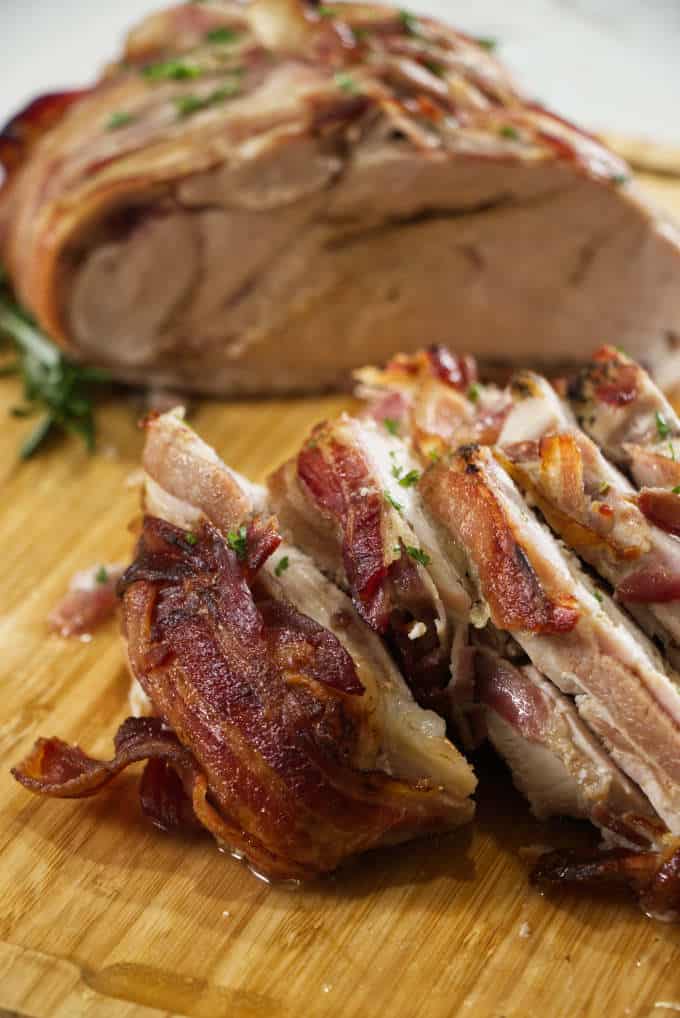 Other recipes you will dig!
If you are in a turkey kind of mood, check out the wet brined Traeger smoked turkey which I discussed above. The overnight brine keeps this turkey moist as it smokes for hours on the Traeger, it is the best whole Turkey that I prepared thus far!
A grilled romaine salad sounds weird, but it is anything but that! The romaine picks up just enough smokiness from the flame and tastes delicious! Pile it high with bacon, fruit, veggies, you cannot go wrong.
Crispy is the only way to eat Brussels sprouts. I remember as a kid eating soggy, mushy sprouts and I hated them! These air fryer Brussels sprouts with bacon are so delicious that even 8 year old me would love them!
Now it is your turn!
If you tried this recipe, leave a comment below and tell me how it turned out!
CONNECT WITH A LICENSE TO GRILL!
Be sure to follow us on our social media accounts.
Did you make this recipe? Tell us about it in the comments below!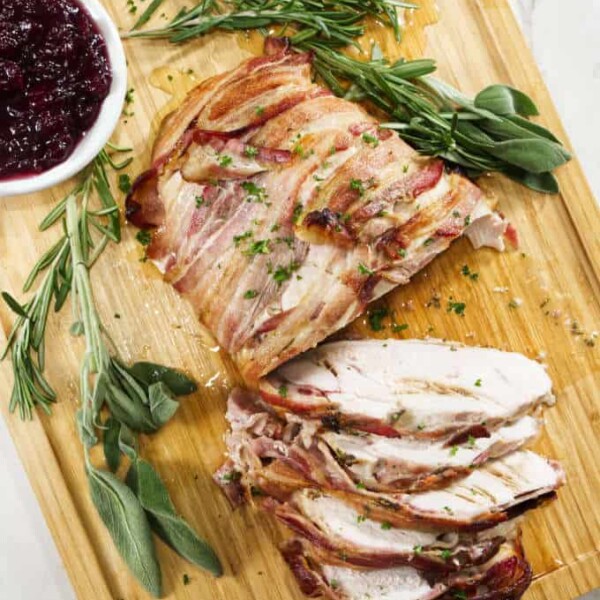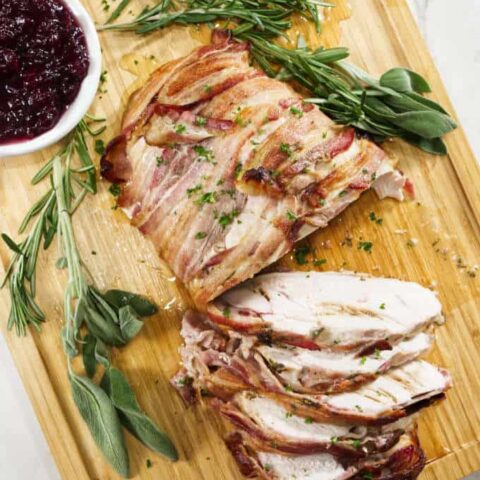 Traeger Smoked Turkey Breast
Additional Time:
15 minutes
Total Time:
2 hours
35 minutes
A turkey breast injected with herbs and butter and wrapped in bacon then smoked on the Traeger, what's not to love?! It is so incredibly juicy and tender and full of flavor. The Traeger gives it just enough smokey flavor and the bacon keeps it juicy and delicious! Give it a try and it will be one of your favorite meals off of the Traeger during your next family get together.
Ingredients
3-pound turkey breast, boneless, skin on
1 pound of bacon
For the injection
1/2 cup melted butter
3 tsp onion powder
3 garlic cloves, minced
3 tsp fresh rosemary, chopped
3 tsp fresh sage, chopped
1 tbsp honey
3 tbsp Worcestershire sauce
1/4 cup soy sauce
1/4 cup fresh lemon juice
Instructions
For the injection, begin by melting the butter over medium heat in a medium skillet.
Add the onion powder, garlic, rosemary, and sage. Allow the flavors to steep for about 5 minutes over medium heat.
Pour in the honey, Worcestershire sauce, soy sauce, and fresh lemon juice and simmer for 5 minutes.
Strain the marinade into a jar and save the strained herbs for later.
Pat the turkey breast dry with a paper towel.
Inject the marinade into the turkey in a grid-like pattern, spaced about 2" apart.
Place about half of the sliced, uncooked bacon onto a cutting board, side by side.
Set the turkey breast on top of the bacon and use the saved herbs that were strained from the marinade as a rub on the outside of the turkey.
Roll the turkey breast in the bacon slices and arrange the bacon so that it completely encompasses the turkey breast. Place any extra slices of bacon on the turkey to fill in all the gaps.
Place the turkey breast on the preheated Traeger at 250°F and smoke for about 2-3 hours or until the internal temperature of the turkey reaches 160°F.
Remove the turkey from the Traeger and place it on a cutting board with a foil tent covering the turkey. Let the turkey rest for about 15 minutes
After the turkey rests, slice into 1/2" to 1" thick slices.
ENJOY!
Notes
Use a trusty meat thermometer so you can monitor the cook and ensure the best results. I like to use the ThermoWorks Signals as a leave-in thermometer or an instant-read like the ThermoWorks ONE.
The FDA recommends cooking turkey to an internal temperature of 165°F. I remove the turkey when it reaches 160°F. The carry-over heat during rest usually brings the temperature up to or over 165°F. I recommend you follow FDA guidelines.
If you have a larger turkey breast, the cooking times will be longer. Cook the turkey based on temperature. See the post for general timing guidelines for this Traeger smoked turkey.
Recommended Products
As an Amazon Associate and member of other affiliate programs, I earn from qualifying purchases.
Nutrition Information:
Yield:

16
Serving Size:

1
Amount Per Serving:
Calories:

318
Total Fat:

17g
Saturated Fat:

8g
Trans Fat:

0g
Unsaturated Fat:

9g
Cholesterol:

111mg
Sodium:

639mg
Carbohydrates:

3g
Fiber:

0g
Sugar:

2g
Protein:

35g
Nutrition information is a guideline only, is calculated automatically by third party software, and absolute accuracy is not guaranteed.