Traeger Bacon-Wrapped Pork Tenderloin
on Feb 17, 2020, Updated Sep 21, 2023
What do you do when you accidentally bought too much bacon at the store? Well, personally, I start wrapping everything in bacon! This bacon-wrapped pork tenderloin was smoked on a Traeger for about an hour, so you know it was extra juicy and delicious! The bacon crust helps to trap in the moisture so when you slice into this tenderloin, juices will spill out! This recipe is super easy. All you need is a fresh pork tenderloin, some bacon, and some Cajun spice dry rub.
How to cook pork tenderloin
Pork tenderloin is a very lean piece of meat. It will become dry very quickly if it is overcooked. Since pork tenderloin is such a small and thin piece of meat, it cooks very quickly so you will want to monitor the internal temperature closely. I always pull my pork off the grill at 140°F and let it rest under a foil tent. During the rest, the pork will experience carryover cooking.
Carryover cooking and the rest
An easy mistake is to wait to pull the meat off of the grill or smoker once it reaches the desired internal temperature for doneness. When you take the meat off the grill, it will continue to cook or rise in temperature even when there is no longer any heat below the meat. This is called carryover cooking and if you take your meat off late then it will likely end up overcooked and dry. To help maintain moist meat, I build a tent out of aluminum foil to cover it during the rest. This helps to lock in any water or juices that otherwise would evaporate.
The USDA recommends taking pork off the grill at 145°F and letting it rest for 3 minutes. I prefer to take my pork off at 140°F and let it rest for longer. I always recommend keeping your thermometer probe in the meat during the rest though so you can be sure it hits the target of 145°F.
I always trust this ThermoWorks Signals WiFi thermometer to tell me when I am done cooking. The Signals thermometer has 4 probes, so you can monitor multiple items, all from the comfort of the couch using the ThermoWorks App on your phone.
For super fast temperature checks, this ThermoWorks ONE Thermapen gives you an accurate reading in only one second! Now you will not have any more excuses for not hitting perfection!
The amount of carryover cooking that your meat will experience depends on how large your cut of meat is and what temperature your grill was set to. Larger cuts of meat and grilling at higher temperatures will often lead to more dramatic carryover cooking rises during the rest. For smaller pork tenderloins you may find that you need to pull yours off at 140°F – 143°F to reach the target of 145°F.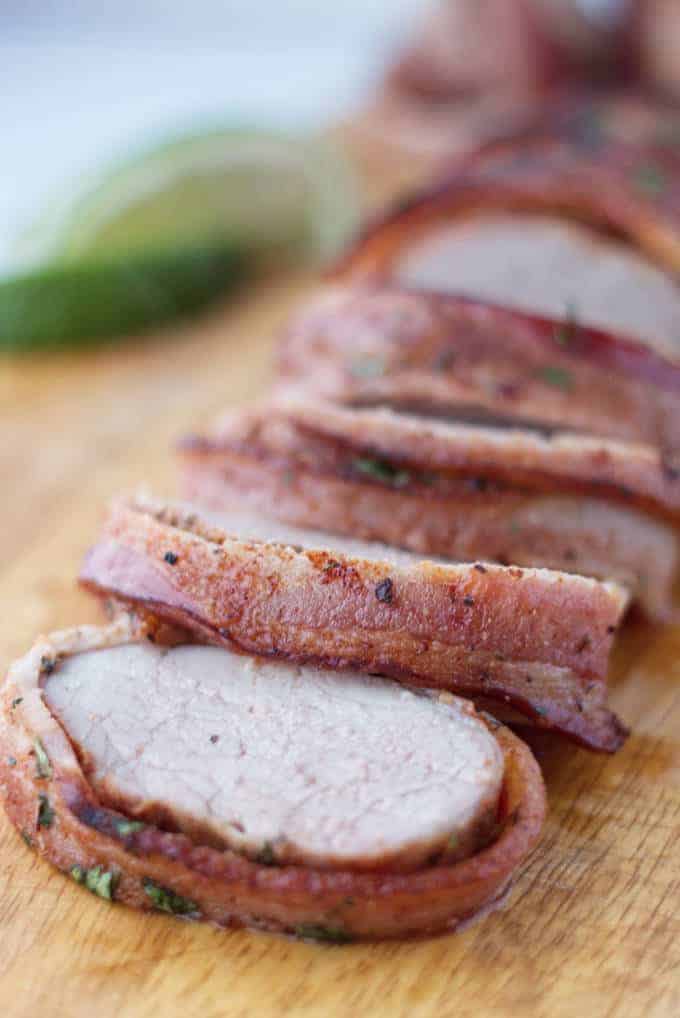 Pork tenderloin or pork loin?
Both of these cuts of meat come from the loin area of the pig. This is the area just below the backbone in the midsection of the pig. The tenderloin is taken out of the back end of the loin. The tenderloin is not weight-bearing and doesn't get very much use by the pig during life so it is always very tender.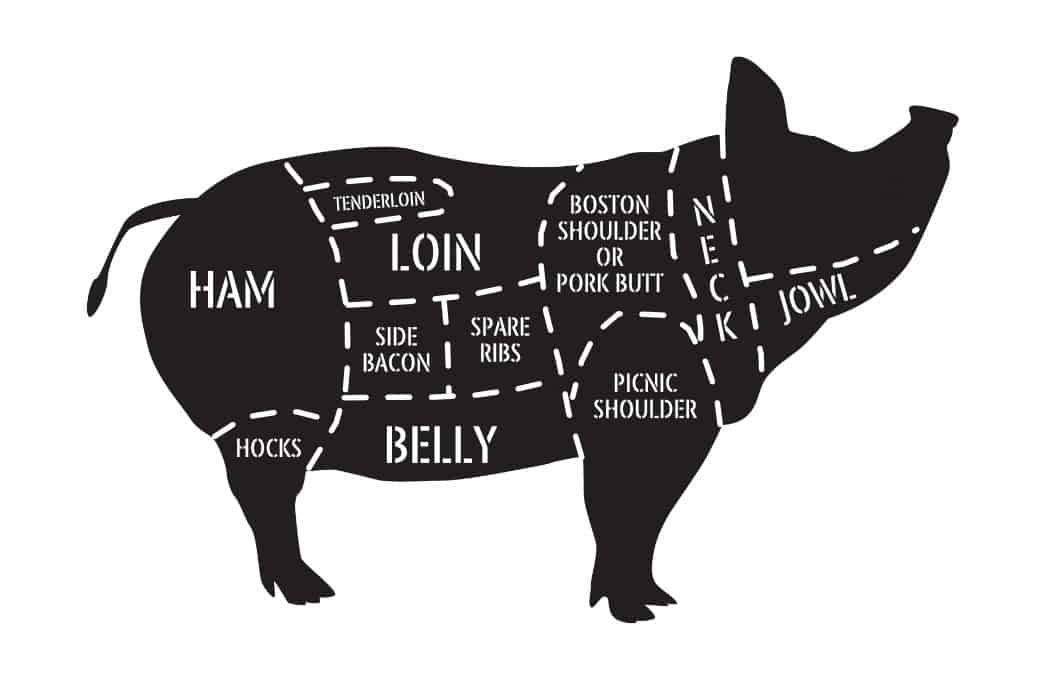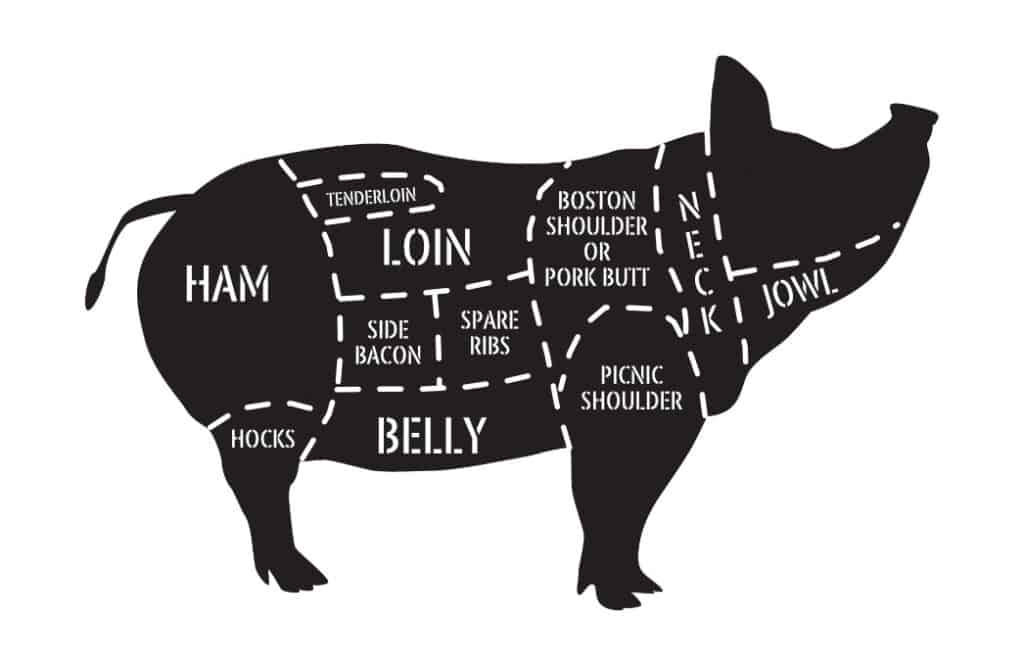 Can you substitute pork loin for tenderloin?
Since pork loin is so much larger than tenderloin, you cannot simply substitute the two. Pork loin lends itself well to cooking at lower temperatures for a longer duration in order to achieve a more tender piece of meat. Since pork tenderloin is inherently more tender and small, you may cook it at a slightly higher temperature and for a shorter duration compared to loin. If you try to substitute one cut of meat for the other, you will likely be disappointed with the result.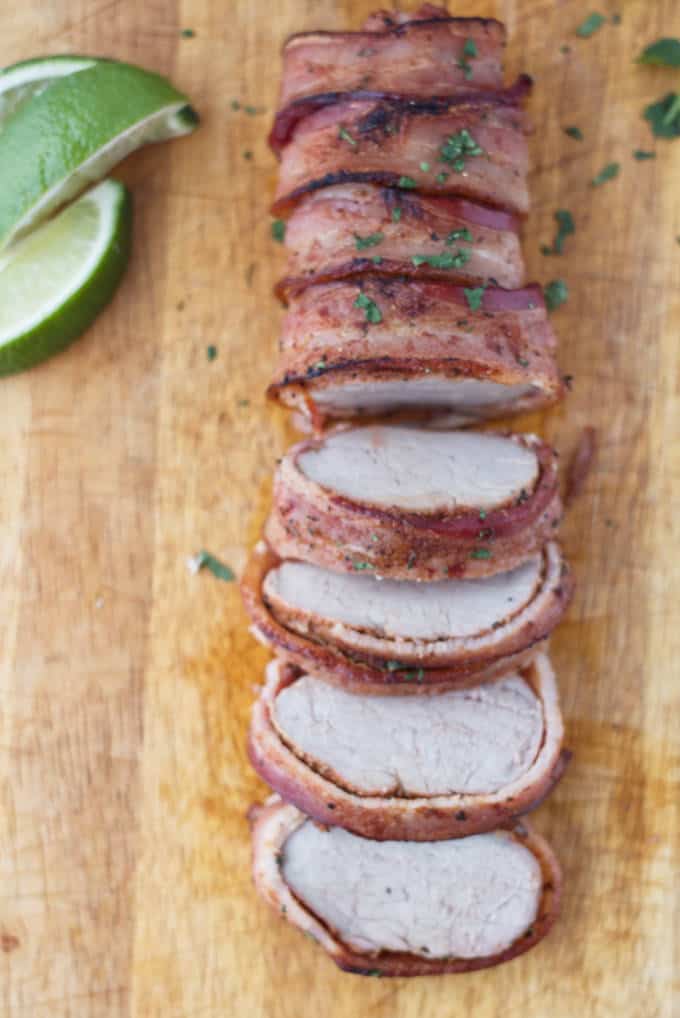 How to smoke pork tenderloin
Pork tenderloin can be cooked quickly in the smoker. In this recipe, I smoked it for about 1 hour at 250°F, but you can increase the temperature and get it finished off sooner if you are in a hurry. The reason I smoke meat though is to get that awesome wood smoke flavor so decreasing the cooking time will affect the flavor in the end.
I love to use my Traeger Pro 780 for this recipe. There is lots of space inside this thing, so I can load it up with side dishes while waiting for my tenderloin to finish cooking.
Preheat your smoker to 250°F.
Trim off excess fat, membrane, and silver skin with a sharp knife.
Flavor your meat. In this case, I used a Cajun Spice Dry Rub.
Smoke the meat for about 1 hour or until the internal temperature reaches 140°F.
Sauce the pork while it is cooking. This is optional. In this recipe I didn't sauce the pork, but if you do then add it around the 130°F mark.
Rest and Enjoy! Let the meat rest for about 10 minutes before slicing.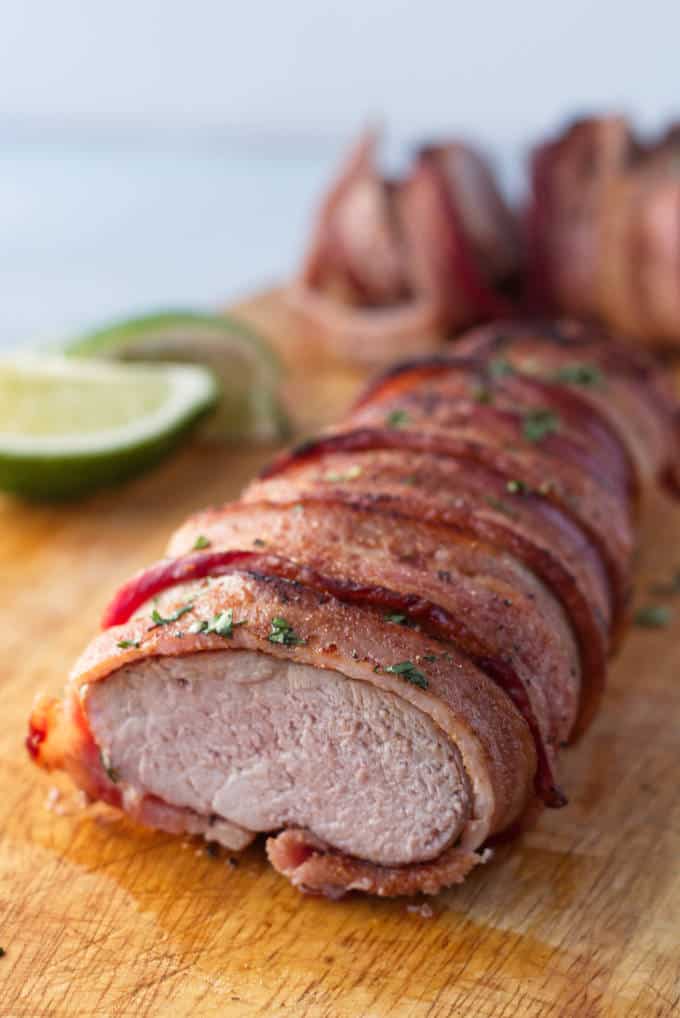 What to cook with this pork tenderloin
These air fryer Brussels sprouts with bacon are incredibly easy and fast. The air fryer gets them super crispy, which is great because nobody wants soggy Brussels sprouts.
I love baked potatoes and nothing goes better with pork tenderloin than this air fryer baked potato.
CONNECT WITH A LICENSE TO GRILL!
Be sure to follow us on our social media accounts.
Did you make this recipe? Tell us about it in the comments below!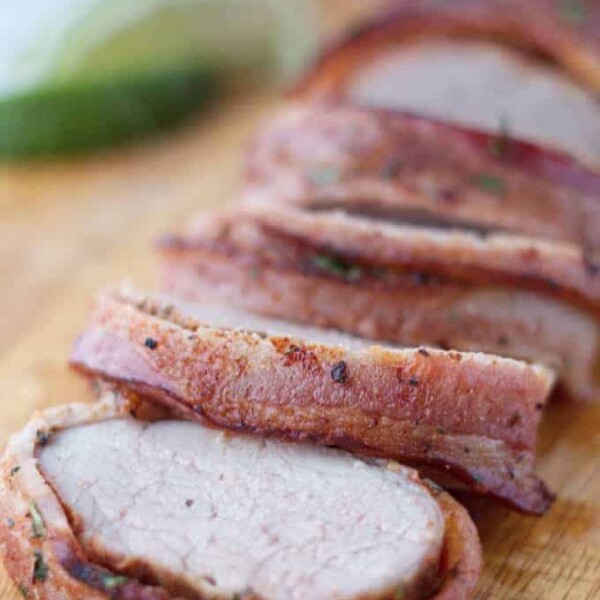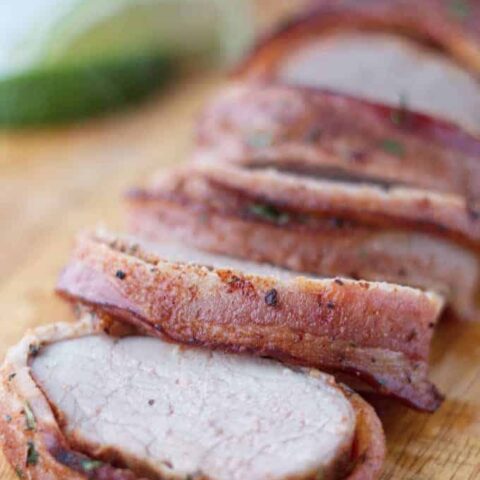 Traeger Bacon Wrapped Pork Tenderloin
Total Time:
1 hour
20 minutes
A pork tenderloin so juicy and delicious, you will want to eat the entire thing! The bacon adds so much flavor and provides a delicious crust to the pork tenderloin. I love the spices in the Cajun dry rub, it is sweet, it is spicy, and it is smokey. The Cajun dry rub pairs nicely with the smokiness brought by the Traeger.
Ingredients
4 tablespoons Cajun seasoning
1 pound pork tenderloin
12 slices of bacon
Instructions
Preheat your Traeger or grill to 250°F.
Trim the membrane and silver skin off the pork tenderloin.
Pat the tenderloin dry with a paper towel.
Rub the Cajun seasoning on the tenderloin.
Lay the bacon slices side by side on the counter.
Roll the pork tenderloin so that the bacon wraps and covers the pork entirely.
Cook on the grill for 1-2 hours or until the pork reaches an internal temperature of 140°F.
Remove the meat from the grill and cover while it rests for 10 minutes.
Notes
Use a trusty meat thermometer so you can monitor the cook and ensure the best results. I like to use the ThermoWorks Signals as a leave-in thermometer or an instant-read like the ThermoWorks ONE.
This recipe for Cajun Spice Dry Rub makes one cup of seasoning which you can use for this recipe and others on the blog!
During the rest period, the tenderloin will continue to rise in temperature and should reach 145°F, which is the recommended internal temperature.
Recommended Products
As an Amazon Associate and member of other affiliate programs, I earn from qualifying purchases.
Nutrition Information:
Yield:

6
Serving Size:

1
Amount Per Serving:
Calories:

226
Total Fat:

11g
Saturated Fat:

4g
Trans Fat:

0g
Unsaturated Fat:

7g
Cholesterol:

78mg
Sodium:

2597mg
Carbohydrates:

2g
Fiber:

1g
Sugar:

0g
Protein:

28g
Nutrition information is a guideline only, is calculated automatically by third party software, and absolute accuracy is not guaranteed.