I've always felt that the perfect apple pie blends a gorgeous golden crust with tangy fruit and a delicate hint of spice. So, you can imagine the smile on my face when I tried this Traeger smoked apple pie for the first time. Crisp, tart, and infused with a light smokiness from the grill's wooden pellets, this delicious recipe is my favorite dessert to pull out when the weather starts cooling down. If the taste wasn't enough to sway you, this pie is prepped and ready to bake in 10 minutes flat! Dreamy.
Although you can scarf down several portions of this pie as-is, adding a scoop of vanilla ice cream turns it into the ultimate comfort food. I mean, you can just picture it melting down those cinnamon-covered apples. Utterly drool-worthy.
Somehow balancing a moist and delicious filling with a firm and flaky crust, this is a recipe that you'll want to bookmark or pin for later. Trust me – once you've taken your first bite, you'll see why! While you are at it, check out this recipe for a Traeger smoked bourbon pumpkin pie. Be sure to save this recipe for an easy Crisco pie crust.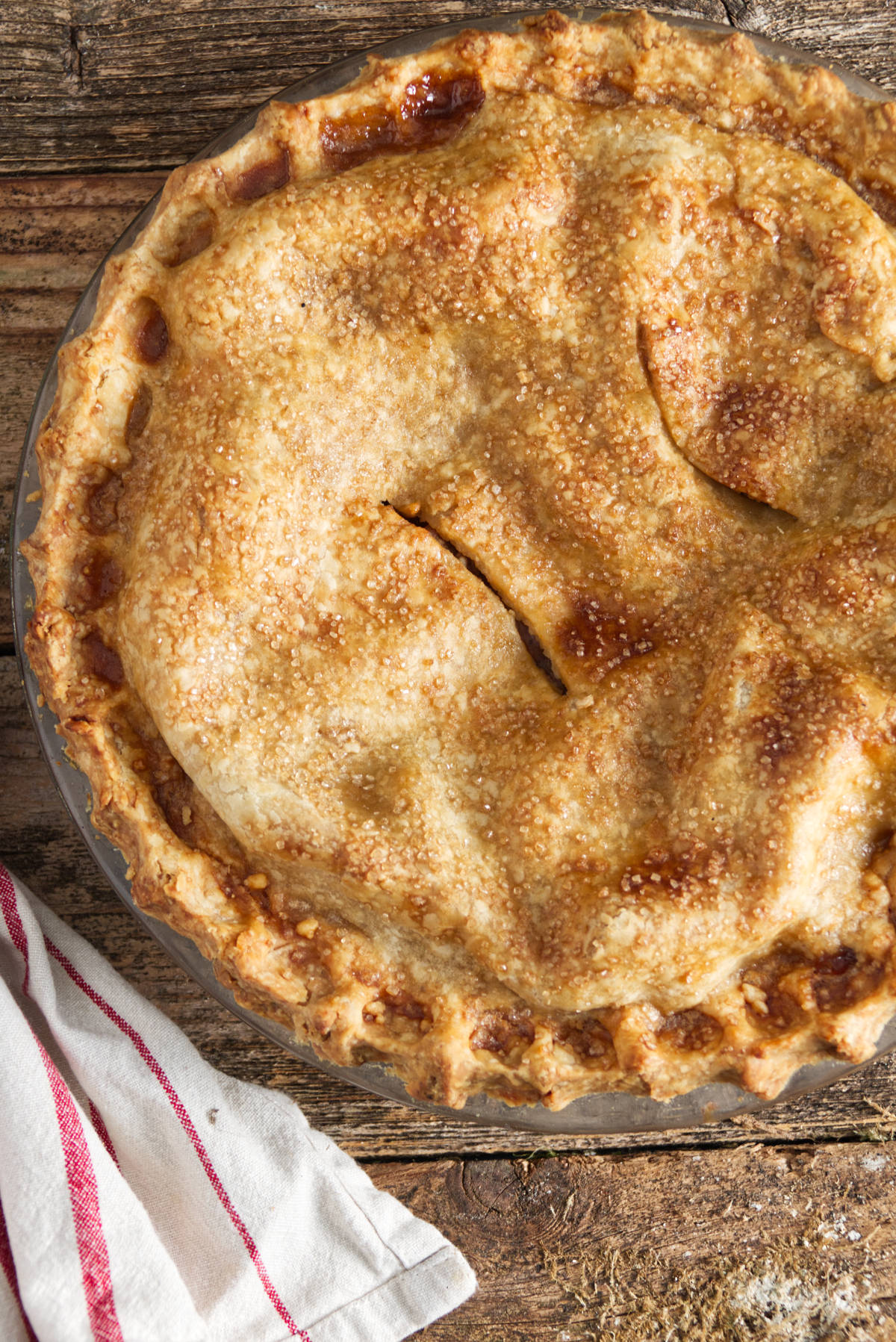 Why This Recipe Works
Using a combination of brown sugar and granulated sugar gives the pie a subtle caramel flavor that's just sweet enough.

The addition of cinnamon gives this Traeger smoked apple pie a delectable spiciness that balances the apples.

Turbinado sugar gives the pie a glistening top with a delicate crunch.

You can save time and energy by using a pre-made crust! Or use our Crisco pie crust recipe for a super simple and quick pie crust that is flaky and crispy.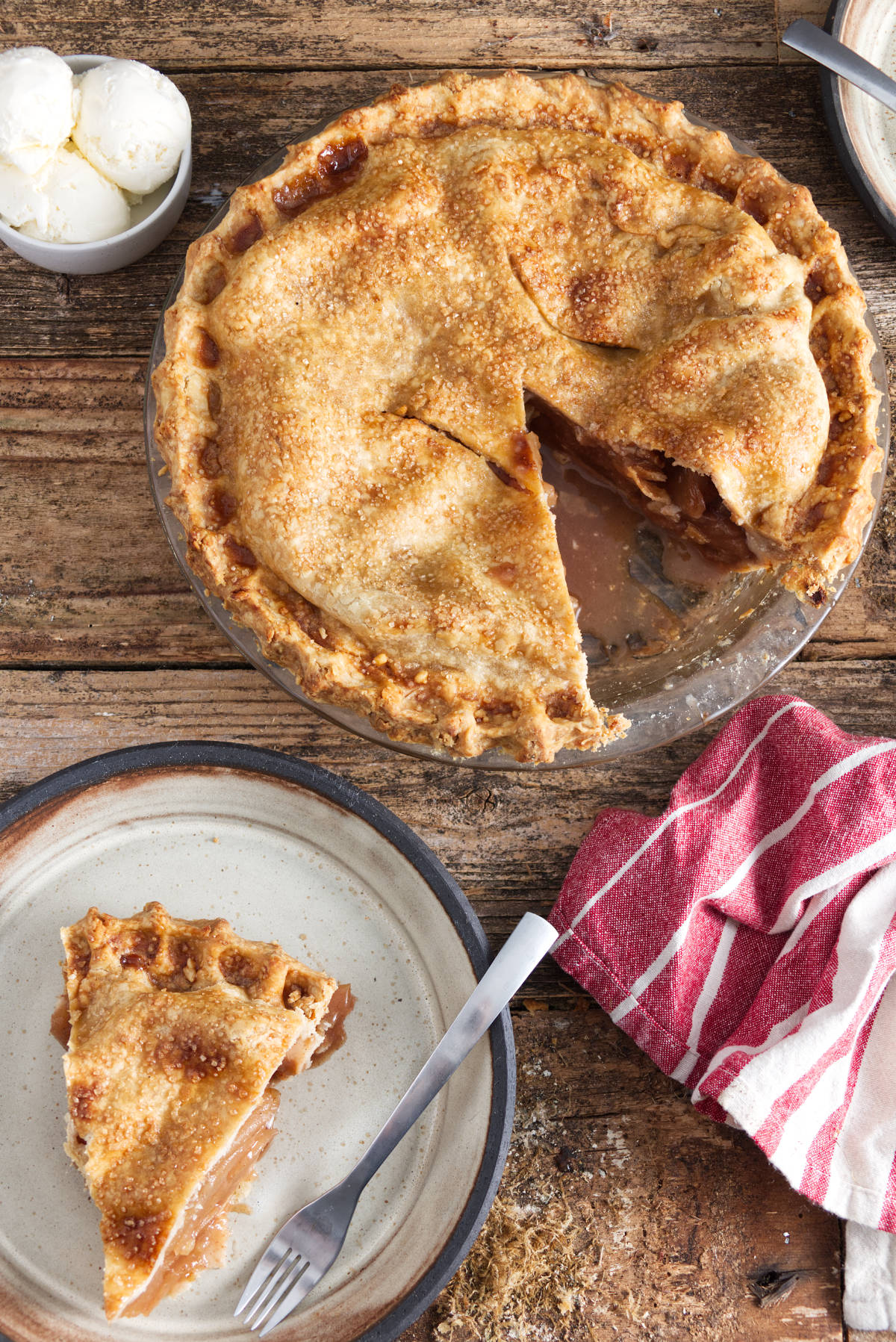 Ingredients
These are all of the delicious ingredients that you will need for this Traeger smoked apple pie. Scroll down for a printable recipe card with all of the ingredients listed.
Pie crust recipe or store-bought pie crust. Gives the entire recipe a base of flaky goodness.

Apples. I used Honeycrisp apples for their firm texture and sweet flavor. Use Granny Smith apples for a slightly sweet and tart flavor.

Lemon juice. Stops the apples from oxidizing and adds tartness.

Brown sugar. Brown sugar retains moisture well and adds a subtle caramel flavor to the pie.

Ground cinnamon. Lends the apples a spicy sweetness without overwhelming the central flavors.

Ground allspice. Adds an earthy richness.

Salt. Just a pinch brings out all the complex flavors in your pie.

Cornstarch or instant Clear Jel. Thickens the filling and gives it a transparent appearance.

Flour.

Granulated sugar.
Final touches
Whisked egg or cream. Helps you achieve a perfect, golden-brown pie crust and seals those pesky edges!

Turbinado sugar. Turbinado sugar holds up well in high heat, giving your pie a crystalline and crunchy topping that won't melt on the Traeger.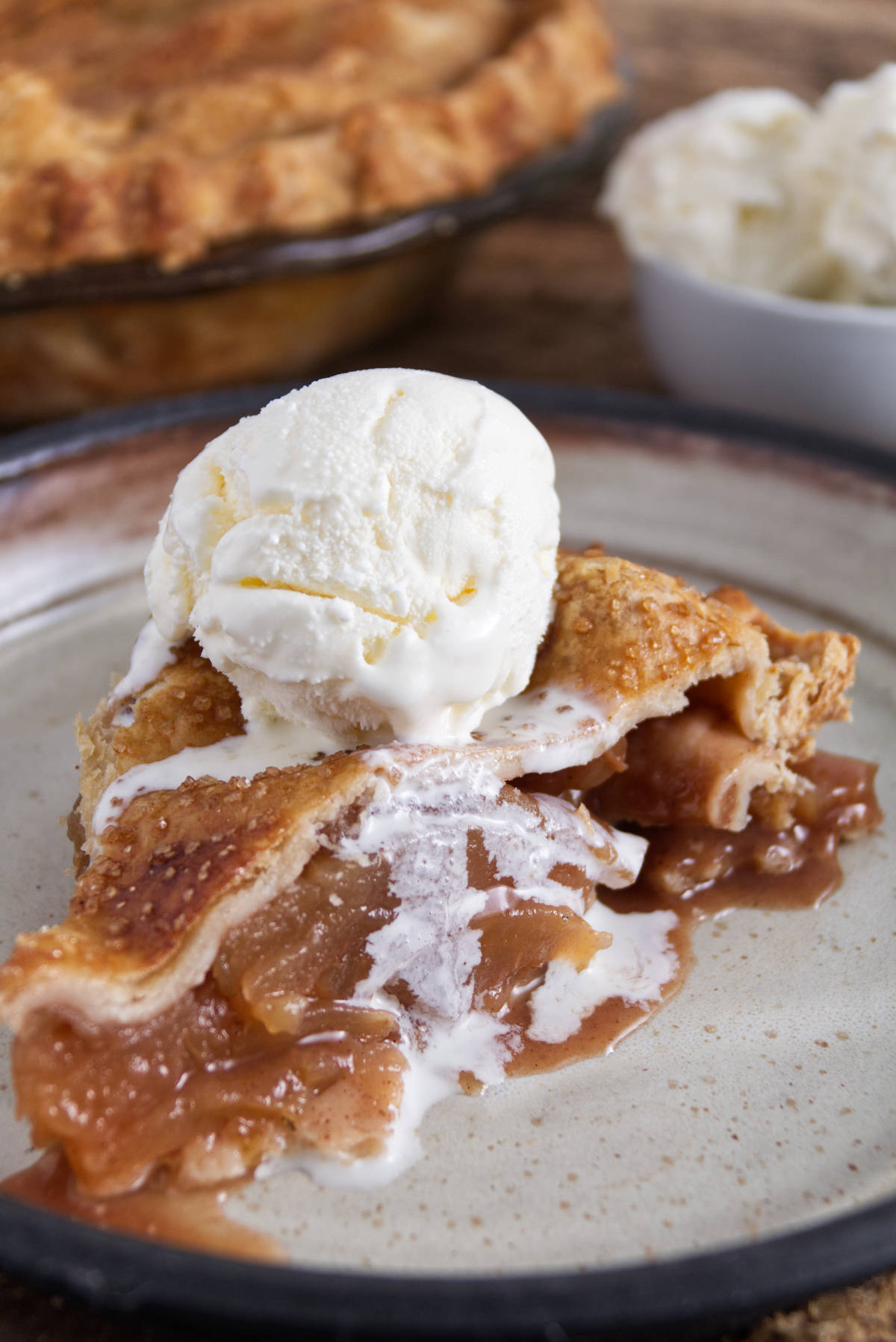 How To Make It
This is a quick overview of how to make this Traeger smoked apple pie. For more detailed instructions, scroll down to the printable recipe card.
Preheat the Traeger.

Prepare the apples.

Mix the dry ingredients until combined.

Add the apple slices to a separate bowl and toss with lemon juice. Pour in the dry ingredients and mix until the apples are coated well.

Place the bottom crust in the pie dish and pour in the combined apple mixture.

Drape the top crust over the pie and seal. Use your fingers to pinch the pie crust around the entire edge of the pie.

Trim off any excess and brush the crust with cream or whisked egg.

Bake until golden brown and let the pie cool before serving.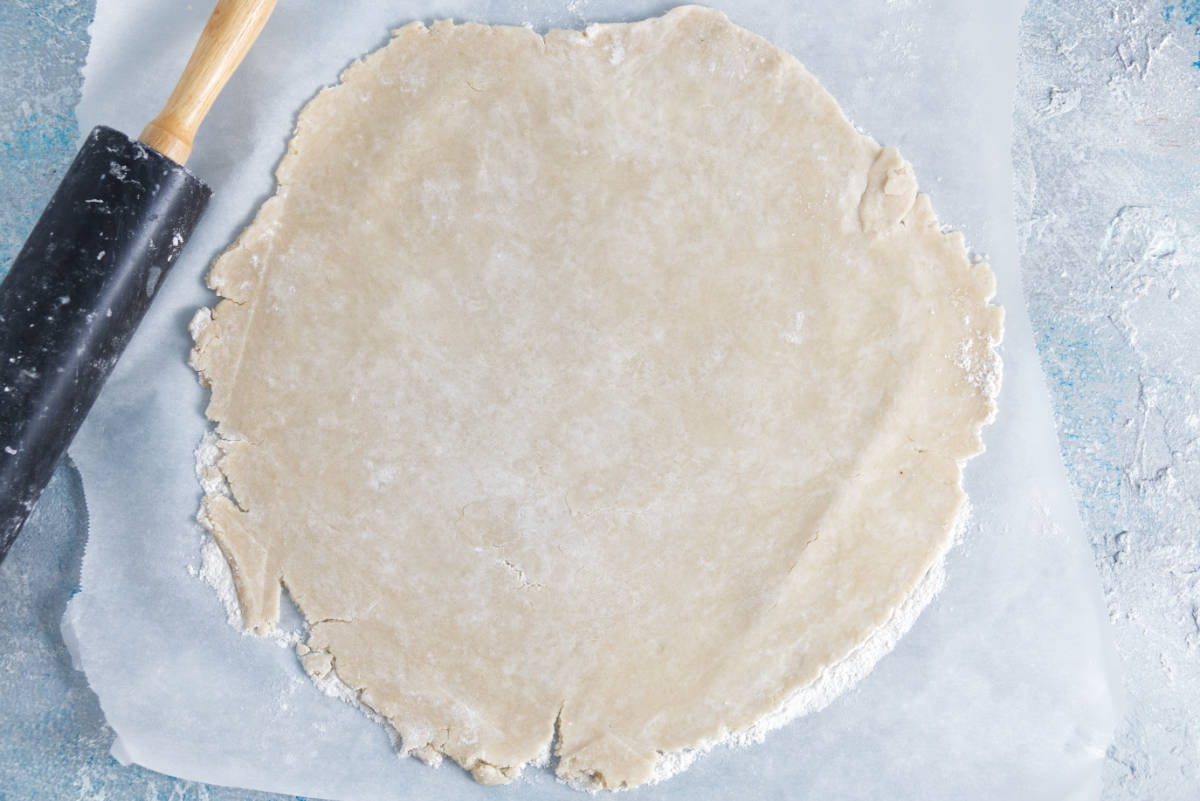 Roll the dough out into a circle making sure it is larger than the pie plate.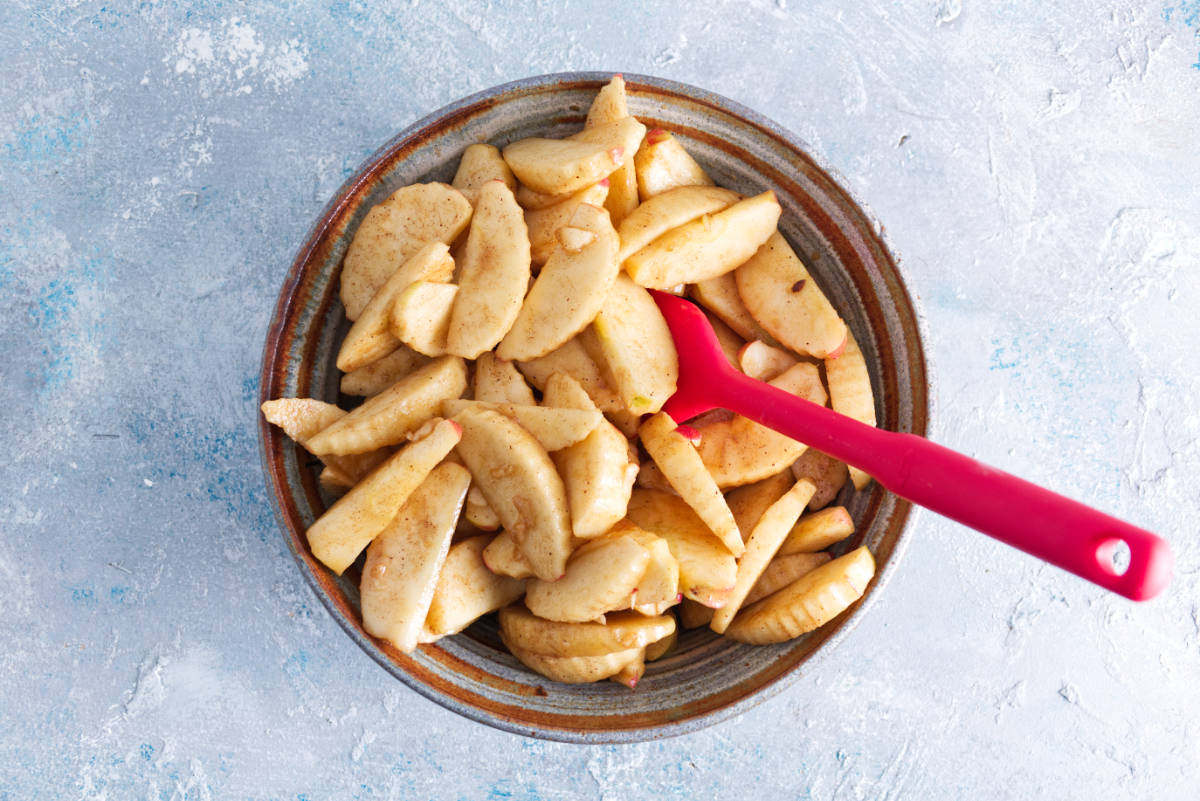 Mix the sliced apples with the dry ingredients and lemon juice until well coated.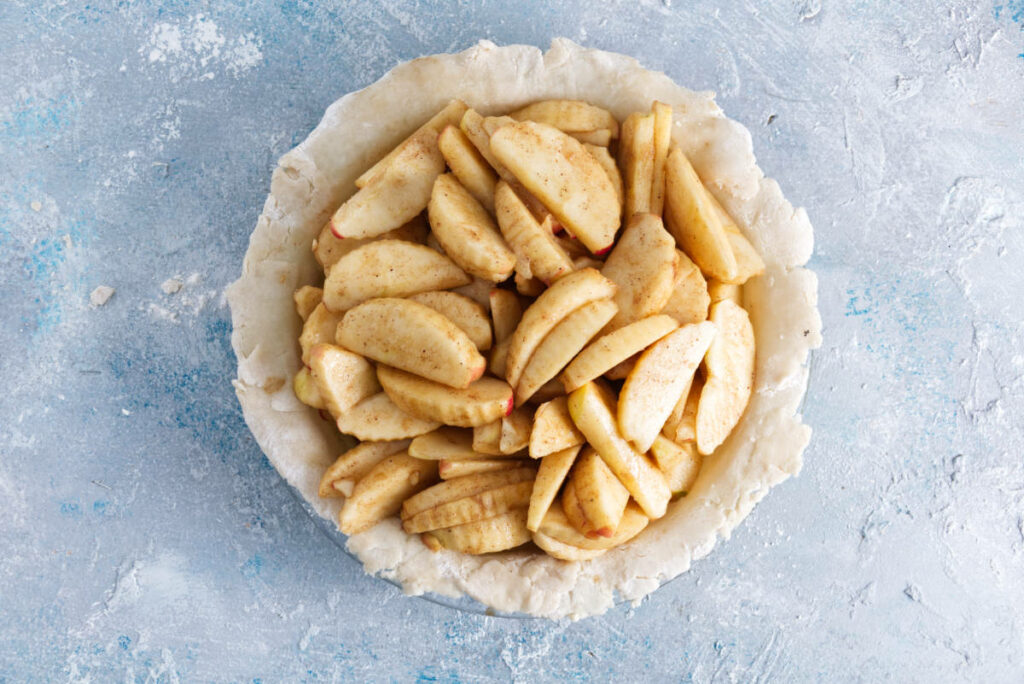 Dump the apple pie mixture into the crust-lined pie plate.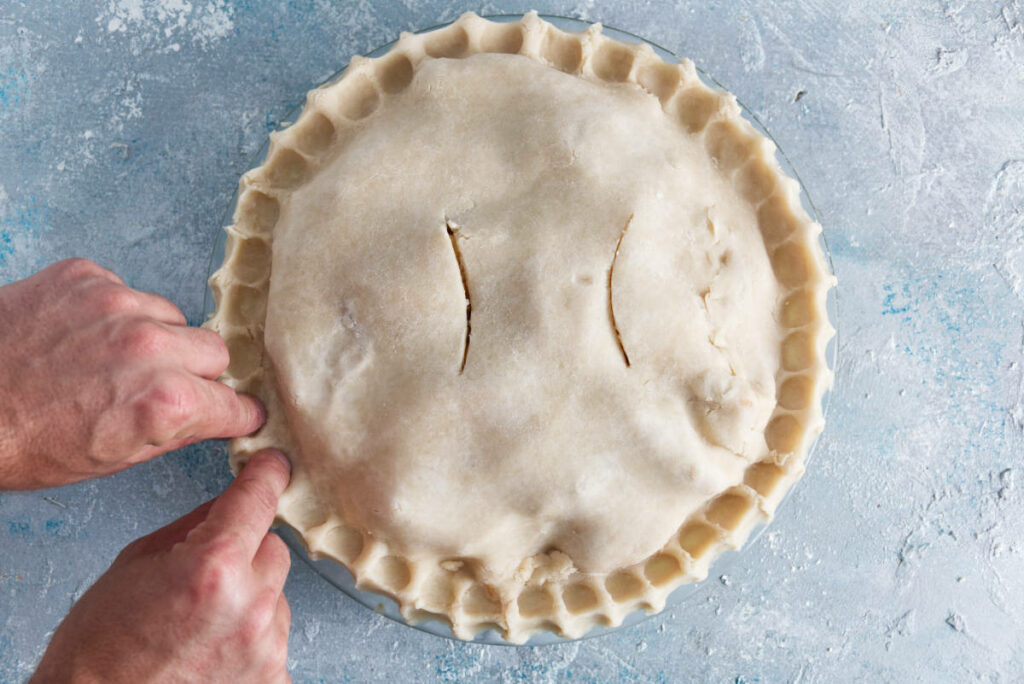 Trim off any excess pie crust and pinch the perimeter of the pie crust to seal it shut. Make two cuts on top of the pie to allow for venting.
Tips For Success
Don't be afraid to use a thermometer to measure the temperature of your Traeger's grill grates. This will help you avoid over or undercooking your pie.

Slice your apples by hand. You'll have more control over the thickness, which gives your pie texture and sturdiness as it bakes.

Keep the initial temperature of your Traeger high before turning it down. This gives the crust that signature crisp and prevents it from burning!

Cook the pie until you can see the filling bubble. This ensures that the juices in the filling along with the thickening agent have had sufficient time to thicken. Now your pie won't be too watery when it is sliced into.

It's crucial to cool your pie before serving or it'll turn out soupy. The cooling process solidifies the filling and allows it to bind together beautifully.

If you have space in the fridge, cool the pie on a baking tray. It's quicker, won't cause shrinkage, and allows your pie to hold its shape better over time.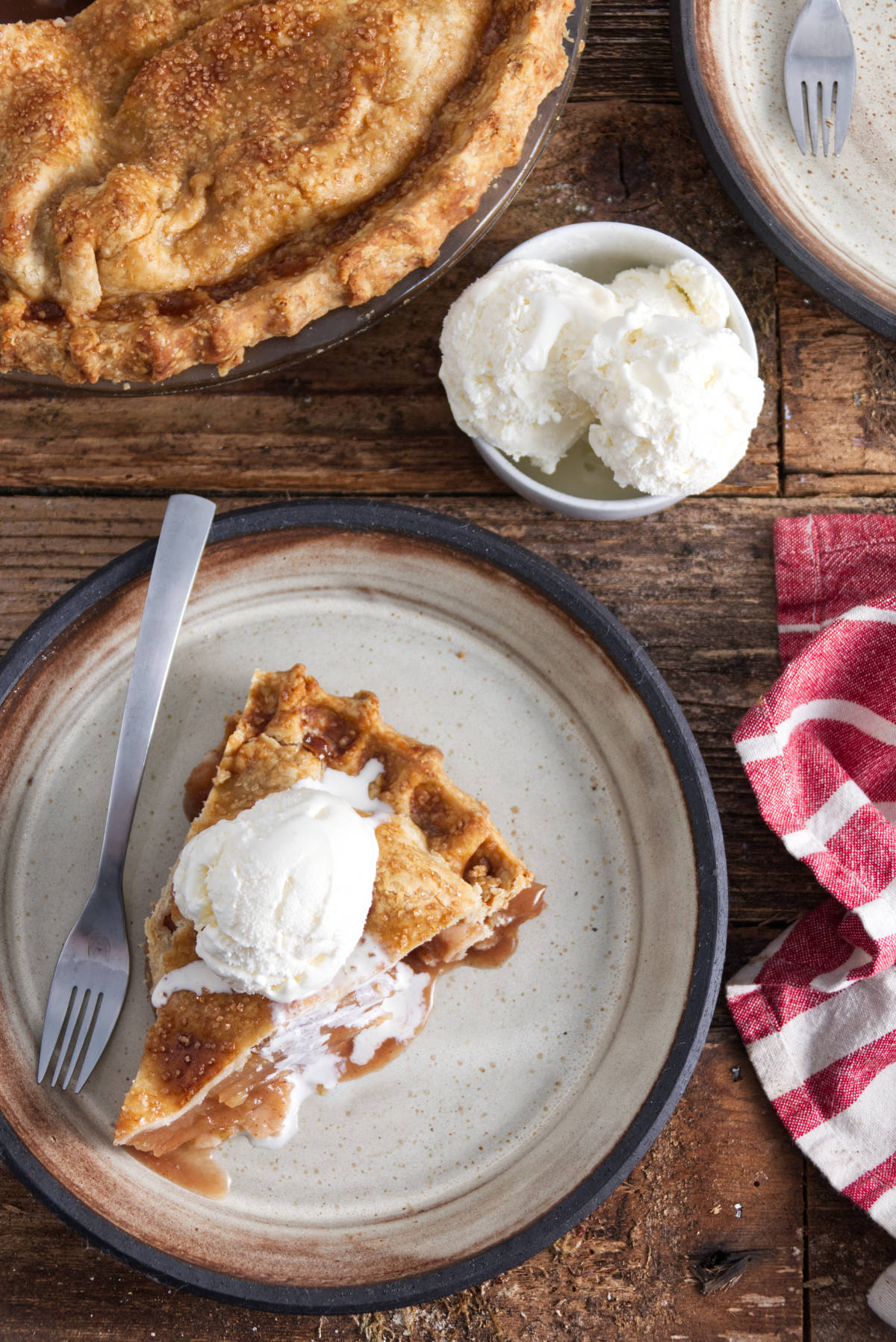 FAQ
Should I precook the apples in this Traeger smoked apple pie?
I prefer not to. This is mainly because fresh apples that cook inside the pie retain their texture better and lose less moisture.
What temperature do you bake fruit pies?
You want to bake fruit pies between 350 degrees F and 450 degrees F. For this recipe, you'll blast the pie at 450 before reducing the temperature to 350 for the rest of the bake time.
What apples should I use?
You can use any, but Granny Smith and Braeburn varieties are particularly tasty. This is because they're crisp but not too sweet! I also very much enjoy more sweet varieties in my apple pie like Honeycrisp and Pink Lady apples. I generally avoid Red Delicious, Gala, Fuji, and McIntosh apples. They won't hold up against the heat of the Traeger.
How far in advance can you make a Traeger smoked apple pie?
You can prep the filling up to 4 days ahead and store it in the fridge. If your pie is already baked, it'll keep for 2 days at room temperature and 4 days in the fridge.
How do you prevent an apple pie crust from going soggy?
If you're planning to blind-bake your crust, bake it in the Traeger for 15 minutes with pie weights. Then, remove the weights and bake for a further 5 minutes until your crust is golden brown.
Other Recipes To Cook
Why not make two pies? This Traeger smoked bourbon pumpkin pie is incredibly delicious and is a great alternative to the apple pie. The bourbon gives the pumpkin pie a smoky and sweet unique flavor.

Speaking of apple desserts, these air fryer apple fritters are super easy to whip up. They taste like fall and pair nicely with an affogato, or just eat them by themselves when the craving hits!

This Traeger S'mores dip is perfect for a large gathering. Get your favorite dipping substrates like graham crackers, apple slices, or cookies and dig in.
🛠Tools and Equipment
If you click on some of the following affiliate links and buy something, we might get a small commission. You don't pay any extra, but it will help us keep the lights on and our bellies full!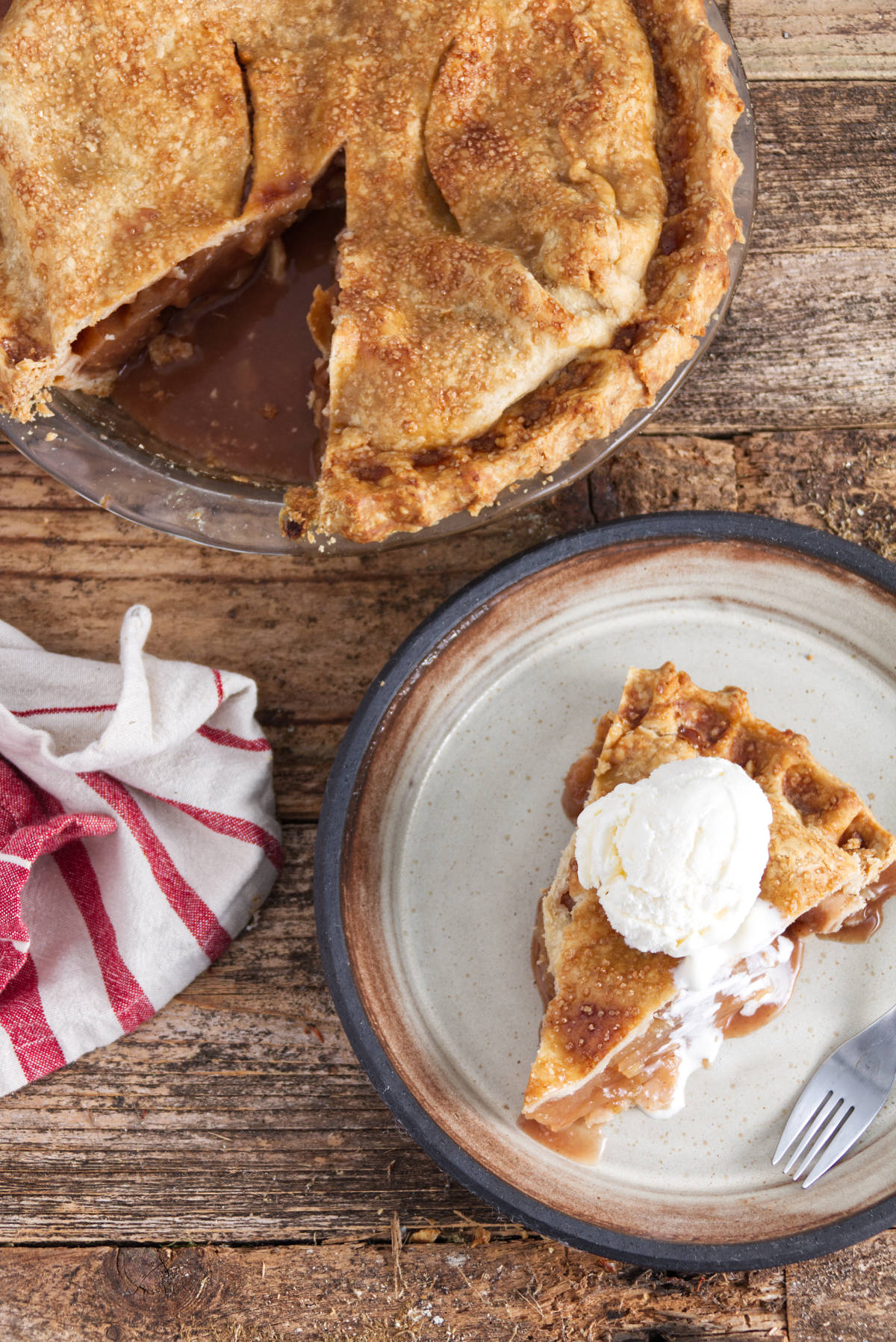 Wrap Up
Whether you're looking for a summertime special or a cozy winter warmer, this Traeger smoked apple pie promises to be a complete slam dunk. With a signature smoky crust and pleasantly tart apple filling, it's unsurprising that this recipe has become a solid staple in my dessert binder!
💬Tell Me What You Think!
Did you try out this recipe? Please leave a comment below and let me know how you liked it. Also, snap a picture and post it to your favorite social platform. Be sure to tag me at @alicensetogrill and let me know how you liked it!
CONNECT WITH A LICENSE TO GRILL!
Be sure to follow us on our social media accounts.
Facebook * Instagram * Pinterest * YouTube * Twitter
Did you make this recipe? Tell us about it in the comments below!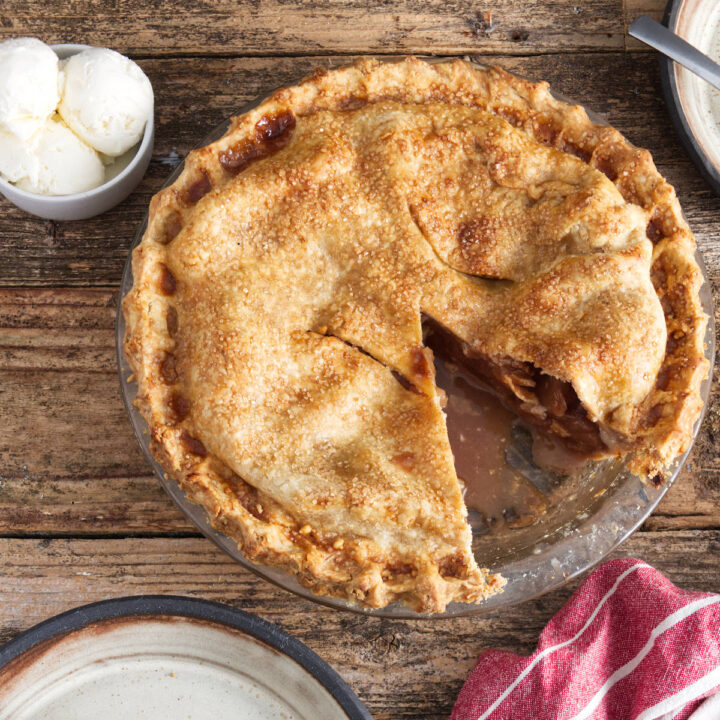 Traeger Smoked Apple Pie
Cook Time:
1 hour
45 minutes
Total Time:
1 hour
55 minutes
This is the ultimate apple pie! It is loaded to the brim with sweet and tart apples and cooked just enough to remain slightly firm. Nobody wants a mushy apple pie. It has a crispy, flakey, and tender crust, and the spices will fill your kitchen with the most beautiful fall aromas. We used a Traeger to bake this apple pie, so it is infused with a pleasant smokiness.
We start baking this apple pie at a higher temperature in order to ensure that the bottom crust is crispy, so there is no need to blind bake the pie crust prior to putting the pie filling. If you prefer to blind bake the pie crust, read the notes below for instructions.
Ingredients
1 pie crust recipe (or store bought pie crust)
7 to 8 large apples
3 tablespoons lemon juice
1/2 cup brown sugar
1-1/2 teaspoons ground cinnamon
1/2 teaspoon ground allspice
1/4 teaspoon salt
2 tablespoons cornstarch or instant Clear Jel
2 tablespoons flour
1/4 cup granulated sugar
Final Touches
1 whisked egg or 2 tablespoons of cream
2 tablespoons of Turbinado sugar
Instructions
Preheat your Traeger to 450°F.
Peel, core, and slice the apples. You should have about 8 cups of apple slices.
Mix all of the dry ingredients together in a small bowl. Be sure to incorporate the cornstarch and flour in well with the other ingredients.
Add the apple slices to a large bowl and toss them with lemon juice and the dry ingredients. Be sure to mix until all of the apples are coated well and there are no clumps.
Spray a pie dish with oil or nonstick spray. Roll out the bottom crust and place it in the pie dish.
Pour the apple pie mixture into the pie dish, making a mound of apples in the middle.
Roll out the top pie crust and drape it over the top of the pie. You can also cut strips of pie crust and create a lattice for the top crust. Trim and crimp the edge of the pie crust. Cut vent holes in the top crust if you do not have a lattice crust.
Brush either the whisked egg or cream on top of the pie crust and sprinkle the Turbinado sugar on top.
Place the apple pie on the Taeger and bake for 20 minutes. Use an aluminum foil tent over the pie if the crust begins to get too brown.
Reduce the temperature to 350°F and bake for another 60-75 minutes. Be sure that you see the pie filling bubbling before you remove it from the Traeger. If it isn't bubbling, keep baking until you see bubbles forming.
Let the pie cool for 4 hours before slicing and serving.
Notes
Use a thermometer to monitor the temperature at the grill grates of your Traeger. Oftentimes, the temperature at the grill grates is much lower than what the Traeger states, so I like to use a trusted thermometer to ensure the temperature is correct.
I prefer to slice my apples by hand so that I can control the thickness. Thick apple slices give your pie much more texture and they hold up better after baking.
Bake the apple pie in the Traeger with a high initial temperature to ensure the bottom crust gets a good crisp. Then decrease the temperature and cover the pie with foil to prevent it from burning or getting too brown on top.
You can also blind bake the crust in the Traeger. Skip the high temp baking step and set the Traeger to 350°F. Place some dried beans or ceramic pie weights in the empty pie crust and bake for 15 minutes. Remove the pie weights and bake for another 5 minutes until the crust is golden brown. Then remove the pie crust from the Traeger and continue with the recipe.
Recommended Products
As an Amazon Associate and member of other affiliate programs, I earn from qualifying purchases.
Nutrition Information:
Yield:

8
Serving Size:

1
Amount Per Serving:
Calories:

334
Total Fat:

8g
Saturated Fat:

3g
Trans Fat:

0g
Unsaturated Fat:

4g
Cholesterol:

27mg
Sodium:

173mg
Carbohydrates:

67g
Fiber:

6g
Sugar:

45g
Protein:

3g
Nutrition information is a guideline only, is calculated automatically by third party software, and absolute accuracy is not guaranteed.