This recipe for pork butt rub is about to become your new go-to dry rub seasoning for pulled pork! Made with maple sugar, smoked paprika, cayenne, and chili powder, it's smoky, sweet, and spicy — the perfect complement to salty and savory pork. The maple sugar brings an incredible sweetness that you have been missing from your pork butt rub. The perfect pulled pork is slightly sweet, so don't skimp on the sugar, and be sure to bring the heat. Otherwise, your pulled pork sandwiches will fall flat!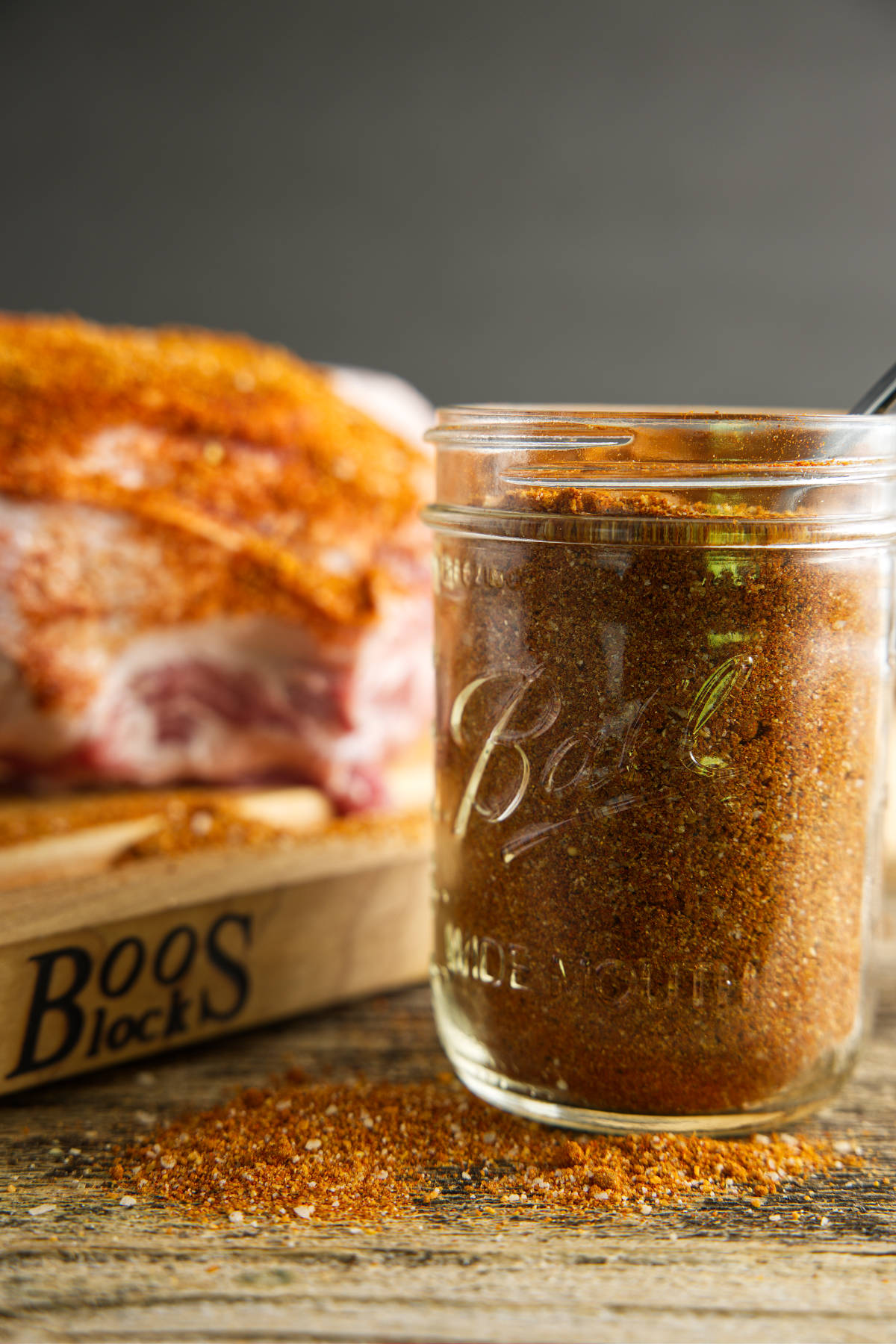 What's more, you can use this pork butt rub on so much more than just a Boston butt for pulled pork. Try it on ribs, pork chops, or pork loin and tenderloin, too. I keep this dry rub stocked and use it on chicken and beef all the time! It is incredibly versatile!
Once you create your own homemade seasoning rub, you'll never go back to the store-bought rubs! You don't want to use stale, clumpy seasoning… it will let you down when it is game time to perform!
💪 Why This Pork Butt Rub is Awesome
It's versatile — it's a pork butt rub, but it goes well on chicken, also. You can also use it in a marinade.

Ready in minutes and can be stored for up to 1 month in an airtight container.

Spicy, but not so much as to turn your face red.

It's also adaptable, so you can add some more heat (or take it away) if desired.

Made with easy-to-find pantry ingredients.

Fresh and aromatic rubs are the best! Don't settle for stale, store-bought rubs.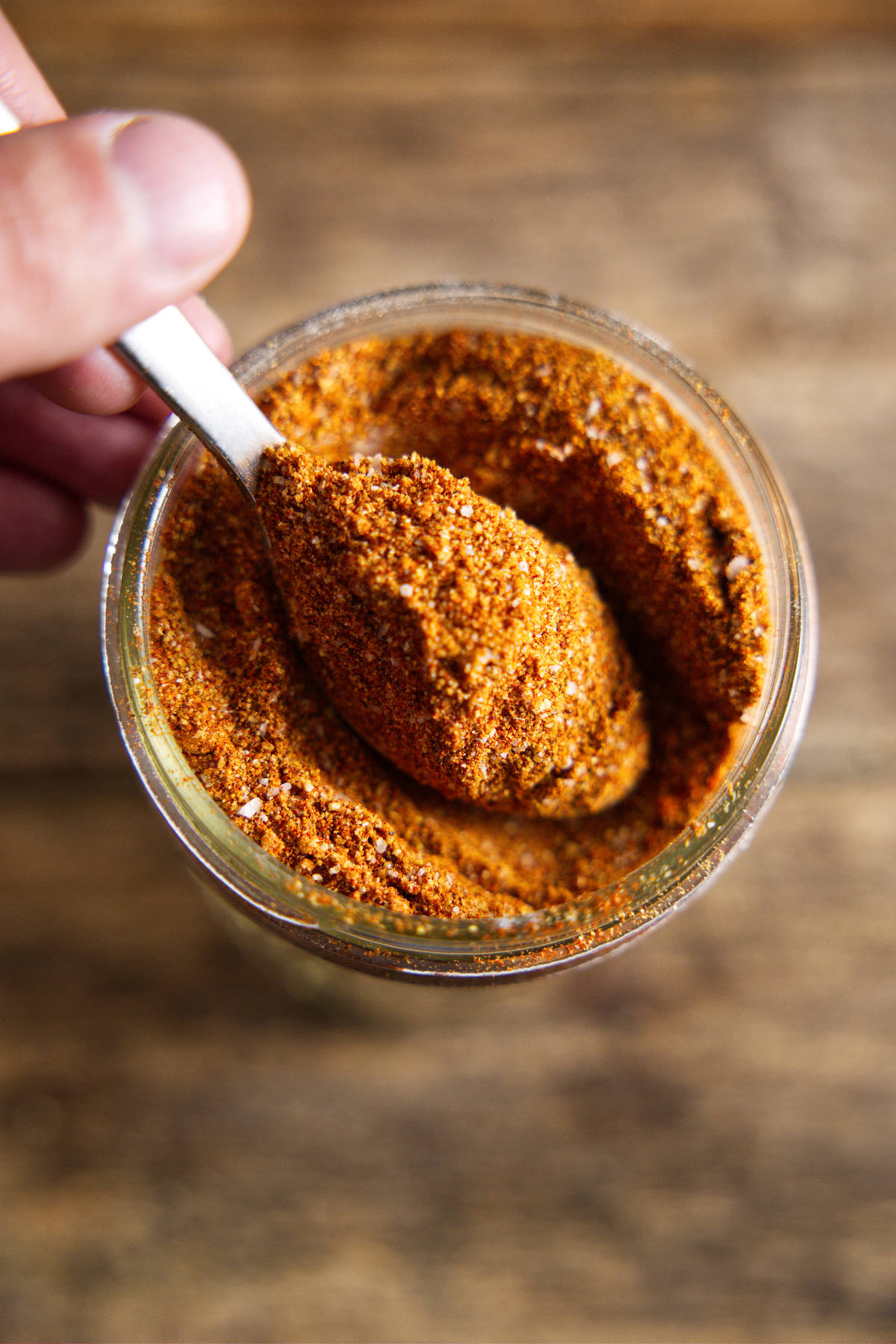 🍽 Ingredients for Pork Seasoning Rub
You'll need a variety of spices and seasonings to make this homemade seasoning blend. For variations to the recipe, find the section below detailing substitutions and variants.
Scroll down to the printable recipe card for all of the details on quantities and how to make it.
Smoked paprika. I love the smoky flavor this adds to the rub. Alternatively, you could use regular paprika.

Brown sugar. For a warm and molasses-like sweetness. I prefer to use dark brown sugar for a more intense flavor, but light brown sugar also works.

Maple sugar. A natural sweetener made by boiling maple syrup until sugar forms. It tastes like regular sugar but with a hint of sweet maple flavor. You can alternatively use granulated honey, granulated sugar, or brown sugar.

Coarse Kosher salt. To balance out the other ingredients and enhance the flavors. Don't use table salt. It will make the rub way too salty!

Garlic powder. A must-have in your pork butt rub. It adds a delicious, savory flavor.

Onion powder. A must-have in your rub. It gives a punch of onion flavor.

Cumin. Use ground cumin for your pork shoulder rub. It's a bit nutty in flavor and boasts a complex and earthy taste.

Mustard powder. Adds a sharp spice and brings an earthy aroma to the rub.

Chili powder. For that added heat I've been mentioning! Remember, you can add more or less, depending on your preferences.

Cayenne pepper. Also spicy, cayenne works wonderfully with pork, so it's no surprise how well it works in this rub.

Black pepper. I like freshly ground pepper from a mill best, but you could also use simple pre-ground black pepper that you can find at the supermarket.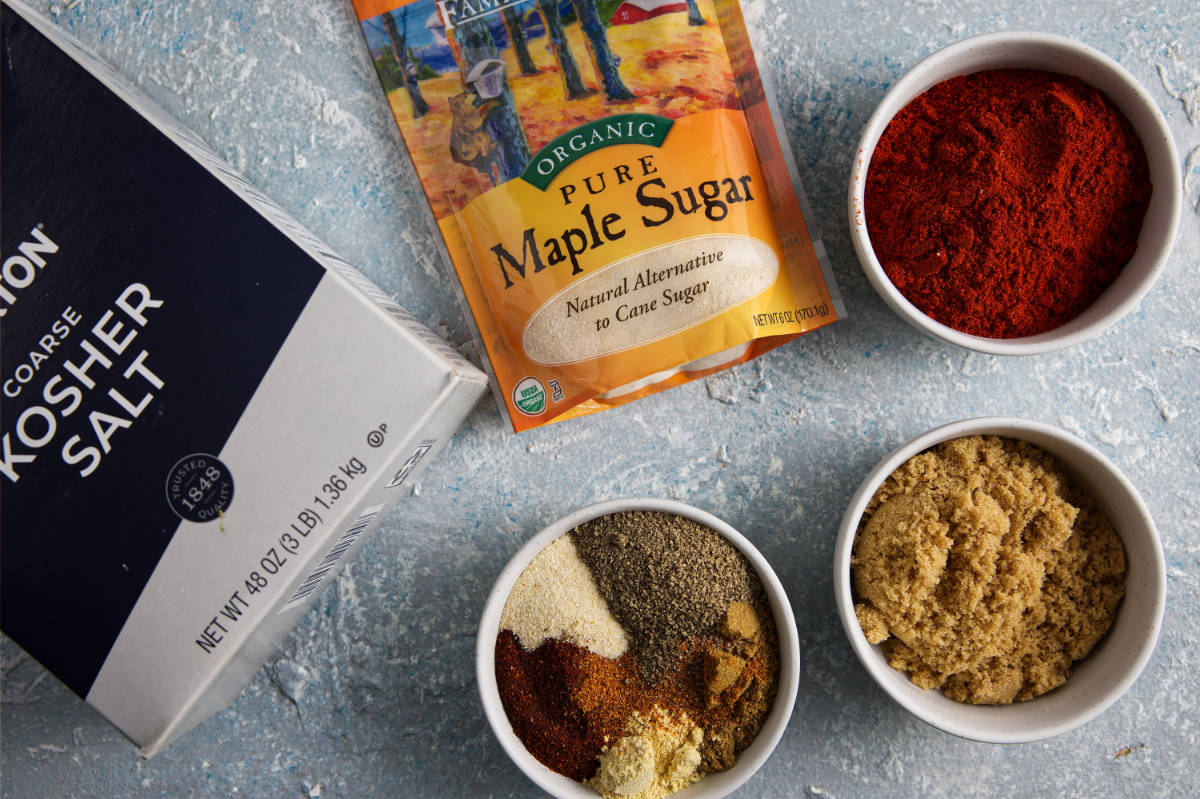 ⚖️ The Perfect Ratio for Rubs
When you are cooking low and slow, your rub can handle a lot of sugar. In this case, we recommend a 1:1 ratio of sugar to spices. It might sound like a lot of sugar, but this rub really isn't too sweet. If you are conscious of your sugar intake, you can reduce the amount of sugar in the recipe by ½, and it will still be great!
It is also important to ensure there is plenty of salt. We recommend using Kosher salt and using enough salt that it comprises about ¼ of the total volume of seasoning used
🧂 What Type of Salt?
Not all salt is created equal! If you use table salt, you will likely find that your pork rub is way too salty. Instead, pull out that coarse Kosher salt. It is much less dense than the iodized table salt and, therefore, you won't have a super-salty rub.
Feel free to adjust the amount of salt that you add to your rub. You can also mix it up by using different types of salt that have been infused or flavored.
👨‍🍳 How To Make the Pork Rub
This pork butt rub is ready in minutes! Remember to refer to the printable recipe card at the end of this article for more specific directions.
Add all of the ingredients to a large bowl.

Whisk to break up any clumps and combine.

Use your seasoning mix on pork butt, pork shoulder, or another cut of meat.

If you are not using it right away, store the rub in an airtight container in a cool and dark place.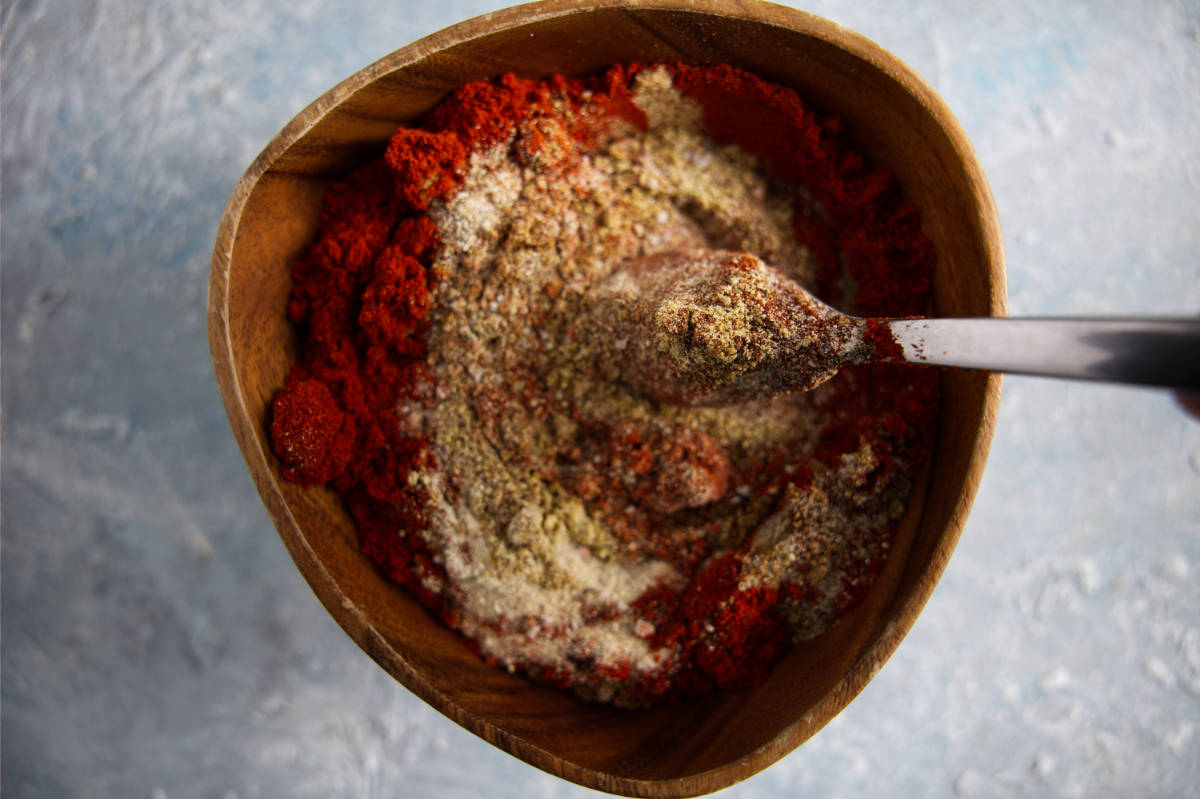 😋 Try it On Pork Butt
This smoked pork butt recipe is incredible! The pork butt is injected with a delicious marinade. The marinade is made with a sprinkle of the pork butt rub, and it helps to infuse tons of flavor into the pork while helping it stay juicy during the several-hour smoke. The pork butt rub on the outside of the meat helps to build a wonderful bark that is distributed throughout the pork once it is pulled apart and tossed together.
This will be one of the best pork butts you have ever tasted! You will be coming back to this recipe every time you want pulled pork!
🐖 Try the Rub on These Pork Recipes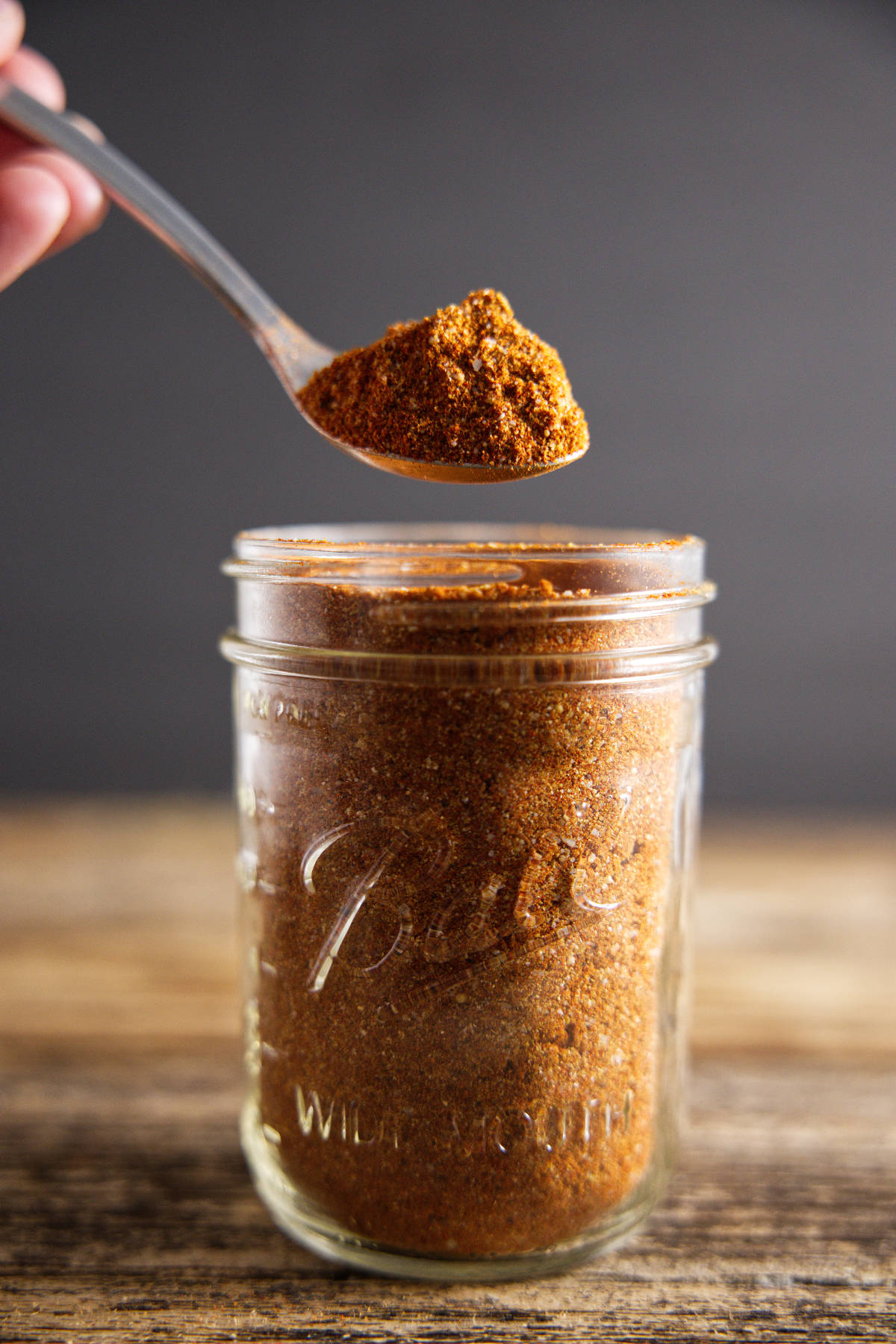 😉 Tips For A Rub Success
Every ingredient matters! The sugars add sweetness, the salt adds a savory touch, and the chili powder and cayenne bring the heat. The results are a well-balanced blend of flavors.

Opt for dried herbs, not fresh. While I love using fresh herbs in a variety of recipes, dried are best for, well, dry rubs! They'll also store much better.

This rub relies heavily on the combination of spices, so make sure to use high-quality seasonings. For example, freshly ground black pepper will have a more potent flavor than already ground pepper.

You may also consider using recently purchased spices to ensure that they're fresh and flavorful. You want your dry rubs to be aromatic and packed with flavor, so don't use stale, old spices.
🤔 Substitutions and Rub Variations
Maple sugar can be replaced with granulated honey, granulated sugar, or more brown sugar. Maple sugar has a very unique flavor and isn't as sweet as granulated sugar, but there are other options in case you cannot find it at your store.

Looking for more of a kick? I've replaced the chili powder and cayenne pepper with habanero powder in the past, and the results were certainly fiery! Spice lovers will love it.

Use different types of salt. There are some amazing salt blends and infusions out there. Put an umami spin on your pork rub by using a truffle salt. Or try a salt that has been infused with sriracha, espresso, or wine.
🥡 Store Your Pork Butt Rub Properly
This pork butt rub recipe yields 2 cups of dry rub. Store it in an airtight container (like a glass jar) in your pantry or in the cupboard. Keep it out of direct sunlight, and you'll be able to extend its shelf life to up to 2-3 months.
🛠 Tools and Equipment You May Need
🤤 Need Another Recipe? Check These Out!
❓ FAQ
What does a dry rub do?
So much! A dry rub enhances the taste of whatever you put it on and creates a tasty crust as it cooks, adding texture and a burst of flavor in every bite. My pork butt dry rub also helps to tenderize and marinate the meat, which will give you juicy (and delicious) results.
How far in advance do you have to apply the rub to pork butt?
Anywhere between 30 minutes to a few hours before cooking. Applying the rub in advance allows the seasonings to work their magic and inject flavor into the meat. Whether you plan to cook your pork right away or within 24 hours, it's best to refrigerate the meat to avoid any foodborne illnesses.
Can I use pork butt rub on other cuts of meat?
Absolutely. Use it as a pork shoulder rub or even on other types of meat like chicken or beef. Play around with different cuts to determine what works and what doesn't — feel free to experiment until you figure it out! Some important things to think about are the fat content of the meat, your cooking method, and how you plan on serving it. 
Do I use dry rub or wet rub for pulled pork?
This is all up to personal preference! Using a dry rub allows for the pulled pork to build up a wonderful bark while it cooks low and slow. The simplest of wet rubs is mustard. You can easily put a coating of mustard on the pulled pork to act as a binder for the dry rub to stick to the meat.
My preferred method is to use a marinade to inject into the pork butt before coating the outside with a dry rub. In fact, this is the method used in our Smoked Pork Butt recipe.
🎁 Wrap Up
Once you make your own dry rub, you'll never reach for a store-bought seasoning again. By combining a few key spices and seasonings, you'll have your own mix ready to use in a variety of recipes! Flavorful and simple, this pork butt rub features everything that you can ask for in a dry rub!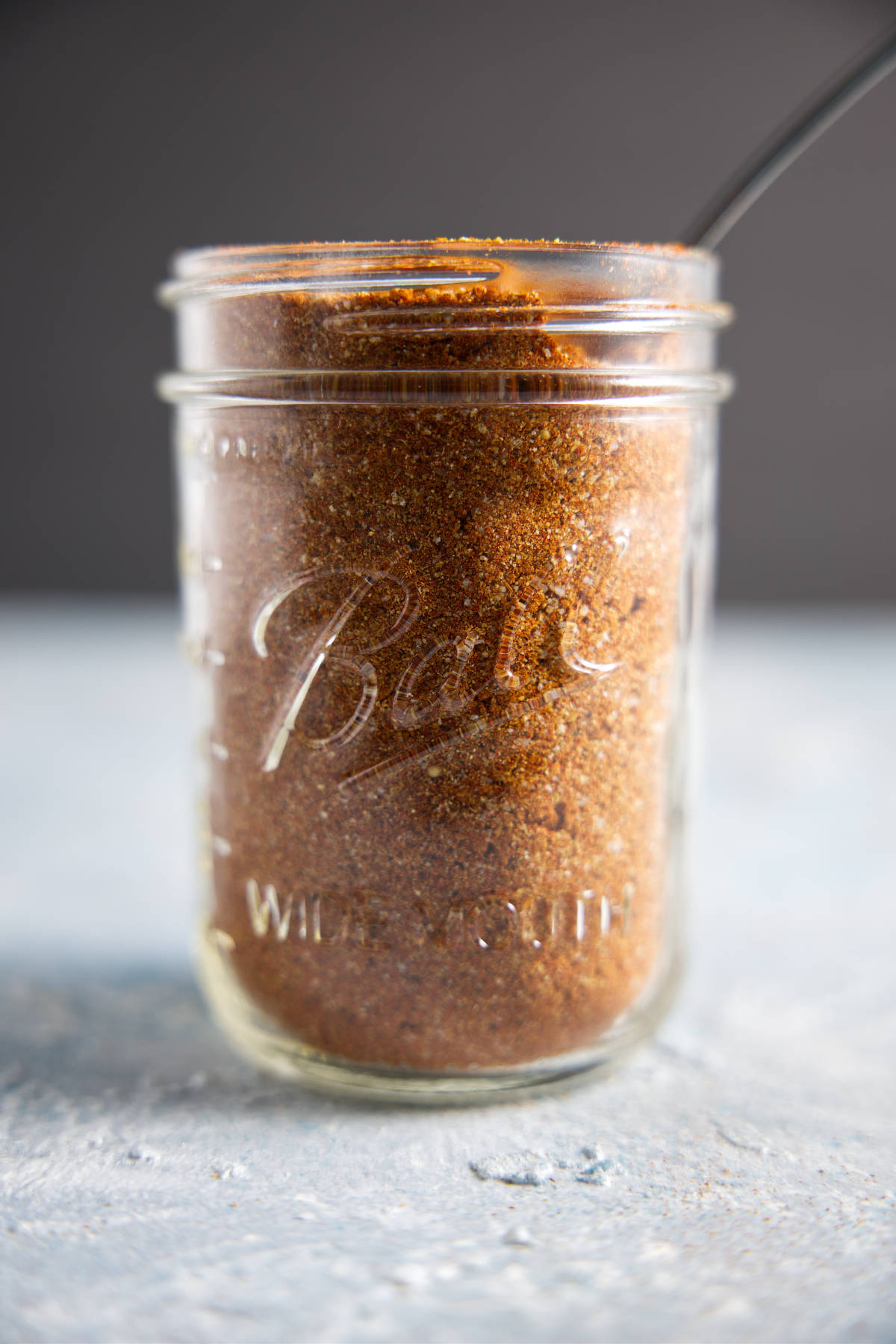 💬 Tell Me What You Think!
Did you try out this recipe? Please leave a comment below and let me know how you liked it. Also, snap a picture and post it to your favorite social platform. Be sure to tag me at @alicensetogrill and let me know how you liked it!
CONNECT WITH A LICENSE TO GRILL!
Be sure to follow us on our social media accounts.
Did you make this recipe? Tell us about it in the comments below!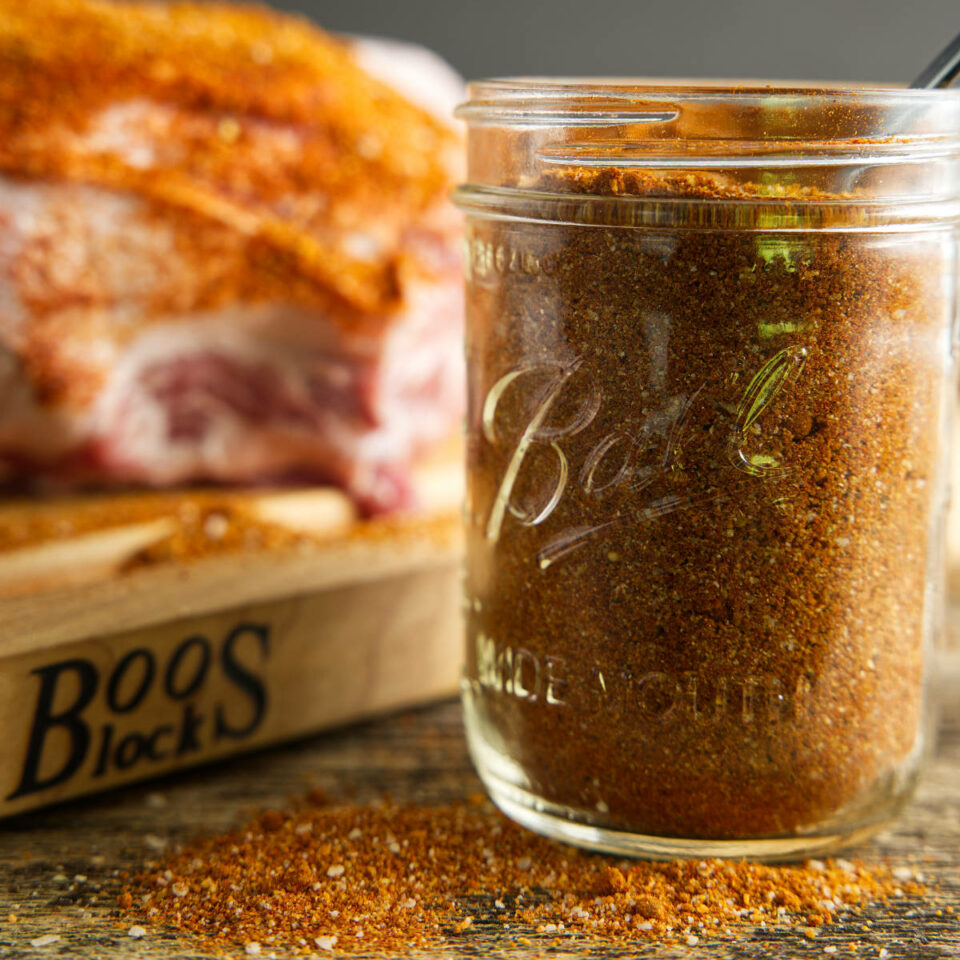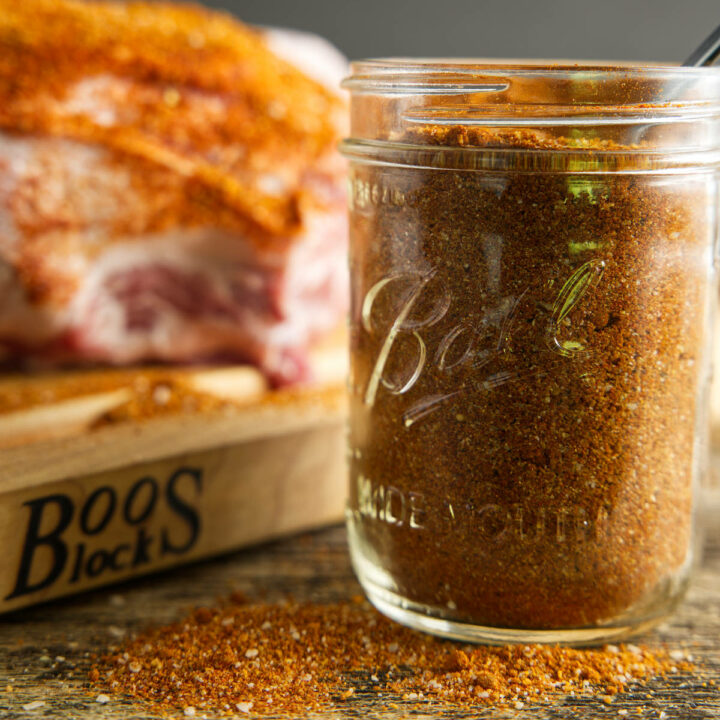 Pork Butt Rub
Smoky, sweet, and spicy, this pork butt rub is the perfect dry rub seasoning for your next pulled pork cook. The maple sugar gives a wonderful sweetness to your pork. The addition of smoked paprika, cayenne, and chili powder is just enough to bring some heat without turning your face red.
You can use this pork butt rub on more than just pork butt. Try it out on ribs, pork chops, or pork loin and tenderloin. It is a versatile rub that you will definitely want to keep stocked in your spice rack.
If you do not have maple sugar, you can substitute it with granulated honey, granulated sugar, or additional brown sugar.
For more of a kick, substitute the chili powder or cayenne powder with habanero powder.
Ingredients
1 cup brown sugar
½ cup maple sugar (or granulated white sugar) *see notes
½ cup Kosher salt
4 tablespoons smoked paprika
2 tablespoons garlic powder
2 tablespoons onion powder
2 tablespoons ground cumin
2 tablespoon dry mustard
2 tablespoons freshly ground black pepper
1 tablespoons chili powder
1 tablespoon cayenne pepper
Instructions
Mix the ingredients together in a large bowl. Use a fork or whisk to break up any clumps and mix it well.
Use right away or store in an airtight container.
Notes
If you do not have maple sugar, you can substitute it with granulated sugar. You can also substitute with granulated honey or additional brown sugar.
Be sure to use coarse Kosher salt. Regular table salt will make the rub way too salty.
Store the pork butt rub in an airtight container for up to 1 month.
Recommended Products
As an Amazon Associate and member of other affiliate programs, I earn from qualifying purchases.
Nutrition Information:
Yield:

100
Serving Size:

1
Amount Per Serving:
Calories:

13
Total Fat:

0g
Saturated Fat:

0g
Trans Fat:

0g
Unsaturated Fat:

0g
Cholesterol:

0mg
Sodium:

306mg
Carbohydrates:

3g
Fiber:

0g
Sugar:

2g
Protein:

0g
Nutrition information is a guideline only, is calculated automatically by third party software, and absolute accuracy is not guaranteed.