This Air Fryer Mahi Mahi is a game-changer. We're talking flaky, melt-in-your-mouth fish that's perfectly seasoned and air-fried to perfection. Oh, and let's not forget about the dill caper sauce—this stuff is liquid gold that takes the dish to the next level.
The best part? The air fryer makes this a super low-maintenance meal, from start to finish. Easy prep, speedy cooking, and virtually no cleanup mean you'll be out of the kitchen in no time. It's the ultimate dish for busy weeknights when you want something delicious without the fuss.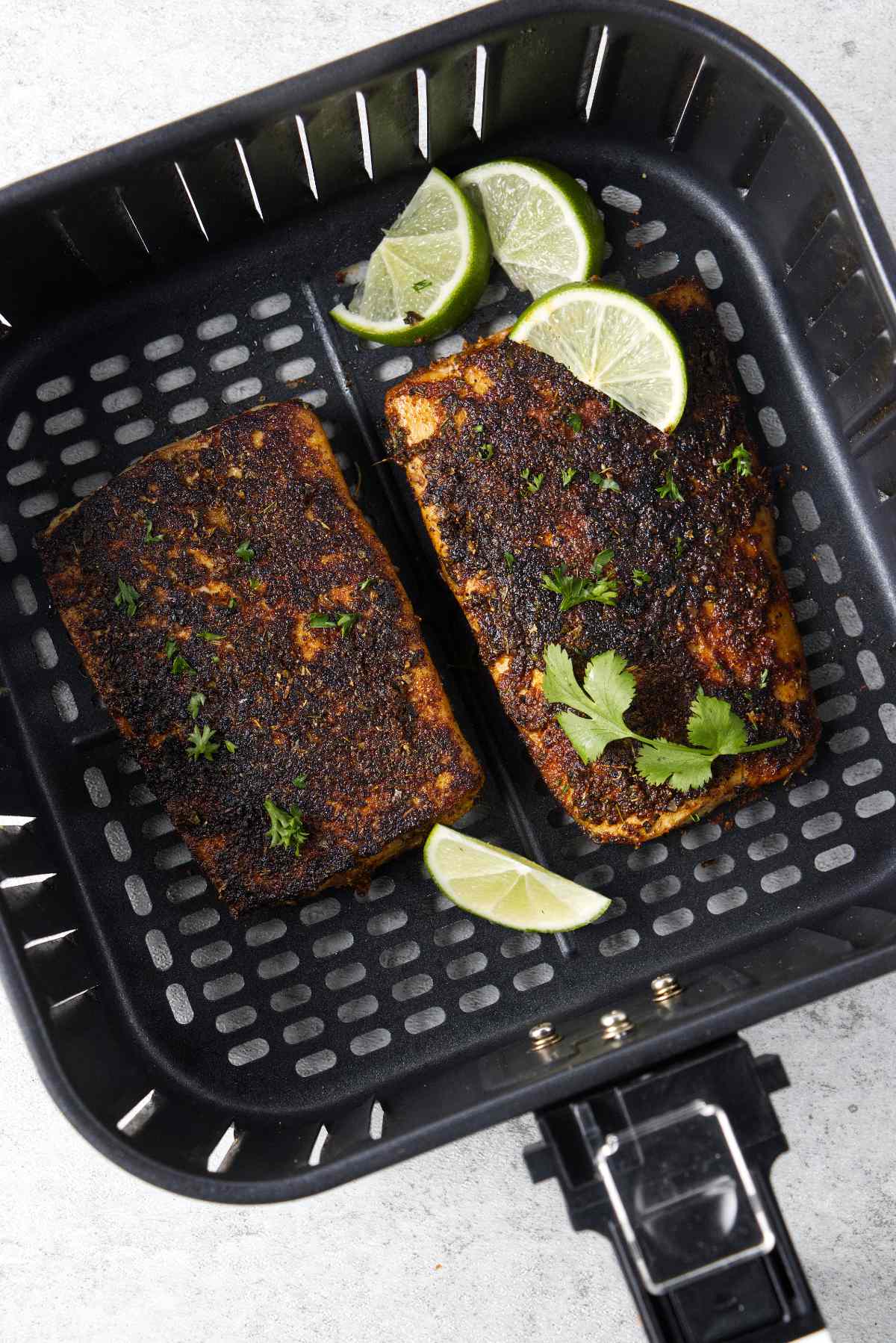 Dipped in a creamy, fresh dill caper sauce, air fried mahi mahi is a delicious fried fish dish that will leave your family and friends begging for your recipe.
Even more, you can really customize this recipe to make it your own. Try different spices like cumin or red pepper, or different dipping sauces like this Chipotle Lime Crema!
🎯 Why this Air Fryer Mahi Mahi is Killer
Quick & Easy. Designed specifically for the air fryer, it cuts down cooking time, making it perfect for busy millennials and young parents on the go.
Dill Caper Sauce = Major Flavor Boost. This isn't your typical tartar sauce. The combo of dill, capers, and relish is trendy and adds a gourmet touch.
Fresh or Frozen. Do you have frozen mahi mahi ready to go? No problem! This recipe tell you just how to dial in the settings on the air fryer to get the perfect fish.
Blackening Magic. With our unique blend of spices, it brings that deep South flavor without a grill, perfect for urban living without outdoor cooking spaces.
Perfect Fish Choice. Mahi Mahi holds its own with the blackening spices without getting lost, plus its texture is perfect for the air fryer.
Adaptable Heat. The cayenne pepper can be easily adjusted. Whether you like a mild kick or some intense heat, you can have yours!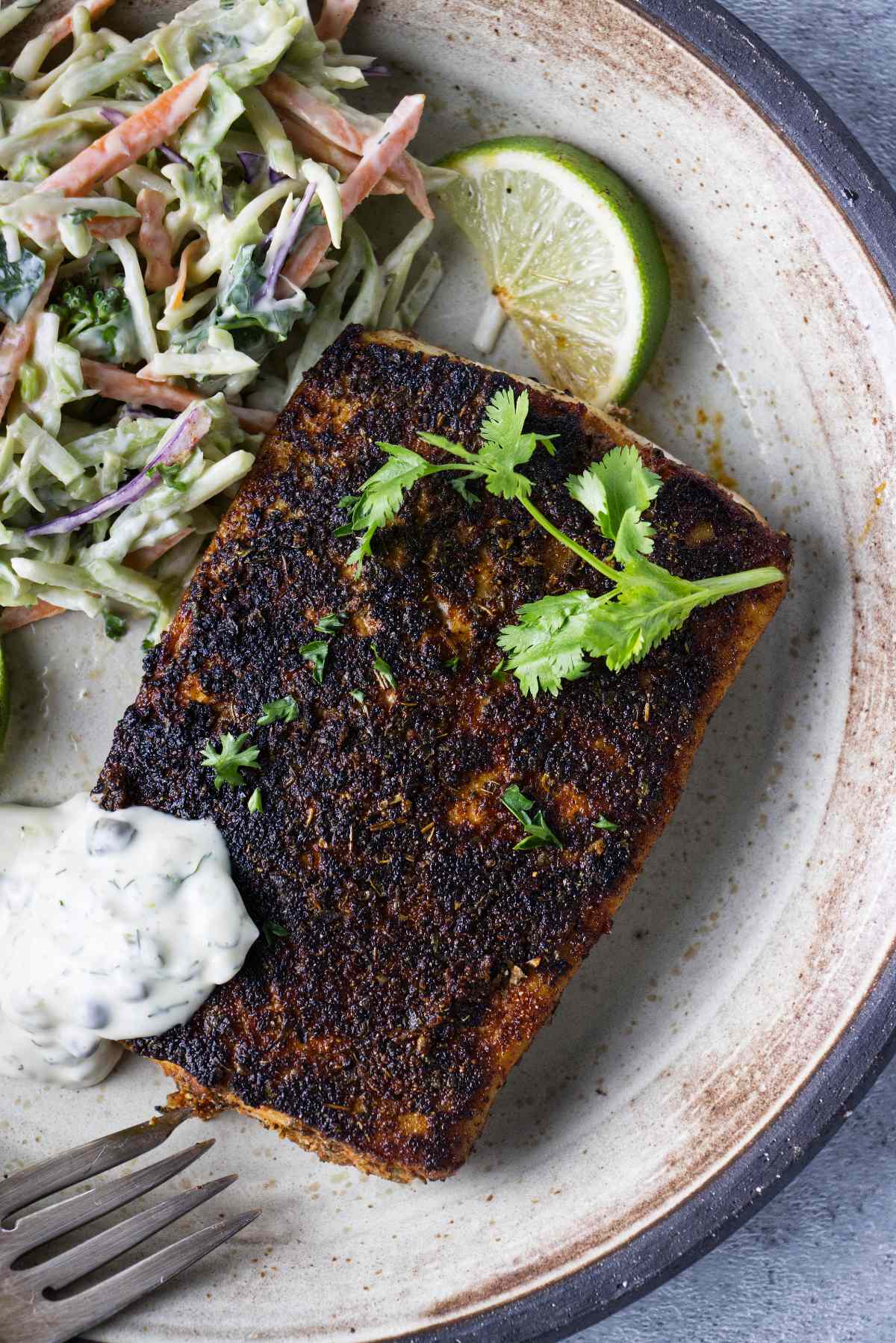 🍽 Ingredients for This Mahi Mahi
There are really only a few components to this air fryer mahi mahi recipe — the fish fillets, a little oil, the blackening spice blend, and homemade dill caper sauce! Refer to the printable recipe card below for all the details.
Mahi Mahi Fillets. Fresh or frozen is fine. If they are frozen, thaw them first, or plan to brush them in oil before seasoning.
Vegetable Oil. Brush this over the fish to help the spices stick to the surface. Canola or avocado oil are good alternatives.
Blackening Spice. You can use a pre-mixed blend from the store or make your own by combining paprika, dried oregano and thyme, garlic powder, sugar, salt, and pepper. For extra heat, toss some cayenne pepper in there too!
Mayonnaise. This forms the base of your dill caper sauce.
Lemon Juice. For a splash of acid and a hit of citrus to liven up the sauce.
Fresh Dill. Adds an iconic flavor boost and additional citrus notes.
Capers. These pickled flower buds are such a delicious addition to the air fryer mahi mahi sauce! Be sure to rinse and chop them before adding to your sauce.
Sweet Pickle Relish. Gives a sweet and vinegary punch to the sauce, plus tiny bits of crunch!
Dijon Mustard. Adds another layer of mild heat and has an earthier flavor than regular yellow mustard.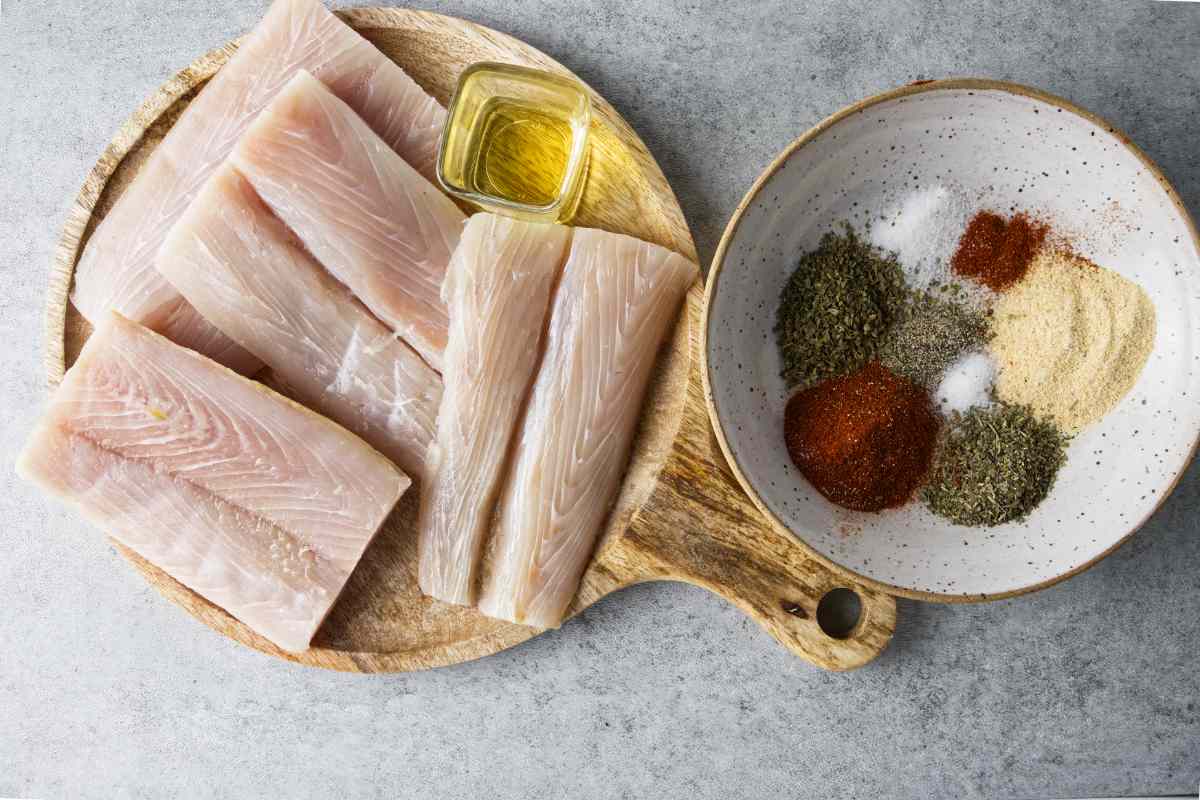 👨‍🍳 How To Make Air Fryer Mahi Mahi
Scroll down to the printable recipe card for the step-by-step instructions for this recipe.
Preheat your air fryer to 400°F.
Thaw the fish if necessary, and prepare your blackening spice mixture.
Pat your mahi mahi fillets dry with a paper towel, then brush with oil.
Coat the mahi mahi fillets blackening spice mixture.
Transfer the mahi mahi fillets to the air fryer and cook for 8-10 minutes. Flip halfway to make sure it crisps on both sides, then test with a fork or thermometer to check for doneness.
Whip up a quick dill caper sauce and spoon over air fried mahi mahi before serving.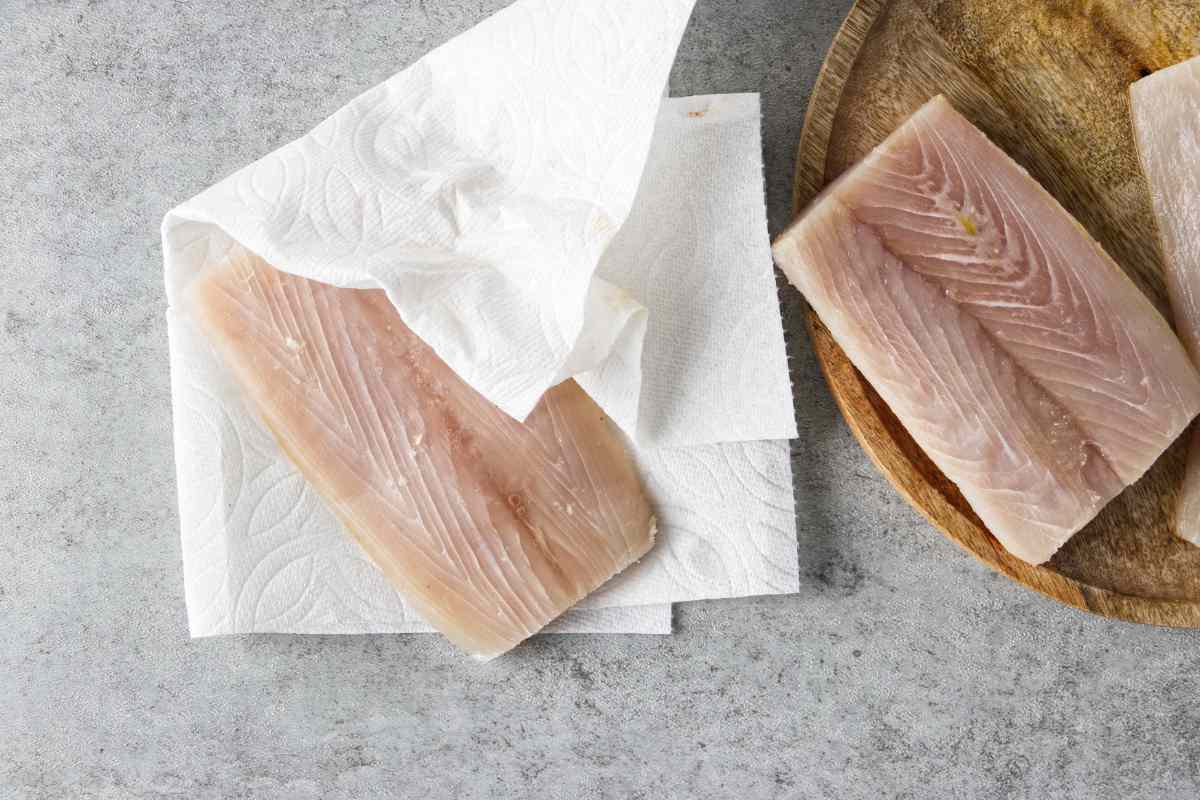 😉 Tips For Perfect Mahi Mahi
Instant-read thermometer. Check your air fried mahi mahi — when done, the internal temperature should be around 135°F-140°F. Or, insert a fork into the center and twist to check if it's done. The fish should flake easily, and the center should no longer be translucent. Do not overcook it!
Line your air fryer. Parchment paper is your friend! Fish likes to stick, and our goal is easy cleanup. This will prevent your fish from sticking to the basket and make cleanup a super breeze. Use spray oil to keep things tasty and moist.
Remove the skin from the fish with a sharp knife before cooking. This will ensure the blackening spice mixture sticks to every inch of the surface, plus it will be easier to eat the air fried mahi mahi once cooked.
Oil mist FTW. Instead of brushing on oil, use an oil mister to coat the mahi mahi fillets evenly. This ensures every nook and cranny is reached, which helps the seasoning adhere better and promotes even cooking.
Sauce timing. To maximize flavor, prepare the dill caper sauce a few hours in advance and let it sit in the fridge. This will give all the ingredients enough time to meld together, taking the sauce from good to GREAT!
Thaw things out. If you're using frozen mahi mahi, thaw it in the fridge on a tray to catch any drips. This will ensure that your spice rub will adhere better.
Final Flare – Just before serving, hit the cooked fillets with a small squeeze of fresh lemon juice for that added zing. It's a game changer that elevates the entire dish.
🤔 Substitutions and Variations
Try a different type of white fish! The blackening spice mix will pair well with many types of white fish, such as tilapia, cod, or halibut.
Use in a sandwich! Layer your favorite type of bread with a piece of air fryer mahi mahi, plus your choice of tomato, lettuce, mayo, and dill caper sauce!
Ditch the mayo. If you're not a fan of mayo-based sauces, you can use Greek yogurt or even plant-based yogurt for the dill caper sauce base.
Relish replacement. Instead of sweet pickle relish, try chopped cornichons or some finely diced pickled jalapeños for an extra kick in your sauce.
Fish tacos. Use the air fryer mahi mahi as a filling for fish tacos. Top with a cabbage slaw, some of that amazing dill caper sauce, and a squeeze of lime. Perfect for Taco Tuesday!
Bowl it up. Serve the mahi mahi over a bed of cilantro-lime rice or quinoa, add some avocado slices, and drizzle the dill caper sauce all over. It's a one-bowl wonder that's both satisfying and Insta-worthy!
🥡 Storing and Reheating Air Fryer Mahi Mahi
Store air fryer mahi mahi in an airtight container in the refrigerator. It will keep for 3-4 days. You can also freeze any leftovers in an airtight bag for up to 6 months. Try to remove as much air as possible from the bag for best results, or use a vacuum sealer.
Store the sauce in an airtight container in the fridge for 5-7 days. Give it a good stir before serving it.
For best results, reheat the mahi mahi in the air fryer at 400°F for 3-5 minutes on each side. This guarantees to get that outer layer nice and crispy again! If frozen, allow the fish to thaw before reheating.
❓ FAQ for Mahi Mahi
Should I soak mahi mahi fillets before cooking?
You certainly can, but it is not necessary for this air fryer mahi mahi recipe! Many people find that soaking your fillets allows them to shrink less during the cooking process, but it won't really affect the taste. If you choose to soak your fish, use a mixture of 1 quart water, ¼ cup vinegar, and 3 tablespoons salt. Soak your fillets (thawed, not frozen) in the fridge for 4-6 hours, then rinse and pat dry.
How do you know if mahi mahi is overcooked?
Overcooked mahi mahi will have a very tough texture and will start to ooze a white protein liquid. Try sticking a fork into the center of your fillet — if this proves difficult, or the inside of the fish has a dry, flaky texture, you've overcooked your fish.
Do I need to remove the skin from the mahi mahi before cooking?
It is totally up to you, but I definitely recommend it. If you remove the skin, you can put the blackening seasoning all over the fish to ensure maximum coverage.
Can I use frozen mahi mahi fillets for this recipe?
Absolutely, you can use frozen fillets! Just be sure to adjust the air fryer settings as mentioned in the recipe. If you start from frozen, the cooking time might be slightly longer, so keep an eye on it.
Is there a non-dairy alternative for the dill caper sauce?
You bet! You can use a plant-based yogurt or even a dairy-free sour cream as a base for the sauce.
🛠 Tools and Equipment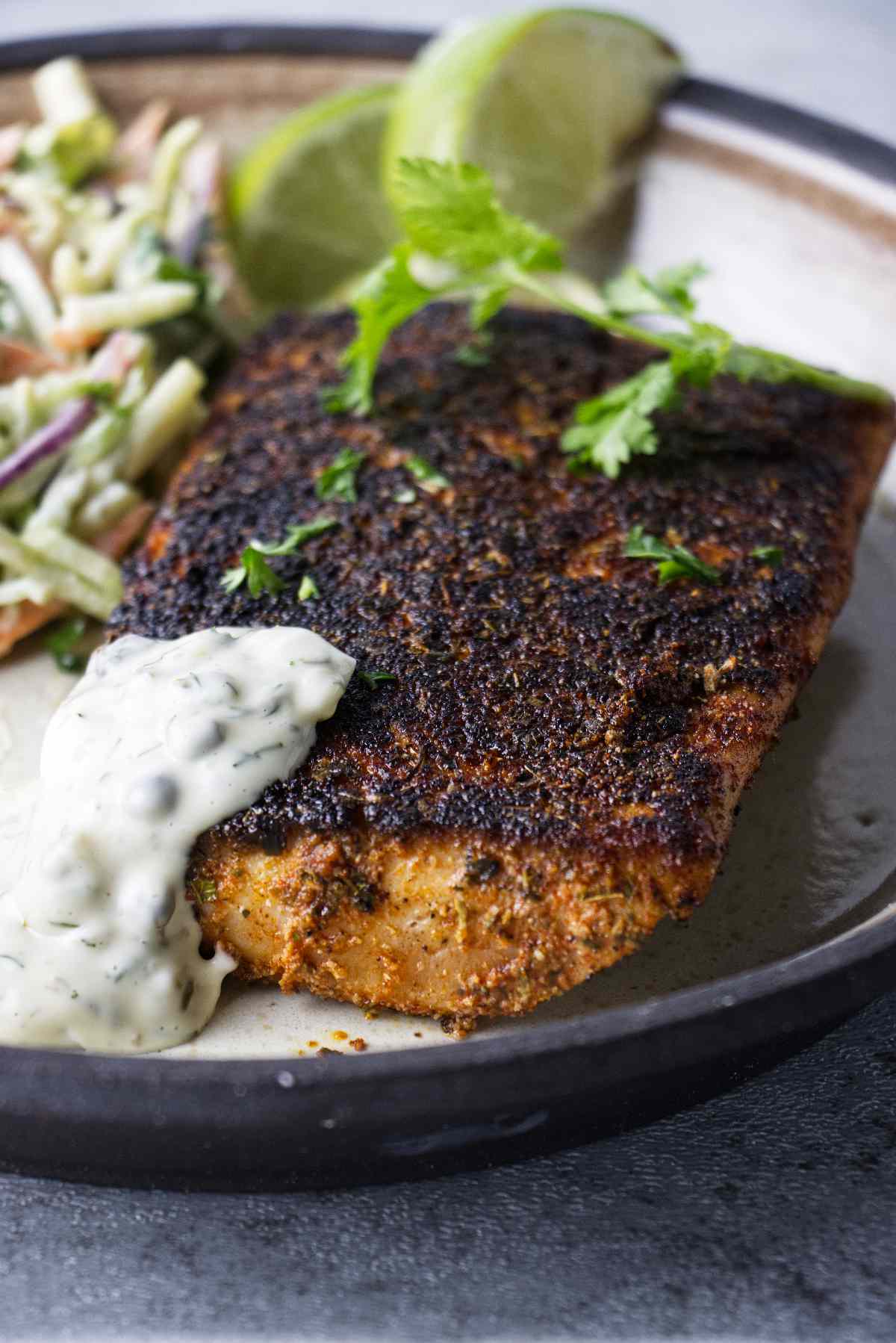 🎁 Wrap Up
Air fried mahi mahi is a delicious, mess-free meal that's easy enough for weeknights but impressive enough for guests. Get creative and try this recipe with any of your favorite sauces or spices — then, let me know how it went in the comments below.
💬 Tell Me What You Think!
Did you try out this recipe? Please leave a comment below and let me know how you liked it. Also, snap a picture and post it to your favorite social platform. Be sure to tag me at @alicensetogrill and let me know how you liked it!
CONNECT WITH A LICENSE TO GRILL!
Be sure to follow us on our social media accounts.
Did you make this recipe? Tell us about it in the comments below!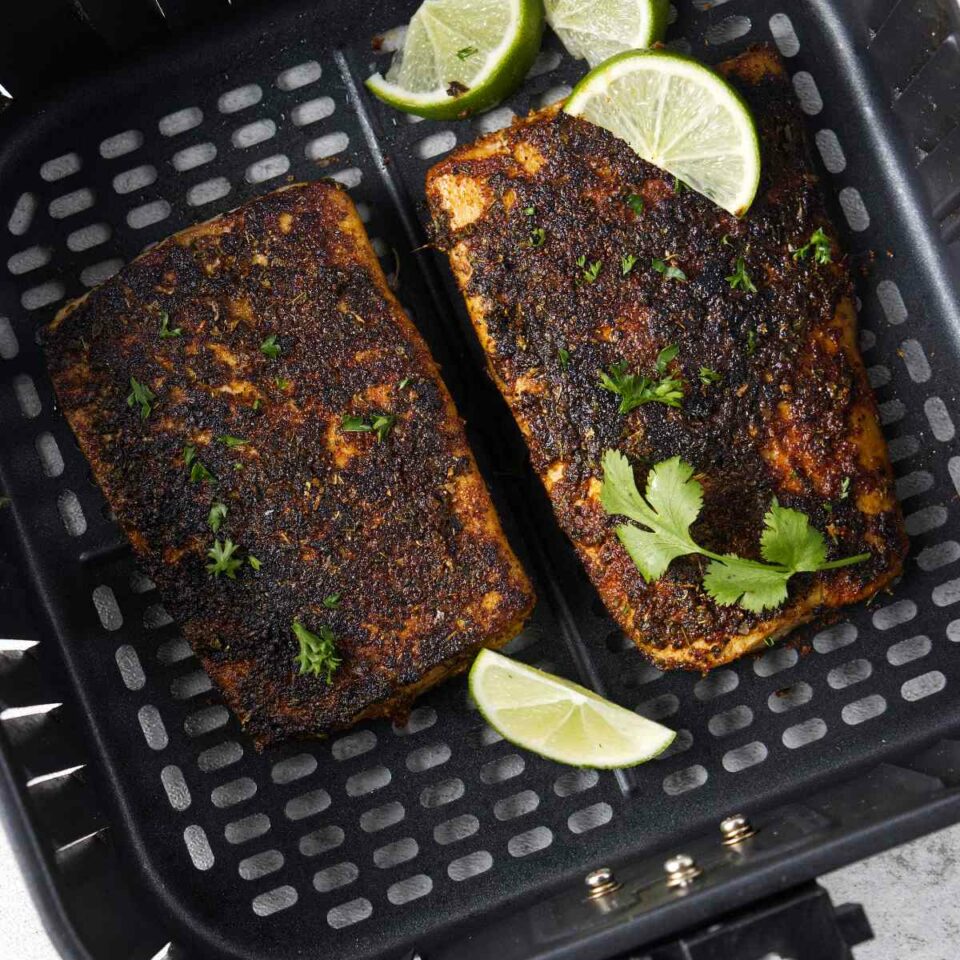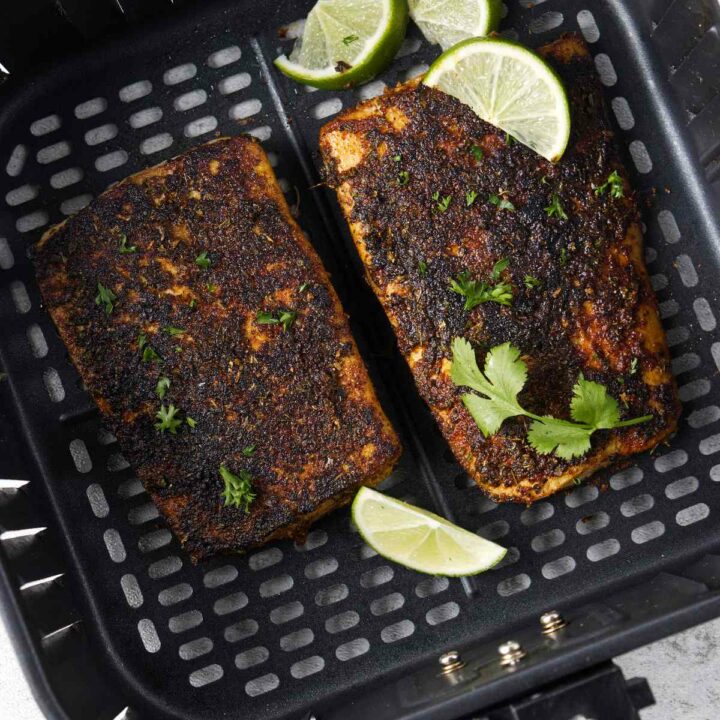 Air Fryer Mahi Mahi
Take your tastebuds on a coastal getaway with this Air Fryer Mahi Mahi! Perfectly flaky fish spiced up with an epic blackening seasoning that'll have you wanting to add this dish to your air fryer rotation. Drizzle it with a dill caper sauce to give the fish a wonderful tangy punch of flavor. Think of it as the trendy accessory your fish didn't know it needed! Plus, cleanup with the air fryer is a breeze making it an easy weeknight meal for the family!
Ingredients
Blackening Spice Mixture (or use store-bought blackening spice)
1 tablespoon smoked paprika
1 tablespoon garlic powder
1 tablespoon dried oregano
2 teaspoons dried thyme
1 teaspoon sugar
1 teaspoon black pepper
¾ teaspoon salt
¼ teaspoon cayenne pepper (use more if you like it spicier)
For the Mahi Mahi
4 Mahi Mahi fillets (about 6 ounces each)
2 tablespoons vegetable oil
Dill Caper Sauce
½ cup mayonnaise
1 tablespoon lemon juice
1 tablespoon freshly chopped dill
2 teaspoons capers, rinsed and chopped
2 teaspoons sweet pickle relish
1 teaspoon Dijon mustard
Instructions
Preheat the air fryer to 400°F.
Combine the spices in a wide, shallow dish. You can use a casserole dish or sheet pan.
Use a paper towel to pat the mahi mahi filets dry, then brush or spray them with a thin coat of oil.
Place the fillets in the dish and coat the mahi mahi in the blackening seasoning, pressing down to get the spices to adhere to the fish.
Transfer the mahi mahi to the air fryer in a single layer. If you have a small air fryer, cook the fillets in batches.
Air fry for 8 to 10 minutes, flipping the fish halfway through the cooking time. If the fish filets are less than ½ inch thick, reduce the cooking time to 4 to 5 minutes. Use a thermometer or fork to test for doneness. It should flake easily when done cooking.
For the Dill Caper Sauce
Combine all the ingredients for the dill sauce in a small dish. Serve the sauce with the blackened mahi mahi.
Notes
Don't overcrowd the air fryer basket. This helps to ensure that the fish cooks evenly.
If you use frozen mahi mahi, ensure they are completely thawed before you cook them. The blackening seasoning will not stick well to frozen filets. 
If you have an instant-read thermometer, the fish should reach an internal temperature of 140°F to 145°F. If you don't have a thermometer, use a fork to see if the fish flakes easily. 
Storing Leftovers
In the fridge. Store the mahi mahi in an airtight container for up to 3 days.
In the freezer. Store the mahi mahi in an airtight container or vacuum bag for up to 6 months.
Store the sauce in the fridge in an airtight container for 5-7 days.
Reheating Leftovers
Reheat the mahi mahi in the air fryer at 400°F for 3-5 minutes on each side. If frozen, let the mahi mahi thaw completely before reheating in the air fryer.
Recommended Products
As an Amazon Associate and member of other affiliate programs, I earn from qualifying purchases.
Nutrition Information:
Yield:

4
Serving Size:

1
Amount Per Serving:
Calories:

448
Total Fat:

29g
Saturated Fat:

4g
Trans Fat:

0g
Unsaturated Fat:

24g
Cholesterol:

161mg
Sodium:

843mg
Carbohydrates:

7g
Fiber:

2g
Sugar:

2g
Protein:

39g
Nutrition information is a guideline only, is calculated automatically by third party software, and absolute accuracy is not guaranteed.