Air Fryer Bacon Wrapped Jalapeño Poppers
on Nov 05, 2023, Updated Nov 26, 2023
Get ready to fire up your air fryer for these sizzling Air Fryer Bacon Wrapped Jalapeño Poppers that are perfectly crunchy on the outside and gloriously rich and cheesy on the inside! These little bites of heaven are the perfect combo of heat and meat, promising to be the MVP of your next get-together. Quick to prep and even quicker to disappear, these poppers will have your friends and family rallying around the air fryer in no time. Whether it's game day or a casual hangout, you're just minutes away from turning those ordinary moments into flavor-packed memories.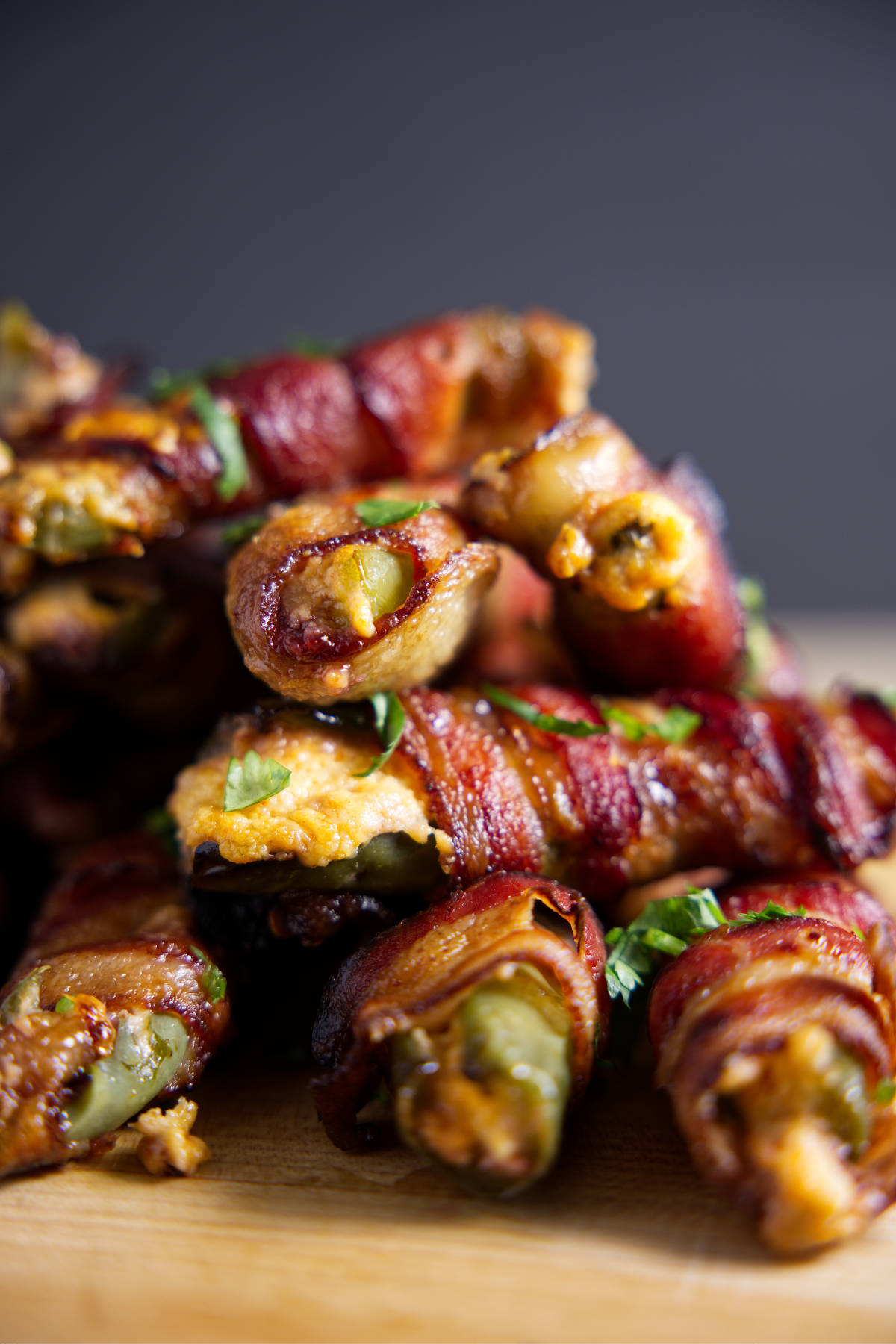 I always pull these air fryer bacon wrapped jalapeno poppers out on Sunday when the game is on. But they're delicious enough to eat year-round (seriously, you'll struggle to stop at just one popper!). Mark my words – that crispy bacon will pull you in every single time.
To make things even sweeter, you'll make these bacon wrapped jalapeño poppers in the air fryer, which totally removes the need for any oil and it means they are super easy and quick to make.
💪 These Air Fryer Jalapeño Poppers Are Delish!
They're easy to prep and ready in minutes for last-minute game nights and family gatherings.
The rich and creamy cheese filling literally melts in your mouth and complements the uber-spicy jalapeños perfectly.
The air fryer crisps up the bacon like a dream.
There's a great balance of savory flavors that are complemented by a burst of sweetness from the raspberry preserves.
To really step up your hosting game, serve these treats as a game-day snack with some smoked queso dip or this smoked cream cheese dip!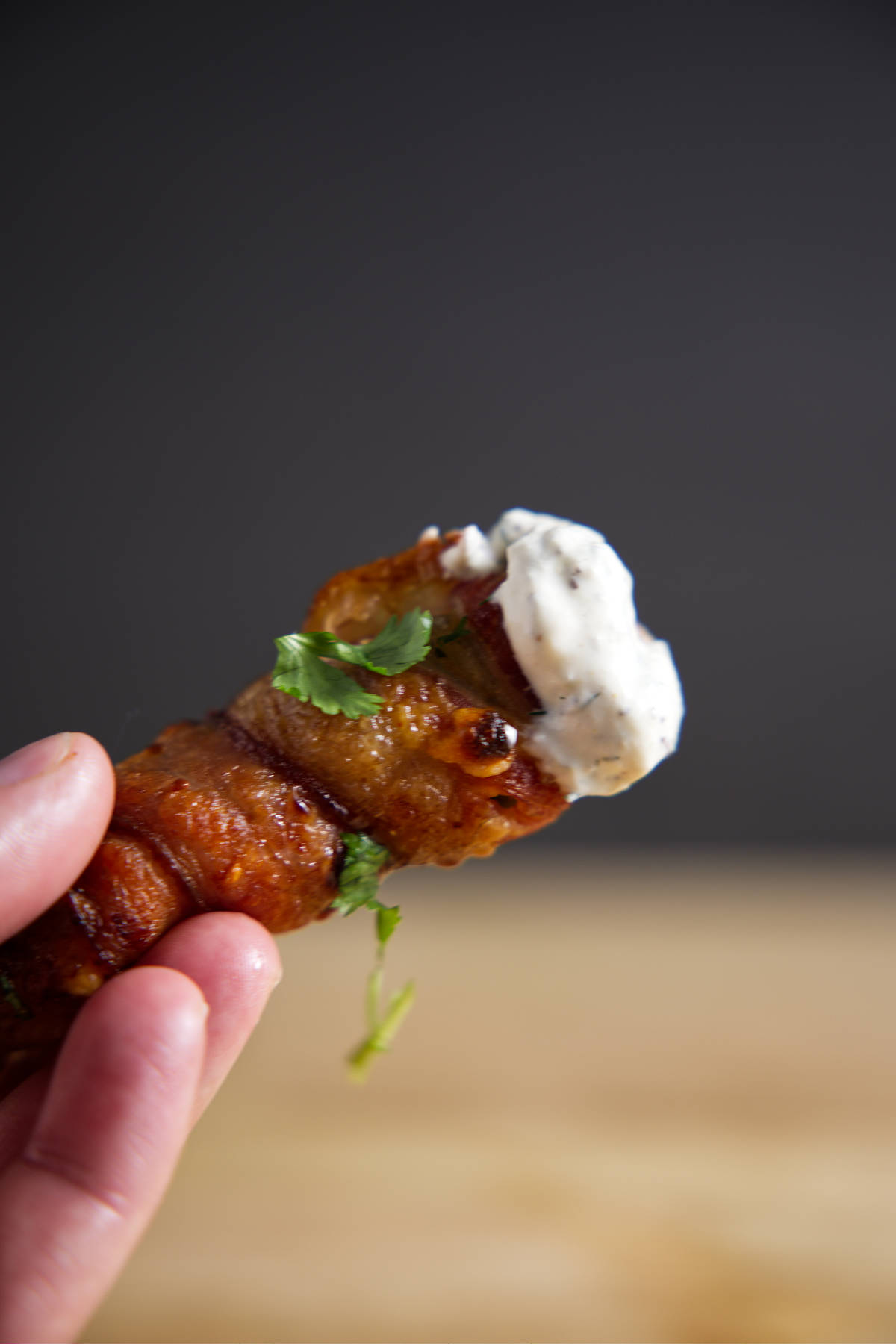 🗒️ Ingredients for Jalapeño Poppers
For the Jalapeños
Jalapeños. The spicy star of the show. I recommend using slightly larger jalapeños as they'll give you the freedom to use a full slice of bacon per popper. If you want a more mild jalapeño popper, scrape the seeds and ribs from the pepper and remove them.
Thin-cut bacon. Thinner bacon crisps up perfectly in the air fryer for a crunchy bite. The bacon will make or break this recipe.
For the Filling
Cream cheese. Full-fat cream cheese is the way to go for a rich and creamy flavor. It's also mild enough to balance out the heat from the jalapeños! Just make sure it's softened and at room temperature before mixing the filling together.
Cheddar cheese. Shred your own cheese for the best gooey cheese pulls. You can use pre-shredded cheddar cheese, but the added potato starch will prevent it from melting as well.
Garlic powder. For a major kick of savory flavor.
Onion powder. Add just a dash to complement the garlic powder and cheese.
Salt. This enhances the flavors in the poppers.
Raspberry jam. It gives this recipe a hint of fruitiness and sweetness that balances the hit of spice!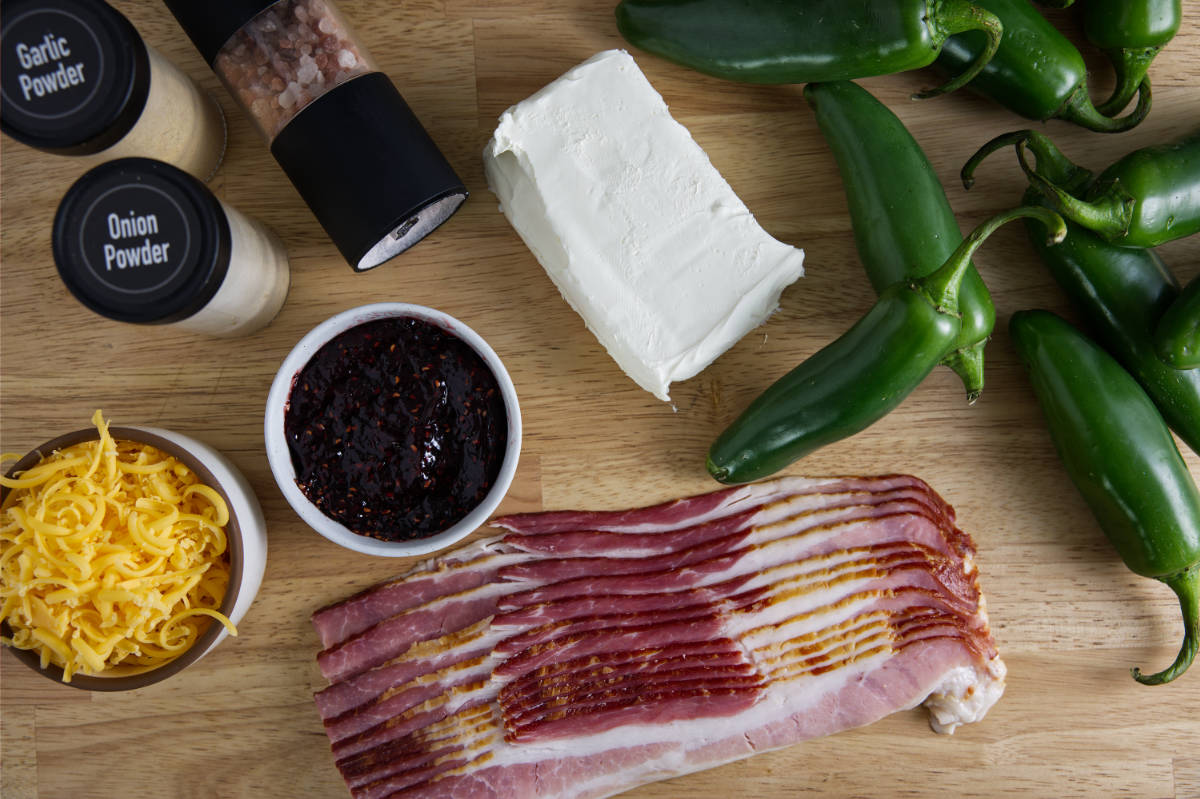 👨‍🍳 How To Make Air Fryer Bacon Wrapped Jalapeño Poppers
These air fryer jalapeño poppers are a breeze to make and they're ready in just a few simple steps. This is a simplified run-through of what you'll do, but scroll down to the printable recipe card for the step-by-step instructions for this recipe!
Slice the jalapeño peppers in half and remove ribs and seeds.
Prepare the bacon and cut it in half, if necessary. I use a full slice of bacon for my poppers.
In a large mixing bowl, combine all filling ingredients except for the raspberry preserves and mix well.
Place a small dollop of raspberry preserve in each jalapeño and cover this with the cheese mixture. Then, spread it from end to end.
Place a stuffed jalapeño on top of a slice of bacon and repeat until all of your jalapeños are prepped.
Preheat the air fryer.
Get to air frying! Place the bacon-wrapped jalapeño poppers into the air fryer basket and cook until the bacon is crispy.
Remove the poppers from the air fryer, pull out the toothpicks, and let them cool before serving.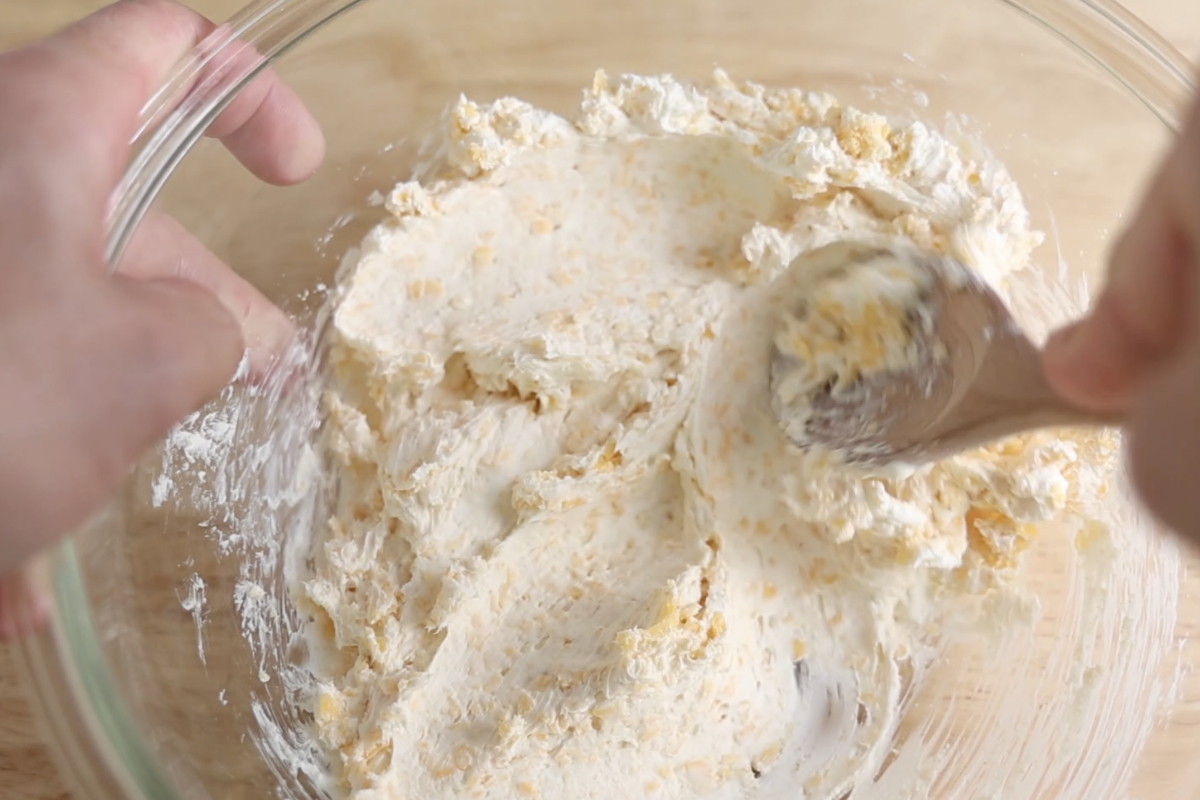 😉 Pro Tips for Air Fryer Jalapeño Poppers
Put the raspberry jam under the cheese filling. I found this out after a lot of trial and error, but layering the ingredients this way keeps the sweet jam from burning. You're also less likely to have any jam flowing out of the popper and into the air fryer basket!
Don't be afraid to use gloves during prep. Jalapeños are obviously hot, and wearing gloves will keep the capsaicin off your skin. Be sure to remove the gloves and wash your hands if you need to touch your eyes! Been there before…
Use a full slice of bacon per popper if you can. A fully wrapped popper will keep the filling safely inside the jalapeno popper and the bacon will still crisp up beautifully. If you're using small poppers, you'll probably need to slice your bacon in half (so, your mileage may vary!).
Use toothpicks to hold your bacon in place. Bacon is prone to slipping around if you don't secure it while cooking. To avoid any curling in the air fryer, use a toothpick at either end of the popper to secure the bacon in place. Just remember to remove them once your poppers are cooked.
Work in batches! Batch cooking is the way to go with these bacon-wrapped air fryer jalapeño poppers. That's because they tend to burn or not crisp up properly if the air fryer is overcrowded. Around 6 – 8 poppers per batch is the sweet spot.
Don't forget to discard the bacon grease. When you're batch cooking, remove the bacon grease from the air fryer basket after every batch. Otherwise, the grease will burn and you'll smoke out your entire family!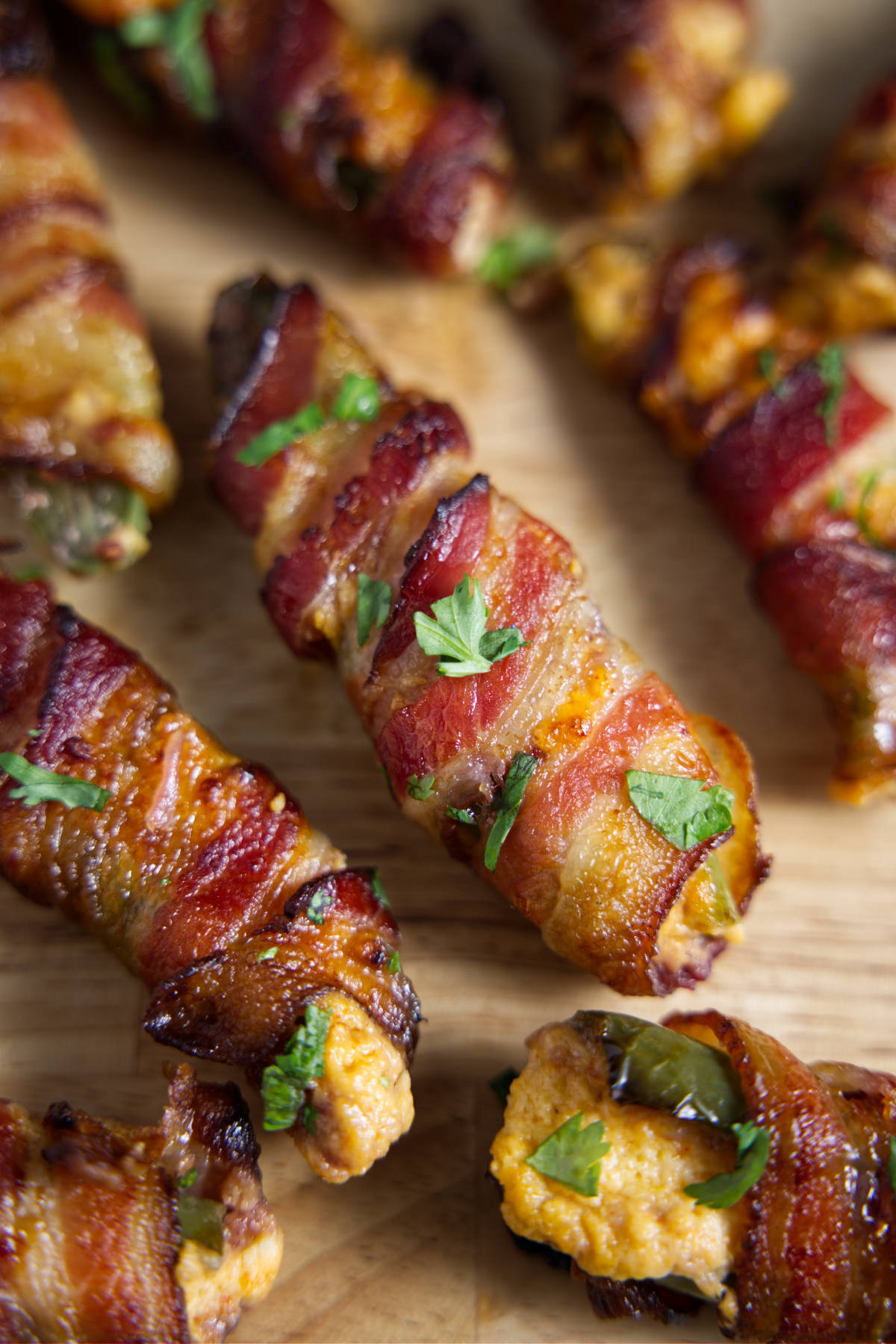 🤔 Substitutions and Variations
If you don't want to use sharp cheddar cheese, replace it with American or Monterey Jack.
Extra seasoning can really lift this recipe. I like using smoked paprika or chili and cayenne pepper if you appreciate spice. Cajun and Creole seasonings are also delicious. I've used Spiceology smoky honey habanero in the past for a burst of sweet heat, and it was one of my favorites!
You can make this recipe 100% vegetarian-friendly by replacing the bacon with crispy Panko breadcrumbs. Just mix the breadcrumbs with a tablespoon of melted butter before packing it in on top of the cheese and preserves, and you're good to go.
Adding a few green onions to your cream cheese mixture can add a burst of fresh flavor to your poppers.
Spice it up and make these poppers extra meaty with chorizo. Use two links of chorizo, or about 6 to 8 ounces. Remove the meat from the casing and brown it in the skillet for 8 to 10 minutes before adding to the cream cheese mixture.
⏱️ Storing and Reheating the Stuffed Peppers
You can make these air fryer jalapeño poppers a day ahead if you're short on time. Once you have stuffed and wrapped the jalapeños in bacon, place them in an airtight container. They will stay fresh for up to 3 days, and you can throw them in the air fryer when you are ready to serve up something tasty.
If you have leftovers, store them in the fridge for up to 3 to 4 days. Reheat the jalapeño poppers in the air fryer when you need a quick snack. Heat them at 360°F for 4 minutes or until heated through the middle.
If you absolutely must, you can heat them in the oven on a lined baking sheet at 360°F for 8 to 10 minutes. But I prefer to air fry them.
🛠 Equipment Needed for These Air Fryer Poppers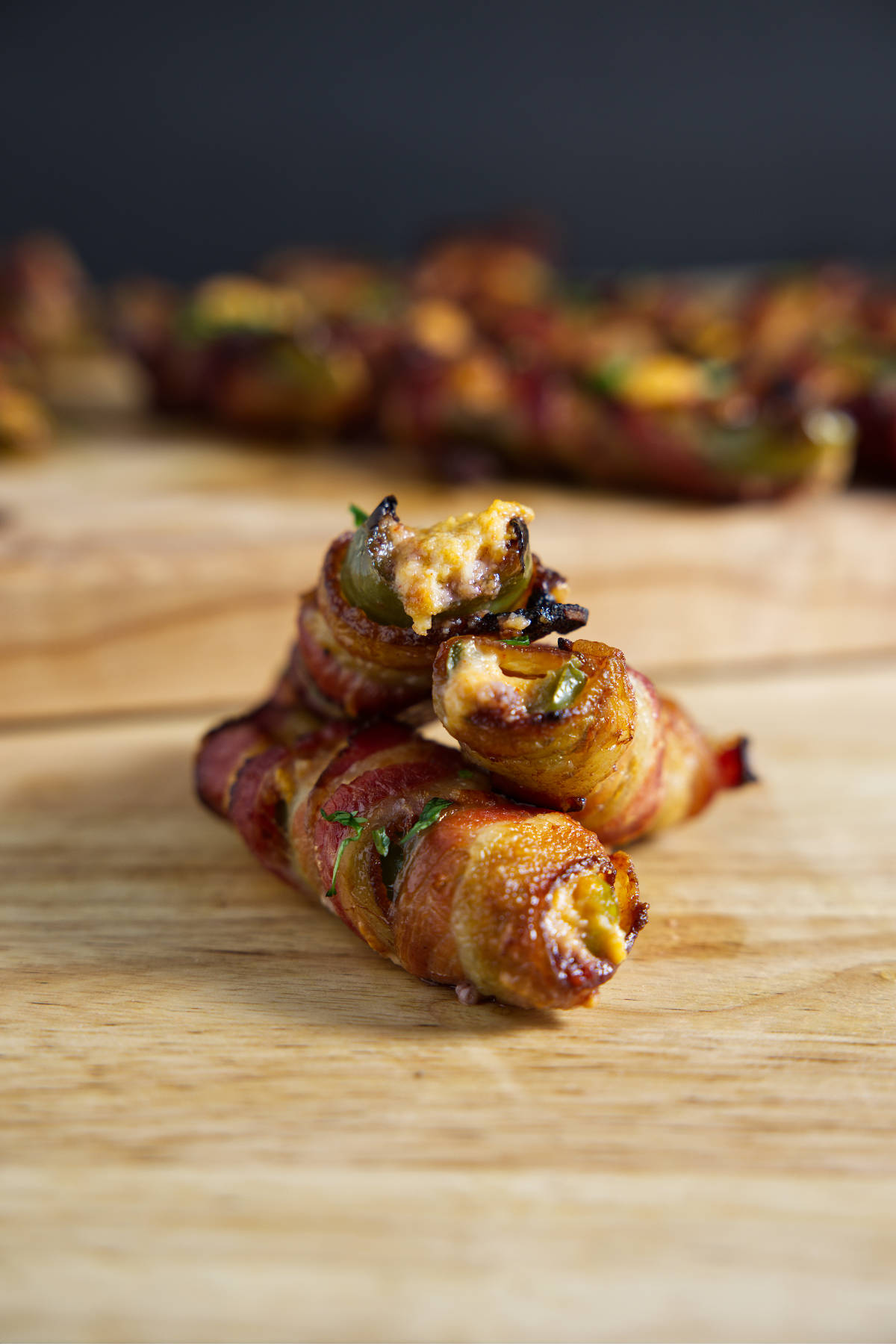 🤤 What to Serve with Jalapeño Poppers
❓ Questions and Answers
Why are my jalapeño peppers soggy?
If your peppers are soggy, it's probably because your bacon hasn't crisped up properly. Cook the poppers for an additional 2 to 4 minutes or until the bacon is nice and crispy. Air fryer bacon is seriously delicious and needs to get crispy before you can enjoy the poppers!
Should you freeze jalapeno poppers before air frying?
You don't need to, but you can put them in the freezer for up to 2 months if you need to. When you're ready to cook them, simply put them in the air fryer at 360°F for around 16 minutes until they're good and crispy. It will take a bit longer to cook them from frozen.
What kind of dip goes well with jalapeño poppers?
Sweet dips always go well with jalapeño poppers. The sweetness helps to cut through the heat and provides some relief from the slow burn. It also contrasts nicely with the cream cheese filling. If you want to double down on the creamy goodness, try our garlic aioli, and if you are feeling cheese, dip them in this smoked queso dip.
🍨 Final Scoop
If you've been sleepin' on these Air Fryer Bacon Wrapped Jalapeño Poppers, it's time to wake up and level up your snack game. These little spicy treasures aren't just your average munchies; they're a whole vibe! Next time you're entertaining a crowd on game day, roll these bad boys out and watch the crowd go wild. Trust me, they'll be the rockstars of the spread, and you'll be the genius behind it all. Dive into this recipe, and let's get poppin'!
CONNECT WITH A LICENSE TO GRILL!
Be sure to follow us on our social media accounts.
Did you make this recipe? Tell us about it in the comments below!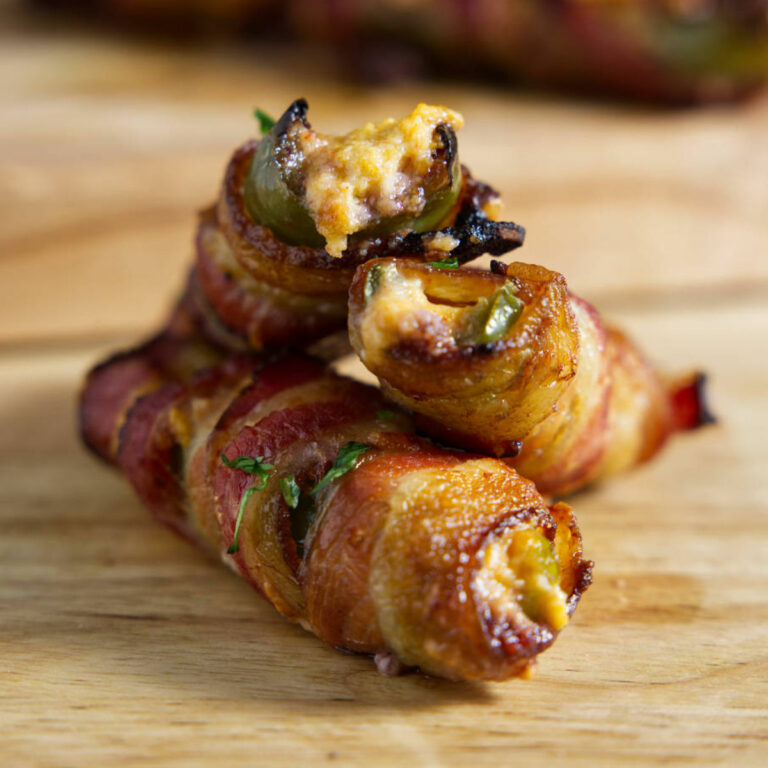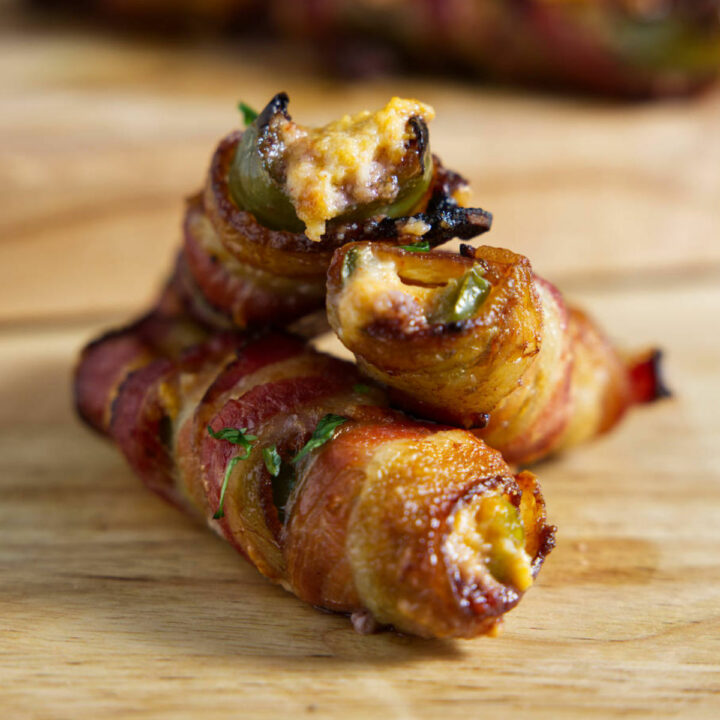 Air Fryer Bacon Wrapped Jalepeño Poppers
Get ready to fire up your air fryer for these bacon-wrapped jalapeño poppers that are a total game changer! They're stuffed with a creamy, cheesy filling, wrapped in delicious bacon, and cooked to until the bacon is crispy. These poppers deliver a deliciously spicy kick balanced by the richness of the cheese, the sweetness from the raspberry jam, and the smokiness of the bacon. They're quick, easy, and perfect for entertaining a large and hungry crowd.
Switch up the recipe by adding your favorite cheese and swapping out the raspberry jam for something like blueberry jam. If you are vegetarian, no problem! Read the notes below for a veg preparation.
Ingredients
12 Jalapeños
12 slices of thin cut bacon
For The Filling
8oz cream cheese, room temp
½ cup cheddar cheese, shredded
1 teaspoon garlic powder
1 teaspoon onion powder
½ teaspoon salt
¼ cup raspberry preserves
Instructions
Slice the jalapeños in half. Remove the seeds and ribs from each half of the jalapeño and set them to the side.
If you have small jalapeños, you may need to cut the bacon in half. If so, cut the slices of bacon in half so you have 24 equal slices of bacon. Set the bacon to the side while you make the filling.
In a large mixing bowl, combine all the filling ingredients except for the optional raspberry preserves. Mix the cream cheese filling by hand until everything is well incorporated.
Place a small dollop, about 1 teaspoon, of raspberry preserves in each jalapeño popper. Then, place about 1 tablespoon of the cheese mixture on top and spread it from end to end.
Lay out your strips of bacon and place a stuffed jalapeño on top of a slice of bacon towards one end of the strip. Wrap the bacon around the jalaepeño pepper working in a spiral pattern so that it entirely encompasses the jalapeño. Use two toothpicks to secure the bacon through the jalapeño popper.
Preheat your air fryer to 360°F. Place the bacon-wrapped jalapeño poppers in the air fryer basket and cook for 12-14 minutes until the bacon is crispy. You will likely only be able to fit 6-8 poppers, so cook them in batches so that you don't overcrowd them.
Remove the poppers from the air fryer and let them cool. Serve with your favorite dipping sauce and enjoy warm!
Notes
Important Tips
After testing this recipe several times, I found it best to put the raspberry jam under the cheese filling. Otherwise, the jam could burn, and it is more likely for the jam to flow out of the popper into the air fryer basket.
I also found that using a full slice of bacon for each popper was much better! Using an entire slice of bacon helps to contain the cheese filling and raspberry jam. It is also more delicious because, well, bacon!
It is best to use some toothpicks to keep the bacon in place while it cooks. When I first made these poppers, the bacon curled when it cooked, and it didn't stay wrapped around the popper. Use a toothpick at either end of the poppers to stake the bacon. Remove the toothpicks after they finish cooking.
If you are cooking the jalapeño poppers in batches, be sure to discard the bacon grease from the bottom of the air fryer basket after each batch. If you leave the bacon drippings, the air fryer produces quite a bit of smoke.
Variations
Add some smoked paprika or another spice like chili or cayenne pepper if you like spice. I used Spiceology honey habanero to give it a boost of sweet heat that helps to get your sweat flowing!
For a vegetarian option, skip the bacon and use Panko bread crumbs for a delicious crumb topping. Mix ¼ cup Panko bread crumbs with 1 tablespoon melted butter. After filling the jalapeños with the raspberry preserves and cheese filling, top it with some breadcrumbs. Lightly pack the breadcrumbs into the cheese to prevent it from spilling out.
Once the poppers are done cooking, plate them and drizzle them with a delicious chipotle lime crema or a stream of Nashville hot honey. YUM!
Add chorizo. In a large skillet, brown 4 to 8 ounces of chorizo and let it cool. Add it to the cheese mixture before stuffing your jalapeño poppers.
Recommended Products
As an Amazon Associate and member of other affiliate programs, I earn from qualifying purchases.
Nutrition Information:
Yield:

12
Serving Size:

1
Amount Per Serving:
Calories:

114
Total Fat:

8g
Saturated Fat:

5g
Trans Fat:

0g
Unsaturated Fat:

3g
Cholesterol:

25mg
Sodium:

197mg
Carbohydrates:

7g
Fiber:

1g
Sugar:

5g
Protein:

3g
Nutrition information is a guideline only, is calculated automatically by third party software, and absolute accuracy is not guaranteed.