Tri-Tip Sandwich (Smoked Tri Tip Sandwich)
on Sep 03, 2022, Updated Nov 05, 2023
Fire up your tastebuds with a Tri-Tip Sandwich that's poised to steal the show at your next party. Whether you're working your magic on a Blackstone griddle or your trusty skillet, this recipe is flexible enough to ensure everyone gets a slice of the action. And for those who aren't equipped with a smoker, no sweat – your oven is about to become your best friend for cooking up that succulent tri-tip to tender perfection.
If you have leftover Traeger smoked tri-tip, put it to good use in a sandwich that will satisfy your inner carnivore. But if you don't have leftovers saved, no worries. We have you covered with the details to make the perfect smoked tri-tip.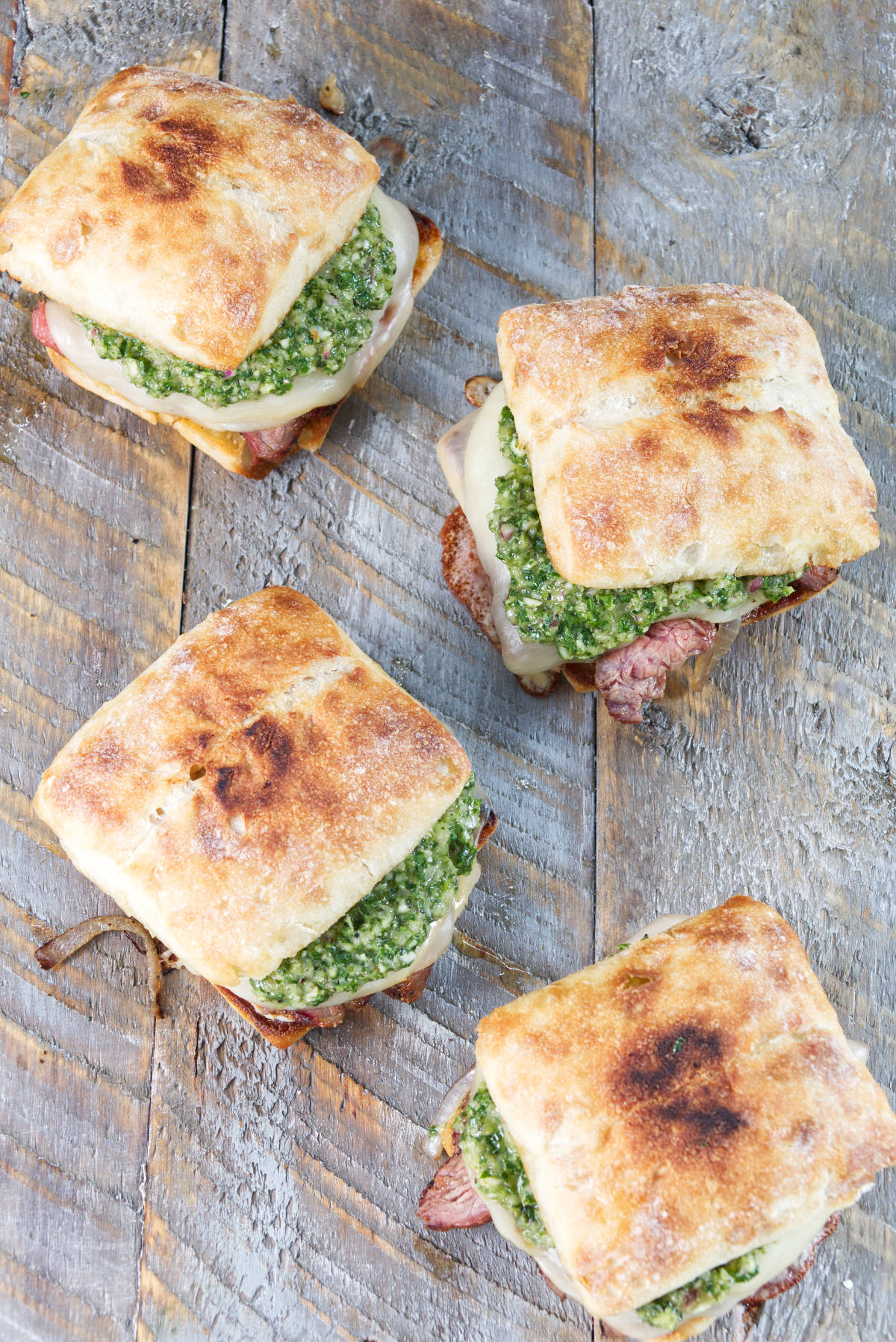 This isn't just any sandwich; it's a crafty creation loaded with layers of flavor. Imagine slices of beautifully smoked tri-tip piled high on a charred ciabatta roll, each bite enriched with the fresh zing of mint cilantro chimichurri – it's the game-changer condiment you never knew you needed until now. While the meat sizzles and the aromas fill your space, whether it's under the open sky or in your cozy kitchen, everyone will be drooling and ready to dig in.
So, whether you're a grill aficionado with a Blackstone as your canvas, or you're rocking the stovetop with a skillet, get ready to assemble a Tri-Tip Sandwich that's dripping with flavor and crowned with the vibrant, herby goodness of that must-have chimichurri. So fire up that smoker, crank up the heat on the Blackstone, and get ready to devour what might be your new favorite sandwich!
💪 Why You Will Love These Tri-Tip Sandwiches
Versatility at its best. Whether you've got a Blackstone griddle or just a trusty skillet, this recipe's got you covered. It's perfect for those who love to cook outdoors or prefer the comfort of their kitchen.
Crowd-pleaser alert. Tri-Tip is a fan favorite due to its rich flavor and tenderness. Pair it with fresh chimichurri, creamy horseradish, caramelized onions, and gooey provolone, and you've got a sandwich that'll satisfy even the pickiest of palates.
Unbeatable chimichurri. The mint cilantro chimichurri isn't just an afterthought; it's the game-changer. This zesty, herby sauce transforms a great sandwich into an unforgettable one.
Savor the smokiness (or don't!). Love that deep, smoky flavor? This tri-tip sandwich recipe offers the option to smoke your meat to perfection. A conventional oven will still deliver a mouth-watering result. And if you have smoked tri-tip leftovers, this recipe is perfect and quick!
Effortlessly impressive. Pulling off a mouthwatering meal that seems like it took hours but didn't is everyone's dream. This sandwich will have your guests thinking you're a grill master, all with minimal effort.
🗒️ Ingredients for the Perfect Sandwich
Here is a list of ingredients that you'll need to make this recipe. Scroll down to the printable recipe card for all the details.
For the Tri Tip Sandwich
Red onion. Red onions are naturally sweet and intensely flavorful when caramelized.
Ciabatta rolls. As ciabatta is made from lean yeast, it has a moist and chewy texture that perfectly soaks up the tri-tip's juices.
Creamy horseradish sauce. Complements the beef and provolone with a spicy tang.
Provolone cheese. You can substitute this with other cheeses if you wish, but provolone is mild and melts effortlessly for those photo-worthy cheese pulls.
For the Tri Tip
You can follow our separate recipe for smoked tri-tip, or just follow this recipe since we include every step-by-step detail needed.
Tri-Tip. This cut of meat is packed full of flavor and is incredibly tender and delicious when cooked properly.
Kosher salt. Essential to enhance the flavor of the tri-tip.
Black pepper. A hint of spice. Use freshly ground pepper for best results.
Brown sugar. Brings a hint of sweetness to the dry rub.
Smoked paprika. Gives the dry rub a mild heat and smokiness.
Cayenne powder. Step this up if you want a spicy dry rub.
Onion powder. Perfect in every dry rub to give it a pungent and savory flavor.
Garlic powder. Who doesn't love garlic?
For the Mint Cilantro Chimichurri
Our separate recipe for mint cilantro chimichurri is a reader favorite.
Garlic cloves. Adds a punchy, aromatic heat that adds bold character.
Fresh mint. Offers a burst of cool freshness, balancing the robust flavors in the sauce.
Fresh parsley. Lends a grassy and slightly bitter undertone that complements the vinegar.
Fresh cilantro. Brings a lemony and earthy dimension that gives a vibrant punch.
Fresh oregano. Adds a touch of peppery bite with hints of sweetness.
Red onion. Brings a slight sharpness and sweetness, adding depth and complexity.
Olive oil. Serves as the smooth, rich base that carries all the flavors and adds a velvety texture.
Red wine vinegar. Contributes a fruity acidity that brightens the sauce.
Kosher salt. Enhances the overall taste profile.
Black pepper. Introduces a gentle heat and a woody, piney flavor.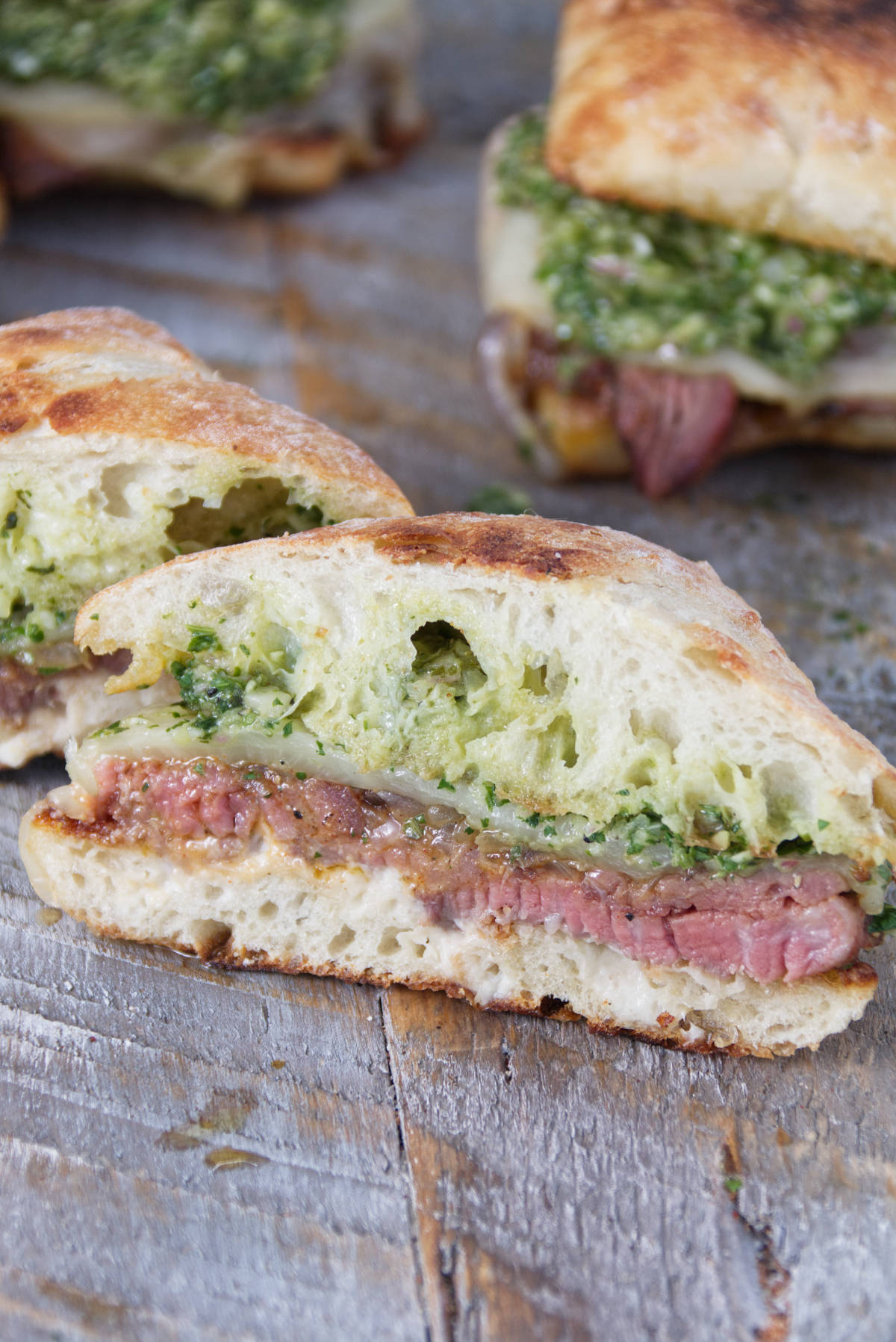 👨‍🍳 How to Make Tri Tip Sandwiches
This sandwich is easy to assemble! I like to use the Blackstone griddle. It provides a large work surface, allowing you to sauté the onions while toasting the ciabatta rolls. Use a basting dome to melt the cheese to perfection.
If you don't have a Blackstone, you can use a cast iron skillet on your trusty range to caramelize the onions and the broil setting in your oven to melt the cheese on the sandwiches.
For the full details, scroll down to the printable recipe card for step-by-step instructions.
Mix the ingredients for the dry rub and coat the tri-tip.
Smoke the tri-tip on the pellet grill smoker or in your oven until a perfect 125°F internal. Let it rest until cool, and slice thinly against the grain.
Use a food processor to make the mint cilantro chimichurri and set it to the side while you make the sandwiches.
Sauté the red onions on the Blackstone or in a skillet until they are caramelized.
Slice the ciabatta rolls in half and toast them on the Blackstone or in your toaster.
Spread the horseradish sauce on the bottom half of each roll and layer on the thinly sliced tri-tip.
Place the caramelized onions on top of the smoked tri-tip and place two slices of provolone cheese on each sandwich.
Place all assembled half-rolls of the sandwich under a basting dome with a splash of water to create steam and melt the cheese. Or place them under your broiler until the cheese melts.
Add the cilantro mint chimichurri to the other half of each ciabatta roll.
Assemble the sandwiches and enjoy.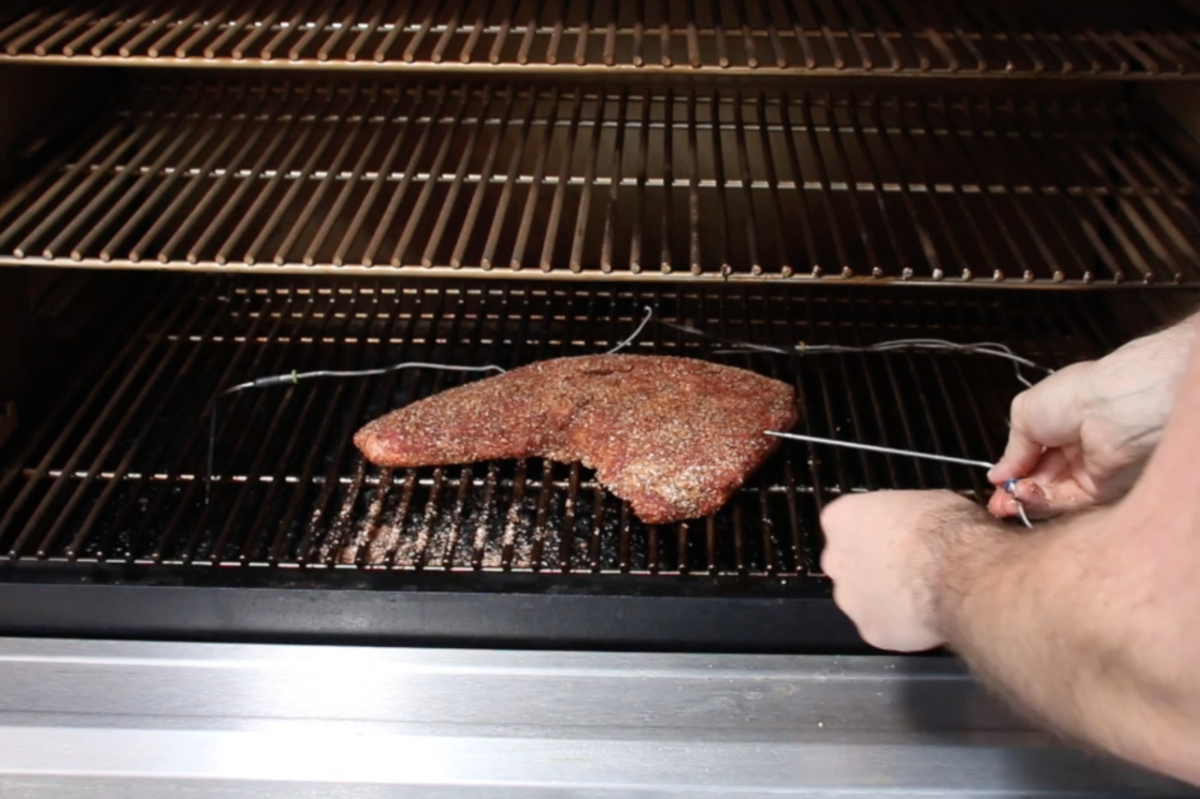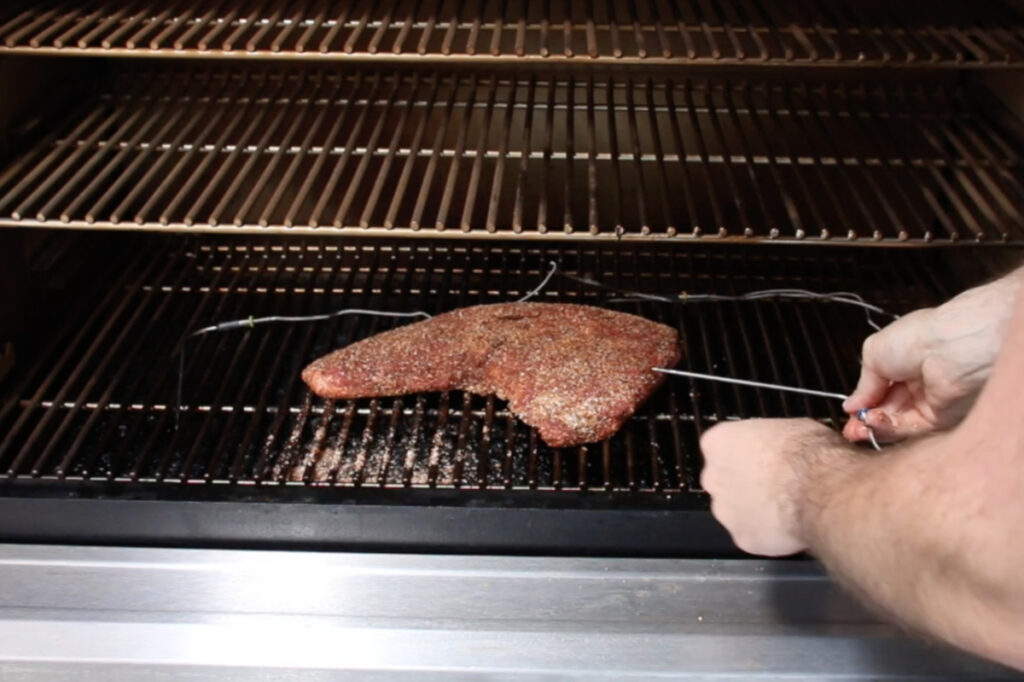 😉 Useful Tips for the Perfect Sandwich
Precision with proportions. Stick to the recipe's herb measurements for the chimichurri—overdoing any single element can overpower the others. Use a ratio of 3:1 for the oil and vinegar to ensure the right balance between richness and acidity.
Marinate for magic. Allow your tri-tip to marinate in the dry rub for at least 30 minutes before cooking, even if you're short on time. This will deepen the flavor and tenderize the meat, ensuring each bite is as flavorful as the last.
Temperature tactics. Use a meat thermometer to cook the tri-tip to the perfect medium-rare (about 125°F internal temperature). Let it rest for 10 minutes before slicing it against the grain to keep it juicy.
Chimichurri chill time. Prepare your chimichurri an hour ahead of time to let the flavors meld together. Storing it in the fridge during this time can intensify the flavors and give you a more cohesive taste.
Melt the cheese. Use your favorite device to melt the cheese on the sandwiches. Either a basting dome under the Blackstone or under the broiler.
Cut against the grain. Keep the meat tender and delicious by cutting it into thin slices against the grain. Otherwise, the meat will be chewy. Let the meat cool to room-temperature before slicing it.
🤔 Substitutions and Variations for the Sandwich
Tri-Tip swap. If tri-tip isn't your thing, feel free to substitute with flank steak or skirt steak. These cuts also offer a rich flavor and, when cooked properly, great tenderness.
Chimichurri herb swap. No mint? No problem! While the mint offers a unique twist, you can increase the amounts of parsley and cilantro to compensate. The key is maintaining the fresh, herby kick that defines a chimichurri.
Vinegar swaps. If red wine vinegar isn't on hand, apple cider vinegar can be a great substitute. It will still give you that tangy edge that balances the chimichurri's oiliness.
Onion alternatives. If red onions are too sharp for your taste, shallots make a great substitute, offering a milder, slightly sweeter note.
Spice it up. For those who crave a bit of heat, adding a diced jalapeño or a sprinkle of red chili flakes to the chimichurri will introduce a warm, spicy element to your sandwich.
Veggie delight. Sauté some bell peppers and onions on your Blackstone or skillet until they're soft and slightly charred, then pile them onto your sandwich for a classic steak sandwich feel.
🥡 Storage and Reheating Tri-Tip Steak
If you have too much steak, no problem! Store it in an airtight container in the fridge for 3-5 days and make sandwiches throughout the week. Pre-slice the tri-tip to ensure it is easy and ready to go when you're ready for a sandwich.
You can also freeze the sliced tri-tip leftovers in an airtight container in the freezer for up to 3 months. Let it defrost in the fridge overnight before you plan to assemble some sandwiches.
You can reheat the cooled and thawed tri-tip on the Blackstone over medium heat until warned through. Then, use the Blackstone to assemble your sandwiches. Or you can reheat it in the air fryer at 360°F for 5 to 8 minutes.
❓ Questions and Answers
What is tri-tip steak?
Tri-tip steak gets its name from the unique, triangular shape of the meat. It's taken from the bottom of the sirloin and is typically lean, full of flavor, and slices well for sandwiches.
Can I make this smoked tri-tip sandwich ahead of time?
This is a great recipe to make in advance. I like to use leftover tri-tip and I always prepare the mint cilantro chimichurri ahead of time. Then, assembling the sandwich only takes a few minutes.

The thinly sliced tri-tip heats up quickly when you are assembling the sandwiches. The heat from the Blackstone, especially when the basting dome is over the sandwiches, will be enough to warm up the meat.
Should I add anything else to my leftover smoked tri-tip sandwich?
I love keeping this recipe simple, but you can add fresh tomatoes, garlic aioli, or chipotle mayo to your sandwich if you're feeling feisty. Alternatively, you can add jalapeños for a spicy kick.
What sides should I serve with tri-tip sandwiches?
This recipe pairs well with potato salad, coleslaw, beans, corn, pasta salad, fries, and chips. It's equally delicious on its own, though, so don't fret!
🍳 More Blackstone Recipes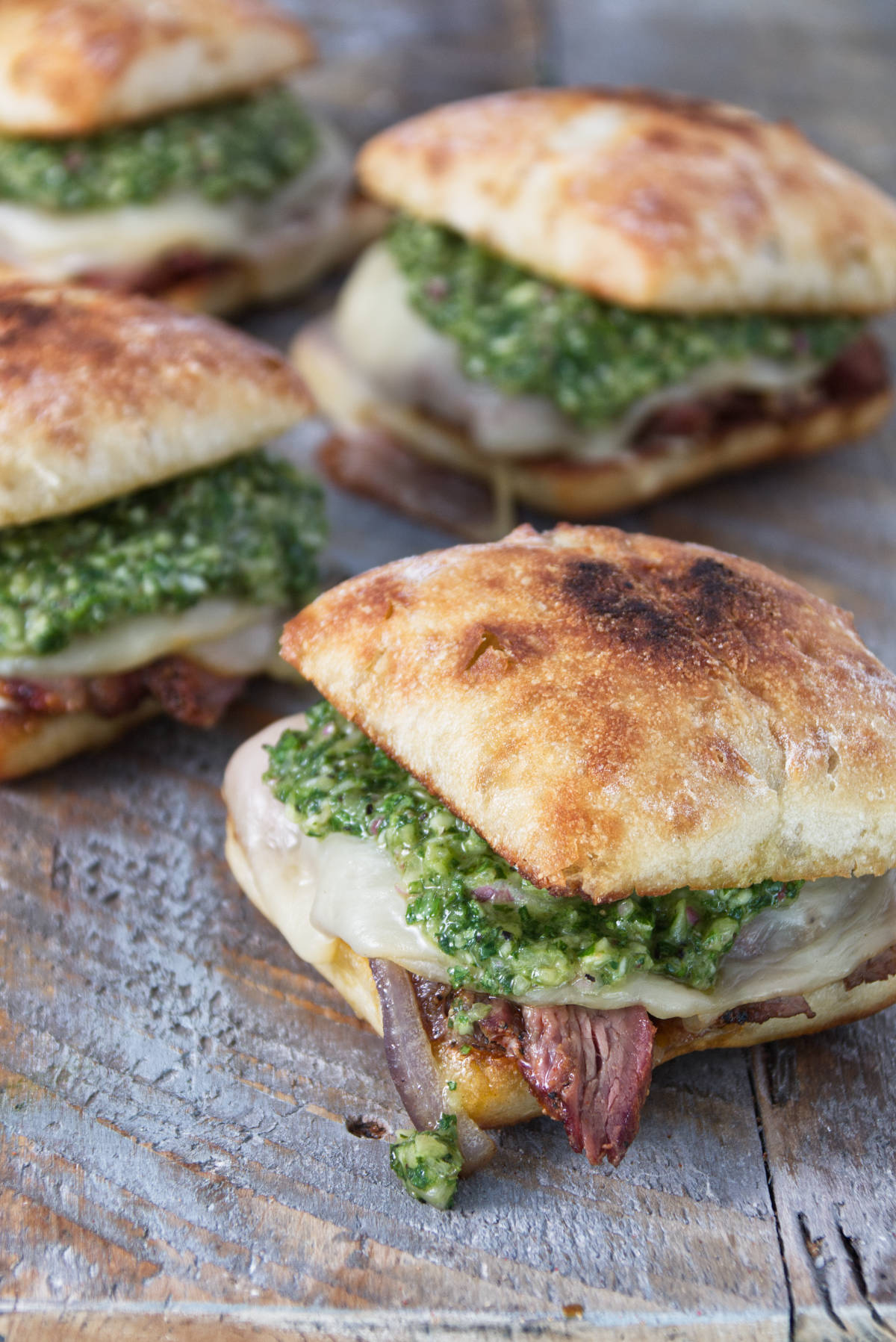 🍗 Other Meaty Recipe Favorites
 🛠 Tools and Equipment
If you click on some of the following affiliate links and buy something, we might get a small commission. You don't pay any extra, but it will help us keep the lights on and our bellies full!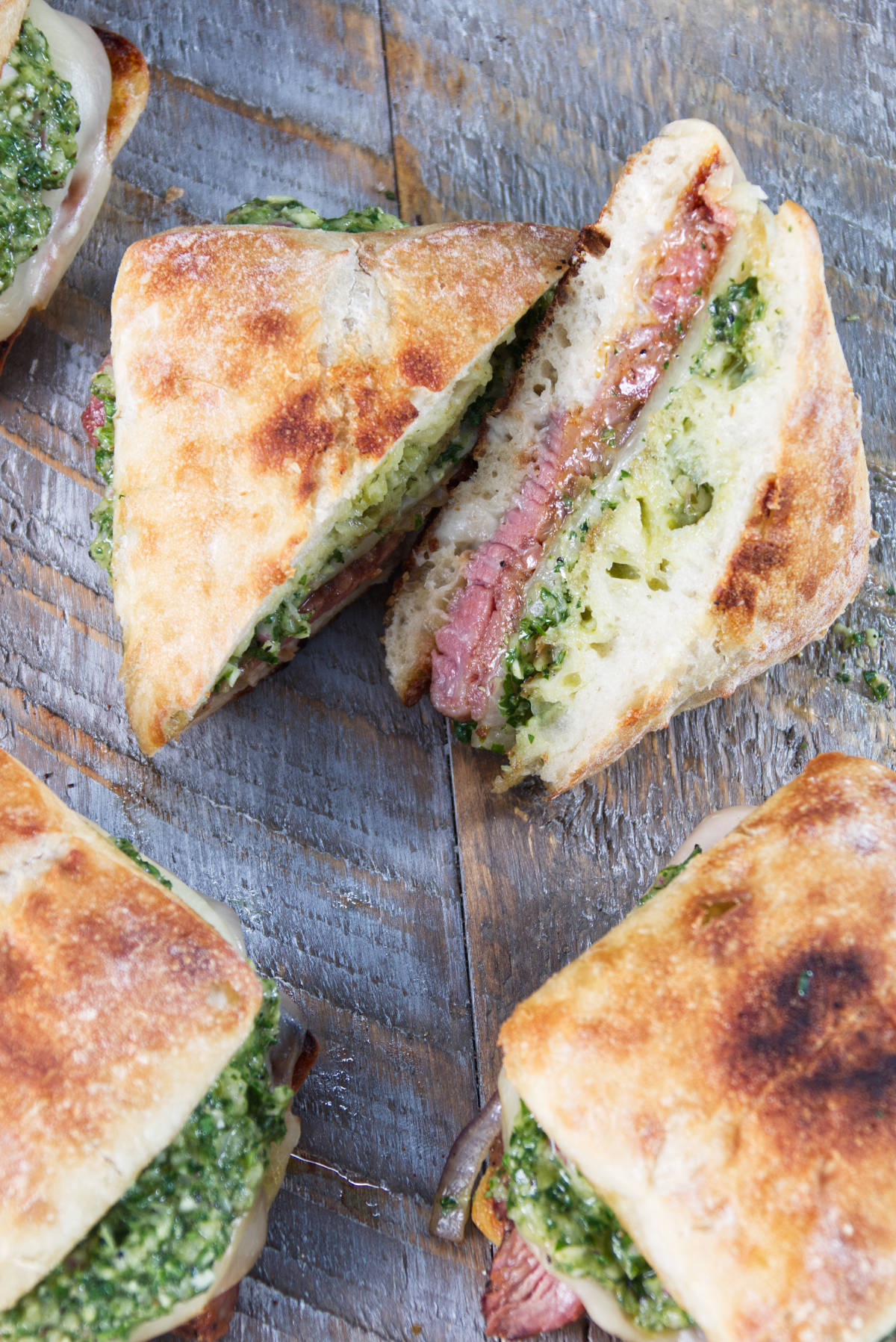 🍨 The Final Scoop for this Tri-Tip Sandwich
This Tri-Tip Sandwich, complete with a zesty mint cilantro chimichurri, is your next big hit. Whether you're assembling the sandwiches on your Blackstone or in a sizzling hot skillet, this juicy sandwich is waiting for you! The perfectly cooked tri-tip is going to mingle with the herby, tangy goodness of your homemade chimichurri. No smoker? No worries! Your trusty oven will have your back, delivering that tender, mouthwatering tri-tip that's just begging to be savored. Gather your crew, fire up your griddle or stove, and dive into the this incredible sandwich. Don't forget that chimichurri isn't just a suggestion; it's the heart of the feast, infusing every bite with freshness and flair.
CONNECT WITH A LICENSE TO GRILL!
Be sure to follow us on our social media accounts.
Did you make this recipe? Tell us about it in the comments below!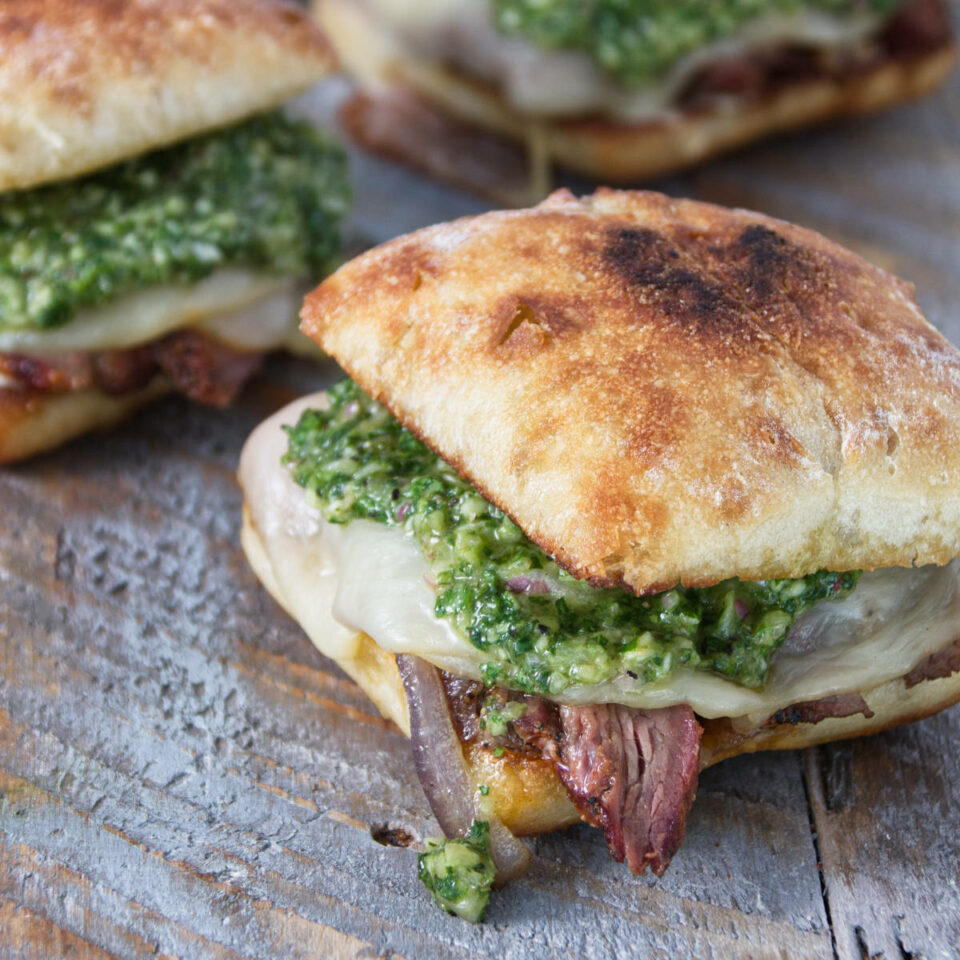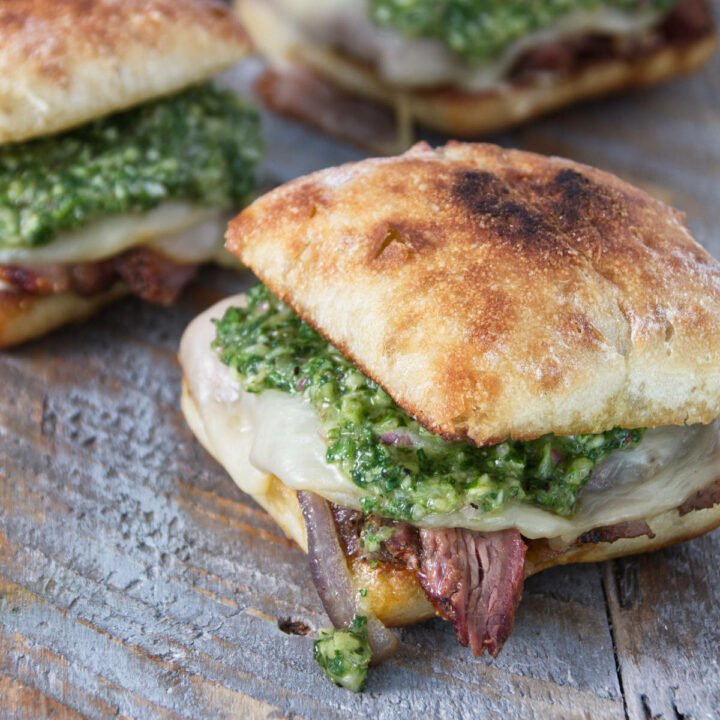 Tri-Tip Sandwich
These juicy, tender tri-tip steak sandwiches are topped with heavenly melted cheese and a generous dollop of chimichurri and horseradish
sauce. Whether you have leftover tri-tip that you need to use or if you are craving a delicious sandwich packed full of flavor, this sandwich will be sure to hit the spot
There is a lot to love about this delicious recipe, including its tender meaty center, the toasted ciabatta rolls, and the combination of herby chimichurri and creamy horseradish that give the entire sandwich a well-rounded flavor.
I like to assemble this sandwich on the Blackstone after carmelizing the onions to perfection. The flat top griddle is a great work surface, making it incredibly easy to toast the ciabatta buns and melt the provolone cheese for that photo-worthy gooey cheese.
Ingredients
For the Smoked Tri-Tip
1.5-2 pound tri-tip
2 tablespoons kosher salt
1 tablespoon black pepper
2 tablespoons brown sugar
2 teaspoons smoked paprika
1 teaspoon cayenne powder
1 tablespoon onion powder
1 tablespoon garlic powder
For the Mint Cilantro Chimichurri
6 garlic cloves
½ cup fresh mint
1 cup fresh parsley
1 cup cilantro
2 tablespoons fresh oregano
1 small red onion, diced
1 cup olive oil
¼ cup red wine vinegar
2 teaspoons Kosher salt
2 teaspoons fresh ground black pepper
For the Sandwiches
1 red onion, thinly sliced
4 chiabatta rolls, or your favorite buns
½ cup creamy horseradish sauce
8 slices of provolone cheese
Instructions
Smoke the Tri-Tip
*If you already have smoked tri-tip leftovers, you can skip this section.
Preheat the Traeger or pellet smoker to 225°F.
Combine the ingredients for the dry rub in a small bowl. Rub the tri-tip with the seasoning and let it sit for at least 30 minutes in the fridge to marinate.
Smoke the tri-tip on the pellet grill for about 2 hours or until the internal temperature reaches 125°F. Pull the tri-tip off the smoker and let it rest for 10-15 minutes.
Make the Chimichurri
Add all of the ingredients, except for half of the oil, for the chimichurri to a food processor. Pulse it until the ingredients are mixed and still have texture. Don't pulverize it into a paste.
Add the rest of the oil and quickly pulse it. You can adjust the amount of oil to reach your desired texture.
Transfer to an airtight container and store it in the fridge until you are ready to use it.
Make the Tri-Tip Sandwiches
Set the Blackstone to medium-high heat on one side and low heat on the other. Sauté the red onions until caramelized. If you don't have a Blackstone, sauté the onions in a medium skillet for 20-30 minutes.
While the onions caramelize, slice the ciabatta rolls in half and butter and toast them. Then, on the Blackstone, lay them down on the cooler side of the Blackstone.
Slice the tri-tip across the grain. I like to slice it as thinly as possible, but this is up to your preference.
Spread the horseradish on the bottom half of the rolls. Lay down a layer of sliced tri-tip and place on some caramelized onions. Layer two pieces of provolone cheese on each sandwich.
Cover the sandwiches with a basting dome on the Blackstone and place some water under the basting dome until the cheese melts. If you don't have a Blackstone with a basting dome, place each half of the sandwich with meat on it under the broiler for 1 minute until the cheese melts. Instead of the broiler, you can use an air fryer at 400°F for 2 minutes.
Spread 2 tablespoons of chimichurri sauce on the other half of the ciabatta rolls.
Join the two halves of the sandwich and enjoy! Check out that cross-section!
Notes
If you don't have a smoker for your tri-tip, you can use an oven. Set it to 300°F and roast it until it reaches an internal temperature of 125°F for medium rare or 135°F for medium. Let it rest before slicing so that the carry-over cooking can work its magic.
You can use your favorite device to melt the cheese. For a large group, use the Blackstone griddle with a large basting dome or set the sandwiches under the broiler in your oven. You can also use your air fryer and make the sandwiches in batches.
When slicing your tri-tip, be sure to slice across the grain. This will make sure the meat is tender and will keep your sandwich bite experiences optimized!
Store leftover tri-tip in an airtight container for 3-5 days in the fridge. Reheat in the air fryer or on the Blackstone while making sandwiches later in the week.
The USDA recommends cooking beef to an internal temperature. of 145°F.
Recommended Products
As an Amazon Associate and member of other affiliate programs, I earn from qualifying purchases.
Nutrition Information:
Yield:

8
Serving Size:

1
Amount Per Serving:
Calories:

701
Total Fat:

51g
Saturated Fat:

10g
Trans Fat:

0g
Unsaturated Fat:

27g
Cholesterol:

122mg
Sodium:

1794mg
Carbohydrates:

20g
Fiber:

2g
Sugar:

5g
Protein:

40g
Nutrition information is a guideline only, is calculated automatically by third party software, and absolute accuracy is not guaranteed.